WE MEET AT A NOISY Irani café, located in the vicinity of the airport, in Pune. Qashish and Rachana are running 40 minutes late. Around me, plates of bun maska and cups of chai vanish into hungry mouths. Qashish and Rachana are final-year students at a nearby dental college, a sudden procedure with the dentist they are interning with has delayed them. Once they have arrived and settled down with their cups of tea, we spend the next hour talking about what it means to be a graduate from the Class of 2022.
Their dentistry programme consists of four years of academics and one year of internship. They will graduate this December. The first two years of their college life went predictably enough. But in March 2020, life gleaming became life lustreless. Initially, like the rest of the country, they assumed Covid would come and go, just like any other virus. Qashish Saraswat returned to her home in Jamner, 55 km from Jalgaon, Maharashtra. Rachana Kanase returned to Satara. In the next seven months, spent at home, they went through a rollercoaster of emotions and experiences. They were glad to spend time with family but missed the freedom of college. They spent hours on social media, but then tired of it, as their lives would never compare to those of "influencers". Social media has been both their anchor and their disruptor. They have used it to stay in touch with friends but have turned against it when cries for oxygen and burning pyres overwhelmed them. They muted classes and slept through lectures, but they also picked up new skills and interests from YouTube and podcasts. They tried to focus on classes but the bustle of family in the same house distracted them. They wrote exams while an unwell relative slept in the same room, and to the soundtrack of ambulance sirens. They know teachers who have died of Covid. They missed eating pani puri with friends but enjoyed cooking for the family. They yearned to go partying and clubbing and realised that their own towns shut down by 8PM. They returned to college after seven months to continue their classes, and are today known as the "Covid Batch" by their juniors and seniors.
Twenty-two-year-old Qashish and 23-year-old Rachana's experiences are not an aberration. Rather, they capture a snapshot of what roughly millions of students who complete their graduation in 2022 have gone through in the last three to four years. Over the last few weeks, I have spoken to numerous young students across urban India—from Hyderabad to Bengaluru to Pune to Ahmedabad to Delhi to Dehradun—who graduate this year. Many humanities students have lost out on two out of three years of college. Those in four-year programmes have availed of more on-campus time. Their experiences are heterogeneous and each significant in itself. But having chosen students at leading urban universities, trends do emerge. Like in a Zen garden, one can notice certain patterns in the sand. Stepping back, one will sense the symmetry and rhythm of their lives. Every student has gone through a unique and tumultuous time, and many of their experiences overlap and dissolve into each other. They share some common ground with their immediate seniors and juniors, but besides that, their experience of college has been like no other batch in recent history.
Many of these students have reset their lives over the last two years. Priorities and personalities have shifted. Career goals have altered. Relationships with friends and family have moulted. Having seen suffering, illness, and even death in their youth, they often seem far older than their years. These students in their early twenties, belonging to Generation Z (also known as zoomers), are aware of their privilege, thanks to the top-rated colleges that they study at and the technology that they have access to. They realise that the comforts that they take for granted are not available to all.
For many humanities students from Delhi University, their college experience has essentially consisted of eight months in class before the pandemic, and now the last two concluding months. Many of them will graduate at the end of May. Shivangi Bhardwaj of Miranda House, Delhi, says, "Our mid-semester break started in March 2020. It was supposed to be two weeks, but it went on for two years." The chorus line for students in three-year programmes is that their college experience has been—"Freshers to Farewell". They enjoyed these two events in-person, and the middle is just a vacuum.
Academically, the biggest shift for the Class of 2022 was classes moving online. The rare advantage that students found of online classes was that they could choose to mute a professor or switch off their cameras for a class they did not enjoy. Students who live in the same city as their colleges were glad to not commute to class, and attend in their pyjamas.
Fatigue set in quick enough with online classes, and the initial enthusiasm ebbed into ennui. Mukta Mitra of Miranda House, Delhi, says, "For one semester, online education is great. But when it continues for two years, when you can only meet your professor in a pixel, it becomes very difficult."
It is interesting though how all the students I spoke to felt that their professors had tried particularly hard at this time. While appreciating this effort, all of them also confessed that the online format simply falls short.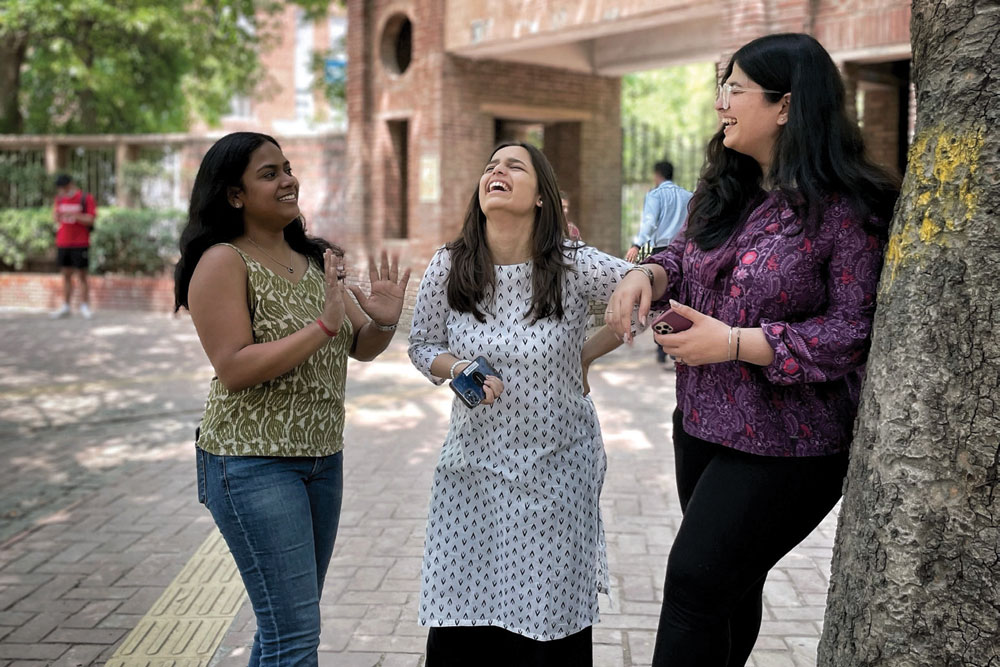 Their responses to online classes often varied depending on their temperament and inclinations. Those who confessed to being "introverts" and "not too interested in academics" found online classes especially dull. A student who "cannot even watch a movie from start to finish," said she did not attend online classes at all over two years of college. Those who enjoy extracurricular activities, whether it is sport or theatre, found no outlet for their passions during their college years. Their extracurricular activities peaked and ended in school. Online classes reinforced their losses.
Humanities students missed out on the exchange of ideas and opinions. As Mukta says, "We study Sociology. Sociology cannot happen without debates. And debates in an online sphere is not really possible." For many humanities students, field trips also prove essential to education. Final-year students from Janki Devi Memorial College, Sociology Department, missed out as they could never go on their field trip to Dharamshala due to the pandemic and lockdown. Mukta's friend Shivangi adds, "If someone asks me, 'How much has your brain developed?' I'll say, 'It has developed only till Class 12.'" Shivangi's single-line assertion captures the setback that was this pandemic. College is ideally the time when one learns the most, from both professors and peers and the world at large. But for the Class of 2022, the last three years have confined their growth.
Colleges struggled to find suitable methods for online evaluation. The Open Book Exam and Multiple-Choice Questions seemed the obvious fixes. Many colleges provided 'satisfactory grades' to all students, to ensure that everyone was promoted. While students realise these were the only alternatives, they do feel these band-aid measures were not always the most conducive to learning. A student mentions how once, midway through an exam, the entire question paper changed. She realised there was nothing to do but "roll with it". Some of them call the online evaluation a "collective joke". Other students complained of how Covid and the lockdown had affected their ability to retain information. A student said she reads the same line multiple times and feels like she is registering nothing.
If the humanities students of the Class of 2022 missed out on exposure and debate, the science and design students struggled with the practical aspects of online education. Abhishek Sabnis, who is studying Mechanical Engineering at Indian Institute of Technology (IIT), Hyderabad, recounts how the lab work for his course had to be conducted online. "The professor would switch on a video and show us how an experiment is done. We were just looking at the experiment and then taking notes. We got no experience in labs. The professors were cooperative, but unless we do it, it is quite difficult."
Atharva Kulkarni, who moved from Pune to Srishti Manipal Institute of Art, Design, and Technology, Bengaluru, and who will graduate as a service designer, mentions how the third year is crucial for students of Srishti as they get to work on group projects. Finding support from his professors and peers, he was glad to see how some of the ideation and prototyping could be done online. With the onset of the second wave, Atharva had to do his entire internship at a design studio online as well. He feels he missed out on the experience of interacting with other employees, and the office culture, as beyond his mentor, he had little interaction with anyone else.
Twenty-two-year-old twins Aryan and Aryaman Chandra, who are originally from Dehradun, spoke about their own challenges with classes moving online. Aryaman is in his final year at Vellore Institute of Technology and Aryan has just graduated from Narsee Monjee Institute of Management, Bengaluru. Aryaman mentions how simulation software ensured that he could complete his electronic lab classes online. Even though it wasn't the most efficient way, he is grateful for it. Aryaman also feels fortunate that he was not in his twin brother's class, as Aryan graduated at the height of the pandemic when firms were laying off and not hiring. Aryaman explains, "Our seniors faced the real setback, as a company which usually hires 100 people, in our seniors' batch, hired only 60-70. And in our batch, 130-140 were hired. I was lucky for that."
For students of dentistry and medicine, online classes were not an option as they needed to work on actual patients. Qashish and Rachana recount the pressures of practising on human mouths when the world was masked up. Considering themselves as "Covid warriors", they returned to college after just seven months away at home. Having overcome the fear of working on patients, their next challenge was to procure patients, as that is the duty of the 100 students in their class. This is a hard enough job during 'normal' times; the pandemic compounded it. They wandered in a nearby basti and accosted elderly men who seemed to have no teeth. They would then try to convince them to come to their college for treatment. Even harder than finding prospective denture patients was convincing parents to send their children for treatment. The parents would often tell them, "Agar Covid nahi hai, ho jayega tumhare vajaye se/If we don't have Covid, we will get it because of you."
THE SHIFT TO ONLINE classes and the lockdown have impacted millions of students not only academically but also socially. Many students whom I have interacted with from Generation Z are believers in the MBTI analysis. The Myers-Briggs Type Indicator is a tool to help understand one's communication preference and how one interacts with others. Tina Chawla of Daulat Ram College, Delhi, who is studying Psychology, says, "I feel I have changed. I was an ENFJ and now I am INFJ. And I've no idea how."
Unwilling to display my ignorance at that moment, I turn to Google at the end of the call and learn that ENFJ means Extroverted, Intuitive, Feeling, and Judging personality; whereas INFJ means Introverted, Intuitive, Feeling, and Judging personality.
Beyond these easy acronyms, many students mention how there has been a shift in their personalities. Extroverts say they are now introverts; introverts have become hermits.
Twenty-one-year-old Atharva from Srishti, Bengaluru, a self-identified introvert, has become pickier with the pandemic. He says, "Because of the pandemic, I did not want to talk to people. We'll just talk online. I didn't want to have a face-to-face interaction. I became very selective with the people I hung out with once I was back. There was definitely a shift." He adds with a laugh, "Wearing masks was helpful. It is a good escape. You can just put on your headphones and walk off." Qashish, "a big extrovert", now finds that "you've to keep your circle small, that five people
are enough."
For many of the students, not being in the same physical space as friends proved the hardest. Rachana mentions how with parents there tends to be "chic-chic" (small arguments); with friends, that is not the case. Sitting at home, they grew tired of conversations that revolved around the next meal and yearned for deeper connections.
Abhishek of IIT Hyderabad says, "College is not only about attending class, going for lectures and writing for grades; that is just 30-40 per cent of college. The rest of the time is spent with friends. Sharing ideas with friends at night. Going out with them. Participating in extracurricular festivals. In our college, there are many fests. These fests are very important because we get to relax and participate with friends. This whole life got completely shut out. And the most we could do was talk to friends on a Zoom link."
The absence of fests came up in many conversations. Mukta from Miranda House notes, "We had our first and last college fest in April." The final-year students were as taken aback as the freshers at the joy and glory that are college fests. She adds, "I was like, 'Oh my god, is this what a college fest feels like? Is this what dancing with the crowd feels like?'" For many in the Class of 2022, the college fest, which is such an integral part of the annual calendar, was special not only for its celebrations but for its rarity.
College is also the first taste of freedom, the quintessential rite of passage from childhood to adulthood. Women students especially mention how returning home, and that too during a pandemic, meant an end to all freedoms. Shubhangi Mishra of Janki Devi Memorial College says, "As girls, college was a time of freedom. We could go out and didn't need to answer our parents that much. Staying in the house, now there was this added excuse for not letting us go out because of Covid."
IN JEST, A FEW STUDENTS mention that in school their understanding of college was from Karan Johar movies. College is, of course, about academics, but like the movies tell us—college is also about dancing and preening, socialising and cavorting. It is quite simply about having a good time after the drudgery of the Indian schooling system.
For the Class of 2022, the Joharesque version of college seems ludicrous as many students have gone through a "dystopian nightmare". They talk about watching funerals on Zoom. Tina asks, "What is the point of an online funeral, you can't even emote with anyone?" They have seen friends and family suffer. Many have lost grandparents, parents and teachers to the pandemic. Many fell sick themselves. They have known sickness and death, loss and suffering, and they are only in their early twenties.
But now with just months (in some cases, days) ahead of their graduation, they are also able to see the larger picture. Many students say that the pandemic has changed the course of their life personally and professionally. The lockdown allowed for a refresh and a reset. During the months (or years) at home, they were no longer on the hamster wheel. They enjoyed getting to know neighbours and loved ones. They took up new interests. Rachana spent time on Sadhguru's lectures and on meditation. Mukta found comfort in a weekly podcast, 'The Internet Said So'. Qashish, who had always been immersed in biology books, found herself reading about diplomacy and policy.
The one common benefit of the pandemic, many mention, is that they got to spend concentrated time with their families. Many felt responsible for parents and grandparents, knowing that they were especially vulnerable. Anit Maria Joseph, from Miranda House, who is originally from Kottayam, Kerala, says she barely left her home for two years, as she was scared for her family. She used this time to launch her own YouTube channel. At the end of the call, I Google it and find myself strangely moved by her solo musical performances with a ukulele for company, performed from her balcony.
Anish Purbey, who is studying Chemical Engineering at IIT Hyderabad, and who belongs to Samastipur, 90 km from Patna, says that before the pandemic, he learnt a lot on campus. But once he reached home, he enjoyed sitting on the floor and eating with his parents. He also spent this time learning how to cook, and can now easily churn out dishes from chicken curries to momos to kachoris.
Anish's friend and batchmate from IIT Hyderabad, Amitanshu Sahoo, whose family lives in Bhubaneswar, similarly found his time at home meaningful. The lockdown strengthened his relationship with his mother. He deserves to be quoted in full: "In 19 years of my life, I had not communicated with my family as much as I did during the Covid period. Especially with my mother. There was immense pressure on her to carry out all the household chores. I got to understand her importance in my life and the tasks she carries out. These things are not appreciated enough when they are the most crucial parts for a human being, like cleaning the house and keeping the food coming at the right time. Covid has made me a much more practical person in life."
In Jamner, Qashish became the in-house doctor for her ailing 86-year-old grandfather who could not be taken to a hospital as the medical centres were packed with Covid patients. She would do a magnesium sulphate dressing for her Bade Dadu's cellulitis, three-four times a day. Even today, her grandfather is grateful to have had his granddaughter at home at that uncertain time. She says, "I feel it was the best time to spend at home for those who lived with their grandparents." Qashish adds, "It was a blessing in disguise."
While the pandemic and lockdown forced families to cohere, it also made individuals re-evaluate. Some of the students I spoke to changed their professional track during the pandemic. Abhishek from IIT Hyderabad says that as a mechanical engineer, he was to take up a research project in March 2020 that required hands-on work. That project fell through and he slipped into boredom only to be rescued by his friends who were into AI. "The thing about software is you only need the internet and laptop to learn it, nothing else is required. So, I very quickly got into it." Before long, he decided to pursue a minor in AI. He adds, "This phase was completely about learning, completely on my own, online. This lockdown was a period of great self-reflection. It gave me time to think about what to do in life. A shift happened because of the pandemic."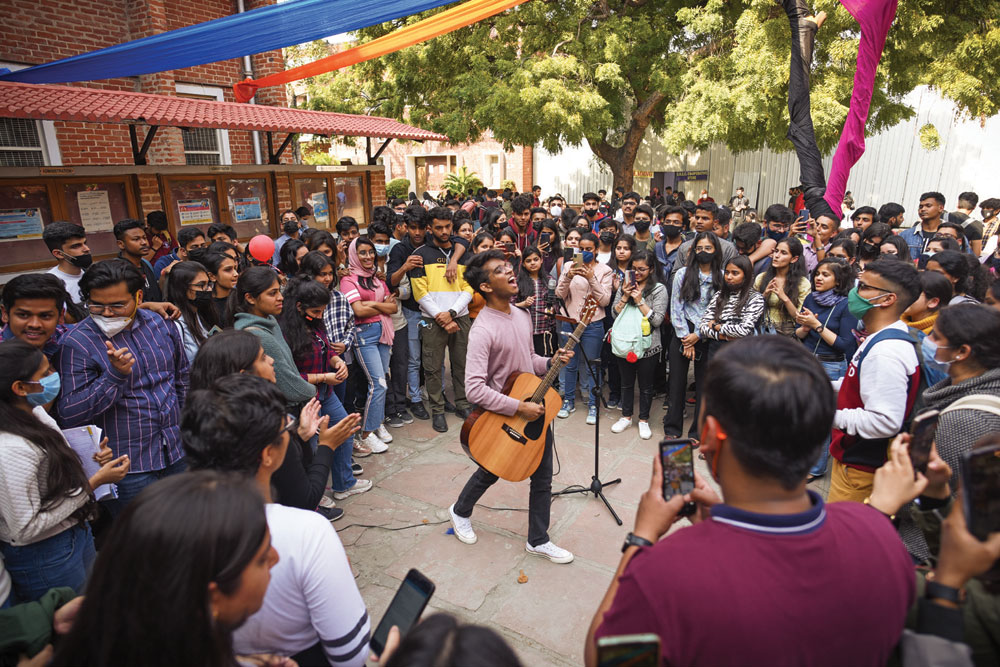 Abhishek's friend Amitanshu, who feels "privileged enough" to have a roof over his head and stable internet, etc, used the pandemic to "rethink" his path. He says, "At IIT, most of the time, the pressure is guiding you towards your goal rather than you reconstructing your path where you want to go. Lockdown came as a blessing at that point. It helped us rethink where we wanted to go. I changed my path completely from mechanical to software. Now, I have a job in a multinational corporation."
The students I spoke to for this story are graduating from some of the top colleges in India. They always seemed aware of how privileged they were compared to so many others who had completely lost out on education as they had no backing, either academically or socially. A significant differentiator during this pandemic was those who had the internet, and those who did not.
WHEN TALKING TO Gen-Z about the importance of the internet and social media, the most common refrain is: "Without the internet, I'd have gone mad." A student says out of the 24 hours in a day, eight were spent on sleep, and the rest either on the phone or computer. Born around 20 years ago, these urban students are true digital natives. The pandemic and lockdown have only reinforced that.
The online world was not only a portal to the classroom, it was also their one-stop centre for entertainment, information and socialising. Initially, social media traps, like the Dalgona coffee challenge, kept many engaged. Soon, many of these students were spending more than four hours a day scrolling through YouTube or Instagram. Couples who were in different cities watched movies while on a Zoom call, so it felt like they were watching it together. Aryaman mentions that he and his friends use Discord, an instant messaging service that is popular for the sharing of large files, GIFs, and screenshots. When I confess that this is the first time I have ever heard of it, I see a gentle smile of derision on the lips of the twins.
Telegram and WhatsApp are, of course, the other two popular platforms. Upansh Srivastava, 22, Bachelor of Industrial Product Design, UPES, Dehradun, mentions spending hours playing PUBG with friends.
Social media helped "recently graduated teenagers" (as Upansh calls his tribe) to pass time and connect with the world. It was a refuge from loneliness. It also glued friendships in times of crisis. Tina speaks about watching her best friend onscreen when she was breathless with Covid. For close to a month, Mahi and Arista would spend around 10 hours a day with each other on a WhatsApp call. Arista was alone with her dog in Gwalior, with her family scattered around the country, either tending to ailing elders or at work.
Separated from family and terribly lonely, friends on the phone provided her much-needed comfort.
As a student leader at IIT Hyderabad, Anish used the internet and calls to conduct10-minute meetings to ensure that students and their families were doing okay during the second wave. If someone had a parent who had Covid, they would help in whatever way possible.
The Class of 2022 will perhaps look at the seniors and be glad to have graduated in a new normal rather than in the midst of a pandemic. But this much is clear—these young graduates know how to adapt. Many assumed they were going home for a two-week break only to return to college two years later! They were thrown into full-time online classes, which had no precedent, and just as they were getting used to that, they were called back in for offline classes. When I ask them about lessons from the pandemic, they all turn philosophical and say they have learnt the importance of nurturing human relationships, how one must make the most of every day, and that nothing in life is permanent. They know that the present is fragile, and the future is open. The Class of 2022 is not the "Covid Batch", rather it is the "Resilient Batch".