SMRITI ZUBIN IRANI LIKES TO SURPRISE PEOPLE. When she was 27, she played a mother in her 40s on Star Plus' hit series Kyunki Saas Bhi Kabhi Bahu Thi. After she lost in Amethi in 2014, she wasn't expected to return to the Gandhi family fiefdom. She did, winning the Lok Sabha seat in 2019. Now that she has written a book, everyone expected it to be a memoir. It isn't. Instead, it is a pulse-quickening, heart-thumping thriller with a twist at the end no one, including the hero, Central Reserve Police Force (CRPF) officer Vikram Pratap Singh, sees coming.
Set in the forsaken and fictional village of Ambuja, a stand-in for Chhattisgarh, her debut novel, Lal Salaam (Westland) has Vikram trying to unearth the truth behind the killing of his dearest friend and a fine fellow officer Darshan, even as a series of horrific murders takes him from the dusty government offices of Raipur to the manicured, academic hotspots of Delhi's universities, from the dense forest camps of Maoist commanders to the fortified homes of local industrialists.
Call her a rightwing rebel or a self-made woman with a mind of her own, Irani inhabits many worlds. She is a politician, representing Amethi in Lok Sabha. She is an administrator, currently as minister of women and child development. She is a homemaker, with three children, a beautiful home and a devoted husband. At heart though, she is a storyteller, one who has a way with words, spoken and written, who can hold an audience in the palm of her hand with her oratorical abilities and equally, now, keep them spellbound as they turn the pages of her novel.
It is a world she has painstakingly recreated through sleepless nights and travel-worn days. Writing on the phone, or on sheets of paper, it came together in bits and pieces. The novel takes the reader into the heart of Ambuja where "demons are born and dreams go to die, where the long shadow of the past eclipses any feeble, flickering hopes for the future". It's a world where children are handed guns, not books; where women are raped, not revered; and where every villager could be an informer, infiltrator, or both. There are no heroes here, only men with feet of clay. As she writes: "They say a person's destiny may be shaped by God, but even God can't help those unlucky enough to be born in Ambuja." It's a world she is familiar with on her political travels but whatsparked off the book was the Dantewada massacre of 2010 which saw the killing of 76 CRPF personnel and a TV debate on it. When one of the panellists suggested that it was par for the course for paramilitary forces to be killed in such encounters, Irani says she saw red. "I was enraged, not even outraged. How could you be so inhuman!" she says now. From that day till now, the plot of the book had been brewing in her mind.
"For me, the joy is the presumption that a writer cannot oscillate between the two worlds of fiction and non-fiction. And that if you're a kind of woman who's had a political and social background, the work will be either an autobiography or about politics or female emancipation or a critique of how empowerment is looked at or maybe about Amethi," she says. It brings all her many philosophies together, whether it is her distaste for what she calls the Naxal industry or entitled leftwing academics. "The Maoists have always been romanticised in popular culture," she says. "The idea that if you were impoverished you would raise your guns against the state never resonated with me. There were many who sold it in intellectual circles. I've been poor as well. For me it was difficult to understand that not only would you crush the very Constitution you needed to abide by but you would also profit from such violence," she says.
They are never seen as exploiters of the exploited or collaborators with the exploiters. By skilfully weaving Maoist rate cards and the surveillance system into the narrative, Irani makes it about the business of Naxalism and its connection to "well-endowed intellectuals". "We've all heard about women being violated in Naxal camps. It's just that these stories were never told," she says. It is not an organic movement, she maintains, rather a deliberate crime against democracy and light years from the way it has been portrayed in cinema and literature.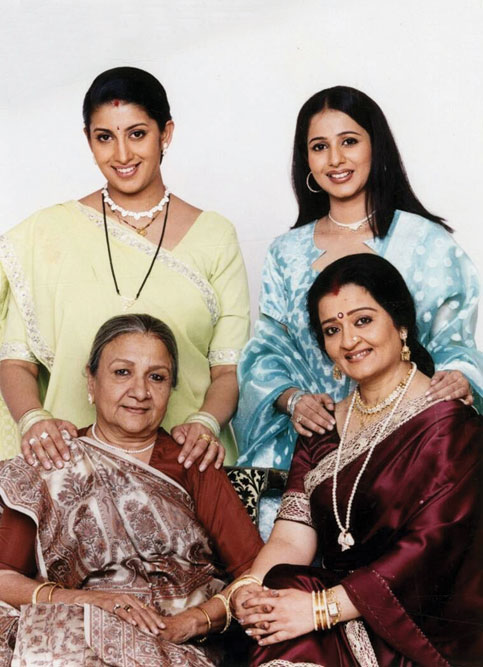 This is not the first time Irani has written something. She wrote the concept note and the screenplay evolution of Virrudh, a much-feted series she produced and acted in on Sony TV in 2007. Kamlesh Pandey, writer of Rang De Basanti among other movies, worked with her on that. He calls her a "born writer". "Even while working on Thodi Si Zameen Thoda Sa Aasmaan, her first production for Ekta Kapoor's Balaji Productions in 2007, the story of which I wrote, I could sense her storytelling ability which was very useful to me. Virrudh, her second serial, was her concept, based on the true story of a media house. She actively participated in the story even though she never gave her name as part of the writing team. Her own speeches, the way she describes things, it has helped her in her political career. In politics too, you need to sell a good story to voters. She did so in Amethi, defeating Rahul Gandhi, and she continues to do so on whichever platform she is," he says.
From what happens to the brain when it is smashed with a rock to the details of jungle foliage, Irani says she wanted to write Lal Salaam in such a fashion that it could be visualised. Whatever she writes or speaks about is based on experience or extensive research, she says, and adds: "I need to go through the book myself and not wait for a minute to exhale. I don't want the reader to put it down. Every sense needs to be alive when you're reading it. My editor wanted the mystery to be plainly told and I told her the twist is what is scrumptious about the book."
A mix of fact and fiction, the book has multiple characters with their own journeys told in specific contexts. Based on her own travels in Chhattisgarh, Jharkhand and Maharashtra, extensive conversations with forensic experts, with officers who have served in these areas, with non-governmental organisations and reporters who have covered these areas, she has woven a cast of characters which is flawed but also fully formed, from SP Vikram Pratap Singh to the intrepid reporter Devika Doria, from the matter-of-fact policeman Gayaram to the earnest Bhoomi. The book is not merely about the politics of the conflict. It is also about deeply felt emotions, the relationship between two friends, Vikram and Devika, the playfulness of their conversation; the friendship between Darshan and Vikram, their silences and their understanding, and the solidarity between Devika and Anjali, their sense of loss and their total ease with each other. It is a muscular tale, told with immense empathy.
Irani has been writing another work alongside, which is three-fourths done. She has now given it in for research. In fact, it was while waiting for it that her editor was so exasperated that Irani suggested Lal Salaam to her. She narrated it to her and asked her whether she would like her to write it. "I gave her an end-to-end description of the plot in half-an-hour and it piqued her interest. She asked if this would take three years and I said it wouldn't. I gave her the manuscript in seven to eight months." When you've looked at a story through every lens and when you've described every character, it's as though you are relaying on paper something that is alive, she says. "I remember my editor was running against time and didn't have the acknowledgements. She asked me if I wanted it or whether she could rush to print? And I told her to wait, and on a car ride between Noida and Delhi, I wrote my acknowledgements," she adds.
THERE IS A JAMINI ROY painting of a cat on her living room wall, sharing space with an Anjolie Ela Menon and a Satish Gujral, among others. The cat is smiling, eyes closed, and at peace. It reminds me of Irani, someone who likes to stir things up in public but then retreats into her happy, private space. It's a place she returns to after her travels, where she has raised three children with much love—Chanelle, her husband's daughter from his first marriage, 32, an international arbitrage lawyer based in London; her son Zohr, 20, now at Warwick Business School, England; and her daughter Zoish, 18, a talented chef.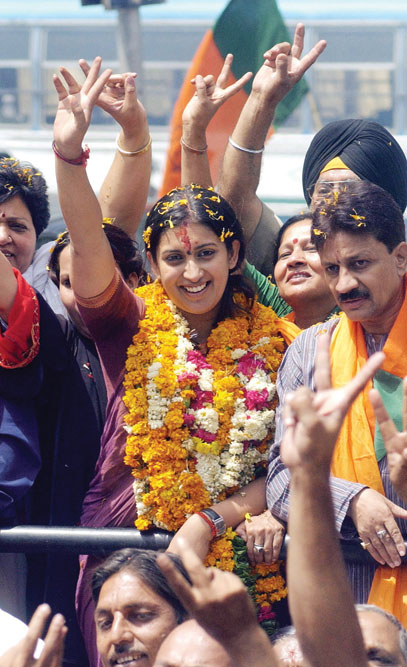 She sleeps three hours a day ("I hope people don't think I am a vampire") and works non-stop but with laser focus. There are no hangers-on at work or at home. And no false promises. "I tell everyone very clearly. I will do whatever can be done within the tenets of law, not otherwise," she says.
Adman and lyricist Prasoon Joshi, who was appointed to chair the Central Board of Film Certification in 2017 when Irani was minister of information and broadcasting (I&B), calls her a person of expression—be it through acting, action or speech. "You see images drawn and you see them come alive," he says. "She's fearlessly put forward her beliefs in front of you. She seldom gets distracted by milestones and keeps a keen eye on the goal," he adds. Indeed, Irani often speaks of not resting on her laurels, important for someone who has achieved so much at 45. "It is easy to rest on your laurels . I've won the biggest political upset in history but is that enough when you have so much life to live? Life need not be only about victories and failures. It should be about living."
The broad outlines of her life-story are well known. Daughter of a Punjabi-Maharashtrian businessman father and a Bengali working woman who was housekeeper at Taj Mahal Hotel, Delhi, Smriti Malhotra grew up mostly at RK Puram, Delhi, and went to Holy Child Auxilium School. The eldest of three sisters, she grew up with a sense of responsibility and started work early. From selling cosmetics on Janpath in Delhi to swabbing floors at McDonald's in Mumbai, she has done it all. She entered the Miss India pageant in 1998, broke into the top 10, got a job in television, before catching the eye of Ekta Kapoor's mother while hosting a few episodes of the music countdown show Bakeman's Ooh La La.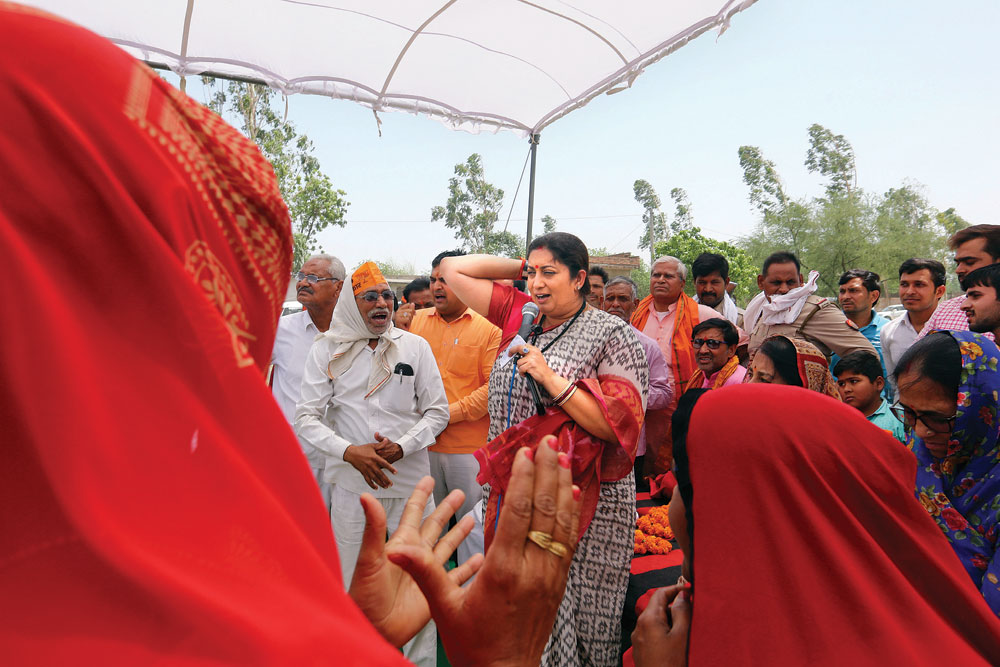 Kyunki Saas Bhi Kabhi Bahu Thi was launching on the back of Kaun Banega Crorepati in Star Plus' new Indianisation strategy. Playing the priest's daughter brought up with good "sanskar", Irani's Tulsi wins the hearts of the Viranis, a rich family based in Ahmedabad, and soon enough the love of Mihir, their US-returned son. Irani got the job despite protests from Kapoor's team and went on to become a domestic goddess across Indian living rooms. It was the beginning of her intimate connection with the people of India. "In my 25 years in public life I have been in direct conversation with people as an actor and now as a public representative. I have never said I am Miss Know-It-All (although people say I am a Miss Done-It-All), but what they are assured of is that I will give it my best shot," she says.
It is something she has continued in her political career as well, through its many ups and downs. "Everyone is so driven to live up to an image, we forget we only evolve if we stay true to who we are as individuals," she says. "We try to conform but we forget people know us, can look through us. We do a great disservice by creating a mirage. People have accepted me with my flaws, with my challenges, with my hopes and aspirations," she adds. One of her greatest joys is that there is no barrier between her and the people. "Today I can walk into any home in India and I will be welcomed," she says.
She speaks of spending Dussehra in Amethi watching the burning of Ravana's effigy with a young man. "One of the simple joys of life is when you can stand in a bustling crowd and a stranger can come and share his silence with you. As a people, especially in politics, we don't take the time to have a conversation which is not opinionated, transactional or designed to score a political point. I am so happy I can still do that with anyone," she says. She recalls a teacher, Mrs Rose, catching hold of her one day while she was dashing about in the corridor of her school. She was 15 and her teacher told her to stop and smell the roses. She hasn't forgotten it even 30 years later.
Becoming the youngest Cabinet minister in the Narendra Modi Government in 2014 wasn't easy. Inducted into the Bharatiya Janata Party (BJP) in 2003, she fought the Lok Sabha election from Chandni Chowk in Delhi in 2004 and lost. She continued with her acting career, had her babies, raised her children, became vice president of BJP's Maharashtra Youth Wing, was made a Rajya Sabha member in 2011, and then unexpectedly was thrust into battle in Amethi against Rahul Gandhi. She lost but honourably, was made human resource development minister (HRD) in the first Modi Government, was moved to the textiles ministry, then given I&B, and finally, after the spectacular defeat of Rahul Gandhi in the 2019 General Election, she was given the twin ministries of women and child development and textiles.
She used the Covid-19 downtime for other things as well, completing an online course in fintech from the University of California, Berkeley, and losing 15 kg. Ask her about it and she laughs: "It's a national obsession." Indeed it is, but only because Irani continues to be one of the most charismatic storytellers India has seen.
She knows the world sees self-made men differently from self-made women. "A self-made man is often an aspiration, never flawed, always forgiven. A self-made woman is expected to be bitter, non-conformist, feminist, supposed to embrace the multitasking aspect of her personality and become almost superhuman. There are many waiting for the self-made woman to perish and not so many to stone the self-made man to death," she says.
She has flourished with every opportunity that has come her way. She has not lived a life always filled with joy and achievement. "My failures have been very public. In 2014, I was mocked when I went to Amethi. In 2004, I was laughed at when I lost Chandni Chowk. In 2016, my political obituary was written in the centrespread of a popular national daily. My fights and positions have been public. That doesn't make you lonely, it makes you more self-assured." There is nothing scarier than a woman who knows her mind, she says with a laugh that travels all the way from her stomach to her eyes.
She tells the story of a colleague who was desperate for her to perish politically. He always found some fault in her—she was a mere actress, she was too young, she didn't know how to make a speech. When she was finally made HRD minister in 2014, he called her up grudgingly and said: "Tum to kar bhi logi (You will manage to do this too)." Yes, she says, with a mischievous fist pump.
She has no interest in seeking anyone's validation and says it stems from being unsure, insecure, or having a desire to please. She has only a desire to please, she says, and can do it best if she is just, diligent and engages with those who have been left behind. A good leader is someone who will take you where you want to be, she says, but a female leader is someone who will take you where you ought to be. Not bad, you say. "What do you expect?" she says right back. "I am a writer, after all." Gladiatorial and gutsy, feisty but also fun, assertive and inclusive, Smriti Irani is only just getting started, adding a thriller to her thrilling personal story.
Excerpt
Darshan Kumar stifled a yawn and shifted his position in the navigator's seat of the armoured vehicle.
It had been a long, hard patrol and the deputy commandant of the Central Reserve Police Force battalion posted in the Maoist hotbed of Ambuja had walked alongside his men for most of it, only getting into the vehicle for the final stretch back to camp.
Shifting around to get comfortable, he grunted as the jeep hit a bump. It wasn't a proper road, more of a dirt track that had been hacked out through the forest, barely wide enough for two vehicles. If you stepped off the road into the jungle, the path vanished completely as if swallowed by the dense vegetation—mostly sal trees along with a thick undergrowth of shrubs, bushes and grass.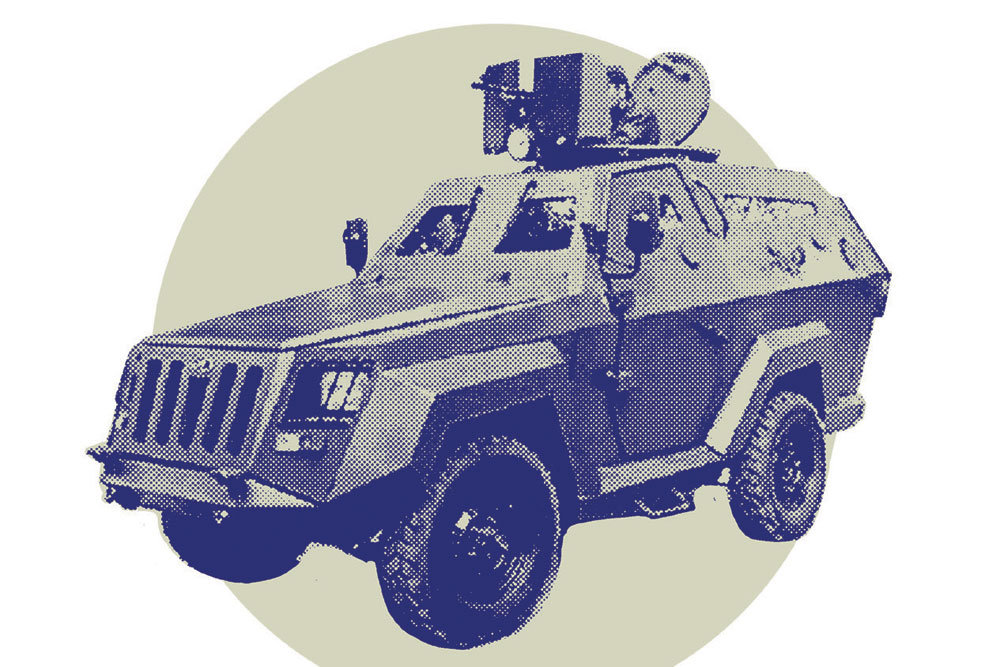 The forest was a treasure trove of plants used by the locals for medicinal purposes. Darshan had often thought of documenting the plants and the remedies they were used for, but work and exhaustion had got in the way.
Another twenty minutes or so to go, he told himself, thinking longingly of the bed that awaited him. Have to phone the wife and kid too. Maybe after I've had a nice nap and a quick shower and shave, he thought.
He stretched his back and shoulders and heard a click.
Then all hell broke loose.
The ground beneath the jeep erupted in a shower of dirt even as the shockwave from the bomb slammed into the vehicle. The explosion threw Darshan well clear of the vehicle, very close to the dense trees that surrounded the path. He landed on the ground near the trees with a sickening thud, the breath knocked out of him, and blacked out.
It was a scene straight out of a horrific nightmare. His co-passengers weren't as lucky. They sprawled grotesquely, limbs contorted at impossible angles. Mangled body parts, many fused with bits of steel from the vehicle, were strewn across the forest floor.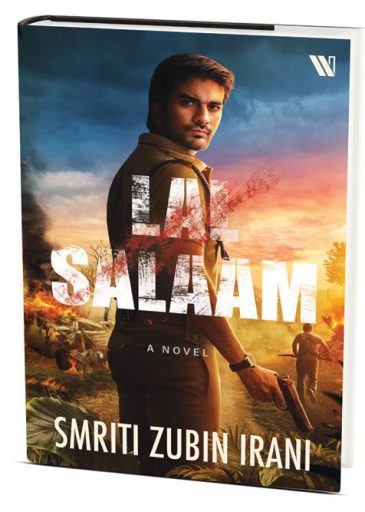 The majority of the patrol party had been on foot. Those walking close to the vehicle were killed instantly. The others, wounded by shrapnel from the explosion, were still struggling to make sense of it when the attackers emerged from their hiding spots and opened fire. The patrol party was now trapped with hardly any cover available.
Some ran towards the trees. Others crouched behind the mangled remains of the jeep, to use whatever pitiful protection it provided as they desperately attempted to fight back.
Darshan woke up with a start, his ears ringing, his brain sluggish, as though a fog had engulfed it. He shook his head, trying to clear it. Dimly, he saw that some figures had emerged from the forest surrounding the path. They were converging on the blast site, firing their automatic weapons ndiscriminately, yelling with the reckless abandon that is triggered when bloodlust runs amok.
Ambush, he thought frantically. He moved his limbs, checking to see how badly injured he was. He ached all over, as though he had been battered for hours. He was bleeding from multiple cuts, but there seemed to be no major injuries or wounds. He looked around, assessing the situation.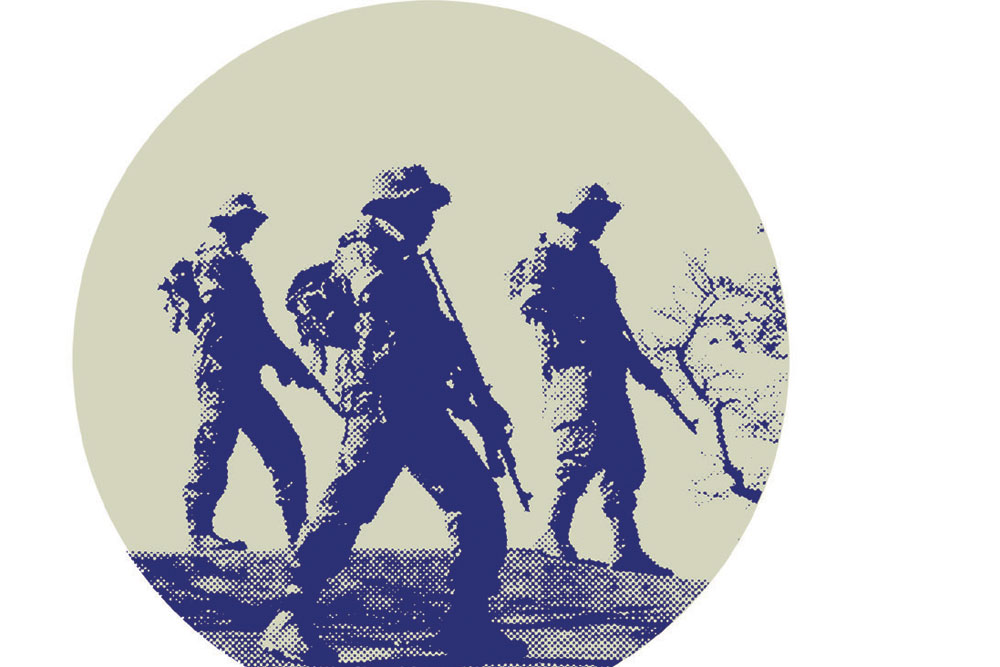 Amidst the noise from all the firing, Darshan made out the distinctive rat-a-tat-tat of a light machine gun. He looked around, trying to pinpoint its source. There! It came from a hillock slightly to the left of the road and had a clear line of fire towards the ambush site.
At 11 o'clock from here. Maybe 500 metres down the road as the crow flies, he estimated. There was no way he could mount a frontal assault without being gunned down. But if I get into the forest and go straight for about a kilometre, I'll get past the attackers. Then I can turn right, come up behind the hillock and attack them from behind. If I can get my hands on the gun, I can turn it on the Maoists. We might still have a chance, Darshan concluded.
The plan was fraught with risk, involving rapid movement through dense vegetation and past several attackers. Darshan refused to think of the obstacles—he couldn't afford to. Slowly, surreptitiously, he inched forward, trying not to make any movement that might attract attention, his back rigid, expecting a bullet to slam into him at any moment.
He heaved a sigh of relief as he made it to the treeline safely, then sprang to his feet and drew his revolver. He had lost his assault rifle in the blast, and his only other weapon was the jungle knife that hung at his hip.
As he ran through the forest, he thought of how well executed the ambush—set up a mere hour since the CRPF's last patrol—had been.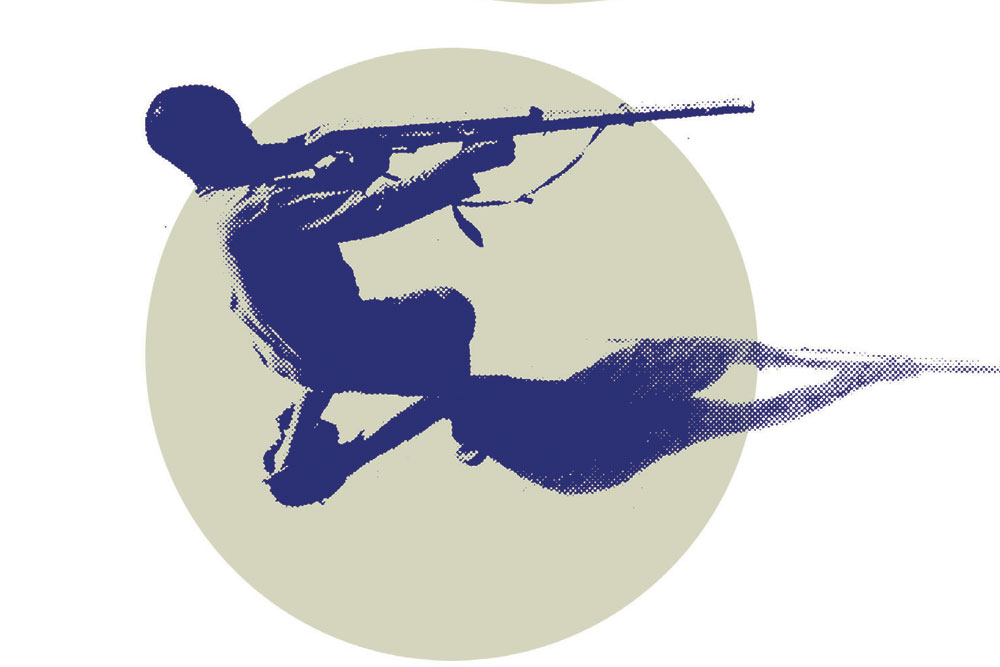 Engrossed in his thoughts, he didn't notice the thin, almost invisible wire strung up between two trees at a little above ankle height. He tripped on it and went sprawling into a clearing. It was a small open space, the vegetation hacked away to carve out a camp site. A few plastic sheets served as bedding and there was some camping equipment lying around. It was deserted—except for an old man whose attention was on the battle raging on the dirt track, his back to Darshan. He had presumably been left on guard duty as he was not in prime fighting condition, and was armed with only a shotgun.
The old man whirled around as Darshan came to his feet. As the two stared at each other, Darshan felt a chill go down his spine. He was looking at the cold, vacant stare of a seasoned killer.
Don't be fooled by his appearance. This man will slaughter you without a second thought, he reminded himself. In the time that it took Darshan to process the thought, the old man raised his weapon. Darshan snatched up his revolver and pressed the trigger. There was a loud click—and nothing else.
'Shit, it's jammed,' he cursed, hurling his revolver at his adversary, charging at him even as the other man fired. Darshan felt a burst of agony in his left arm, but kept going. He grabbed the man's wrist and twisted it, forcing the barrel of the shotgun towards the sky. The two struggled, each trying to overpower the other. Then Darshan slammed his head into the man's face, at the same time kicking his foot out from under him. The old man fell to the ground, stunned. As he tried to get back on his feet, Darshan smashed his elbow into the man's forehead. The old man slumped back, knocked out cold by the blow.
Darshan waited to see if the man would get up again. But he remained unconscious. As the adrenalin slowly receded, Darshan sank to his knees, the pain hitting him with full force. He felt a wave of giddiness and nausea sweep over him and peered at his upper arm. The bullet had made a clean exit but left the limb a bleeding mess. Well, I'm not going to get any fighting done with that, thought Darshan. He cut a long strip of clothing from his unconscious foe's body, then tied it around his arm as tightly as he could, awkwardly using his right hand and mouth to fasten a makeshift tourniquet.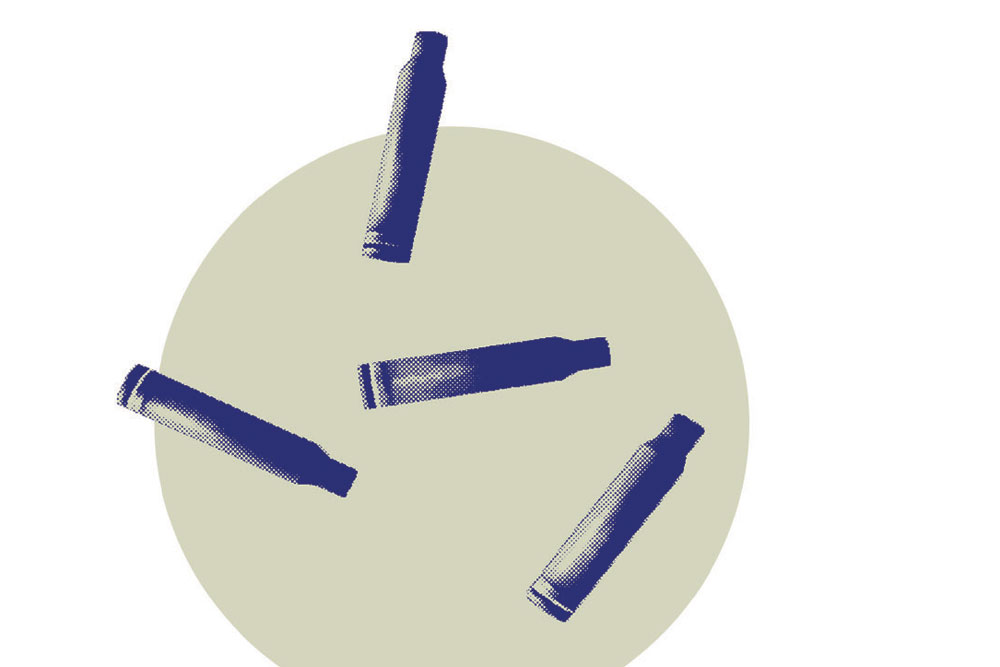 As Darshan wiped the sweat streaming down his face, he heard a branch snapping behind him. He froze for a moment, then turned slowly, careful not to make any sudden movement.
A young boy, who seemed to be still in his teens, had an AK-47 pointed at him. His face was innocent, almost angelic. He had a thin wisp of a moustache, and a few strands of curly hair marked his attempts to grow a beard. He's just a kid, thought Darshan disbelievingly.
The boy's finger tightened on the trigger, but before he could press it, he began to shake. 'Wait!' said Darshan, raising his hand. 'Don't shoot!'
The boy eased off on the trigger. Maybe I can talk my way out of this, thought Darshan. He spoke out loud. 'You don't have to do this.'
The boy replied in a breathless, high-pitched voice. He spoke rapidly, in the local dialect. Darshan could only make out a few random words. '… have to… no choice… they'll kill me…'
Darshan's heart was racing, but he forced himself to speak slowly and calmly, trying to soothe the boy. 'Turn around.' He made a circular motion with his hand. 'Walk away.' He wiggled his index and middle finger, miming walking. 'You go your way, I'll go mine. Nobody needs to know.'
The boy stared at Darshan for a long moment, then nodded. He lowered his gun and started to turn away. Darshan felt his body sag with relief. Then, suddenly, he heard loud, excited voices ring out nearby. The boy heard them too. He whipped around, brought the gun up and opened fire, his mouth stretched wide in a prolonged, savage yell.
Darshan's body jerked gracelessly like a marionette on a string as the bullets poured into him. He hit the ground with a thump, every inch of him screaming in agony. As darkness began to settle over his eyes, he saw a group of men approaching. One of them was casually twirling a machete, whistling a jaunty tune as he loomed over Darshan.
(This is an excerpt from Lal Salaam: A Novel by Smriti Zubin Irani (Westland, 256 pages,₹ 399)