I had often wondered about the dismal prospect of Satyajit Ray not being there and what Indian cinema would be like in his absence. There were of course other important filmmakers like Ritwik Ghatak and Mrinal Sen. Their contributions have been significant too; but the universal acceptance and adulation Ray came to enjoy from the very start was something unprecedented and his compatriots in comparison had to struggle hard for long even to catch the attention of the world. Ray combined in himself the spirit of the traditional and the mind of the modern. For a long time, Indian cinema was synonymous with Satyajit Ray to the world outside.
He stood apart with his keen observation of life in its varied manifestations and the multi-layered complexity of human nature with deep sympathy and understanding.
I once asked Ray, "Manikda, Pather Panchali is rich in minute details and keen observations of life in a remote Bengal village. You must have contributed so much to the original text."
His answer surprised me: "No Adoor, it is all in the book."
I am sure any filmmaker in his place would have made tall claims for himself as the film came to be universally acclaimed.
My association with Ray started in 1980 when my second film, Kodiyettam (Ascent), was privately screened in New Delhi at the time of the International Film Festival of India (IFFI). I had invited Ray and a few selected guests to the screening at the Army Photo Division's mini theatre near Rashtrapati Bhavan.
A few minutes into the film, Ray started laughing aloud. And it continued as the film progressed. I could see that he was very much involved in the film.
After the screening, we went back to Hotel Ashok where we had been staying. Sitting in the foyer we had a long chat. I felt very happy he liked the film a lot. He asked me, among other things, why I did not use any background score in the film. I explained that the use of music would have somehow stereotyped the situations in the film and limited its scope. Then he enquired: "Are you going to do away with the background score altogether?"
I said, "No. My first film, Swayamvaram had background score."
Then he commented, "Used minimally and sparingly music could be an effective element in storytelling."
I could not but agree fully.
After Kodiyettam, Ray saw every film of mine screened in Calcutta. The last one was Mathilukal (Walls) in 1990.
The screening was part of IFFI, held in Calcutta that year.
Ray was convalescing after his heart operation and I knew it would be difficult for him to come and watch the film at Gorky Sadan. All the same, as usual, I telephoned him and informed him of the screening.
"Adoor, I am advised by doctors not to climb any steps, and as you know there is no way but to climb a long flight of steps to reach Gorky Sadan. Anyway, I shall try, I am not sure," Ray sounded unhappy about being absent from the screening.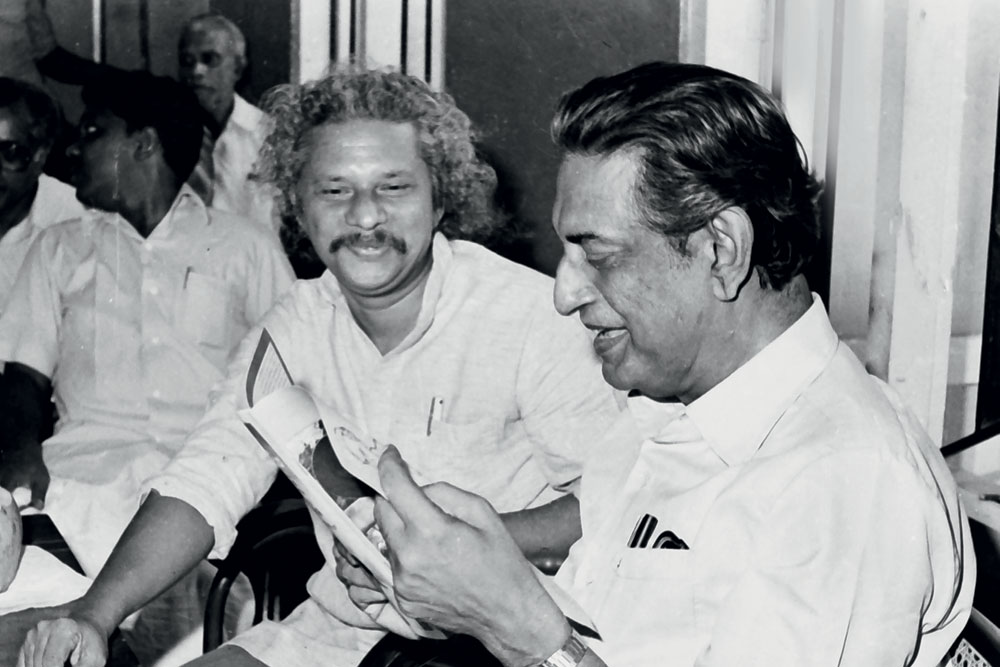 I did not give up. Ten minutes before the start of the screening, I positioned myself at the top of the stairs simply hoping for the arrival of Ray's car. And as it was close to the appointed time, there came and stopped the car I was waiting for and Ray slowly got out of it. I rushed down the steps to receive him and greeted him, "Manikda, I am so happy you could make it."
"I did not want to miss the film," was his response and he started climbing the steps slowly.
"Marvellous Adoor, marvellous!" was his comment after the screening. For me it was most heartening. And the news spread. There came the invitation for the film from the director of the Venice Film Festival who was present at the screening.
There was a news item in the papers the next day, with the caption, 'Ray Goes to See Adoor's film'.
Every time I made a new film, I had made it a point to show it to him. And he would want me to meet him the next morning to talk about it. I was fortunate that he always had something good to say about it. It gave me a lot of confidence and a feeling that I was on the right track. Once he told me, "You should go ahead and make at least one film a year; now you are well recognised."
I tried to explain the reason for my not being prolific and the long intervals between my films—as suggested it has been my wish too, but it does not work in real terms. I had to do practically everything about the production of my films and the period of preparation itself takes a long time. Once a film is made, I am also involved in its promotion and release, resulting in a protracted period of struggle long after the completion of each.
In June 1983, Ray was here in Trivandrum in connection with a major retrospective of his films by the Soorya Stage and Film Society headed by my friend Krishnamurthy. Krishnamurthy had sought my help to persuade Ray to accept his invitation and visit our capital. And I did everything to that end. Initially, he agreed to oblige but just a few days before the trip he expressed his fears about his annual bout of malarial attack. I promised we would protect him from any kind of health problems as we had the best hospitals and expert physicians down here.
Those three days of his visit were memorable as audiences, fans and professionals thronged around him wherever he went. The functions he attended here were frontpaged by the print media. At the Tagore Theatre, where he was given a standing ovation by an audience of more than 2,000 admirers, Ray admitted in his response to the reception that he had never had an experience like it before. We had seen to it that the government of Kerala treated him as a state guest.
A day's visit to the Padmanabhapuram Palace and the Suchindram temple was another highlight of his visit.
While Ray was in Trivandrum, we arranged a screening of Mukhamukham for him. Coming out after the screening, he asked me if it was based on any published work. I said, "No, it is an original idea and script."
Then came his comment: "Now I understand."
There is this mistaken notion shared by critics abroad that Ray's Apu Trilogy is neorealistic. It is true Ray saw Bicycle Thieves in London and liked it. In fact, it was simply an endorsement of what he was already planning to do with Bibhutibhushan's novel Pather Panchali. Neorealism as we all know was an after-effect of World War II and the total devastation it caused to life and property in Italy, particularly Rome. Utter poverty, unemployment, loss of values, hopelessness and frustration weighed heavily on the minds of the people. Naturally, a few sensitive artists of cinema took their cameras and recorders to the streets to portray life in the raw. They had ordinary people performing/behaving and there was no trace of any star glitter to outshine the veracity of the original. All those films with such true passion and verve together came to be termed neorealistic.
Pather Panchali was written in the 1910s (first published in 1928), about the time of World War I. None of the conditions of life in the 1940s could even be imagined then. Maybe the only common element was poverty as the novel portrayed the life of a poor Brahmin priest and his small family. The comparison ends there. Even in the midst of hardships what we find held aloft here is the dignity of their demeanour—characters holding on to hope, humanity and expectations. There are situations of grief but they do not precipitate into frustration. Life is accepted as it unfolds—sometimes offering little pleasures, at other times failures and sorrows, but all the same it is to be lived. What comes through is an elevating experience of the indefatigable human spirit.
Indian Cinema was not the same after Pather Panchali made its appearance on the screen. Suddenly, the demarcation line was drawn—Indian cinema before Pather Panchali and Indian cinema after it.
The recognition Pather Panchali received at the Cannes film festival made people take note of the arrival of a true and accomplished tall artist of cinema. We should all be grateful to the renowned French critic and historian, Georges Sadoul, a member of the Cannes jury, for insisting that the film be recognised with a special honour of citation.
OF THE THREE in the compendium, my favourite is Aparajito (The Unvanquished). I have not come across any literary fiction or film that portrays with such subtlety and understatement the enduring and endearing relationship between a poor widowed mother and her only son who is growing up from childhood to boyhood and youth. The growing loneliness of the loving mother and the expanding world of the son, now a dreaming college student, the bond of love between the two and also the eventual, inevitable distancing are all beautifully, touchingly, lyrically portrayed.
Ray's father, Sukumar Ray, had died young when Ray was barely two years old. His mother, Suprabha Ray, the widow, became his single parent and it was a hard struggle for her to bring up her son. I could read the real and palpable relationship between the mother and the son in the treatment of Apu and Sarbajaya.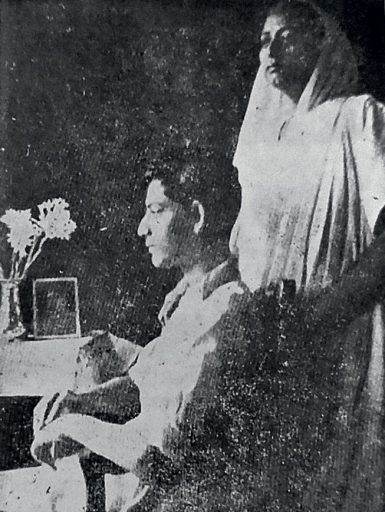 Once, in a conversation, I had confided to Ray that my favourite in the trilogy was Aparajito. Ray had smiled and said, "The film required a little pruning but I had to rush through the editing as [the] Venice people were insisting on the early dispatch of the print."
I had quickly pleaded, "Manikda, please don't touch it, it is a great film."
I believe Chidananda Dasgupta, the well-known critic and Ray's good friend, was quite critical of the film's treatment and the two engaged in altercations to the embarrassment of everyone around. And Ray came out victorious, winning the Golden Lion in Venice.
Ray was just beginning his unique journey of achievements and glory and no one, not even his own self, could deter it.
Apur Sansar (The World of Apu) was another artistic triumph for the filmmaker in Ray. It enfolds some of the most memorable moments of a couple who had just got married in a strange turn of events. Overlooking a railway shunting yard in Calcutta, the two—the orphaned Apu and the innocent Aparna—are perched in a little single-room tenement in the attic above the winding staircase of an old building. The young man, now quite unexpectedly saddled with the responsibility of looking after his pretty wife, has to do odd jobs overtime to make both ends meet. The two treasure every moment of their being together. Everything about their conjugal life is suggested in nuances and little details often tinged with humour.
Time passes too fast and the girl is taken away to her ancestral home in the far out village for delivery.
A couple of months pass in the pangs of separation and then suddenly there comes the news of her death in child-delivery. Apu is distraught and leaves Calcutta. He wanders around aimlessly as if there is no life after.
Years pass and Apu feels the pull within to meet his little son. He reaches the village, befriends his charming child and walks away carrying him on his shoulders with a sense of fulfilment in their togetherness and a resolve to live.
Other than the trilogy, my favourite films are Jalsaghar, Devi and Sonar Kella, the children's film.
Against the backdrop of an old palatial mansion in the middle of the vast open fields, Biswambhar Roy, the noble zamindar, lives in an otherworldly past oblivious of a harsh and changing world around him with his old and loyal servants, often visited by an intruding neighbour called Mahim Ganguly, the moneylender upstart.
In his glorious days, Biswambhar was no less than a lord-master and his music room was a priced destination. The most elite singers and performers from different parts of the country would come to his estate to perform for him and his esteemed guests.
Today, when he can no longer afford it, following the abolition of the zamindari system and the poor management of his estates, he continues with his ostentatious musical fests. In Ray's own words, Jalsaghar deals with "a music loving Zamindar who refuses to change with the times and thereby meets his comeuppance."
Jalsaghar was Ray's answer to many movie moguls in India who could not imagine a film without song and dance. And here was Jalsaghar full of singing and dancing but neither the songs nor the dances were filmy. They were unadulterated Indian music and Indian dance not tailored for pandering to popular taste. And the film's very Indianness made it popular in the West.
The oft repeated adjective used about the film is 'evocative'.
Chhabi Biswas' (Biswambhar) looks, his bearing and also the brilliant performance lend the film, told in a series of flashbacks, a rare quality of authenticity and credibility.
He was one of Ray's favourite actors and when he died in 1962, Ray is reported to have said that he was no more inclined to have characters in their middle life that called for exceptional performances.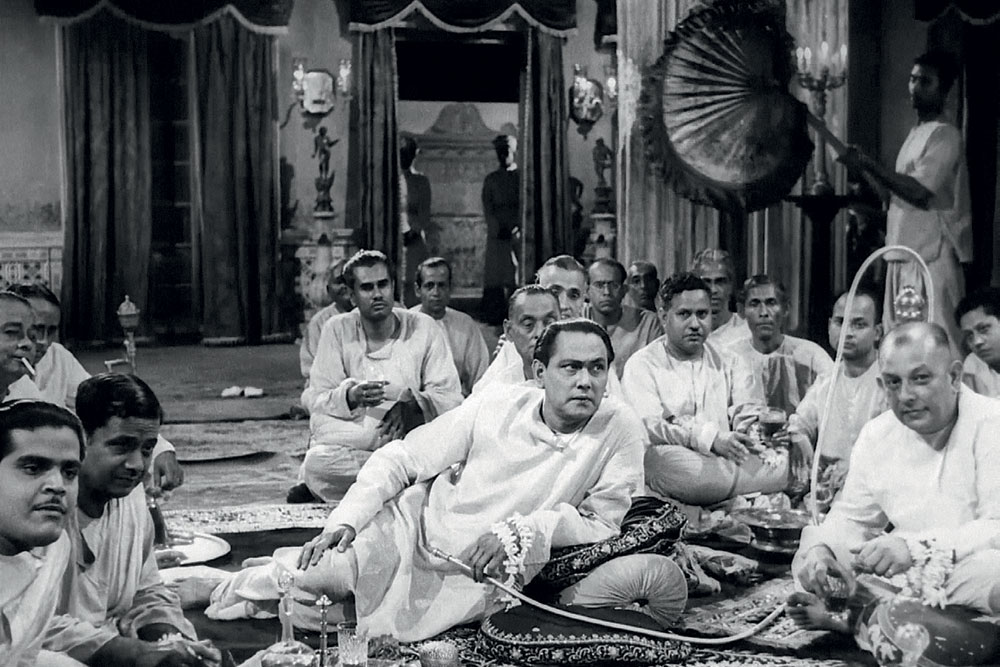 Soon after Jalsaghar, we see Chhabi Biswas cast in the role of yet another zamindar, Kalikinkar, in a 19th century Bengal village who wields enormous power and authority over his family and the people around. The widower lives with his two sons and their wives. The younger son, Umaprasad, has just married. He sets out for Calcutta to earn an English education at a college, leaving behind his 16-year-old wife Dayamoyee in the care of his god-fearing father. His wayward elder brother Taraprasad and his disgruntled wife Harasundari and their little son Khoka are the other members of the family.
One evening, Kalikinkar has a dream wherein the eyes of Devi Durga are superimposed on the face of Dayamoyee, his daughter-in-law. He wakes up from the dream with the firm belief that Dayamoyee is an avatar—incarnation—of Durga. As he prostrates before Dayamoyee, nobody dares raise any doubt or question. His word is final, Dayamoyee is moved to a separate room and arrangements are made to worship the new goddess.
The water used for washing her feet becomes teerth for the believers to drink. A mendicant who visits the house for alms watches his sick child sitting up cured on drinking the padamrutateerth. The news spreads and devotees start lining up in droves before the house for darshan.

Slowly, Dayamoyee too starts believing that she is an avatar of Goddess Kali.
Harasundari, Taraprasad's wife, feels that the whole drama is ridiculous and she writes to Umaprasad to rush home and redeem his wife. When he arrives and entreats her to flee with him to Calcutta, she raises an innocent doubt, "In case I am an avatar, is it not sinful for us to be husband and wife?" (I can still recall the eloquent composition of the shot positioning the two facing each other with their wedding garland in the middle, now dry and shrunk, hanging from a nail on the wall in the background).
As Dayamoyee is kept aloof from everyone else, Khoka, the little boy she is very fond of, too, keeps his distance from her. She is pitifully lonely in her elevated avatar.
When Khoka falls seriously ill, instead of taking him to a doctor, Kalikinkar insists Dayamoyee can cure him. Harasundari pleads for consulting a doctor but to no avail. Dayamoyee is certain her curing power will work on the boy and he will be well again. But unfortunately, after a night's watch, the boy is found dead in the morning.
Hell is let loose and Dayamoyee becomes the butt of all blame and accusation. She realises that she, like Durga, has to take the final immersion in the river bringing the whole chain of events in her nascent married life to a tragic end.
The film has often been cited as a parable of patriarchal dominance over women and its story taken as a narrative of how superstition destroys innocent people's lives.
In these discourses, what is lost sight of is the fact of duality and doubt in faith. While Dayamoyee loves her husband, the innocent girl is not sure if she is really an avatar as believed by the zamindar and others. Also, she cannot dismiss it as superstition since there is evidence of her curative power in healing the sick. These grey areas lend complexity to the issue.
There is yet another angle to unravel here. Kalikinkar, the widower and powerful patriarch, is undoubtedly besotted by the beauty and docility of the young girl who looks after him in all devotion. The strong libidinal urge in his subconscious is inventing and imposing on her the image of Devi Durga that one has to prostrate before.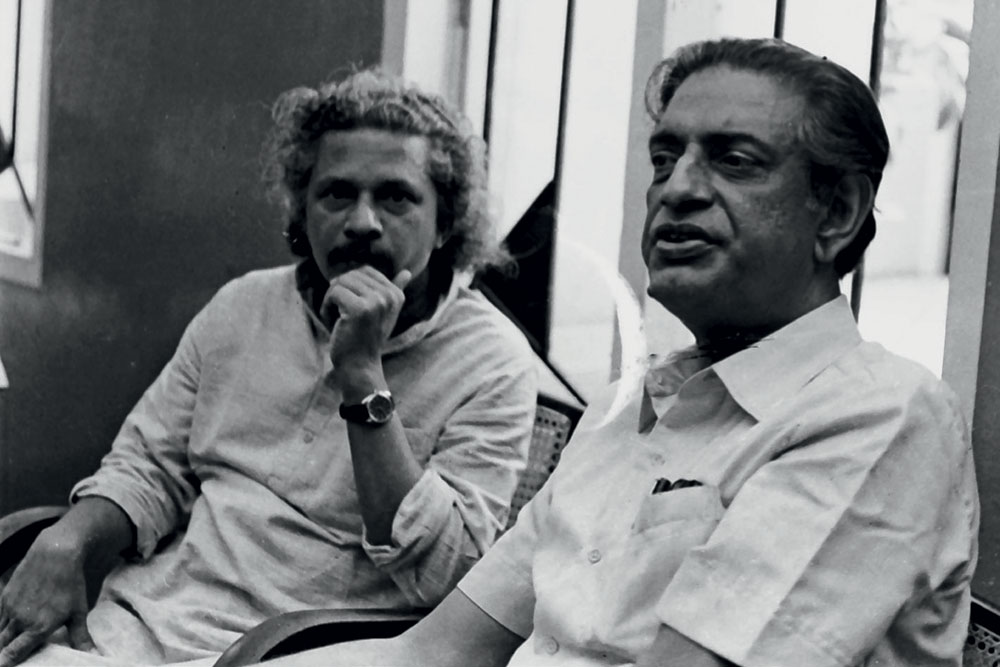 To approach the film as a plain story of superstition and its aftermath would be unfair to its auteur. It is layered in nuances and allusions making it a complex work of art to savour. The long opening sequence of Durga the deity being given shape by artists and the final visarjan (immersion) of the figure in the river at the end lend the film a unique structure.
Sonar Kella, in comparison, is a much simpler tale of mystery, adventure and fun for teenagers. Mukul Dhar, a school boy, suddenly starts remembering his past life. It attracts media attention.
And Dr Hemanga Hajra, a parapsychologist, offers help imagining it could help in his research on the subject. The sombre and serious Mukul keeps drawing pictures of peacocks, forts and battles. He claims that he lived in a golden fort which had treasures like gems.
Dr Hajra decides to take Mukul to Rajasthan which has many forts and also the desert landscape. Meanwhile, two fraudsters plan to kidnap Mukul and take him along so that they could grab the treasure. The greedy duo kidnap a boy called Mukul from the neighbourhood but the attempt proves futile as it becomes known that he was only a namesake, not the one wanted.
Alarmed by the fear of his child being abducted, Mukul's father engages a private detective, Feluda, to protect the boy. Feluda sets out for Rajasthan with his aide Tapesh (Topshe). On the way Jatayu, a thriller writer, joins them. They go tracing Dr Hajra and Mukul who had left earlier.
By now, the fraudsters have kidnapped the real Mukul and pushed Dr Hajra off a cliff in Jaipur. One of them poses as Dr Hajra. When Feluda arrives in Jodhpur, where the fraudsters have moved with Mukul, he finds out that the person impersonating Dr Hajra is a fraudster and he suspects foul play. The other fraudster pretends to be a globe-trotter. Meanwhile, the fake Dr Hajra hypnotises Mukul and finds out that the fort he mentions is in Jaisalmer.
Looking for the golden fortress, Feluda finds out that the Jaisalmer fort is built of yellow slates and it looks golden to the viewer. With this knowledge, they set out for the destination. Their car breaks down and the three hire camels for their journey to the next train station. On the train, the globe-trotter jumps onto their compartment and tries to stab Feluda. Feluda had rightly anticipated the attack and escapes; the fraudster falls off the running train.
When they reach Jaisalmer, they meet the real Dr Hajra there, who had escaped the attempt on his life and had been pursuing his search for the golden fort through many contacts along the way.
Now they are all together and Feluda explains that there are no treasures hidden anywhere and Mukul may have simply imagined it along with many other visions. He is proved to be normal now and is no more haunted by his past life.
From my first viewing of the film in the 1970s, the whole sequence of Feluda's train journey through Rajasthan with Jatayu and Topshe had left a lasting impression on my mind. For Jatayu, it is a trip that would provide him with ideas for his next thriller. As the golden fort of Jailsalmer comes into view, Jatayu pronounces in excitement and wonderment: "S-o-n-a-r K-e-l-l-a!!"
Whether one is a teenager or an adult, this film is for everyone to watch and feel thrilled.
Making films for children is not an easy task; Ray had proved his mastery in this area as well. His children's films, starting with Two, featuring a slum boy and a well-to-do boy competing to outdo each other, is a real treat to watch. At the end, the poor boy triumphs over the rich one in sheer resourcefulness.
OUR CONVERSATIONS HAD once in a while strayed into film technique and modern trends. Ray had been a very keen observer of international trends in filmmaking. When Jean-Luc Godard suddenly became an icon of cinema with his irreverence for conventions, Ray once joked that Godard's greatest contribution was his use of 'jump cuts'. He had universalised the practice of 'jump cut', which in short is a negation of the conventional smooth transitions from one scene to another. Ray thought it was a useful device as the optical transitions like fade-in, fade-out, dissolve, etcetera, could not be executed without those usual technical glitches inherent in optical technology.
There is a misconception among a few people that Ray and Ghatak were adversaries. The fact was far from it. Their approaches to cinema were different, but each had high regard for the other. I remember Ghatak showing Ray's films in our class and exclaiming "Here is great cinema!" to us students. Once, while talking about Ghatak, Ray had remarked to me, "Ghatak had cinema running in his veins." I do not think these revelations from the two stalwarts of cinema can be dismissed as 'just being nice'.
Very few know that it was on Ray's recommendation that Indira Gandhi, then the I&B minister and also vice president of the Federation of Film Societies (Ray was the president of the federation), appointed Ghatak to the post of vice principal and Professor of Direction at the Film and Television Institute in Pune.
And Ray once narrated to me an unfortunate incident connected with Ghatak. On hearing of Ghatak's death, Ray went to the hospital to pay his homage and as he was coming out, a group of young people who had been waiting in the veranda outside pointed their finger at him and shouted, "You killed Ghatak!"
Ray asked me, filled with emotion, "Adoor, can you imagine it?"
I really felt sorry for Manikda. How unfair and cruel to level such a charge against him!