MANZOOR ALAM, 32, a resident of Handibhasa village in Bihar's Kishanganj district has been a worried man for the past five years—for that is when he first thought about the size of his family. "I have eight children today. For the past five years, I was on the fence about having more but then we had four more in the intervening years," he says sheepishly. His wife is now pregnant for the ninth time. Alam is airing his concerns at a gathering of men of his village to discuss contraceptive use. The round of chuckles that greets Alam's predicament indicates he brings it up rather frequently though one man, Aminuddin, is not amused. "I often ask him, how are you going to bring all of them up?"
Alam has discussed ways and means of avoiding pregnancy with Phalani Devi, his local ASHA (accredited social health activist), but even she has run out of options. "His wife got an intra-uterine device put in but got it removed citing abdominal pain. She opted for an injectable contraceptive but it is a quarterly dose and she only took one and so now she's pregnant again," says Phalani. Now Alam is mulling over using condoms but he wants to have another conversation with Phalani about IUDs and whether his wife should get one again.
There is nothing unique or different about Alam's story in Kishanganj. In village after village, household after household, irrespective of religion, big families are a reality and the need to balance physical urges with no more pregnancies remains a pressing concern. With a total fertility rate or TFR (the average number of children a woman will have in her lifetime) of 4.4, Kishanganj is a high fertility-rate district. Bihar has a TFR of 3.4, the highest countrywide.
Since coming to power in 2014, Prime Minister Narendra Modi has chosen his Independence Day speech to talk about what he considers the key issues facing India. From Swachh Bharat to Beti Bachao, Beti Padhao, the Red Fort podium is the place from where the social agenda for the country is set. This year, the Prime Minister spoke about single-use plastic and the vast majority's lack of access to clean drinking water. There was one more issue which he brought up, a matter of pressing importance to India but one rarely addressed by a mainstream politician: the country's population growth. Modi minced no words when he said India is experiencing jansankhya visphot, population explosion.
'Population control' and 'family planning' are terms that have been a part of India's development lexicon since almost after Independence. India was one of the first countries in the world to formulate a family planning programme but the excesses of the Emergency years meant that no political party has been willing to talk about it since then. "It was immediately seen as a vote-killer. Plus, there was the assumption that the schemes on the ground were working and population was no longer a concern," says a retired health ministry bureaucrat, requesting anonymity.
There have been a few murmurs this year from members of the Bharatiya Janata Party (BJP) about population control. BJP leader Ashwini Kumar Upadhyay had filed a PIL seeking the two-child norm as a criterion for government jobs and access to schemes, etcetera. The Delhi High Court disposed of the petition two weeks ago. But what is perhaps of greater interest is the introduction of a private member Bill in Rajya Sabha by BJP Member of Parliament (MP) Rakesh Sinha. His Population Regulation Bill proposes incentives for those who restrict their families to not more than two children and penalties for others. From disqualification from contesting elections to reduction in subsidies on loans, higher interest rates and so on, the range of disincentives is significant. Sinha, in various interviews, has cited the strain on the country's resources as the reason behind the Bill, denying that it is targeted at any community.
India's population currently stands at nearly 1.4 billion. According to the World Population Prospects 2019 report released by the UN, India will overtake China as the world's most populous country by 2027. This is an estimate that changes almost every year: in 2017, it was predicted to be in 2024. The ideal fertility rate for any country is 2.1, two children for two parents, thus ensuring the population remains the same, which is when it stabilises. This is also known as the replacement rate. In 2005, India's fertility rate was 2.7; now it is down to 2.2, according to the National Family Health Survey (NFHS) data. More than 15 states and Union Territories are already at below the replacement level (Sikkim at 1.2 is the lowest) but there are 10 states where TFR continues to be higher. These include Uttar Pradesh, Rajasthan and Madhya Pradesh. Even among these, only Bihar and Meghalaya have a TFR of over 3. Education, economic conditions and pushing back the age of marriage, especially for girls, have led to India's fertility rate falling faster than expected. But for some states, there is still a long way to go.
"There is a merit, indeed, [to the slowing population growth]. It is not as great a concern as 20 years ago but you still can't take it lightly," cautions KS James, Director, International Institute of Population Sciences. What India needs is population stabilisation and "that will not happen with replacement rate," he says. As of now, India's population is expected to stabilise by 2045 (some demographers also put it at 2055). "In India, the way we are poised at the moment, we will be reaching the ideal replacement level, 2.1, very soon but that effectively means little. A very large part of the country is already at the replacement rate but because the base [of the states that have still to reach replacement levels] is big, stabilisation would take generations. These states have young populations, who too will have children and thus the momentum will continue," says Shailaja Chandra, former Executive Director of the National Population Stabilisation Fund and former Secretary in the Ministry of Health and Family Welfare.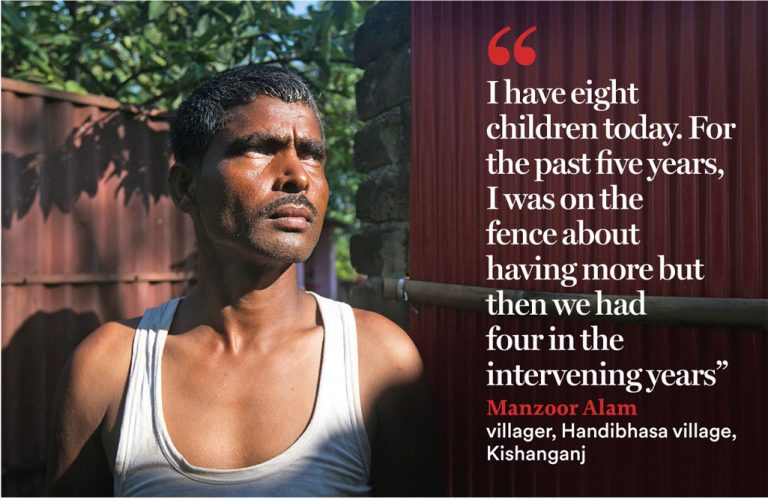 Arti Kumari of Kochadhaman village in Kishanganj is unsure of her age but when goaded by other women, says she is 18. She got married a year-and-a-half ago and is right now three months into pregnancy. It is a source of great relief to her. "If a union is not blessed with a child within the first year, there are questions about the woman's fertility. The mother-in-law can publicly denounce you as barren. The first child seals the union," says Sheela Devi, who has four children of her own—three daughters and one son. Her son is married with four children of his own. "Reproduction is an expression of masculinity and a woman's fertility is linked to a man's sexual strength," says Archana Dwivedi of Nirantar, a centre for gender and education, when talking about traditional sexual mores in rural India. There are also unspoken pressures on newly married men to continue the patriarchal way of life, which includes complete dominion over the woman. "Young brides are the most vulnerable and they are not even taught about contraception till the first child is born," says Dwivedi. And if the first child is a girl, pressure to conceive immediately remains high until a boy child is born.
"The entire debate about family planning is also about women and their lack of agency when it comes to their own bodies. The mother-in-law holds the decisionmaking power while the men are either ill-informed or simply don't care what happens to a woman's body when she has too many children," says Poonam Muttreja, Executive Director of the Population Foundation of India, an NGO that works in the field of population, health and development policies. Maladevi, a 22-year-old who gave birth to a premature baby within six months of getting married, would agree. Her child is barely a year old and she is three months' pregnant again. "It's as if my body is not my own. Everyone else takes decisions about it—except me," she says. It was found that 58.3 per cent of pregnant women in Bihar, surveyed during the National Family Health Survey-4 (2015-2016), were anaemic.
The average family in Kishanganj has between six and seven members. The primary mode of occupation still remains agriculture though migration to cities, especially to Delhi, is picking up. "Agriculture is an intensive labour-based industry. People still have this mindset that an extra pair of hands is welcome though the number of preferred children has come down to three or four," says Himanshu Sharma, the District Magistrate of Kishanganj. Sharma is familiar with this part of the state, having served in other districts before, and feels there is awareness as well as acceptance of family planning but there are constraints.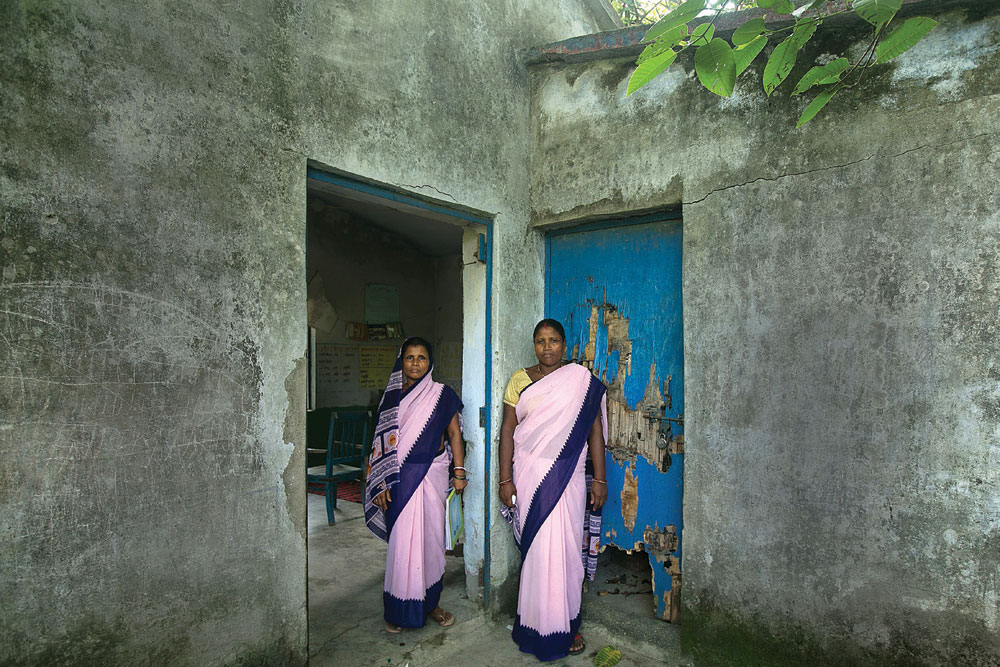 FAMILY PLANNING across the world has always been more focused on women and their fertility. In India, the excesses of Emergency mean that this is true even more so. In spite of options like IUDs, pills and now injectable contraceptives, the principal idea of contraception still remains sterilisation which is also at 34 per cent. "About 77 per cent of women who opt for sterilisation are experiencing family planning for the first time in their life. They have never been exposed to temporary methods, which means they are having too many children and with very little spacing," says Muttreja. And even for sterilisation, the permission of the husband is a must. Phalani Devi, the local ASHA, admits sheepishly she has seven children though she used spacing methods for all. "I can't get a sterilisation done because my husband is against it."
In 2015, a study published in The Lancet Global Health revealed an estimated 15 million abortions were performed in India in 2015. "A large part of these abortions are proxies for contraception," Muttreja believes. She is not off the mark. In Kishanganj, the minority community has very strong views on sterilisation but Sumita Devi, a local ASHA who works closely with the Churligudi village ASHA, admits abortions do take place on the sly.
The attitude of men when it comes to family planning—through them or their wives—has always been a stumbling block in India. Sterilisation for men is at an abysmal 0.4 per cent while condom use is at 5.6 per cent. Vasectomy is almost always associated with a loss of physical strength and fear of death. Condom use, on the other hand, is seen as interfering with pleasure. "Men worry a vasectomy will weaken them but they don't see how repeated pregnancies are depleting their wives' lives," says Sumita. She often sends her husband, a school teacher, to talk to men but with not much success.