In 1998, French colonies celebrated the 150th year of abolition of slavery and, in 2001, the United Nations (UN) declared slavery a crime against humanity, a decision endorsed as law by the French parliament mid-year. Close to 80 per cent of the population in the Caribbean had lived in slavery since the 17th century and, in an era of revisiting the revolutionary history against slavery, the import-dependent Caribbean nations have continued to be influenced by France's persistent footprint in various sectors, including education and pharmaceuticals. Not surprising that the small Caribbean nations looked to France to bail them out on Covid-19 vaccine supply, in the thick of the worst global pandemic for a century since the Spanish Flu. But then, vaccine nationalism reared its ugly head among the richer nations. French President Emmanuel Macron, under criticism at home from political adversaries like Marine Le Pen for imposing a third round of (if partial) lockdown, in the face of a resurgent wave of infections, failed to come through. The cavalry came from unexpected quarters, from the world's premier vaccine-maker India and its prime minister, Narendra Modi. A grateful Prime Minister Roosevelt Skerrit of Dominica said in early February that, as a leader of a nation of just 72,000 people, he had not foreseen the "chance of getting such a swift and positive response from Indian PM Narendra Modi." He said, "It is to the credit of Prime Minister Modi that our request was considered on merit and the equality of our people recognized. Tonight signifies the start of the fight back by the Caribbean islands against the virus that has threatened the livelihood of every CARICOM (Caribbean Community) national." The Caribbean Community is a grouping of 20 countries, including 15 member states and five associate members.
India's donation of 70,000 vaccines to Dominica was part of Modi's pledge to help other countries overcome pandemic challenges. Apart from the countries in India's neighbourhood, New Delhi had cleared commercial supply of nearly 24 million vaccines to 25 countries, including Uganda, Ecuador, El Salvador, Nicaragua, Morocco and Namibia in February alone. Weeks later, in March, Jamaica and West Indies cricketer Andre Russell uploaded a video on Twitter thanking Modi and the Indian High Commission for the gift of 'Made in India' vaccines to Jamaica. A grateful prime minister of Antigua and Barbuda, who arrived personally at the airport to receive the vaccine consignment for his nation, stressed: "Modi demonstrated the most significant act of benevolence and kindness that was not seen in recent times compared to any other leader globally…Notwithstanding its own requirements, India made several million vaccines available to developing countries. On behalf of the Caribbean people and in particular, of Antigua and Barbuda, I wish to personally thank PM Modi and the government of India for this act of benevolence. The Bible has taught us to share. The good book has taught us that we should love our neighbour as we love ourselves. And it is evident that India is practising this principle. In fact, we are not even neighbours of India…But India understands humanity and the fact that we all share a common planet."
Without the swift response from Modi, vaccine access for smaller, needier nations that would have otherwise stood at the bottom of the queue would have been difficult. By mid-March, India had shipped some 59 million doses of vaccines to foreign shores as gifts or exports. Another 75 million doses had been distributed to states and Union territories within the country by that time. It wasn't just Macron who fell off the map in a mad rush to insure his own country against the terrifying speed at which Covid-19 was spreading and threatening not just lives but also their political standing and credibility during the pandemic months of 2020. The head of government of another former colonising force, Boris Johnson of the UK, faced severe criticism for neglecting tough decisions leading to thousands of needless deaths even when tightening spends on the National Health Service (NHS) at a critical time. By the time he cleaned up the mess—focusing only on his country—a lot of water had already flowed under the bridge. Meanwhile, Russian President Vladimir Putin disappeared off the news radar. Until August 2020 when, in the thick of controversy as to why he hadn't yet opted to take the nationally produced vaccine, he announced the registration of Sputnik V, the first registered Covid-19 vaccine in the world. It wasn't until very recently, in 2021, that the Russian Direct Investment Fund (RDIF) announced that several African countries that were registering Sputnik V, including Angola, Djibouti and the Republic of Congo, had done so under a health assistance programme to stop the pandemic's spread in the continent. Sputnik V, with over 91 per cent efficacy according to data published in Lancet, was also reportedly registered in Algeria, Egypt, Gabon, Ghana, Guinea, Tunisia and Zimbabwe and approved for emergency use in 46 countries worldwide.
Most commendable on Modi's part, in comparison with other world leaders and their lukewarm response to the pandemic, was the fact that all of his Government's decisions to swiftly help smaller and needier nations happened when a global pharmaceutical giant like China—where the virus originated in Wuhan—was busy riding roughshod over the world. It was getting its own house in order, relatively speaking, by deploying all the authoritarian measures that the Chinese state is known for. As if the devastation wreaked by Covid on India, the world's second most populous nation forced into a stringent lockdown, was not enough, China chose the same time to flex its military muscle along the Line of Actual Control (LAC) in Ladakh. It was clear that India pitting its military might against a vastly superior Chinese force was unlikely to yield satisfactory results. For the first time in decades, the Union Government decided to effect a decisive shift from existing policy vis-à-vis China, one which decoupled trade from crucial border issues. It was a bold move away from the manner in which foreign policy was conducted in the past with China when the overall trajectory of bilateral relations was cauterised by developments at the border. What followed was nothing short of significant.

On June 15th, tensions at the LAC between the two sides escalated sharply after 20 Indian soldiers were killed in the Galwan Valley. China has only recently admitted the casualties suffered by the People's Liberation Army (PLA) after the Russian media put out a story on the setback suffered by China. In a surprise visit to Ladakh to boost the morale of troops, Modi, in battle fatigues, sent out a clear message to Beijing when he declared "the era of expansionism is over and history is proof that those who pursue expansionism have either lost or perished miserably." Strategic affairs expert Brahma Chellaney maintained at the time that Modi's reference to Chinese expansionism emphasised India's determination to repel China's aggression and encroachments and that the acts by Xi Jinping were aimed at diverting attention from China's 'imperial overreach on multiple
Modi managed to leverage India's vaccine-making advantage so that both phased and targeted requirements at home and abroad were met, the latter not just for paid exports but also as aid from New Delhi fronts.' It was an occasion that called for a radical new approach by India to resist China and Modi rose to the challenge. This was done simultaneously on many fronts: for one, instead of threatening to pit the Indian Army against the weightier Chinese PLA and its equipment, the Government chose to increase the presence of Indian troops on the ground, despite the hostility of the weather. It chose tactical military reality to dictate its decision rather than bank just on military deterrence.
The decision was taken with the pointed objective of noticeably denting China's 'cost-benefit matrix', analysts contend, to strengthen and leverage India's position at the negotiating table. As part of this move, the Indian Army captured higher ground on the Kailash mountain range, allowing it to monitor Chinese positions on the north and south bank of the Pangong Tso lake. They also captured the highest point on the north bank of the lake, gaining a vantage position overlooking the lower Chinese positions. All of this came in handy for the Modi Government to convince the Chinese, in the context of the conflict at the LAC, that it was in their interest to revert to status quo positions.
But that tactical positioning and negotiating came after other significant economic and diplomatic moves against China by hitting Beijing where it hurt in terms of business and its trade interests here. In the first tranche, 59 mobile applications were banned and trade barriers were erected. The interest of Chinese companies in India's 5G rollout was also put under strain, leading experts to laud Modi on the offensive launched on multiple fronts against Beijing and imposing heavy costs for Chinese aggression at the LAC. In Ladakh, Modi sent out a strong signal—in the backdrop of the Xi regime's belligerence against the Japanese, the crackdown against dissenters in Hong Kong and its increased policing in the South China Sea—that India was determined to stand up to Chinese aggression. That signal gained further strength given that then US President Donald Trump's administration was in the throes of a credibility crisis. His utterances on China were seen as over-the-top xenophobic rhetoric and consequently failed to find a receptive audience. Modi's standing-up to China at this time was perceived globally as bold defiance, an act of unparalleled resistance. In acting the way India did, it exposed China's underbelly at an appropriate time when it was trying to expand its tentacles into a new field of apps and high-tech gadgetry worldwide. Modi's ban on these apps, with the contention that these were being used for surveillance purposes, was later echoed by the Trump administration. However, Trump's sabre-rattling on bans never translated into reality, unlike in the case of Modi.
While the world struggled to cope with the havoc China had created by not reporting the spread of the virus on time, Beijing itself managed to overcome its economic crisis quickly. Wuhan city, the epicentre, was put under stringent lockdown and sprang back to business-as-usual earlier than most cities around the world. The Xi administration went about projecting itself worldwide as the saviour in the coronavirus crisis. The US, thanks to an increasingly isolationist policy crafted by Trump, was in disarray and responded both slowly and clumsily to the pandemic, leading to an enormous number of lives lost. Trump himself misspent time by scoffing at the pandemic, slowing down identification and containment by the medical health system.
In comparison, Modi had a herculean task in a nation of 1.3 billion and a health system that suffered from every conceivable constraint—inadequate medical infrastructure, lack of resources and trained personnel, etcetera. His Government was faced with the challenge of ramping up production of personal protective equipment (PPE) kits and ventilators, arranging transport of food and essential rations to millions of needy, transferring money to welfare accounts, besides, crucially, enthusing top pharma companies to proactively participate in the national effort to combat the rapid spread of Covid instead of focusing on profit-making. The one thing India—the vaccine hub of the world—did have in plenty was experience in rolling out the world's biggest and most successful vaccination exercises, such as polio vaccines for children, through trained medical professionals, something that it planned to amplify with confidence in combating Covid. Modi personally interacted with officials of top vaccine manufacturing companies, including Adar Poonawalla, the CEO of the Serum Institute of India, and the Hyderabad-based Bharat Biotech, a 24-year-old vaccine-maker with a portfolio of 16 vaccines that had exported vaccines to 123 countries. In an exercise conducted on a war footing, India—which was producing no PPE kit till then—was able to supply vaccines to needy nations in a short span of time.
Modi strategically managed to leverage India's advantage of being Vaccine Central in such a manner that both phased and targeted requirements at home and abroad were met, the latter not just for paid exports but also as aid from New Delhi. A total of 150 countries were supplied with vaccines, 82 through grants. This magnanimity was an extension of what pertained to the Vande Bharat Mission as well. Starting with Wuhan, India ferried out nationals of other countries from across the globe as part of a generous diplomatic exercise that won accolades.
In turning the distress engendered by the pandemic into an opportunity at home even when showcasing India's soft power—and strategic endorsement of friendly diplomatic overtures—globally, Modi managed something unique: he positioned India as an emerging and reliable alternative to China. This, even as the reportedly questionable quality of Chinese vaccines—many Chinese medical kits had to be returned by several nations for their poor quality as well—earned brickbats for Beijing, already under the scanner for suppressing facts on the spread of Covid-19. For India, joining the Quad (Quadrilateral Security Dialogue set up in 2007) meeting—alongside the US, Japan and Australia—on mass scale vaccine production was a natural progression from there. Two members of the Quad, Australia and Japan (China is a big trading partner for both), have taken the Chinese vaccine for Covid-19, ostensibly to keep the trade-flow with Beijing running. Nonetheless, all four decided at the virtual meeting to support Indian vaccine manufacture. In a joint statement issued after the meeting, the members asserted that they were "working collaboratively to achieve expanded manufacturing of safe and effective Covid-19 vaccines at facilities in India." The Quad nations committed to funding vaccine manufacturing in India, a move seen as a setback for China's own vaccine production efforts, especially in the backdrop of poor perceptions of their efficacy. The Quad decision, which projects India as a counterweight to China not just geopolitically, has pushed Beijing on the backfoot while giving India a big boost as a soft power.
The Modi Government's well-thought-out decisions through the pandemic ensured that India ticked all the right boxes globally. Despite Beijing's military might and bigger nuclear arsenal, India has nonetheless been able to hold its own as a power to be reckoned with. Nationally, too, Modi has capably managed to contain the unchecked spread of the coronavirus, given the size of India's population. By taking control and taking the challenge head-on, and personally, Modi set the tone for a concerted national effort on vaccine production and distribution. Dissuading vaccine producers from contemplating profit margins and, instead, participating against the spread of Covid-19 proved to be an effective pep talk. A time-table and targets were set early. Vaccine scepticism hiccups were few and far between. Modi himself took the vaccine at the All India Institute of Medical Sciences (AIIMS), instantly revitalising a seemingly flagging interest in vaccines among the public. At the forefront were senior citizens, many inspired by the prime minister and all keen to join the national effort and be seen as doing so. To quell the possibility of the more 'entitled' among citizens, including politicians, jumping the queue, Modi told a Cabinet meeting the very next day after his vaccine shot not to crowd government facilities and inconvenience the public. That led to Finance Minister Nirmala Sitharaman taking her vaccine shot at Vasant Kunj and Hardeep Singh Puri, the aviation minister, taking his in Ghaziabad.
China had thus far leveraged its position as the biggest supply line for the rest of the world to expand its influence. After Modi's perseverance on this front, however, India has emerged as a viable alternative for the world on not just vaccines but also PPE kits, syringes and other key medical equipment.
Suddenly, India's stature has grown globally.
Modi's vaccine diplomacy initiative cut a broad path, including Brazil, Argentina, Egypt and South Africa. Seventeen countries have received Covaxin, several received a mix of Covishield and Covaxin. India has supplied vaccines, according to reports, to around 50 per cent of the least developed countries (LDCs) and one-third of the Small Island Developing States, the two major small-nation groupings that count at the UN.
Within the country, the pride of an increasingly confident nation shone through under Modi's baton. No development, however, happened by coincidence. Early on during the pandemic, India did not upscale its domestic production of drugs to fight Covid-19 but, upon the request of both Donald Trump and Brazilian President Jair Bolsonaro, lifted the ban on exports of the drug hydroxychloroquine (HQC) and supplied an estimated 446 million tablets and 1.54 billion paracetamol tablets to 133 nations. The efficacy of HQC in fighting Covid-19 came into question later but the Modi Government's timely response to the requests was hailed worldwide. Later, the Government announced the setting up of a special Rs 1 billion assistance plan aiming at medical help to 90 smaller nations.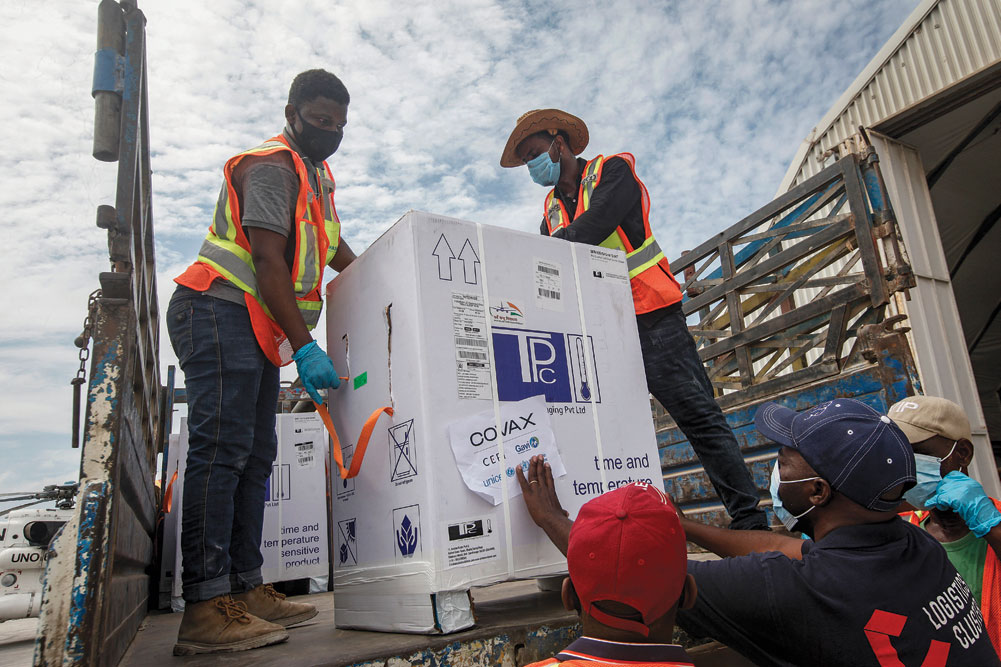 Writing on 'India's COVID diplomacy', Mandakini D Surie contends, regarding geopolitics and India's soft power ambitions: 'Looking outward and engaging with the world is consistent with PM Modi's vision of an expanded role for India in the 21st century. Since assuming office in 2014, the Prime Minister has dramatically reimagined the tools of India's diplomatic engagement, drawing on India's cultural and spiritual heritage to push for and assume a greater leadership role through existing structures—such as the G20, BRICS and Quad—but equally by spearheading new initiatives such as the International Solar Alliance (ISA) and Coalition on Disaster Resilient Infrastructure. The COVID-19 pandemic is no different.' Further: 'In several virtual fora, including the first virtual summit of the G20, Modi has called for a more effective global response to the pandemic and emphasised the need for a new concept of globalization based on principles of fairness, equality and humanity…'
Launched in December 2017, the ISA was a treaty-based organisation bringing together resource-rich countries on a single platform, an idea first put forth before the UN Climate Change Conference in Paris in 2015. In March 2018, the members gathered to chalk out a plan to achieve the ISA objective to make solar power, technology and its funding easier for many nations that currently found them prohibitive.
In September 2019, Modi urged UN member states to join the Coalition for Disaster Resilient Infrastructure being launched by India, even as he presented India's own approach and roadmap to mitigate climate change. This was at a high-level UN climate Action Summit in New York hosted by Secretary-General
António Guterres.
Surie maintains that the Covid-19 crisis has given India an opportunity to leverage its image and reputation as a trusted neutral and credible development partner. And to build on its strong capabilities in key sectors, such as pharmaceuticals, medicine, biotechnology, clean energy, and humanitarian relief and recovery. As India revives its economy and builds on the goodwill it has generated internationally, policymakers have begun recognising that local is indeed vocal and that domestic policies have a direct bearing on India's image and its projection of soft power around the world. In early May last year, the Modi Government announced a $260 billion financial stimulus package to boost the economy at home, severely dented by the prolonged lockdown. In the backdrop of a low projection of 1.2 per cent GDP growth at the time, he popularised the "vocal for local" slogan and called for an "Atmanirbhar Bharat".
The well-executed roadmap, both nationally and globally, indicates India's new ambitions and determination to make a significant mark. From Uri to Balakot, India took the battle to Pakistan's door instead of chanting the 'dialogue' mantra. Modi's Government showed Islamabad that it meant business. In February 2019, just days after losing 40 Central Reserve Police Force (CRPF) men in a terror attack, the Indian Air Force struck deep inside Pakistani territory in Balakot and two Pakistan-occupied Kashmir (PoK) sites, Muzaffarabad and Chakoti. Twelve Mirage 2000 fighters were used in the attack. This was many times bigger than surgical strike 1.0 at Kupwara and Poonch near the Line of Control (LoC) in September 2016, after 19 soldiers had lost their lives in an attack at Uri. From cross-border strikes to air raids to pushing back aggressors at the LAC without fear of angering China, India under Modi has begun to play in a different league.
Modi's leadership hasn't been just about taking on the might of China and rebuffing Pakistan or initiating global fora for building disaster-resistant infrastructure or boosting solar energy. In February this year, John Kerry, US Special Presidential Envoy for Climate, said that India was "actually a red-hot investment opportunity for its clean energy transition" even as he lauded Modi for his commitment to addressing the climate change issue. The new Biden administration in the US believes that climate change is an existential threat to humanity. Kerry's assertion was a signal that the US was willing to consider making financial resources available to boost adaptation. He also announced his intention to work closely with Modi and External Affairs Minister S Jaishankar on this. "We believe India can be one of the most critical transitional countries in this entire endeavour. I am confident that just as we have worked very closely on any number of issues in these last years, our two nations, the world's two biggest democracies, have a great deal to gain from joining hands in our global leadership and confronting the climate crisis to meet this moment," he said.
Going by the roadmap, this is just the beginning—in Modi's hands—of a significant reinvention of India's image and its repositioning in the global pecking order.