When Prime Minister Narenda Modi referred to the colour red on August 15, 2020, it was not about the Lal Qila from whose ramparts he made his customary address to the nation. There was nothing custom­ary about the reference. Modi was talking about the 6,000 Janaushadhi Kendras countrywide and the five crore sanitary pads they had distributed to rural India's poor women under the Suvidha brand. It was unprecedented for the prime minister of a country where menstrual hygiene is, even today, a taboo topic. "This government has always been concerned about the health of our daughters and sisters. Through 6,000 Janaushadhi centres, about
50 million women have got sanitary pads at ₹1. We have worked for women's empowerment. The Navy and the Air Force are tak­ing women in combat roles… women are now leaders," Modi said.
That the reference was made on the anniversary of India's free­dom was, in itself, phenomenal. The prime minister was talking about the sort of freedom that would empower India's women to make the most of themselves, tapping their full potential. Modi connected the dots and made the conversation around periods and menstrual hygiene, women's health and education, their careers and contribution to the progress of the nation the con­cern of the entire family and society and not just of women alone. Gender parity, he signalled, should begin at home and mindsets hostile to women should change. Despite India staking claim to power at global high tables in the 21st century, its women still suf­fered from the shame associated with something as natural as the period, cutting across social strata. Modi took on that regressive tradition and urged society to destigmatise the conversation and help Indian women contribute fully to the betterment of society.
By no means was this concern, about women owning their roles in society to the fullest, a first. As a man who insisted on changing the phrase "women's empowerment" to "women-led development" to define his government's multi-sectoral schemes for women and his endeavour to transform their everyday lives, Modi has many firsts to his name. He criminalised the unjust triple talaq to help Muslim women. He mulled raising the age of marriage for women to 21 from 18 years (since 1978). The panel set up will decide on this based on parameters like infant mortal­ity rate (IMR), maternal mortality rate (MMR), total fertility rate (TFR), sex ratio at birth (SRB) and child sex ratio (CSR). This is aimed at totally ending child marriages, early pregnancies that result in higher child mortality rates, and the abuse of minors. His government also banned exploitative commercial surrogacy.
In a historic move in 2021, his government amended the 50-year-old Medical Termination of Pregnancy Act (1971) to pro­vide universal access to reproductive health service and safe, legal abortion care for all, in a country with an annual abortion rate of 15.6 million. Among key amendments was the increase of the upper gestation limit from 20 to 24 weeks for special categories of women, including survivors of rape, victims of incest and other vulnerable women (differently-abled and minors, among others).
Through nine years of his government, Modi has tailored policies not just to give women more agency over their bodies but also as individuals and collectively—at markets, in politics, and in other formal and informal networks. In a post-Budget webinar this year on empowering women eco­nomically, Modi said, "India can move forward only by raising the levels of respect for women and the sense of equality." Touch­ing on the changing roles of women in today's society—from being pilots of Rafale fighter jets to women MLAs in the Nagaland Assembly—Modi also dwelt on the 43 per cent high enrolment of girls in maths, science, technology and engineering, beating the levels in the US and the UK. Immediately after the success of Chandrayaan-3, he made it a point to personally congratulate the women scientists and technologists of ISRO. This is the essence of his government's 'Beti Bachao, Beti Padhao' slogan and Modi's vision of women propelling national progress.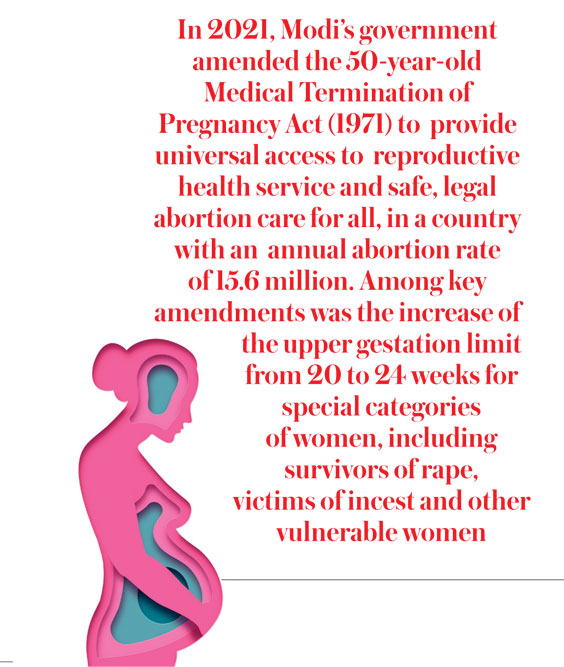 A flagship scheme aimed at buttressing personal hygiene and sanitation, safety and dignity of poor women in both urban and rural India is the Swachh Bharat Abhiyan which aims to make the country open-defecation-free through the construction of toilets in public places, schools and homes. The target is the construction of 111 million toilets. Since its inception, India has drastically reduced the number (600 million) of people resorting to open defecation in 2014. Awareness of easy access to toilets for women has spread rapidly across India. The biggest beneficiaries of Swachh Bharat have been women.
Seventy per cent of the beneficiaries of Modi's MUDRA loan scheme are women. About 25 crore people have benefitted from the number of loans sanctioned to small entrepreneurs, to the tune of over ₹11 lakh crore. Of the beneficiaries, over 70 per cent are women, mainly the economically poor. The Ujjwala Yojana has been another success, unchaining thousands of women from the unhealthy thrall of wood gathering for fuel. Launched in 2016 to distribute 50 million LPG connections to women from BPL families, it has beneficiaries totalling 10.35 crore (till 2025-26).
About ₹80,000 crore has been allocated for the PM Awas Yojana in this year's Budget. This amount will build affordable houses for lakhs of women in India. Most of the three-crore-plus houses built under the PM Awas Yojana are in the names of women who, not too long ago, had no property in their name. The PM Awas Yojana has given women a voice in the economic decisions of the household. The transformation is not just evident at home and around. Today, one out of five non-farm businesses in India is be­ing handled by a woman. In the last nine years, more than seven crore women have joined self-help groups (SHG), and they are working in different fields. Over these nine years, they borrowed ₹6.25 lakh crore. Women are also pushing growth in the coopera­tive sector and organic farming.
There is today the long-denied recognition of the contribution of women working to ensure the health of their sisters at the bottom of the economic pyramid. Their work conditions and payscales have drastically improved. There is a 50 per cent increase in the honoraria of ASHA and Anganwadi workers. Maternity leave for working women has been extended up to 26 weeks. There are pre-natal health checkups on the ninth of every month from the third to sixth months of pregnancy. The story of an increasing number of women in workspaces and greater participation in the labour force has been building, slowly but steadily, over decades. But the biggest push to define gender-just rules has come only in the last decade or two. And the drive has been fuelled by women at the grass­roots, something the Modi government has accentuated through policy for work, education, personal hygiene and collective health, banking and savings, entrepreneurship, and so on. There are more than 1.67 crore accounts opened under Sukanya Samriddhi Yojana now. Moreover, 1.92 crore scholarships have been awarded to girl students from minority communities and women can avail loans up to ₹1 crore under the Startup India scheme. Fifty crore people now own a Jan Dhan account, further shrinking the proportion of the unbanked. Of this, 56 per cent accounts belong to women, a significant proportion, and 67 per cent accounts have been opened in rural and/or semi-urban areas.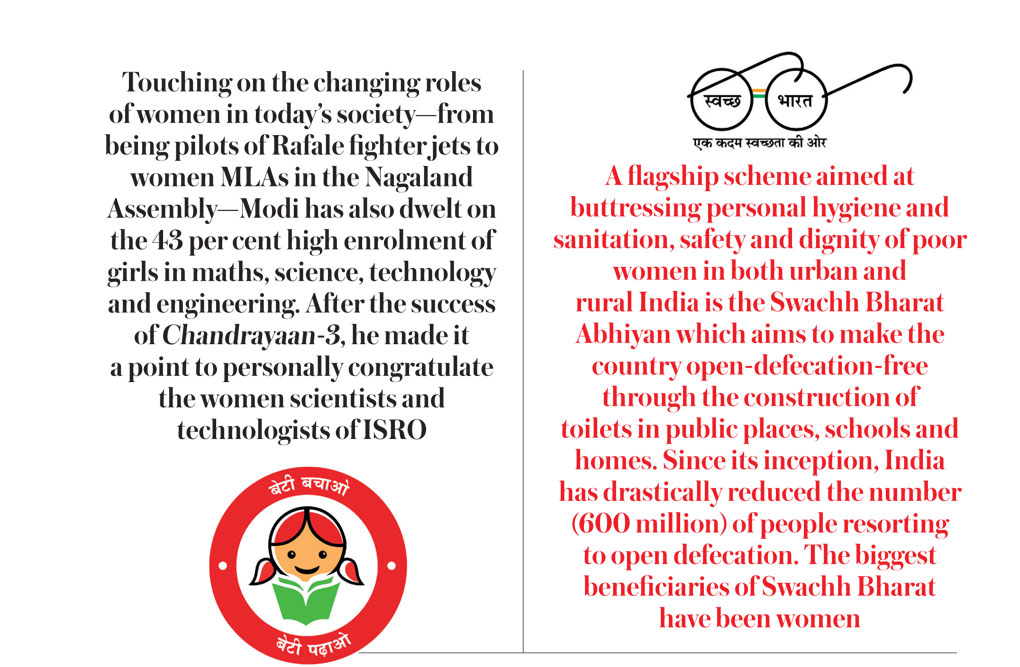 One analyst wrote about Jan Dhan: "This is not just about rural women or the unbanked women. Instead, there is a larger narrative. One, that is slowly and steadily rewriting gender rules in India. Anecdotally, we are witnessing this growing gender parity in our workplace… Now the effort is to address another big gap in promoting savings and investment among women."
The Central and state governments in India run about 509 ma­jor schemes for the empowerment and welfare of women. These schemes cater to the different needs of women across age groups and socio-economic class, providing them with protection, bet­ter health facilities, education, safety nets and financial security. Sustained efforts over the last decade are now showing up in the numbers. The fifth National Family Health Survey (NFHS-5) reveals that the sex ratio for the total population went up from 991 females (per 1,000 males) in 2015-16 to 1,020 in 2019-21. In the same period, the sex ratio at birth improved from 919 to 929.
In his post-Budget webinar address, Modi said, "The power of conviction in women, their will power, their imaginative power, their decision-making power, their ability to take quick decisions, their perseverance to achieve their goals, the results of their hard work, are the identity and reflection of women power. When we say women-led development, its foundation is these very powers. In ensuring the bright future for Maa Bharati, this power of women is the priceless power of India. This power group is playing a mas­sive role in increasing the scale and speed of India in this century."
From gender neutrality to education to financial and techno­logical inclusion to ownership of property and bridging gender divides, Modi has consistently showcased and nurtured his women-sensitive worldview through his multifarious schemes and tailored policies. They are aimed to give women agency on every front and boost the nation through their pro-active role in its progress.
Little wonder this has paid off for Modi in electoral terms. Former Tamil Nadu Chief Minister J Jayalalithaa, Bihar Chief Minister Nitish Kumar and West Bengal Chief Minister Mamata Banerjee have all successfully experimented with woo­ing women voters through customised welfare policies and schemes. From gifting bicycles to schoolgirls, scholarships or money for higher education, jewellery at weddings and afford­able homes, they have used every means to nurture women as a separate and important constituency. But at the national level, Narendra Modi is the first prime minister with an all-enveloping policy worldview to empower women and enable women-led development. In 2019, the Bharatiya Janata Party (BJP) became the party with the highest number of women voters, displacing Congress that had held that distinction. Election data show that a majority of women voted for the BJP-led National Democratic Al­liance (NDA) in both General Elections of 2014 and 2019. Studies also concluded that in four of the five states that went to polls soon after, including Uttar Pradesh, more women voted for BJP than men, a development analysts credit solely to Modi's popularity. What emerges is that women have rapidly grown into a potent political constituency in the last decade and BJP is in peak position to leverage the fact.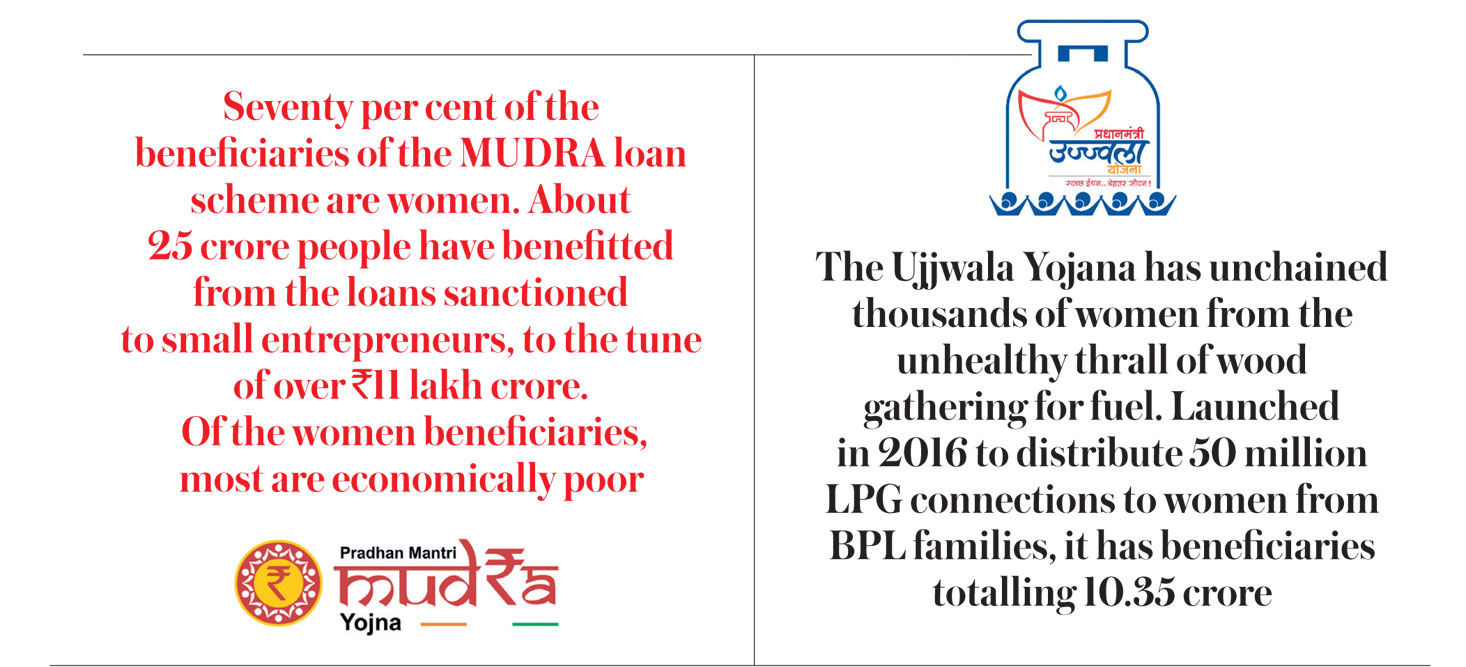 The Union Cabinet's nod to the long-pending Women's Reser­vation Bill, therefore, was a logical progression of Modi's women-sensitive worldview. It is set to be a game-changer, ahead of the 2024 General Election. Modi's government already has the most number of women ministers and the passage of the Bill, at long last, is set to send out a clear signal to women of the scope and in­tent of Modi's women-friendly policies. Currently, Lok Sabha has 15 per cent women representatives and Rajya Sabha 14 per cent. Driven by Modi's will, once the Bill becomes law after 13 years of lying dormant, it is expected to galvanise a significant chunk of women voters to support BJP. Congress has already cornered itself into a place where it has little option but to support the passage of the very Bill it had bungled in 2010.
When the Bill was taken up for discussion in Lok Sabha on May 16, 1997, (the year after it was first mooted by the United Front government), one could have counted the number of government schools in India that had clean and separate toilets for girls on one's fingers. Enrolment figures of girl students in schools were abysmal. No one thought of providing clean toilets for girls in government schools as a key driver for education. Modi saw to it, after seven decades of inde­pendence, after he became prime minister. He first promised a toilet in every house as long ago as 2014 and that is a commitment he has stuck to, irrespective of physical and logistical challenges.
Since then, an acute awareness about sanitation and health linked to hand-washing and clean toilets has grown among India's women and, more importantly, households and all of society. NFHS data from 2015-16 to 2019-21 show that the literacy gap between men and women is shrinking. Over one in every four women is still illiterate, however, even after 75 years of independence. But the progress is noteworthy and encouraging. Under Swachh Bharat: Swachh Vidyalaya, launched as an adjunct of the Swachh Bharat mission, improved sanitation in schools has resulted in a number of benefits, especially for girls and their teachers. An overall increase in enrolment by 12 per cent in primary schools (Classes 1-5) and 8 per cent in upper-primary schools (Classes 6-8), has led to lower dropout rates. Increased female enrolment with younger girls has led to more students being present for examinations, with higher pass rates. In Alwar district, for instance, school sanitation increased girls' enrolment by a third, and improved academic performance for boys and girls by 25 per cent, according to the United Nations.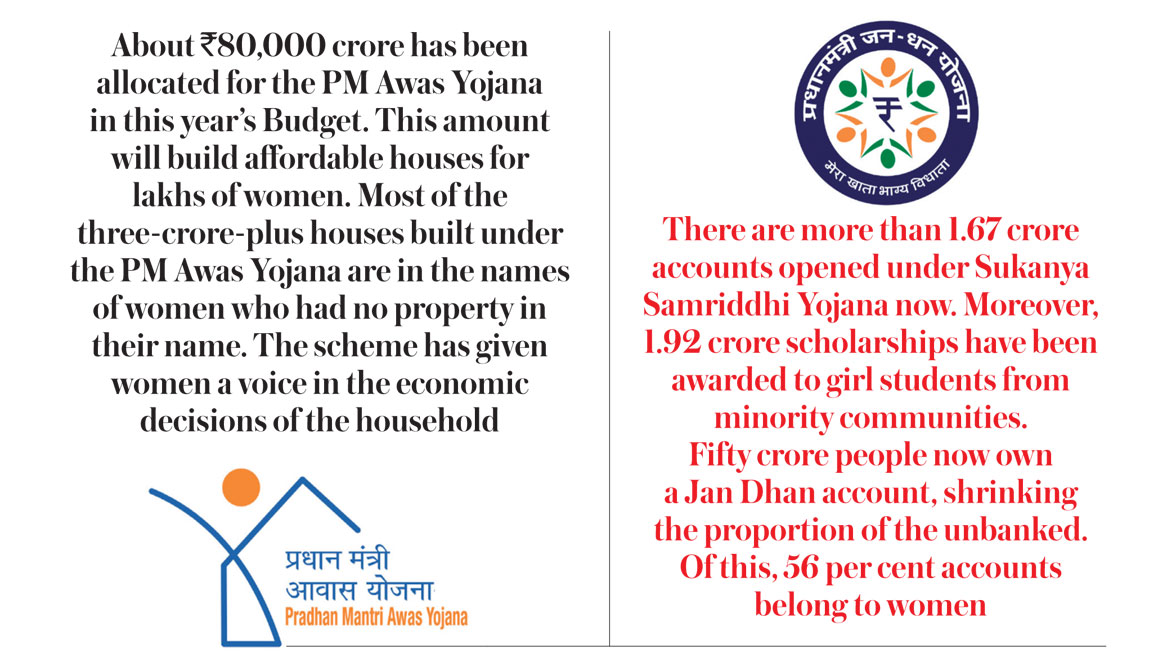 In 1997, there was stiff opposition from within the ruling co­alition itself to the women's quota Bill. Clean toilets for girl stu­dents in government schools were the least of any politician's concern. That year, the women's quota Bill grabbed headlines for just one thing: socialist MP Sharad Yadav's unsavoury refer­ence to "bal kati" (upper-class, upper-caste and Western-educated) women taking the entire quota of 33 per cent.
Sharad Yadav's socialist guru Ram Manohar Lohia, whose Sa­myukta Socialist Party (SSP) had popularised the slogan "Sansopa ne baandhi gaanth, pichhde pawein sau mein saath (Socialists have taken a pledge, OBCs should get 60 per cent quota out of 100)", had main­tained that women of all castes should avail of this quota. However, both Sharad Yadav and Mulayam Singh Yadav—the latter contested his first-ever election under Lohia's SSP colours—both OBC elite leaders, were determined to thwart the passage of the Bill despite flaunting the slogan. Lohia had warned decades ago that the neo-elite among Other Backward Classes (OBCs) could turn out to be more feudal than the upper castes they supplanted in the power matrix. He had said that the cartelisation of theupper OBC leadership would get deeply entrenched, making it that much more difficult for the lower classes and the deprived, including women, to oust them. Even today, what is demanded in the name of 60 per cent reservation has actually remained a preserve of a handful of the backward caste elite.
Today, the same section of leaders was claiming that they had never intended to block the women's quota Bill but were in favour of its passage with the specific mention of reservation for OBC women within the overall 33 per cent quota, similar to Scheduled Castes and Tribes (SC/ST). The 1996 version of the bill lapsed after the dissolution of that Lok Sabha. Subsequently, other governments, including the United Progressive Alliance (UPA) that came much later, failed to muster the political will needed to push through the legislation in both Houses.
It has been 27 years down a long and rocky road after the Wom­en's Reservation Bill was first mooted by the HD Deve Gowda gov­ernment to alter the political space in India and allow the rightful inclusion of women and the amplification of their voices across sectors. Not just in Parliament but also in state Assemblies. Despite repeated failure by parties across the board to get the Bill passed, women voters have consistently defied the entrenched worldview in society and within political parties, creating their own space in politics by their perseverance. More recently, it has even meant fighting to vote for parties of their own choice, at times defying the dominant choice within their families. The numbers prove that. In 1962, 62 per cent of men and just 46.6 per cent of women voted in the Lok Sabha polls. That percentage rose to 67.2 per cent in the 2019 Lok Sabha polls, surpassing the share of men (67 per cent).
A third of seats in Parliament and Assemblies for women will be a reality only after the delimitation exercise. But there is no denying that this is the biggest push so far to empower women and make them the protagonists of their own scripts. It was not surprising then that Modi, introducing the Women's Reservation Bill in Parlia­ment on September 19, asserted, "God has chosen me for this pious task." God, and the increasingly politically active women of India.

PR Ramesh is Managing Editor of Open