THE DOGS BARK furiously and chase the cavalcade of Army Gypsies for a long time till they get tired and give up. "Even the dogs are so trained here that they bark only at the Army," says a young Army officer. He is from Military Intelligence; he is in civilian clothes and his job is to keep an eye on terrorist movement in south Kashmir's Pulwama district. We are in the Kakapora area of the district. In 2016, in the aftermath of terrorist commander Burhan Wani's death, it was one of the most violence-prone areas in Kashmir. For months, police and other government officials avoided travelling in these parts. On August 10th, two days before Eid, there is a thin deployment of paramilitary forces on roads here. Most shops are closed, but people move about, in cars or on foot.
Outside closed shops, a few young men sit on parapets, their eyes on a few vehicles and on people who walk by. "You see that boy there," the Army officer, a Major, points towards a wooden platform where a bearded young man leans on his elbow, "He is an OGW [over-ground worker] of the Hizbul Mujahideen." In the absence of communication, the officer says, OGWs like the young man keep a watch on what is happening outside and pass information physically from one place to another. The previous evening about 100 people had assembled secretly in a house belonging to a terrorist sympathiser. The people are confused, says the Major; they do not know what to do and whether it is a good idea to come out on the streets and clash with security personnel. "They do not have initiators right now. Once the communication is restored, they will have people to guide them," he says.
And then, hell may be unleashed in Kakapora and elsewhere.
In Kakapora, most terrorist cadre belong to Jaish, Lashkar and Al-Badr. Just across, in Wuyan village, most cadre belong to the Hizbul Mujahideen. "The moment you enter these parts you will notice moustaches disappearing over long beards," says the Major, alluding to people subscribing to a particular strain of radical Islam.
In the last few days, Pulwama has witnessed a few clashes between small groups of people and security forces. "We have seen a new trend here. The men throw stones and then take cover behind women and children," says a senior police officer posted in these parts. The first wave (of clashes) when communication is restored will be immense, he feels.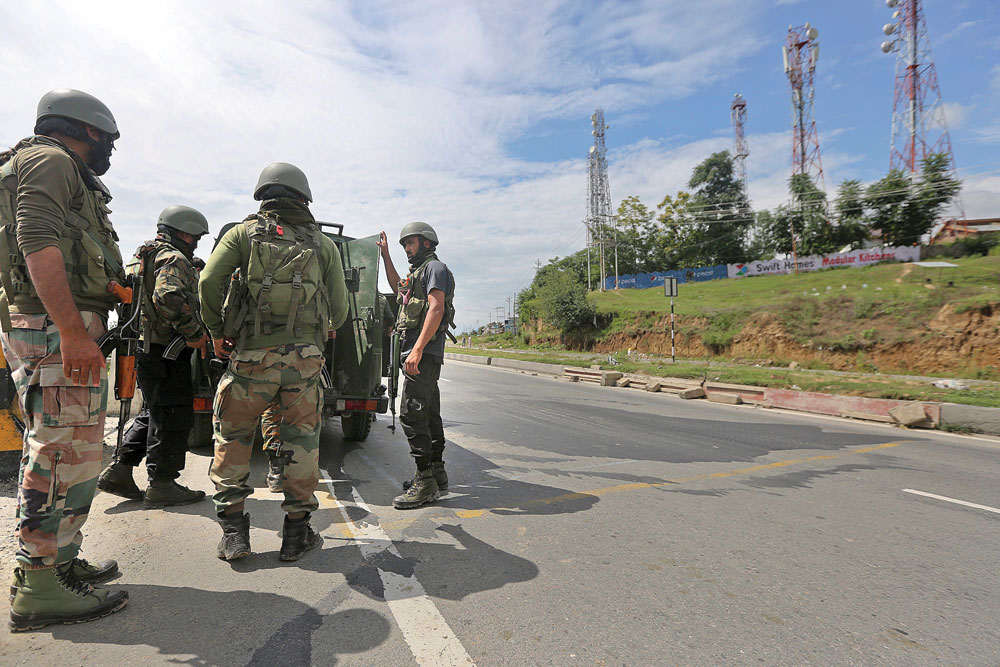 Just then, near Shar chowk, a few men emerge from a mosque. They are being led by Ghulam Mohammed, who is a local leader of sorts. They get agitated as soon as they realise we are journalists. "This is zulm inflicted upon us by the Indian Government," he shouts. A few men around him say that all their jobs will be taken by outsiders after the abrogation of Article 370.
"But where are jobs? Where are industries?"
"We have cement factories here. Let them close them as well. We will beg, but we won't let outsiders come here," says Feroze Ahmed, who lives nearby and drives a truck for a cement factory.
Later, we speak to a man, who is a teacher in a local college and does not want to be identified. "These people you spoke to have no idea what 370 is. But they are convinced that this means all they have will be taken away," he says. He thinks the abrogation is a good idea, but he cannot say it openly. "They will make me kneel on the ground, read charges against me and shoot me in the head," he says.
This area has about a dozen cement factories, providing employment to many people around. "The vision of people here is so limited that all they aim for is to learn driving and drive trucks for one of these factories. And, now, their fear is that they may not even get these with 370's abrogation," says the teacher.
Fear is like a pest that afflicts the apple crop in Kashmir sometimes. There is no pesticide that works against it. It can come from any quarter; it spares nobody. Everyone in Kashmir is on alert. It is foolish to let your guard down. There are too many complications, too many intricacies.
As one enters Balama, a predominantly Shia village in Pulwama, one is greeted by the posters of Ayatollah Khamenei and Mahmoud Ahmadinejad. Just about 100 metres from the main entrance, a local baker is doing brisk business. By afternoon, he has sold about 2,000 pieces of different breads. "I am from Baramulla, but I set up shop here a few months ago. I like this village," he says. On the main road, people move about freely. There are no restrictions in place.
But residents get nervous when they see the media. A few Army vehicles pass by. They stop when they see us—a Colonel from the Army's Rashtriya Rifles comes out. They are on their way to a nearby village. The people here are familiar with him. He shakes hands with a boy who is returning after a game of cricket. A friendly slap on his shoulder, the boy tries hard to smile. A man the Colonel knows is also passing by. We speak to him. He wants to know where we are from; he opens up after a few minutes, though hesitantly. "Sometimes we request the authorities to impose curfew here so that the Sunnis in the neighbouring villages don't feel we are given some special concession by the Army and the police," he says.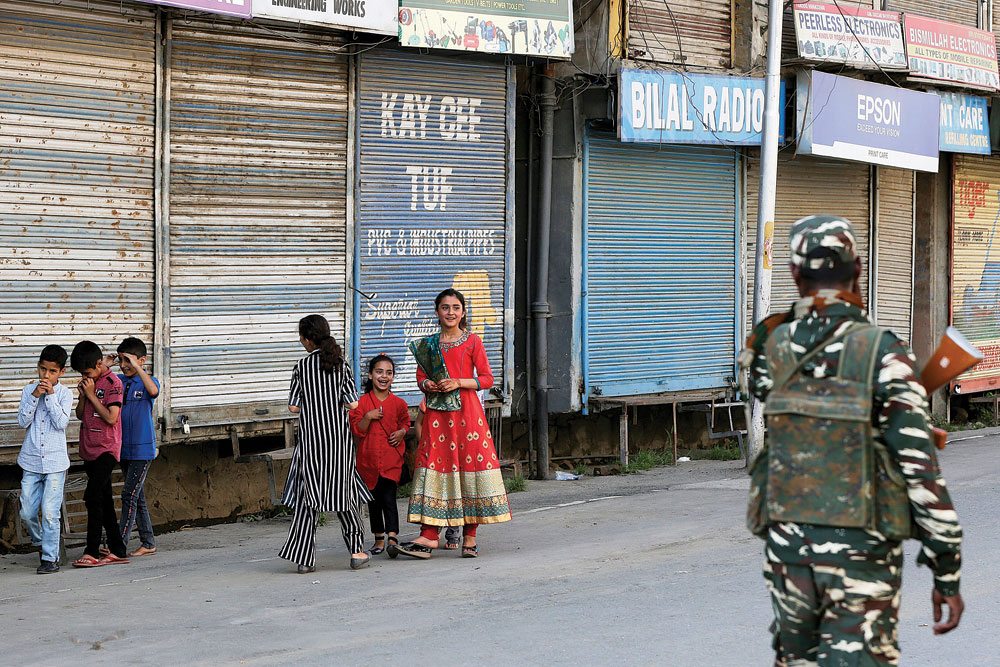 A man near Balama's J&K Bank ATM approaches us. "I won't say all of us support abrogation of Article 370. But ultimately, we want peace. We are scared for our lives as well." There is an old saying in Kashmir: Kae'firen patt'e chhe Raaefi'zun laar [After the infidels (Hindus), it is the Shia who will be hounded]. "But please do not name me," he says, "I will be immediately targeted".
As we hit the highway on our way back, we see the Major from Military Intelligence on the road by his car. There is a Gypsy of Rashtriya Rifles men in their black fatigues next to him. They are waiting for an officer so that they can escort him back to their base in Pampore.
"I was the first one to reach here after the Pulwama suicide attack," he points at the fresh tarmac laid at the spot where a suicide bomber rammed his explosive-laden car into a convoy of 78 trucks carrying CRPF personnel that he had been following for a distance of two kilometres on February 14. "The impact was so severe that four bodies were flung across the double road on to a set of communication towers," he says. A CRPF man guarding that stretch took a hit so bad that he just disappeared. On the left, a house's red tin roof has turned into a sieve with shrapnel from the explosives. Two children from the courtyard of that house wave at us.
On our way back to Srinagar, we see flocks of sheep taken from one place to another, for Eid. On several stretches, broken pieces of bricks are strewn on the road. CRPF personnel stand guard. They watch every passing car nervously, their finger close to the trigger.
ON THE MORNING of Eid, strict restrictions are placed all over Kashmir Valley. In the seven days prior to that, there had been a certain softness in the restrictions. It meant that in most areas, vehicles could pass easily, though barriers were placed at several points. But on Monday, no vehicles can pass. People can walk on foot only to go to their neighbourhood mosques. At 7 am we climb to the Shankaracharya hill in the heart of Srinagar. The sound of azaan comes from all over. Prayers, whose style is distinct to Kashmir, are being said at several places. From the hilltop we see congregations of the devout at three places in the city.
But later, when our turn comes to take a ride in a chopper, facilitated by the Government for all journalists, we see most roads deserted from above. The road outside the Hazratbal shrine is deserted except for two men and a bike. The arterial Maulana Azad road is empty, too. But in the afternoon, these restrictions are lifted partially from Srinagar city.
That morning at Dal Gate, as we negotiate our way through a barricade, a man explodes with anger in his car. He says he needs to take his wife, sitting next to him, to the hospital. But he is not allowed. "Everything is shut," a police inspector tells him. "Jala do sab kuch [Burn everything down]," he says and then takes a U-turn.
Later in the day, we go to the Maisuma area, home to the JKLF chairman, Yasin Malik, who is in prison currently in a case of terror-funding. The street where he lives is completely blockaded. A civilian bus for ferrying policemen, with windowpanes broken by stones and now replaced by police cane shields, stands in one corner outside the Dashnami Akhara from where the Amarnath Yatra is flagged off every year. A man with a woman, carrying a plastic basket, stops to talk to us. "India has to go from here, today or tomorrow," the man says. The woman is seething; she can barely control her emotions. "We refuse to bow down to Indian occupation," she says.
As they leave, a girl, about 10-12, wearing bright festive clothes appears with her gang of children. She is singing, 'Aankh maare O ladki aankh mare,' from a film made much before she must have been born, but of which a remix has appeared in a recent film. She asks a woman journalist standing nearby to remove her shades and when she does, exclaims dramatically: "Oh my God!" Her gang laughs. Even the CRPF personnel cannot resist a smile.
Later in the night, we go to see a police officer. There is a businessman there who is worried about what the future could hold for him in Kashmir Valley. "Should I take my family to Gurgaon?" he asks. Two other men, friends of the officer, a doctor and other journalist, try imagining how things could unfold in the next few weeks.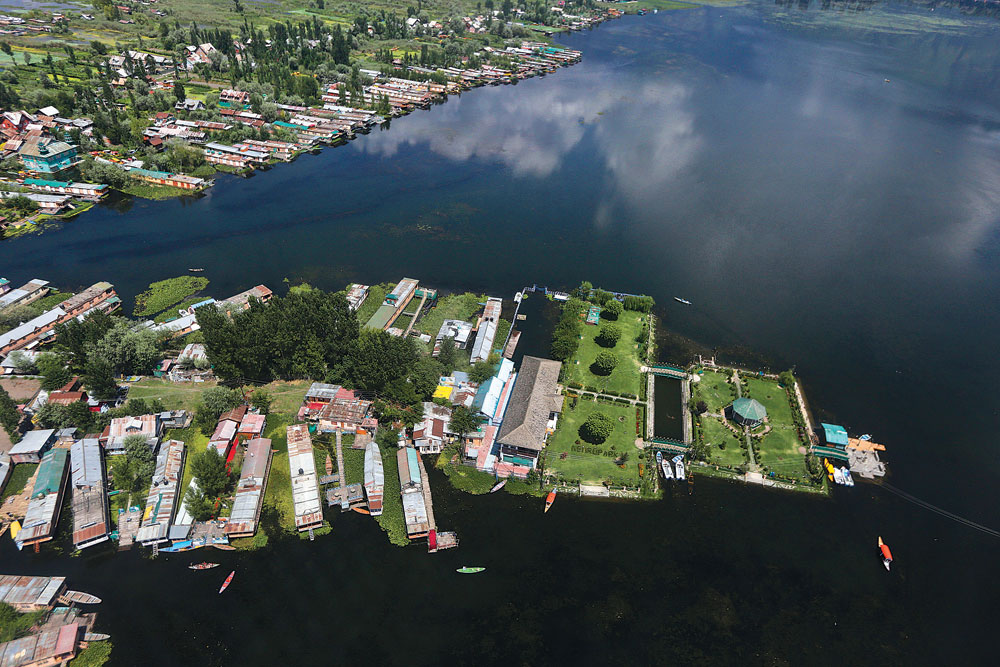 "In 2010 and 2016, there was a lot of outburst even when the state was clamping down on people. If not anything else, boys could come out and write anti-India and pro-terrorist graffiti over the walls," the journalist says. But this time, there has been no graffiti either. It could mean two things, the men say: either most Kashmiris have given up. Or one day, they will explode and explode badly. (As this story was being written, some graffiti appeared in downtown Srinagar today, August 13th, which says 'Article 370 does not matter, only solution is gun solution'.)
The police officer does not want to make any guesses. He only hopes, like most Kashmiris, that there is a finality to the situation. He points at the letters of commendation for his meritorious service in the last two decades and says: "I am the only police officer who has framed and hung these in his drawing room."
The communication blockade, it seems, is here to stay. Internet, especially, will be off for a long, long time. Kashmiris are increasingly getting agitated about it. "We have no choice," says a senior Government official, "If we switch it on, it will lead to casualties and we want to avoid that."
There is talk in Government circles in Kashmir on how the Gupkar road, the power centre in Srinagar, is divided into two groups. One group, they say, has not been very keen on the crackdown on separatists. "This group follows the Dulat [former IB special director AS Dulat] doctrine on keeping a number of people on their payrolls in the name of creating assets," says a senior police official, who has served in Kashmir since the 1990s.
However, these people, he says, took money from both India and Pakistan but worked only for Pakistan. "That must change now and that is why the other group has to prevail," he says. There is talk of the Centre's keenness on propping up a new political leadership among young Kashmiris who will not take the line of soft secessionism like the PDP and the National Conference.
As an example of the largesse of parties like the PDP towards separatists, the police officer cites the case of summons issued earlier by the National Investigation Agency to some separatist leaders. "They took it so lightly and wouldn't even honour these," he says. "They thought their political masters will save them. But now once they receive them, they piss in their pants."
In the night, a friend has organised an Eid dinner. He is apologetic about the limited number of dishes he could prepare due to restrictions. We laugh and say we feel lucky if we get even half of these in Delhi. The conversation veers to the late '80s when someone scribbled a giant 'JKLF' with limestone on the hill behind the Badami Bagh cantonment. "Thirty years later we must answer that by putting a big Tricolour atop the Shankaracharya hill for everyone to see," someone says. Another friend gets emotional about the time when, as a boy in the '80s, he would receive maximum Eidi from Kashmiri Pandits, friends of his father. Another reminisces about the time when his grandmother wouldn't even put a small knife directly in his hands, fearing that it would lead to violent thoughts. A police officer, an old friend, nods his head and says: "I don't know what happened to us. It is as if a few men turned mad and to escape being different from them, the rest of us drank the mad waters of an imaginary river flowing through Srinagar."
We all hoped that our souls could be purged of those waters.