HINDUTVA IS THE IDEA that has defined the identity of India and the commonality of social, cultural and political ancestry of those people whose origins go back centuries in the subcontinent. It's an idea whose journey into India's mainstream narrative has been inspiring but never so thrilling as now, in the era of Narendra Modi.
A decade before the birth of Vinayak Damodar "Veer" Savarkar in 1883, the British conducted their first Census in India in 1872, using the categories of "Hindoo" (Hindu) and "Mahomedan" (Muslim). Savarkar was himself to emerge as the keystone of Hindutva as an idea that should, rightfully, define the subcontinent.
In 1885, the Indian National Congress was founded in the thick of emerging Hindu nationalism in Bombay (Mumbai). Years later, a politically and socially aware Savarkar coined the word "Hindutva" for the Hindu nationalist ideology that denoted a common civilisational and political identity for thousands between the Indus and the tip of the peninsular region. Loosely interpreted, "Hindutva" signified "Hinduness", or all things traditional associated with the practice of Hinduism. But it would be a very long time before Hindutva flowered.
There are several stages in the life and evolution of the most powerful of ideas. Hindutva, though, was that rare idea that throbbed vitally and remained powerful despite not being part of the mainstream. A decade after Savarkar's birth, in his famed Chicago address on September 11, 1893, Swami Vivekananda asserted, amidst an intellectually hostile environment: "I am proud to belong to a religion which has taught the world both tolerance and universal acceptance. We believe not only in universal toleration, but we accept all religions as true. I am proud to belong to a nation which has sheltered the persecuted and the refugees of all religions and all nations of the earth. I am proud to tell you that we have gathered in our bosom the purest remnant of the Israelites, who came to Southern India and took refuge with us in the very year in which their holy temple was shattered to pieces by Roman tyranny. I am proud to belong to the religion which has sheltered and is still fostering the remnant of the grand Zoroastrian nation."
Bankim Chandra Chatterjee was the only one who upheld Sanatan Dharma with pride before this. He was of the view that Hindus had little to learn from Christianity. Long after Vivekananda's Chicago address, Sri Aurobindo, in his 1909 speech at Uttarapara, linked Sanatan Dharma directly with nationalism. But the reclaiming and reasserting of Hinduism, begun by Vivekananda, Aurobindo and Tagore, was stymied midway. Armed with the support of the state and the likes of Lord Macaulay, missionaries spread Christianity across the subcontinent and projected Hinduism as a faith defined by idolatry, superstition and ritualistic claptrap.
Massive roadblocks to a resurgent Hinduism and the assertion of Hindutva, ironically, persisted beyond Independence, when Nehruvian socialism and secularism rebuffed a renewed pride in Sanatan Dharma. Sanatan Dharma refers to the eternal truth of Hinduism. "Sanatana" denotes "that which is without beginning or end" or "everlasting". The ruling elite and those sponsored by it persisted with disparaging Hindus and denigrating the rich matrix of history, tradition, culture, social norms and civilisational moorings they shared. Glorification of not just Christianity but Islam too began and everything illiberal associated with religion was dumped on Hinduism.
Jawaharlal Nehru, the first prime minister, was desperate to project the newly freed nation as modern, rational and progressive, as opposed to the global image of India as a regressive society of elephants, snake charmers, fakirs and rope tricks. Nehru's legacy persisted among the decision-making Indian elite of Congress after him. The history project, shaped and guided for decades by the Left and Left-leaning intellectuals, shored up a politically expedient narrative. Little surprise that it was neither colonial forces nor the established emissaries of faiths from foreign shores who furthered this project: the key drive came from Indians, Hindus themselves who attacked and criticised Hinduism but still escaped the stringent scrutiny reserved for representatives of other faiths.
The "Garv se kaho hum Hindu hain" slogan of resurgent Hinduism in the 1980s, a simplistic reinterpretation of Vivekananda's speech, had huge resonance among ordinary people. But it still failed to gather the sort of traction that would place the idea of Hindutva at the centre of the national discourse on identity since the powerful elite controlled the contours of that discourse and were diffident to subscribe openly and proudly to the Hindu faith. The Ram Mandir movement of the 1990s powered the Hindutva idea farther into the mainstream discourse. But the continued forceful repulsion by a Nehruvian ruling elite ensured that Hindutva did not become its spine.
Everything changed dramatically on the afternoon of May 16, 2014 when Narendra Modi became prime minister. The infamy generated worldwide against him only served to consolidate Modi's image at home as the nation's pre-eminent ambassador of Hindutva. Modi chose to wear civilisational pride on his sleeve and promote Hindutva openly, visiting temples, renovating Hinduism's biggest shrines, and observing rituals and cultural traditions publicly. This quickly drew supporters from among thousands of Hindus, including those who had been indifferent.
After the Ram Mandir victory in court and the repeat electoral win in 2019, Modi's Hindutva project became unstoppable. And as India heads for 2024, there is every proof that Chinese aggression on the global stage and Modi's ability to balance India's interests in the Ukraine-Russia conflict, and to stand up to pressure from the NATO-EU-US lobby to dump Russia, have earned both international support as well as economic and defence ties for India, besides admiration for its leadership. At home, the Modi government has successfully delivered its most prominent socio-political promises: the construction of a Bhavya Mandir in Ayodhya, scheduled to be opened with partial public access soon, and the abrogation of Article 370 in Jammu and Kashmir. On the third, a uniform civil code, decades of dillydallying has vanished and several states ruled by the Bharatiya Janata Party (BJP) are on course to instituting panels for dealing with the issue.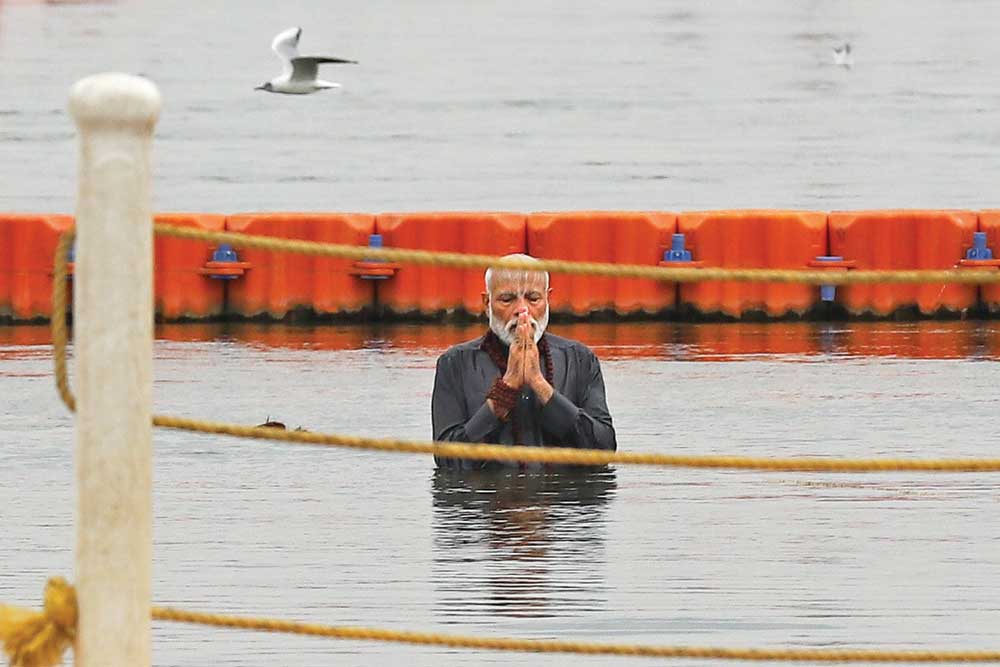 Since the ascent of Modi to the premiership, the Muslim veto has been successfully checkmated at the hustings and the number of representatives from minority communities at both the Union and state levels has gone down to almost nil. The Hindutva discourse has become more mainstream. BJP has openly committed itself to Hindutva, the only national party to do so, forcing others, including Congress, to follow suit. The new contours of Hindutva are more inclusive than before, embracing Buddhism, Jainism and Sikhism. In fact, anyone not belonging to the Abrahamic religions, such as Christianity and Islam, fell into the larger embrace.
Overnight, the vilification of Hinduism disappeared as did the premium placed on its practice, even as a second-term Prime Minister Modi publicly owned the culture of Hinduism, chanting shlokas at key shrines, and wore saffron shawls and tikas with aplomb. The revitalisation and rejuvenation of Hinduism has begun in full swing, especially in urban and semi-urban India where the project of stigmatising its adherents had gone on since Independence. With the arrival of Modi on the scene, Hindutva, Hinduness, and all things related to the practice of Hinduism came to be celebrated again.
It has been an exciting time, of late, for Hindutva. It may not have become the central vein of the mainstream discourse yet but it has become more acceptable than ever and critical discussions are being framed around it. The intelligentsia is now resigned to engaging with it. People for long opposed to it are now queuing up for overnight conversion: some of them have genuine differences with the idea; some are sworn to opposing it; and some others have a vested interest in a status quo underpinned by 'secularism' which has anti-Hindutva as its main plank. But the idea of Hindutva can never again remain an outcast. Hindutva has stamped itself as a rebel on the most important story of India and is winning adherents daily. Compared to the isolation it has suffered, Hindutva's journey in the last eight years has been fast and smooth.
The critical difference in the longstanding equation is Prime Minister Narendra Modi himself. Modi has, in both word and action, not tried to overpower or convert anyone to Hindutva but espoused a civilisational pride that has engendered a re-Hinduisation, a confident display of a faith that had the resilience to overcome the many assaults directed at it. Modi did not forsake the ideology and his belief in Hindutva for fear of elitist disapproval. He embraced it with abandon and this is being expressed every day in different ways—in the promotion and encouragement of the several theories, the several points of view, which reflect Hindutva but had been shunned till date. Modi has indulged in a robust articulation of Hindutva, as if always on the lookout for an opportunity to promote and propagate it. Thus, the inauguration of a revamped Hindu temple is not just an architectural or engineering project; it is turned into a statement of cultural nationalism where the prime minister would go into the details of what makes the Hindu faith rich and distinct. And how it stood defiant in the face of Muslim invaders.
ON MARCH 8, 2019, two days before the General Election was announced by the Election Commission, Modi was in Varanasi to lay the foundation stone for the Kashi Vishwanath temple corridor. Before the official programme, he offered prayers to this holiest of Hindu deities, flanked by Governor Ram Naik and Chief Minister Yogi Adityanath. In a saffron-printed shawl wrapped around his workday desi attire, his forehead marked by the sandalwood and vermilion paste, he chanted "Har Har Mahadev" over and over again after the priests, as he poured ghee into the fire as the cameras rolled. Modi—not one to sneak around the holy Hindu idols—could have easily been mistaken for one of the priests.
The critical difference is Prime Minister Modi himself. Modi has, in both word and action, not tried to convert anyone to Hindutva but espoused a civilisational pride that has engendered a re-Hinduisation. Modi did not forsake his belief in Hindutva for fear of elitist disapproval
At a later event to lay the foundation stone for the corridor at the ancient temple complex and its beautification project, Modi spoke, in local dialect, of Bhole Baba's dare to him to reconstruct his home: "Bete, batein bahut karte ho; aao idhar, kar ke dikhao (Son, you speak a lot; come here and prove yourself by doing something)." The job the deity had given him, Modi said, was to redevelop the Kashi Vishwanath temple complex demolished by Mughal Emperor Aurangzeb, a project which, during anyone else's term, would have triggered a massive controversy. "It was preordained… in 2014, when I was here and a voice from within told me that I had been sent here for a purpose," he said.
Modi didn't mention Aurangzeb, who ordered the demolition of the temple in 1669 to pave the way for the Gyanvapi mosque but made his reference clear: "Our enemies targeted this place many times in the past." The temple owes its current state primarily to Rani Ahilyabai—she also played a key role in the redevelopment of the Somnath Temple in Gujarat—who started the renovation of the temple complex. "Ahilyabai was a devotee of Shiva… But 215-250 years passed [after her and] nobody cared for Bhole Baba. They [BJP's political opponents] cared only about themselves," said Modi. His engagement with the Kashi Vishwanath temple was a far cry from the controversy surrounding the reconstruction of the Somnath temple involving Nehru, KM Munshi, and then President Rajendra Prasad. Munshi wrote to Nehru, who had called it "Hindu revivalism", saying, "I can assure you that the 'Collective Subconscious' of India today is happier with the scheme of reconstruction of Somnath… than with many other things that we have done and are doing." This was a strident pushback against the demonisation of an omnibus religion that celebrated diversity and was tolerant of all faiths.
This would have resonated with Modi even in the years before his premiership. In his address to BJP's National Council meeting in 2013 at the Ram Lila Maidan, Modi thundered against Nehru's "Idea of India", entrenched in the consciousness of the majority: "How could there be just one Idea of India and how could the Soul of India rest only with a privileged few?" he famously asked and went on to spell out his own idea of India. Modi struck a very loud and effective protest note and referred to India's Hindu ethos. "Nowadays, a new phraseology is in vogue and I want to discuss it. Some people are saying 'my Idea of India'. Now, 1.25 billion Indians can have their very individualistic Idea of India. It is not the jaagir [estate] of any one set of people. The Idea cannot be tied down," he asserted in defence of Hindutva. This was the strongest political assault ever in free India against the Nehruvian-Marxist project to emasculate Hinduism. Many of Modi's decisions, including the renovation of the Kedarnath shrine, the Char Dham route, his backing of local traditions in the Sabarimala temple case, have all tied in with the larger framework of resistance to the subjugation of Hinduism. Under his baton, the project to free the Hindu Idea of India, relegated to the margins by the ruling establishment, is now nearing completion.
The coherence and the force that it has acquired is a phenomenon that appeared in 2014 and has gathered momentum steadily since. Some have put it down to official patronage alone, but that would be missing the point. In Modi, the nation now has the most popular prime minister lending his full weight to Hindutva or the Hindu way of life. Another reason for the traction Hindutva has gained is the end Modi put to the monopoly of the anti-Hindu class on key sources of public information. Now, people can see and access things which show Hinduness in a positive way. Social media has added much fillip to alternative viewpoints. Among the most strident criticisms of Hinduism has been the contention that it sports a weak belief system, that it lacks a central character, unlike the Abrahamic faiths, that it showcased "33 crore" gods and multiple holy books.
Today, it is this very criticism of Hinduism that is central to the challenge mounted against it and to showcase the Hindu way of life as a holistic belief system. There was intellectual duplicity in the argument of the anti-Hindu cabal, supported fully by the Marxists. This stratum of critics would praise Abrahamic religions like Christianity and Islam for their central governing body on all things religious, a single organisation, a single source of clerical authority, a single prophet and scripture. But when attempts were being made by reformists to organise Hindus, the very same critics would attack this as an attempt to destroy the multiplicity and tolerant worldview of Hinduism. An argument would be made for the teaching of multiple versions of the Ramayana.
At no point did Modi try to change the defining feature of Hinduism—its fluidity and freedom from dogma, its resilience and ability to evolve, to lend itself to multiple interpretations. But every time he drove home the point that there is a basic thread that unifies all those who follow the Hindu way of life.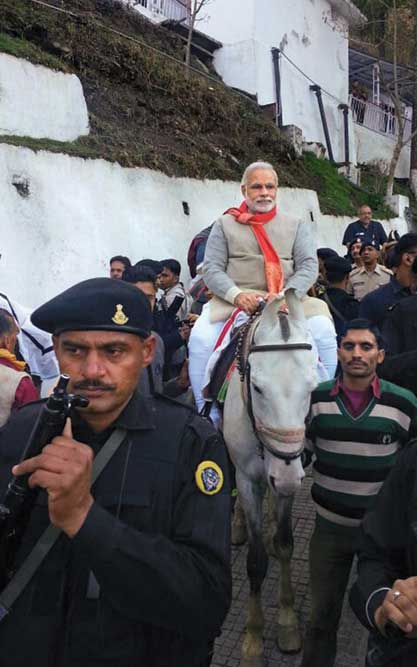 Modi today epitomises Hindu nationalism in a way no single leader has before him and he has mainstreamed Hindu nationalism like none earlier, having merged the massive grassroots worker network of Hindutva—an identity that marries religion and nationalism—with the cult surrounding his own personality. Speaking in Ayodhya, Modi referred to the universality of Lord Rama and the shared heritage of Rama that ran like a single thread uniting the people of the subcontinent: "Ram Bharat ka maryada hai. Sri Ram maryada puroshotam hai. He belongs to everyone; Ram is within everyone. Ayodhya is the town of Lord Rama himself. I am happy that many historical works are being undertaken to enhance the glory and divinity of the birthplace of Lord Rama. It has been mentioned in the scriptures that there is no ruler as virtuous as Lord Rama in the entire world. Lord Rama himself has described the glory of Ayodhya, saying 'My birthplace Ayodhya is the city of supernatural beauty.'"
Modi's speech at the World Ayurveda Conclave was a case in point when he proved that his seamlessly natural references to Hinduism and Hindutva were not merely political points he was scoring but also attempts to knit a larger worldview with Hindutva at it centre and to challenge the persistent lampooning of the Hindu way of life. That conclave was turned into a platform for the propagation of Ayurveda and the Hindu way of living—the balance that promoted health and hygiene during the pandemic. It was at this conclave that Modi explained the futuristic vision of One Earth, One Health that India put forward to the world. "'One Earth, One Health' means a universal vision of health. Whether it is marine animals, wild animals, human beings or plants, their health is interconnected. Instead of seeing them in isolation, we have to see them in totality. This holistic vision of Ayurveda has been a part of India's tradition and lifestyle," he said.
In another instance, the prime minister also used the climate change forum to recall Swami Vivekananda's 1893 speech. Modi asserted: "The address beautifully demonstrated the salience of Indian culture. The spirit of his speech has the potential to create a more just, prosperous and inclusive planet." In a speech at the Suttur Mutt, Modi once again emphasised the salience, resilience and progressiveness of Hinduism, referring to its saints, sages and ascetics. "It is said in our scriptures that there is nothing as holy as knowledge and there is no substitute for knowledge. And, therefore, our sages and mystics created India with that consciousness—inspired by knowledge and embodied by science which grows with understanding and is strengthened by research. Eras changed, times changed and India also faced many storms of time. When the consciousness of India was weakened, our saints, Rishis, sages and Acharyas revived the soul of the country by churning the whole of India."
In September 2019, the year he won his second term in office, Modi tweeted: "I would end by reciting a prayer from scriptures", adding, "The word Shanti does not only refer to peace or the antidote, to violence. Here, it refers to prospering. Everything has a law of being, a purpose and everybody has to fulfill a purpose."
Modi is using India's G20 presidency as an opportunity to showcase its diverse traditions, uniqueness, and focus on the unity of human beings. In doing so, he is challenging the intellectual framework wherein everything associated with Hinduism was derided
In his speech at the Kashi Tamil Sangamam in Varanasi, in November this year, Modi quoted Hindu sages to emphasise the common cultural, religious and artistic threads that ran through both the holy city of the north and Tamil Nadu in the south. Although the separatist ideology of yesteryears is what is often showcased on the political front in the southern state, Modi chose to harp on scripture to identify cultural and religious commonalities: "Our sages have said—'Eko aham bahu syam'! That is, the same consciousness is manifested in different forms. We can see this philosophy in the context of Kashi and Tamil Nadu. Both Kashi and Tamil Nadu are timeless centres of culture and civilisation. Both regions are centres of the world's most ancient languages of Sanskrit and Tamil. If Baba Vishwanath is in Kashi, then Tamil Nadu is blessed by Lord Rameshwaram. Both Kashi and Tamil Nadu are 'Shivmay' [drenched in the devotion of Lord Shiva] and 'Shaktimay' [drenched in the devotion of Shakti]. There is Kashi in itself and there is Dakshin Kashi in Tamil Nadu. Both have their own importance in the form of 'Kashi-Kanchi' in the 'Sapta Puris' [seven pilgrimage sites of Hinduism]."
The speech at the Tamil Sangamam was also Modi's attempt to unite Hindus, striking at the very heart of Dravidian separatism which, in the name of exceptionalism, was promoting subversion. Modi, by keeping the focus solely on the things that culturally united Hindus of the holy city with those of Tamil Nadu, completely undermined the differences. That cultural unity under the umbrella of Hinduism was worth cherishing and fighting for, Modi asserted. This came at a time when several arguments were being promoted to deepen the north-south divide, including that the south was being made to shoulder the burden of a Hindutva-leaning 'cowbelt', the latter marked by nothing but poor social indices and a steadily burgeoning population despite all the resources poured into the region in the name of development.
More recently, on India's taking over the G20 presidency, Modi quoted Hindu scripture again to hark back to the tenet of Vasudhaiva Kutumbakam and reassert India's civilisational and cultural commitment to One Earth, One Family and One Future. India's hosting the G20 meet for the first time would be a big opportunity to promote global peace and unity and work for sustainable development. Again, Modi used this as an opportunity to showcase India's diverse traditions, its uniqueness, its focus on the unity of human beings and the goodness of all humans. In doing so, he challenged the whole intellectual framework wherein everything associated with Hinduism and Hindus was portrayed as something to be derided.
Before Modi, challenges to the prevailing negative portrayal of all things Hindu would come only at an individual level, never enough to take on the condescending and humiliating depiction of Hindus and, by implication, of India, as a pusillanimous civilisation and society. Any challenge mounted, albeit weakly, was allowed to exist as an exotic accompaniment.
That, essentially, is what Modi fundamentally challenged. The guilt, ridicule and inferiority complex that clouded Hindutva have vanished and the practice of Hinduism has been almost completely mainstreamed by Narendra Modi without apology. For civilisational India and the idea of Hindutva, Modi is the biggest eureka moment. Today, Hinduism is not heresy. Nor is Hindutva apostasy. Modi has successfully handheld Hindutva from execration and anathema to its justifiable place of dignity and global honour.

PR Ramesh is Managing Editor of Open