TIME IS COLD, ruthless and cosmic; you cannot hold on to time. You can hold on to events. They slip into the honeycomb of memory, lie asleep in a cell, waiting to be woken up. Perhaps it was the late 1980s when I realised that Lata Mangeshkar possessed something infinitely more magnetic than a glorious voice.
By the end of the 1980s, commercial aeroplanes had become fatter, seats more comfortable, and options on their armrests more varied. Air India, pos­sibly impelled by a marketing manager seeking the loyalty of passengers in their economically fertile thirties, introduced a separate audio channel of Hindi film classics from the 1950s and 1960s. It became my comfort food on any long journey; I flew Air India if Air India flew to my destination. It was the return trip which sealed the deal. Even after a week abroad, one began to miss what we took for granted, the constant backdrop of popular music in our lives. The very first thing I did on a flight was to switch on this channel, and even amid the muddy clouds above New York's airport you knew you were back in your own world once Lata began to sing "Woh chand khila, woh taarey haseen, yeh raat ajab matwaari hai/ Samajhne waale samajh chukey hain, na samjhe woh anaari hai" or "Tera jaana, dil kay ar­maanon ka lut jaana/ Koi dekhey ban ke taqdeeron ka mit jaa­na". Nowhere did the path of true love travel through more melancholy and hope than in the lanes of 1950s Bollywood.
Of course, the Air India track also had songs by the glori­ous quartet of Mohammed Rafi, Mukesh, Manna Dey and Kishore Kumar. But the men never had the same impact, for reasons one could not quite fathom. Perhaps a man is a walk in the park; a woman brings you home.
The critical dominance of the "playback singer" is unique to our cinema, for we Indians cannot love or mourn, laugh or cry, except through a blend of poetry and music. Dev Anand once told me that his greatest film, Guide, was a flop when first released in 1965. It became a hit only after a week in the cinema halls, by which time its music had reached the people's lips. Guide was a breathtaking, radical film, far ahead of its time. It was a heroine's story. Rosie, rejecting the boredom of life with an archaeologist-husband, escapes from marriage, abetted by her lover, Raju, to become an indepen­dent, professional dancer. Raju doubles up as her manager; the two live together. Her success exacts a price; she feels be­trayed, financially, by Raju. The film broke every convention, every code of its time.
But Guide was as much Lata Mangeshkar's film as it was of that classical beauty Waheeda Rehman, the irrepressibly handsome Dev Anand, the maestro SD Burman, or the di­rector Vijay Anand. Each song of Guide, including Burman's "Allah megh dey, paani dey, chaya dey, Rama megh dey", was a superhit. But it was Lata's lilt that turned what might have become a forgotten film into box-office gold. There is the soar­ing pitch of release, relief and apprehension as Rosie breaks her fetters with the poet Shankardas Kesarilal Shailendra's lyrical abandon: "Kaanto se kheench key yeh aanchal, chorh ke bandhan bandhein payal/ Koi na roko dil ki uraan ko, dil woh cha­la…/Aaj phir jeeney ki tamanna hai, aaj phir marney ka iraada hai…/Main hoon ghubaar ya toofan hoon, koi bataaye main ka­han hoon/ Dar hai safar mein kaheen kho na jaaoon, rasta naya…" Lata Mangeshkar is both the liberator and the liberation. That is her mellifluous magic.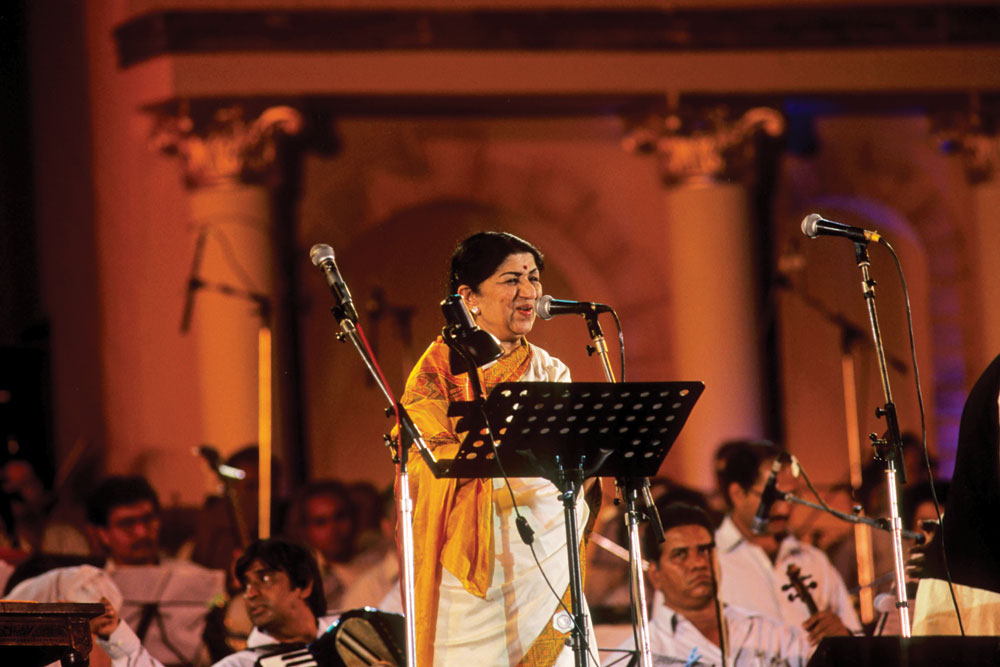 But the incomparable Lata number in Guide, for me, is "Moh se chal kiye jaaye, hai re hai hai dekho, saiyan beimaan", the song of experience, doubt, a simmering question that wonders at the meaning of achievement. The chal, or be­trayal, dances in Waheeda Rehman's eyes as she sings her way out of a second trap, the snare of success laden with the bait of Raju's desire for the appurtenances of wealth. There is no voice in the universe which could have brought that chal to life as Lata's did, and perhaps no pair of eyes but Waheeda's which could have conveyed the ebb of trust in the man she loved.
A DEBATE HAS run parallel to the concept of playback: Does the actor on the screen own the voice from the studio? Mukesh Chand Mathur, more popular as Mukesh, certainly became Raj Kapoor in all the latter's many dimensions: whether a vagabond in "Awara hoon, gardish mein hoon aasman ka tara hoon"; the street-smart semi-con in "Chaliya mera naam, chalna mera kaam/ Hindu-Muslim-Sikh- Isaai sab ko mera salaam"; the misbegotten lover of Sangam in "Dost dost na raha, pyaar pyaar na raha"; the inimitable fun­ster of "Suno ji suno, hamari bhi suno, aji meherbaan hamari bhi suno/ Na tappa na thumri, ghazal hai na kajri, yeh ragini hai py­aar" in Ek Dil Sau Afsaane, where Raj Kapoor does an amazing reinvention of Kathak. In film after film, Mukesh became Raj Kapoor with either the gentle sadness of "Merey tootey huey dil se koi to aaj yeh pooche key tera haal kya hai", or the brisk if understated beat of "Kisikee muskarahaton pey ho nisaar, kisi ka dard mil sakey to ley udhaar/ Kisike wastey ho tere dil mein pyaar, jeena isi ka nam hain".
Mohammed Rafi was synonymous with Dilip Kumar, again across a medley of roles and moods. As a screen event little beats Dilip Kumar doing an outstanding riff on the sitar during "Madhuban mein Radhika naachey re/ Girdhar ki mu­raliya baajey" in Kohinoor, that comic gem of 1960. The tragic Dilip Kumar is epitomised in "Tootey huey taaron ne hamko yeh sikhaya hai", a Rafi classic from Madhumati. The professional relationship was prevalent but not always binding. Mukesh sang the immortal "Yeh mera deewanapan hai, ya mohabbat ka saroor" for Dilip Kumar in Yahudi to the music of Shankar Singh Raghuvanshi and Jaikishan Dayabhai Panchal, also known as Shankar-Jaikishan. The same pair gave us Manna Dey for Raj Kapoor in Shree 420 and the superb Chori Chori. The only occasion, to my knowledge, when three legends, Lata Mangeshkar, Rafi and Mukesh, sang together was for Shankar-Jaikishan's charming "Ramaiya wasta waiya… mainey dil tujh ko diya".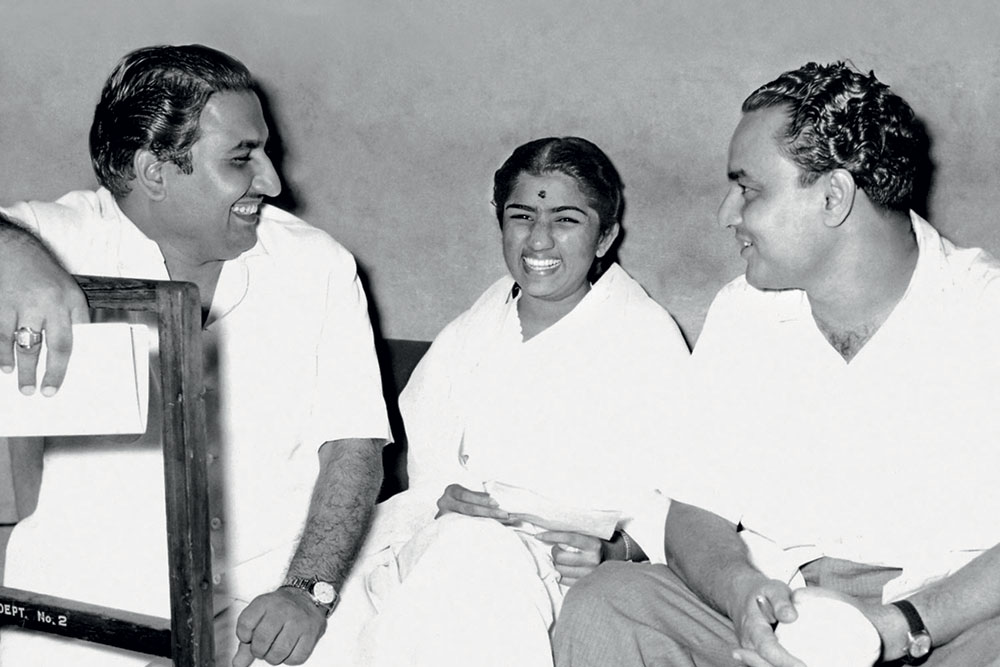 Dev Anand was tri-vocal: Rafi was the mainstay, but there were unforgettable numbers with Hemant Kumar as well, like "Hai apna dil to awara, na jaaney kis pey aayega" and "Na tum hamein jaano, na ham tumhe jaaney, magar lagta hai kuch aisa mera hamdam mil gaya". These songs will live as long as music does, or at least as long as YouTube. Rafi was certainly the most versatile, traipsing across vastly different heroes. He became the voice of Shammi Kapoor, as distant as one could be from Dilip Kumar. Dharmendra's finest song was a gem from the Rafi oeuvre: "Aap ke haseen rukh pey aaj naya noor hai, mera dil machal gaya toh mera kya qasoor hai". It is debatable if Joy Mukherjee's films, whether Love in Simla, Ek Musafir Ek Hasina, Phir Wohi Dil Laya Hoon or Shagird would have succeeded without Rafi—and, inevitably, Lata. But while Rafi and Mukesh identified with stars, Lata became her own superstar.
The only occasion, to my knowledge, when Lata, Rafi and Mukesh sang together was for Shankar-Jaikishan's charming 'ramaiya wasta waiya…mainey dil tujh ko diya'. But while Rafi and Mukesh identified with stars, Lata became her own superstar
Lata sang for every heroine: from the haunting "Aayega, aayega, ayega aanewala" for 16-year-old Madhubala in 1949 to heroines six decades later. Her horizon stretched to 36 lan­guages. Lata Mangeshkar did not become Meena Kumari, Nargis, Nimmi, Nadira, Suchitra Sen, Vyjayanthimala, Nutan, Mala Sinha, Sadhana, Asha Parekh, Shakila, Waheeda Rehman, Saira Banu, Hema Malini, Mumtaz or anyone else. They became her, with subtle inflexions. Waheeda turned more sublime during the lament "Badley badley mere Sarkar nazar aatey hain/ Dil ki barbaadi ke aasar nazar aatey hain" in Chaudhvin ka Chand; Mala Sinha glowed with a quiet lustre as she sang "Aap ki nazron ne samjha pyar ke qabil mujhey/ Dil ki har dharkan thahar jaa, mil gayee manzil mujhey". Even Anita Guha, now alas barely remembered, was lifted into another dimension by Rajendra Krishan's lyrics and Madan Mohan's fabulous score in "Woh bhooli dastan lo phir yaad aa gayi, nazar ke saamne ghata si chaa gayi…/Faqat ik yaad hai baaki, bas ik faryaad hai baaki/ Woh khushiyaan lut gayee lekin, dil-e-barbaad hai baaki/Kahan thi zindagi meri, ka­han par aa gayi…" from Sanjog. Lata's enunciation of Urdu was immaculate. Anyone with any doubt needs to listen to "Zihal-e-miskin makund-e-ranjish bahar-e-hijra hamara dil hai", written by Gulzar. Or "Yeh rangey mehfil yeh jashney baharan/ Aisey mein yun hi khirama khirama, Allah karey tu bhi aa jaaye" from Mr. X in Bombay. Lata's voice transformed each heroine.
This is as good a moment as any to pay tribute to the ex­quisite harmony that blossomed when Lata sang for Madan Mohan, particularly when it was embellished by the poetry of Raja Mehdi Ali Khan. In Lata Mangeshkar's own estimate some of her best songs were written by Mehdi Ali Khan to the music of Madan Mohan. Three of them could head a playlist in any generation: "Aap ki nazron ne samjha pyar ke qaabil mujhe"; "Hai isi mein pyaar ki aabroo, woh jafa karein main wafa karoon/ Jo wafa bhi kaam na aa sakey to wahi kahen ke mein kya karoon…/Mera gham bhi unka azeez hai ke unhi ki dee hui cheez hai…"; "Jiya le gayo ji mora saanwariyan". I would add another: "Jo hamney dastan apni sunaayi aap kyon roye?/ Tabahi tau hamarey dil pey aayi, aap kyon roye?"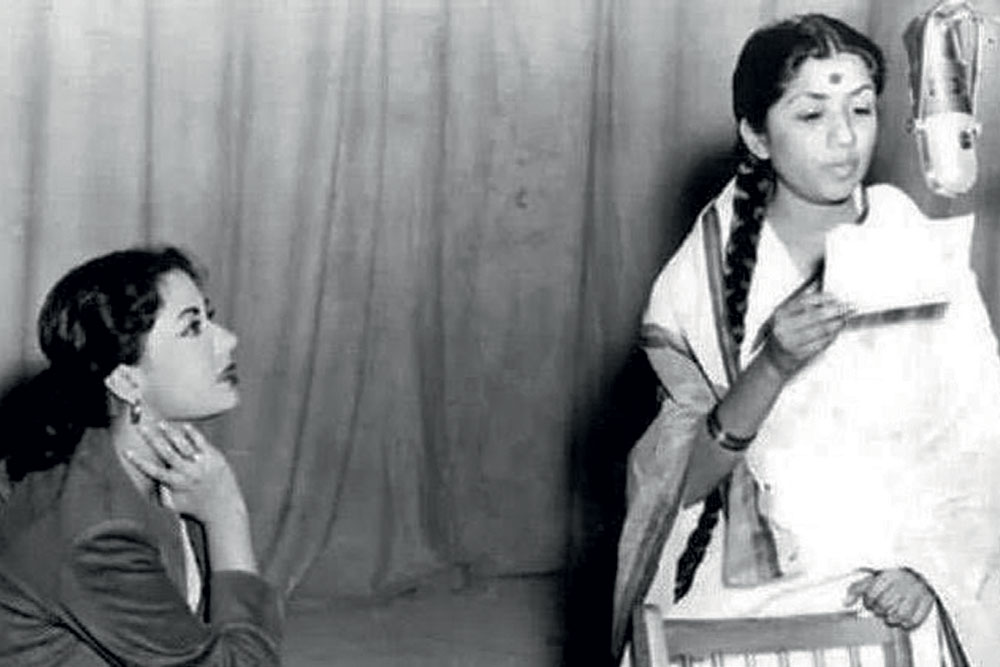 Like any devotee of Lata, I have often wondered which is her best song, only to accept that it is presumptuous to judge jewels from the treasury of a Shah Jahan. But up there, fight­ing for a place at the top, must be the immortal, wafting num­ber from Woh Kaun Thi: "Lag jaa galey ke phir ye haseen raat ho na ho/ Shayad phir is janam mein mulaqat ho na ho". Alongside is surely the poignant song crafted for Mahjabeen, or Meena Kumari: "Ajeeb dastan hai yeh, kahan shuru kahan khatam/ Yeh manzilen hain kaun si, yeh woh samajh sakey na ham…/Yeh ro­shni ke saath kyon dhuan utha chiraagh se/Yeh khwab dekhti hoon main, ke jag parhi hoon khwab se". Lata was incomparable in Hemant Kumar's composition for Suchitra Sen in Cham­pakali: "Chup gaya koi re, door se pukar key/ Dard anokhey hai de gaya pyaar ke". Since her repertoire is inexhaustible, add the exquisite "Main to tum sang nain milakey haar gayi sajna/ Kyon jhootey se preet lagai, kyon chaliye ko meet banaya/ Kyon aandhi mein deep jalaya" from Madan Mohan's Man-Mauji.
Lata Mangeshkar did not become the heroines. They became her. There is a photograph of the young Meena Kumari staring with undisguised awe at Lata recording in a studio: that was the homage of a great actress to a genius
A pause for a caveat. I have not offered any English trans­lation for these verses, for a good reason: the nuances of such poetry are difficult to embrace into the culture of the Eng­lish language. How does one transliterate a line like "Kisikey manaaney mein lazzat jo aayi ki phir rooth jaaney ko ji chahta hai?" 'Lazzat' has more connotations than the comparatively insipid 'taste', and 'rooth' is certainly not 'sulk'. Try this as translation: "I have so enjoyed being persuaded that I want to sulk again." Mundane. Let's leave the lyrics as they are.
TRADITION HAS it that the two sisters Asha Bhosle and Lata divided genres between them, shutting out space for anyone else. Asha did saucy; Lata did the el­egant nightingale. This has veiled the fact Lata Mangeshkar could be elegantly mischievous when required. Start with her singing for the delectable Kumkum doing a minimalist hip-dance in Kali Topi Lal Rumal with an Afghan rhythm: "Daga daga vai vai…ho gayi, tumse ulfat ho gayi…/Jaan jalti hai aise nazar churaya na karo/Ham gharibon ka dil ko dukhaya na karo/Aaye thhe door se ham, tere milney ko sanam, che-kunam, che-kunam, che-kunam/Daga daga vai vai…" Vyjayanthimala taunting Raj Kapoor in Sangam is great fun, to which Lata adds an unusual authenticity: "Main ka karoon Ram mujhe buddha mil gaya…/Sab jo gaye baagh mera buddha bhi chala gaya/Sab to laaye phool, buddha gobi leke aa gaya/Main ho gayi badnam mujhey buyddha mil gaya". There is Kumkum once more, this time in Ujala with "Tera jalwa jisney dekha woh tera ho gaya/Main ho gayee kisiki, koi mera ho gaya". The prize in the fun stakes goes to 'Jis Desh Mein Ganga Behti Hai', and "Begani shaadi mein Abdullah deewana/Aisey manmauji ko mushqil hai samjhana", where Padmini appears in a Turki topi to admon­ish a hesitant Raj Kapoor.
We owe two of the three best dance numbers in Hindi cin­ema (apart from Guide) to Lata. Asha Bhosle takes the honours in Sahib Bibi aur Ghulam with the flawless "Saaqiya aaj mujhey neend nahin aayegi, suna hai teri mehfil mein ratjagga hai/Aankhon aankhon mein yun hi raat guzar jayegi, suna hai teri mehfil mein rat­jagga hai". It was not merely a night that passed in the pleasures of nautch, but an era of Bengal's zemindars. But Lata is super in the splendidly choreographed "Honton mein aisi baat zubaan
pey chali aai" in Jewel Thief, and superlative in "Daiya re daiya dekho re paapi bichua" from Madhumati. 'Honton' takes over seven minutes of screen time and 'Daiya' nearly six minutes.
Lata Mangeshkar dominated in three of the finest films made in Bollywood: Bimal Roy's Madhumati, Dev Anand's Guide and K Asif's Mughal-e-Azam. The music directors were Salil Chowdhury, SD Burman and Naushad. You could add Pakeezah, another Lata album, but the film was as tawdry as the music was silken. I would have included the old Nagin, but there again the quality of the movie is variable.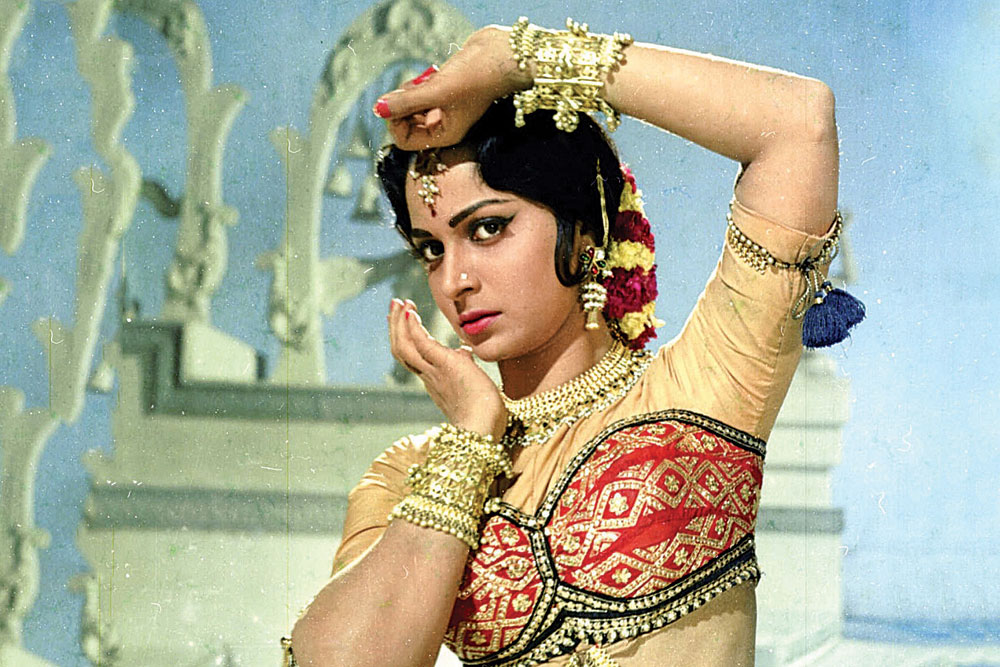 Lata in Madhumati is an endless delight: in addition to 'Daiya re Daiya', there is "Zulmi sangh ankh ladhi rey/Aaja re pardesi main to kab se skhadi is paar", and 'Ghadi Ghadi Mera Dil Dharkey'. Vyjayanthi­mala was one of the great dancers of her era, and she surpasses herself in 'Bichua', capturing the essence of tribal artistry, beat and creativ­ity with grace and swerve. In Mughal-e-Azam Lata was not Madhubala but Anarkali, her voice echoing the pain of a qaneez who dared to love a prince and an heir to a mighty throne. If her elegy stirred the heart, her qa­wwali enthralled the senses: "Teri mehfil mein qismat aazman ke ham bhi dekhenge/Tere qad­mon pe sar apna jhuka kar ham bhi dekhenge". But the reward for such a gamble was death. Anarkali met her fate with wistful defiance: "Na ho khooney jigar to ashq peeney ka maza kya hai?" She held her head high as her drugged lover lay prostrate on the carpet and execu­tioners began the slow march to the grave: "Khuda nigeh­ban ho tumhara, dhadaktey dil ka payam le lo/Tumhari duniya se jaa rahe ho, utho hamara salaam le lo…/Uthey janaza jo kal hamara, qasam hai tumko, na dena kandha/Na ho muhab­bat hamari ruswa, yeh aansuon ka payam le lo". Such music should be part of compulsory education.
Music is a universal language. Lata Mangeshkar, a disci­ple and devotee of Indian ragas, loved listening to Beethoven and the Beatles as well. Every emotion across the human spectrum was reflected in her range. Some people wonder at the fact that she brought the national mood of 1963 to life with 'Aye Mere Watan ke Logon' without as much as a rehears­al. Lata Mangeshkar's soul did not need rehears­als. Listen to 'Aye Mere Watan' in the silence of solitude, and you will break down as everyone else has done at some point or the other.
There is a photograph of the young Meena Kumari, then perhaps no more than 20, star­ing with undisguised awe at Lata Mangeshkar recording in a studio: that was the homage of a great actress to a genius.
Time is relentless. Madhubala died at the age of 36; Meena Kumari left at 38; Nargis at 51; Nu­tan at 54; Sadhana at 76. No one knows when the call will come. Life and death have no logic: "Yeh chiraagh bujh rahey hain, mere saath jaltey jaltey".
We are blessed that Lata Mangeshkar was with us till the age of 92.
Ghuzra hua zamana aata nahin dobara, hafiz Khuda tumhara.

MJ Akbar is a member of Rajya Sabha and the author of several books, including Doolally Sahib and the Black Zamindar: Racism and Revenge in the British Raj