Till about a month ago, when Dr Farah Ingale would make her rounds at the Hiranandani Hospital in Vashi, she had been feeling hopeful. The early period of the pandemic, when the number of infections in the Mumbai region had risen so quickly that hospitals had begun to be overwhelmed, now seemed like a distant memory. The hospital, which lies in Mumbai's satellite city Navi Mumbai, attracts patients from the larger Mumbai Metropolitan Region. This is the area where the number of cases had remained high even as the pandemic had somewhat abated in Mumbai. But it was getting better even here.
By August, the beds reserved for Covid-19 patients in the hospital usually remained full, but if you came enquiring for one in the morning, she says, you would find it by evening.
"It (the outbreak) was slowly going away. I thought from now on there was going to be just a few cases, something manageable (for the city's healthcare system). And then at some point, a vaccine would come," says Ingale, director of internal medicine at the hospital. "I thought the worst was over."
It wasn't just her. Although Covid-19 cases had begun to spread in the interior of the country by then, several metros where the pandemic had first made such an impact were now appearing to improve. By June and July, the number of daily reported infections, hospitalisations and fatalities had appeared to stabilise in these metros. By August, it had improved even further. The peak, it was said, was behind us. In Mumbai, the city's municipal board had begun discussing the closure of jumbo centres, each of which has the capacity to take in over 1,000 patients. Some 73 small nursing homes in the city, which were being used to treat Covid-19 patients, were asked to stop doing so.
All of this has changed in the last few weeks. Even while the virus has begun to surge in states and districts where previously it hadn't made much inroads, large numbers of daily cases are being reported in several cities earlier thought to have crossed their peaks, leading some to characterise this as a 'second wave'. Daily cases in the country now hover close to the one lakh range. Bengaluru and Delhi are again reporting daily cases in excess of 3,000. The Mumbai Metropolitan Region and the Pune region each add around 5,000 cases daily. Even Kerala, the state which was believed to have asserted some control over the pandemic, added over 5,000 cases on September 24th. India has already notched over 20 lakh cases in September (as of September 24th), more than any country ever did in a single month. In a few more weeks, India is expected to overtake the US for the largest number of infections.
In Mumbai, plans for closing down the jumbo centres have been dropped. Even 27 of the 73 nursing homes, previously told to stop taking in Covid-19 patients because of alleged poor management, have now been asked to do so again. In Vashi's Hiranandani Hospital, waiting lists for beds reserved for Covid-19 patients have again crossed the 100 mark. Several districts and villages seeing a surge, like those in Maharashtra's interior, are reporting such high numbers that healthcare systems are failing to cope. "I used to think things were getting better. But there's a full-blown second wave going on," says Dr Ingale. "Now I feel nobody can tell anything."
I DON'T think we have peaked yet," says Rijo John, a health economist who has been tracking the rise of cases in India. "If you look at the graph (of daily infections), we are still rising." As of September 23rd, India had crossed over 57 lakh total cases. According to John, by the end of this month, the country would have breached the 65 lakh tally.
One of the reasons offered for high figures across the country is that there is a greater rate of testing. But this is a flawed argument because a rising proportion of tests are returning positive results. As John points out, although India has been consistently adding over 90,000 cases daily, the number of tests conducted daily has not kept pace with that fact. If one takes an average of seven days, he says, the country has remained at the one million testing mark for around 19 days. "We should at least be doing two million tests daily. In fact, if you look at the last couple of days, where the number of daily reported cases is getting less than 90,000, the number of tests has actually been further reduced. This is not good. It might be good for a narrative, but the gap (between reported cases and the real picture) will widen."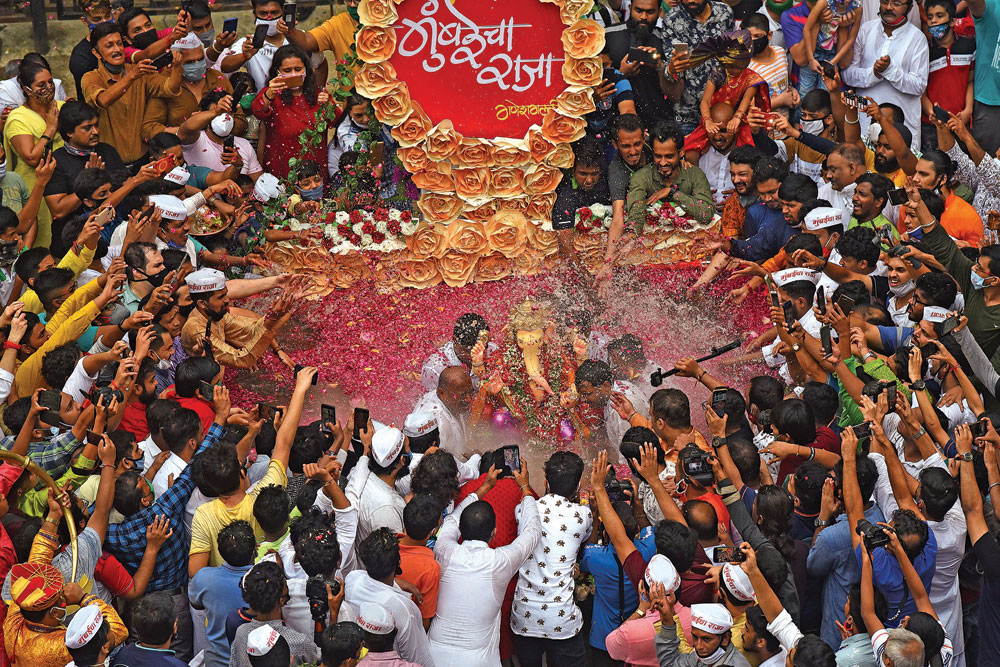 According to experts like John, we are not really getting the true picture of the surge in cases. Test positivity rates—the percentage of people who test positive for the virus among those who have been tested overall—have consistently remained high across the county. Ideally, this rate should stay below 5 per cent. Anything above suggests that the country should be ramping up testing. But this has not happened. "Right now, India has a test positivity rate of about 9.3 per cent or so which is not good. Maharashtra, which adds close to 24 per cent of all cases in India, has seen test positivity rates of around 25 per cent. (It is currently nearly 20 per cent.) Some states like Goa, which has a test positivity rate of 30 per cent, are actually reducing daily tests," John says.
Of late, the Government has begun to highlight India's high recovery rates. The country has consistently seen around 90,000 or so recoveries, or over 80 per cent, every day. But, as John points out, recovery rate percentage isn't the metric one should be looking at. "It doesn't really say anything because the base (of infected cases) is so high. Covid-19 has a low mortality rate, and it is even lower in India. So technically, even if you don't do anything, many of these people will anyway be recovering," John says.
In a few weeks, India is expected to overtake the US as the country with the highest number of coronavirus cases worldwide. More unlocking of cities, the beginning of festivals across the country next month where people will further intermingle, and the onset of winter, which some fear can lead to a bigger spread of the virus, will add to the burden.
When the national peak does occur, many experts point out it is likely to be a long and sustained one. "Every part of the country, we must understand, is in a different phase of the disease. So while it will go down in some place, it will begin to shoot up elsewhere, or there will be resurgence in some other part," says Dr Jugal Kishore, head of the department of community medicine at Delhi's Safdarjung Hospital. "So when the (national) peak comes, given the country's large size and dense populations, it is most likely to stay high for a long time," he adds.
The 1918 Spanish Flu, which Covid-19 is most often compared with, came in four waves across two years. The deadliest was the second wave that began in the latter half of 1918.
Although it is suggested that countries in Europe and eastern Asia have begun to experience a second Covid-19 wave, there is no real clarity if this is really the case. Not everyone categorises the recent surge in cases in some Indian cities as a second wave either. The idea of a second wave, they point out, is much talked about but ill-defined. The first wave never really stopped and the virus is simply spreading into new populations in a given area or resurging because people have let their guard down.
"The virus was never really eliminated from a city like Delhi. It was just, maybe, a little suppressed," says Kishore. "Many people who had stayed hidden indoors all these months are now going out either because of the 'unlock' or because they don't fear the virus any more. So when people start going out, the virus spreads," he adds.
A behavioural change is occurring in many places, experts point out, where the resumption of economic activities coupled with a carelessness setting in is causing this current uptick in metros. In Maharashtra and Kerala, recent festivals like Ganesh Chaturthi and Onam—although muted but during which many people still gathered in close proximity and travelled around the state to meet families and relatives—are believed to have increased the spread.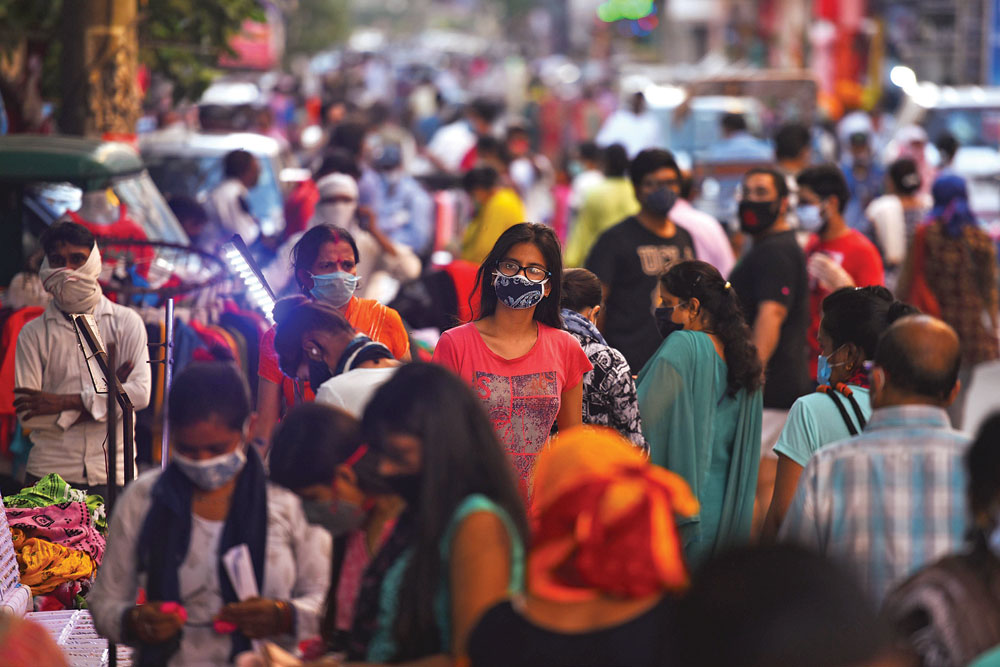 "It's unfortunate, but that is what happened. The virus spread during the festival," says Dr Rahul Pandit, Director of Critical Care at Fortis Hospital in Mumbai's Mulund area and a member of the taskforce advising the Maharashtra government on Covid-19.
What has the surge of the virus through all of September meant for an already battered economy? India's GDP plunged by nearly 24 per cent in the first quarter of this financial year. No other big economy has shrunk so much during the pandemic. In the same period, America's GDP fell by 9.1 per cent. As the virus continues to spread, economists and global institutions have begun to further cut their projections for the country's economic growth. Goldman Sachs now estimates India will see a 14.8 per cent contraction in GDP for this financial year; the Organisation for Economic Co-operation and Development (OECD) claims the economy will shrink by about 10.2 per cent.
The pain has been so great that it is unlikely that strict controls can be re-imposed, even though infections are rising more swiftly than ever. Public transport has begun to resume operations. The Delhi Metro has restarted. Mumbai, for the moment, has kept its local trains reserved for a small fraction of commuters but is now considering letting go of its social distancing rules on buses. Rules about public gathering are getting looser too. Restaurants are gradually expected to open soon as well. And the Centre has issued notifications telling state and municipal governments they cannot impose localised lockdowns without consulting the Union Government.
Most state governments are caught in a catch-22 situation. Madan Sabnavis, chief economist at CARE Ratings, points out that many of them would have liked to open up economic activities after they had a measure of the virus. But they are now so broke that they can't help but open up. "Even if this will no doubt lead to a spike in cases, it is unlikely there will be localised lockdowns too. That's just how bad it has become," he says.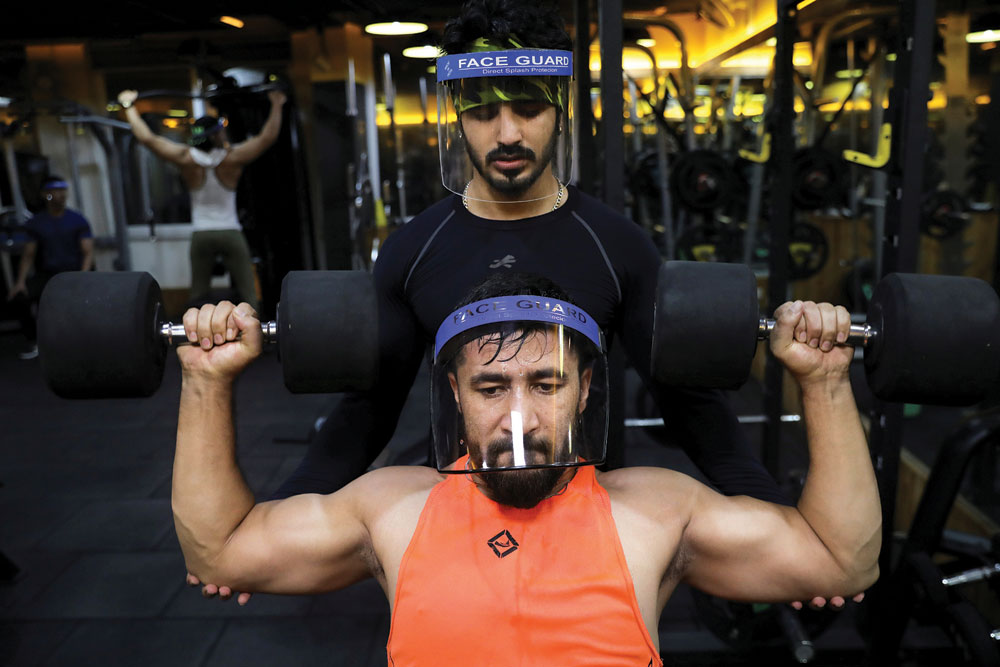 According to Sabnavis, after the first two poor quarters, with more economic activities being allowed, there had been hope that the next two quarters would bring some cheer. "There was a lot of pent-up demand. And when they first began unlocking, there was a bit of a boom. Sales of cars, electronics, everything went up. So it was looking good. But this month (with its increase in cases), has brought bad news," he says.
Sujan Hajra, chief economist and executive director at Anand Rathi Shares & Stock Brokers, points out that this rapid increase in cases affects every aspect of the economy. "The pace of relaxations will no doubt become slower. So work in factories, offices and retail establishments will slow down. Many companies that were hoping they would be able to tide over will just become unviable and shut down. And the worst thing is, since it now looks like nobody knows how long this will go on, consumer sentiments will hit rock bottom. And everybody—companies, households—will stop spending."
As cases surge, many wonder if herd immunity is not something that may eventually slow down, or perhaps even end, the outbreak. The concept of herd immunity lies at the heart of global efforts to stop the spread of the pandemic. This can be achieved through a vaccine.
But there is another, more dangerous, way. For the virus to wash through the population and naturally infect people. Pursuing such a goal with no vaccine would probably come at a staggering cost of human lives, as infectious disease experts assert, and may not even occur anytime soon.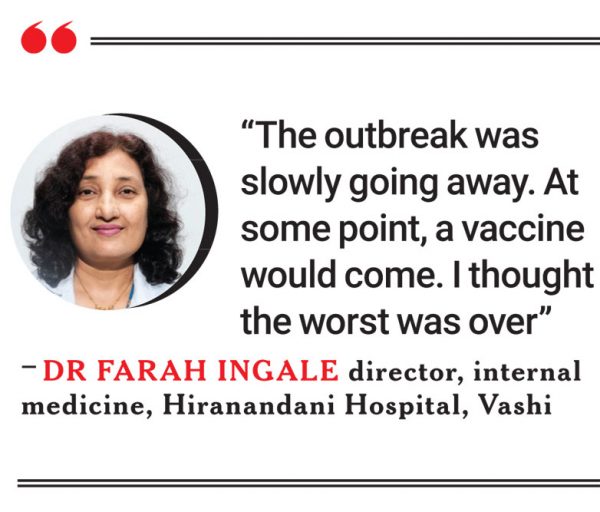 Still, many ask that if the disease makes its way through the population in a given area in the manner it is doing in India now, wouldn't herd immunity in some areas of high infections be something that's not far behind?
There is no fixed idea of when herd immunity might kick in for a virus like Covid-19. Some have estimated that about 60 to 70 per cent of a given population would need to develop an immune response to the virus. One group of researchers has estimated it could be even as low as 10 to 20 per cent, although most epidemiologists have claimed this unlikely. Most believe herd immunity will probably require 50-60 per cent to develop.
SEROPREVALENCE surveys have found that many parts of India have already appeared to develop fairly high levels of antibodies. One in four people in Ahmedabad, it was found in a survey earlier this month, were already exposed to the virus. In Delhi's last sero-survey, the results of which were announced last week, 33 per cent of the samples tested positive. Mumbai's sero-survey, revealed at the end of July, was the most interesting. Conducted in only three wards in the city, although those who worked on the survey claim it would more or less be representative of the entire city, it found about 57 per cent of individuals residing in slums had already developed antibodies. About 16 per cent of those in non-slum areas were found to have developed antibodies. Taken together, this would make the seroprevalence reported in Mumbai among the highest in the world. Some wonder if the waning of the pandemic in Dharavi's slum is not a reflection of the city authorities' much- touted 'Dharavi model' containment measures but because the virus went through the slum's population, it made them immune to it. A follow-up sero-survey in Mumbai, conducted a month later, has now been completed and is expected to be released soon.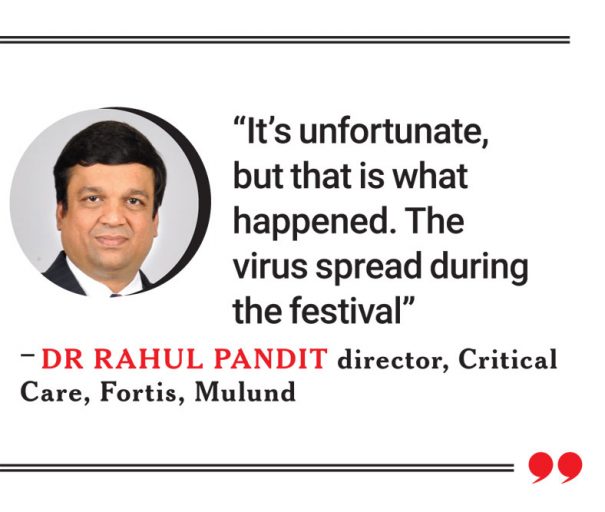 One of the individuals involved in the sero-survey, Sandeep Juneja, professor and dean of the School of Technology and Computer Science at the Tata Institute of Fundamental Research (TIFR had partnered with the city's municipal board and NITI Aayog to conduct the survey), has come out with another interesting paper. This one—a collaboration among a few TIFR computer scientists—is a computer simulation model that factors in complicated things like the resumption of the city's crowded trains and buses, analyses when and how Mumbai could look to open up the city entirely. "These projections were developed taking into account a possible second wave that would happen when the city opened up," says Juneja.
According to the paper, if workplaces are opened gradually, about 33 per cent in September, 50 per cent in October and 100 per cent in November, with schools and colleges resuming in the first week of January next year, the second wave of infections and hospitalisations that would come from such a step would be much more manageable for the city's healthcare system.
The simulation model also finds that the city would have achieved herd immunity by around December this year or January next year. "By then we estimate that about 75 per cent in slums and 50 per cent in non-slum areas would have been exposed to the virus. When you reach those numbers, you don't see so many new infections," Juneja says. "It does not mean that the virus will go away. But it will be small. Say, between 200 to 500 daily cases. Not like the 1,500-2,000 cases that we see now."
This model comes with a caveat. If, as some fear, exposure to the virus does not grant immunity and a high number of reinfections occur, then the idea of achieving herd immunity becomes much more complicated. There have, however, only been a few cases of confirmed reinfections globally. Most of the re-infected also appeared to develop a much milder version of the infection.
Kishore is hopeful that at some point certain pockets will begin to exhibit herd immunity. He believes there has been far too much panic, that economic activities and transport systems should be opened up, while the elderly and vulnerable are protected at home. "The virus is still only half-a-year old. So we don't know everything. But this theory that reinfections will stop herd immunity from happening doesn't make sense. If there were to be so many reinfection cases, our hospitals would be filled with the same people," says Kishore. "It's tough, I know, and it's going to look bad in the next few weeks. But if people are careful and wear masks, then it will slowly get better."