THE POPULAR FRONT OF INDIA (PFI) IS A 'Trojan horse' seeking to damage communal harmony in the country and has often been in the news for the wrong reasons in cases involving money laundering, political killings, illegal religious conversions, and violent attacks in retribution for alleged acts of blasphemy, according to an internal government note spelling out the reasons why the organisation—banned by the Centre under the Unlawful Activities (Prevention) Act (UAPA) on September 27—constitutes a national security threat. Over 1,400 criminal cases have been registered against PFI cadres under UAPA, the Explosive Substances Act, the Arms Act and other sections dealing with murder and assault. The level of indoctrination of PFI cadres in an intolerant religious philosophy can be judged by the hateful slogans raised by a 10-year-old, the son of a PFI member, at a rally in Kerala on May 21.
The nationwide raids by the National Investigation Agency (NIA), Enforcement Directorate (ED) and state police forces against PFI offices and residences, leading to more than 100 arrests on September 22, was followed by more detentions and arrests on September 26 to prevent PFI cadres from staging protests that authorities suspected were intended to instigate violence. Police forces in various states acted swiftly, drawing lessons from PFI protesters attacking public property in Kerala and Tamil Nadu as well as residences of Bharatiya Janata Party (BJP) and Rashtriya Swayamsevak Sangh (RSS) leaders a day after the raids and arrests last week. The Union Ministry of Home Affairs' (MHA) case against PFI states that the outfit maintains "secret hit squads" to engage in targeted killings of Hindu activists and alleged blasphemers. The July 26 killing of BJP youth leader Praveen Nettaru was carried out in retaliation for the murder of a Muslim migrant labourer a few days earlier. Nettaru, who ran a chicken meat shop, was chosen for his comments on the halal issue.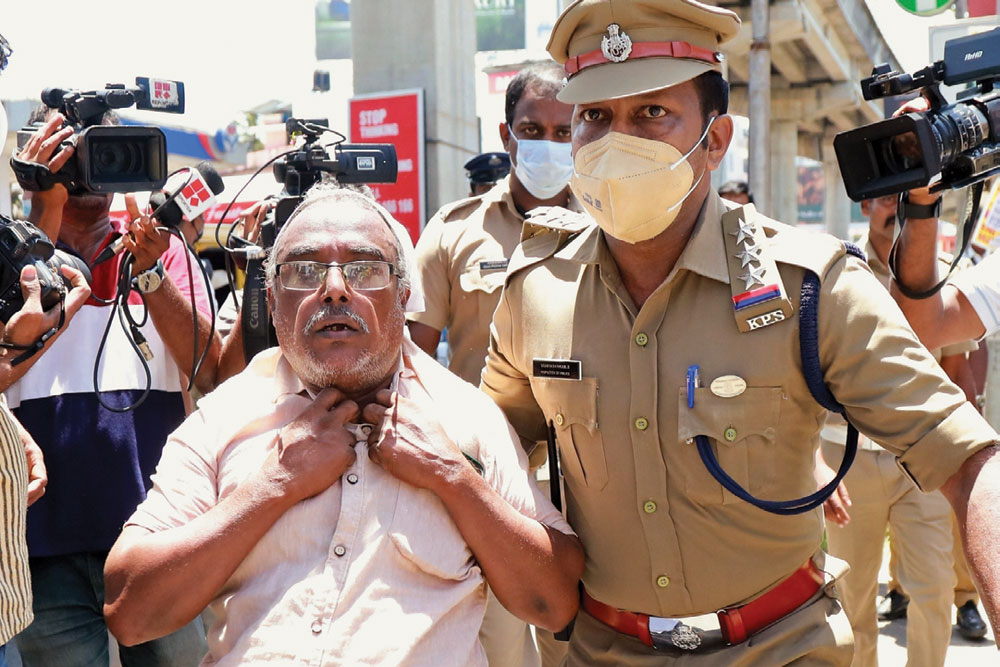 PFI's methods of indoctrination mirror those of extremist and terrorist organisations across the world. Recruits are shown videos of the demolition of the Babri Masjid, Gujarat riots, and violence in Libya, Iraq, Palestine and Syria. The 'motivational' videos include purported beheadings carried out by the Taliban. A July 4 police operation in Telangana revealed cadres being subjected to incessant propaganda about the threat of Hindutva and being trained to handle knives, swords, rods, as well as to target specific body parts to cause maximum damage. Typically, PFI attacks involve hacking of victims, a chilling message to suppress opponents and also intimidate moderate Muslim outfits into accepting its supremacy. An 'instructor' who was arrested had trained more than 200 cadres in Nizamabad. The documents recovered by Bihar Police in a July 11 operation in Patna include a booklet, 'India 2047: Towards rule of Islam in India', spelling out PFI's jihadist roots which are in sharp contrast to its purported claims to being a social organisation. "Its activities create fear and a feeling of terror among members of other religious communities, besides the public," says the note. A June 21 raid on a site in Padam forest in Kerala's Kollam revealed a military training site and more jihadist literature.
PFI's political objectives were to continuously generate anti-government propaganda and disseminate a narrative about Muslims being persecuted in India. As many as 51 cases were registered in Uttar Pradesh (UP) for violent agitations against the Citizenship (Amendment) Act (CAA). By using typically misleading nomenclature like 'Samvidhan Suraksha Andolan', PFI sought to foment trouble. Its links with the Islamic State (IS) have also emerged, with 21 individuals associated with PFI joining the terror group. PFI also has links with Turkey-based Foundation for Human Rights and Freedoms and Humanitarian Relief, reported to be connected to an Al Qaeda-linked Turkish charity and also Turkish intelligence. PFI has often praised Turkey's President Recep Tayyip Erdogan for establishing "true" Islamic rule. PFI's claims to being faithful to Islam have been questioned by Muslim leaders and clerics who have said it is a political organisation and its beliefs include dangerous anomalies. In a statement posted on its official Twitter handle, PFI said, "[T]he national executive council has condemned the nationwide raids by NIA and ED, unjust arrests and harassment of national and state leaders across India, witch hunt against members and supporters. NIA's baseless claims are intended to create an atmosphere of terror… PFI will not be intimidated by scare tactics by a totalitarian regime that uses central agencies as its puppets… [PFI] will struggle for recovering the democratic values and spirit of our Constitution."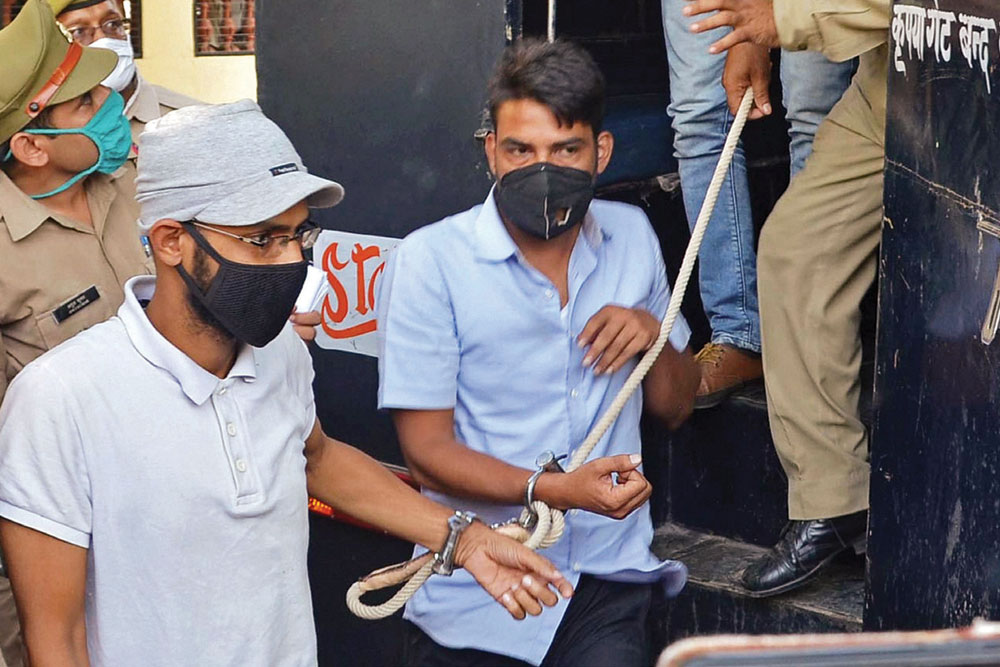 As investigators unravelled hundreds of money trails relating to funds received by PFI, they focused on huge inflows from the Gulf where the organisation seemed to have developed a large and well-oiled network. One such transfer was from an individual, Shafeeque Payeth, who moved money from his overseas account to an Indian one and later transferred the funds to the Rehab India Foundation (RIF), an entity with links to PFI. An examination of the bank accounts of another PFI member, KA Rauf Shareef, revealed that about `1.36 crore received in such transfers was to be utilised by four associates arrested by Uttar Pradesh Police in October 2020 while on the way to Hathras where the gangrape-murder of a Dalit girl had attracted national attention. The foursome, including Siddique Kappan, recently granted bail by the Supreme Court, were accused by the police of planning to incite riots and inflame sentiments against the Yogi Adityanath government. The payments were typical of large sums of money transferred illegally from the Middle East. A member of PFI since its foundation in 2007, Payeth had been deputed to Qatar for fund collection. It was no coincidence that he worked for a couple of years with PFI mouthpiece Thejas in the Gulf, a media outlet and daily with which Kappan was also associated.
In its application before the special judge in Lucknow, ED said Payeth and others were guilty of money laundering under the Prevention of Money Laundering Act (PMLA) and the layering of funds to present them as untainted was nothing but a bid to cover up the funding of unlawful activities that included inciting communal violence, as in the Northeast Delhi riots in February 2020, and arming and training squads of radicalised Muslim youth to carry out attacks on religiously sensitive places and individuals. In its remand paper, submitted in the special court in Kochi, NIA has alleged PFI has been encouraging vulnerable Muslim youth to join terrorist organisations like the Lashkar-e-Toiba (LeT) and IS.
THE ORGANISATION'S ROOTS can be traced to the banned Students' Islamic Movement of India (SIMI), with several top PFI leaders having been members of the outfit. According to NIA's estimates, PFI has more than 50,000 members in Kerala and a couple of lakh sympathisers. While its political arm, the Social Democratic Party of India (SDPI), has not won parliamentary or Assembly seats, it has scored a few successes in local body polls (PFI's political arm SDPI was not banned as it is a registered party with the Election Commission of India). Its agenda is straightforward enough. Influenced by hardline religious belief, it seeks to enforce Sharia and a Talibanised form of Islam and has a wing devoted to encouraging conversions of non-Muslims, usually from less educated and economically weak sections. Drawing on the Da'wah teachings of scholars like Shah Waliullah, who founded an influential madrasah in Delhi in the 18th century, PFI's various fronts seek alms and recruits for their mission of popularising jihad and 'resistance' against 'non-believers'.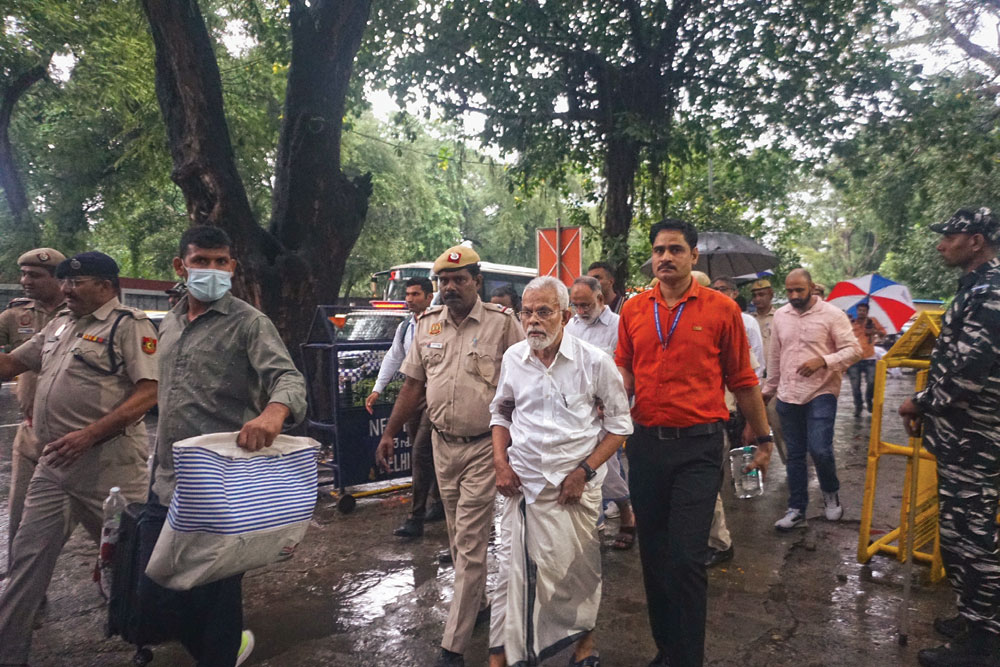 In its notification declaring PFI, along with its associates, an unlawful association, the home ministry said the outfit had a "hub and spoke" relationship with its fronts which functioned like "roots and capillaries" to sustain the node. The notification states that PFI has been involved in acts of terror and murder, and mentions the murders of RSS, BJP, Hindu Munnani, Hindu Vedike, Students' Federation of India (SFI) and Paattali Makkal Katchi (PMK) workers in Kerala and Tamil Nadu between 2016 and 2022. The raids and arrests carried out by NIA, ED and several state police organisations on September 22 caught PFI leaders and the cadre completely off-guard. The secrecy of the operation that acted on pinpoint intelligence about the location of dozens of PFI leaders led to the arrest of more than 100 individuals in Kerala, Karnataka, Assam, Gujarat, Delhi, Maharashtra and Madhya Pradesh. Then, police forces in several states moved swiftly a few days later to arrest and detain more than 250 PFI workers to prevent violent protests and attacks on public property seen in Kerala and Tamil Nadu the day after the September 22 raids.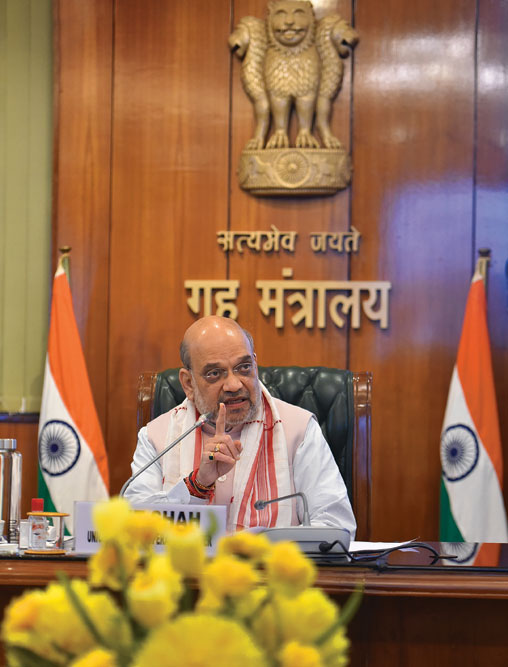 Stunned by the arrests of top leaders, such as its national head OMA Salam, vice chairman P Koya, EM Abdul Rahiman and others, PFI members reacted with fury on September 23, setting public property ablaze and attacking the residences of BJP and RSS functionaries with Molotov cocktails. PFI Tamil Nadu president Mohammad Ansari told the media that the outfit would fight the arrests legally and claimed the attacks on BJP and RSS properties might have been faked. The targets of PFI's fury underline its animosity towards the ruling party and its leaders and its view that the Narendra Modi government is the biggest hurdle in the way of its religio-political agenda. BJP president JP Nadda, referring to the impunity with which public property was attacked in Kerala, said the Communist Party of India-Marxist (CPM)-led government had failed to curb PFI and that the state had become a "terrorism hotspot". With the Kerala high court asking the state government to deal with PFI's violent protests firmly, Chief Minister Pinarayi Vijayan condemned the organisation while the CPM politburo accused RSS and PFI of "killings and retaliatory killings".
OVER THE YEARS, PFI has mobilised Muslim opinion on issues like blasphemy and taken up causes like the demand for hijab to be permitted in Karnataka classrooms. SDPI and PFI members were among those arrested for attacks on BJP-RSS offices and residences even as threats were aired that saffron leaders would be dealt with swiftly in a "do-or-die" situation. The action against PFI and its associates heralds the start of a war against the organisation which the government believes pursues criminal and terrorist goals shared with proscribed organisations like CPI (Maoist) and foreign-based terror outfits like IS. PFI is also being probed for organising a training camp with the aim of "causing disturbance" during Prime Minister Modi's visit to Patna on July 12 this year.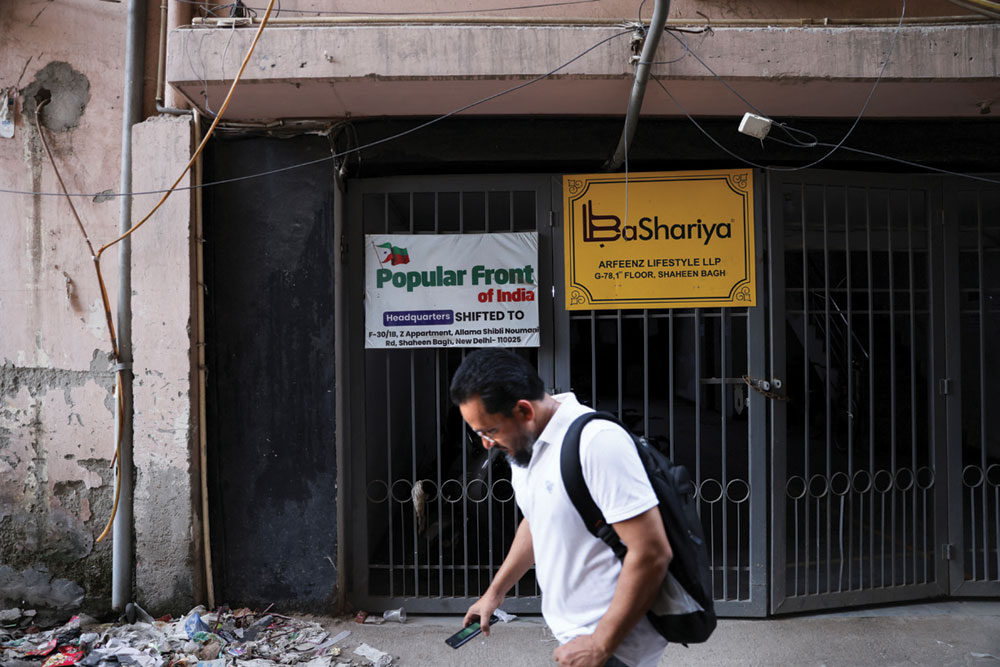 The ED investigations have painstakingly tracked funds received by PFI to argue that money passed and presented as donations is a means of routing illegal money. The organisation's Delhi leaders claimed that names and addresses of donors were recorded but many receipts were incomplete and, in the case of a particular locality, the so-called donors denied they had ever given any money and said they did not possess the financial means to make such contributions. Investigation of bank accounts showed that prior to transfers, equivalent amounts of cash were deposited in the accounts of alleged sympathisers to project the funds as legitimate. PFI's repeated claims that it did not receive money from overseas fell flat when ED tracked transfers from supporters in the Gulf that were never accounted for. The funds were moved through the hawala route, ED told the court when seeking remand for PFI activists arrested in the raids. "PFI and its related entities have been involved in [the] continuous offence of money laundering over the years," ED told the courts.
Like other such fundamentalist organisations, alleged acts of 'blasphemy' against Islam are a major trigger for violence for PFI. It grabbed national headlines when PFI-SDPI activists attacked Professor TJ Joseph in 2010 with choppers, severing his right palm, for having set an 'objectionable' question relating to Prophet Muhammad in a question paper. The objective of the attack was to strike fear in its opponents and critics and project itself as the 'true' voice of the faith among Muslims. Its predecessor, the National Development Front (NDF), came up in the 1990s and drew on the demolition of the Babri Masjid to gain adherents that led to the outfit taking formal shape in 1993. After onboarding cadres of Abdul Madani's Islamic Sevak Sangh when it was disbanded, NDF merged with organisations following a similar agenda in Tamil Nadu, Karnataka, Goa and Andhra Pradesh to form PFI.

PFI's operations are complex and it has several front organisations to pursue its objectives. The Campus Front of India (CFI) was at the forefront of the Karnataka hijab row, backing students who demanded the right to wear the head covering to school in defiance of rules prescribing uniforms. Both PFI and CFI were accused of masterminding a hate campaign against northeastern students who fled cities like Bengaluru and Pune after online rumours of impending retaliation for attacks on Muslims in Assam. Both were at the forefront of the anti-CAA and anti-NRC (National Register of Citizens) protests, mobilising support and funds for the Shaheen Bagh sit-in in Delhi. The National Women's Front (NWF) emphasises a "Muslim dress code" and works to spread PFI ideology. The All India Imams Council was launched in 2002 by the erstwhile NDF and it aims to bolster PFI's links and control of madrasahs by offering financial support to imams. The Darul Khada is a private judiciary to adjudicate disputes among Muslims in accordance with Sharia. The National Confederation of Human Rights Organizations (NCHRO) works in coordination with leftwing extremist (LWE) groups and outfits like the People's Union for Civil Liberties (PUCL) to take up cases of alleged atrocities by security forces in anti-Maoist operations or in communal riots.
RIF is meant to channel funds for relief and social causes but serves as a route to deliver funds to PFI. Founded in Jeddah in 2007, the India Fraternity Forum has chapters in Dammam, Qatar, Kuwait and Doha and organises support for PFI and SDPI. The media research and development foundation publishes books and releases videos intended to foster communal animosity. The Sathyasarani Islamic Dawah Institute is a religious conversion facilitation centre where people from other communities, particularly those with poor financial backgrounds, are encouraged to accept Islam. The Green Valley Foundation in Kerala's Malappuram district has been used for covert activities where training in explosives and weapons has been imparted.
Like members of the banned SIMI, PFI's top brass often refer to their organisation merely as "PF" without any stress on "India". SIMI, for its members, used to be SIM. Such self-descriptions are suggestive; officers probing PFI say it has no respect for the Constitution and has contempt for the Indian Union. "India" goes missing in their scheme of things. The call for a ban came first in 2017 when NIA prepared a dossier and submitted it to the home ministry in September. It has taken several years for Central agencies to gather the necessary intelligence that they feel will stand up in court when the ban under UAPA is challenged, as it certainly will be, given the ability of PFI supporters to muster formidable legal firepower.
(With Rahul Pandita)