FOR MUCH OF THE LAST 15 YEARS, Achuthan Kannan, and before him, his father, have had their minds consumed with one partic­ular issue—their house. Kannan, an advertising professional, possesses a flat in Agarwal Nagar, a neighbourhood colony that sits on, in today's market terms, one of the valuable plots of land in the metropolis, Matunga in central Mumbai. This colony, built sometime in the 1940s, has remained something of an incongruity in space-starved Mumbai. Spread across 1.2 acres and consisting of six Art Deco buildings built around a garden, with a clock tower at its centre, it was a little oasis of green and quiet bang in the centre of the city. But it has been evident for some time that its buildings had outlived its use. Only its residents, consisting of about 120 families, could not come to an agreement. Some were in favour of redevelopment; oth­ers were not. Some wanted to wait for a better deal; others wanted a quicker resolution. In some flats, the rights to the house had passed the generations into multiple hands, further complicating the ability to come to a decision. Negotiations with various builders did take place, but they would eventually fall through. "It had just become a big headache," says Kannan, whose family is among the oldest residents of this colony.
Last year, however, the residents of the colony finally managed to strike a deal with a leading developer in Mumbai. In December, Kannan cleared out his house. And earlier this year, the buildings were pulled down. So, what got the residents to come to an agree­ment? "They [the developers] offered a good deal. Plus, the build­ings had become really old. It had to be done," he says. In place of the six old buildings and the empty area around it, the developer will be building two towers, each over 40 floors high (including multiple floors for parking), with the original residents getting new flats in one tower, and the flats in the other tower sold in the open market. Along with the towers will come the paraphernalia of modern urban life—a clubhouse, swimming pool, banquet hall, multi-purpose game court, pet park, and more.
Across Mumbai, especially in some of its oldest and most valu­able locations such as South and central Mumbai, and the western suburbs, a wave of redevelopment work has commenced of the sort that hasn't been seen in the city's real estate market for quite some time. Ritesh Mehta, the senior director and head of West & North, Residential Services and Developer Initiatives at Jones Lang LaSalle Incorporated (JLL), the real estate services company, estimates that there are currently between 13,000 and 14,000 on­going redevelopment projects in Mumbai, not counting those involved in slum redevelopment projects. "Before Covid, there would be no more than 4,000 to 5,000 redevelopment projects annually in Mumbai. So, there has been about three to four times growth in supply [of houses]," he says. Vishal Bhargava, a popular real estate analyst in Mumbai, says, "The number of buildings that went in for redevelopment in last two years is probably more than what went in in the last 10 years combined."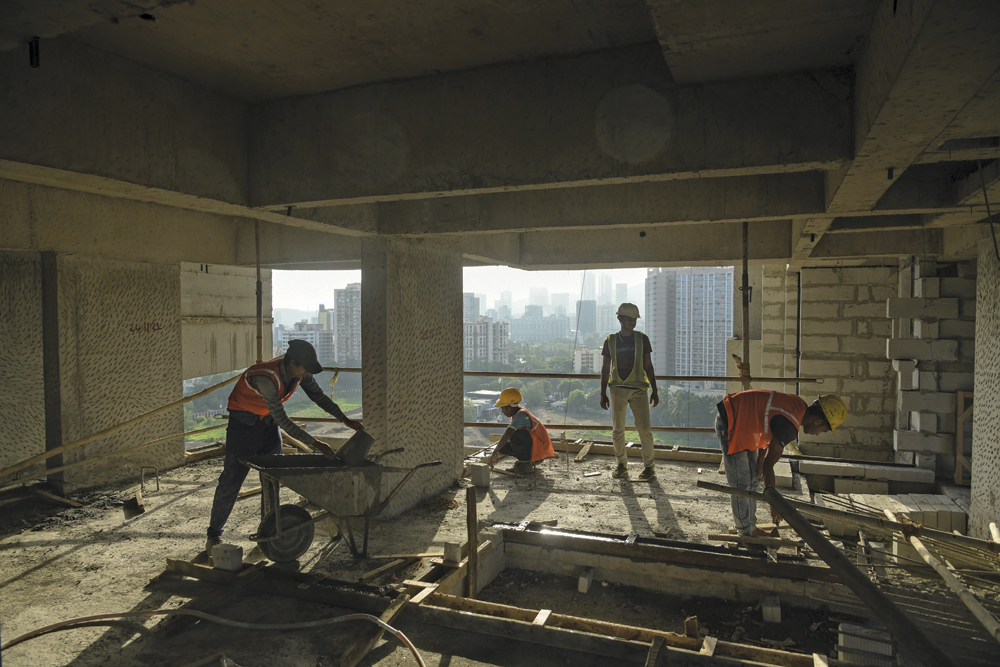 Traditionally, redevelopment in Mumbai has consisted of only a tiny fraction of the overall real estate market in the city. Mehta estimates that between 2014 and 2019, in terms of the number of houses being built in the city, redevelopment made up only about 5 or 6 per cent of the overall construction. "It has increased to 12 to 13 per cent now. And it is increasing. It could reach between 17 and 20 per cent in two to three years," he says. Akshay Kumar, the CEO of Park Lane Property Advisors, is buoyant as he discusses the potential of this current redevelopment boom. "A lot of Mumbai was built in the 1970s and 1980s. So, it is several decades old. And I would say, given how land-starved Mumbai is, there is a really big potential if we can push ahead with more redevelopment."
All cities have to redevelop their housing as they age, regulat­ing and streamlining it. Redevelopment in Mumbai is tied to a policy that has been somewhat irrational. It was introduced in 1964 and goes by the label of Floor Space Index [FSI], whereby the government decided how tall a building can be through a complex calculation. The premise of such a policy, to have urban space and make the city more inhabitable, has long been sacrificed at the altar of burgeoning slums. That there are numerous exemptions and loopholes to get around it has been a cornerstone of corruption and the nexus between builders and politicians. The redevelopment of slums that has been ongoing for many decades now has been riddled with controversies. When a housing society is redeveloped, there is an extra FSI granted, which is where the builder makes his profits from. When there is a real estate boom and prices are shoot­ing up, the incentive to redevelop societies is much more. When the boom ends, many of the redevelopment projects get stalled leav­ing residents in the lurch. The state government is incentivising the real estate sector to get such projects underway again. In mid- May, Chief Minister Eknath Shinde and Deputy Chief Minister Devendra Fadnavis had a press conference where they announced a series of measures. A week before this, Fadnavis had held a joint meeting with a number of departments ranging from housing to law to tell them to expedite redevelopment projects by making the rules more transparent and easing the process.
One of the biggest pushes to redevelopment came in 2021 when the state government introduced massive concessions on premiums granted to developers. "Approvals were given at a 50 per cent discount, provided the developer paid it all upfront. Most developers took advantage of that. And old redevelopment proj­ects, which were stuck midway because they had become finan­cially unviable, suddenly, because of this reduction on premium, became feasible again and they got bailed out," Mehta says. "The state government approved something between 8,000 and 10,000 redevelopment projects in that window of six-to-eight months."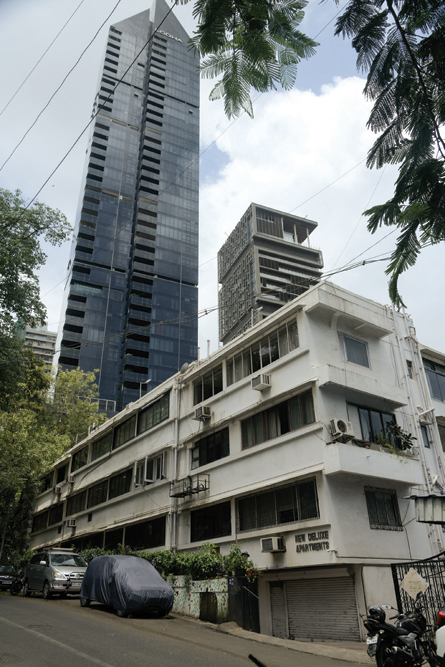 "It's a win-win situation for everyone," Niranjan Hiranandani, the co-founder and managing director of Hiranandani Group, says about the current redevelopment spree. "The government is able to deal with old buildings and get more housing available for citizens, the developer gets to sell more homes, and residents in old struc­tures get new homes." The Hiranandani Group, one of Mumbai's largest real estate players, has made most of its name developing large projects on vacant lands within the city and its suburbs. It did redevelop one property several years ago but is now entering this space in a bigger way. According to an individual in the know, the Hiranandani Group is exploring some projects in Malabar Hill in South Mumbai and Andheri in the western suburbs. "It has become commercially viable. That is what has happened," says Hiranandani about the redevelopment spree in the city. "There has been an increase in FSI, and different schemes have been in­troduced which is making redevelopment commercially viable. So, there is an opportunity there and developers are coming in."
To Boman Irani, the president of Confederation of Real Estate Developers' Associations of India (CREDAI), redevelopment of old buildings is badly needed because much of Mumbai was developed decades ago. "Redevelopment will give a facelift to the city. The new buildings will offer a better life to the residents and will be environmentally sustainable. As the city continues to grow and urbanise, there is a greater emphasis on redevelop­ment to meet the demands of a rapidly expanding population and limited land availability," he says. Irani is also, as the chair­man and managing director of the Rustomjee Group, one of the more well-known and bigger names in Mumbai's redevelopment space. According to him, a real estate developer getting into such projects must be connected to the original residents to under­stand their needs and build trust. "There are various regulatory, taxation, legal, on-ground challenges, and each redevelopment must be tailor-made taking into consideration all the above fac­tors. It is an art blended with science and navigating the realm of real estate development requires a particular finesse," he says.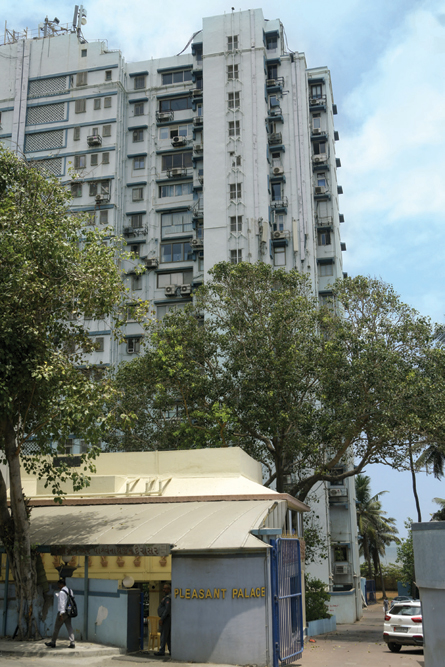 Domnic Romell, the president of CREDAI-MCHI, and the head of the Romell Group, another real estate developer with a long history of redevelopment projects, points out that like slum re­habilitation, redevelopment efforts have the potential to resolve the issue of housing in Mumbai. "According to reports, approxi­mately 42 per cent of open land in Mumbai is occupied by slums. By integrating slum rehabilitation and redevelopment efforts, it will be possible to address the dual challenges of land scarcity and slum proliferation, ultimately contributing to urban devel­opment and enhancing the quality of life in Mumbai," he says.
While several parts of the city are currently witnessing rede­velopment work, much of it is concentrated in the island city and the western suburbs. This includes some of the most premium localities in the city such as Malabar Hill, Walkeshwar, Nepean Sea Road and Altamount Road in South Mumbai where societies like New Deluxe Apartments and Pleasant Palace are going in for redevelopment. Further north, it is happening in high-end areas like Pali Hill, Carter Road, and the Mount Mary region in Bandra. Apartments in new buildings in these places can sell for over `1 lakh per square foot. "I know of at least about 100 projects in Bandra and Andheri which are being redeveloped, and another 100 or so which are in discussion," Kumar says.
REDEVELOPMENT, FOR ALL its upsides, has its chal­lenges. This is especially so for the developer. Getting all the original residents to come on the same page can stretch for years. Romell points out the various hurdles that a developer faces when he commences on such projects, from addressing concerns and resistance from existing occupants to variations in government policy and costs during a project's life cycle, navigating complex legal and regulatory requirements, to raising the funds for large-scale redevelopment projects. "In many cases, the land ownership may not be with the applicant, neces­sitating developers to secure financial resources from various alternative sources and create viable funding models," he says.

Mehta points out that developers cannot create obnoxious value on redeveloped projects either. "Most buyers prefer not to buy apartments in redeveloped projects unless they have a need for it. For those buying for luxury or upgradation, they prefer to go for freehold projects," he says.
The success of a redevelopment project also depends on whether the market has an appetite for the number of new flats that will come up for sale. For years now, the market has seen a lull, with potential buyers waiting for prices to reduce, and builders holding on to their high prices. Bhargava says that so far buyers do not seem as enthusiastic about these projects. "Buyers aren't buying early. They seem to be waiting it out to see how the project shapes up. They are willing to pay more later rather than paying less now," he says. "Selling early has been a challenge in the last year. So, the whole aim now seems to be to build fast, and sell fast."
Redevelopment, so far, has been a mixed bag for the city. Ac­cording to Chandrashekhar Prabhu, a housing activist and for­mer president of Maharashtra Housing and Area Development Authority (MHADA), the government body that looks into hous­ing in the state, there are around 5,800 redevelopment projects that are either abandoned or at a standstill and have rendered around 1,25,980 families homeless. "Redevelopment has not ful­filled any of the objectives for which FSI was increased in Mumbai at all. Laws are so much in favour of the developer, that it suits him to evict residents than rehabilitate them. In some cases, about 85 per cent of original residents [in a project] have been thrown out of their homes," he says. "Builders get into agreements [with original residents], demolish the old building, pay about a year's rent, and then stop providing any support thereafter."
Bhargava points to the period in 2008 and 2009 when the real estate market was on an upswing, which saw many redevelopment projects take off. "The market was hot then, and builders went in a big way. They promised the moon [to original residents]. But many projects never even started. And, because there was an agreement between owners and the developers, when the owners wanted to go to other developers, the old developers wanted to be paid for al­lowing them to do so. So, the projects just got stuck," he says.
The failure of redevelopment projects in the past however has led to another interesting trend—self-redevelopment. Instead of tying up with developers, who bear all the risks and pocket the profits, from raising the money to finance the project to selling new flats in the open market, some residents are now taking it upon themselves to redevelop their own properties. In self-rede­velopment, the residents hire contractors and other real estate professionals to seek the necessary permissions, build the new project, and sell the new flats on the open market. According to Prabhu, who has been the pioneer of this alternative model of self-redevelopment for cooperative housing societies, around 790 housing societies in Mumbai have opted for self-redevelopment in recent years. Out of these, 20 projects are complete, and 40 are in different stages of completion.
One of these projects is Purvarang Society in Navghar, a locality in the eastern suburbs of Mumbai's Mulund East. In 2018, when the residents here—living in the 56 flats in this seven-storied building—began to discuss the need to redevelop their building, they surveyed their neighbourhood. "There were about five or six projects that had gone for redevelopment in our area then. And all of them had come to a complete stop," says Milind Mahadik, the secretary of the society. "That's when we decided we would do it ourselves." The society was able to raise a loan of about ` 15 crore, but they didn't need to touch it, he says, because they were able to raise the necessary sum by selling the upcoming flats in advance in the market. The society began constructing a 23-floor tower in October 2020. This will consist of 118 flats in all, out of which 56 are meant for the original residents and the rest for sale. The project is now nearly complete, all the new flats have already been sold except for about 10 or 12 of them, and the society expects to be able to give owners possession of their flats by the end of this year.
"It does take effort and it does take time. But we have done it," says Mahadik. "We each had flats measuring about 390 square feet. In the new tower, we will each be getting flats measuring about 965 square feet of carpet area. Had we not developed it our­selves, even if the project was completed in time, we wouldn't have got such a large space for our flats," he says.

The large-scale wave of redevelopment that the city is cur­rently experiencing is causing upheavals in other aspects of the city's real estate market. Rents, for instance, have shot through the roof. According to Bhargava, they have gone up between 20 to 35 per cent across the city. Mehta says in some areas such as the Bandra Kurla Complex and Lower Parel, where a lot of offices exist, rents have risen by three to three-and-a-half times their earlier rate. There are several reasons for this. The rental market was already bouncing back, with individuals who had moved to their hometowns when their offices permitted work-from-home during the pandemic returning to the city. With redevelopment, the number of buildings where people could rent a house in a certain locality has drastically reduced, while the demand, with owners of homes in these projects now becoming tenants, has surged. "Demand has shot up, and supply has gone down," Bhargava says. In certain areas, Mehta points out, developers have bought out old residents entirely. But these residents, instead of buying a new flat quickly, are choosing to wait and instead rent a flat in that area, leading to a further swell in demand.
Any large-scale construction work, especially redevelopment projects where old buildings have to be pulled down, causes pol­lution. The current boom in construction activities has coincided with one of the most polluted winters in Mumbai in recent times. Between October 2022 and February 2023, Mumbai consistently suffered from poor Air Quality Index levels, with construction work being held as one of the key contributing factors. Also, when an old building housing, say, 100 families are replaced by a tower that accommodates 200 families, it has consequences. Rajiv Mishra, the principal of the JJ College of Architecture, speaks about the kind of impact a redeveloped project can have on a neighbourhood, from the stress on water supply, sewage disposal to traffic congestion, when the necessary ecosystem to withstand the surge of population in that locality is not built along with the project. "There is also a public health aspect to redevelopment. Construction activity releases dust particles into the air. They [the Brihanmumbai Municipal Corporation, BMC] should give permis­sion [for such projects] in parts. Not allow everything to happen at the same time. Maybe, give six months for one project, and then six months to another project in that area. But that is not how they [BMC] operate. Redevelopment is the only way of recycling a city. But you have to consider these aspects too," he says.
Kannan recalls the time when as kids he and his friends would play in the garden, as his father, like others in the six buildings around the area, would look on from their balconies. The two new towers that will come up in this space, while modern and plush, will perhaps never be able to recreate such a time and feeling. "That Bombay is gone," Kannan says. "It is how it is."
(With Madhavankutty Pillai)