VIDEOS OF A high-spirited Himanta Biswa Sarma keeping voters mesmerised on the campaign trail abound on social media. Hordes of young and old men and women can be seen in many of these, gyrating to local music reinforcing Assamese identity, led by the 52-year-old on the dais. Many at the rallies, infected with the upbeat spirit of the leader, are reaching out to touch him. Others are jostling and shoving to jive alongside him. 'Sir, you have unbelievable energy,' one response to a video said. Another claimed: 'Watching you makes me want to dance!' Another, tagging both Narendra Modi and Amit Shah, said: 'You alone have turned the tide, way to go, sir!' It was mutual admiration between 'Biswa' and the voters. In one such video on the 'BJP juggernaut', the irrepressible leader paid an open compliment to his fans for their "unwavering spirit."
'Biswa' was an unalloyed hit with the voters, wherever he campaigned—a veritable rockstar. He had an unerring knack for spectacle as a charismatic public speaker who enthused the crowds. His people connect was so instinctively natural that he mingled without inhibition among his voters. And he campaigned all over Assam, the biggest draw for the Bharatiya Janata Party (BJP) in its bid to retain power in the biggest state in the Northeast. Sarma's dynamism propelled BJP to that enviable position—that of holding sway over the entire region. On May 10th, he was sworn in as chief minister of Assam. He had defeated his Congress rival, Romen Chandra Borthakur, by a margin of over one lakh votes in his homestead of Jalukbari constituency. This was his fifth win, having increased his margin in every election. All chief ministers of neighbouring states were invited to a celebration lunch following the ceremony, putting to rest a week-long suspense on the issue. Biswa's predecessor, Sarbananda Sonowal, and top BJP leaders from the Centre attended the feast along with Assam's newly anointed CEO and BJP's mainstay in the entire northeastern region.
There's a tweet from sometime in 2013 wherein Himanta Biswa Sarma, once the most high-profile protégé of three-time Chief Minister Tarun Gogoi, proclaimed his loyalty to Congress and its top leaders, Rahul and Sonia Gandhi: 'I am and will be loyal to my leader Soniaji and Rahulji and the Congress party, whatever may be the provocation'. The Gandhis seem to have misread this as a promise of unconditional devotion to them, much in keeping with party tradition. By then, Biswa Sarma had already won the Jalukbari seat three times—in 2001, 2006 and 2011. He went on to win the seat twice more, in 2016 and now in 2021, by massive margins each time. Along the way, he had quit his ministries in the Congress government after falling out with Tarun Gogoi and with the rise within the party, in tandem, of his son Gaurav Gogoi.
'Biswa' met Rahul Gandhi in the run-up to the 2016 Assembly polls—which would go down in the history of the Assam Congress as a mammoth debacle—with the intention of pushing for the post of chief minister and a clear plan to keep the party in power in Guwahati. In later interviews, Sarma often referred to the meeting, when Rahul Gandhi was apparently busier with Pidi (his pet dog) than with lending a keen ear to the blueprint drawn up for Assam by Sarma. In October 2017, two years after 'Biswa' quit the party and later joined BJP, Rahul Gandhi tweeted about Pidi, who was balancing biscuits on his snout in an accompanying video. 'Ppl been asking who tweets for this guy [Gandhi himself]….I'm coming clean…it's me, Pidi…I'm way (cooler/smarter) than him. Look what I can do with a tweet…..oops…treat!' That didn't go down well with many Assamese people. And Biswa Sarma shot back with a tweet: 'Sir, who knows him (Pidi) better than me? Still remember you were busy feeding biscuits to him when we wanted to discuss Assam's issues urgently.' He was preparing to drive the last nail in Congress' political coffin in Assam in the Northeast.
HIMANTA BISWA SARMA cut his political teeth in his home state's sub-national movement, through the All Assam Students' Union (AASU). Classmates of the political science student at Guwahati's renowned Cotton College, Assam and the Northeast's oldest institution of higher education—it was the alma mater to several of Assam's chief ministers, including Gopinath Bordoloi, the state's first chief minister, and Syed Muhammad Saadulla, the first pre-Independence premier of the state, besides Mahendra Mohan Choudhury, Sarat Chandra Singha, JN Hazarika, Hiteswar Saikia and Bhumidhar Barman, were all from Cotton—remember him, as an AASU leader, heading a delegation of college students to Delhi to raise funds for a football stadium. The delegation met then Prime Minister Rajiv Gandhi, got him to allot funds and got the stadium built.
This image of an indefatigable doer is what endeared him to Assam's tallest leader of the time, Tarun Gogoi of Congress, and much later also struck a strong chord with Amit Shah, a doer par excellence, when he joined BJP. As an AASU leader, Sarma worked with both Prafulla Kumar Mahanta and his chief associate Bhrigu Phukan. After Tarun Gogoi enlisted the energetic young leader in Congress, things came a full circle when he contested the 2001 state elections and pulverised the Asom Gana Parishad's (AGP) Phukan at the hustings. Years later, in the run-up to the 2016 polls and thereafter, it was this workaholic nature of Sarma that drew his current boss, Amit Shah, into reposing complete trust in the politician and 'insider' from Congress who dared to throw down the gauntlet to Rahul Gandhi and work to entrench BJP in the region. A party colleague asserts, "Biswa works like a man possessed, his meetings run into the wee hours of the morning and he blistens, doesn't pontificate. What truly impresses is his connect with ordinary people and voters, he keeps an open house. In many ways, his working style closely resembles that of Amit Shah himself."
Amit Shah's residence on Akbar Road in New Delhi is barely a hop, skip and jump from the house where Himanta Biswa Sarma met Rahul Gandhi in 2015 with a crucial blueprint to retain the state for Congress, only to be upstaged by Pidi. The beckoning from BJP could have come, and even accepted, much earlier. But Sarma had risen in the pecking order in the Assam Congress by sheer hard work. He had managed the 2006 election for his party, thereby catapulting himself close to the veteran Gogoi. Ambitious Sarma, who carved out a position for himself as the most important go-to leader in the state after Gogoi, was aiming at taking over the reins of Congress in the state and heading the government. He wanted his role to be transformed from de facto to de jure head of government.
But Gogoi Sr had other plans by then. He had begun grooming his son Gaurav as his successor. A determined Sarma made several trips to New Delhi with his group of MLAs, to no avail. Sonia Gandhi's confidant Ahmed Patel was only too well aware of the younger leader's potential to sink the Congress ship in Assam. But Rahul Gandhi was in charge by then. In 2015, Sarma was finally allowed that much-sought-after audience with him at the house down the road from Amit Shah's. The increasingly impatient leader from Assam was made to wait for over an hour, for Gandhi's 'workout' to be over. When he finally deigned to meet Sarma, it was only to turn a deaf ear to his pleas, the importance of the looming election for Congress and the urgent need to project a younger leader in Assam. For Rahul Gandhi, his dog became the protagonist of the day's story. The rest is history.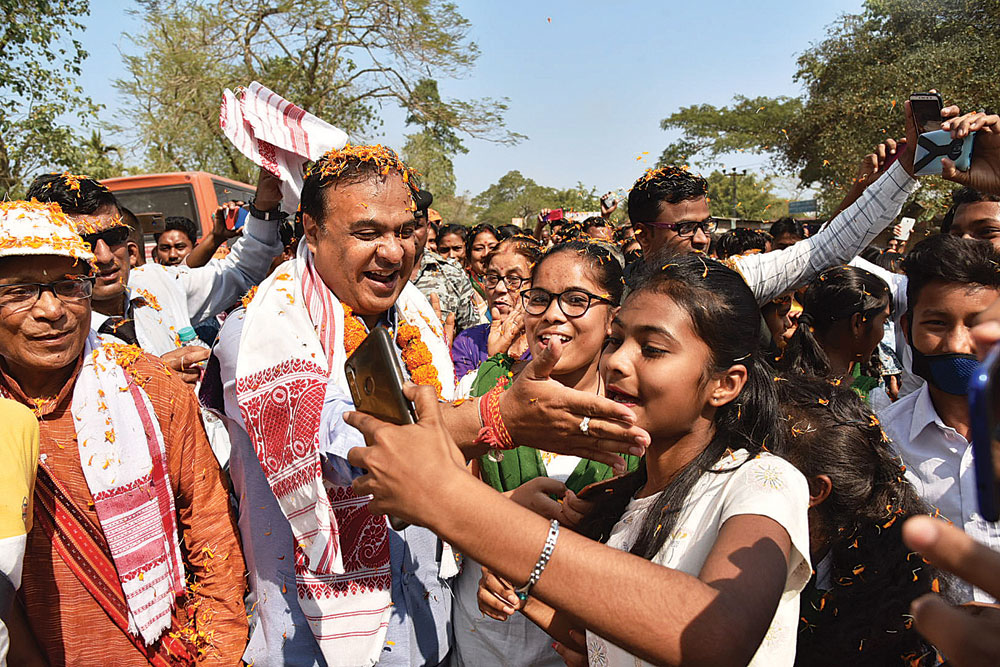 For Sarma, the meeting with Rahul Gandhi was the Eureka moment. His mind was made up. Continuing in Congress would mean stunting his political future. Within a few days, he left his decades in the party behind him, covering the short distance to Amit Shah's residence. It was an opportune time. BJP, under Shah's leadership, was working on a detailed plan to break the party's political jinx in the east and the Northeast. Several decades of hard work on the ground by the Rashtriya Swayamsevak Sangh (RSS) notwithstanding, the party was finding itself constrained on both credible local leadership and an electorally bankable grassroots presence. Sarma filled that vacuum perfectly. As Tarun Gogoi's lieutenant, he was the key troubleshooter for the state government and the party in the Northeast. His vast network of pointsmen was spread through the region. This was the very thing that Shah was waiting to tap into. What followed was historic for BJP. From practically no electoral presence, the dynamic duo of Shah-Sarma painted the entire Northeast saffron: Arunachal Pradesh fell into BJP's lap; the government of Manipur collapsed next and, within a year, Sarma was instrumental in getting a clutch of rival factions in Meghalaya to come together with the party to form a government in the state.
As hard as he had worked in helming the state elections for Congress a decade earlier, Sarma worked harder still in helming the 2016 campaign for BJP, putting to optimum use all the skills, tactics and strategies he had learned under his mentor Gogoi. Not a man to bear a grudge, he paid homage to Gogoi when he died in 2020 by posting a tweet on the veteran's indelible contribution to Assam, accompanied by a photo of a young, moustachioed Sarma standing proudly next to Gogoi after his first electoral victory in 2001. Fifteen years after that electoral initiation into Congress, BJP stormed to power in the largest state in the Northeast and Sarma landed six weighty portfolios in acknowledgement of his contribution to the triumph. But not the chief ministership. That post went to Sonowal, who was the very opposite of Sarma in terms of personality. But Sarma was willing to wait, using the time to further cement his reputation as the man who got things done. In 2021, it was Sarma's decision, tapping with finesse into the local sentiment, to pitch Congress' alliance with the All India United Democratic Front (AIUDF) as a direct threat to Assamese identity. Trounced by the insider, Congress—which much of the national media gave 'more than a fighting chance' to win Assam despite a late and somewhat lethargic start to campaigning—failed to put up even a halfway decent tally. The handsome returns that BJP raked in finally earned Sarma the post he had hankered after for long. This was the first time that BJP anointed a late and lateral entrant into the party with the top job in a state government.
BJP's victories in Assam, both in 2016 and in 2021, were credited to Sarma's habit of giving no quarter electorally. His speeches minced no words, mixing tough talk with hard right positions. In 2016, BJP's campaign was anchored to the slogan "Jati, Mati, Bheti (identity, land and homeland) and it moved to a harder anti-'Miya' position. He used Congress' slogan "Axom Basaon Ahok" (Let's Save Assam) to drive home his point that the party was attempting to protect illegal immigrants. He threw himself fully into the campaign against Bangladeshi immigrants swamping border districts, something that Congress had walked around gingerly. In 2021, Sarma was aggressive with the media. He projected the election as a civilisational conflict, telling his audience that the election was between the Miyas (immigrant Muslims) and native Assamese: "The election is to protect Indian and Assamese culture from invasion by illegal immigrants". He also pulled no punches in painting Badruddin Ajmal as a dangerous man who was being funded by fundamentalist organisations.
THE YAWNING DIVIDE between the political astuteness of an Amit Shah and the naïveté of a Rahul Gandhi is a Himanta Biswa Sarma. Apart from the Congress leadership, it was clear to most that the driven politician had all the makings of a strident leader, a go-getter, right from the start. That the party leadership had still not managed to get it was evident when Congress spokesperson Abhishek Manu Singhvi took to Twitter to flaunt the inadequacies of his party's leadership in a back-handed compliment: 'There will now be three BJP ruled states in the North East where the CM is a former Congressman—Assam: Himanta Biswa, Arunachal: Prema Khandu and Manipur: N Biren Singh'. An acerbic comment on the tweet highlighted that it remained a testament to Congress' disconnect with the people of the region that it could not even spell the name of leaders right. Singhvi had spelt Pema with an 'R', as Prema. The electoral debacle in Assam only underscored the leadership's inability to accommodate resourceful regional leaders.
With many Congress leaders in self-isolation where party activities were concerned, the Gandhi siblings took on the burden of canvassing for votes in Assam, belatedly, lending insufficient support to leaders on the ground, including Gaurav Gogoi and Sushmita Deb. But holiday postcard-style photo-ops and platitudes apart, the Gandhis had little to substitute hands-on work. During the run-up to the polls, there were desperate attempts by the 'durbaris' to conjure up a favourable ecosystem for the duo, claiming that Chhattisgarh Chief Minister Bhupesh Baghel, handpicked by them, was all set to work wonders in the state. BJP, meanwhile, had long established a tradition of ferrying their chief ministers from other states, including Yogi Adityanath and Shivraj Singh Chouhan, to as far as Kerala and West Bengal. Drummed up as a winning strategy was also Congress' decision to forge an alliance with Ajmal's AIUDF and eight other Mahajot parties, including the Jimochayan (Deori) People's Party, the Adivasi National Party, CPM, CPI, CPI(ML), Anchalik Gana Morcha, the Bodoland People's Front (BPF) and the Rashtriya Janata Dal (RJD). A clear indication of how little enthused ticket-seekers were about this so-called grand alliance was that there were no potential candidates rushing to prostrate themselves in Delhi or even to sit in protest in keeping with the rites of passage in Congress culture.
Postscript: On May 10th, the day Himanta Biswa Sarma was sworn in as chief minister of Assam and ex-Congressmen, who are heads of government in neighbouring states like Arunachal Pradesh and Manipur, partook of the celebratory luncheon in Guwahati, Rahul Gandhi ducked a virtual Congress Working Committee meeting to take stock of the party's meltdown in the state.