SHOULD SHOES HAVE eyelets in the first place? What if you don't need laces to tighten them? Is the logo more important than the person sporting it? Attacking such existential questions at their office in Bengaluru's startup ghetto Indiranagar has meant that Utkarsh Biradar and Ganesh Balakrishnan are clear about what they have set out to do: banish the ugly-cool, poseur-hipster sneaker vibe with their minimalist shoes made of bamboo yarn, and use innovation—we are talking stretchy laces, anchored tongues, sweat-and-odour-exorcising insoles—to cut into the international footwear race. Never has an Indian shoe brand been built on first principles, and Biradar and Balakrishnan, who have built a mobile payments company—Momoe, acquired by the ecommerce portal ShopClues in 2016—are just the men for the job. "A pair of our sneakers weighs 400g—no more than a tall glass of water. You shouldn't feel them on your feet," says Biradar. Launched in 2019, Flatheads offers elevated basics sans fancy foam, padding and marketing spiel. "Over the past decade, apparel has become a lot more casual—remember when khakis used to be casual trousers? —but footwear hasn't kept pace except in the designer domain. The comfort you get from switching out of a dress shirt into a t-shirt hasn't been matched by a shoe that feels like a t-shirt on your feet," says Biradar.
A sneakerhead himself, Biradar wanted to take a crack at some of the problems that other startups in the West had begun to address. In the US, Atoms, a shoe brand founded in 2018 by a Pakistani couple, swept Silicon Valley off its feet by offering thoughtfully designed knitted sneakers that you could buy in different quarter sizes for each foot. After raising $8.1 million in Series A, the company, which prices a pair at $179—double the cost of basic sneakers by other brands—lost some of its edge when the marketing veered off its original value proposition. Another Valley success story, Allbirds, a Kickstarter project that achieved unicorn status within a few years of starting up in 2014, has earned its stripes by treading lightly on the planet with its merino wool shoes. In India, Flatheads is among the few direct-to-consumer (D2C) footwear brands to be angel-funded. "I am not saying we are disrupting the entire billion-dollar casual shoes market, which is dominated by generic marketplace brands and imports. If we can capture even a 5 per cent market share, it would be an achievement," Biradar says.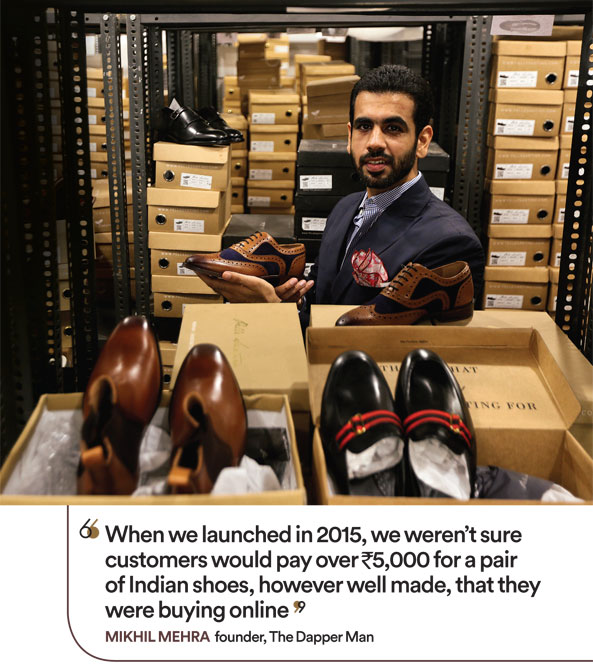 Despite the pandemic lull, Flatheads has been selling about 2,000 shoes a month—including a cleverly marketed two-mile grocery run shoe that became a bestseller—generating ` 50-60 lakh in revenues. A no-nonsense, made-in-India alternative to incessant sneaker drops and chunky sub-$100 shoes, it represents a shift in consumer behaviour from aspirational brands to better products. "We will continue to break stereotypes with manufacturing technology and modern materials but right now, it is important to tell our story right so that more people can discover us," Biradar says. While Flatheads doesn't claim to be 100 per cent biodegradable yet, it does offer to responsibly recycle old shoes. What does 'Flatheads' mean? "Nothing, really, we thought it's a cool name that would polarise people." Like 'Nothing New', the 100 per cent sustainable American sneaker brand.
As the world goes normcore and stomps around in Australian merino wool, recycled plastic bottles and South African eucalyptus fibre, demand for good, old-fashioned leather is on the wane. However, in untapped markets like India, increasing disposable incomes and aspirations combined with the rise of D2C commerce have birthed a range of fine leather footwear companies that are not just rubbing shoulders with high-street brands from the West, they are doing it without investing in physical stores. "When we launched in 2015, we weren't sure customers would pay over ` 5,000 for a pair of Indian shoes, however well made, that they were buying online," says Mikhil Mehra, the 31-year-old who runs The Dapper Man, an online footwear and accessories label. India had come a long way from Munshi Premchand's torn shoes but it still didn't know its wingtips from its captoes, or oxfords from derbys. "This is not an easy category to crack, especially given that traditionally, Indian men have preferred to try on footwear before making a purchase. But given the dearth of good products at reasonable price points, we decided to sell exclusively through our website." The Dapper Man gets shoes made to its specifications at leather factories in Agra and Kanpur and claims to ship out anywhere between 80 and 150 pairs a day. "We have done better than we expected. Today, customers are beginning to talk about construction—something that was unknown even five years ago in India."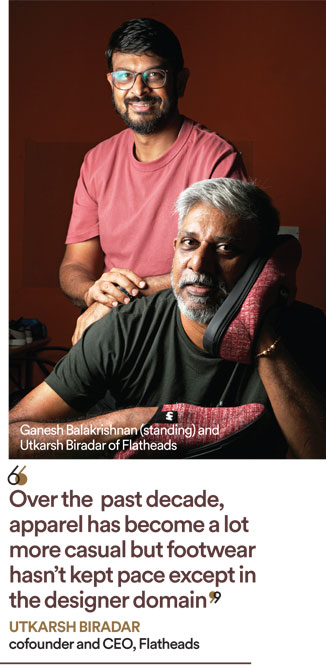 In mass market leather shoes, the outsole is simply glued to the upper, which means it cannot be replaced when it has worn down. The Goodyear-welted and the Blake-stitched, the two gold standard constructions preferred by fine footwear makers, produce a much sturdier and elegant shoe. In a Goodyear-welted shoe—named after Charles Goodyear Jr, the man who in 1869 invented a mechanised way of making the joint—a long strip of leather called the welt is stitched to both the upper and the outsole of the shoe, making it "resoleable". A telltale stitch runs around the outside of the sole, making it water resistant. In a Blake-stitched shoe, the outsole is stitched directly to the insole, resulting in a seam that may be felt inside the shoe. The Dapper Man, like most other shoemakers, including high-street brands, sells cemented shoes, but the catalogue has a longer list of Goodyear-welted and Blake-stitched shoes than ever before. "I believe quality is where we can differentiate ourselves," Mehra says. Another prominent D2C brand in the quality leather footwear space, Escaro Royale, launched in 2017 and prices a pair of shoes between ` 8,000 and ` 15,000. It claims to have clocked revenues of over `10 crore in FY20.
"Profit cannot be the prime motive driving a premium shoemaker," says Chirag Kothari of Trumpet Shoes, a 2016 startup that recently opened a store in Mumbai. "The gap between designer shoes and reasonably priced—his shoes are priced between `11,500 and ` 16,500—alternatives is narrowing thanks to a few online stores. But not all of them take quality seriously. We use engineered memory foam footbeds, Italian lasts [a last is a mechanical form in the shape of a human foot] and full-grain, breathable, imported leather." Having learnt shoemaking in Florence, Kothari made his first good pair, a wholecut with a soft green-brown deer skin upper and no stitching except at the back, in 2016. "It is a treasured possession I will never wear," says the 30-year-old who is all set to take Trumpet Shoes to Australia and Delhi. "There is no dearth of good workmanship in Chennai and Agra, which have been manufacturing hubs for some of the best brands in the world. But now, India also has a young, well-travelled cohort of shoemakers who know what they want and hold the factories to high standards."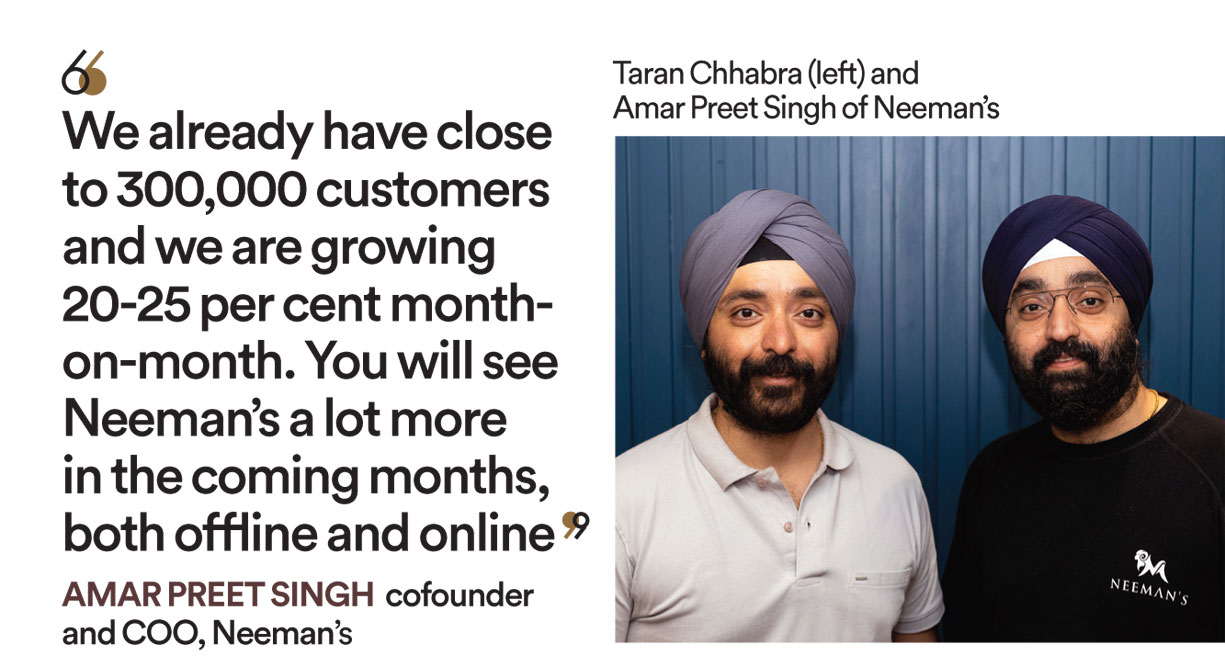 On marketplaces like Amazon that are swarming with generic shoes and export rejects, premium footwear often gets lost or marked down, says Suhail Dhaul of Dmodot, a brand that carries Indian as well as classic Western styles. "We make premium shoes for the average Indian man; we don't want to cater to a very small niche." With shoes priced between ` 3,500 and ` 7,000, besides sandals, Dmodot is aimed squarely at the north Indian wedding market and has capitalised on celebrities like Saif Ali Khan, Farhan Akhtar, Rajkummar Rao and Pankaj Tripathi sporting its products at film promotions, events and magazine cover shoots. It helped that Dhaul and Abhishek Sharma, who co-founded the brand, hail from Agra, and could drive deals with factories that manufacture for brands like Aldo, Superdry and Steve Madden. "We had sold 3,500 shoes before the lockdown. As India went into lockdown, we were sitting on inventory, but it wasn't till July 2020 that pent-up demand emerged. This year has not been easy but sales have picked up once again."
Kashif Mohammad, cofounder and CEO of the footwear brand Rapawalk, says he saw opportunity in making leather shoes for millennials who crave personalisation. "We were the first to launch bespoke shoes online," says the IIM Ahmedabad alumnus. "I believe that an agile, design-forward digital brand that keeps up with global trends and offers customised services is something the Indian market will acknowledge." Founded in 2019, Bengaluru-based Rapawalk caters to professionals between 25 and 35 years of age and has raised $300,000 in a seed round. "We understand that our customers appreciate authenticity. A series of videos we made about leather selection, cutting, processing and stitching has generated interest among young prospective customers," Mohammad says. At the moment, a quarter of Rapawalk's sales come from custom orders. Semi-casuals like moccasins and driving shoes are the flavour of the season. Gaurav Bhatia, 29, of Fellmonger, a six-year-old leather footwear startup, says his brand, too, is hoping to ride the customisation wagon. He likes to give classic shoes a comfort aesthetic and in the next quarter, wants to pivot to a customised shoes focus with 35-50 per cent of his sales—from 15 per cent now—coming from made-to-order pairs.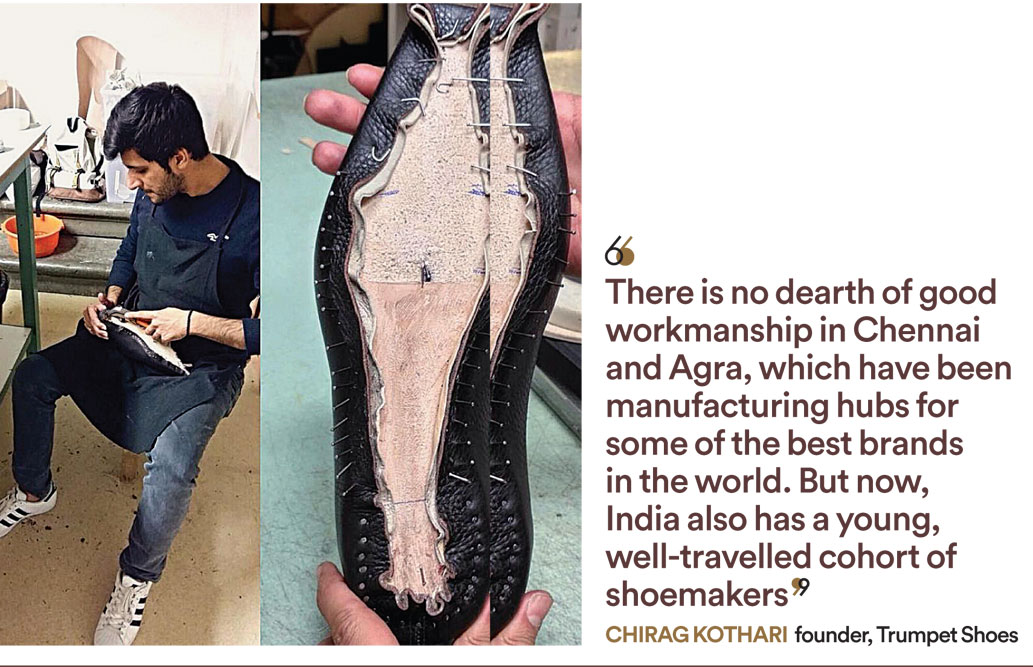 "In five years, there will be big names in quality leather footwear in India to rival the Clarks and the Hush Puppies of the world," Kashif Mohammad says. Both brands, incidentally, partner with leather factories in India. "India has a huge market for footwear but we are still largely a sandal-wearing country. And premium leather shoes are a minuscule category," says K Affan Mohamed, a third-generation shoemaker, exporter and owner of a premium leather footwear factory in Chennai. The proliferation of leather brands, he says, is partly a fallout of the excess capacity in factories that have become less and less competitive in the international market over time. With the rebate for leather exports under the Remission of Duties and Taxes on Exported Products (RoDTEP) scheme at an all-time low, Bangladesh and Vietnam are fast outcompeting India. According to the Council for Leather Exports, India manufactures about a billion pairs of leather footwear every year, but exports only a fraction of them. The country's export of leather products and footwear, which accounts for nearly 50 per cent of exports, touched $641.72 million in April-May 2021 from $146.79 million in the corresponding period last year, indicating the sector has bounced back from the impact of Covid-19. "Driven by the direct-to-consumer boom, the onslaught of branding for the domestic market is also a way for manufacturers to escape the retail system where the risk of unsold stock is disproportionately transferred to the manufacturer," Mohamed says.
Affan Mohamed's father partnered with a veteran Japanese shoemaker working in Spain who then transferred a lot of knowledge to the family and helped build the Bridlen brand.
When Mohamed, a London School of Economics graduate, entered the business six years ago, he launched the Bridlen label as a .com website—it had only been available in Japanese—and set up a Goodyear-welting factory in Chennai, one of only four or five. "We are probably the youngest Goodyear factory in India so we are learning as we go. From the very beginning, we have focused on creating our own brand, to rival the best in the world, in terms of technique and materials used. This presents a challenge of two kinds: learning skills that are not easily transferable because they are forgotten even in the old centres of shoemaking such as Northampton or Mallorca; and importing the best leathers, soles and other components because this kind of shoemaking demands the best, most robust materials. We can do this because we are a passionate boutique, owner-driven factory that is focused on making classic shoes the old-school way."
A PAIR OF Bridlen shoes comes close to the ones made by luxury international brands like Carmina and J Fitzpatrick and can cost up to `25,000. It also comes with an exhaustive description of the materials and the last that went into its making, as well as information on the tanning method and construction. "At a trunk show in Amsterdam before the lockdown, we were the only Indian brand present amongst heavyweights with centuries of experience in this space. I look forward to seeing more homegrown Indian brands that can compete in the international space and gain recognition as a country of quality shoemakers. I know this is possible because three decades ago, Spanish-made shoes were not considered to be of superior quality but thanks to a few dedicated men and women who pursued excellence and consistency in their shoes, today a handful of these brands stand shoulder to shoulder with the best in the world," Mohamed says.
Perhaps a contemporary sneaker brand would be a better bet for entrepreneurs striving to put India on the global footwear map. Neeman's, a Hyderabad-based sustainable shoe brand inspired by trends in the US, is hoping to do just that. Back in 2018, Amar Preet Singh and Taran Chhabra had to bootstrap their venture on a relative shoestring when investors refused to see the value in an eco-friendly shoe for the Indian market. "We stuck by our brand ethos and all our products have followed the same principles of sustainability—from our first launch, merino wool sneakers, to cotton classic shoes, and now footwear made of recycled plastic," says Singh. Neeman's, a blend of their parents' names, Neelam and Manjeet, raised about $2.7 million in Series A funding early last month. "We already have close to 300,000 customers and we are growing at 20-25 per cent month-on-month. You will see Neeman's a lot more in the coming months, both offline and online. India is a market where brand recognition drives volumes," Singh says. Neeman's is gearing up to launch in the UAE, the US and Europe early next year. Meanwhile, Flatheads has just sent its first shipment to the US. In India, we buy three pairs of shoes per capita, while the US in 2020 imported 5.7 pairs for every man, woman and child. For new-age Indian shoe brands, the long walk from home may well be worth it.