IT WAS THE LAST week of April in 2021 and the Delta variant was wreaking havoc across India. Countries that were already struggling to contain the coronavirus were suspending flights from India faster than one could blink. And weightlifting champion Mirabai Chanu couldn't wait to leave. There were only three months left for the Tokyo Olympics and Chanu needed to reach strength and conditioning coach Aaron Horschig in the US. The entire trip was budgeted at ₹ 70 lakh, which included treatment, expenses for a sparring partner, cost of boarding, lodging, and local travel. "It was sanctioned in one day. I never thought a day like this would come when you could even ask for an amount like this," says Chanu's coach, Vijay Kumar Sharma. More than a year and an Olympic medal later, the wonder in his voice has not faded as he recalls the swift decision taken by Sports Authority of India's (SAI) Mission Olympic Cell. "Earlier, we never had any expectations. There was always an invisible line in the sand you couldn't cross," says Kumar.
Chanu's tale stands in contrast to any number of stories detailing official apathy and red tape throttling talent. News reports of athletes living in poorly provided rooms in stadiums, shooters making endless rounds of offices to seek permission to import guns and ammunition, and favouritism in selection were the staple. Travel for training and competition involved endless paperwork for visas and other fees that would be reimbursed months later, and skimpy daily allowances were the order of the day. The case for women sportspersons was even worse, as often enough, they were more underprivileged than their male counterparts. But it all seems to be changing now.
Maybe, it started with the six-medal tally at the London Olympics in 2012, but needed the dismal showing at Rio in 2016 to serve as a wake-up call. But the story of Indian sport definitely started coming of age with Tokyo 2020—technically 2021. And if we shift focus a bit—beyond Olympic medals—we see Indian sportspersons have been consistently showing up on podiums across disciplines, be it wrestling, boxing, weightlifting, or badminton for a few years now. The process hit a peak in May with Indian sport fans enjoying an embarrassment of riches when the men's badminton team lifted the prestigious Thomas Cup for the first time, beating fancied Indonesia, and Nikhat Zareen won gold at the women's world boxing championship in Istanbul. As Zareen's success showed, women sportspersons from more disadvantaged backgrounds were also getting a break and their due.
On her Instagram page, Zareen has a photograph of her in front of a "countdown to Paris" billboard. The caption says it all: "The road to Paris 2024 begins." The journey possibly started with the Target Olympic Podium Scheme (TOPS), launched in 2014 and revamped in 2018. A flagship programme of the Ministry of Youth Affairs and Sports, the scheme aims to provide all kinds of assistance, including foreign training, international competition, equipment, and coaching to athletes placed in two categories: core group and development. The core group currently has 105 athletes, including the men's and women's hockey teams. Neeraj Chopra, Mirabai Chanu, Mary Kom, Lovlina Borgohain are all part of this elite list. Zareen is in the development group while the Thomas Cup team is split between the core and development groups.
"Everything that an athlete needs in terms of a holistic ecosystem, we are trying to provide that. Whether they want to travel abroad for exposure, whether they want a trainer on a tournament or a particular nutritionist or a physiotherapist, whatever the athlete needs, we provide it to the best of our abilities," says Commodore PK Garg, CEO, TOPS. Every two weeks, TOPS and the Mission Olympic Cell, which has some of the biggest names in Indian sport, meet to discuss the requirements, and merits of requests, and make a decision. "Our aim is to clear the requests as quickly as possible, within days," says Garg.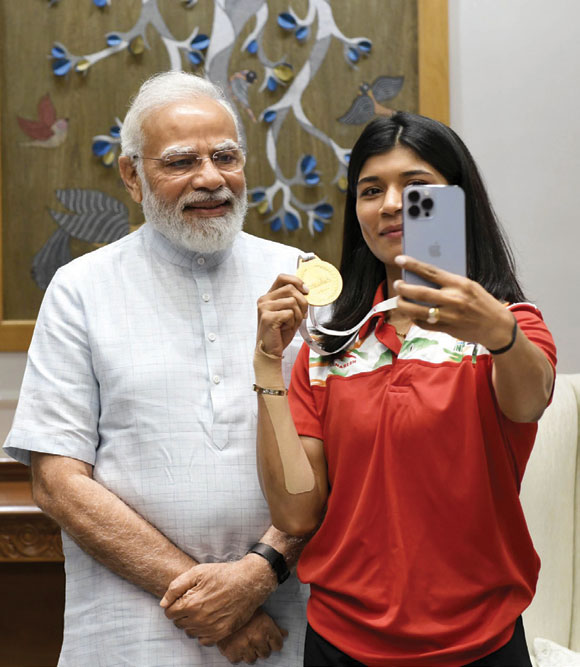 Each athlete Open spoke to for this story, be it established names like Indian women hockey team captain Rani Rampal, weightlifter Mirabai Chanu or upcoming stars like Srihari Nataraj and Jeremy Lalrinnunga, everyone was in a training camp, not sitting on accolades won, and eyes firmly fixed on the future. The impetus for the sport support programme has come from the top. Prime Minister Narendra Modi has spoken to athletes and teams, both in victory and defeat. He spoke at length to a distraught women's cricket team who met him after losing the 2017 ODI final to England, and to the women's hockey team that came heartbreakingly close to bronze at Tokyo. The prime minister's effort, said officials, is to assure sportspersons that the government backs them, and leverage sporting success to improve India's sporting profile. In his conversations, he draws on his own experiences to speak about how to overcome failure and toughen mental approaches to competition.
At a training camp in Bengaluru for the past two months, Rampal says, "I am happiest on the pitch. You leave everything behind, including yourself. You are part of a team, and it is the team that is one living, breathing organism." She has been playing for India for a decade now. From the Junior World Cup in 2013 to Tokyo, she has been part of a quest to get the Indian blue on the podium. They missed their chance in Tokyo, but to listen to Rani is to understand how the girls have been baptized by fire. "Hindsight is 50-50 but post-Rio, we started changing. The first difference is in the mindset. You are always thinking of your opponents, even when you are training. You feel tired today. You are not in the mood to push yourself. Well, another team in another part of the world you will play soon is already on the field and they are practising. You don't train because matches are hard. You train hard so that matches become easy." The credit goes to the girls, their coach Sjoerd Marijne and the infrastructure that made it possible. And they are not the only ones with this story.
Before he became famous as Mirabai Chanu's coach who has been with her through thick and thin, Vijay Kumar Sharma was an athlete who represented Indian Railways and Uttar Pradesh in the early 1990s. He trained at a national training camp in a tin shed with a "protein-heavy" diet of milk and chicken. Today, there is an air-conditioned hall and the living quarters have AC too. All elite athletes have a nutritionist who monitors their diet. "We wanted a hall that mimicked the Olympic weightlifting hall. It was built next to the hall we already have," he said. In 2016, the Olympics shifted to ZKC (weightlifting equipment supplier) sets for weightlifting. Sharma requested ZKC sets, and it was arranged. "You ask for anything and the SAI officials listen. Earlier, months would go by between putting in a request and getting a response. Now, it is a matter of days, not even weeks, literally, days," he says, echoing exactly what Garg had outlined.
Sharma is with Chanu at the training camp in Patiala. Their next target is the Commonwealth Games. A typical day begins at 6AM, followed by some yoga she does on her own. Her training begins at 7AM and apart from a break for breakfast and lunch, the whole day is just that. Her schedule ends at 7:30PM, which is dinnertime. "Medals require sacrifice, staying away from families. But everything is worth it when you win," she says.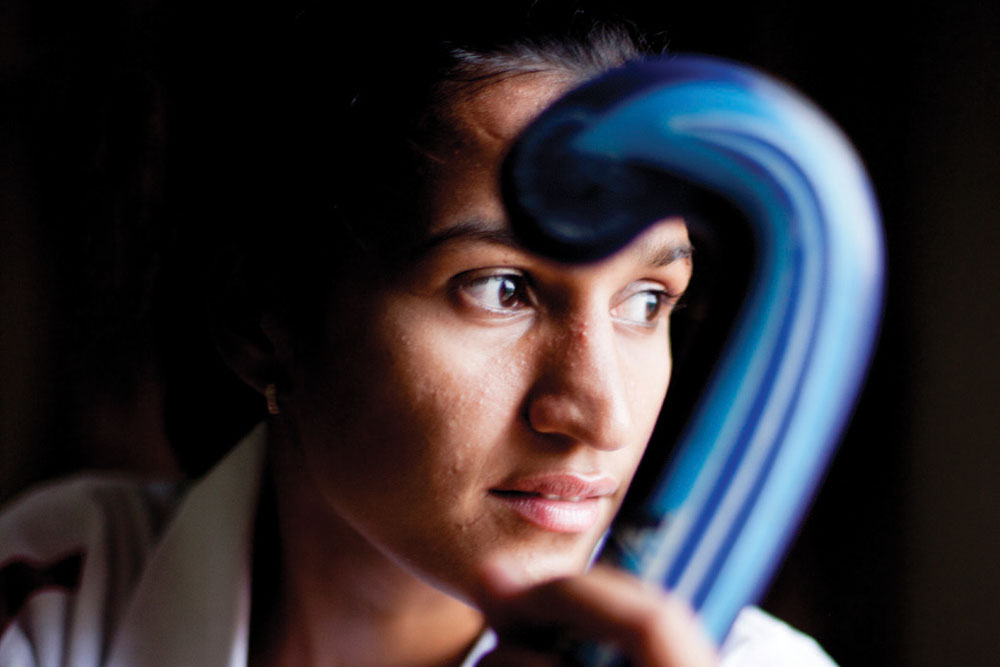 Chanu's story is well-known. Hitching rides with truck drivers to the stadium that was 24km from her village, she has pushed against social strictures—"Bahut suna hai maine (I have been at the receiving end of a lot of barbs)"—and even stared at failure as her outing at Rio left her demotivated beyond belief. But Chanu has worked hard to be where she is today. "There is a sea change between Rio and now. Whatever I want, I get. Be it Olympic-level equipment, or a gym on par with the Games. You don't even realise the amount of mental space which is freed up once these things are taken care of," she says. Development athletes in the TOPS scheme get ₹ 25,000 as an out-of-pocket allowance, while the elite ones get ₹ 50,000. This is a pittance compared to the prize money they get once they have won medals, but it is significant support as they can use the money without filling forms. The extra money eases the financial burden on their families. Zareen shares that before she was selected for TOPS in 2019, she had to rely on competition money as well as a loan to further her training.
A VERY IMPORTANT COMPONENT of being a winning athlete is confidence. And it is not always a matter of ability alone. Rani Rampal speaks candidly about how just coming face-to-face with teams from countries like Australia and Holland before a match would make the team feel low. "Their bodies were so muscular, their kits so well-fitted. The shoes were excellent, even the goalie's equipment. But now, we don't feel the same way." And this has not happened perchance. Everything from how they train to how they dress now has contributed. Rani tells Open how they would wear GPS monitoring devices during training so that data on heart rate, run speed, and recovery rate was recorded and tabulated. The training gave some of them the very broad shoulders they would find intimidating in rival players and slowly, bit by bit, the team that shone in Tokyo emerged. "Earlier, even if we allowed one goal, we would give up. Now, we fight till the last second. And if we lose today, we show up tomorrow. Just like we will when we win. "Fear se nahi khelna (Don't play with fear)," she says.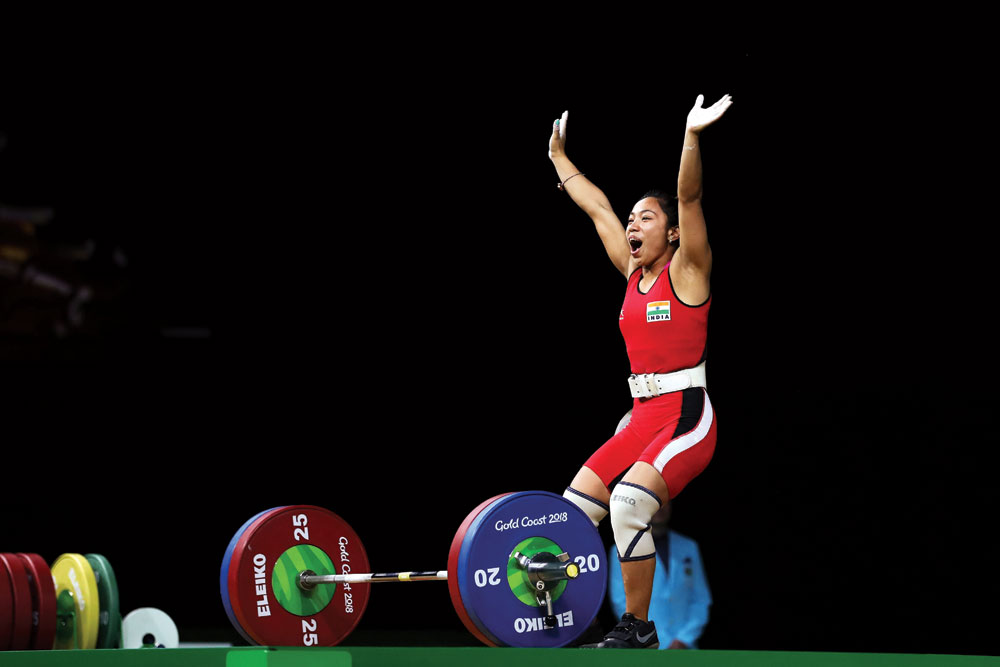 The mindset change is across the board. Manisha Malhotra is the head of Sports Excellence and Scouting for JSW Sports, a private firm that aims to maximise the potential of Indian sportspersons to help them perform better. Malhotra is also an Olympian who represented India in tennis at the Sydney 2000 Olympics. "When I went as an athlete, it was with a mindset to play my game and experience the Olympics. Today, the Indian athlete goes to win. I remember this struck me in Beijing. Saina [Nehwal] and I were waiting for the bus and I asked her, 'So how far do you wish to go? What would be a good performance by your standards?' And she said, 'I want a medal.' And that belief, that desire, it must be cultivated. Money alone can't buy it."
Time was that it would take a whole village to bring up a child. And today, it takes a whole training camp to make an athlete. Sport science incorporates areas of physiology, psychology, anatomy, biomechanics, and biochemistry. Sport scientists work with athletes and teams to turn them into medal-winning machines. The presence of experts, along with the facilities provided, go a long way in preparing an athlete for an international competition. Right now, the focus of TOPS is to plug the gaps in the national camps. "We are looking at issues like what should be the ratio of athletes and support teams. How many doctors, and physios are needed when a camp is in progress?" says Garg.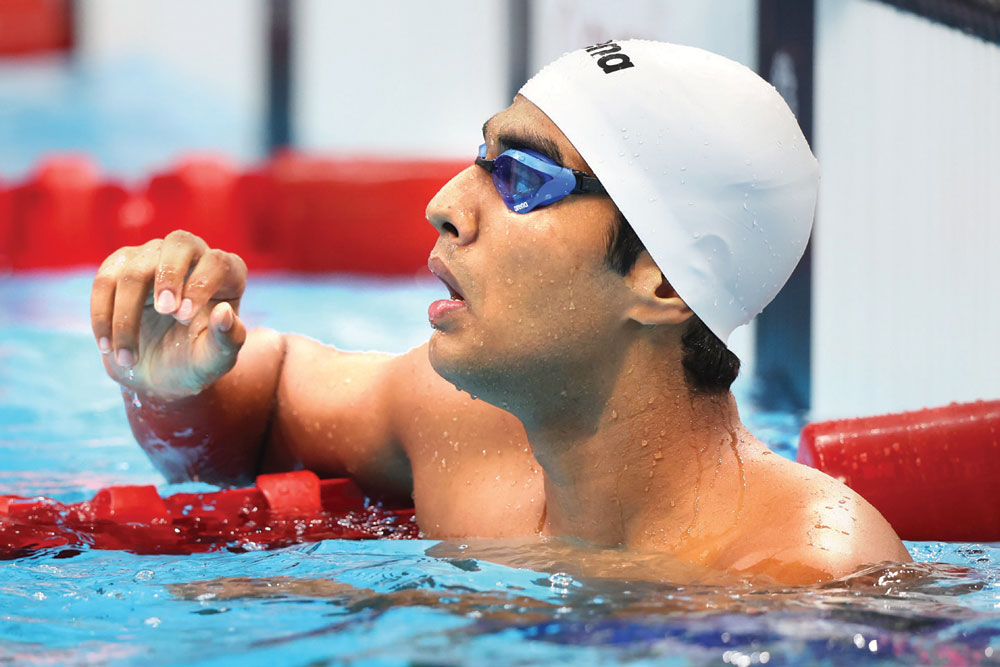 Srihari Nataraj has been swimming since he was two. In his pursuit of a spot at the Tokyo Games, he even set a new national record. At 21, Nataraj is young, very young, in fact, to be influenced by Sylvester Stallone's Rocky, but classics tend to endure. "The original quote is one step at a time, one punch at a time, one round at a time. I have modified it to one stroke at a time, one lap at a time." Nataraj spoke to Open from France where he has gone to participate in the Mare Nostrum Swim Tour 2022. Nataraj was fortunate enough to have a family support system that allowed him to pursue swimming as a sport without stretching its resources. But even if economically secure, middle-class Indian families have their limits. "It was only after I was included in TOPS that I could travel outside for these tours. The funding has made it possible," he said. And for Nataraj, this has been a game-changer. In India, he admits, competition in swimming doesn't give him the scope to push himself the same way. "On tours abroad, I face people who are better than me. It did throw me off, but it has also given me leads on where I lack and what areas I need to improve on." His key takeaways till now involve realising that while he has a good start, in the flip (at the end of a lap), rivals take a lead. "The way they warm-up, recover… it is the tiny details that add up to a big picture and I can see that now."
Competition exposure is critical to steeling athletes and instilling the temperament needed to win the big moments. Most elite Indian athletes are now being sent to competitions regularly. Teams are also sent weeks in advance so that they can acclimatise. "SAI even sends officials to look into the best facilities that can be then replicated for our athletes here," says Poonam Beniwal, former boxer and now senior development official, TOPS. According to her, exposure levels for athletes and officials alike have shot up. The ministry's other initiative, Khelo India, aims at identifying young talent through games hosted at the university level. "It is here that we look for our next Neeraj Chopra, the next Nikhat Zareen," she says.
Khelo India Youth Games and Khelo India University Games are annual national-level multi-disciplinary grassroots games held at the start of every year with an aim to identifying budding talent. Both Srihari Nataraj and Jeremy Lalrinnunga came to TOPS via Khelo India. And to show it means business, the government has put money where its mouth is. When launched in 2015-16, the scheme had a budget of ₹ 97.52 crore. In the current Budget, ₹ 974 crore was sanctioned. "Khelo India supports 3,000 athletes who get a monthly stipend of ₹ 10,000 each. After the games, they have the option to join a Khelo India academy, and we provide ₹ 6.5 lakh per athlete to these academies. This is meant to cover lodging, training, diet, everything," explains Ekta Vishnoi, mission director, Fit India Movement, SAI. Twice a year, these budding athletes are subjected to a performance assessment and the non-performers are weeded out.
"There is no denying that the government is trying to support athletes. There are several schemes, but the country is so big, and this means change can be slow," says Rani Rampal who, like many elite athletes, knows a thing or two about deprivation. This is where the big challenge lies. Amit Sheoran has coached shooter Saurabh Chaudhary and used to run an academy called Aryan's Gateways in Meerut. During the pandemic, he had to shut shop though he is trying to reopen it. "There is a lot of talent in this belt. Some children come to us because sport is the gateway to a government job. Others come because they are genuinely interested. But the road to getting noticed is not easy," he says. At the Khelo India University Games in January, his student, Yuvika Tomar, bagged gold in the women's 10-metre air pistol. "She still has a loan to pay off on the gun. Getting to that stadium is also not easy. The government should think of expanding the Khelo India centres," he says. Currently, there are more than 100 Khelo India academies, including private ones where athletes can train. "They must meet a certain criterion, of course. A team goes and visits these academies and assesses their worth after they submit an expression of interest on our website," says Vishnoi.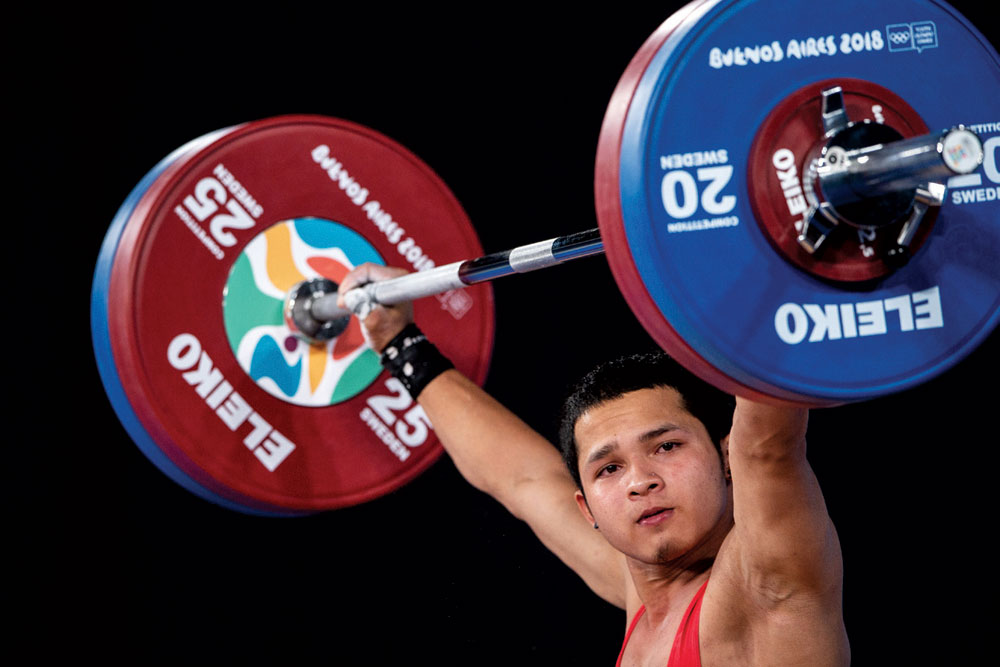 It is not officially stated, but the aim of the TOPS scheme as of now is for India to get its medals tally to double-digits at the Paris Olympics. Towards this aim, newer sports, especially the ones with potential for multiple medals, like cycling and fencing, are being encouraged. But there are still many factors that could be improved upon. As Malhotra says, it is not a matter of money alone. "The amount of money we have spent till now is more than that spent by countries like Ireland or Georgia, but our tally remains low. We need to understand where we still lag." According to her, there is still a lack of trust between the private sector, federations, and the government. And if this gap is bridged, it can only help the athletes. "Even the private sector needs to take a hard look at what it does. The formula we follow is the one that was set up by the Mittal Champions Trust, but sport has evolved since then. The challenges we faced then are not what they are today."
Today's challenges are about ensuring consistent wins and setting up a supply chain of new talent, as has been the case for cricket. A sporting infrastructure that nurtures champions at the grassroots will help ensure that the future Mirabai Chanus don't have to hitch rides, and the Zareens don't have to worry about being maimed while boxing. "Our victories also send out a very important message about female empowerment. It tells parents and families across the country that girls are valuable, too. If a girl looks at me and dreams of being an athlete, I feel I have contributed to womanhood, too. It is not easy for girls to come out in our society; sport gave me this opportunity. With more medal winners, there will be so many more like me. And isn't that the best thing a sporting culture can give us?" asks Zareen. A systematic effort to encourage participation and spot talent means more athletes get national and international recognition. Success is a great motivator and example, encouraging young men and women, including those with conservative or 'non-sport' backgrounds, to gain the support of their families and become role models.