THE FULL MOON floats a bridge of light for the gopis who have snuck out to meet Krishna. The quiet breath of the night is scented with raat ki rani. In the modern version of the story, it is lily of the valley that shines brightest in the veil of white florals, crowned by precious sandalwood. There is something else in the bouquet that lurks and touches you with a thousand memories—a compound called benzyl salicylate that smells like warm skin.
Sonya Khubchandani de Castelbajac's Full Moon Nectar isn't for gopis. It's a fragrance inspired by the women cosied up to their boyfriends at Mumbai's seaside Priyadarshini Park where she often walks, and by saucy love stories from the Chaurapanchashika and the Rasamanjari that come alive in medieval illustrated manuscripts. "I must admit I am not part of the post-Covid cultural moment," de Castelbajac says. Having moved to Mumbai after decades in the fragrance industry, including at Yves Saint Laurent and L'Oréal, she was ready to press the button on Alasa Bombay—channelling the grace and languor of the alasa-kanya of classical Odishan sculpture—in March 2020. Covid put her plans on hold, but she was certain she wanted to be part of the exciting moment that had seized India. "I am a minnow, a small part of a broader, healthy, about-time inspiring moment in the beauty industry in India," she says. "I wanted to do something at an accessible price point that came from my heart. The geek in me wanted to research the components; I sourced the bottle from Piramal Glass and the cap from Chirag Industries. I worked with an Indian nose, Dr Prakash Narain, as well as with an international house for streamlining the sourcing of ingredients."
She thought on three levels: first, India's long and illustrious history of perfumery that survives in iconic ingredients like sandal, rose, champa and vetiver, and in medieval texts and processes some of which are still followed by the distillers of Kannauj; second, iconic lovers through Indian history and how their stories could be used to elevate perfumery, in the same way that French fragrances are suffused with the idea of desire; and third, medieval erotic painting from the Hindu hill kingdoms and the aesthetic that she wanted to draw upon for the design and bottling of her fragrances. Alasa Bombay's first four scents are launching later this month at multi-brand retail outlets and online. They will be priced at under ₹ 3,000 for 100ml.
Sonya Khubchandani de Castelbajac is inspired by category builders in Indian beauty, such as digital-first brands Sugar Cosmetics and Plum Skincare; All Good Scents, the online fragrance brand launched in 2014 by Rajiv Sheth, who trained at ISIPCA Versailles, France, one of the world's premier perfumery institutions; and Titan SKINN, the first mover in the homegrown "masstige" fragrance category with an ever-expanding portfolio of scents developed by seasoned French noses. While the Indian fragrance market contracted by ₹ 800 crore to dip below ₹ 2,300 crore during the pandemic, and the revenues of Titan's fragrances and accessories division halved in 2020-21, the past few months have seen several fragrance launches testing the post-Covid second wave waters.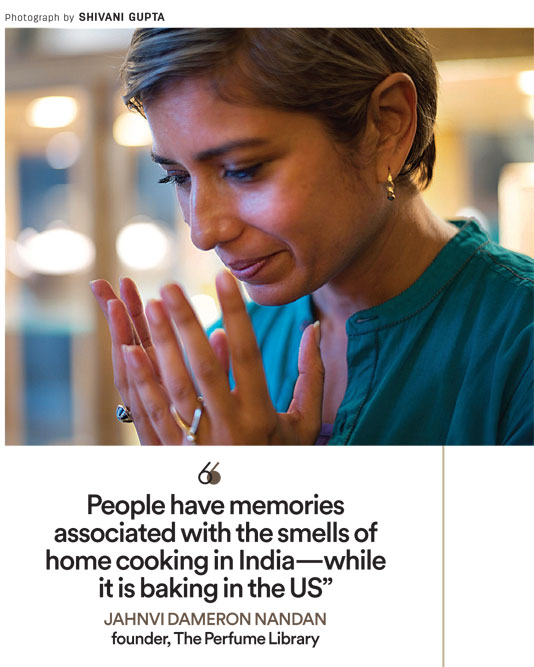 According to Astha Suri of Naso Profumi, an interior architect from a family of perfumers and essential oil extractors who had been working on launching a fragrance house for a couple of years, Covid helped popularise scents with healing properties that she had introduced to the market.  "I wanted to hero ingredients with healing properties that Indians are familiar with—from saffron and spices to mint and other herbals we smell every day—and to infuse them with elements of surprise. So, we did a fragrance with tamarind and bergamot, where the Italian herb makes you sit up and wonder what it is, creating a beautiful confusion." Astha's family processes roses and moss, two key ingredients in Indian perfumery, and she worked with growers in Uttarakhand and Odisha for vetiver and mogra. "I am fascinated by Kashmiri saffron and I am studying neroli and mandarin. Our next collection will be about Indian tea, and the one after that will be a tribute to Lucknow," says the 25-year-old. Naso Profumi launched in January 2020 and refrains from using synthetic scents. Their green perfumes are priced between ₹ 5,000 and ₹ 6,000 for 50ml. "Our fragrances are oil-based and last longer on Indian skin, given our tropical weather and tendency to sweat," Suri says. "These are not scents made for the mass market. They present a slice of history that is yet contemporary enough for the modern Indian."
A third iteration of the coronavirus could force niche brands like Suri's to take it slow. There is nothing logical about launching a fragrance house amidst a pandemic, but then, unlike other senses that are processed by the thalamus, smell is controlled by an area of the brain that processes emotion and memory. Perfumers know that in a year of introspection, some of us may be looking for stories that can envelop us in a fragrant shroud and transport us to a nostalgic time and place. "The history of perfume, in the West, is linked to that of couture. After the traditional fragrance houses and fashion brands, as jewellery and car companies, and later still, celebrities entered the fragrance market, the luxury that was associated with the industry disappeared over time. Because of the patrimony of perfumery in India, however, fine fragrance continues to be a noble product here," says de Castelbajac. The niche perfumery trend in India, she believes, is an outgrowth of the one worldwide. It is a search for authenticity and nobility, informed by culture, transparency, sustainability, Instagram sophistication, the evolution of wealth, changing demographics, the spread of ecommerce in smaller towns, and other factors.
Over a year ago, when Kanika Jain, the creative director and founder of Kanelle, a Delhi-based women's fashion house, was looking to expand into another kind of product line, she thought about what really completes a look. "More than shoes, bags, accessories, all that jazz, one thing you wouldn't step out without wearing is fragrance. While I was aware that the buying behaviour of the Indian customer in terms of perfumery is very limited, I thought that when a fragrance is positioned right, it would appeal to people. For instance, my clothes may come at premium price points, but when I offer an affordable fragrance, it gives them a way of being associated with the brand. This is why, besides full sizes, we decided to do a 50ml set consisting of all our five fragrances at a very competitive price." Launched less than three months ago, Scentsationally Yours encourages the wearer to mix, match and layer the fragrances to create complex bouquets. "Women are made up of the many roles they play in their daily lives, and I wanted to cater to this facet. Our fragrances, like our clothes, are contemporary, sustainable, and locally made," Jain says.
"The fine fragrance industry has never ever been hit—not even during the World Wars. It just turns itself around in times of crisis. While Indian fashion itself is a recent phenomenon, the idea of an Indian fragrance coming in as a topline is newer still," says Bengaluru-based perfumer Ahalya Matthan. In April, the House of Anita Dongre announced its first fragrance collections created by Ajmal Perfumes. Designer Masaba Gupta has tied up with online beauty marketplace Nykaa to co-launch a line of fragrances. Other names in Indian fashion are said to be sniffing out opportunities in perfumery. "Fragrance is always a niche product that is introduced when the brand has reached the extent of the story that it can tell through the creator or the level of skill or artistry that it has achieved. When you are an aspiration for consumers, one way to reinforce your values is with fragrance or jewellery. The story is carried forward, and consumers can have a piece of it without having to spend big," says Matthan, founder of a line of natural products called Areev. She spent the better part of the past year studying Indian perfumery and hopes to launch a line of fragrances in 2022.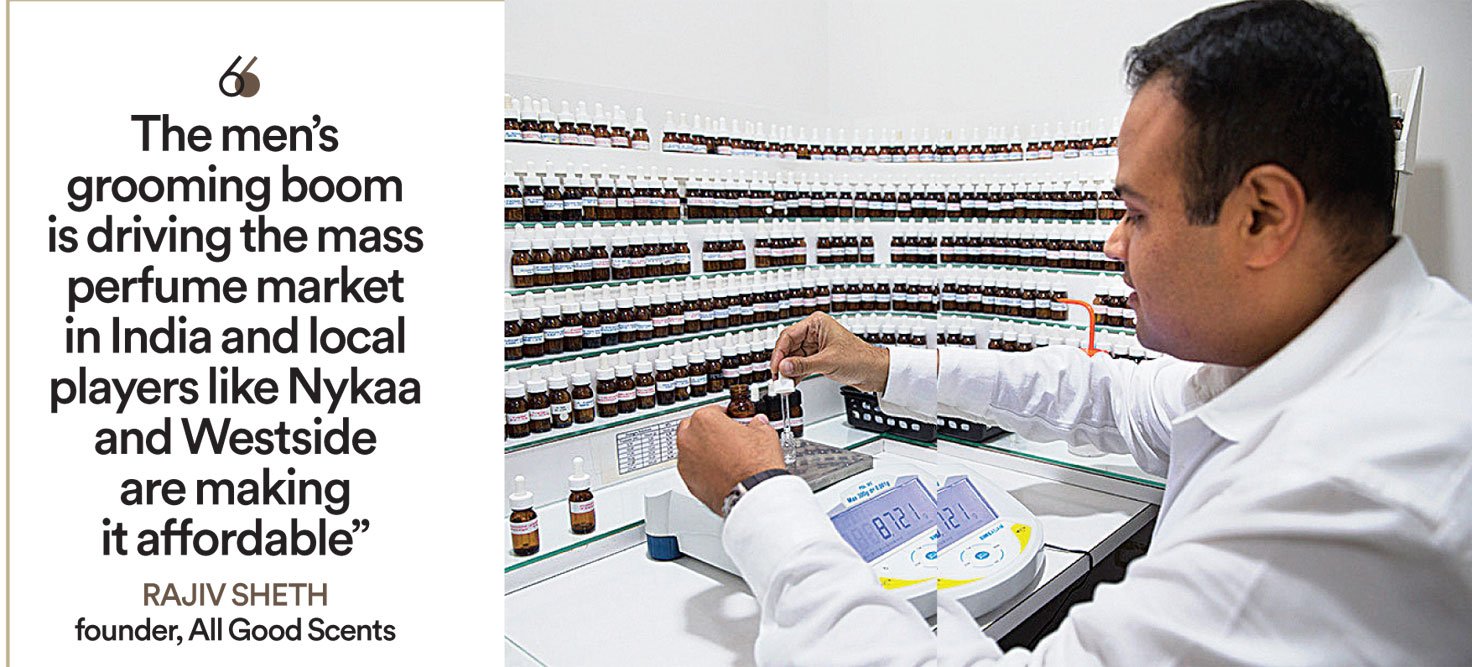 "At a time when local brands are doing well across various segments, there is space for all sorts in the Indian fragrance market—from ₹ 1,500-2,000 entry level fragrances to niche luxury fragrances that cost upwards of ₹ 4,000," says Manan Gandhi of Bombay Perfumery, a forerunner in Indian boutique perfumery that is known for its edgy, distinctive takes on familiar notes. From Chai Musk to Madurai Talkies and a whimsical patchouli fragrance, Bombay Perfumery is built on the Gandhi family business of supplying fragrance oils to global fragrance houses, as well as on professional inhouse noses from France who are always looking to distil the scents of modern India and to break Western notions. Founded in 2017, the fragrance house caters to professionals between 25 and 45 of age, with not just disposable income but also a willingness to understand the product. "Our typical customers are not blind-buying. They are likely picky about what they wear, and they are interested in ingredients and their provenance," says Gandhi. "Over the past five years, I have watched Indian customers get more discerning. And as the market slowly evolves, the local efforts on both the ingredients side and the blending and branding side are set to give it a further boost." He uses Kashmiri lavender, vetiver from Puducherry, chamomile from Uttar Pradesh and geraniums from Ooty in his formulations, and while the scale of their production is small and the prices high, the farmers' success stories are a bright strand in the resulting product, he says.
"I prefer to source my roses from Bulgaria and Turkey, saffron from Iran and vanilla from Madagascar," says Dimple Fouzdar, a socialite whose new fragrance house, Maison de Fouzdar, has global ambitions. "Indian ingredients are a risky proposition. They smell different from the top-quality ingredients used by the perfume industry, and often lack refinement," says Fouzdar, who has launched eight fragrances in India this year and is talking to distributors in the UK, the Middle East and Europe. The perfumes are blended and bottled in India.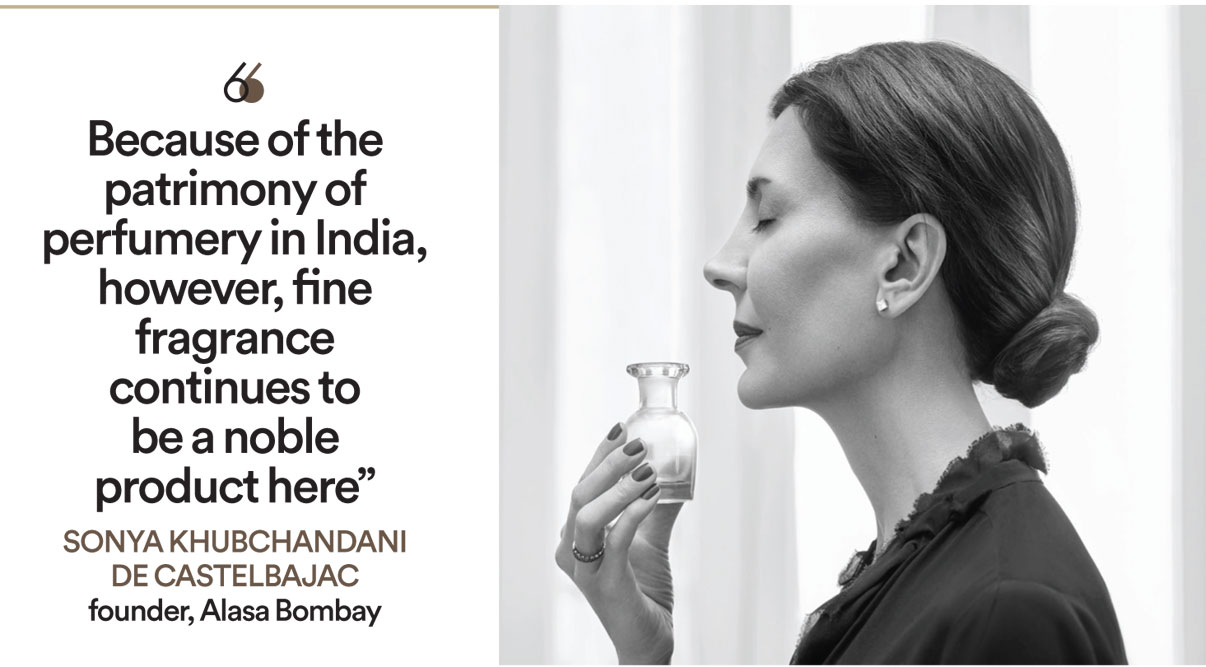 "As a nose, I say, the more the merrier," says Jahnvi Dameron Nandan, the perfumer at the forefront of the contemporary Indian fine fragrance scene who continues to inspire creators six years after the launch of The Perfume Library, one of the finest houses of fragrance in the country. "From being the lone Indian when I started out in 2008, I am excited that the space has expanded to include many interesting experiments in smell. This is a country that thinks smell. It was absurd that there was no one else."
Nandan understands what moves Indians. As part of a project called The Memory Pod, she has, since 2008, been talking to people about smells that are a source of comfort to them. The conversations threw up unique insights. "For instance, people have memories associated with the smells of home cooking in India—while it is baking in the US," she says.
For Nandan, retail is a very small part of her creative studio. With Covid limiting travel and retail, she spent the year exploring performance as an expression of smell. A ballet she co-wrote with a musician friend will open in Goa on January 16th and travel to Paris and Lisbon. "It is a ballet of smells," she says. "I have created more this year than I had in the last 10 years." The performance will feature seven fresh fragrances—including two inspired by dance, The Ladder of Shiva, which heroes nagarmoth, a herb that grows across India and possesses qualities of sandal, vetiver and ambery synthetics, and Taka Dimi, which uses expensive and beautiful mimosa blossoms from Kodaikanal—which will be launched internationally later in the year. A Bharatanatyam exponent, Nandan is also working on a biography of an Indian perfumer who lived 700 years ago. "At The Perfume Library, we had an amazing run from 2015 to 2019 but after the pandemic, we are barely above water. It will take another year to go back to where we were," she says. As a world-class nose, she is equally committed to both poetry and science, and does not rate one over the other. "My playing field is thousands of ingredients, not only 200-300 natural ingredients," she says.
Even traditional bottlers and suppliers who have launched their own fragrance houses don't entirely eschew synthetics. Thirty-nine-year-old Vidushi Vijayavargiya of ISAK Fragrances comes from a family of perfume oil suppliers and prides herself on her four-year-old line's extensive use of Indian botanicals, including Hasayan roses, khus, neroli and oud, but one cannot create truly contemporary and long-lasting scents without synthetic molecules, she says. "Among our bestsellers is an affordable lab-in-a-box DIY kit for people who want to play around with smells," she says. "It is a time of discovery and the possibilities are endless."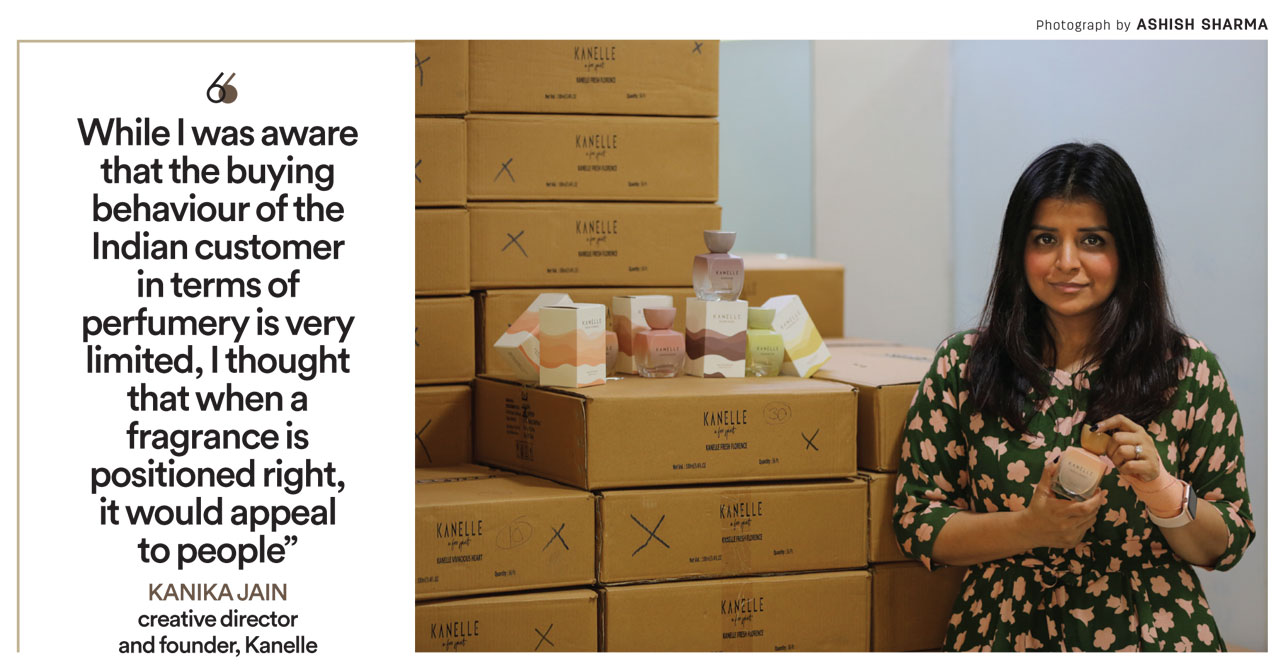 While there is a surge in interest in wellness perfumery after the second wave of Covid, the notion that molecules are harmful and inferior to natural scents is ridiculous, says Rajiv Sheth of All Good Scents, whose fragrances are affordable and on par in quality with international designer scents. "The oud from Assam used to be the best and it was plentiful, until we overexploited it. Sandalwood is downright unaffordable now. Entirely natural perfumery is not a sustainable enterprise." Since launching a dozen fragrances in 2014, his brand has grown 30-35 per cent year-on-year, building on his family's mass market fragrance bottling expertise. "The men's grooming boom is driving the mass perfume market in India and local players like Nykaa and Westside are making it affordable," says the Ahmedabad-based perfumer who continues to create quality everyday scents while also collaborating with designers and other creatives for special launches. The perfume world is gravitating towards gender fluidity and clean, light fragrances, Sheth says. "India is the largest supplier of mint to the global fragrance industry. We also have kewra, jasmine, vetiver and other ingredients for transparent woody florals that are contemporary and wearable."
According to a 2014 study, humans can distinguish at least a trillion different odours—the previous estimate was just 10,000. A perfumer who can create stand-out scents amidst the olfactory pointillism of India must then necessarily be an artist. Can fine perfumery successfully merge art and heritage at this unique cultural moment when India wants to tell its own stories? Or, will it remain a niche buy-local movement? The scent of things to come is exciting, for sure.