ARISTOTLE DISLIKED ABORTION but thought it less cruel than letting unwanted babies be born into neglect. Hippocrates was against it. And for much of the ensuing millennia, philosophers and politicians have continued to argue over the legality and ethics of the unsavoury, even if sometimes necessary, practice.
For much of Western history, abortion was not criminal if carried out before "quickening"—the movement of the foetus in the womb between 18 and 20 weeks. Many countries have in modern times reached a similar compromise. In Australia, Britain, Canada, France, India, Japan, and elsewhere, lawmakers have made abortion legal in the first few months of pregnancy and illegal, absent extreme circumstances such as a medical threat to the mother's life, later on. Most Americans consider that to be a sensible balance, and for the past half-century—or ever since the Supreme Court recognised abortion access as a fundamental right in the case of Roe vs Wade—they have enjoyed similar abortion access, despite efforts by conservative states to restrict it. But now that has changed.
On June 24, a conservative majority of the Supreme Court bench ruled that the decision in Roe vs Wade was "egregiously wrong". The justices could find no right to abortion "deeply rooted" in America's "history and traditions" and therefore determined to strike down the precedent and hand the matter of abortion back to the states. For the first time ever, the three dissenting liberal judges noted sorrowfully, America's highest court is "rescinding an individual right in its entirety." At a stroke, abortion became illegal or heavily restricted in 13 Republican-controlled states that had trigger laws—provisions to scrap abortion the instant Roe was eliminated—in place. The religious right, the biggest single faction of the Republican Party, was cock-a-hoop—it had been lobbying for the end of Roe since the 1970s.
Several more states are expected to pass bans within days. Though these developments were long warned of, it is staggering to see them unfold. Almost all the 32 countries of the Organisation for Economic Co-operation and Development (OECD) allow abortion at least during the first trimester. Abortion provision has thereby become associated with women's advancement, including greater workforce participation, equal pay, and broader equality. It is remarkable that a large swath of the richest country is now banning abortion, anyhow.
The repercussions could be momentous politically and for the court. They will certainly be horrendous for millions of American women, including the 36 million already estimated to have lost the right to an abortion. The effects have, in fact, been prefigured by conservative states chipping away at Roe in recent years. Across the southern and Midwestern states, abortion rights had already been substantially hollowed. Six states had only one abortion clinic left. Already most abortions are thought to take place in America in Democratic-run states that will not ban abortion now that Roe has been overturned. As a result, women in conservative states are already having to make long, expensive and cumbersome journeys in search of termination that most developed countries make freely available close to home.
Recent events in Texas illustrate this. Last September, the giant conservative state passed a law banning all abortions after about six weeks of pregnancy. The Supreme Court's failure to intervene to block this was an early indication that at least five of its six conservative members had Roe in their sights. In the months that followed, abortion clinics in neighbouring states saw a huge uptick in demand, as Texas women traipsed, by plane and car, overnight or over several days, across their state lines for an abortion. A medical director for Planned Parenthood, an NGO that is America's biggest abortion provider, reported seeing a 1,650 per cent increase in Texans flying into Boulder, Colorado, for termination over a 45-day period. "I fear Texas is a prologue to absolute chaos and confusion," she told The Economist.
Inevitably, poor women will suffer the most. Their relatively low levels of education and healthcare make them likelier to have an unintended pregnancy, and they are much less able to undertake the onerous steps that evading an abortion ban requires. The result, perversely for "pro-life" conservatives will be more late-term abortions, as well as more unwanted children, which will in turn make it harder for poor women to advance. Some obstetricians warn that the mess could also lead to an increase in America's maternal and infant mortality rates, which are already the highest in the developed world.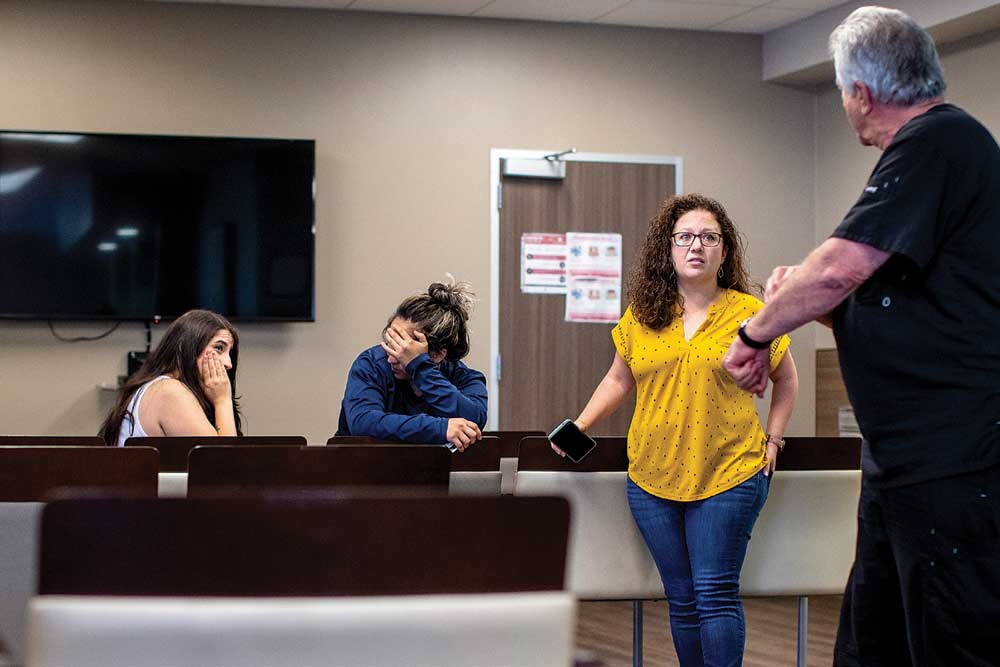 A few developments should help mitigate the damage, at least. First, America's abortion rate has fallen dramatically—to about half what it was in 1980. That is mostly down to improved and more commonly used contraception. Second, the widespread availability of abortion medication has made terminating a pregnancy vastly easier to do and harder to outlaw. By taking two tablets, a few hours apart, women can abort at home, without medical consultation, at any time up to the 11th week of pregnancy. Conservatives have this in their sights, too. Last year, 15 states passed laws to restrict abortion medicines. Texas introduced, in effect, a bounty payment of $10,000 to anyone who reports an illegal abortion, including one carried out at home with pills bought over the internet. Still, policing the practice will be hard.
ABORTION PILLS CAN be purchased easily online, after consultation with a telemedicine company that could be based anywhere in the world. At the least, there is little prospect of Roe's removal returning American women to the grisly practices of backstreet abortion. A recent study found that a leak last month of the draft Supreme Court on Roe elicited a massive increase in online searches about abortion pills.
Finally, Democratic-run states, charities and healthcare providers in them are already rallying around to limit the damage. California has drafted a constitutional amendment to enshrine a right to abortion in the state. Abortion clinics in pro-choice states and reproductive rights charities are planning schemes to advertise their services to women in the abortion blackout states and, where necessary, to cover their expenses. It is cheering, in a bleak political moment, to see American can-do applied to a worthwhile cause. It is also foreboding to see yet another way in which Republican and Democratic America are becoming two separate entities, with different laws, mores and cultures.
Three decades of political polarisation has wrought that, and the Supreme Court's decision will make it worse. It is also likely to play a prominent role in the mid-term elections, due in November. For years, "pro-life" conservatives have tended to focus on scrapping abortion far more than "pro-choice" Democrats have on defending it. Fifty years of abortion rights and improving abortion provisions in Democratic states will do that; Democrats thought the abortion issue was settled. Yet, in recent months, as the end of Roe was rumoured to be nigh, Democratic voters have started caring about abortion even more than Republicans. In the run-up to the Supreme Court's ruling, 63 per cent of Democrats considered the issue "very important" compared to 40 per cent of Trump voters. Political scientists have long noted that voters tend to be complacent about threats to things that they have—but extremely energised when those things are taken away. The Democrats, who are facing major losses in the mid-terms, due to a parlous economy and because the president's party always does lose the mid-terms, will seize upon the abortion issue as a possible lifeline.
Their successes in the past two electoral cycles were heavily based in the suburbs, especially among white women, many of whom fled the Republicans out of abhorrence for Donald Trump. Democratic candidates will raise the bogey of Republican abortion bans as a means to try to keep them incensed and in the fold. More specifically, Joe Biden's party is likely to press the issue in a couple of Senate races, including one in Pennsylvania and another in Wisconsin, where they have a reasonable chance of picking up a seat. With a workable Senate majority, which they currently lack, the Democrats would want to pass legislation re-enshrining abortion as a legal right. They will hope that that ambition is sufficient to turn a few disenchanted voters out for the mid-terms.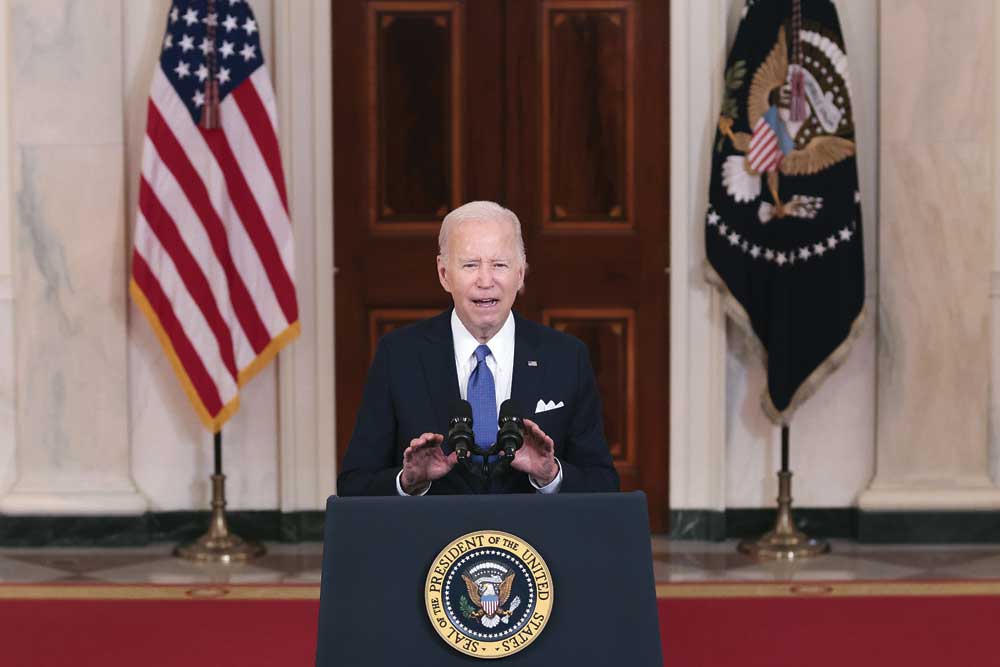 "Voters need to make their voices heard," said Biden recently. "This fall, Roe is on the ballot. Personal freedoms are on the ballot. The right to privacy, liberty, equality, they're all on the ballot." The issue, frankly, is not going to dig him and his party out of a very deep hole. Biden, a likeable but old and uninspiring leader facing difficult circumstances, is even more unpopular than his predecessor. But at the margins of the mid-terms, abortion could make a difference.
The consequences for the reputation and the role of the Supreme Court may be more important. Roe was, in the view of liberal and conservative legal scholars alike, a legally inelegant, or downright shoddy, ruling. Asked to rule on the demand of a woman in Texas for a termination that the state would not provide, the justices in 1973 squinted a bit and located a constitutional right to abortion, as an extension of the previously recognised right to privacy. Yet, a stretch as this may have been, whenever the justices were called on to review Roe, they upheld it. In all, 17 either signed it or reaffirmed it in this way. And given the court's customary regard for legal precedent, under the doctrine of stare decisis (to stand by things decided) which stresses humility about any single interpretation of the constitution, regard for the court's past legal minds and for its institutional history, that process of reaffirmation was once considered to have made Roe invulnerable.
Or so the court's liberal judges thought—and so, at their Senate confirmation hearings, its conservative justices said. Though Trump swore to appoint judges who would overturn Roe, to please his evangelical base, all three of the justices he nominated to the court suggested they would not do so. Without expressly promising to defend Roe, Neil Gorsuch, Bret Kavanaugh, and Amy Coney Barrett all identified it as an important precedent and underlined their commitment to stare decisis. Which turns out to have been untrue. All schooled in the religion-infused rightwing legal world, the justices were expressly picked by Trump to scrap Roe. And at the first opportunity, they have done so. Rarely has the court, formerly one of the last trusted arbiters of America's feuding politics, seemed more nakedly politicised. Public trust in it has plummeted. Only 25 per cent of Americans (representing only about half of Republicans!) approve of it.
Even before this decision, the court's 6:3 conservative majority was deeply resented on the left. It owes that poor rap in part to an underhand scheme by Mitch McConnell, the Republican Senator leader, to deny Barack Obama the Supreme Court nominee that he was due in 2015, after the then Chief Justice Antonin Scalia died. McConnell simply refused to hold the necessary confirmation hearing for Obama's pick (Merrick Garland, who is Biden's attorney-general). That meant Trump had a bonus space on the court waiting for him to fill when he took office. Two more picks, following the retirement of Justice Anthony Kennedy and the sudden death of Justice Ruth Bader Ginsburg, weeks before the 2020 election, allowed him to assemble an unusually powerful—and for many Democrats, unwarranted or illegitimate—conservative majority.
A SYMPATHETIC SUPREME COURT bench is a massively powerful ally for the right. Especially because many Republicans are mainly focused on scrapping regulations, gun controls, gay rights, and other trappings of a liberal society, which is easier to do through judicial fiat than by legislation. They must be encouraged by the conservative majority's activities. Besides scrapping Roe, the Supreme Court recently struck down a century-old law in New York restricting the open carry of hand guns. It is shortly expected to strip back the powers of the Environmental Protection Agency to regulate greenhouse-gas emissions. There has rarely been a more activist or political court. And it might even go further.
Justice Clarence Thomas, a highly partisan conservative and husband to a deranged rightwing conspiracy theorist, has suggested he would also like to scrap other implied rights—including the right to contraception and to gay marriage. He is probably an outlier. But the fact that such rulings are even under discussion is incendiary. The right has captured one of America's most powerful governing institutions. And given that Thomas, a hale 74-year-old, is by far the oldest conservative on the bench, it will control it for years.