The story of Kashmiri Pandits and Kashmiri Muslims has too many rough edges. It also has smoothness, which is mostly felt in zones where the two do not discuss 1990 at all. The collective and individual memory of the Pandits takes a sharp diversion at this point. When things are to be smooth, when you want them to be smooth and not unpleasant, there is no point in running your fingers over the jaggedness of reality. So, the Kashmiri Pandit meeting his erstwhile Muslim neighbour or schoolmate in a café in Delhi will fast rewind to a time before 1990 and become nostalgic about a happy memory involving both of them.
But the jeers and slogans from mosques on the night of January 19 that year and the brutal killings of that year and the neighbour who showed no emotion at your departure but was more interested in the house keys jangling in your hands that year: these memories are just a beat away. In that café, though, or when a singing troupe from the only place you call Home has arrived in a faraway city where you live in exile to perform at your son's wedding, you push these behind in some distant recess. There is much else to celebrate—in the alienness of the city, there is finally someone with whom you can share a joke which only a fellow Kashmiri would understand.
In the absence of collectivity, sometimes—only sometimes—the neighbour opened up. He accepted that the majority Muslims failed to do their duty and that blaming it on Jagmohan was a trope they learnt from each other, strengthened by those who dreamt of a rebellion whose fire they knew would never reach their own home.
Outside, the KP lived a strange life. His new neighbours were so ignorant about what had happened to him. Sometimes when you packed your bag to attend a family marriage in Jammu, they would say: Oh, but isn't it unsafe! Or: Have you packed enough woollens! In the colleges their kids went to, the star professors dismissed their dissertation proposal on the exodus and its aftermath by making a face; or if they had a little patience, they would encourage these kids to do something around, say, Kunan Poshpora, the site of an alleged mass rape of Kashmiri Muslim women by Army men. They would return and tell this to their parents. Balancing between this and the baggage of their parents or grandparents, they would become unsure of the truth. Most parents insulated their children from the details. Or even if they wanted to, they simply did not know what to tell them.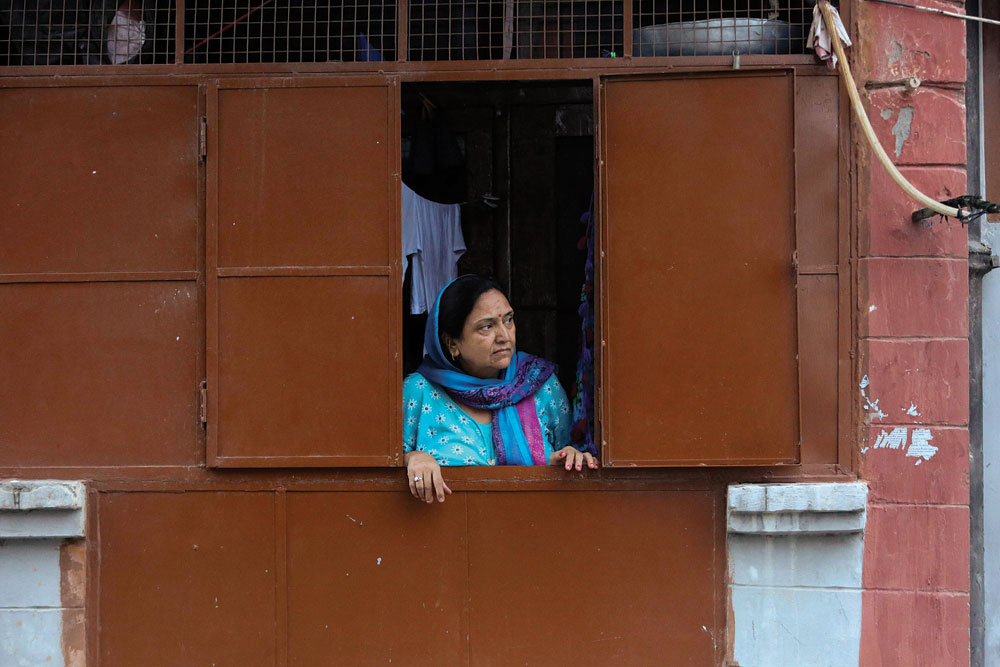 And now, there is the Film. Suddenly, with a good amount of endorsement from the prime minister onwards, everyone knows about it. The objectives of the endorsement by the Bharatiya Janata Party (BJP) are, of course, political. The film legitimises the abrogation of Article 370, as if that alone was something that would ensure the return of the Pandits. Equally political is the villainous depiction of the Left ecosystem, portraying it as a collaborator of the separatist movement in Kashmir.
But these political objectives notwithstanding, there is a certain consciousness about the KP exodus. A friend who has been living in a society in Gurugram for years was stopped during his morning walk by the DG set operator: "Jo film mein dikhaaya wo aapke saath sach mein hua hai kya?" What the film depicted, did it really happen to you? The friend replied: "Humare saath is se bhi bura hua hai." Worse things happened to us.
Now that a significant number of people in India and abroad have watched the film and they have a fair idea of the brutality the Pandits faced, the fever and the debate around it are gradually ebbing. Those who wanted it to remain under the carpet or at most a footnote in Kashmir's larger history of insurgency are jittery about seeing it getting out of their hands. The Pandits are happy that their story has reached far and out.
But what happens now?
IT IS APRIL and the peak tourist season is yet to hit Kashmir. But there is already an unprecedented rush. Most hotels are booked and all flights to Srinagar are reported full. Jammu and Kashmir Lieutenant Governor Manoj Sinha said recently that about 80 lakh tourists had visited Kashmir in the last few months, breaking, according to him, all the records in two decades.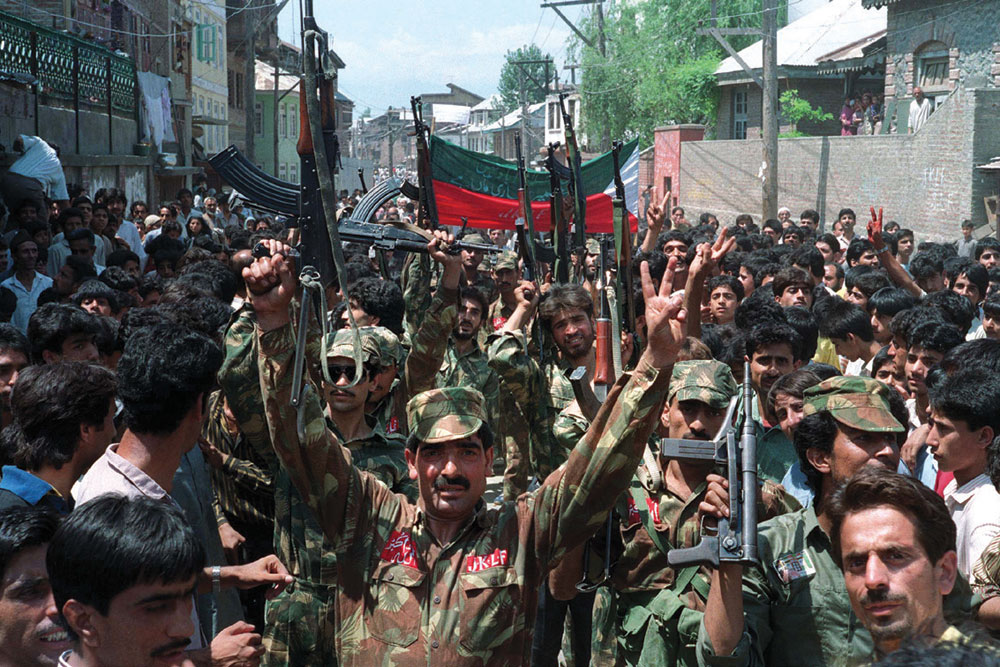 A few miles away from where thousands of tourists from mainland India enjoy Shikara rides over the Dal Lake, 54-year-old Sanjay Tickoo spends his time locked up inside his home in the erstwhile Pandit pocket of Barbarshah in Old Srinagar. There is fear that he may be on the hit-list of terrorists. He has been given three police guards who, he says, discourage him from venturing out. "You can say that it is a kind of house arrest," he laughs weakly. It is a different exile, within the four walls of the house, he says.
Tickoo was 22 in 1990 when an armed insurgency broke out in Kashmir, of which the minority Pandits became immediate targets. From the day after the mosques in Kashmir began spreading venom against India and the Pandits on January 19, the Pandits began to leave. It was increasingly becoming difficult to stay back. By April that year, one Pandit would be killed on an average, as the KP blogger Vinayak Razdan's research proves. In May-June it was two per day. For a small community already on their way out, this number was too much. As KP individuals began to be targeted, their families and those in their vicinity began to leave. Community members were also facing severe harassment on the streets and in their workplaces.
Tickoo remembers that his family decided to move in June that year when a Pandit family was targeted in the neighbouring Ali Kadal. Those days one could find truckers outside the Naaz cinema, one of the many cinema halls that had been closed a few months earlier as part of the Islamist project. He met a Sikh driver who agreed to come the next day. "I even paid him an advance of `500," Tickoo recalls. By evening, the Tickoo household had packed whatever it could and kept it ready in one of the rooms on the first floor.
At the crack of dawn, Tickoo remembers venturing out and taking a walk that he thought was his last over the bridge built on the Jhelum river close to his house. He walked past the jawans of the Central Reserve Police Force (CRPF) who fathomed that he was leaving like the rest of the Pandits.
"If you really ask me what happened on that walk, I won't be able to tell you," Tickoo says. He returned home where his father asked him if the truck had arrived. "I did not answer him. I went to my mother in a heightened emotional state and asked her to make tea," he says. Meanwhile, the driver had arrived outside. Tickoo went down and told him that he was not leaving. The driver was furious since he had been deprived of a chance to make money. "I thrust more money in his hands and turned back," Tickoo recalls.
Over the next six months they gradually unpacked and that was that.
Tickoo does not talk much about what he braved through the 1990s. But he says that there were days when it became too tough. But somehow, he survived. Over the years, Tickoo and a few of his friends who had chosen to stay back conducted surveys across Kashmir Valley to see how many Pandit families were left behind. "Somehow those who stayed back were forgotten; it is as if we did not exist at all," he says.

On the morning of March 24, 2003, Tickoo wakes up. His wife rushes in, saying something has happened in Nadimarg village in South Kashmir. His wife's parents come from a village close to Nadimarg and she is worried about their safety. Without wasting time, Tickoo calls up a friend and together they set out for the village.
It is a terrible sight. The previous night, a group of terrorists have barged in and shot 24 Pandits from families which, like the Tickoos, chose to stay back. The dead include women and toddlers. They had been made to sit on the floor in a courtyard of one of the houses and shot in their heads.
Tickoo says he was numb when he saw those bodies, but had to compose himself. One by one, he reconstructed with vermillion paste the faces of the victims over the bandages that a doctor had put over their shattered heads. And then they were cremated.
"This too shall pass, I said to myself," Tickoo says. Gradually, the remaining KPs brought back some of the things that were an essential part of pre-exodus community practice. Prominent among them was to celebrate Dussehra and take out a procession on Janmashtami.
In 2019, after the abrogation of Article 370, Tickoo and others felt insecure again. New Delhi's act had generated anger, and Tickoo feared that the immediate brunt of it would have to be faced by the remaining Pandits. A few families who had not left in the last three decades left, fearing reprisal.
Last year, the wave of fear began again with the killing of several Hindus, including a Pandit chemist who had stayed back. Now that the film has triggered a response in the rest of India, Tickoo feels that it will make things more difficult for the Pandits.
"My daughter has not been out of her room at all in the last three months," Tickoo says.
IN THE LAST DECADE, there has been more radicalisation in Kashmir than what it witnessed in 1990. But barring an episode here and there, the Indian state has an upper hand now. Operations against terrorists happen almost on a daily basis. But there is no dearth of youngsters who want to join the militant fold either. It's a cycle that seems almost endless.
In 1990, though, the situation was different. The police in Kashmir had been rendered ineffective; in fact, many in the force were sympathetic to the militants. Glorified amid the popular sentiment of 'Azadi', militants roamed freely, with hardly any resistance from the forces.
Close to where Sanjay Tickoo lives, a young Pandit his age and who shared a surname with him, was about to become one of the early victims of this glorification.
On the morning of February 2, 1990, a ruffian turned militant, Farooq Ahmed Dar alias Bitta Karate and his accomplices entered a street in the neighbouring Karfali mohalla.
That morning, the curfew (imposed due to the worsened situation in Kashmir) had been lifted briefly. Prithvi Nath Tickoo, who ran a medical agency, stepped out of his house while his youngest son, Satish Kumar, 22, who helped him in his business, slept inside.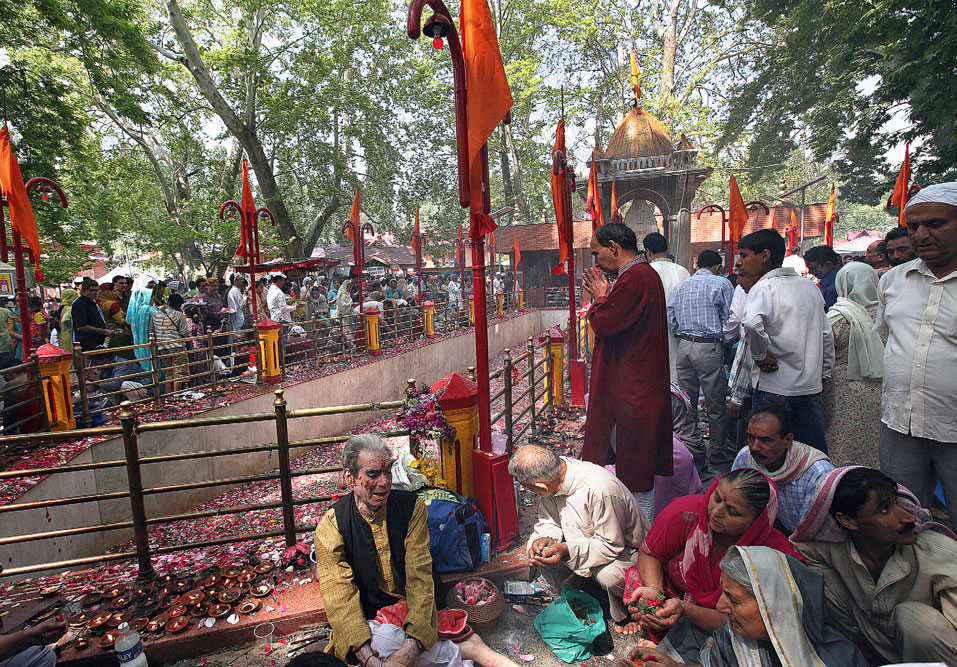 At 8AM, Satish's elder sister Dulari heard a knock on their main door. She opened it to find Karate at the doorstep. Dulari says that Karate, who wore a cap, asked for Satish. Karate was no stranger in their locality. Prithvi Nath recalls Karate hitching rides several times on Satish's scooter.
Upon seeing Karate outside their house, Dulari felt something amiss and lied to him—she told him that Satish had gone out. A little later, Satish got up; he took a piece of the Kashmiri bread which his nephew was having and nibbled at it. "I told him to wash up so that I could serve him breakfast," recalls Dulari. But Satish said he would go out first to check on medicine at their godown. He wore a pheran (loose Kashmiri cloak) and held a kangri (Kashmiri firepot) underneath.
At the corner of the street, oblivious to Satish, Karate and his accomplices lay in wait. Upon spotting Satish, Karate whipped out a pistol. Eyewitnesses would later tell the Tickoo family that in order to defend himself, Satish threw his kangri at Karate. But by that time Karate had fired. The first bullet, the Tickoos were told, hit Satish in his jaw. As he fell, Karate pumped several more into his body.
As she heard the commotion, Dulari came out, only to find her brother's body on the road. Satish was rushed to the hospital where he was declared "brought dead". His corpse was given a ritualistic bath by one of his friends, Ashok Qazi. The same month, Qazi was also killed by three men, one of them believed to be Karate.
The sentiment of Azadi was so strong that many senior officers believed that Kashmir would become an independent state. In an interview to a local channel in Jammu in March this year, a retired police officer, Sardar Khan, recalled that time. As the Station House Officer (SHO) of a police station in Srinagar, his own attendant kept a bomb under his table to kill him. In an altercation with a DIG-level officer, when asked to get out, the constable shot back at him saying he should get out, not him. Khan recalls one of his constables saluting a pickpocket who had apparently joined the militant fold. On April 6, 1990, a release issued by the employees of the CID department of J&K Police published in the local newspaper, Srinagar Times, read: "Who will be the wretched man who will oppose the Mujahids? We once again appeal to the Mujahid organisations that no CID personnel are involved in working as informers… we assure the Mujahid organisations that we are not involved in any such actions which would harm the pious cause of Kashmiris."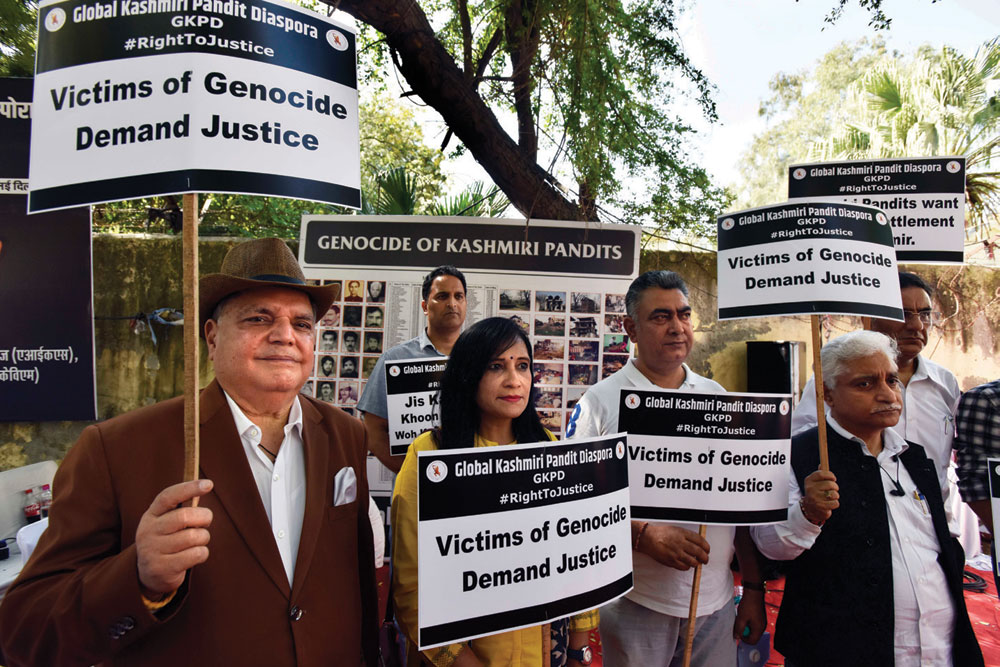 In a situation like this, in most KP killings not even a First Information Report (FIR) was registered. Over the years, various RTIs (under the Right to Information Act) to different departments revealed different numbers of killings. Those in denial about the KP killings always quoted the lowest number among these to portray that nothing major had happened. The actual number of killings is close to 700. Barring one case of the killing of a Pandit human rights activist, there has not been a single conviction in these killings.
BJP has had the return of Kashmiri Pandits on its manifesto for a long time. It is obvious that is not going to happen anytime soon. But some things need to be put in motion now. Now that an awareness about the issue has been created, there is a need to open these cases and investigate them. In some cases, it is clear who killed whom, as in Satish Kumar Tickoo's case.
In 2006, Karate was released on indefinite bail. While ordering his release, the Terrorist and Disruption Activities (Prevention Act), or TADA, Judge ND Wani remarked, "The court is aware of the fact that the allegations against the accused are of [a] serious nature and carry a punishment of death sentence or life imprisonment but the fact is that the prosecution has shown total disinterest in arguing the case."
After he was released, Karate was accorded a hero's welcome in Srinagar.
Karate is currently in jail in connection with a terror funding case being investigated by the National Investigation Agency (NIA). But there is not even a feeble attempt so far to try him for the killings of Pandits. In an interview to TV journalist Manoj Raghuvanshi in June 1990, Karate confessed to killing about 20 people, most of them Pandits.
Recently, Satish Tickoo's brother moved a Srinagar court requesting a status report on all FIRs registered against Karate, including one in connection with the murder of his brother. But it is clear that unless Delhi shows interest in the case and is serious about justice for KPs, this case is hardly going to move. Once the wheels of justice turn, it will send a clear message across Kashmir. It is only then that a road, no matter how thorny, will be paved for some kind of reconciliation between the Pandits and the Muslims.
In its absence right now, even the employees who returned and left in last October and then returned again are very unsure about how long they will last. On April 11, there was some input about the movement of a few armed militants near one of their camps in South Kashmir. It prompted a young KP I know to send me a message with his complete address: "Please save this address for any emergency in future."
A day later, a letter purportedly written by a terrorist organisation, "Lashkar-e-Islam", surfaced in Kashmir. It was sent to the president of a camp in Baramulla where Pandit government employees live. It says: "Neither Modi nor Shah or any other person in India can save you… Every Kashmiri Pandit will die. Kashmir is only for those who accept and follow Allah and his Prophet."
The film has come and gone. But for the Pandits, any semblance of normal life in Kashmir remains a distant dream.