BRITISH MOUNTAINEER Frank Smythe, who in the 1930s made Bhyundar Valley in Garhwal, Uttarakhand famous as the Valley of Flowers, with his book taking that epithet as its title, had said, "there is something about the Himalayas not possessed by the Alps, something unseen and unknown, a charm that pervades every hour spent among them, a mystery intriguing and disturbing." But Smythe, who eulogised the happiness he got from the "simple living" in Garhwal, may not have imagined that someday a quest for wellness would lead people into the solace of luxurious retreats in the mountains he scaled. For him, happiness was best achieved by adapting to "the standards of our environment". About six decades later, a man, in his late forties, walked through the Tehri Garhwal ranges, exploring the possibility of setting up a highend wellness destination. When he visited the palace of the maharaja of Narendra Nagar, about 3,500 feet above sea level, overlooking the Ganga in Rishikesh against the backdrop of the Shivalik range, it was raining and foggy. "My father, who knew the maharaja, had suggested I take a look at the place. I really liked it. It had the right environment, energies and temperatures through the year. There was the Ganga which itself has healing properties, but more than that it was the Himalayas that drew me to the place. After all, it's in the Himalayas that Ayurveda is said to have originated," says Ashok Khanna. That would lead to the founding of Ananda Spa.
The palace was built in the early 20th century by Maharaja Narendra Shah when he shifted his capital from Tehri to a new town, Narendra Nagar, named after him. The maharaja, a devotee of Ma Anandamayi, wanted the spiritual and yoga guru to stay there whenever she visited, but she refused to be put up in luxury. The royal family then got a humble kutiya (hut) built for her right on the deck of the palace, where she would often come and stay, shuttling between her ashram in Haridwar and Narendra Nagar. It was after her that Khanna decided to name his spa Ananda. The hut is still there, maintained as a museum, and on that deck the spa guests are not allowed to eat or drink, as a mark of respect to her.
FOR KHANNA TO build Ananda, India's first highend wellness destination, the maharaja relocated a small village called Udan Thaali, named after the strong winds there and its saucer-like shape. The guest area is located there, away from the palace, which has only the viceregal suite for guests, one of the oldest handmade billiard tables and a library with books collected by the royal family. "When we opened Ananda in 2000, we had around 20 priests chanting round-the-clock without food for four days. That was a magical moment for me," says Khanna, who wanted to zero in on an Indian wellness philosophy.
The idea of a luxurious wellness destination struck him in the 1980s, when he was working with Oberoi hotels following his return from the US, where he did his graduation in hotel administration. Familiar with the hospitality business, he knew from his research that Indian and Chinese concepts of wellness were most popular. He visited the American fat farms, where people went to lose weight through special low-calorie diets, but realised that it was not a sustainable diet regime. Sitting in his Delhi office, with black and white photographs of Ananda on the wall, Khanna recalls the spate of challenges he faced after the spa was launched. At that time most of its clients were foreigners. There were no direct flights, the drive from Delhi took seven to eight hours and railway stations were in bad shape. After the 9/11 terror strike in the US in 2001, foreigners almost stopped travelling. By the time that fear died down, the news of the Gujarat riots had travelled across the world. Then followed the Surat plague of 2003, instability in West Asia, the Gujarat earthquake—all deterring travellers to India. "Till 2006, it was tough for us because of all this, but thereafter our team did a good job of promotions, which led to more and more people visiting us."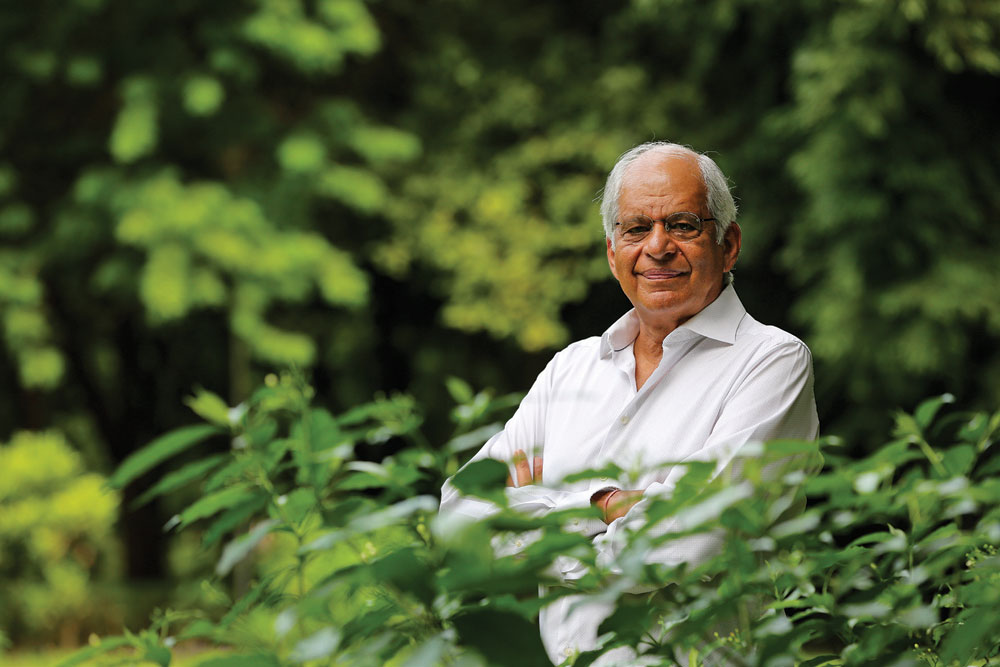 The next turning point was the Covid-19 pandemic that brought the entire world to a halt. But, says Khanna, it also taught the world the importance of wellness. "Covid brought everyone's mind to focus on wellness, yoga, Ayurveda and health. Now people are more aware of personal wellness. They need to take time off to bond with nature. Remote working has come of age and this is all helping wellness and destination spas. We also have evolved quite a bit." Like the rest of the world, Ananda moved its yoga and wellness classes online. During the months-long lockdown in the first wave, the spa did maintenance work, but ever since it has seen demand for rooms go up. It launched a 10-21-day wellness programme, customised for each client, for post-Covid complications, particularly concerning hair, skin, blood glucose, anxiety and stress. A safe bubble was created, with the staff staying back for long durations in rotation, ensuring Covid-appropriate behaviour and compulsory RT-PCR test for anyone entering the complex, including those fully vaccinated. This regimen has continued.
"When we opened Ananda in 2000, we had around 20 priests chanting round-the-clock without food for four days. That was a magical moment for me," says Ashok Khanna, founder, Ananda
Spread over 100 acres, nestled in thick forests predominantly of sal trees, with the Rishikesh Valley on one side and the Dehradun Valley on the other, the spa has integrated naturopathy, Ayurveda, yoga, hydrotherapy, meditation, stone therapy and physiotherapy in its customised wellness programme. Guests wear white cotton kurtas and pyjamas given by the resort, which has pathways that cut through trees, bamboos, flowers and ferns. Only the flute playing in the diwan-e-khas of the palace and the waterfalls along the stairs leading to the villas and guest rooms break the silence as you move from the palatial grandeur of yesteryear towards the modern architectural design of large glass walls and state-of-the-art comfort.
At the restaurant for in-house guests, you get four menus: an à la carte with Indian and continental cuisines; and three Ayurvedic tridoshas—pitta, kapha and vatta—each with salad, lentils, nuts, and a sugar-free coconut and tapioca pudding. As a vegan pizza with no cheese lands on the table, executive chef Diwakar explains there is no common menu: "The concept is food as per your body type. On a particular day if there are 50 guests I might end up making 40 different dishes." The spa's No Bake Brownie is made with nuts, seeds, apricots and prunes with no sugar while the muffin in the Egg Benedict is made with moong dal (green gram pulse) topped with salmon and poached egg as layers of protein.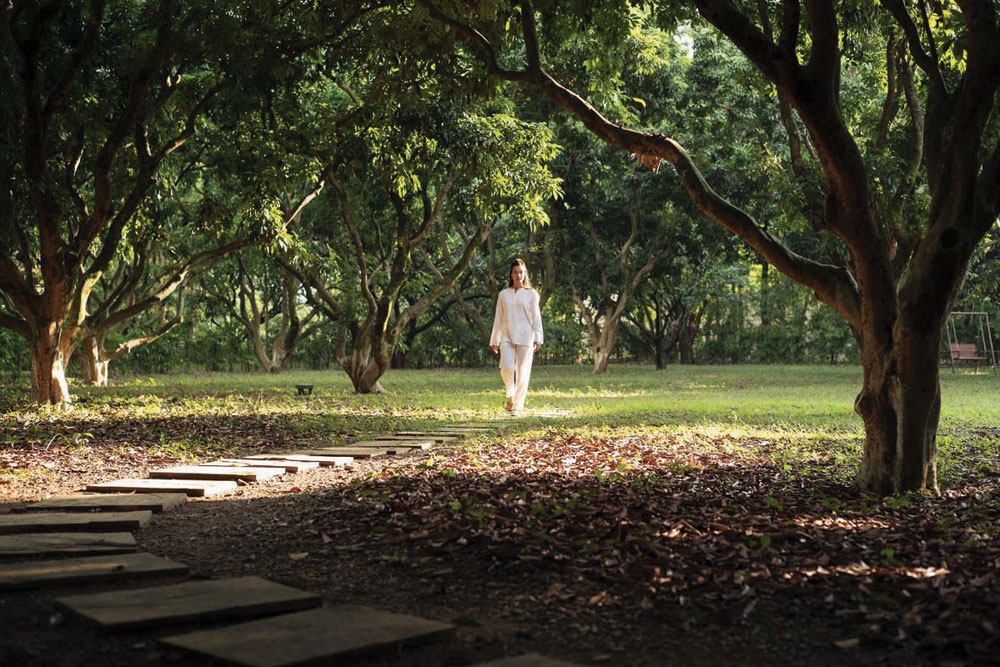 Each guest on the wellness programme is advised by a team of three experts. An Ayurvedic doctor identifies the dominant dosha, which determines a person's physiological constitution, and accordingly the treatment, therapies and menu are prescribed. "Generally we try to assess their progress after they leave with a post-departure menu, recommend therapies, etcetera, to attain their health goal. Every 20 days we make a Zoom call and make suggestions according to their progress," says Naresh Perumbudarai, the Ayurvedic physician at Ananda.
A room for two, depending on the view from the balcony separated by a glass wall, starts from ₹ 26,500 a night and goes up to ₹ 55,000 a night if it includes treatments under the wellness programme and all meals. For a two-room villa, the price goes up to ₹ 2.5 lakh a night for guests on the wellness programme. "What we offer comes at a price. It's a singular experience for each guest here," says Anikhet Sarkar, general manager, Ananda.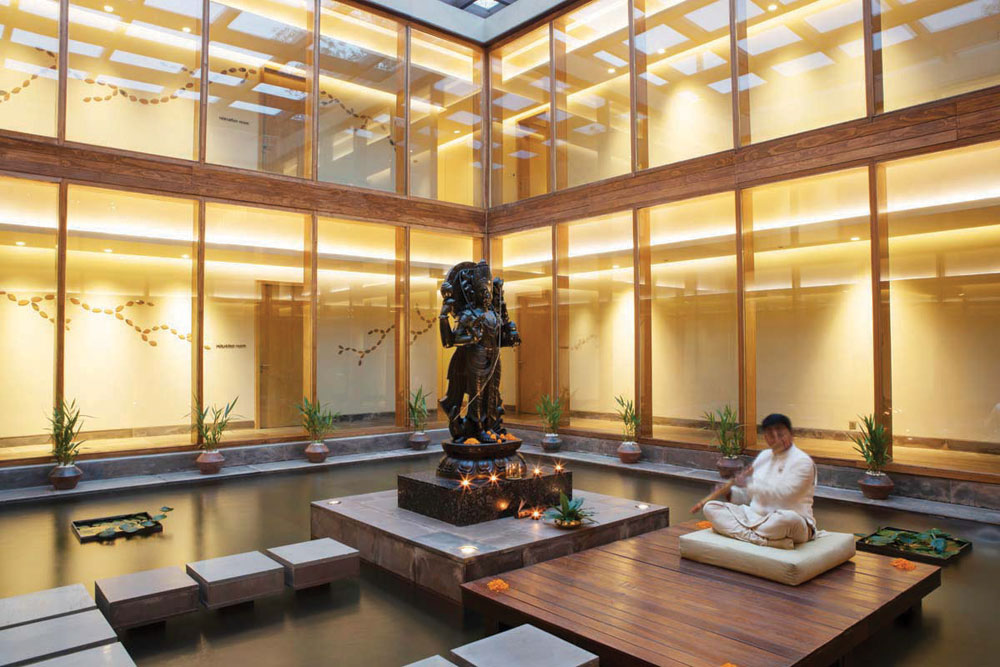 Did Ananda consider making it accessible to a larger market? "The aim is to make the Indian sciences more accessible to a global audience. That means leveraging our expertise in many different ways which also includes global expansion of brand Ananda. We are also looking at creating new opportunities which target different segments of the market," says Aashica Khanna, senior vice president, Ananda.
Ankur Verma, the head of the spa division, who has been working at Ananda for the past two decades, says when the spa started, the concept was new to India and it was mostly foreigners who visited, but slowly as Indians became more conscious of wellness, the domestic clientele went up.
"After Covid, the interest in yoga, which had already gone up after Prime Minister Narendra Modi and Baba Ramdev popularised it, increased further. We hold personalised sessions for yoga and meditation. Unlike other therapies, you carry the knowledge of yoga with you when you leave the place," says Sandeep Aggarwal, the head of yoga and who follows the Bihar school of meditation.
With its Buddha and Ganesha sculptures, the chakra paintings, aromatic candles, the aroma of Ayurvedic oils, Kerala floor lamps, marigold and rose petals, floating diyas, a golf court designed by Ranjit Nanda, a modern gymnasium, the 25 therapy rooms and a private helipad for chartered flights, Ananda seems to have set the trend for highend luxury wellness retreats in the Himalayas, where mendicants once meditated in caves in freezing temperatures. As a mountaineer, Smythe had his own concept of comfort. "By standards of the West I led a life of discomfort, and I frankly admit that I should not be content to lead such a life in England, for it is necessary to conform to the standards of one's environment. A large majority of people do not realise how necessary it is to conform to these standards and for this reason look aghast on the "discomforts" endured by explorers. Genuine discomforts of fatigue, heat and cold are common enough in mountaineering and exploration, but the largest part of so-called "discomfort" is not discomfort at all except when measured against a different standard and a different environment. To my mind, the acme of mental and spiritual discomfort would be to live in some super-luxury hotel in the Valley of Flowers," he wrote.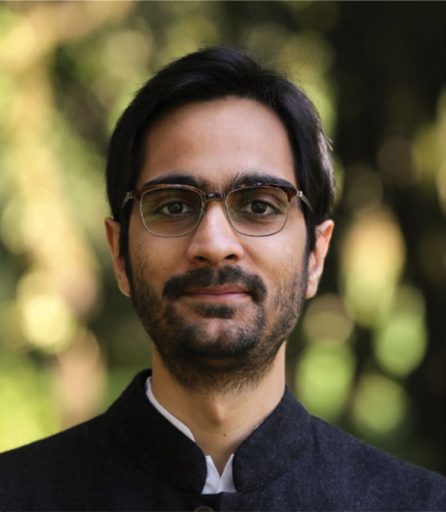 Fourteen years after Ananda opened its doors, Vana, a highend wellness retreat near Dehradun, came up on the foothills of the Himalayas, near sal forests just off the city of Dehradun, overlooking the hills of Mussoorie. Founder Veer Singh, the son of Max India Group Founder Chairman Analjit Singh, was in his twenties when he conceptualised Vana. "He wanted it to be a 'retreat' where natural, gentle, traditional, functional, non-invasive, holistic healing progresses and focuses on enhancing wellness at all of the essential five levels of existence: physical, mental and emotional, spiritual, social and environmental," says Executive Director Jaspreet Sing.
Veer Singh wanted Vana to be a 'retreat' where natural, gentle, traditional, functional, non-invasive, holistic healing progresses and focuses on enhancing wellness at all of the essential five levels of existence: physical, mental and emotional, spiritual, social and environmental
BUILT IN CONTEMPORARY architectural style and aesthetics, using natural material and soft neutral tones, Vana was designed by Esteva i Esteva Arquitectura, a boutique design studio from the Balearic Islands in Spain. Besides Ayurveda and yoga, Vana offers Sowa-Rigpa, an ancient Tibetan system of medicine also called Amchi. Like Ananda, Vana too features a personalised wellness programme. However, at Vana, the minimum stay is seven nights, the least time, according to its management, required for the guest to benefit. After the first wave of the pandemic, as it witnessed a steady rise in domestic wellness seekers, Vana introduced Vana 3, a three-day wellness journey that offers an introduction to Vana or allows a guest to return for a quick recharge.
At Vana, the cost of luxury and wellness begins at ₹ 45,000 a night for a double room and goes up to ₹ 1.02 lakh. The tariff includes three meals, a retreat programme of yoga, meditation, cuisine lessons and functional fitness. "We advocate and facilitate the application of timeless sciences and art for contemporary healthy living and spiritual or self-realisation, carefully integrating the therapies as per observations of the wellness consultant," says Sing.
In the neighbouring state of Himachal Pradesh, at Mashobra near Shimla, the Oberoi Group's Wildflower Hall, a five-star hotel at an elevation of 8,250 feet above sea level, offers Ayurvedic, Asian and Western treatments, besides aromatherapy, yoga and meditation. Facing the snowcapped Himalayas and with a forest on one side, this pre-Independence-era resort, which was once the residence of Lord Kitchener, commander in chief of the British army, was designed as a grander version of the original Wildflower Hall that was gutted in a fire. It was after the fire in 1993 that Oberoi took it over from the Himachal Pradesh Tourism Development Corporation and began construction in 1995, retaining the ambience of the past and adding recreational facilities. During the second wave of the pandemic, some guests are reported to have stayed at the resort for two-three months at a stretch.
While most leading hotel chains have capitalised on the Himalayas to offer five-star luxury, entrepreneurs are now blending luxury with wellness. Call it self-indulgence or the quest for catharsis, such highend destinations are set to boom with an expanding market that seeks to go deeper into the science and intricacies of wellness.