IT IS ABOUT TWO IN THE afternoon and a stillness has filled the air. The noisy streets of Imphal have long gone by, so have the grim faces that line the bazaars on the edges of Manipur's Bishnupur and Churachandpur districts. We are travelling in a convoy of five vehicles, led by one with three frightening men carrying au­tomatic weapons who, we are told, are here for our protection, and followed by an ambulance. "Do not worry, it is standard practice," a man ac­companying us in our vehicle tells us, when asked about the ambulance. "Nothing happens most times." And then he laughs, as if he doesn't believe his own words.
On foot now, crossing large pineapple farms on hills, walking deep inside a jungle adjacent to a small Kuki village. The air is filled with the sug­ary sweet smell of ripe pineapples, and the only sound one can hear for miles is the squelch our boots make on the slushy earth. Suddenly, not too far away, a loud sound shatters the peace, almost like an explosion. "What was that?" I ask. "It is a bomb," one of the men carrying automatic rifles says matter-of-factly and leads us on.
We reach a two-storey building of what was once a government office. The doors and windows have been ripped out. Inside, when your eyes set­tle in the darkness, you notice how everything has been burnt. But when you look closely, you see the remains of a well-equipped office—a burnt frame of a TV set, little bits and pieces of computer motherboards and screens, fans, a remote control, even the charred remains of someone's ID card. Upstairs, in two rooms, men sleep on the floor on thin mattresses, their rifles resting on walls like hockey sticks in a school sports room. In one dark and damp corner, mushrooms are being grown in hundreds of polythene packets. At the windows, rudimentary cannons made of pipes and bamboos have been set up; and in the bushes outside, hidden tripwires that can make these cannons fire. "If this post were to be overrun by Meitei fighters," one of the Kuki fighters lodged there tells us, "we could climb down the thick ropes that hang from the terrace, and activating the tripwires, use the cannons one last time."
We climb this decrepit building, feeling our way in the dark­ness, until we reach the terrace where a group of armed men is standing guard behind sandbags, sharing a pair of binoculars. All around are the telltale signs of a hotly contested post—the walls filled with holes left by bullets.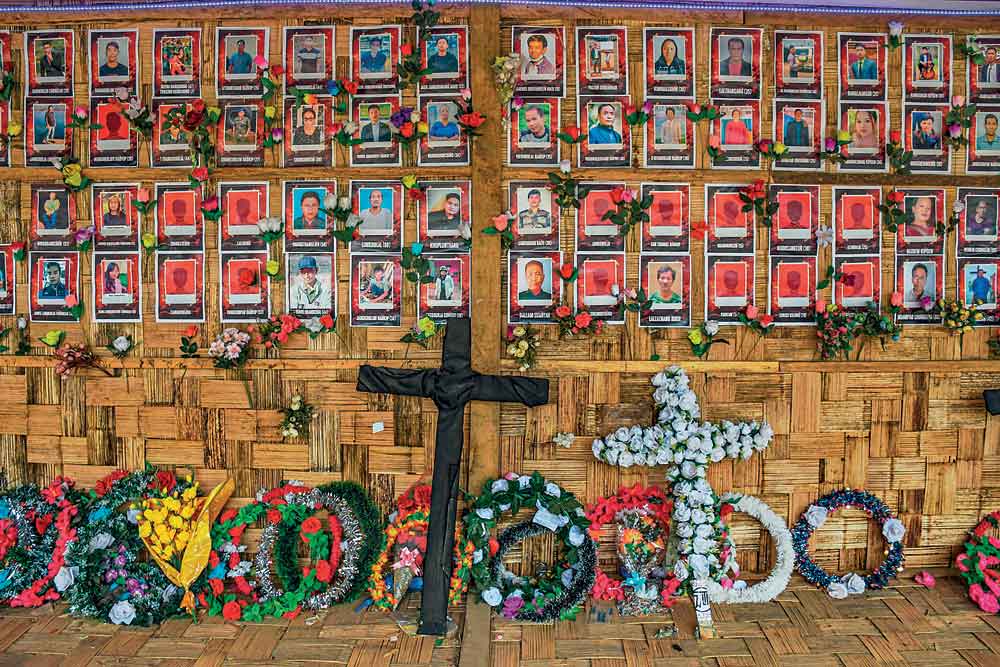 We had been on the hills of Churachandpur for hours now, driving deeper and deeper into the jungle. But up here on the terrace of this hollowed-out building, looking through a pair of binoculars across a wide swathe of paddy fields, I realise we have really been travelling on one side of the hill, moving to points from which you get an unhindered view of the neighbouring district of Bishnupur where Meiteis live, and from which, the Kuki fighters on the terrace say, their counterparts have been firing at them. The distance separating the two sets of fighters is barely 2km, and a decent sprinter could—if he were mad enough to do so—run across this distance in a few minutes.
One of the men controlling the post picks out spots in the dis­tance. "There is a Meitei barrack there, another one there, and there. And there, look there," he says, "one sniper sits there." He then points out a few posts belonging to the Army, located in the paddy fields, posts that lie between those belonging to Meitei and Kuki fighters.
"What do they do when you guys start exchanging fire?" I ask
"They just push themselves down into their bunkers and let us fight," he says. "The Army's job here is just to maintain this buffer zone. They won't interfere unless someone tries to cross the fields on foot."
MORE THAN THREE months since fighting first broke out between Meiteis and Kukis in Manipur, a truce appears nowhere near the horizon. The most common refrain, on both sides of what is effectively a border today, is that anything can happen anytime. You can feel a kind of detente has settled in, especially when travelling in the capi­tal of Imphal, but it is one that has been built by the absence of violence rather than the presence of peace. At the edges of this unofficial border, however, exchanges of fire between rival camps continue unabated. Executions and deaths still occur, such as the time about a week ago when a number of suspected Kuki men entered a border village, Kwakta, whose majority comprise the neutral Muslim community of Meitei Pangals, and killed three Meitei men. Later that morning, bodies of two Kuki men, possi­bly killed in the firing between the groups, were recovered from the Kuki-dominated district of Churachandpur. There is also the spectre of violence spiralling out of control, as it nearly occurred a little over a week ago when large numbers, believed to be carrying arms, mobilised on both sides of the border. The provocation was the decision by members of the Kuki community to carry out a mass burial for their dead in Torbung, a border village where the first acts of violence between the two communities are believed to have broken out on May 3. The tension was defused only when the Kukis were convinced to delay the date of the burial.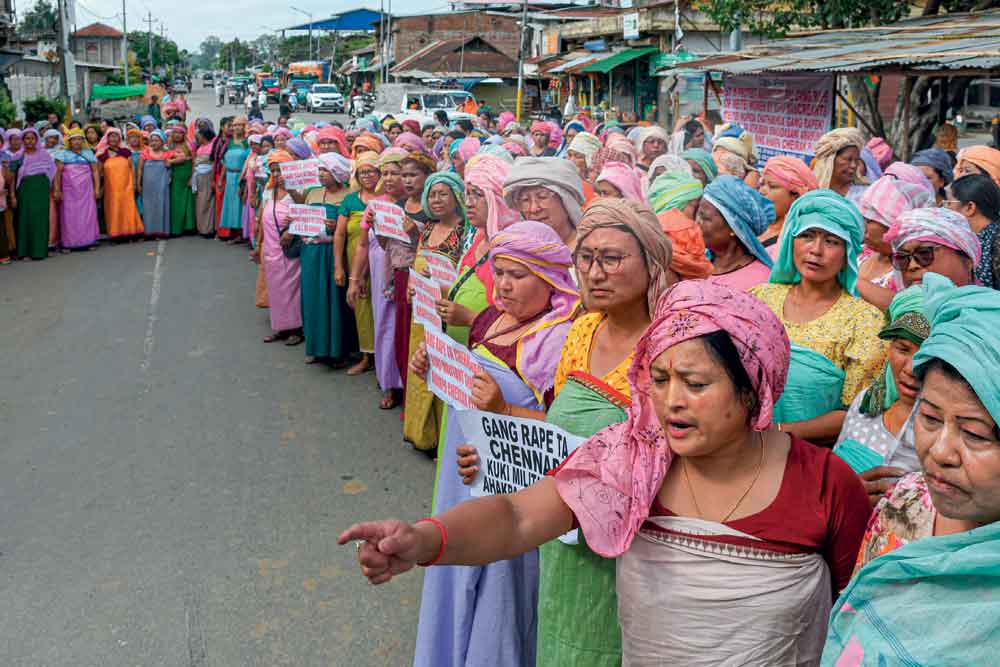 Suspicions run deep. Aadhaar cards are routinely inspected by volunteers of both communities, last names and places of birth asked, the interlocutors often straining their ears to catch accents that might give away if someone hails from the rival community. The Meira Paibis—literally, women torchbearers, on account of the torches that bands of Meitei women carry during their protests, whom Lt Colonel Henry St Patrick Maxwell, Manipur's British Resi­dent in the early 1900s, likened to a "mob of wild cats" when they surrounded him in a protest, and whose members created headlines when they disrobed themselves in protest against Assam Rifles in 2004—have today become something of a vigilante mob. They picket the roads leading to the Kuki district of Churachandpur, check the contents of vehicles moving to and fro, often stopping essentials from reaching the other side, and sometimes even stop­ping Army vehicles from travelling through. "They create a very tough situation," a senior police official said. "We are often called to help with the situation, but they just refuse."
Imphal, one of the most economically vibrant cities in the North­east, wears a grim look. Many businesses have shut, and hotels are running empty. According to one shopkeeper who runs an apparel store consisting mostly of goods that make their way from Thai­land and Myanmar via areas controlled by Kukis, very few goods now reach shopkeepers like him. The condition on the other side is even worse. Since areas like Churachandpur are reliant on Imphal for their essentials, with an informal blockade now in force, the prices of most commodities have risen sharply. Churachandpur now relies on the next closest city—Aizawl in Mizoram—which takes about 13 hours by road, for everything, from essentials like groceries to the use of its airport to fly out into other regions of India. "All the big hospitals are in Imphal. But since we can't travel there, we have requested a chopper service to take our sick to Aizawl in­stead," says Ginza Vualzong, the spokesperson of the Indigenous Tribal Leaders' Forum (ITLF), an umbrella body of tribal groups representing Kuki interests.
According to the police, over 6,500 FIRs had been lodged since the start of the skirmish till July 30, a vast majority of these being cases of arson and looting, but also many cases of murder and sexual violence. According to reports, at least 181 had been killed till July-end, 113 of them Kukis, and the remaining 62 Meiteis.
Signs of this violence are everywhere. Imphal and Churachan­dpur town are littered with torched homes and shops. At relief camps, now spilling with thousands, their occupants narrate dread­ful stories of violence. One of them is Asha Leima, whose husband Yumnam Premkumar, his father Yumnam Pishak, and neighbour Yumnam Jiten were found murdered in their homes in Kwakta a little over a week ago. Leima sits on a thin mattress, in a corner of this relief camp not far from the village where her husband was killed. The whole camp has been divided into tiny rooms using saris and curtains as partitions. In the common spaces, children of different ages are reciting from a book, an adult monitoring their progress. Inside her partitioned space, Leima is inconsolable. "Our neighbour (Jiten) was at least shot to death. My husband (and his father) was killed more mercilessly," she says. The two were hacked. Leima was recovering from an infection at a hospital when her husband and his father, who had been living in a relief camp, decided to return to their village. "They thought it was safe," she says. "When I heard the news, I just collapsed. It's been more than a week, but I still keep thinking about what they did to my husband," she says.
In several of these overcrowded camps, many of the survivors are suffering from another ailment—depression. "It really is the unacknowledged raging affliction connecting these camps," says Radhika Murugesan, a Chennai-based psychiatrist who, as part of a visiting team of doctors and volunteers, has been touring relief camps across both communities. "You see all the classic cases of PTSD (post-traumatic stress disorder) and depression. People are scarred; they are unable to sleep or eat, are losing weight." Accord­ing to her, while relief camps in the Imphal Valley have access to some healthcare since some large hospitals are present here, the relief camps in Kuki areas are poorly equipped. "There are people with diabetes and hypertension or people infected with diseases like Hepatitis B, all of which require medicines, but they have no access to these," she says. In one camp, Murugesan says, she encountered a 14-year-old girl who appeared to have acute psychosis. "She keeps hearing voices, like telling her to leave the camp or she will be killed," Murugesan says. In other camps, she encountered a woman in her thirties who has just had a miscar­riage and is now in depression, a six-year-old who also seemed depressed, and even a two-and-a-half-year-old who has been having panic attacks. "I've prescribed anti-depressants to many, and trained the nurses on how to deal with these patients," she says. "But as a doctor, it just makes you feel very helpless."

In some cases, the lack of closure stems from not knowing what has happened to their loved ones. According to a status report filed by the Manipur government in the Supreme Court on July 9, 17 people are officially 'missing' since the violence began. One of these is Luwangbi Linthoingambi Hijam, a 17-year-old Meitei girl from Imphal, who was last seen on a bike with her friend Phijam Hemanjit, also missing, on July 6, heading towards Moirang, a pic­turesque area close to the Kuki-controlled region of Churachand­pur. Hijam, who was preparing for her NEET exams at a coaching centre, is believed to have been in a relationship with Hemanjit. According to the police, the two probably strayed into Churachan­dpur where they were killed, but the families of the two hold on to the belief that they might be hiding somewhere. Kulajit, Hijam's father, has spent the last month trying to find his daughter's where­abouts, meeting the state's chief minister and governor, police chief and various other authorities. At his home today, where he has dedi­cated an under-construction section for organising protests for his daughter, Kulajit keeps bringing various things of his daughter—a piece of embroidery she made for him last year on Father's Day, her sketches, which he has now laminated. At one point he brings out a computer with a short video made by him about her disappear­ance, but upon realising it is in the Meitei language which we can't understand, he laughs as though to make light of his predicament.
"I usually went to pick her up once her coaching ended at 8.15AM, but that morning she was supposed to come back on her own," he says. According to the police, the last location of their phones points to areas very close to Churachandpur. "We keep going to the police, but they say they are helpless. That if they step into Churachandpur, a war will break out," Kulajit says. "I feel maybe I can sneak in, but my family won't allow me. They say they can't lose me too."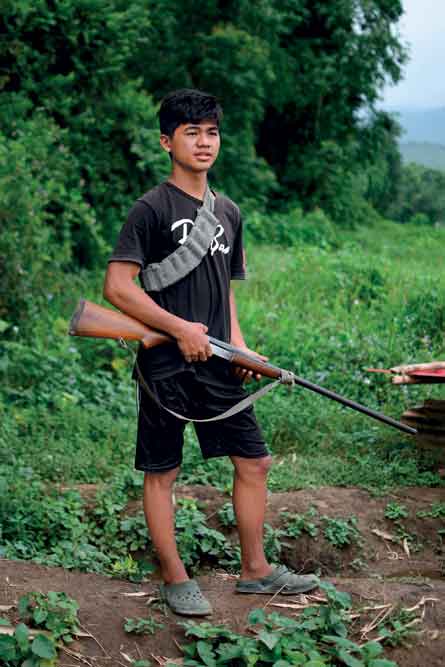 IF THERE IS anything the two communities agree on, it is that the order by the high court recommending Scheduled Tribe (ST) status for Meiteis is not the reason behind the con­flagration. Meiteis claim that there is a vast influx of Chins from Myanmar, part of the same ethnic group as Kukis, who are foment­ing the trouble; and that Kuki groups which, as the allegation goes, are involved in poppy cultivation, are using the current impasse to regain control over this trade. Chief Minister N Biren Singh, they say, has been trying to destroy this trade. The Kukis however claim these are just narratives being built to demonise the community. According to them, Singh has been antagonising the Kuki com­munity for some time to increase his popularity among Meiteis. These include, according to ITLF's Vualzong, several decisions, such as the proposal last year to declare some regions like Churachand­pur-Khoupum a protected forest, where several Kuki villages are located; or the eviction drive carried out at another Kuki village, K Songjang, earlier this year. "These are known to be tribal villages. But the government has been trying to get Kukis out by trying to change the status of these areas as reserved and protected forests, wildlife sanctuaries and national parks," he says.
The presence of a lucrative poppy cultivation industry, where the crop is then trucked off to Myanmar across the border to be manufactured into heroin, is an open secret, and according to re­ports, one where various ethnic and militant groups are involved. Author Sudeep Chakravarti, in his book The Eastern Gate (2022), mentions the presence of at least a "dozen rebel groups of all ethnic persuasions such as Naga, Meitei, Kuki and Zomi, active in Manipur; and that of the political, bureaucratic and security establishments." He writes: "All feed off the narco-economy. All want to control it. All find some accommodations, find a level".
Kangvai Bazar is a stretch of road of about 2km that runs from Imphal Valley into the Kuki-controlled hills of Churachandpur. This former market town now serves as an unofficial border be­tween these two regions. Moving through it today, one can see only destruction all around. Homes and shops have been flattened and torched; charred remains of vehicles are everywhere. It is like cross­ing the site of a natural disaster. The bazaar is entirely empty, except for the vast number of troops who now occupy this ghost town. The distance of this stretch of road might measure just a couple of kilometres, but there are at least 15 checkposts, each manned by heavily armed men. We step out again and again, to show our credentials and provide our reasons, the Army constantly check­ing to see if our driver, a member of the Meitei Pangal, a Muslim group that has remained neutral in this conflict, is indeed from that community. The Meitei Pangals are probably the only group in the state that can travel between these two regions today unharmed.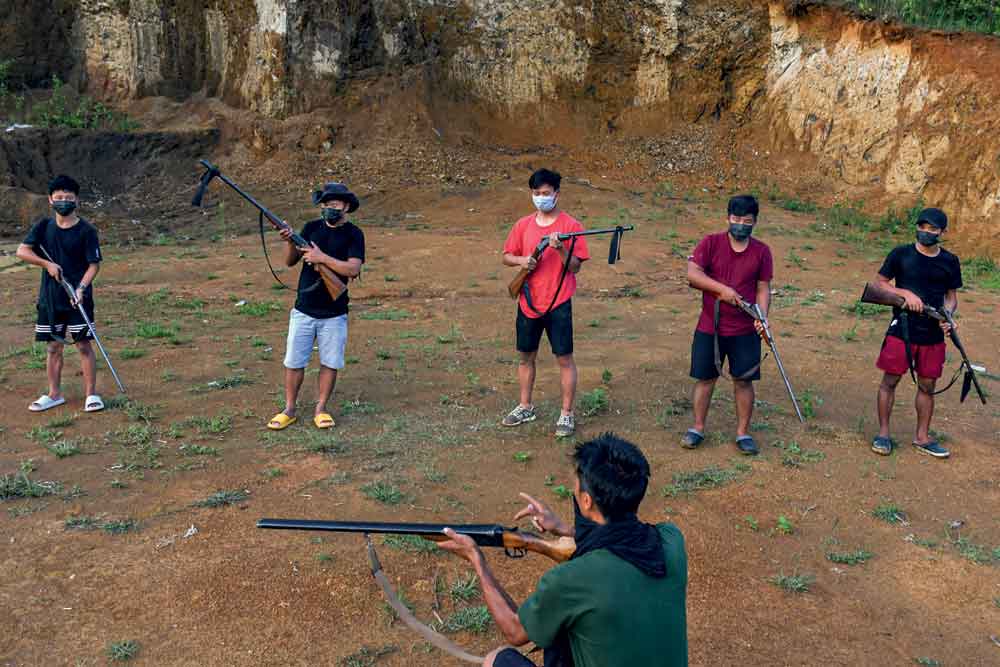 In Churachandpur, an eerie calm reigns over the place today. Vigils appear to be taking place at multiple spots. Shopfronts bear the mark 'tribal', a sign their owners probably put to ensure their establishments were not mistaken for Meitei properties and van­dalised. All signage has the district's name Churachandpur (named after an old Meitei king) blacked out and replaced by 'Lamka', the Kuki word for 'a junction'. And all the way to the town, at every few metres, women sit on small stools, their tables not bearing the usual items of sale on roads, such as cigarettes or refreshment, but plastic bottles filled with petrol. Since filling stations across the district are running dry and nothing is being allowed to be transported from Imphal, a resident explains, these supplies are being brought from Mizoram and sold at a profit.
Churachandpur and parts of the valley leading to this district are also filled with the national flag. There are probably more Indian flags here per square kilometre than at any other place in the country right now. It is as though to inform any passing individual that the fight here is between two communities, not against the Indian state.
At Churachandpur, I haven't stepped out of the vehicle for five minutes when I feel a forceful tap on my shoulder. A stern man in dark shades and a large hat wants to see my identity card. What he really wants to know is whether I am Meitei, someone having phoned him, he explains later, about a Meitei in town.
It is about one in the afternoon at the remote Kuki village of Khousabung, and a bedraggled man in shorts is leading a prayer. A little distance away, amid stacks of tinned food, bottled water, and various items like packets of cigarettes and gutka, a group of young volunteers who have offloaded these from a truck, are tittering in one corner around a walkie talkie. An animated dis­cussion, filled with cuss words, it appears, is emerging from it. A Kuki fighter and his Meitei counterpart have tuned their radio sets to the same frequency and are having a go at each other. "It is always like this, they will keep challenging each other to come and fight," one of the volunteers says. "And sometimes it will go on like this through the whole night."
We have tagged along with a group from a nearby state that has raised money for the Kuki cause and is now travelling with provisions to the Kuki fighters. And for much of the day, trav­elling with armed escorts, as we move from one drop point to another, some of them large villages but many just a clutch of few homes and primary schools, we get a view of the Kuki frontline. Some of these spaces serve as a mess, with the women serving as cooks. At some posts, armed men just sit smoking cigarettes with a flask of tea. And at several places, grateful villagers serve us pineapples and bananas as refreshment, and at one stop even load the truck with pineapples in gratitude.
"Do you know Mary Kom?" a man is asking me by way of small talk. And then pointing to a clutch of homes nearby, he says, "That's her village (Kangathei), that's where she was born."
We had moved from Khousabung village to a bunker built in the backyard of a wooden house a few kilometres away, where this man who had identified himself as the person in charge of the Khousabung Area Defence Committee (KADC) is describing how he runs the defence of nine villages. He has 14 posts under him, he says, each manned by five individuals on rotation.
Away from the escorts accompanying us, he reveals that he is a serving commando in the Manipur state police force. Wouldn't you get in trouble for participating in this clash? I ask. "No," he says. "My immediate boss is a Kuki. So that is okay. Besides, on the other side, even the Meiteis in the police force have joined the fight." Like many other things in Manipur, the police too appear to have fractured along ethnic lines. Later, in the government building that has been converted into a Kuki post, those stationed there reveal that of the 15 defending that post, four belong to Manipur Police.
"Our fighters are very motivated," the person in charge of the KADC is telling me. "But many of them are really kids and farm­ers. They need people like us who have some experience."
Many of the fighters in this clash really are kids or people with no fighting experience. Through our journey, we meet villagers, farm­ers, teachers, college students, and sometimes even school students.
The bunker located in the field is being defended by three individuals today, one of whom is a Class 10 student and just 16 years old called Paominsei Haokip. He carries the rifle with some effort, and wears a belt with large bullets like a figure from an old dacoit film. Accompanying him is his father, a 45-year-old; and another local, a 22-year-old who teaches at a nearby school while pursuing a college degree. "My career is over. I don't think there is any going back to how it used to be," the 22-year-old keeps saying over and over again. At the post built in the government building, I find a man who tells me he ran a couple of salons in Bengaluru with his wife for several years before the pandemic forced him to close his business and move back to his village. "Now that feels like another life," he says.
It is evening now and we are moving through another village where, amidst many children, some as small as three, two men are showing how they have refashioned tear gas shells into bombs. As the others begin to walk farther up to some houses on a hill, two of the men carrying automatic rifles who had been silent for most of our trip accompany us to our vehicle. Walking with them, I realise that these two are not reticent about speaking with journalists but merely shy. One of them, who is 23 years old and was in college before fighting broke out, opens his wallet to reveal a bullet. This bullet, now misshaped, had struck him on his bulletproof vest. "For a minute, I couldn't breathe. Now I carry this as a memento," he says. These two, they reveal, with their specialised weapons and gear, operate as part of a mobile unit. Whenever a post comes under heavy attack, they are pressed into action there.
Asked about his future, the 23-year-old says that unless a sepa­rate state is granted, fighters like him probably have none. "We will probably get bumped off or spend our lives in jail," he says. "The police know who we are. Our images and videos have been captured many times by their drones." The other—a 30-year-old who describes himself as a social activist in his village—is listening carefully. On his face, among the beads of sweat, a smile appears as he speaks of how he had almost got married to his girl­friend. "In our tradition, the boy's family has to visit the girl's fam­ily three times to ask for her hand. My parents went two times. Just before the third time, the fight started," he says. "So, you can say, my girlfriend and I are waiting for this to get over soon."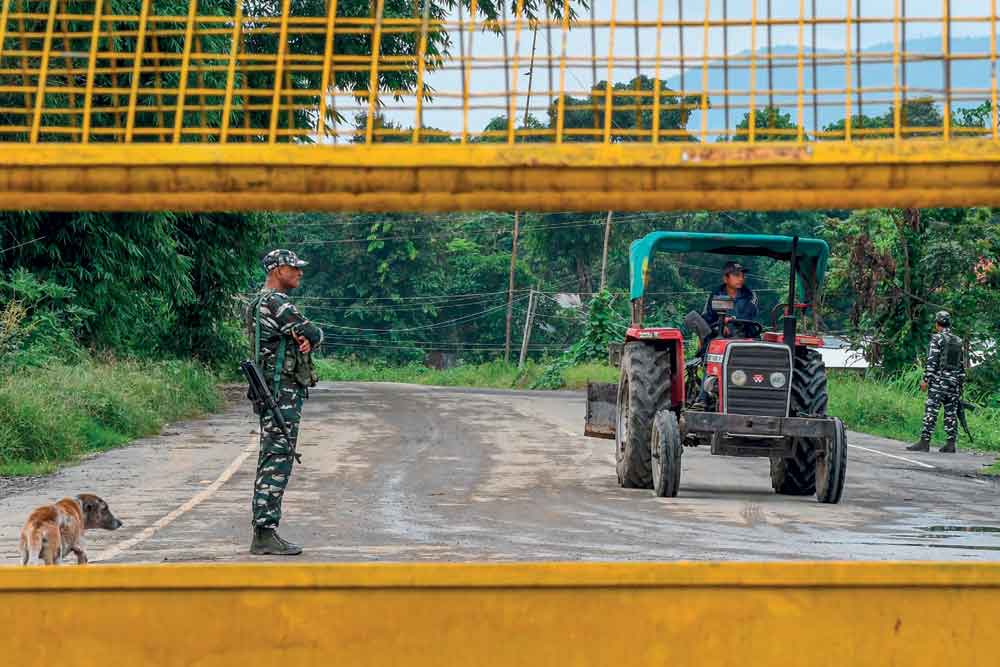 IT IS LATE one evening when we reach yet another relief camp in Imphal. Inside this camp, a two-storey youth hostel converted into a shelter, the mood feels distinctly different, even cheerful. There are children running around with toys; some watching an animation show on TV. The women residents are helping out in the kitchen, and male volunteers are working their phones, trying to get a priest to show up for a puja.
This relief camp is only for pregnant women and, according to a person in charge, probably the only one of its kind in this crisis. "Every day, one or two babies are born," says Bimol Singh, a local BJP member who is in charge of the camp. "Sometimes even twins." The camp—where currently 41 women and 44 children, including children born in the last few months, live across six dormitories— is a marked improvement from the relief camps elsewhere. The meals are more nutritious, there is nursing staff round the clock, frequent doctor visits, free medicines, an ultrasound machine with a trained technician, and a vehicle that takes residents to the hospital whenever required. Set up a few weeks after the violence broke out, Singh says, it was the BJP state president Sharda Devi who noticed the large numbers of pregnant women among survivors in the relief camps. "She being a woman, she instantly noticed the need for something like this," he says.
Warekpam Rameshwori is lying on a bed in one dorm. Over eight months pregnant, and a mother already of a six-year-old, whatever she owns seems to be lying in plastic buckets under her bed. Rameshwori was in her village in Moirang which witnessed a lot of violence when clashes first broke out. Nearly six months pregnant then, she held her daughter's hand, she says, and along with the rest of her family and villagers, walked through fields all night. "We did not even switch on the light of our mobile phones. And in the dark, we could hear all these cries and screams," she says. They moved to a Meitei stronghold from which they could see their old village. A week later she saw fire and smoke rising from her village and, a few days later, all the houses were burning.
She looks exhausted today, but says she is much better. Her child, a girl with a bright face, lingers around her mother. "It's better here. I have begun to talk again, I'm eating better. I'm even a bit excited about having another child," she says. "But then I think again, what shall we do when this is all over? What life will I give this child?"
Outside, the evening appears to be coming on so slowly that it feels like the entire day has stalled.