ZAINABA (name changed), a medical student in Mysuru, had ignored a group of curious young men watching her at a coffee shop by force of habit. She had grown used to such stares over the years. When she was leaving, two of them turned up to inquire about the name of her friend who was with her. And when the young man, her classmate, revealed his name, they demanded that he leave so that they could speak to her in "private". She was told that hanging out with a man from another religious community wasn't a "good thing". She remembers the duo going on about the need to be proud of her religious identity (which they had guessed from the hijab she was wearing). "They were polite, but the whole thing left me in a state of shock. They then disclosed that they were members of a student organisation whose name I was not much familiar with before: Campus Front of India [CFI]. If I needed any help, I could contact them. One of them passed me his name and number," Zainaba recalls. "This happened in 2018 and since then, they have become very popular among Muslim students here," adds this medical student who is now pursuing her postgraduate studies.
Another young female Muslim student from Kozhikode, in northern Kerala, says CFI workers have an air of avuncularity about them. "We are here to help you with whatever problems you face, from professors or from fellow students. You must join CFI and come for our seminars and meetings," avers this commerce student who would only disclose her first name: Ayesha. "They are good to us, and genuinely care for us. But I keep a distance from them because my parents are orthodox Muslims who have warned me against CFI and PFI," she says. PFI is short for Popular Front of India, an organisation that the National Investigation Agency (NIA) wants banned, although the Ministry of Home Affairs has not done anything about the recommendation yet.
PFI was launched in 2006 through a merger of hardline Islamic organisations, such as the National Development Front, the Karnataka Forum for Dignity and the Manitha Neethi Pasarai of Tamil Nadu. Later, organisations such as Goa's Citizen's Forum, Community Social and Educational Society of Rajasthan, Nagarik Adhikar Suraksha Samiti of West Bengal, Manipur's Lilong Social Forum and Association of Social Justice of Andhra Pradesh were brought into the fold. CFI was launched in 2009 and has seen rapid acceptance across Central universities, minority institutions and many campuses in south India. As evident from its official website, CFI is hyperactive politically, responding to each and every event that concerns not only the Muslim community but also human rights. A survey of students across universities in Delhi, Hyderabad, Tamil Nadu, Karnataka, Kerala and Andhra Pradesh brings to the fore the growing role of CFI as a cadre-based mobiliser of Muslim students. The organisation was at the forefront of the anti-CAA (Citizenship Amendment Act) and anti-NRC protests, among others, in Delhi and other cities and towns. It often picks issues and laps them up to further its political interests. In the process, it has earned notoriety, along with the parent PFI, for what federal agencies call fomenting communal hatred and anti-national activities. Both organisations had come under the radar of intelligence agencies earlier than 2014, and especially since 2012, when then Congress Prime Minister Manmohan Singh had said that the southern states had seen a spike in religious extremism. Both PFI and CFI were accused of masterminding a hate campaign that year against northeastern students who fled home from boomtowns such as Bengaluru, Pune and others in the face of online rumours of retaliation against them over attacks on Muslims in Assam. Both entities had denied any wrongdoing back then.
With the hijab row bringing CFI to the centrestage and even part of the national discourse, the question that arises is: What exactly makes CFI extremely attractive to Muslim students and youth?
A KERALA-BASED former DGP who has closely followed the growth of CFI and also its parent PFI says that Muslims disillusioned with traditional political parties, including the communists, Congress and mainstream Muslim parties, flock to these two organisations because they evoke fear and, therefore, a kind of strange respect. "You look at an institution like the University College in Thiruvananthapuram, a stronghold of the Students' Federation of India (SFI), the arm of CPM, where nobody else dares take out a procession. But a handful of CFI students organise marches and events and they are not questioned, nor do they face physical threat, unlike the others," he explains, emphasising that this trend is true of CFI across campuses in south India. "This dread that they inspire strikes a chord with Muslims who are overly insecure lately, in the current political situation," he adds.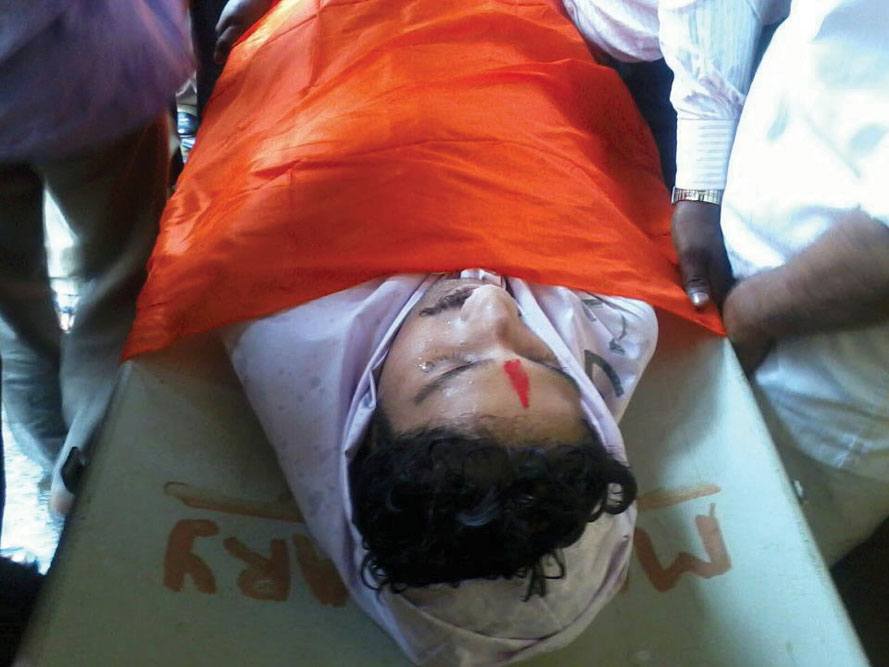 Arndt Emmerich is a postdoctoral researcher at the Max Weber Institute of Sociology, University of Heidelberg. Earlier, while he was a doctoral student at the University of Oxford, he had travelled to India and penned a stimulating book titled Islamic Movements in India: Moderation and its Discontents, which focused on PFI and its affiliates. He is of the view that CFI and its parent PFI have learnt the art of political mobilisation from multiple sources: the Dravidian movement, the communist parties as well as from SIMI (Students' Islamic Movement of India), some of whose cadres were founders of PFI. Founded in Aligarh in 1977, SIMI has been banned in India since 2001. Although backed by a section of the Islamic clergy when it was launched initially, they soon distanced themselves from SIMI which took political action to the street, and apparently professed the creation of an Islamic state in the country.
In the same year when Manmohan Singh raised the issue of south Indian states, especially Kerala, becoming a hub of Islamism, members of CFI in Kannur reportedly hacked a 21-year-old ABVP activist, Sachin Gopalan, who later succumbed to knife injuries
True, PFI, for its part, did distance itself from SIMI openly. Emmerich says in his book, "The PFI [in its erstwhile regional avatars] and SIMI coexisted for nearly ten years. During that time SIMI criticised the PFI for promoting a parliamentarian approach for social change. A SIMI supporter in his mid-forties, who worked in Saudi Arabia, expressed his disappointment with the PFI at a wedding celebration in Malappuram in December 2014. He argued that the movement represented a 'distorted legacy of SIMI' by trying to go down the 'parliamentarian route' and to 'change the system from within'. He was upset that the PFI had 'departed from Maududi's teaching and the Islamic principle of the Caliphate', which generated some bemused reactions among the other guests. Former SIMI members, who joined the PFI in the early 1990s, admitted that they learned from 'past mistakes', conceding that SIMI's approach to politics, proclaiming an Islamic state on Indian soil and threatening to kill Hindus, was not sustainable, at least in theory. A PFI student cadre in his early twenties strongly emphasised that 'we cannot support SIMI's ideology…. The propagation of temple bombings by SIMI's radical Madhya Pradesh faction has been a huge mistake.'"
Emmerich talks of new forms of collective action pioneered in free India by SIMI, making it different from most traditional Muslim organisations that focused largely on theology and looked up to Congress for political deliverance. Notes the scholar: "Why is CFI different? Because they go beyond seminars and theoretical ways. They themselves concede that they are a physical defence force [like PFI]."
That CFI, like its parent, will seek violent ways to uphold its reputation as a "saviour" of Muslims is amply clear from many incidents, says a senior Kerala police officer who has, for many years, worked in intelligence.
In the same year when Manmohan Singh raised the issue of south Indian states, especially Kerala, becoming a hub of Islamism along with the usual suspects like Jammu and Kashmir and Assam, members of CFI in Kannur reportedly hacked a 21-year-old ABVP activist, Sachin Gopalan, who later succumbed to knife injuries at a Mangaluru hospital. Similarly, there was an attempt on the life of a Sangh worker, Sushil Kumar, in north Kerala who was assaulted with a surgical knife. Although Kumar claimed that CPM was behind the attempt, police figured through modus operandi that the perpetrators could be CFI workers. Surgical knives had been used against a Muslim League worker in a previous attack. CFI, according to police and intelligence officials from Kerala and Karnataka, have a propensity for violence to prove that they matter. One of them told Open, "When it comes to protecting Muslims and symbols of their faith, CFI, like PFI, will not hesitate to make a loud statement through acts of violence. I see it as a deliberate action on its part to position itself as different from other Muslim organisations [especially the Muslim League in Kerala which is part of the Congress-led United Democratic Front] that sort of cower before dominant parties and the ruling BJP at the Centre."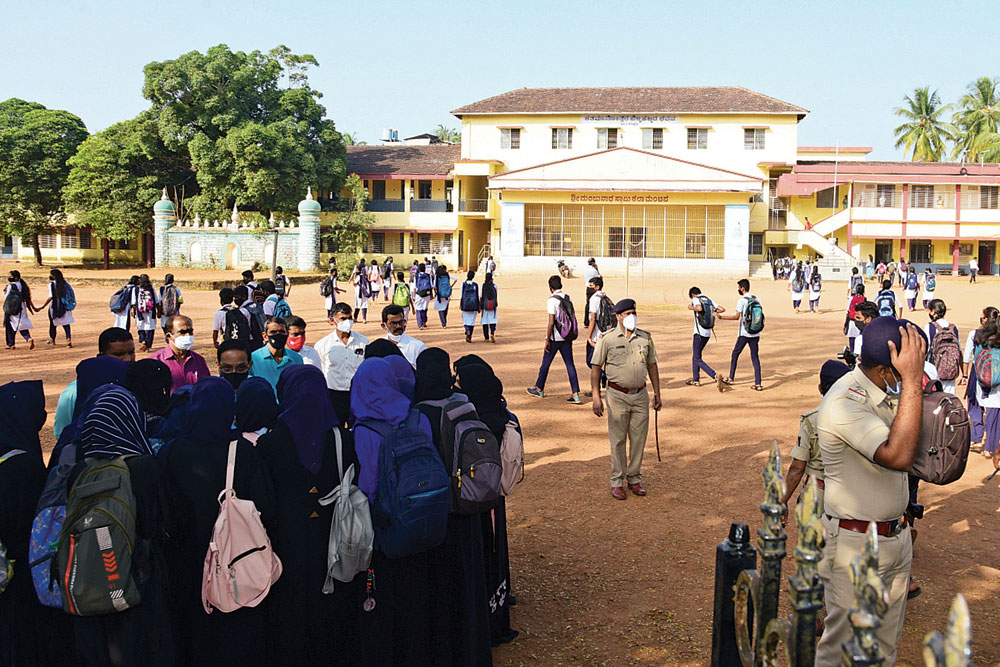 PFI had planned several such "actions" in the past, he adds, the most heinous being the chopping of the right wrist of Kerala professor TJ Joseph for placing in a Malayalam exam a controversial question seen as an insult to Prophet Muhammad. Most of the 40-plus accused in the case are either workers of PFI or its political outfit, SDPI. So far, the list of crimes attributed to PFI include possession of arms, forced conversions, love jihad, murder, kidnapping, murders, hate campaigns and rioting. PFI, which police say has organised camps to train its volunteers in the use of arms, has often claimed that it will take the legal route to get justice while accusing "fascists in power" of acting with extreme bias towards them.
Police officers say the previous avatar of the PFI in Kerala, called the National Development Front (NDF), launched in 1993 comprising "riff-raff" elements, was reckless in its action. In the mid-1990s, this writer had investigated certain secret activities of NDF that involved indoctrination of teenagers to nearly toeing the SIMI line as both co-existed. But over time, NDF veered more towards accepting the parliamentary line as they realised that they could no longer rely on Congress for meeting the aspirations of the Muslim community. "This was in the immediate aftermath of the demolition of the Babri Masjid in 1992 when in the south, the likes of Abdul Nazer Mahdani incited crowds through his fiery speeches. His activities spawned several outfits, some of which wanted to wage a war against the Indian Union. But NDF slowly transformed itself into an organisation that was designed to be there for the long haul," says a senior police officer who has investigated many criminal cases against NDF, and later, PFI.
Emmerich says in his paper titled 'Political Education and Legal Pragmatism of Muslim Organisations in India', hence, the arrival of PFI indicates more internal democratisation and political fragmentation of Muslim minority politics in India. He writes, "Like other political stakeholders that emerged in the past, including Dalit and lower caste parties in the 1980s, the new Muslim organisations and their political parties will try to win support by highlighting the difference between them and the established Muslim elite parties. That is why the PFI is more assertive than traditional Muslim elites and Islamic authorities," he prophesies. He says that the PFI organisational approach combines political education, legal assistance, court cases, and welfare initiatives. "Members were attracted to the PFI by its assertive language of institutional justice and human rights and by its style of professionalism and discipline, which is different from the culture of obedience of their parents' generation and the inward-looking and ritual-focused ulama. My findings indicate that young cadres and supporters had a heightened sense of agency and self-respect after participating in PFI-led programmes that taught Muslims about their legal rights, including the results of the Sachar Report, and political awareness, where they learned how to defend each other from police discrimination through court cases, petitions, boycotts, and public protests."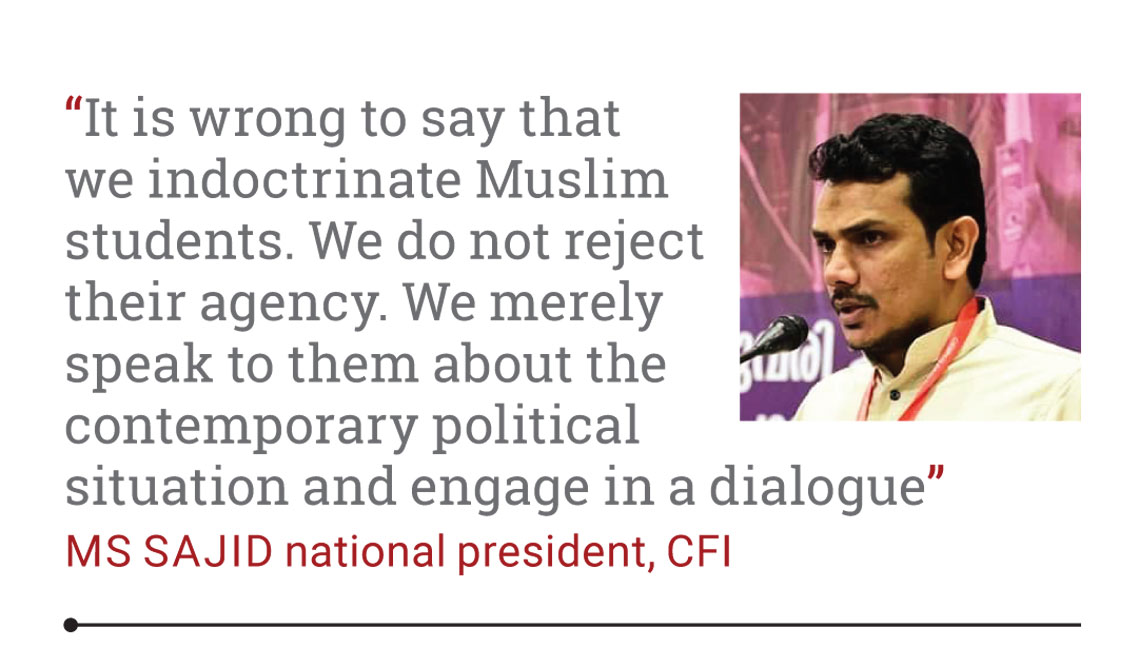 CFI, meanwhile, says Emmerich in an interview to Open, gave its cadres a sense of adventure as they travelled with other members to Muzaffarnagar and Jammu and Kashmir to help refugees and human rights groups, respectively. "They combined the sense of adventure with a religious calling. They have also instilled a political rights consciousness among Muslims. That makes the organisation religiously and politically populist," he says.
A SENIOR Bengaluru-based police officer who has probed various crimes of PFI, including murders, says that CFI has the potential to grow faster because of the rising number of Muslim students who travel across the country to get education, and their wish for organisations such as CFI and others to stand up for their rights wherever they are.
Ashwan Sadiq P, the Bengaluru-based CFI general secretary who is an engineering graduate from Mangaluru, says that his organisation represents both the students and the youth. He argues that CFI is demonised because it is in a tireless fight against "fascist right wing Hindutva forces". Using expressions such as "necropolitical machinations" and "genocidal attacks", he notes that he is least bothered about the projection of CFI as a terrorist entity because "the people know what is the truth and what our work is." "Over the past 12 years, we have intervened in most issues that trampled upon individual and collective rights of the marginalised," he says.
Like him, MS Sajid, national president of CFI, talks with a meditative calm. "It is wrong to say that we indoctrinate Muslim students. We do not reject their agency. We merely speak to them about the contemporary political situation and engage in a dialogue. By the way, it is not just the Muslims who are facing the brunt of state repression. Human rights activists and dissenters are all being victimised. We are confident of overcoming this crisis, and at the same time, we are not ready to relent in our fight against communal forces," he says, adding that the rise of CFI to prominence is thanks to a raft of reasons, including the vacuum created by the so-called secular forces who refused to take a strong stance against majoritarianism.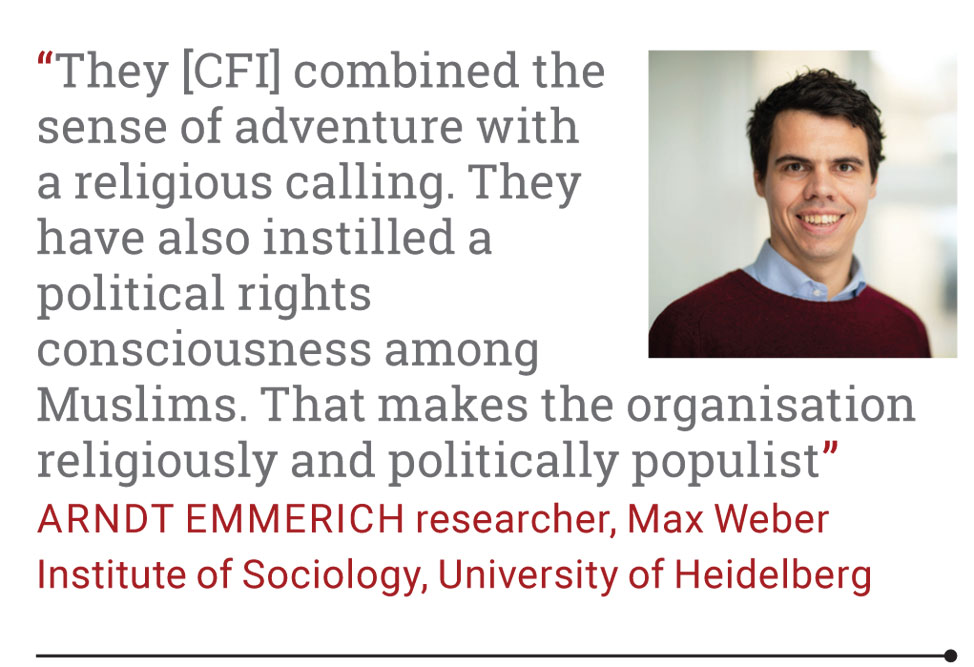 The proof of the rage of CFI is its website where the organisation dwells at length on a range of issues. For instance, it has even spotlighted the National Medical Council's suggestion that doctors take the "Charak Shapath" instead of the Hippocratic Oath, calling it "saffronisation" that degrades medical ethics. It had earlier hit out at the University Grants Commission's circular urging the students to practise "Surya Namaskar" on the occasion of Republic Day, alleging politicisation of a concept that the rest of the world has embraced. There is also a letter on the site addressed to Meta chief Mark Zuckerberg over inaction on hate speech in India on his company's social media platform, Facebook.
Academic and historian Ashraf Kadakkal feels that the rise of CFI as a f0rmidable force, especially on south Indian and many central university campuses and minority institutions, is an outcome of the efforts by even secular parties to make their Muslim leaders invisible, and the ongoing efforts to discredit Islam and its adherents. He says that he is unconcerned about the jurisprudence aspect of the hijab being essential to Muslims. On the other hand, he sees it as a symptom of the pathology of Islamophobia. "At this juncture, whichever organisation stands up for the right of Muslims, will naturally have a following," he notes. Meanwhile, EM Abdul Rahiman, vice-chairman, PFI, too, tells Open that the hijab row is not an isolated issue, but the latest in the series. "For Hindutva, which is not a religious belief but a political agenda of hatred, every sign of Muslim identity is a threat to be eliminated," he says.
While CFI earns praise from certain quarters, it is seen as a "two-faced" organisation that projects a "democratic front office" and hides "devious designs" by intelligence agencies and forces. Like PFI, young Muslims look up to it as a "cool" outfit in tune with the times—many of its leaders enjoy Western music, dress up in designer wear, watch trending movies and travel to exotic locations. Agencies see them as those who worship the likes of Hamas and Hezbollah, besides other transnational Islamist bodies like the Muslim Brotherhood under Mohamed Morsi.
As Emmerich explains with élan in his book, IB officials he met during his research stick to the argument that the ghost of SIMI continues to haunt PFI and its affiliates, like CFI. "Since SIMI is banned, the members work in different outfits" is the argument among federal agencies.
After a series of setbacks over violent actions, CFI and PFI have managed to be back in the limelight as the protector of Muslim dignity.
Emmerich quotes in his book a PFI leader who justifies the assertive public posture of PFI and its affiliates: "There is nothing wrong with being physical. It attracts the youngsters. No other organisation is ready to fight fascism in the way we do it. Our argument is that you cannot fight fascism only through seminars, symposia and conferences. Sometimes, it happens that you have to stop them on the streets, like in Gujarat and other states in India where RSS started rioting, raping our women and burning our children alive. In a country where the police and the security forces are not in a position to support and defend you, you are allowed to have private defence, which is not illegal. You cannot take law into your own hands, but at the same time, if your survival is at stake, it is a fundamental right to defend yourself and every other human being."
A Thiruvananthapuram-based former senior police officer sums up in response to the query as to why CFI is finding traction among Muslim students and youth: "Hardline ideologies always have a special appeal."
(Ashraf Kadakkal's quote was updated as on February 19)