GROWING UP IN UDAIPUR, ANEETH ARORA'S EARLIEST MEMORY of fabric is when her mother asked her to stitch a button on her father's shirt. "I distinctly remember telling her this is not what I want to do with my life," says Arora, 40. An undergraduate degree at the National Institute of Fashion Technology (NIFT), Mumbai, and then textile design at the National Institute of Design (NID), Ahmedabad, and fabric became her life, so much so her mother and brother are now working with her label, Pero, which means to wear in Marwari.
One of the earliest designers in India to speak for sustainable fashion, her work stood out for its stark weave and its unique detailing, making each garment a discovery. With early converts to her brand like author Arundhati Roy, filmmaker Mira Nair and photographer Dayanita Singh, Pero soon became synonymous with a new cool aesthetic which rivalled the plastic-wrapped-in-plastic ethos promoted by Bollywood. Pero stood for the use of recycled or upcycled textiles; a limited collection; and an embrace of artisanal techniques. Thirteen years after she began, Arora has 200 employees in Delhi, indirectly employs 1,000 weavers across India and is available in over 250 stores worldwide. Then there are the hand workers who do crochet, macramé and knitting.
She is not the only one. Somewhere between the bling-is-king celebrity culture where everyone dresses like a rapper on speed and the high street labels of fast fashion devotees, a new generation of designers is going back to the roots, not merely in terms of traditional weaving techniques but also increasingly in decentralising fashion. So, a sustainable garment is as much a function of how it is made as well as where it is made. So, while Resham Karmchandani and Sanya Suri of Pot Plant are making new weaves out of waste fabric, Kriti Tula of Doodlage makes magic out of scrap. And if Chinar Farooqui runs her label Injiri out of Jaipur, Naushad Ali works out of Puducherry and Shreya Oza runs ASA from Ahmedabad.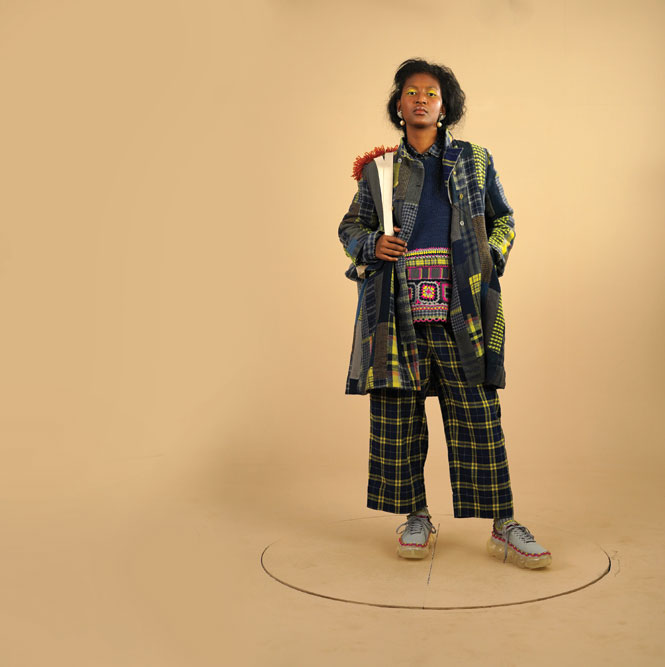 TECHNOLOGY BRIDGES the distance between the consumer and the designer, and their core philosophy of sustainability takes them closer to their weavers, embroiderers and craftsmen. For Tula, sustainability is the balance between the environment, economy and ethics. And a linear fashion industry has never worked to maintain this balance. The take-make-waste economy becomes profitable by selling more but garments are not so disposable. Once made, a polyester top stays with us for more than 200 years. Garment production is making irreversible changes to our environment, she says, adding that "1.5 trillion litres of water is used by the fashion industry every year. 342 million oil barrels are used every year to produce plastic-based fibres. 70 million trees are cut down each year to make plant-based fibre for our clothes." What's more, 57 per cent of these garments end up in landfills, while 100 per cent can be put to better use or can be recycled. There is no effective collection system at the moment, so every fashion product created in one of the largest fashion economies in the world is destined for landfills.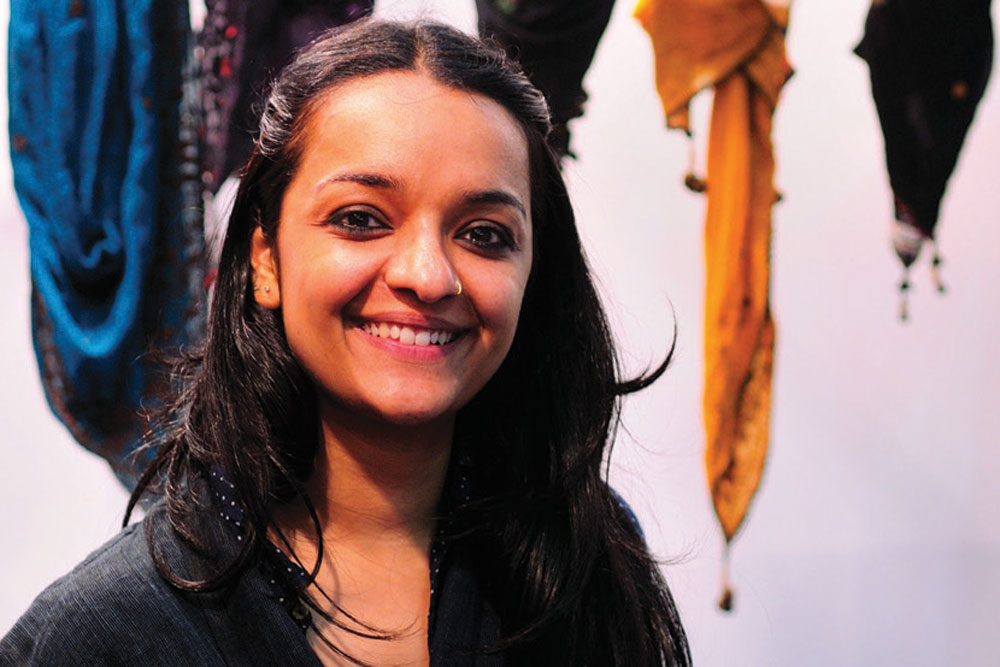 In a sustainable model, on the other hand, you care for the people throughout the supply chain, ensure that everyone in the system maintains a decent standard of living, and ascertain that your products are cyclic in nature with minimum impact on the environment. Value in this system is created by not just selling but reselling and repairing, too.
As fashion analyst Nandita Abraham puts it: "Fashion is coming full circle. The youth of today are conscious consumers and search for meaning in their belongings and experience. They are discerning and interested in their impact on the world they live in. Memories and sentiments are driving brand positions. The story has become more important than ever. Smaller brands and popups are becoming masters of intentional sustainability and connectedness with the consumer. And the consumer is loving it."'
Based on a tradition revived by the greats of textile and artisanal crafts like Martand Singh, Rahul Jain and Jaya Jaitly who headed design for the Gujarat state government chain, Gurjari, between 1979 and 1989, these brands are increasingly telling a story as old as India, of zero-waste garments, and of drapes such as sarees, dhotis, phirans, angrakhas, and shawls, They are also focused on the age-old traditions of caring for and using a saree or shawl in multiple ways until it has lived its life, and is once again considered important with rafoogars (those who repair garments).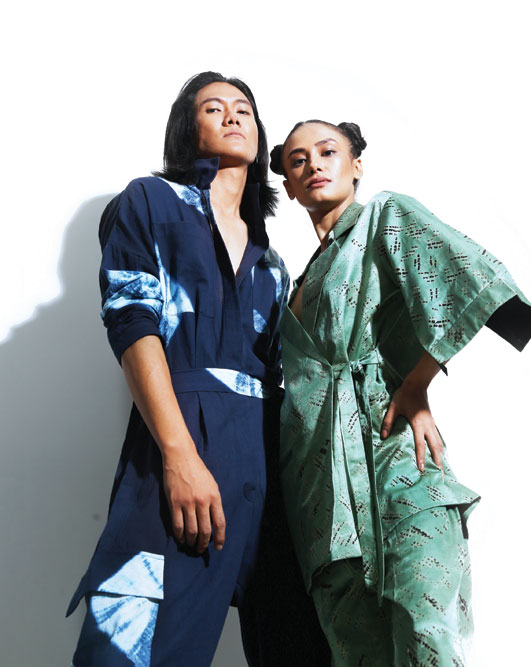 As model and sustainability champion Laxmi Menon says, "the idea of giving a piece of textile a life longer than your own is so compelling." In 2014, Tula started Doodlage by collecting fabric waste from factories around Delhi, rejected for minor defects, and post-cutting waste panels big enough to be stitched back together to cut more pieces. "This allowed us to create short well finished limited edition collections, saving tonnes of fabric from landfills and down-cycling," she says, adding, "as we grew to understand various issues, scale and impact of the fashion industry, we found ourselves more committed to building a social enterprise making season-less clothes working to provide better living wages for our artisans and low-impact raw material."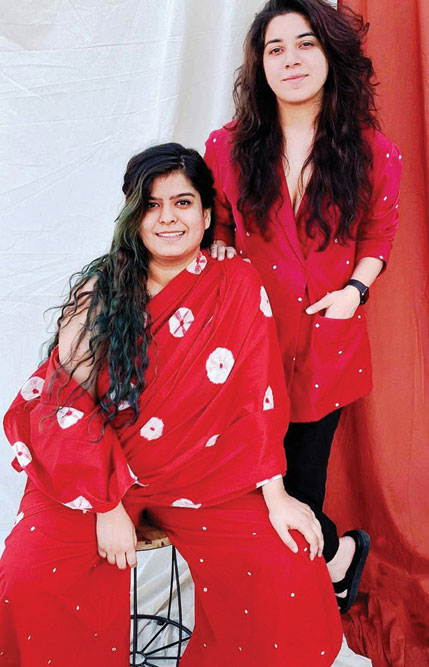 This is the kind of understanding Resham Karmchandani, 31, of The Pot Plant also came to when she entered the fashion industry after graduating from Pearl Academy. "I worked for a bit but didn't find much that was age, size or gender inclusive," she says. She started The Pot Plant with her classmate from Pearl, Suri, and was launched with the Lakmé Fashion Week, Gen Next, 2017. Like a potted plant which grows in homes with little space, each garment they make is intended to add sustainability to life. They experimented with a variety of textiles and artisans but what stuck with them was bandhini. The traditional dyeing technique, along with the Japanese tie and dye art of shibori, fitted into their idea of fluid clothing, being used for turbans, as much as sarees and dupattas.
IT'S NOT merely about fashion but a lifestyle. For Mehma and Harjas Singh who started Reistor, for instance, it was out of a necessity-inspired passion. "We are fourth-generation textile and fashion entrepreneurs, who like many last year, faced an industry-shattering slump. We started re-evaluating our work and what we wanted to do. Our great grandparents were cotton and silk traders when they moved to India seven decades ago and slowly shifted from natural to synthetic materials as trends changed and polyester gained popularity in the 1980s. Now, we are back to where the family started with an emphasis on natural fabrics and sustainably sourced raw materials," says the 30-something Mehma, who has an undergraduate degree from Ohio Wesleyan University and an MBA from the University of Florida.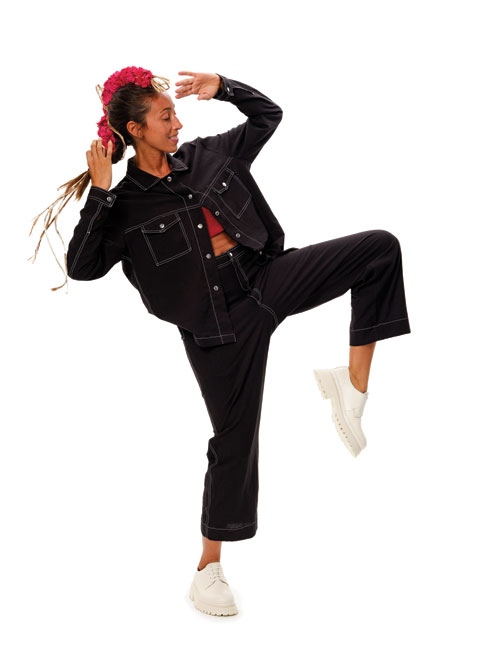 Ditto with Sreejith Jeevan, 36, of the label Rouka, which means bodice in Malayalam and corridor in Japanese, symbolic of products that connect the weaver with the wearer through design and narratives. Rouka to him is a metaphor for what he is trying to do with simple, easy and effortless clothes, he says. Jeevan, who is from Kochi, Kerala, attended NID and the École Nationale Supérieure des Arts Décoratifs in Paris. Beginning in 2014, Sreejith's work looks at Kerala's traditional kasavu sarees with a new lens. Post the floods of 2018, Sreejith works with the Care4chendamangalam initiative to take the kasavu saree to people across the world as Kasavu Modern.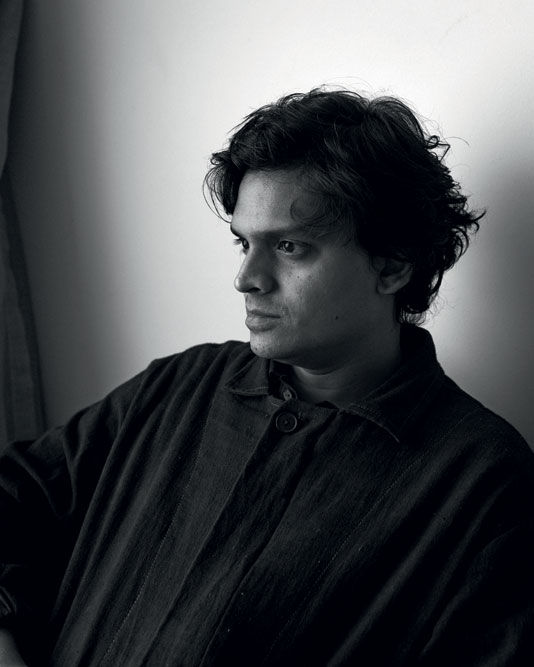 THE WAY FORWARD is to be relevant in the now. Crafts have to be relevant to survive and thrive. Antonio Maurizio Grioli, dean, School of Fashion and Design, Pearl Academy, says the United Nations Environment Programme estimates that worldwide, the fashion industry produces 20 per cent of the global wastewater and 10 per cent of global carbon emissions—more than all international flights and maritime shipping. India, with its dichotomy of being a global hub for apparel production on one hand and its inherent sustainable practices on the other hand, is one of the world's largest garment manufacturers, employing over 45 million people. Lately, however, he says "this rich and rare artisanship has been left vulnerable to appropriation due to cultural globalisation. Watering down the essence and intricacy of these crafts to digital copies available for mass consumption doesn't merely endanger the crafts, but also puts craftsmen and their families out of business and forcing further generations to choose another course of livelihood as many are unable to sustain themselves on a fair living wage."
The idea is also to not overproduce despite the prevalent trend being of fast fashion. As Laxmi Menon says, "You invest in a wardrobe instead of buying a trend. It's deeply ingrained in our culture of wearing out clothes and when they tear, to use them in different ways, whether it is our sarees or our shawls." So, labels like The Pot Plant usually do popups or curated selections. Says Karmchandani: "Sixty per cent of our clothes are made to order." Savio Jon, 50, makes it a point to create only capsule collections, cutting patterns until the fabric runs out, thus not only lessening waste but also making unique garments. "I cut everything myself. We never follow the fashion calendar. There is no look-book. We have a fixed clientele of conscious consumers and keep the set-up tight," says the designer based in Goa.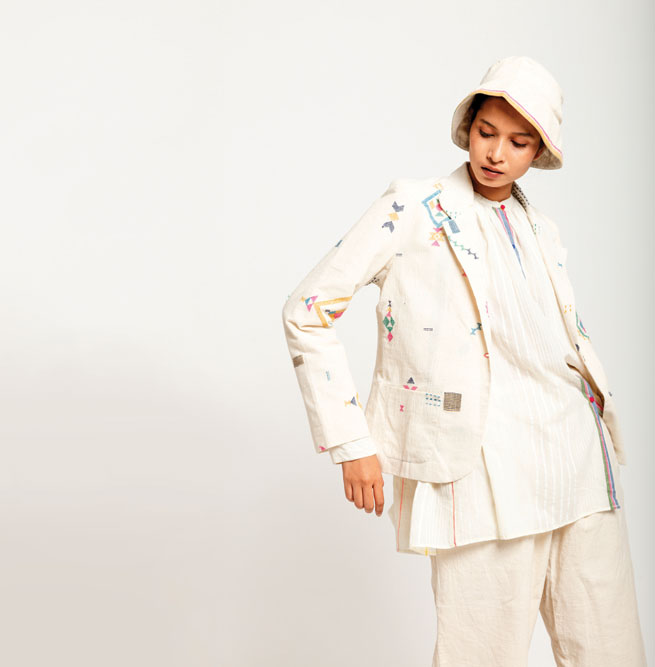 By making clothes in natural fabrics, ensuring they are trans-seasonal, by using waste from factories and design houses, and by cutting expertly, the stars of sustainability are ensuring they are in tune with what the universe is telling them. Sustainability is an attitude, says Farooqui, 42, and it comes from inhabiting the environment as a whole, and being inspired by the living traditions of eating, weaving, and detailing. It starts with the nomenclature. Ashita Singhal called her Noida-based label "Paiwand", which means to patch and repair. "There was so much rage in me about the environmental pollution and the exploitation of human resources in the fashion industry," she says. A graduate of Jesus and Mary College, Delhi, she went to Pearl Academy where she was exposed to poor working conditions of workers on factory visits. "There would be no proper light, workers would be seated inhumanly close to each other, and there would be no access to the washroom. All this shook me. There was no way I could belong to such an industry," she says.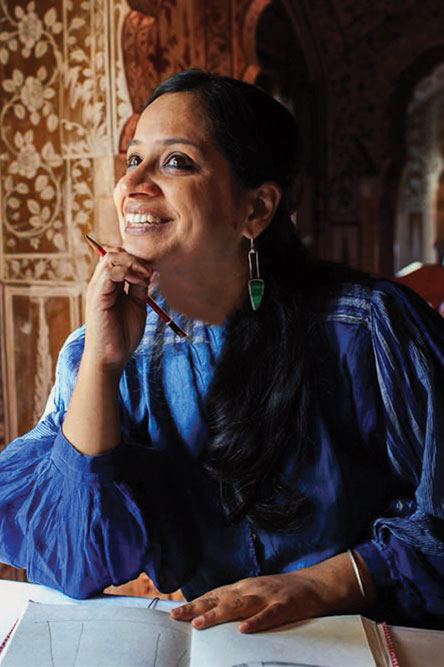 Now, her studio has become an upcycling service hub which uses handcrafted techniques with technological interventions to speed up the process to ensure scale. Now 27, she started the studio in 2019 with eight weavers using waste fabric from other design houses and second-hand sarees. With funding of `50 lakh from UIncept, the startup now has 10 to 12 looms.
Sustainability is an inherent part of the core values at Summer Somewhere, says Meghna Goyal, 29. "We have been known for our ethical practices right from mindful small batch production to the use of earth-friendly materials. As always, all our styles in the summer collection are made from 100 per cent natural fibres that are low-impact on the planet—utilising our much-loved blends of viscose, linen, and Tencel lyocell. We only use Azo-free dyes [low-impact dyes] that do not contain carcinogenic compounds. We also use digital printing technology, with GOTS-certified inks. This process consumes 70 per cent less water, uses less ink, reduces the impact on air pollution by 60 per cent and also has less risk of chemical run-off to the environment," she says. The label has a number of ethical practices, such as Summer Somewhere X ReCircle, a plastic neutral programme where they pledge to recover 2,500 kg of low-grade single-use plastic from landfills and oceans this year. In association with ReCircle, they will recover a kilo for every order placed with them. They also have Summer Somewhere X Relove, a reselling programme that enables customers to list their garments for resale in just 60 seconds.
Arora uses each and every fabric to create something, whether it is a pompom or a stuffed heart. Also, Paromita Banerjee, 38, who follows the Japanese philosophy of BORO, which loosely translated means too good to waste, says: "Sustainability to us also meant we would utilise the fabric remnants of past collections [we call them past stories] and utilise them into value-added product lines, like single-edition kimonos, our handmade khaata notebooks, buttons, and tassels, utilising the fabric leftovers without throwing away anything." Banerjee runs an eponymous label in Kolkata since 2009.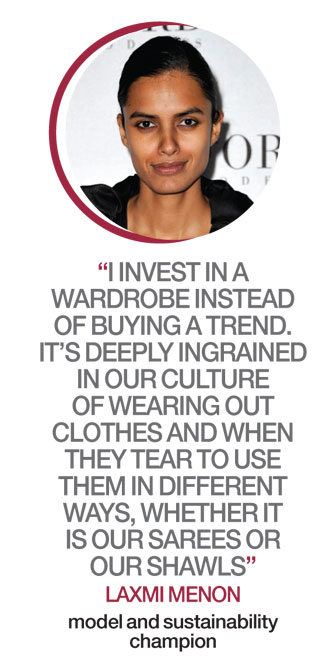 The new generation of designers is aware of heritage. Like Farooqui, who named her brand Injiri for the real Madras Checks textiles which were exported to West Africa back in the 18th century. A graduate of MSU University Baroda, she specialised in textile design at NID. From focusing on research and documentation of craft processes, she moved into textile design. "I had this dream of weaving with weavers, but the focus of the fashion industry at that point was on weddings. There were Martand Singh and Rahul Jain working on traditional textiles and then there was the wedding industry. There was no middle ground when I began my label in 2009." She works with weavers from West Bengal, innovating to weave cotton with extra weft; with the village of Bhujodi in Gujarat; with tie and dye in Rajasthan and Gujarat; and, chikankari embroiderers in Lucknow.
It's a process of education. Ajrakh on chanderi or pashmina is not something that was very acceptable earlier, says Arora, nor was the polka dot on the jamdani weave. Or even the desi wool from Kutch, which had to be refined over time to make it softer, more wearable. It's also a process of fitting into the weavers' lifestyles, says Arora. They give two-year deadlines so that there is no pressure to produce, and do so badly. "We also work with the same set of weavers year after year so their skills and our innovations are perfectly matched," she says. As Banerjee says, every few kilometres that one moves away from the cityscape towards the villages, one will find incredible artisan skills, via the craftsmen and the weavers. "With the right design intervention and approach, the skillsets could be harnessed to keep alive the age-old traditional textile vocabulary of our country. What initially started as primarily womenswear, now has branched out into the unstitched drape—sarees/stoles, menswear, kidswear [the label is called 'ChottoPa'] and accessories from fabric remnants," she adds. In this new world of inventive upcycling, it could be Jon using a cotton mundu from Chennai with Madras Checks, or it could be a kasavu weave from Kerala for Sreejith Jeevan. Nothing is off limits.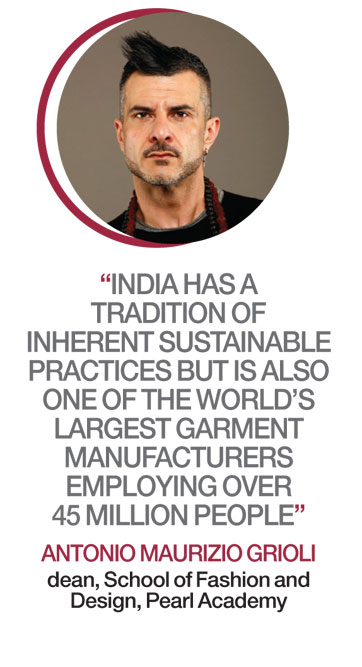 THIS KIND OF fashion also means that designers don't have to struggle to fit in. The Vellore-born Naushad , 36, went to NIFT, Chennai, and moved to Auroville first and then to Puducherry because he just couldn't fit into the city in Mumbai and Delhi. His eponymous brand is based out of Puducherry and has been so since 2015. "It can be a challenge sometimes when I don't get the threads or the zippers I want, but I draw so much inspiration from here, its streets and its people," he says. Oza, 32, is from NIFT, Delhi, and did a degree at Savannah College of Art and Design, Georgia, but chooses to live in Ahmedabad where she uses natural fabric, block printing with natural dyes and has long-term relationships with tailors and weavers. "We have a niche clientele and it's a small market but we have good partners," she says. The new designer is like the new consumer. Oza's fabric is woven in Bengal, the printing is done in Gujarat, and the brand has a Japanese name which means morning—local and global in equal measure. "I don't believe in perfection. ASA reflects who I am as a person, my journey," she says.
The sights and sounds of each city are also reflected in the variety of clothing. Banerjee, for instance, has a popular hashtag on social media #amarcity, where she walks around the city capturing the sights and sounds, old architecture and heritage spots. It suits the changing consumers who have become interested in knowing where the garments are coming from. The changed consumer is also a changing designer. Like Tula, 33, who studied at Pearl Academy and then went to the London College of Fashion: "I enjoy experimenting with finding ways to reduce my waste from learning how to compost, to making bio enzymes for cleaning and trying vegan recipes. A mix of my background growing up, being exposed to waste at export houses and just the overall culture of mass production was enough to drive me away from it. I have worked since then to educate myself about various alternatives to fast fashion, meet numerous ethical production units and the culture that could prevail if we humanised the supply chain."
Sustainability is part of our natural ecosystem and is intrinsic to our culture and to our values. But applying this to mainstream fashion is not an easy task. The exacting ideals of what sustainability entails doesn't just begin and end with recycling fabric, says fashion analyst and editor-in-chief of AJIO Luxe, Supriya Dravid. "As an industry, we have to work in accordance with the Sustainable Development Goals, which is a multi-pronged approach to ensure that we are making mindful choices. It is about not just conserving our resources but also how we recycle and revitalise what we have consistently. It's about championing the legacy of craftsmanship, smart ways of ensuring water and electricity consumption, generating a steady stream of employment—and all of this is just still scratching the surface," she adds.
But the culture of repair, repurposing and reinventing has resumed in earnest.