IN BOLLYWOOD, FAMILIES HAVE ALWAYS been the first port of call and also the last resort. When Sony Pictures Entertainment wanted to take on the might of Shah Rukh Khan at the height of his popularity in 2007, they put their money on Sanjay Leela Bhansali, who went back to two of Bollywood's oldest families for inspiration, casting Ranbir Kapoor, a fourth-generation actor, and Sonam Kapoor, a second-generation actor, in Saawariya. The two families were connected informally, as indeed most dynasties in Bollywood are, through Sonam's grandfather Surinder Kapoor who was secretary to actor Geeta Bali, who was married to Ranbir's grand-uncle, beloved '60s swinging star Shammi Kapoor. One of the things she did before her early death was to give Surinder Kapoor the initial financing for his debut film. His sons Boney, Anil and Sanjay would go on to become well-known filmmakers and actors, forever calling themselves the Other Kapoors.
The practice of family above all else continues. When Netflix decided to launch one of its most high-profile films in India, based on the popular Archies comics, it chose Zoya Akhtar (a second-generation insider) and her partner Reema Kagti of Tiger Baby Films. Who did they choose as their stars? Third-generation actor Agastya Nanda (grandson of Amitabh Bachchan), Suhana Khan (daughter of Shah Rukh Khan) and Khushi Kapoor (daughter of Boney with the late actor Sridevi).
When in doubt, reach for the stars. And the stars invariably belong to what has been described as the Bollywood banyan tree, which symbolises the interconnectedness of the different branches of an Indian family distinct from the birch tree of Hollywood.
The family above all else dictum of Bollywood was further solidified recently when Ranbir Kapoor married Alia Bhatt after five years of a very public courtship. It made news because both are considered integral to the future of Bollywood. According to the Duff & Phelps celebrity brand valuation report in 2021, Bhatt's brand value is $68.1 million, while Kapoor's is $26.7 million. Kapoor, 39, makes artistic choices that are not always commercially viable, and Bhatt, 29, is cur­rently the country's foremost female ac­tor. Both are representative of Bollywood's powerful clan culture, too.
Though the RK Films banner has been in decline since 1999, when Rishi, Ranbir's father, directed the last film (Aa Ab Laut Chalen), the iconic RK Studios was bought by Godrej Properties for an estimated ₹ 200 crore in 2019, and the family continues to get royalty every time a movie or song from their impres­sive library is broadcast. Bhatt's father, Mahesh, is partner with brother Mukesh in Vishesh Films, the net worth of which is estimated at ₹ 350 crore. The film, Sadak 2 they produced for Disney+Hotstar, star­ring Alia Bhatt, was sold for a sweet ₹ 40 crore despite poor ratings.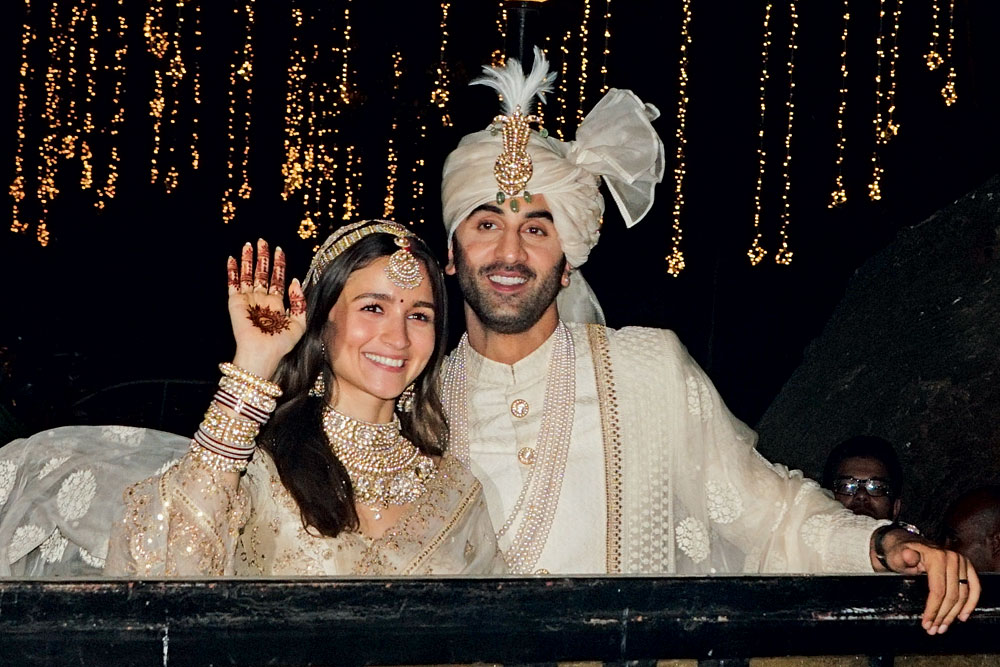 THE COUPLE'S FIRST movie togeth­er, Brahmastra, directed by Kapoor's long-time buddy Ayan Mukerji and pro­duced by Bhatt's mentor, Karan Johar, is out in September. Mukerji belongs to the powerful family, once headed by patriarch Sashadhar Mukherjee, who established Mumbai's legendary studios Filmistan and Filmalaya. Johar, his producer, is a second-generation insider, everybody's best friend, and also a savvy businessman with Dharma Productions' creations for theatres and streaming services giving it a net worth of ₹ 3,000 crore.
Sure, genealogy doesn't guarantee des­tiny. I still remember a party at Mumbai's Four Seasons Hotel to celebrate a great year for Deepika Padukone who had had four hits with Yeh Jawaani Hai Deewani, Goliyon Ki Raasleela Ram-Leela, Chennai Express and Race 2. She was glittering in a gold lame gown, dancing by herself in an intimate circle of friends. Bhatt, then all of 20, was watching her with hungry eyes, sitting quietly by the side. "She's fabulous, isn't she?" Bhatt said of the older star when I spoke to her briefly.
That was 2013. There was Bhatt, daughter of a classically trained ac­tress and one of Bollywood's most successful filmmakers, wanting what Padukone, an outsider in Bollywood, had. A successful ca­reer; a new boyfriend, Ranveer Singh, loosely related to the Other Kapoors, and therefore an insider of sorts; and an array of well-wishers ranging from Shah Rukh Khan to Aamir Khan. The Bhatts, despite being in Juhu, which is where most Bol­lywood families live, have always been at the periphery of the industry, by Mahesh Bhatt's own admission. Yet, even this periphery is a lot closer than what oth­ers can dream of—the heady Bollywood bubble of shared childhood birthday par­ties, posh schools, and routine parental get-togethers where every "Uncle" and "Aunty" is someone famous.
It's just the levels of fame that vary. Think of Bollywood as a loose collection of endogamous villages where marriage is used as a tool to maintain the purity of the bloodline and the extent of the capital. Exogamy, when it happens, is rare, but more easily accepted if the woman is lower in the lineage hierarchy than the man. One only has to look closely at the Kapoor-Bhatt wedding, or as it is known in social media shorthand, the Ralia wed­ding. Bhatt has just had a solo ₹ 100-crore box-office hit. She has signed a film with Gal Gadot for Netflix and is proving to be a savvy businesswoman, with a pro­duction house as well as investments in startups. Yet, the chatter is about how she has always had a crush on Kapoor and has virtually manifested this union. No mat­ter that when Kapoor's great-grandfather was establishing Prithvi Theatres, a travel­ling theatre company based in Mumbai, Bhatt's maternal great-grandfather was fighting the Nazis in pre-war Germany.
It's all about the family one belongs to in Bollywood's incestuous world. If the parents party together, there is every possibility the children will hang out too. One only has to cringe through Ananya Panday's admission on The Fabulous Lives of Bollywood Wives on how she and Shanaya Kapoor got left behind in a London hotel room while Suhana Khan was taken to a Beyoncé concert by her famous parents when they were children. For the unini­tiated, Panday is the daughter of comic actor Chunky Panday and Shanaya is the daughter of born-again '90s actor Sanjay Kapoor. Suhana is the child of Shah Rukh and Gauri Khan, the uncrowned king and queen of Bollywood society.
Privilege is so embedded in the indus­try that no one bats an eyelid when stars are "launched" by their parents. It is a tradition as old as Bobby (1973) in which Raj Kapoor launched his son Rishi; Rocky (1981), in which Sunil Dutt launched his son Sanjay; Kaho Naa… Pyaar Hai (2000) in which Hrithik Roshan was launched by his father Rakesh; and most recently, Student of the Year (2012), which starred Varun Dhawan (son of comedy director David Dhawan) and Alia Bhatt, and was directed by Karan Johar.
Movies are important ways in which dynasties propagate themselves profes­sionally, and most of Bollywood is still run by families. Yash Raj Films, one of the biggest production houses, is run by legendary filmmaker Yash Chopra's son Aditya, and is estimated to be worth ₹ 6,200 crore, including its library of films and the rental of its studio floors. Dharma is owned by Karan Johar, son of one of Bol­lywood's most popular producers, Yash Johar. Amitabh Bachchan's net worth, which runs into crores, may well be con­tinued into the third generation with his son, Abhishek (who is married to the actor Aishwarya Rai), and grand­son Agastya Nanda, both in the film business. Star siblings Far­han Akhtar and Zoya Akhtar run two production houses involved in movies and stream­ing shows, Excel Entertainment (with a net worth of ₹ 5,000 crore) and Tiger Baby Films, respectively, with different partners, Ritesh Sidhwani and Reema Kagti. Actor Jeetendra's daugh­ter, Ekta Kapoor, is the promoter, with her mother, of Balaji Telefilms, one of the most successful production houses, whose as­sets are valued at ₹ 1,200 crore. Then there are the three Khans, Salman (net worth ₹ 2,255 crore), Aamir (net worth ₹ 1,562 crore) and Shah Rukh (₹ 5,722 crore), who are putting down roots for the next gen­eration of actors/filmmakers.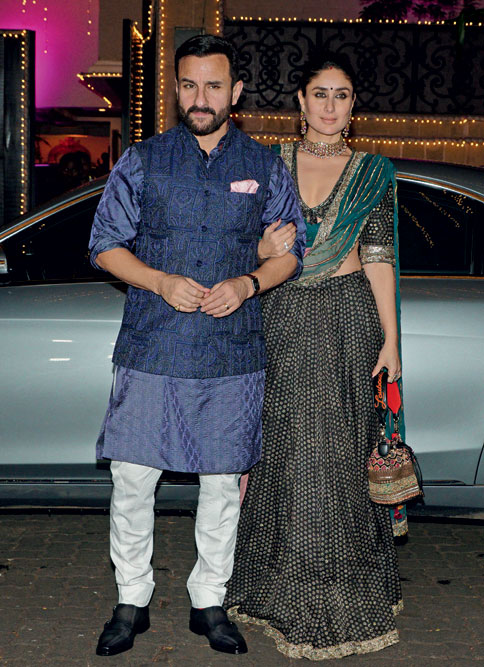 Florian Täube and Mark Lorenzen have written on the film families of Bol­lywood, distinguishing the banyan tree in the way it grows new roots from its branches and thereby re-roots itself in the ground from the birch tree that has one dominant trunk, with no interweav­ing of branches. In the traditional Indian family, such interconnections between different branches are often deliberately organised through marriages between cross-cousins if their lineage cannot be traced back to the same male ancestor. In their field study between 2003 and 2005, among the top 10 films of each of the years in Bollywood, they found 21 films with family ties within or between these cat­egories. Compared to that, among the re­spective top 30 films in the US, there were only seven films with family connections.
Lorenzen adds that Bollywood re­sembles a lot of the world's other film industries in that even if there is collab­oration between content creation and
distribution, the latter funding the for­mer, content creation is typically done by smaller, agile companies with a high in­cidence of personal networks (and often, also family firms), whereas distributors are larger, and given the scale economies here, corporations have entered into this game, even from telecom or other outside industries, with knowledge of efficiency, rather than creativity.
In countries with large markets and lots of potential profits to tap, distribu­tors have repeatedly tried to enter content production to secure access to the most at­tractive products, stories and stars. How­ever, it is not easy, because distributors are neither good at running agile projects nor networking (including family-based net­working, which is still largely personal).
BOLLYWOOD HAS ALWAYS been controlled by powerful families, whether it is the Kapoors, Samarths, Mukherjees, Chopras or Deols. Histori­cally, the film industry in Mumbai has consisted of family-run businesses, and it was not until 1998 that the government recognised films as an industry. A brief experiment with Hollywood studios and their local clones followed but since 2016, when Disney pulled out of India, the control of moviemaking is back in the hands of largely family-run firms or partnerships. Global conglomerates, such as Netflix, Disney+Hotstar and Amazon Prime Video, are emerging as new distri­bution outlets. And though there are oth­er independent, professional production houses, there is still an overwhelming ele­ment of personal preference influencing professional decisions. Even streaming services are collaborating with local con­tent creators like the old distributors did. The difference, and the challenge, notes Lorenzen, probably lies in the fact that streaming services rely on global, rather than local, business models, so they may want to finance mainly content that has global appeal, neglecting more unique lo­cal content, as is happening with Netflix.
Despite a rather ugly debate on nepo­tism now, many family-run enterprises have served the industry well, whether it is the lasting legacy of Prithvi Theatres from the Kapoors; BR Films and Yash Raj Films from the Chopra brothers, Baldev Raj and Yash Raj; the movies of Filmistan and Fil­malaya, started by Sashadhar Mukherjee, who was the grandfather of actor Kajol Devgn and director Ayan Mukerji, grand­uncle of actor Rani Mukerji; or the work of Shobhana Samarth, who started her own company Shobhana Pictures to launch her daughters Nutan and Tanuja (who married one of Sashadhar's sons, Shomu).
The connections between the families span movies and marriage. Here are just some: Yash Chopra's son Aditya is mar­ried to Rani Mukerji; Nasir Hussain, one of Sashadhar's most successful directors, was Aamir Khan's uncle. The Kapoors are connected through marriage to the Bach­chans, with Raj Kapoor's nephew, Nikhil Nanda, married to Amitabh Bachchan's daughter. The ties would have become even stronger had Abhishek Bachchan married Karisma Kapoor to whom he was engaged to with much fanfare on his father Amitabh's sixtieth birthday in 2002. The engagement broke a mere four months later and Karisma married Sona Group's heir Sanjay Kapur, only to divorce him in 2016. The Kapoors are connected to a more recent acting dy­nasty through marriage, the groom Saif Ali Khan Pataudi's second, and the first for the bride Kareena. Saif is the son of legendary cricketer Mansoor Ali Khan Pataudi and actor Sharmila Tagore. Saif's children from his first marriage to actor Amrita Singh are already in the film busi­ness—daughter Sara is an actor and son Ibrahim is assisting Johar on the sets of the latter's new movie, Rocky Aur Rani Ki Prem Kahani. The Kapoors were also connected to the Sippys, one of Bollywood's biggest producers, through Shashi Kapoor's actor-turned-adman son Kunal who was mar­ried to director Ramesh Sippy's daughter, photographer Sheena.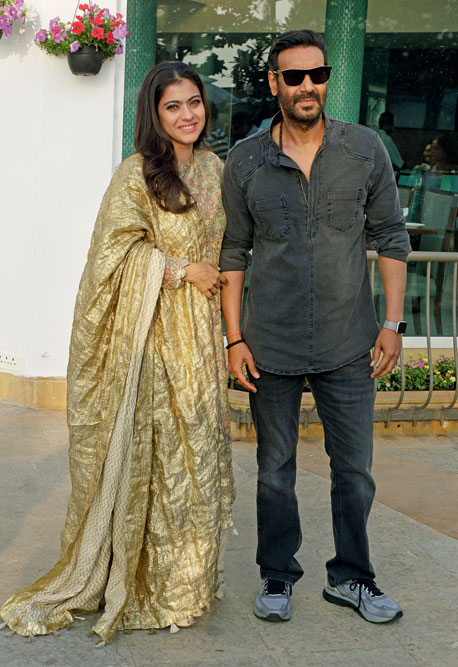 ELITE ENDOGAMY IS the ultimate social relationship that binds two families. It is a reflection of Indian society, where the elite like to gatekeep by socialis­ing and marrying within their type. So, if film families marry within themselves, so do business families, as seen recently in the marriages of Akash Ambani to Shloka, the daughter of diamantaires Russell and Mona Mehta, who own one of the world's largest jewellery companies, Rosy Blue, and of his twin Isha to Anand, the son of industrialist Ajay Piramal. Or of Manasi, daughter of Vikram Kirloskar, to Neville, son of Noel Tata. Sometimes film and business intermingle, as was the case with Shweta Bachchan, daughter of Am­itabh, who married the Escorts heir Nikhil in 1997, thus connecting the Bachchans with the Kapoors through Nikhil's late mother Ritu, Raj Kapoor's daughter.
As film scholar Sreya Mitra points out, the Kapoor-Bhatt nuptials mirror the "arranged love match" concept. De­spite all the gushing over the "lovebirds"and their wedding pictures on social me­dia, the focus is very much on the "fam­ily", she says, which reminds her of the early '90s Sooraj Barjatya movies. "One just needs to scroll through Instagram feeds and you will realise that it's not just about the 'very much in love' newlyweds but more significantly, their family," she adds. There are several family pictures, immediate family, extended family, the blended family (which includes Pooja and Rahul Bhatt, Mahesh's children from his first marriage). The focus is very much on the "parivaar" to the extent that all talk/ gossip of marital discord and rumoured estrangements are conveniently brushed under the carpet. As in an arranged love match, the "saas" is very much happy and delighted with her "bahurani", a marked departure from her dislike for her son's previous girlfriends (which adds to the "dutiful son" narrative). And then there's the reference to how he fulfilled his father's wishes (again, the image of Ranbir with Rishi Kapoor's picture that has gone vi­ral on social media). At the end of the day, Kapoor married someone his mother was fine with, which is the narrative from the 1995 blockbuster Dilwale Dulhania Le Jayenge, where the couple doesn't elope but can only be together in conjugal bliss when it has the elders' blessings.
THIS IDEA OF the inclusive fam­ily was evident in the other recent celebrity wedding of actors Katrina Kaif and Vicky Kaushal, where again the former's seven siblings and the latter's brother were an integral part of the wed­ding festivities as well as the photographs released later by the couple. It is meant to simultaneously celebrate diversity (with Kaif's uniquely global family) and Kaushal's family with deep roots still in Punjab. Ditto for Priyanka Chopra Jonas and her husband Nick. Not only did their marriage festivities blend the East and the West, but so do their Instagram-worthy lives, with the couple celebrating Hindu and Christian festivals with equal gusto at their home in Los Angeles.
The parents play an important role in such matches, whether it is Madhu Chopra who gave her daughter Priyan­ka away in the absence of her late father, or the wall-to-wall coverage of Kapoor's mother, Neetu Singh, by most papers/ tabloids. As sociologist Parul Bhandari notes, Neetu Singh was often described as being "over the moon" about her son's wedding and describing Bhatt as "pure" and "not jealous". This seemed to high­light that the mother of the groom is equally a "stakeholder" in this alliance. Says Bhandari, "It shows the impor­tance of a shared identity of being one of the elite families of cinema in making a relationship much stronger and sweet­er." One of the reasons why the audience loves this story, she adds, is because it is reproducing the elite status: no one is really crossing any boundaries. It's en­dogamous by class, caste, religion, which has its own charm for fans and people at large.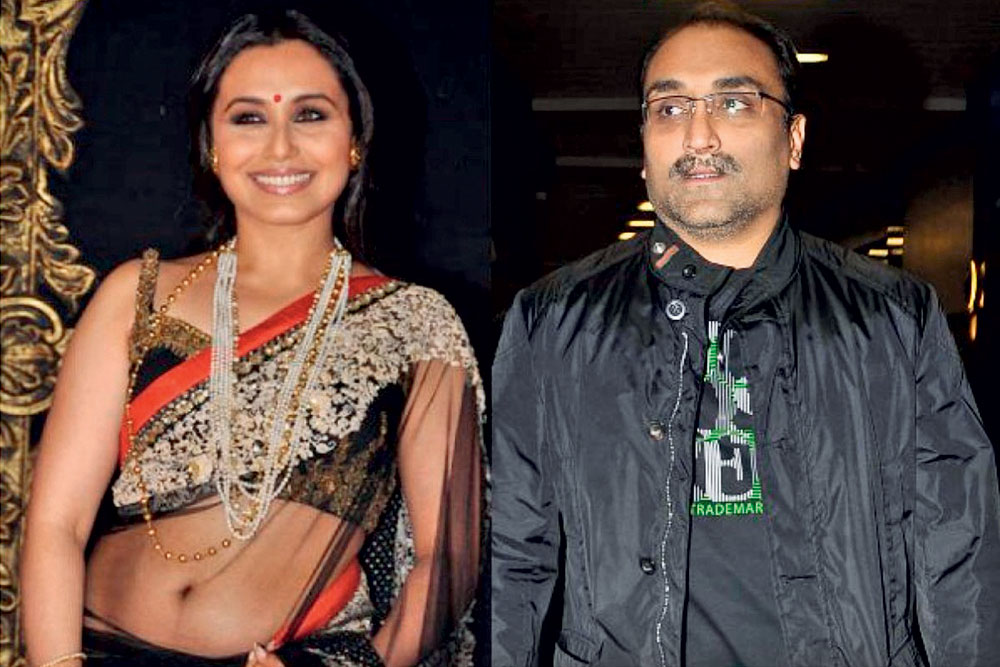 If celebrity weddings are meant to function as gatekeepers, they are also a means of leveraging the stars' brand value and their social media presence. Though there is a lot of focus on maintaining privacy, the "intimate" and "personal" pictures are "released" by the stars them­selves on their social media feeds (that's what Kaif and Kaushal also did). Says Mitra: "The Bol­lywood celebrity wedding functions not only reaffirm the brand value of the stars themselves, but also other "participants" (designers Sabyasachi and Manish Malhotra as well as celeb­rity saree draper Dolly Jain, even Bhatt's bodyguard and driver). Social media is now integral to the Bollywood star's visibility and brand value, and what better way to attract eyeballs, views and traffic than a big, fat Bollywood shaadi?"
Such weddings also set the trend for upper-class Indian (and NRI) weddings at a time when some parts of India seem to be looking for validation in Instagram reels rather than in their own families. Bolly­wood's box-office clout may be diminish­ing but its power as a cultural transmitter, amplified by the media, remains intact, spawning me-toos and wannabes. The Ra­lia wedding had only 60 guests (the couple was also praised by an animal rights' NGO for keeping it horse-free) and though this might seem a far cry from the opulent In­dian wedding with minimum 500 guests, it definitely does not mean that one cannot be extravagant. The only difference is now the emphasis on understated elegance (which makes perfect sense as we seem to hesitantly return to normalcy after Co­vid-19). While the Ranveer Singh-Deepika Padukone and Anushka Sharma-Virat Kohli nuptials were all about destination weddings, the current trend, notes Mitra, seems to be family, "close friends" and, of course, mentors like Johar. Kaif-Kaushal might have been a destination wedding, but it wasn't some exotic locale, rather it was Rajasthan (think: tradition, heritage, and culture) and the focus was definitely on family (Kaif's sisters, Kaushal's par­ents and brother in all the social media pictures). In some way, this is appropri­ate in the post-Covid-19 scenario where it's about minimalism, sustainability, and building a connection. Yet, though Kaushal is also a second-generation film child with his father being an action chore­ographer, his family doesn't have the same social cachet in a highly stratified industry as Kaif's previous boyfriends—Salman Khan and Ranbir Kapoor.
Such is the obsession of Indians with marriage that even when they are sup­planted on foreign soil, say in a fantasy Regency romp like Netflix's Bridgerton Season 2, we fit right in, given our obses­sion with a love match, a good inheritance and the approval of elders, including, pref­erably, the queen.
So, are we back to the '90s, when we embraced economic liberalisation but also deepened our search for identities by caste, class or religion? Will we always be Dilwale Dulhania Le Jayenge's Raj and Kuch Kuch Hota Hai's Tina? Western in the way we look, but Indian at heart? When it comes to marriages, young Indians continue to conform to the hegemonic social norms. Bollywood weddings seem to have become even more conformist in recent times, with women sporting the sindoor and the conventional ornamenta­tion, from the mangalsutra to the kaleera. And where there is a perfect match, can the matchmaker be far behind? Bhandari has written about this extensively in her recent book, Matchmaking in Middle Class India. Matchmakers can make or break a "deal", and here, the matchmaker was also the scion of another elite family of the industry, Johar, who was happy to call himself Bhatt's "father" and Kapoor's "father-in-law".
Bollywood is not un­usual in how a few families run the show. The Telugu industry has the families of NT Rama Rao, Akkineni Nageswara Rao, Daggubati Ramanaidu, Chiranjeevi, and Krishna. Also, top stars like Allu Arjun and Ram Charan are married to prominent but non-indus­try families. These fami­lies are able to consolidate their positions at the top of the industry, generation after generation, even as some Bollywood families struggle to do so. The answer lies in the Telugu industry wholeheartedly em­bracing the idea of "commercial cinema", while post-liberalisation Bollywood is at times innovative and at other times, out of touch with its core. For instance, it left the Hindi heartland to Salman Khan and "au­thentic B-towners" like Anurag Kashyap and Vishal Bhardwaj. So, it outsourced its authenticity while the rest of the in­dustry tried to put together a coalition of cinema for the multiplexes, aspirational middle classes, and NRIs. It also seems to have given up on the melodramas it was famous for at one time.
Perhaps, it needs to go back to what it was best known for and what it knows best; having a noisy conglomerate of film families create narratives about noisy families.