A 10-LITRE CAN OF 'PURE HIMALAYAN AIR' SELLS ONLINE FOR RS 550. Breathe in, feel good and get somewhat high. A super luxury hotel has a dynamic screen at its entrance giving three levels of air quality: inside the hotel, outside and the World Health Organization (WHO) standard. The Air Quality Index (AQI) is, thanks to an air filtration system that costs upwards of Rs 6 crore, better than even required by the WHO. And residential complexes are selling apartments with air 'ten times purer' than outside. At a premium, of course.
The Delhi government may have declared an emergency, imposed traffic restrictions and shut down schools because of toxic air, but those who can afford it can retreat into their private air bubbles, as in science fiction. From air purifiers at home, air-conditioned cars to semi-public spaces with filtered air, there is an alternative urban universe where India has privatised its public utilities and wealthy citizens can live carefree without having to breathe the air the less privileged do. It is a new and growing community of climate exiles, who may not be quitting the cities they live in, but they are certainly exiting its air. As John Kenneth Galbraith predicted as far back as 1958, we are living in a universe of private opulence and public squalor.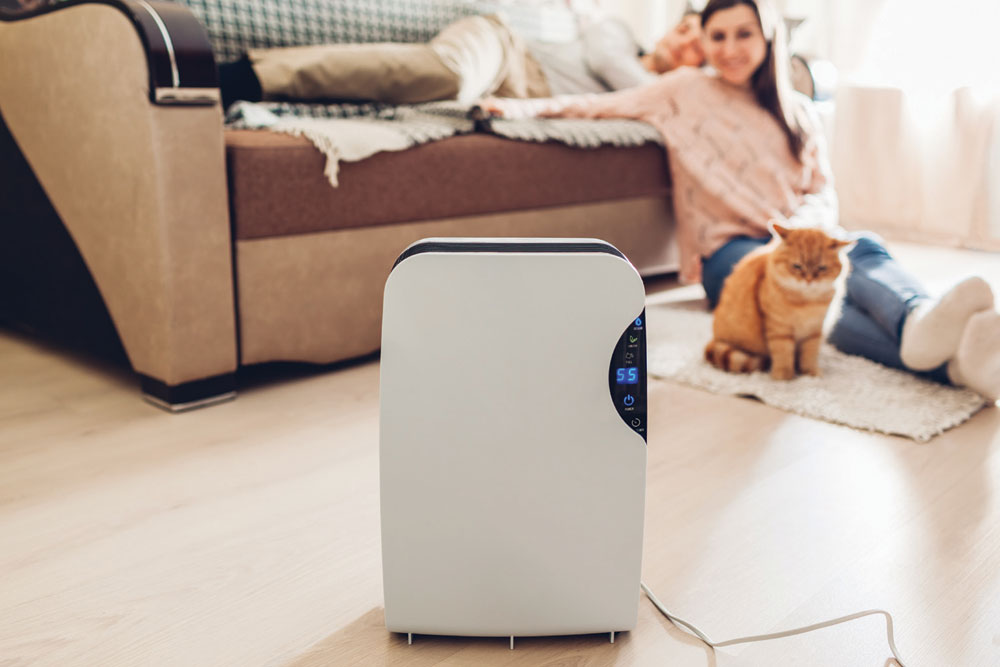 THE CONCEPT OF off-world cities and floating exclusive residencies for the mega-wealthy who can afford to stay out of the heat, the dirt, the rain, the radiation reoccurs time and time again as it makes for a good story setting, but as climate activist and producer of Handsome Films, Jessica Hines, says, "It's no longer in the realm of fantasy—it's happening right now." As northern India gets locked into its winter chamber of toxic gases, the wealthy can purchase clean air for their homes and water that has been cleaned of the toxins that cause it to foam, turning the Yamuna into a corrosive bubble bath. Later, when the heat kicks in again, they protect themselves from the extreme temperatures that melt roads and buckle train tracks. "Penthouses selling for hundreds of crores are the treetops of our urban jungles—what would it take for these to join together above the cities, suspended to earth by only the most perfunctory of umbilical chords? The New World is a privately owned mega-luxury yacht that never docks more than five days and whose permanent inhabitants never connect to reality outside of permanent luxury leisure and consumption," Hines says.

Clearly, the dystopia science fiction dreaded is here—whether it is the permanent smog of Blade Runner 2049 or the water ATMs of Leila. Prayaag Akbar's Leila had both bad air and little water, but much like its protagonist Shalini, we in the real world remain blissfully unaware. As Akbar says, "In Shalini's world, environmental collapse kind of creeps up on people, no matter which sector they live in. It seems sometimes we are following suit."
Fanciful? Not really, if you read some of the advertising for luxury malls, seven-star hotels and gated communities. 'No more bad-air days,' says DLF's The Chanakya mall's advertisement. The Delhi Oberoi publicist says: "The entire building of The Oberoi, New Delhi has been sealed with state-of-the-art air purification technology to prevent entry of harmful particulate matter. Fresh air enters the hotel only after being treated through four distinct levels of filtration, three of which are mechanical and one is a chemical filtration system. The grade of filters installed is F9 that matches the air purification standards employed in top hospitals, in order to maintain a sterile environment." The advertisement for Godrej Air Luxury, a housing project, says, 'It is well-fitted with centrally treated fresh air inside the gated premises. Corridors and lobbies are adorned with air purifying plants having high air purifying capabilities. Besides the green wall, the towers look beautiful with oxy-rich zones. A series of oxygen-emitting plants present in lobbies like sansevieria and money plants. These plants have high ornamental and air purifying value. For reducing airborne pollutants and irritants, natural air cleaners are planted in each apartment.'
WITH DELHI'S AQI levels creating an 'airpocalypse', companies are capitalising on marketing gimmicks, meant to show 'pure air' as a Veblen good, a luxury, out of the reach of the common man. While high-end apartments in the National Capital Region are the primary markets for these purifiers and filtration systems, most people in lower and middle-income housing societies have no respite from the toxic air engulfing the city. Given how exorbitantly some of these are priced, we are sliding down the slope of increasing inequality and commoditisation of resources such as clean air to which the public has a legal right, says ReNew Foundation CEO Vaishali Nigam Sinha.

Indeed, first they replaced public transport with cars that were bigger and flashier. Then they substituted municipal water supply with tube wells. Then they pushed back against an erratic power supply by installing generators. Now they are privatising clean air. Urbanisation specialist Andaleeb Rahman describes it as the gradual retreat of elites from public services. "This is the class," he says, "that has benefited most from the fruits of growth, relatively disproportionately, in the last three decades. The rising value of land and higher returns to skills has made private amenities more affordable. The poor, on the other hand, are hurt significantly, leading to widening inequality during a time of poverty decline."
Not only have the poor not benefited significantly from liberalisation but they suffer even more as the quality of public services has also declined as elites opt out. So while the poor have to make do with free masks from the Delhi government, the rich can always confine themselves in a super-luxury hotel.
IT IS EMBLEMATIC of the transition we are in—from a socialist political ideology, we are transforming into a hybrid capitalist economy. In this captive socialism, the commons, says architect Rahul Mehrotra, are threatened, be it the quality of the air we breathe, the purity of the water we drink or the sanctity of our public spaces and, more broadly, the environment. "Whether it is advertising or the landscape of indulgence that the rich are building, basically our priorities have shifted from a good society to a good life for the individual."
Pollution-free air has been recognised as a right by the Supreme Court. That it's still missing shows a clear lack of political will. As Sinha says, "The commoditisation of air is proof of the failure of public authorities and governing institutions to give the citizens something which is an inherent right. It is in fact even the collective failure of society as a whole to create an environment conducive to safe breathing. Even though there are economic gains attached to the rise of the air purifier and filtration system industry, the gains are completely offset and negated by the health and productivity cost to society as a whole given the large negative externalities associated with polluted air."
To bring this 'luxury' of clean air back into the space of rights requires collective action and policy overhaul. For far too long, the world has imagined development and environment in opposition to each other. Increasingly though, it is becoming clear that development cannot ignore the planet.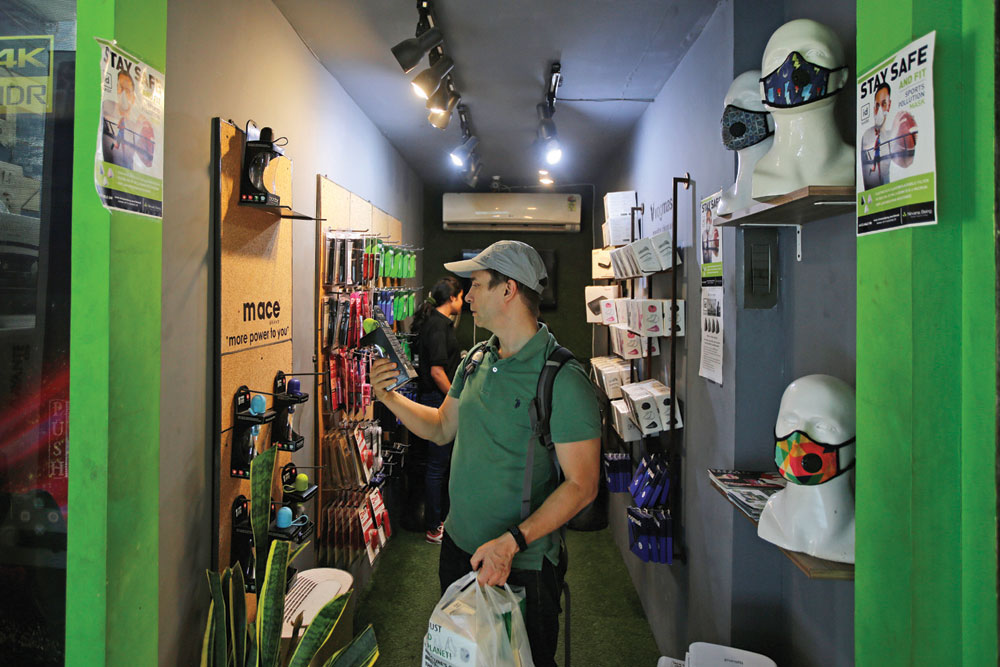 And not merely because of Greta Thunberg. Citizens the world over are pushing their governments to resolve this opposition. Movements such as 'My Right To Breathe', created by Delhi-based former TV executive Ravina Raj Kohli. What began in November 2016 as a citizens' initiative has a reach of 300 million through social media. She has seen a change in the mindset of those more affected: "Those who really can't afford the masks and purifiers and have access to regular news media. There's a change across non-English speaking communities. The narrative is starting to widen."
And that may well put pressure on all stakeholders—from Central and state governments, urban administrations to citizens' groups—to resolve contentious issues and find innovative solutions to issues ranging from stubble burning by farmers in Punjab and Haryana to traffic restrictions such as Delhi's 'odd-even' policy that restricts vehicles with each kind of registration number on alternate days.
Those are real solutions, says Sandeep Dahiya, Senior Campaigner, Purpose Climate Lab, Delhi, which works on ideas to combat the heating of the planet. "The growing industry of air pollution purifiers, mask and air cans is a mere band-aid in the absence of emission control and pollution reduction actions on the part of big polluters like coal and thermal power plants and industries," he says. Our law gives right to clean and breathable air to everyone, but if we start putting a price on it through air purifiers, air cans and masks and options like work from home, only those who can pay will be able to protect themselves—and that too for a limited exposure time, Dahiya adds.
THE REASONS WHY politicians and bureaucrats have done so little about the bad air crisis are that there are no quick solutions, says E Somanathan, economist at Delhi's Indian Statistical Institute, and they have very short horizons to get re-elected or transferred. "The air, however, can be largely cleaned up at moderate cost over a period of a few years," he says, suggesting, among other things, a public auction to sell machines that weed out crop residue at a subsidised rate to prevent stubble burning, which will cost the agriculture ministry a fraction of its annual budget, and a reduction in new diesel car production by lowering petrol taxes and raising diesel taxes. He says that the argument that the burden of diesel taxes falls more heavily on the poor has now been thoroughly debunked: it is the rich and the middle class which own vehicles, and it is they who buy most transported goods. As for coal plants, he says it's best to just phase them out as soon as possible, starting with the oldest [among the] dirtiest ones, and replace them with renewables and storage facilities for them and time-of-day pricing of electricity. "Building new renewables is cheaper than just the fuel costs of something like one-third of our existing coal capacity without taking the costs of pollution into account. If you take pollution costs into account (mostly from lost lives, health, productivity and brain drain, making it difficult to set up industries in India), then all our coal plants are more expensive. The Government should take a lesson from what China is doing in electrification of vehicles. But to really address pollution, we need an institutional change in environmental regulation," he adds.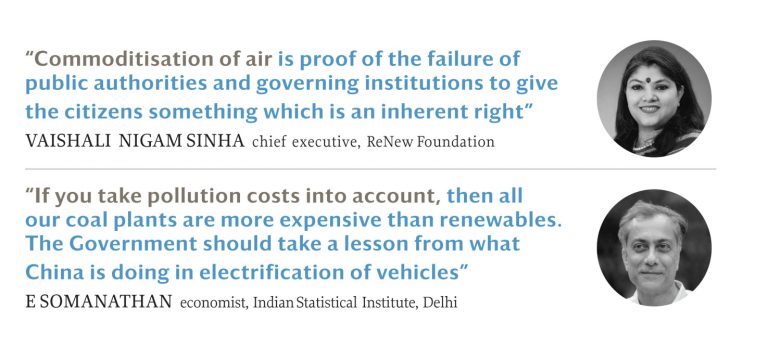 Many are also talking of a return to conscious consumerism. "What was once a mere marketing slogan has become a necessity," says Mikael Abbhagen, cofounder of Altered, a Swedish manufacturer of water-saving devices, which have suddenly seen a spurt in demand in India. "From wanting to know the provenance of each aspect of your garment to eating food with the least carbon footprint, luxury is being redefined," he says. It's the philosophy of responsible luxury ITC Maurya believes in, investing in air filtration for everyone from guests to staff. "Not only has it improved working conditions, it has also enhanced productivity," says HC Vinayaka, Head of Technical and Sustainability (Hotels Division), ITC. The hotel chain has always believed in being ahead of the curve on this, having retrofitted all its properties to the platinum level of Leadership in Energy and Environmental Design, a green building rating system, within a year. So the chain is now carbon-positive, water-positive, solid waste-positive as well as free of single-use plastic in the 150 items it uses ranging from toothbrush packaging to utensil lids.
AT DLF'S LUXURY malls too the commitment to luxury encompasses clean air. Gautam Dey, Director, DLF Power and Services, says, "It is very important to have lower PM10 [particulate matter in the air that is less than 10 micrometres in diameter] and PM2.5 besides lower gaseous pollutant in public places to eliminate fatigue, improve blood circulation, enhance productivity and have better quality of time spent for all visitors as well as staff." These include measures ranging from green chemicals for housekeeping, three-layer footmats at entrances to arrest 'foreign dust' to pre-filtered air at air handling units to eliminate outside pollutants.
But even those who make a living out of high-end air purifiers know it is not a sustainable solution. Barun Aggarwal, CEO, Breathe Easy, which calls itself an air quality consultant, says the volume of air purifier sales has gone up as the crisis reaches "hazardous" levels. But the solution, for him, is quite clear: "Focus on the root cause of each issue and solve it. It will take 10 years but no one is looking at long-term measures because they don't yield political mileage."
Not everyone is willing to wait, however. Living clean and green entails a simpler way of life, says Barnana Chakraborti, a mompreneur and member of the 32,000-strong Gurgaon Moms. "A small shift in lifestyle can make all the difference," she says, "whether it is using school buses for our children or public transport ourselves. In my son's school which has 800 students till class 5, only 250 use the school bus. The rest use their own vehicles. Isn't that alarming?" There is another mother in the group who went on a roadtrip with her family for a month to Goa to avoid Delhi's pollution, while another has suggested vetiver plantations on both sides of roads to improve air quality.
Until then, their children and their parents—and we—will remain indoors. Gated communities, gated bodies, gated minds. Welcome to the Brave New Air Bubble.

Kaveree Bamzai is an author and a contributing writer with Open