BACK IN 2013, when the then Congress Member of Legislative Assembly (MLA) Krishna Hegde bumped into an old colleague, Devendra Fadnavis, something of a premonition, Hegde says, flashed across his eyes. Fadnavis was a rising leader from Nagpur then, still some time away from being appointed BJP's Maharashtra president and more than a year away from being picked—surprisingly—as the state's Chief Minister.
Despite belonging to a rival party, Hegde had been always so impressed by Fadnavis, he says, that he walked up and told the latter he could be the state's next chief minister. Maharashtra's politics was in a flux in 2013, with the then ruling alliance, the Congress and Nationalist Congress Party (NCP) losing ground, and Fadnavis making a name for himself attacking the two parties over an alleged irrigation scam. Hegde laughs as he recalls this anecdote today. "[Fadnavis] smiled and said, 'It doesn't look like a probability now.'"
Fadnavis was still a junior leader then. There were several senior contenders, he seemed to suggest to Hegde, from Gopinath Munde to Nitin Gadkari.
A year later, once the BJP emerged as the largest party in the state election, the path to the chief minister's post had gotten even more crowded. Munde had died, but his daughter Pankaja was in the fray. There was chatter yet again about Gadkari's interest in the post; plus there was the senior and prominent Other Backward Classes leader Eknath Khadse, Vinod Tawde and a teeming cast of characters jostling behind the scenes to become the first BJP chief minister of Maharashtra. Fadnavis appeared to be an unlikely candidate. He was a Brahmin, not a Maratha. He was young and inexperienced. And although he might have the chops to succeed on the legislative floor, many wondered if he had the smarts to survive the behind-the-scenes machinations of his own party.
Five years later, all his past rivals have either been sidelined or marginalised. The opposition parties, the NCP and Congress, are in disarray. The BJP's own ally, the Shiv Sena, once the senior party in the alliance, has now been relegated to the junior position. And Fadnavis—despite the BJP not reaching the halfway mark on its own this election (the party was leading in 102 seats at the time of going to press)—is today head and shoulders above everyone else as the state's tallest leader.
In 2014, one could argue the party's win in the state was a spillover of Narendra Modi's Lok Sabha campaign a few months before. This to an extent is true even today. "But if you look at this election," poll analyst Surendra Jondhale says, referring to the manner in which the BJP's poll strategy was devised and candidates chosen, "you can see [Fadnavis'] stamp all over it."
The BJP's ally, the Shiv Sena, once the senior party in the alliance, has been relegated to the junior position. Which has helped Fadnavis rise head and shoulders above the rest in the state
"You have to remember this is the first time in more than 40 years that Maharashtra has seen a chief minister complete his full term," says the BJP's state chief spokesperson Madhav Bhandari, emphasising what makes Fadnavis such an important leader today. "The party has won every election under him: from the state and Lok Sabha elections to those in municipal and local bodies. This has never happened before."
Fadnavis has loomed large in this election. He has been one-half of, as Modi claimed during his speeches in Maharashtra, the 'super-hit Narendra-Devendra formula'. In his constituency of Nagpur South West, people walked in 'Main bhi Devendra' T-shirts and loudspeakers blared 'Dilli mein Narendra, Maharashtra Devendra' songs. Two months ago, for around six weeks, Fadnavis toured more than 4,000 km across the state in what was called the 'Mahajanadesh Yatra', sitting atop a chariot-like van with an LED screen showcasing his government's achievements. "This was the first time a chief minister was taking his report card to the people," says Sujitsingh Thakur, the state's BJP general secretary. "And you should have seen the crowds. Everyone from all communities—rural, urban, farmers, even Muslim women [according to Thakur, to show their appreciation for the abrogation of Triple Talaq]—came to listen to him."
According to Jondhale, with this election win, Fadnavis hasn't just cemented his political authority, he has altered the politics of the state. He points out how Fadnavis has been able to get Marathas, who usually back NCP's and Congress' Maratha leaders, to vote for him, a Brahmin from what was previously considered to be a party of upper castes and traders. "Fadnavis has completely thrashed Congress and NCP's Maratha hegemony," he says. "And just look at how he has demolished all his political competitors."
FADNAVIS GREW UP in a house seeped in the ideology of the Rashtriya Swayamsevak Sangh (RSS). His father Gangadharrao, a member of the RSS, was a Jana Sangh leader working at a time when politically, the Hindu right was still marginal in the state's politics. Gangadharrao, however, mentored people like Nitin Gadkari who would go on to become influential leaders. According to a Telegraph report, when Gangadharrao was arrested during Emergency, Fadnavis refused to go to his school because it was named Indira Convent. He had to be moved to another school.
After Gangadharrao's death, it was Gadkari who oversaw Fadnavis' early years in politics. By 1992, the 21-year-old Fadnavis, still pursuing his law degree, became a municipal corporator; six years later, he was the city mayor.
Fadnavis got his chance to enter the state Assembly just a few years later. Vinod Gudadhe Patil, an old friend of Fadnavis' father and a BJP MLA from the Nagpur West constituency who had begun to harbour ambitions of a Lok Sabha seat, vacated his constituency for the son of his old friend. Fadnavis won the election, but Patil lost. It is said Patil didn't find himself welcome at the party anymore. He was so marginalised that, according to reports, he quit the party.
Differences also appear to have grown between the Fadnavises and Patils. Fifteen years after Patil had vacated his seat for Fadnavis, contesting against the latter in Nagpur South West during the 2014 election was Patil's son, Prafulla Gudadhe Patil. Prafulla had joined the Congress by then.
I contacted Prafulla, now a corporator in Nagpur, but he was hesitant to speak about the past. "Yes, our families were once close. My family and I have our experiences with [Fadnavis]. But that is for me," he says. Patil, according to reports, had been eyeing a Congress ticket for this election too, but was denied one.
In the state legislature, Fadnavis began to make a mark for himself as a young and upcoming leader who was aggressive and well-informed. According to a political journalist, Fadnavis used to do research for senior leaders like Khadse. The spotlight began to sharpen around him just a little bit more towards the end of the last Congress-NCP government, when, armed with documents, he led the charge against that government's alleged involvement in an irrigation scam.
According to a source, it was just plain luck that thrust Fadnavis into the spotlight as BJP's state president. In 2013, as the source puts it, the party faced something of a deadlock over the post. Gadkari wanted his close aide, the then BJP state president Sudhir Mungantiwar, to continue in the post. But Munde, a long-term rival of Gadkari's, wanted him out. "Fadnavis was a neutral face then. He didn't really belong to either camp and was acceptable enough to both," the source says.
Luck might have gotten Fadnavis a foot in the door. But, as the period during the 2014 election showed, he was more than capable to keep the door open just for himself.
The constituency of Borivali in north Mumbai has been a BJP stronghold since 1978. Ram Naik won it for the first time then and kept returning until he began to contest the Lok Sabha seat. Even when he lost in the MP election later, Borivali Assembly kept electing BJP MLAs.
In 2014, the man who was parachuted there to contest for the party was Vinod Tawde, who, at a very young age, had become general secretary of the state unit. Before the election, it was evident that Munde would be the face of the party for the election. But once Munde passed away unexpectedly in a car accident, the field was thrown wide open. Tawde, media reports of the time mention, had put up hoardings of himself with only Narendra Modi for company, suggesting that he was making a shot for the chief minister's position.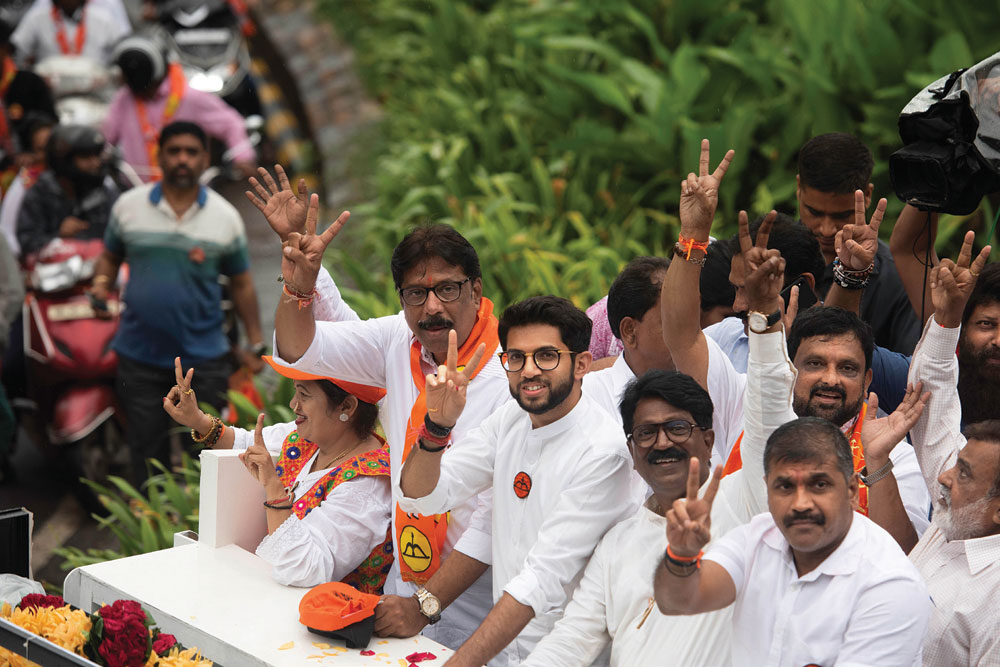 After the election, Tawde got education, one of the plum ministries in Maharashtra. His website still says he won Borivali with the second highest margin in Maharashtra. And yet, by 2019, Fadnavis had entrenched himself in such a position as the sole leader of the BJP that Tawde did not even get a ticket to contest. Khadse, another chief minister aspirant in 2014, met the same fate. Pankaja Munde, Gopinath Munde's daughter, who imagined herself a power centre, was demoted within a couple of years with one of her ministries being taken away from her. One of her close supporters, Mahadev Jankar, a prominent Dhangar leader and a cabinet minister in the current government, found during the time of ticket allocation this time, that his party Rashtriya Samaj Paksha, despite being in an alliance with the BJP and Shiv Sena, had gotten no tickets. Some members of his party fought this election, but as members of the BJP. According to a source, "Not only did his party not get any seats this time, Fadnavis has also begun grooming another Dhangar leader." This leader is Gopichand Padalkar, picked by Fadnavis to take on the NCP's Ajit Pawar at his bastion, Baramati. In five years, Fadnavis had wrested almost absolute control over the Maharashtra BJP.
Many of the images of Fadnavis before, and even on the day of the results, in 2014 are telling about his journey. He is seen seated in his small room in the MLA hostel, surrounded by party workers. You can see exertion but there is also the energy that politicians seem to have in abundance in times of victory. Right up to becoming the Chief Minister, there was, for those outside the BJP, very little marking Fadnavis apart among the second generation of Maharashtra's leaders. In the first generation, Gadkari, though said to be still harbouring ambitions of becoming chief minister, was in Delhi and Munde's death had left a vacuum waiting to be filled. In 2013, a year before he became chief minister, in interviews, Fadnavis was saying the party would go to election under Munde's leadership but the chief ministerial face would only be decided later. And even then it was not certain whether the BJP or Sena would claim it.
How did Fadnavis beat the odds? For one, there was the massive victory of Modi at the Centre in the 2014 Lok Sabha elections. It was clear that in the BJP from then on Modi's would be the sole defining vote when it came to the appointment of the chief minister. Then there was the BJP's enormous lead over the Shiv Sena. If the Sena still believed to be the Big Brother in the relationship, any such delusions were swiftly put to rest when Modi formed his ministry, giving them just one cabinet seat. Once the Assembly election's numbers came in, the BJP had almost double the Sena's numbers. Fadnavis, despite not being a mass leader, found himself the right man in the right party at the right time.
As soon as he became Chief Minister, he began massive infrastructure projects, like linking all of Mumbai and its outskirts by a metro and a coastal road, which would be another artery running across the city. Work is also going to begin on a transharbour link and a new airport. In all these projects of tens of thousands of crores, there has never been any accusation of corruption against Fadnavis himself, something of an exception in the history of Maharashtra's politics.
"He is an absolutely hands-on chief minister. He is in the loop about everything and he knows what is needed, what has to be done," says Hegde, referring to the manner in which Fadnavis operates with a young team out of what is known as his War Room, some of them professionals from other fields brought on as officers on special duty. Hegde, who left the Congress for the BJP two year ago, is currently the Vice-President of the party's Mumbai unit. "Just look at the metro in Mumbai," he says. "The previous government managed to create some 11 km of one metro corridor. He has managed more than 300 km of many metro corridors." According to the journalist quoted earlier, "Fadnavis has been in the shadows of other leaders for so long that he really wants to show what he is capable of now."
Fadnavis' first term, however, wasn't without its share of challenges. The biggest one appeared when Marathas seemed to be turning against him. Historically, Brahmins have had an uneasy relationship with the dominant Maratha group. Last year, after a series of protest marches, violence broke out in several parts of the state over reservation demands.
Fadnavis didn't just ride out that storm, introducing and managing to defend in court the reservation for the community in government jobs and education, he outsmarted his rivals by engineering the defections of several prominent Maratha leaders from the NCP and Congress into his party. According to Jondhale, there are many areas where the Fadnavis government has lagged behind, from an agrarian distress and economic slowdown to floods and droughts in parts of the state, but the opposition has failed to pull up the government.
With the BJP-Shiv Sena's win under Fadnavis this time, many BJP members and analysts have begun to wonder if in the near future Fadnavis will begin to play an important role in Delhi. "Look at it this way," Jondhale says. "We all know he is very ambitious. He has got age on his side. The RSS backs him strongly. And now we know he can perform electorally too."
(With Madhavankutty Pillai)