FOR the first 130 years of its existence, cricket, as a sport, did not lend itself well to the concept of Dream Teams. Essentially a year-round competition between countries (unlike football, whose calendar prioritises club over nation), cricket's Dream XIs lived fleetingly at the back of student notebooks, in video games and, sometimes, in a bar in Kent, England, called Lashings, whose quirky owner spent money to assemble everyone from Brian Lara to Wasim Akram to Sachin Tendulkar to play for his pub side. Against other pub teams. It was a bit of a joke, this concept of Dream Teams; until, in the 131st year of the game, Lalit Modi gave the tragics hope.
With friends in high places and with his singular vision to see the best play against and with the best, competitively, Modi punched a month- wide hole in the obstinate cricket calendar and created the Indian Premier League. But Modi's very rules (aggressive bidding, retainership agreements and salary caps), coupled with international commitments, ensured that the best of the best rarely had the opportunity to take an IPL field together. That's the problem with Dream Teams—as the very name suggests, they do not exist in real life.
So, in the run-up to the latest edition of the IPL, we decided to assemble our own Dream Team, eleven of the best players who will participate in the tournament's eleventh season, and see what they look like, together, on paper. The following team abides by IPL's playing eleven rules (a maximum of four foreign players) and comprises five batsmen, one all-rounder, one wicketkeeper and four bowlers (two spinners, two pacers). Some choices are obvious and others aren't, but statistically speaking, they deserve a place in the side. They also deserve your attention once the season starts on April 7th.
Chris Gayle (KXIP), The One: The greatest batsman in T20 history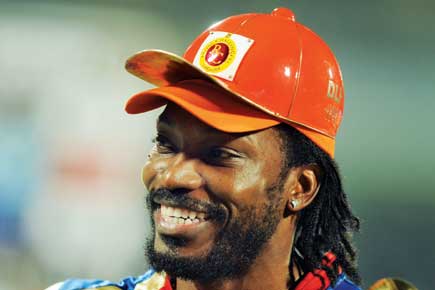 Chris Gayle is the Don Bradman of the T20 format. The West Indian superstar has represented 22 T20 teams around the world (he has played franchise cricket in India, West Indies, Australia, Pakistan, Bangladesh, England, South Africa and even Zimbabwe) and has tallied a total of 11,068 runs. No other gun-for-hire has come close. New Zealand's Brendon McCullum, the next on the all-time T20 runs list, is 8 runs shy of the 9,000-mark. But how's this for a stat: McCullum is also second on the list of all-time T20 century-makers with 7 hundreds. Christopher Henry Gayle has 20.
The greatest, and loftiest, of those Gayle hundreds was struck in the sixth season of the IPL in 2013 when Gayle scored 175 runs for Royal Challengers Bangalore (RCB) against Pune Warriors, with the help of 13 fours and 17 sixes. It remains the highest individual T20 innings of all time. But this wasn't his only go at setting near-unbreakable records in the IPL. In 2011, Gayle had hit Kochi Tuskers's Prasanth Parameswaran for 37 runs in a single over. Gayle's greatest moments were registered during his extended stay in RCB, a team that chose to not retain his services this season. But RCB's loss could well be the greatest-ever gain of Kings XI Punjab (KXIP), which, in 2018, are set to become the 23rd team of Gayle's venerated T20 career.
Virat Kohli (RCB), King of Great Times: The man who scored nearly 1,000 runs in a single season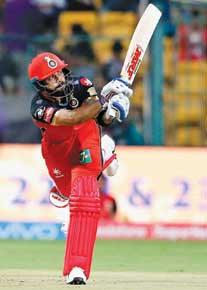 When 2016 began, the ninth year of his international (and IPL) career, Virat Kohli was already considered a modern-day great in ODIs and, to a lesser extent, Test cricket. In India, there were whispers of him being a reincarnation of Sachin Tendulkar. But at this point, the T20-loving masses were yet to see him tear up their favoured format—both in T20Is for India and for RCB in the IPL. He would give them, the masses that is, exactly what they wanted over the next five wild and whirlwind months.
The charge started in January 2016 when Kohli found his T20 groove with three consecutive fifties against Australia in Australia, including a top score of 90. Then, in March, came the World T20, where Kohli struck three more unbeaten fifties, against Pakistan (55), Australia (82) and West Indies (89). All this was just a precursor to the greatest individual IPL season of all time.
Kohli was yet to score a T20 hundred in any level of the game. After the first four matches of the ninth IPL season, he had come close on three occasions—with two scores of seventy-plus and one eighty. The three-figure mark was breached in the following game, 100 not out against Gujarat Lions. It soon became a habit. In the month of April, Kohli struck a total of four IPL hundreds (to go with seven fifties) en route to 973 runs in one season—240 runs greater than the previous Orange Cap record for top run-getter in a season. In one season, Kohli had notched a fourth of all his IPL runs. And in one season, Kohli had become an all-time IPL great; a great who is yet to lift the trophy.
Suresh Raina (CSK), Natural Instinct: The Indian league's poster child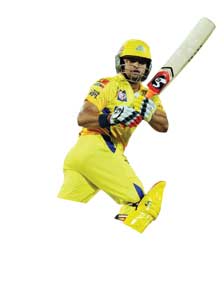 No other cricketer embodies the spirit of the IPL quite like Suresh Raina does. He has played more IPL matches (161), batted in more IPL innings (157) and scored more IPL runs (4540) than any other cricketer to have ever played in the league. But there's more to Raina's IPL career than meets the eye. Unlike Kohli, whose runs-scored-per-season progresses arithmetically (165, 246, 307, 557… 973), Raina is the epitome of consistency in the IPL. He has never scored less than 374 runs in a season and never crossed more than 548 runs in a single edition played so far. On seven occasions he has scored between 400 and 450 runs in an edition, a negligible deviation from his over all season-average of 454 runs.
The 2018 edition is arguably going to be Raina's most significant IPL outing yet, given he has lost his once-stable place in the Indian team. He has neither played a Test match nor an ODI since 2015. But Raina has reason to believe change is in the air; this season, for the first time since 2015, Raina will play the IPL for his beloved CSK, a team returning to the IPL fold after a two-year ban. Another strong showing in the yellow jersey and he could well return to the blue of the ODI team too, given the selectors' propensity to reward great IPL performances.
Rohit Sharma (MI), Leader 2.0: He redefined the art of T20 captaincy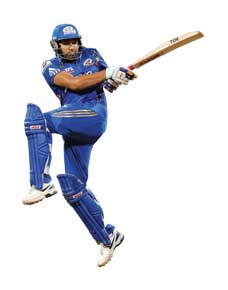 Rohit Sharma has won more IPL titles as both captain (three) and player (four) than any other captain (Dhoni and Gautam Gambhir have won two trophies each) and player (Yusuf Pathan featured in three wins). This is an incredible feat, given that when Rohit took over as captain for the first time, in 2013, MS Dhoni was the undisputed heavyweight as far as T20 leaders were concerned. That very year, 2013 that is, Dhoni once again led CSK to the final, a feat whose regularity is best explained with this statistic: in the first six years of the IPL, CSK had made every final bar one, with Dhoni's team winning two of them. But in 2013, Dhoni lost in the final and Mumbai Indians (MI), under Rohit's leadership, won for the first time. It was the ceremonial passing of the baton for Rohit, and MI haven't stopped glowing since, winning three out of the last five IPLs.
Rohit is third on the all-time list of IPL run-getters (4,207) and in the same position with respect to taking catches (71). But it is in his role as leader that Rohit stands out in the League. Not just because he has won over 60 per cent of all matches in which he was his team's captain (the only one above this mark), but mainly on account of the fact that the Mumbai dressing room has always had the largest support staff in the IPL, consisting primarily of former superstars. Sachin Tendulkar, Mahela Jayawardene, Shane Bond, Robin Singh and Jonty Rhodes are just some of those who are currently being paid for their advice. Yet, Rohit, insiders often claim, has the final say. Only a leader of the highest calibre can manage that.
AB de Villiers (RCB), Strokes of Genius: The batsman who invented 360° shot-making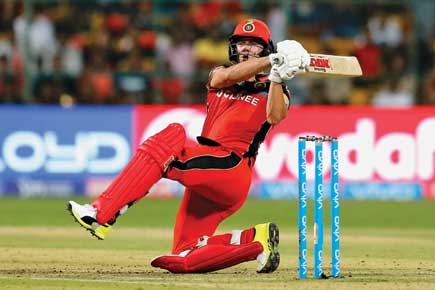 AB de Villiers' greatest contribution to the IPL, apart from scoring close to 3,500 runs and three incredible hundreds, is the ability to play shots that haven't yet been named in the game. Terribly hard to describe for both the fan on the street and the seasoned cricket writer in the press box, de Villiers has made hitting full-blooded shots in the 'A' (behind square) as normal an occurrence as scoring in the 'V' (front of square).
De Villiers is perhaps the only batsman in the known universe who can premeditate a reverse lap off a fast bowler over third man for a six. Then, sometimes off the very next ball, he can also get down on his knees outside off stump and flick a yorker aimed at the base of his leg stump over fine leg for six more, all while trying to keep his balance. After a typically exotic AB show (47-ball 79) against Sunrisers Hyderabad in 2016 that helped RCB qualify for the IPL final, an ecstatic Kohli, who had already scored over 900 runs in this edition, said: "I think this should settle the debate about who is the best in the world." That's AB de Villiers in a sentence—the only player in the world who has unanimously been called the best by his peers and rivals.
MS Dhoni (CSK), Thalaivar: Chennai's thinker, finisher, guardian, keeper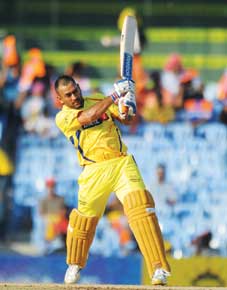 Had MS Dhoni not captained a single match in the IPL, he would've still been one of the most influential players in IPL's decade-long history, based solely on his performances on either side of the stumps. Purely as a batsman, he has scored 3,561 runs, the second-most by a wicketkeeper after Robin Uthappa (3,778). And as a glovesman, Dhoni has affected 102 dismissals; again, second on the all-time list, this time marginally trailing Dinesh Karthik (106). But the fact remains that along with being a fiercely good keeper and possibly the best finisher in the format, Dhoni was also a leader, a steward who led CSK through the 'purplest' patch any IPL team has ever seen.
Consider this. CSK's worst-ever finish in the IPL under Dhoni was the semifinals— twice, in 2009 and 2014. Every other season, until the team was suspended, CSK reached the final, falling at the final hurdle on four occasions (2008, 2012, 2013 and 2015) and winning it twice—in 2010 and 2011. In 2010, Dhoni's CSK also went on to win the double at the Champions League T20, officially making them the best franchise team in the world. Dhoni and CSK won the CLT20 once again in 2014, in the tournament's final edition.
However, Dhoni's legacy as IPL captain took a beating after CSK's suspension. In 2016, unable to recreate his magic in a new set-up, Dhoni's Rising Pune Supergiants finished second-to-last on the League table. And in the following season, his captaincy was handed over to Australia's Steve Smith, who led RPSG to within one run of the title. But just when it seemed like his leadership days were firmly in the past, given the national team is now led by Kohli in all three formats, CSK returned and in 2018, Dhoni will once again be seen in the titular role.
Sunil Narine (KKR), Mystery Fingers: The off-spinner who ended Kolkata's jinx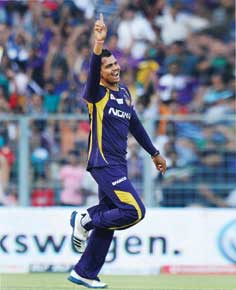 Before Sunil Narine's arrival in Kolkata Knight Riders' ranks, no bowler from KKR had had a season worth mentioning. In the four IPL seasons before 2012, KKR's best performing bowler had finished 15th, 22nd, 26th and 8th on the respective season's wicket-takers list. It was emblematic of KKR's woes, what with the Shah Rukh Khan-owned side finishing in the bottom-three in three out of the first four seasons. Then, in 2012, Khan invested in a mystery off-spinner from Trinidad, and everything changed.In his very first season, Narine scalped 24 wickets (second on the wicket-takers list), going at less than 6 an over (5.47) and KKR won the tournament for the maiden time. Narine was named Player of the Tournament. The next time Narine ended up as the second highest wicket-taker in the tournament—with 21 dismissals to his credit in 2014—KKR won again. Such has been his impact.
No other bowler, spinner or pacer, mystery or solved, has taken four or more wickets in IPL matches quite as many times—seven—as Narine. These numbers tell you just why KKR, in 2015, threatened to pull out of the IPL if Narine (called for chucking by the ICC) wasn't cleared in time for the tournament. In 2018, he was one of only two players to be retained by the Kolkata franchise.
Dwayne Bravo (CSK), The Rebel: T20's original gun-for-hire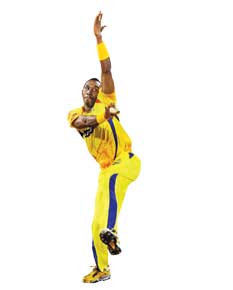 It could be argued that players from Trinidad & Tobago have had a greater impact on T20 cricket than any other nation in the world—with or without the criteria of population density. By the same yardstick, it could also be shown that of all the Trinidadians to have played franchise cricket, all-rounder Dwayne Bravo has had the greatest impact on it, considering that the very model—all over the world—has been built on the foundation of rebellion laid by Bravo. In 2009, he was the first international cricketer of repute to choose club (Mumbai Indians) over country (West Indies). The rest, as they say, is the sound of music videos and money machines. The clubs (and there are 19 of them) aren't complaining.
In the IPL alone, he has twice finished with the Purple Cap, handed out to the highest wicket-taker of the tournament, in 2013 (where he took 32 wickets, the most-ever in a single season) and in 2015. But that's of course not all that all-rounder Bravo can do. One of the safest hands in the game, Bravo averages 0.57 catches per game in the league with a total of 60 catches in his IPL career (fifth on the all-time list) and the 1,262 runs he has scored at No 7 (more than top order giants Tillakaratne Dilshan and Glenn Maxwell) is testimony to his batting skills. CSK swear by it, having bought him back in the auction for Rs 6.40 crore.
Bhuvneshwar Kumar (SRH), The Swing Master: The pacemaker of the season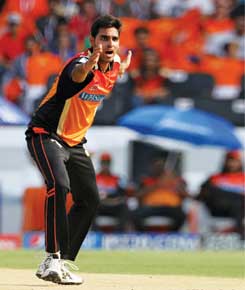 The terrific rise of Bhuvneshwar Kumar, and the reason why he was retained by his franchise Sunrisers Hyderabad for Rs 8.5 crore, is best captured when you break his IPL career into two halves. In the first half, during his days as a Pune Warriors player for three years, Bhuvneshwar took 24 wickets. In the second, with Sunrisers Hyderabad, for whom the pacer played just a season more than he did with Pune, Bhuvneshwar has produced 87 wickets. The turnaround in his fortunes was earned through sheer hardwork as Bhuvi metamorphosed from a bowler heavily reliant on swing to a well-rounded product: added pace and plenty of variations. In the last two seasons alone, Bhuvneshwar has taken 49 wickets in the IPL, 31 of those in the death or during the last three overs of the innings. This often made him captain David Warner's get-out-of-jail card during their title winning season in 2016. In the Eliminator, Bhuvi was brought back for the 18th and 20th overs of the match with KKR needing a very- gettable 39 runs from 18 balls with 5 wickets in hand. At the death, Bhuvi took 3 wickets, conceded 8 runs and SRH won comfortably.
Similarly, in that season's final, Bhuvi did his bit without even taking a wicket. While every other SRH bowler copped punishment from the smoking bats of Kohli and Gayle during their 114-run opening stand, Bhuvneshwar, who opened the bowling, went for 11 runs in his first two overs. He then returned at the death and snuffed out RCB's title hopes with a spell of 14 runs from 12 balls, when the opposition needed 37 from 18.
Amit Mishra (DD), Hattrick Hero: India's top wicket taker in the league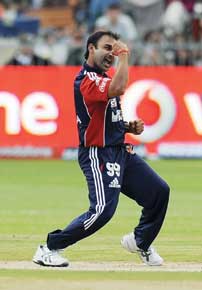 For a leg-spinner who claimed five-fors on his Test debut (against Australia) and what seems to be his final ODI (given he hasn't been picked since his match-winning performance against New Zealand in 2016), Amit Mishra's career at the international level didn't quite take off as per plan. But right throughout his blow- hot-blow-cold performances with the Indian team, Mishra has dutifully and consistently been the best he could possibly be at the IPL, a stage where he invariably scripted most of his heroic acts, ending up with numbers second to none.
No Indian bowler, pacer or spinner has as many scalps as the man from Haryana—134 wickets, second only to Sri Lanka's Lasith Malinga on the all-time list. But that's not nearly the extent of Mishra's repertoire in franchise cricket. In the ten seasons played so far, 17 hattricks have been claimed in the IPL. Mishra has his name on three of them, for three different teams—in reverse chronological order, Sunrisers Hyderabad, Deccan Chargers and his employers for the 2018 season, Delhi Daredevils.
Sandeep Sharma (SRH), Boy Wonder: He has a growing hunger for prized scalps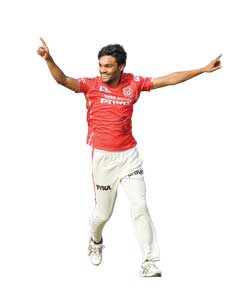 Of all the bowlers to have claimed 70 wickets or more in the IPL, India's Rajat Bhatia—with 71 wickets from 95 matches—is the only player who has not represented his country in any format. There's another bowler with 71 wickets (in 40 matches less than Bhatia), also from India, who would've missed the international boat had India not toured Zimbabwe in 2015 (and they nearly didn't). Sandeep Sharma played two T20Is in Harare and has never played for his country again. But in the IPL, the medium pacer has been nothing short of a revelation.
Thanks to his four-wicket burst in the Under-19 World Cup final, Sandeep was given a go by Kings XI Punjab in the 2013 edition of the IPL to prove his worth. In four matches, he took 8 wickets and there has been no looking back since. In three of the following four seasons, Sandeep has been KXIP's top wicket-taker. In the other, he was second on the list. His long-list of variations and ability to hold his nerve at the death ensured that Sunrisers Hyderabad paid six times his base price of Rs 50 lakh to buy his services for the upcoming season.