FOUR DAYS BEFORE THE police swooped down on him, the self-styled Khalistani lead­er, Amritpal Singh, stood in the courtyard of his house in Jallupur Khera village, about a 40-minute drive from Amritsar city. A pile of dirty plates in that corner had attracted flies, and he moved his feet constantly to keep them off. He talked in whispers to his uncle, Harjit Singh, who handled his af­fairs, including media interviews. From inside the house, a child giggled. Outside, on a cot, and on plastic chairs, a few armed men, wearing tra­ditional cholas like Amritpal, sat listlessly; two of them watched a video on loop of Amritpal in which he was referred to as "teer wale baba". It al­luded to him carrying an arrow, considered both a spiritual and temporal weapon in Sikhism—something that the extremist, Jarnail Singh Bhindranwale, killed during the Army's action on the Golden Temple premises in June 1984, used to carry as well. Ever since he appeared in Punjab in August last year, Amritpal has fash­ioned himself like Bhindranwale, copying all his mannerisms.
One of the men who watched that video had decorated his rifle's barrel with yellow and blue threads. He said it was something that Sikh brides wore at the time of marriage. "By putting this on his gun, he wants to convey that he is married to it instead of a woman," his friend said.
At one point, Amritpal took out his sword and kirpan and handed them to his bodyguard before stooping to enter a bathroom. Meanwhile, two people came to meet him and were made to sit on the cot. They greeted Amritpal, who asked them to come inside a room. After a minute, one of the men was sent out, and he sullenly sat back on the cot. A female relative came visiting, holding the hands of a young girl. The girl knew the guards and went to each one of them, shaking hands. Amritpal's mother came out, crossing the courtyard, dropping a load of clothes in a battered washing machine. Behind the washing area, pointing towards the road, there was a CCTV camera. On the rooftop, two religious flags fluttered next to each other.
After about 30 minutes, Amritpal emerged from the meeting. The armed men stood up. Surrounded by them, Amritpal walked towards the village Gurudwara, a seven-minute walk from his house. Harjit said he would be sitting there and meeting people till evening. On the narrow road leading to the Gurudwara, a hand­ful of people stuck to the corner as they watched them pass. Amritpal's men, with their rifles resting on their shoulders, kept a watch in all directions. It looked like a scene from the Punjab of the late 1980s when Sikh militants, known locally as 'Khadkoos', would have the run of the rural landscape.
Four days later, things changed swiftly. The ma­chismo of teer wale baba was drowned in memes. One of it, that went viral on social media, showed Amritpal's supporter, Bhagwant Singh "Bajeke", slapping his thigh repeatedly, daring the police to come and touch "Bhaiji" (Amritpal). In the second part, a jumpy Bajeke is seen running away from the police cordon, referring to them as "Puls" in his Punjabi accent. The way he said "Puls" is something Khalistani sympathisers will now have to bear for the rest of their lives. Among other memes around this word, there is a GIF of KPS Gill, Punjab's former police chief credited with putting an end to the in­surgency in the state in the early 1990s. In it, Gill's long moustache rises further up as the word "Puls" flashes beneath. In police custody, the man "wed­ded" to his rifle was so nervous that he couldn't im­mediately remember his village's name.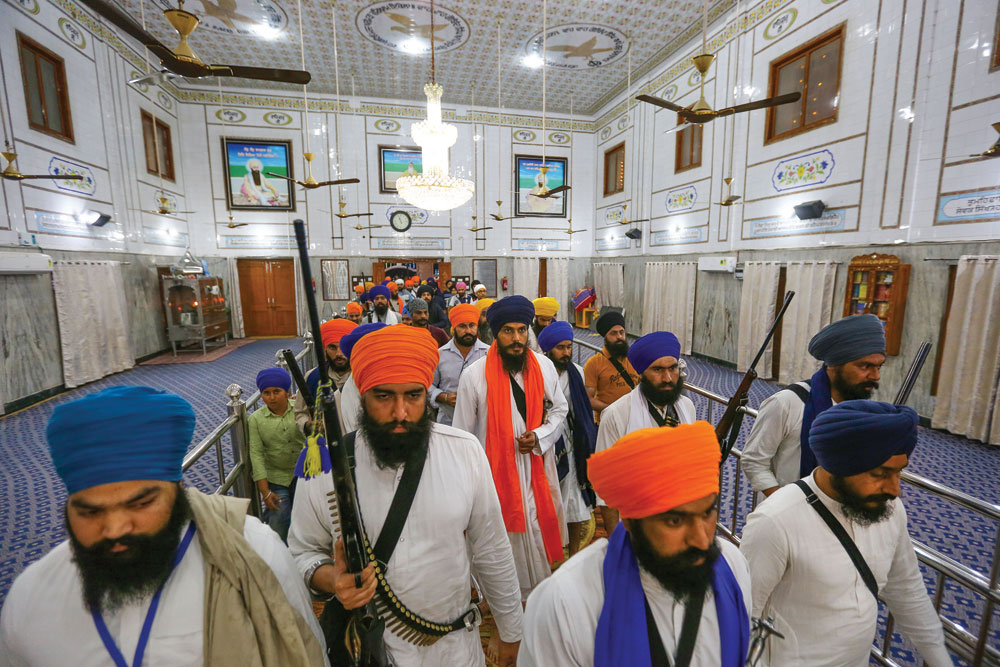 And the one he and the others were guarding, and who had been telling the youth that martyr­dom is a beautiful thing, was now an absconder. As people who do what they do on Twitter wouldn't tire of saying: Waris Punjab De (the organisation Amritpal headed) had become Laawaris Punjab De.
But that afternoon, in his village, and later at night in what was once the Tora Bora of Punjab in its dark days of the late 1980s, there were ominous signs that Amritpal was gaining prominence and that his 'sermons' and his interface with youngsters had improved largely from the time since he first appeared and declared himself the heir to Punjab. Intelligence agencies tracking him constantly felt that his ac­ceptance among the Sikh community had taken a dip after two incidents. In December last year, his supporters burnt down a few sofas and chairs kept for elderly people at a Gurudwara in Jalandhar, arguing that nobody should be above the Guru Granth Sahib. In February, he and his supporters carried the holy book in a palanquin and stormed a police station in Ajnala, near Amritsar city, demanding the release of one of his aides arrested on charges of kidnapping and attempted murder. It left a bad taste of him among many of those who had viewed him favourably earlier as someone who had taken up the cause of the "qaum" (community). The agencies also felt that no prominent Sikh institution or semi­nary was supporting him. "The overall response to him was that he had just appeared from nowhere and had swiftly become the most prominent face after Bhindranwale," said a senior police of­ficial. But it also did not escape the agencies that with each passing day, Amritpal was becoming more surefooted and his following, though nothing like Bhindranwale's, was increasing neverthe­less. The joke, said the official, was that if 500 people came to an event to hear Amritpal, at least 20 of them would be from different intelligence agencies, from state to Central.
That afternoon, as Amritpal entered his village Gurudwara, a group of devotees greeted him with the Sikh clarion call of "Bole so Nihaal". In the courtyard, next to the community kitchen, he sat on blankets put over a rug. On both sides, people who had come to see him sat at attention. One of them, about 50 years old, had a tattoo of an AK-47 rifle on the base of his palm. Many sat with a reverential air, their hands folded. A man had come with a toddler; he pushed her towards Amritpal who took her in his lap and blessed her.
In the next few hours, several NRIs came to see him, one af­ter another. A woman, perhaps in her late fifties, said she had come from America. She had a short conversation in whispers, and before leaving she handed over a wad of ₹2,000 currency notes to him. After her, a middle-aged man, who said he was from Australia, handed over a bundle of ₹500 notes. All of them got a picture clicked with him.
A young man had taken a bus from Pilibhit, Uttar Pradesh. As he was talking to Amritpal, a young woman came with her rela­tives who touched Amritpal's feet. The woman was facing marital discord, and her mother appealed to Amritpal to intervene. Harjit made a few calls, but the husband could not be contacted. Amritpal spoke to the woman, saying he would speak to the husband first. "I also need to hear his side of the story," he told the woman. After that, a 22-year-old man from Jalandhar, Lovepreet, came to see him with his mother. He had a tattoo on his forearm that read "Beast of Bur­den". Lovepreet said he was a drug addict. "We had heard about him [Amritpal] and decided that we would request him to help my son become clean," the mother said. Amritpal's men asked Lovepreet to stay back and live with them. The mother said she was relieved. She had three sons and two of them, she said, were addicts. "The eldest one is not interested, but Lovepreet said that he would like to leave drugs," she said. They had tried rehabilitation centres, of which there are many in Punjab, but it had not worked. Amritpal called these centres "white nonsense". Around the community kitchen, at least 10 young men worked, cleaning and helping out. One of Amritpal's bodyguards said they were all former drug ad­dicts, whom "Bhaiji" had put off drugs. They had all been baptised by him, he said, as part of his "Amrit Sanchar (baptism campaign)".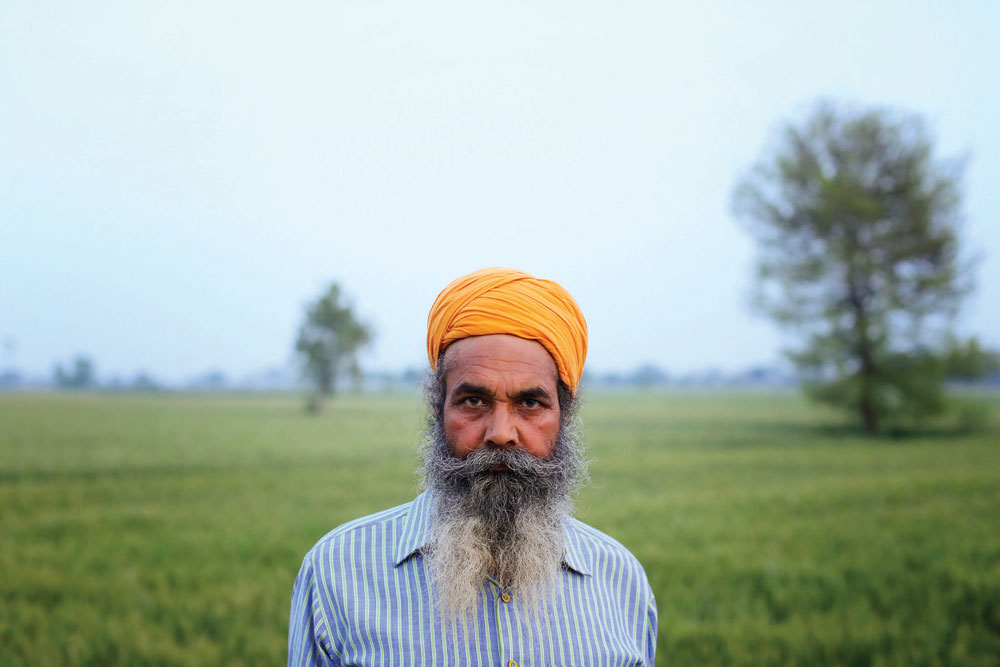 Later that night, at Tarn Taran's Pahuwind village, Amritpal ar­rived with a big entourage, consisting of, among others, 14 gunmen. A congregation was in place, attended by over 1,200 people, around half of them women. Pahuwind, close to the international border with Pakistan, is the birthplace of the 18th-centu­ry Sikh warrior Baba Deep Singh who was killed at the age of 75 while fighting the marauding Af­ghans. In his speech, which Harjit later said was the longest he had delivered, Amritpal began by asking the congregation to chant "Waheguru" for a few minutes. He then directly went into what he called the question of martyrdom. Addressing the youth specifically, he told them that dying for the religion was the best way to die. He said that in every village in Punjab, about 15-20 men had died of drug overdose. "More than those who died in 1984," he said, referring to the victims of the anti- Sikh pogrom that year. "Keenwe marna hai? (How do you want to die?)" he asked them.
A majority of devotees listened intently as he spoke, some of them nodding in agreement. Many recorded his 'sermon' on their mobile phones, among them a girl, barely 10.
Amritpal had perhaps realised that unlike Bhindranwale, he had no training in scripture. This, he had pointed out earlier in a conversation with this writer about Deep Sidhu, the actor-turned-activist whose organisation Waris Pun­jab De Amritpal took over after Sidhu's death in a road accident in February 2022. "People accepted him as leader," he said of Sidhu, "but not as re­ligious leader." In the speech at Pahuwind that night, Amritpal quoted at least five times from the scriptures. He spoke of the drug problem and how the "hukumat" (the government in Delhi) was using it to tame and weaken the qaum. He spoke of how Sikh youth were going abroad and getting married outside the community to any "gori ya kaali" (white or Black). About incidents of alleged dishonour to the Sikh holy book, he said that the youth could not remain passive to such acts. He gave the example of the former governor of Pakistani Punjab, Salman Taseer, who was shot dead by his bodyguard in 2011 for his op­position to the blasphemy laws. He told them how the killer was showered with flower petals. "We are not Gandhi's progeny," he thundered, "that you beat us with the shoe and we ask you to hit us more," he said.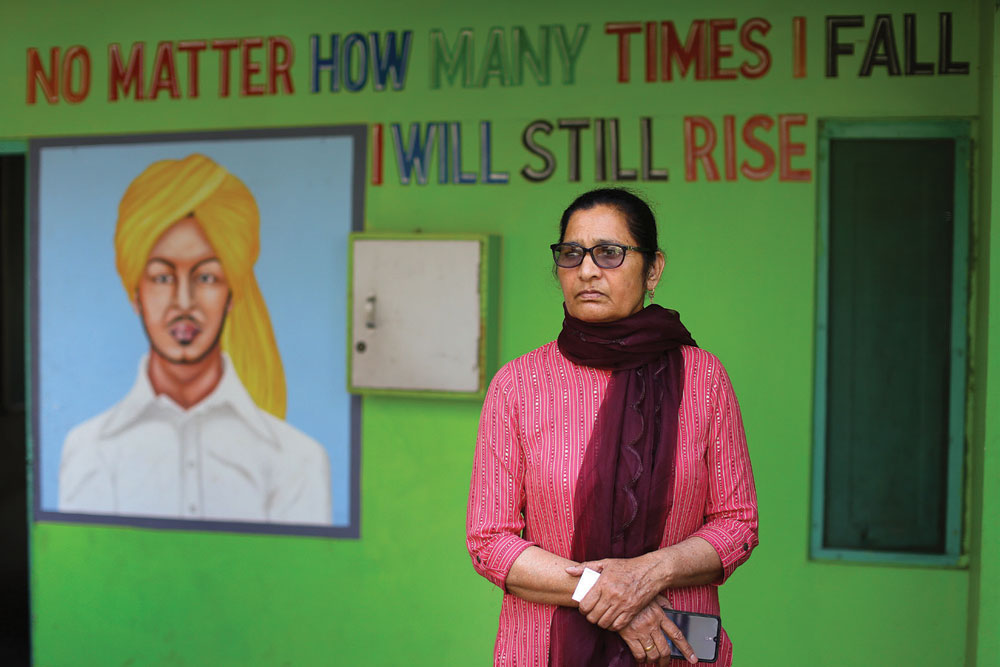 A senior officer in the Research and Analysis Wing (RAW) told this writer that, in February 2022, six months before Amritpal landed in India from Dubai, inputs about the possibility of an outside man being propped up to create trouble in Punjab was provided to the state government. While the state govern­ment's inertia in this matter could be understood in terms of not upsetting the sentiments of a section of Sikhs with whom Amritpal's mission of "Amrit Sanchar" may have resonated, what explained the Centre's refusal to act? "These things are complex," the officer, who has served extensively in Punjab, argued. "When the action against Bhindranwale took place, there was no context of the past. But now when you have to act, you look at the past and remember how the Centre's intervention in 1984 [inside the Golden Temple in the form of Operation Blue Star] created a mess," he said. Referring to what he called Amritpal's real mission, the officer said that Amritpal had been planted by Paki­stan's Inter-Services Intelligence (ISI) to reignite the spark of separatism in Pun­jab. He said that from Dubai, Amritpal had first travelled to Georgia where he was provided training by them. His recent surefootedness, the official said, came from the realisation that New Delhi was dillydallying and was unable to act against him.
And then it happened.
That day, though, while speaking to this writer, Amritpal said that his initial plan was to visit countries like Austra­lia and Canada where the Sikh diaspora lives in large numbers and mobilise them. About Georgia, he said he had gone there to get an eye surgery done as he suffered from myopia. He claimed that once he landed in India, there was already a Look Out Circular (LOC) against him. He claimed that he was questioned for four hours and then let go.
AFTER HIS 'SERMON' at Pahuwind, Amritpal was led hurriedly towards the sanctum sanctorum where he paid his obeisance and was then taken to the community kitchen where he sat with others. Many devotees looked on, waiting for an opportunity to click pictures with him. Several youngsters looked at his bodyguards in awe, staring at the rifles they carried and the bandoliers over their shoulders. That night, hundreds of youngsters posed with Amritpal. As he got in his car, a big crowd thronged to catch a glimpse of him.
With his purported disappearance, the question remains: Would Amritpal have become Bhindranwale 2.0? Perhaps a far more important question is: Is there space in Punjab for an extrem­ist like Amritpal? And if yes, why?
The answer is a bit complex. Those who know Punjab speak of a political vacuum that some elements, they say, will always try and fill with the likes of Amritpal. "We are at a juncture where two main parties [the Akali Dal and Congress] are in complete disar­ray," said Amritsar-based political scientist Jagrup Singh Sekhon. The rural peasantry, which remained the base of the Akali Dal, is moving away, especially the younger lot among them. It is them, along with other young people in Punjab, said Sekhon, who gave a chance to the Aam Aadmi Party (AAP) in the last election. But, a few months later, in the Sangrur Lok Sabha bypoll where the party's candidate lost to the radical Simranjit Singh Mann, the party received the signal that future success may not be a cakewalk.
The state needs immediate interven­tion, say Punjab experts. There is the problem of drugs, of unemployment, involuntary migration, and an agrar­ian crisis also looms large. People were becoming restless and wanted immedi­ate results. Perhaps that is why, when Amritpal spoke about issues such as the drug problem, it resonated with them.
The other complexity is the struc­ture of resistance, of the idea of mar­tyrdom, ingrained in Sikhism that even Amritpal tried to cash in on. In Pahuwind, where Amritpal spoke, on one side the Gurudwara manage­ment had put up a tableau depicting the martyrdom of, among others, the ninth Sikh Guru Teg Bahadur Singh at the hands of the Mughals. The idea of martyrdom, launching a fight for the underdog, and not relenting even when one is cut to pieces oneself, remains at the core of Sikhism. This also translates, said Sekhon, into a fight in continuum against the perceived injustice to Punjab by what has been termed for long as the "Dilli Durbar".
A prominent Congress leader once witnessed a strange spec­tacle. Near Fatehgarh Sahib, from his car he saw a Nihang Sikh hitting a bridge with his shoe. He stopped, exchanged religious greetings with him and asked what he was doing. The Nihang said he was punishing the bridge as he believed it was from here that the men, who eventually killed the tenth Sikh Guru, Gobind Singh, came from. "For the Sikhs, the Mughals represented Dilli Durbar. And in modern history, Indira Gandhi. And now the cur­rent regime," said Sekhon.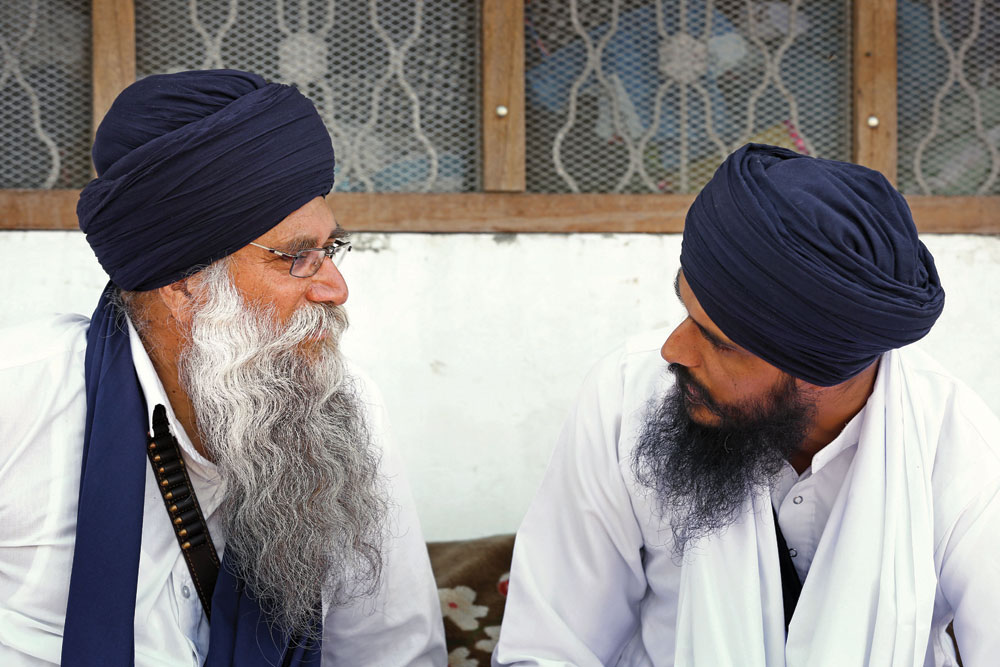 But when did this vow to fight for the "deen" perambulate to a situation where mentally challenged men have been lynched on charges of "beadabi", or dishonour, to the Granth Sahib? While the idea of injustice remained intact, somehow it came to a point where even a false hero like Sidhu Moosewala would boast of his imaginary struggles through the bravado of "Museebat taan mardaan te paindi rehndi ae (hardships keep appearing in men's lives)". From the idea of fighting like men who, folklore says, would hold their head in one hand and keep fighting, it reached a hollow telos where guns, drugs and fancy jeeps would be eulogised.
A well-known resident of Amritsar recently went to a famous designer showroom to buy a suit for himself, to wear at his daugh­ter's wedding. "I was surprised to see that they are even selling hol­sters, as part of the formal wear," he said. The man whose family owned land in Rajasthan's Sri Ganganagar, bordering Punjab, re­members a time in the late 1970s when Bhindranwale was just a preacher, and a very popular one at that. "He would spend weeks around our village, preaching so beautifully," he said. His men would collect wheat and pulses and soap from households.
Not long afterwards, Bhindranwale became a different man, responsible for plunging the state into its darkest period since Parti­tion. The Amritsar resident who saw him in a different avatar in his childhood acknowledged this, but said he would always remember him as a simple preacher. For him, perhaps, the dark days of militan­cy in Punjab were more a legacy of the "Dilli Durbar" than the man he would like to think of as a simple preacher. No matter whom the verdict of history would find guilty—or more guilty—the fact remains that though, technically, insurgency was over in Punjab, the entropy which brought it on has remained around the corner.
And this disorder, though dormant for the last 30 years, still extracts a price.
Close to Pahuwind, two days before the crackdown on Amritpal, 58-year-old Jagdish Kaur sat in the office of a private school she now runs alone. In 1990, during the peak of militancy, Kaur and her husband Balwinder Singh Sandhu had thwarted 42 attacks on their house. Sandhu had opposed the idea of Khalistan. The first attack took place on January 31, 1990, led by four terrorists. On September 30, around 200 terrorists attacked their house. It be­gan at 7PM and lasted till 1.30AM. "There were five of us inside the house, including my husband, and brother, who was just 14 at that time," Kaur recalled. The brother-sister duo helped Sandhu and two others load weapons that would heat up because of incessant use.
It was a difficult time. The Sandhus were provided with two policemen who, Kaur says, would just come and sleep in a room. At that time, two policemen had deserted the force and ran away with weapons. She said she could not even trust the police. "We feared they might end up killing us," she said. During an attack, no one would come to their rescue. "The police wouldn't come because the militants laid landmines on the road," she said. Later, they would get automatic rifles and even an LMG from the police.
It was near their house that terrorists killed 15 Hindus travelling on a bus on the Amritsar-Khemkaran route. At night, terrorists would barge into houses and demand food, Kaur recalled. They would also throw their dirty clothes at women and ask them to clean those. After they were gone, the police would come and ha­rass the families, accusing them of sheltering terrorists.
For his bravery in the face of such attacks, Sandhu was awarded the Shaurya Chakra.
The insurgency was declared over by the mid-1990s. The Sandhus thought the worst was over. They began reliving their life, raising their kids, starting the school. But Khalistani elements based in Pakistan and Canada had not forgotten. In October 2020, Sandhu was ambushed by two men sent by these extremists on the school premises and gunned down.
After her husband's death, the strength of the school fell from 1,000 to 65. "Only a few brave people still send their children," Kaur said while pointing at the bullet marks in the room where her husband was shot. Her sons kept receiving threatening calls from unknown numbers in Canada. "My son asks me sometimes what we achieved by putting up such a long fight against extrem­ists," she said.
At the other end of Amritsar, a few others were also offering resistance to Khalistani terrorists. In Harsha Chhina village, near Amritsar's international airport, Gurdev Singh's house is on the narrow road in front of a vast field. Across it is a Gurudwara. In the 1990s, he said, it used to be the hiding place of terrorists, led by a local commander called Satnam Singh.
Gurdev worked with the Army. His brother, Hardev, who had earlier worked with the Army, was a communist activist. Hardev, known more popularly as "Babbu Comrade", was at loggerheads with the extremists.
"In those days, I would come home on leave and fight a different war here," recalls Gurdev. The family would sleep on the terrace, fortified with brick walls. "There was no sleep, not even a wink," said Gurdev. There were multiple attacks on their house.
When Satnam could not kill Hardev even after repeated at­tempts, he devised a different strategy. He sent his paramour to him, disguised as a journalist. "We saw her the first day," said Gurdev. "She met Babbu on the way and sought his help in starting her moped whose plug, she feigned, had developed some issue." After Hardev had helped her, the two struck up a conversation. She asked Hardev for help to roam around in neighbouring villages which he readily accepted. The third day, she called him to a hotel in Amritsar. Ac­cording to Gurdev, they drank alcohol, after which militants who lay in wait attacked him. They cut off his head and later placed it at the entrance to the village Gurudwara. It was March 1990.
Thirty-three years later, there was a congregation in progress at the Gurudwara. Men and women, decked in shiny clothes, were assembling for night-long prayers. Food stalls had been put up on the road outside, as the keertan from inside reverberated in the crisp village air. Nearby, Hardev's old comrades, now men in their sixties, lamented what has happened to the Left in the last few decades. "There was a time [in 1977] when the Left held significant sway, winning more than a dozen seats in the late 1970s. And look at where we are today," said Akshar Singh, Hardev's friend. After the insurgency, he said, the Left had been unable to attract the youth.
What also did not help Punjab was that there was a neigh­bour willing to take advantage of any fissure. For over 30 years, at 7.30AM IST, Radio Pakistan has played a Punjabi-language pro­gramme, 'Punjabi Darbar'. For the first few minutes, it plays the keertan, after which it delves into anti-India propaganda. It can be heard in the border areas in Indian territory as well and, according to a journalist who monitors it, has a good audience.
The sophistication of the propaganda has reached such a level that the programme picks up real events in Punjab, with real names and places, and then uses this information to spread lies. For exam­ple, it may pick up a news item where a farmer in a border village in Amritsar district may have complained about the government's in­ability to provide them with potable water they had been promised after the ground water was found contaminated with fluoride. The programme twists facts, saying that a farmer (real name) from vil­lage X (real name) had written to them saying that the "Brahminical government" in New Delhi was trying to poison the Sikh popula­tion by denying them safe drinking water. A prominent man from Amritsar who made a pilgrimage to Kartarpur Sahib (in Pakistani Punjab) remembers how cold the Indian immigration authorities were to him as he crossed over. On the other side, he recalled, the Pakistani immigration officer got up and hugged him and said that he did not need the passport to come to Pakistan. And in the next breath said, as the Amritsar resident recalled, "Phir Hinduan da kee karna hai? (So, what do we do with the Hindus?)"
It is part of the same plan by which Amritpal Singh was plant­ed in Punjab, maintain intelligence agencies. They believe it is more important now that ISI has been unable to hurt India in Kashmir to the level it would want to. That is why there is an ef­fort to reopen the Punjab front. There is a security, and perhaps a political, assessment as well given the way the Modi government was forced to go back on the farm reform laws—the impression in Punjab is that its people are distinct from others and they can make things happen that no one else can.
The question then goes back to the same old fundamental issue: Will a political system rise in Punjab that will get rid of the drug problem and create employment, solve the agrarian angst? Will a section of Sikhs stop getting influenced by fringe elements in the diaspora who have nothing to lose? Can a few outside Punjab, who look at every protest concerning the state through the prism of Khalistan, stop doing so?
Only these will decide how long the sentiment of "Dilli Durbar" remains. And whether a man who wants the youth of Punjab to die will find a following large enough to plunge the state back into a state of entropy.