DURING PRESENTATIONS made to him, Prime Minister Narendra Modi can take being a 'good listener' to a different level altogether. Officials and experts can find themselves running out of words since, apart from the odd interjection, Modi barely intervenes till the end of a discussion. Even then, he seems to wait for more before he opines that more information is needed or that certain loopholes need to be fixed—or that a broad approval is accorded. It is almost as if Modi wants to hear everything a meeting has to offer, drawing out participants and ensuring that no point is excluded. Part of the effort, officials feel, could be to prevent any guesswork about how he feels about an issue that leads to self-censoring. Whatever the reason, meetings chaired by the prime minister require thorough preparation and often lead to substantive results that become visible, as during Modi's recent visit to Europe where he navigated the geopolitics of the Ukraine war but also made a strong connect with industry. At a well-attended meeting with business heads in Germany, leading companies like Siemens, BASF, Schaeffler, Deutsche Bank and Volkswagen showed a strong interest in his pitch that ongoing reforms, the rising number of startups and unicorns, and projected investments in infrastructure made India a prime destination. Discussions with leaders of the Nordic nations saw a convergence on emerging and futuristic areas like green energy, digitalisation and innovation as well as on more traditional sectors like ports and sustainable development.
Yet, things have not always proceeded smoothly in the past. Modi's first port of call, Denmark, was the scene of a big diplomatic row in 2002 when then Danish Prime Minister Anders Fogh Rasmussen offered unsolicited advice to then Prime Minister Atal Bihari Vajpayee on Kashmir and relations with Pakistan. Taken by surprise, Vajpayee threatened to call off official engagements before a patchwork peace was arrived at with Rasmussen partially amending his remarks. The Indian embassy, then headed by HK Dua, was clueless about the impending storm. Modi does not leave everything to officials and, in the case of Denmark, which he recognises as a small but influential nation, his equations with Danish Ambassador to India Freddy Svane go back to when he was Gujarat's chief minister. Svane was one of the few European diplomats who had reached out to Modi, recognising the potential for investments in Gujarat and possibly the leader's political prospects. That contact laid the foundation of an effective partnership that grew after Modi became prime minister in 2014. It was no surprise that Danish Prime Minister Mette Frederiksen, a Social Democrat, visited India last year and was a welcoming host to Modi.
As his government completes eight years in office on May 30, Modi recently made a rare reference to his tenure and possible plans when he recalled being asked by a Congress leader if being prime minister for two terms was not enough. "He doesn't know Modi is made of a different mettle. The land of Gujarat has made him. That is why I do not believe in taking it easy," Modi told beneficiaries of welfare schemes in Bharuch via video link. It was not, as some commentators erroneously concluded, that he was announcing a decision to run for a third term. That is a foregone conclusion. Nor did he have any perceived notion of the Bharatiya Janata Party's (BJP) internal dynamics in mind. It was as clear a statement of intent as could be made as Modi underscored his determination to achieve 100 per cent coverage of government schemes. As an official explained, "saturation" coverage is the buzzword in government where the focus is on ensuring eligible beneficiaries are enrolled and delivery mechanisms like direct benefit transfer (DBT) work to the fullest. The welfarist agenda, which the prime minister says will erase "appeasement politics" (essentially undercut the 'vote bank' approach of rivals), goes hand-in-hand with major initiatives to promote infrastructure and make growth durable. The political goal of winning a third successive Lok Sabha majority in 2024 is embedded in the bid to shift governance into a higher gear to meet rising public expectations and counter incumbency.
The decision to tackle red tape and ad hocism that have marked India's infrastructure development, with cost overruns and missed targets deterring investors and breeding corruption, was a crucial one. When Union Minister for Road Transport & Highways Nitin Gadkari set a target of building 30 kilometres of national highways every day in 2014, his ambitious plan raised several eyebrows. At the time, the annual average of highway construction across India was about 11 km per day. If that were not a dampener, in the first three months of that year, the speed had dropped to a mere two to three kilometres a day.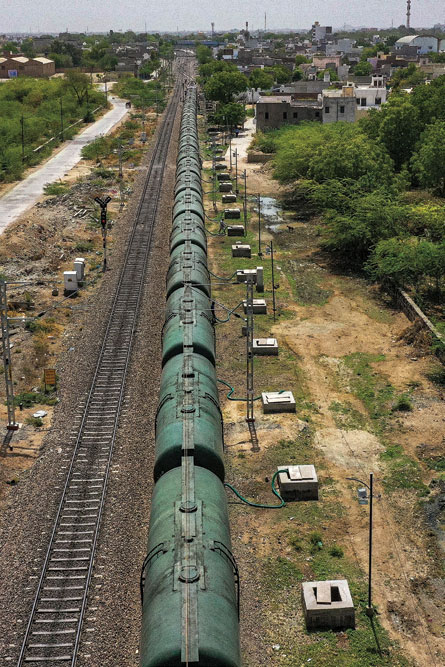 All that changed quickly. In a span of three years, the speed of construction accelerated to 30 km a day. The construction of national highways, which had slowed down during the Covid-19 pandemic, now stands at 38-40 km a day. A new target is now on the horizon: 45-50 km a day; and the aim is to complete 18,000 km of national highways in this financial year (2022-23). Meanwhile, a recent analysis shows that India redeveloped or built
60,000 km of rural roads in the past two decades with the pace clearly quickening after the Modi government took office.
It has been known for long that infrastructure is the limiting factor in India's growth prospects. Various indicators showed this clearly. India's clogged highways, the chronically high turnaround time (TRT) at ports were manifestations of regulatory cholesterol and endemic graft. In 2013, the average TRT was 4.29 days. That finally came down to 2.13 days by 2020. In this situation, even if everything else fell in place for a business—sourcing of materials, getting orders and manufacturing—the hurdles in moving goods by road, through ports and even by air could be insurmountable. The last-mile problem could defeat all good intentions.
The trouble was that if the problem was known, the solutions could not be implemented. By 2013, environmental and other regulatory clearances were seen as a roadblock. Key projects—highways and airport expansions and other infrastructure—were held up for approvals. The Navi Mumbai airport, a necessity as the main airport in Mumbai was running to full capacity, was delayed for more than a decade because of regulatory hurdles. Its first phase is now expected to be ready in 2024.
The number of rural households covered so far under JJM is over 9.53 crore. different strategies are being adopted depending on topography and availability of water. In water-stressed regions like Rajasthan, water would be transported from other areas
When he took charge, Gadkari found that nearly 300 projects involving
₹ 2.5 lakh crore were stuck. Investors had started losing interest, and response to public-private partnership (PPP) model projects had begun to dwindle. Gadkari held a meeting with Larsen and Toubro (L&T) chairperson AM Naik, who had decided to pull out of all road projects. The minister advised him against it. Naik, however, exited from the sector. About two years down the line, L&T was back, working on nearly 10 projects.
Eight years on, Gadkari exudes confidence about breakthrough projects. "The Delhi-Mumbai highway, the connection from Delhi to Katra and Srinagar, new roads connecting Bundelkhand with Mumbai, will change travel. You will be able to move across the country and travel time will be drastically reduced. This will happen before 2024," he told Open (see interview).
The lessons of Modi 1.0 have been studied and gone into framing policies that have been unveiled in the past year, including plans for massive Capex (capital expenditure) spending of ₹ 60,000 crore set out in the current Budget. Despite a faster rollout of projects, Modi remained unconvinced that this was enough. His experience at the Centre prompted him to feel that unless government departments stopped working in silos—and this remained the case despite some improvements—the infrastructure knot would not be untied. He also grew sceptical of ministries increasingly resorting to 'consultants', often large multinationals offering professional services, to prepare reports on policy issues that should be tackled by government itself. The churning led to the government's most determined effort to reduce friction and improve logistics—seen to hold the key to making the Indian economy more competitive. The PM Gati Shakti initiative aims at bringing departments related to railways, roads, ports, waterways, airports, mass transport and logistics infrastructure onto a GIS (geographic information system) platform where relevant data is shared. The goal, and it is not an easy one, is to ensure Central and state projects do not duplicate efforts and are not hampered by inadequate information on local geological, administrative, connectivity and land-use factors. The "digital master planning tool" is, like other initiatives, much more than a routine administrative call or a tweak in policy planning. The idea is to make India "future ready" by modernising decision-making and ensuring infrastructure targets are met. The prime minister's participation in a series of post-Budget webinars is part of the effort to ensure implementation and spending do not lag till the fourth quarter as is often the case. "The fineprint of the Budget is discussed with industry and other stakeholders. This means corrections can be made and rollout of schemes and projects happens sooner," says an official.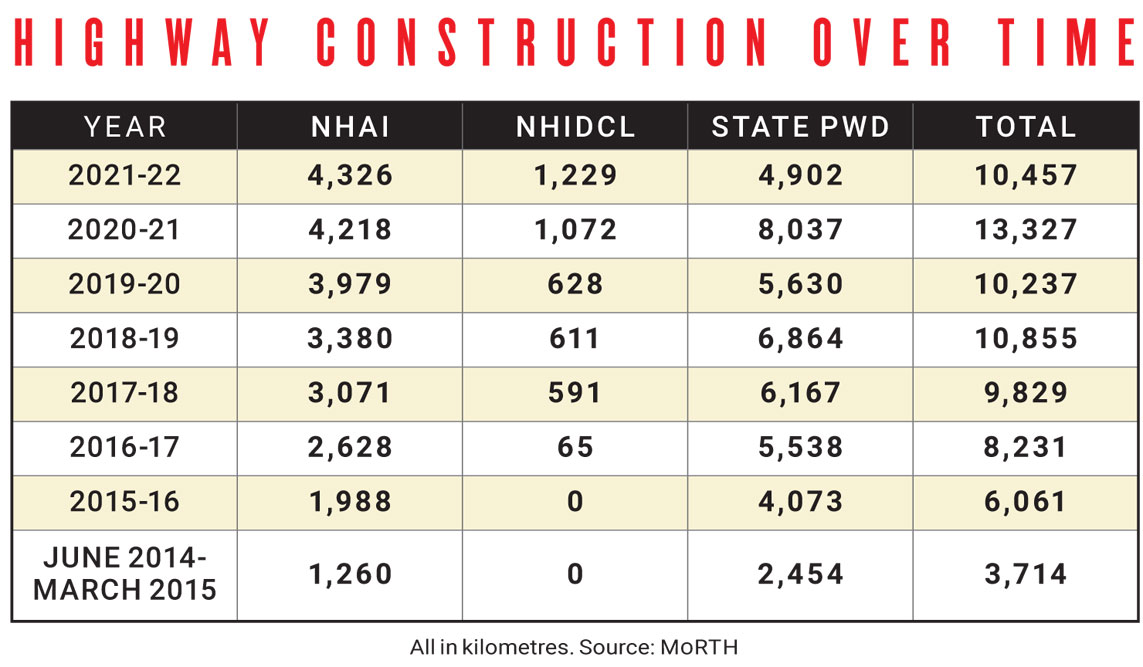 An early presentation in the Modi government's first term showed that around 96,000 km of highways carried 60 per cent of traffic. The ministry decided to double the length of the highways. Today, the figure stands at 1.56 lakh km. Meanwhile, the government increased the budgetary outlay for national highways from ₹ 30,093 crore in 2014-15 to more than ₹ 1.99 lakh crore in 2022-23.
A close aide of Gadkari recalls that when the minister found that the biggest bottleneck in building railway bridges was cost sharing between the transport and railways ministries, he and Suresh Prabhu, then railways minister, signed a memorandum of understanding (MoU) that neither ministry would take funds from the other. The file had to go through 16 tables for approval. This process was made digital. Within six months, 72 bridges were approved. Similarly, for every single river to be declared national waterways, the government had to approach Parliament with a bill. A suggestion that a list of rivers that could be used for waterways be prepared for parliamentary approval took officials by surprise as they were concerned about the viability of considering all such rivers as waterways. In 2016, a bill listing 111 rivers to be converted into national waterways got Parliament's nod.
Eight years on, the scorching pace of highway construction is visible. The highway network has gone up by 50 per cent. From June 2014 to March 2015, some 3,714 km of highways were added. Six years later, the figure stands at 10,457 km. This will only go up.
The secret is not hard to find. The vital ingredient is the will to resolve outstanding problems. The fate of languishing or 'stuck' highways exemplifies this. When the going was good, PPP projects in the highways sector mushroomed rapidly. But in the wake of the 2008-09 global economic crisis, a large number of these projects got stranded with no viable resolution in sight. It was much later that policy measures were crafted to sort out the mess. 100 per cent divestment of equity two years after beginning operations, deferment of premiums agreed at the start by concessionaires, and compensation for concessionaires in case of stuck national highway projects in case of conditions beyond their control were among measures taken post-2014 to solve the problem. Given the complexity of the agreements, sectoral arrangements and the very diverse conditions under which construction happens across India, it takes constant 'policy repair' to keep the sector moving.
THE SCALE OF HIGHWAY construction in India is such that it dwarfs equally important efforts in connectivity in other sectors. The achievements in railways and civil aviation in the last eight years are no less impressive. When it comes to air travel, the number of passengers flying across the country has doubled in these eight years.
In June 2016, the Modi government announced a new civil aviation policy. At that time, it received a lukewarm reception in the public mind as such announcements had been made regularly in the past decades. But this time the government was determined to carry things through. Topping the priority list was regional connectivity, affordable air travel for a larger segment of the population, speeding up development of new airports and, finally, developing the maintenance, repair and overhaul sector.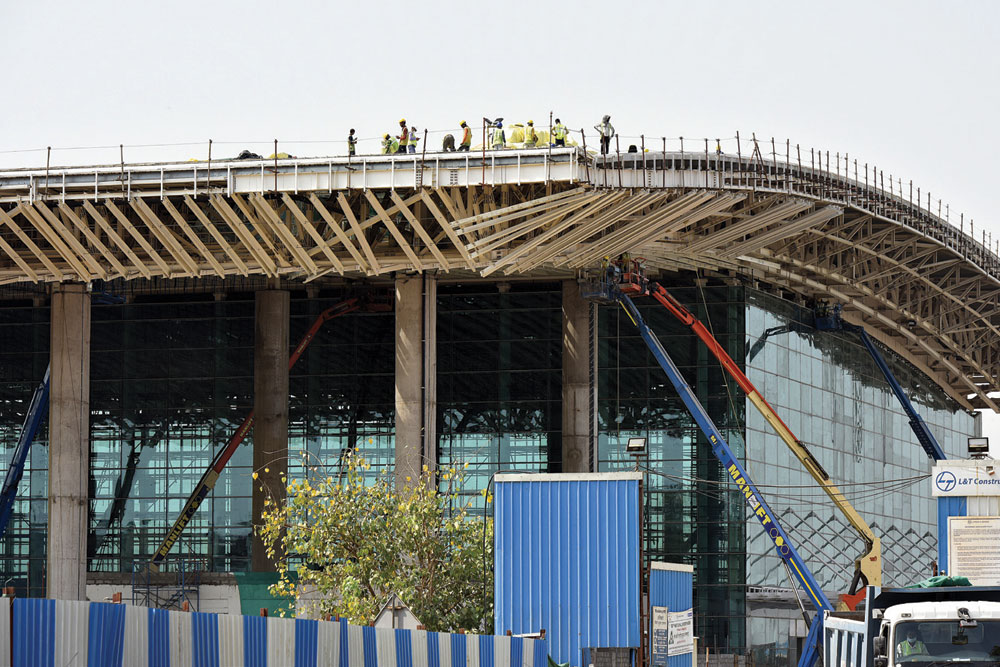 Regional air connectivity has always been a goal of civil aviation policy in India. But until very recently most flights operated on key routes that linked metros and, increasingly, tier-two cities. But India's far-flung regions were left behind. Way back in 1994, licence-based route dispersal guidelines were framed to ensure regional connectivity. But the efforts never took off and regional airports remained grounded. Recently, an Airports Authority of India (AAI) team visited Lakshadweep to put in place plans to increase connectivity to the landing strip at Agatti. They were pleasantly surprised by the enthusiasm of administrator Praful Patel who set out plans to bring more tourists to the sparkling chain of islands and ensure the archipelago did not remain just a remote exotic spot on the map.
Things began to change with the Regional Connectivity Scheme (RCS), popularly known as UDAN, which was initiated in October 2016. In April 2017, the first flight flew from Delhi to Shimla. Over the past few years, the nuts and bolts of the scheme finally fell in place. The combination of subsidies on air travel on normally unviable routes, capping of air fares and the creation of a regional connectivity fund based on a cess on key metro routes finally ensured that UDAN took wings. In the past years, 766 new air routes have been awarded under the scheme and 58 airports have been included in it.
That is not all. In 2019, an air cargo policy was introduced to make cargo and transhipment on domestic and international flights viable. Post offices are being roped in to bridge last-mile gaps. The next year, the finance minister announced "Krishi UDAN," a scheme meant to enable farmers to ship their produce via air. This is a new opportunity for farmers, especially in remote areas, to ship valuable and perishable output. Subsidies are likely to make the scheme viable for farmers who otherwise are forced to sell in local markets.
In June 2016, the Modi government announced a new civil aviation policy. Topping the priority list was regional connectivity, affordable air travel, speeding up development of new airports and, finally, developing the maintenance, repair and overhaul sector
Something similar has been happening in railways. From a populism-prone sector where projects were announced more often than completed, the railways have now joined roads and civil aviation in prioritising connectivity. The abolition of a separate rail budget took away the political incentives for ever more 'trains to nowhere'. It is not surprising that the step coincided with a push to connect the Northeast using railways. The entire track network in the Northeast has now been converted to broad gauge. All the seven states (except Sikkim) are now connected with rail. The signature achievement was the opening of the Bogibeel road-cum-rail bridge in Assam that has greatly reduced travel time between Dibrugarh and Itanagar. The bridge was sanctioned in 1997-98; it was finally inaugurated by Prime Minister Modi in 2018.
ONE OF THE MODI government's most ambitious flagship schemes is the promise of piped drinking water in every rural household, "har ghar nal se jal", by 2024, the year the next General Election is to be held. It assures 55 litres per capita per day (lpcd) of drinking water to every home. The task seemed challenging given that when the Jal Jeevan Mission (JJM) was launched in 2019, just a little over 3.23 crore of the nearly 19.32 crore rural households (which accounted for 16.75 per cent of the total) had tap water connections. "The scale was huge. State machinery had to be sensitised. It was not just about the infrastructure of providing pipes and taps, but a service delivery ensuring potable water supply to each household on a regular and long-term basis," says Bharat Lal, former additional secretary in the Jal Shakti ministry and mission director when JJM was conceptualised and launched. A key official in the Modi dispensations, Lal has argued that JJM creates social infrastructure that goes much beyond a water tap connection.
The number of rural households covered so far is over 9.53 crore (nearly 50 per cent) as per the JJM dashboard, which was put in place keeping in mind the prime minister's insistence on transparency. Different strategies are being adopted in various regions, depending on topography and availability of water. In water-stressed regions like Rajasthan, water would be transported from other areas. "The idea is that water shortage should not come in the way of economic growth and poverty alleviation," says Lal, who in 2002 had set up the Water and Sanitation Management Organisation (WASMO) in Gujarat to eliminate drinking water scarcity when Modi was the chief minister.
The pandemic had disrupted JJM's schedule but the government is hopeful of achieving its target by 2024. Experts have welcomed the JJM initiative, but not without a sense of apprehension about sustainability of water supply, given the experience of past schemes and the water situation in India, where per capita freshwater availability has come down from around 5,100 cubic metres in 1951 to around 1,500 cubic metres in 2014. Though there is concern about sustainability of water sources, the government is hopeful that the answer lies in the way the mission has been planned, involving community participation, focusing on source strengthening and conservation of water. Modi had said that like the Swachh Bharat Mission, a 2014 scheme aimed at building toilets for every household, JJM should also be a "jan andolan", a people's movement to achieve water security in the country.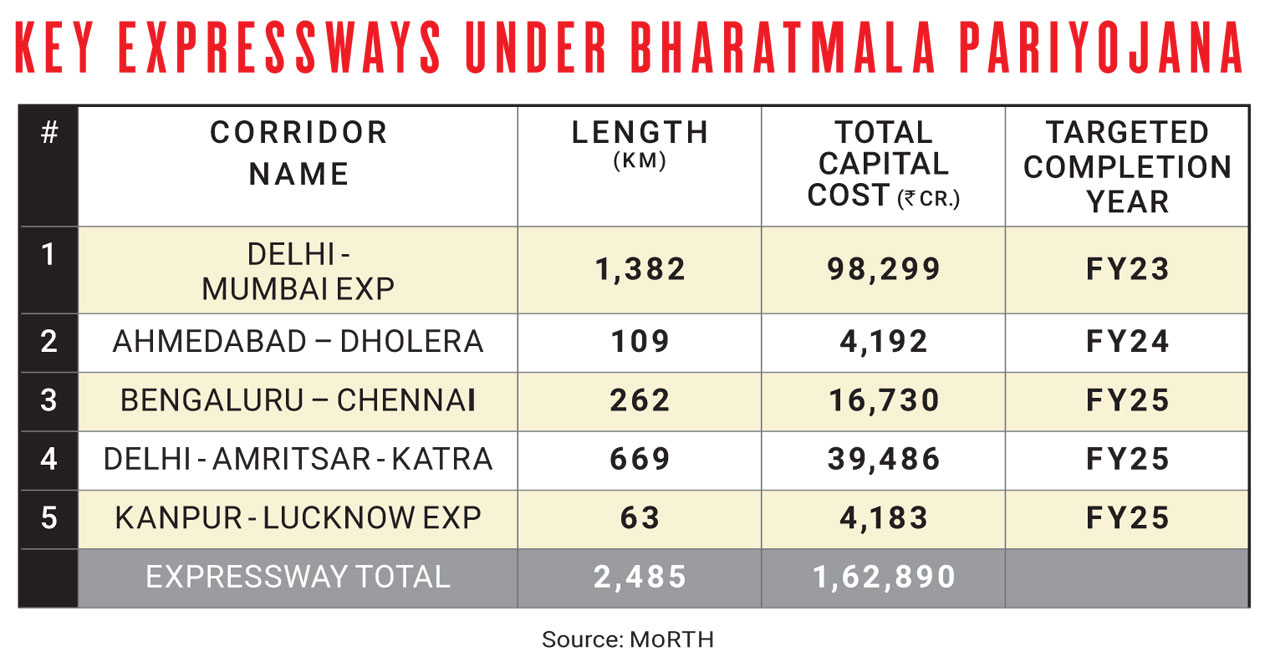 Along with investments in physical infrastructure, India has kept pace with other changes like environmental standards that have to go hand-in-hand with better roads, bridges and ports. A case in point is the emission standards necessary to ensure road transport does not become self-limiting due to environmental degradation.
It was around the same time that a plan was devised to ensure that India leapfrogged from BS (Bharat Stage) IV emission standards directly to BS VI, from April 2020. Keeping in mind pollution levels, a discussion was held in the MoRTH (Ministry of Road Transport and Highways of India) about which emission standards, an aspect regulating the output of air pollutants from internal combustion engine equipment, had been adopted internationally. It transpired that the world had already moved to Euro VI. Experts from Bosch, an international manufacturer of engine technologies, submitted the view that Euro VI fuel and a design change would be required for BS VI. Consultations were held with ministries of petroleum, heavy industries and environment to discuss changing to Euro VI fuel.
IT WAS DECIDED THAT India should upgrade fuel to Euro VI standards and then leapfrog from BS IV to BS VI. Gadkari requested representatives of automobile companies to support the endeavour, saying if they did not "walk" with him, he would "drag" them along. By 2020, all companies had come up with BS VI models and the country moved to the new norms in April that year.
Another aspect of the highways situation was traffic management. Even two decades after rapid building of road infrastructure, India's highways remained clogged. This was in no small measure due to a multiplicity of barriers, toll nakas and other levy collection points. All this has changed now.
With the government declaring all lanes inthe fee plazas on national highways as "FASTag lane of the fee plaza" from February 2021, the total economic benefit from the time saved has been estimated to be worth about ₹ 43,000 crore a year, according to ministry sources. Besides, the fuel saved is 35 crore litres a year, vehicle stoppage time at toll plazas has come down to an average 47 seconds from 12.23 minutes, and revenue increase has been calculated to be ₹ 6,100 crore.
As the Modi government approaches another milestone, its sights are set much higher. The economic design in the infrastructure push reflects a desire to break new ground, such as making India a major exporter. The boost to manufacturing envisaged as part of the national infrastructure pipeline and the radical changes planned in regulatory processes and logistics are intended to make India more globally competitive. Decades ago, Singapore's legendary leader Lee Kuan Yew went against the prevailing political consensus in Asia and rejected socialism in favour of making his nascent nation an export-based economy at around the same time India embraced Nehruvian socialism. LKY's vision made Singapore the only high-income economy in Southeast Asia. The wheel is still turning for India and its path is likely to be a unique hybrid based on its own experience, but the aim is to achieve goals that have not been part of the political imagination.