LATE LAST YEAR, AS PAWAN KUMAR CHANDANA AND NAGA BHARATH Daka were celebrating after their six-metre-long, 550-kg, single-stage rocket named Vikram-S—after Vikram Sarabhai—passed the government's stringent review process, they were stumped by a question that had never before been raised in India. How do you insure a private rocket launch? What happens if the rocket crashes into an object in space or on Earth? Who determines the extent of financial guarantee? "We had passed all the checks and got the launch licence in record time. There was no precedent for insuring a private rocket launch in India. The government had to vouch for our rocket and agree to be liable beyond the extent of possible damage covered by the insurer," says Chandana, a former ISRO (Indian Space Research Organisation) scientist and co-founder of Skyroot Aerospace, a four-year-old startup. Skyroot's first rocket, which was also India's first private rocket, had a smooth suborbital launch from the Satish Dhawan Space Centre (SDSC) in Sriharikota in November. The demo mission, named 'Prarambh', or Beginning, kicked off a series of upcoming launches by the company, the first of which is scheduled for the last quarter of this year.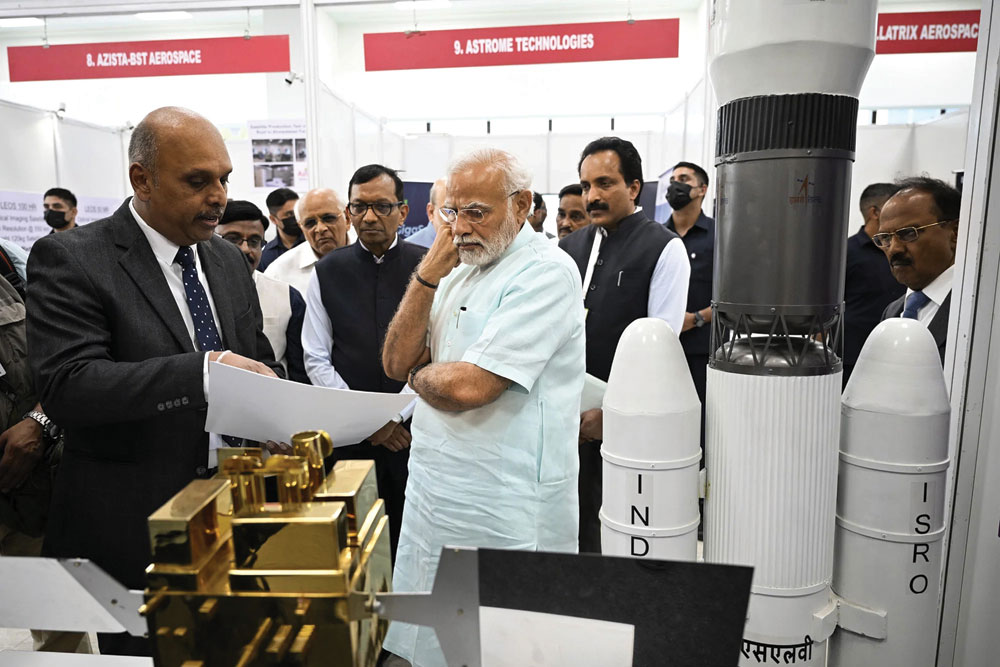 Hailed as India's SpaceX, Elon Musk's rocket company valued at about $140 billion, Skyroot is more like Rocket Lab, a much smaller startup whose Electron rocket is highly modular and can launch microsatellites on short notice. The hope is that Skyroot can do one better and offer the lowest cost per kilogram of payload. Made of carbon fibre, a hardy material that is lighter than space-grade steel—and costs nearly the same, says Daka, also an ex-ISRO scientist—Skyroot's rockets are built almost entirely in India, thanks to a robust vendor ecosystem mentored by ISRO over the years. "Where we needed to adopt new processes like 3D printing, we worked with vendors who supply to the automobile sector and trained them. For the propulsion system structure, for instance, we wrote the software to 3D print it. That took months to finetune but it automated manufacturing once and for all," says Chandana. The 220-people company built several sub-scale models and tested them again and again until everything was perfect. "There was a lot of pressure to get it right on the first launch. The thermal protection system had in fact failed several times and we had to consult chemists to understand how to fix that problem," says Chandana. When the company test-fired India's first 3D-printed liquid-fuel engine in 2020 amid a Covid lockdown, it went without a hitch.
SKYROOT RECENTLY RAISED $51 million in a new funding round led by Singapore's GIC—the largest funding round ever in Indian space tech—but it wasn't always easy for space companies to raise money. "In 2018, we raised the seed round led by Mukesh Bansal in two weeks, but Series A was tough. Skyroot benefited from the experience of successful entrepreneurs who understood the risk they were taking at a time when funds didn't have a thesis for the space sector. Luckily for us, the founders of Greenko believed in us and put in $7 million," says Chandana. At $163.3 million, the country's highest valued space startup is hoping to be a part of the beginning of the commercialisation of space from India. Vikram-S is one of many firsts that together launched India's private space technology industry in 2022.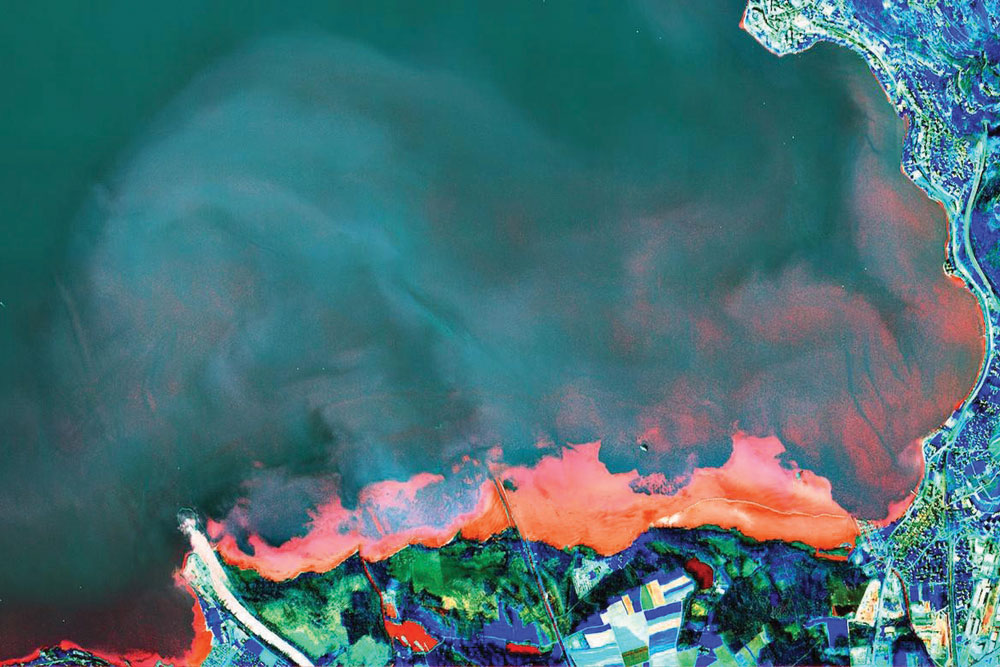 There are over 10,000 companies and 5,000 investors active in the global space industry that is worth over $470 billion. With a surge in interest in space applications globally, from internet-from-space to navigation, India, one of the few countries with a robust space programme and an equally robust startup culture and technology workforce, wants to be a key player in the global space economy. And as per a report by the Indian Space Association (ISpA) and Ernst & Young, which estimates the Indian launch services market to grow from $600 million in 2020 to $13 billion by 2025, it is well on course.

Ever since the Indian government opened up the space sector to private companies by setting up the Indian National Space Promotion and Authorization Centre (IN-SPACe) as a single-window, independent, nodal agency in the Department of Space in 2020, favourable policies, quicker development cycles, falling costs and access to capital have conspired to form an ideal breeding ground for space tech startups. There are over a hundred startups fuelling India's new space ambitions—from building rockets and testing clean propellants to mapping space and recording space weather, offering rideshares for micro and small satellites, launching space balloons for tourism, streaming live HD video from satellites, and developing sensors to better observe Earth from space.
Perhaps it is this space-faring future that Arthur C Clarke, the visionary sci-fi writer, dreamed of when he wrote that any sufficiently advanced technology was indistinguishable from magic. "Baap re," was Prime Minister Narendra Modi's reaction when he saw a prototype of Agnibaan, a customisable two-stage rocket under development at AgniKul Cosmos' rocket factory in Chennai. Once ready, AgniKul will offer launch bookings from its website. "The long-term goal is that launching to space should be like booking an Uber. By making our rocket a configurable vehicle, we are hoping to reduce launch lead times to two weeks," says Srinath Ravichandran, CEO and cofounder of the startup. The 125-people company has also built a launch pedestal, named Dhanush, and inaugurated India's first private launchpad and mission control centre at SDSC in Sriharikota. Ravichandran is among the believers in space expansion as the future of mankind. "For now, space remains an exotic destination. But it will become a platform with unique advantages. For instance, the low temperatures and microgravity can be useful to manufacturing processes."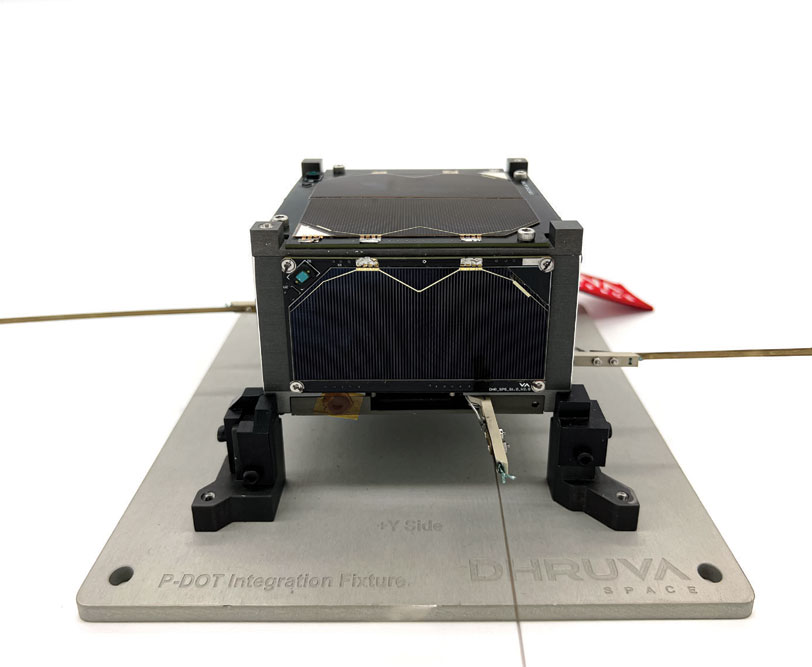 WHILE AGNIBAAN'S LAUNCH is imminent, a string of launches by private Indian companies has set expectations soaring. Pixxel, a Bengaluru-based startup that aims to send up a constellation of hyperspectral satellites to observe Earth in never-before-seen detail, had two successful launches last year—those of 'Shakuntala' on SpaceX's Falcon-9 rocket in April and 'Anand' onboard ISRO's PSLV in November. Founded by Awais Ahmed and Kshitij Khandelwal in 2019 when they were still students at BITS Pilani, Pixxel has already signed up dozens of clients even as it prepares to set a hyperspectral constellation of six satellites—to be eventually expanded to 24—on a Sun Synchronous Orbit at a 550-km altitude to cover any point on Earth every 48 hours in 5-metre resolution. The applications of such data are endless—from mining, forestry, climate monitoring and agriculture to energy companies that may, for instance, want to scan for and plug pipeline leaks.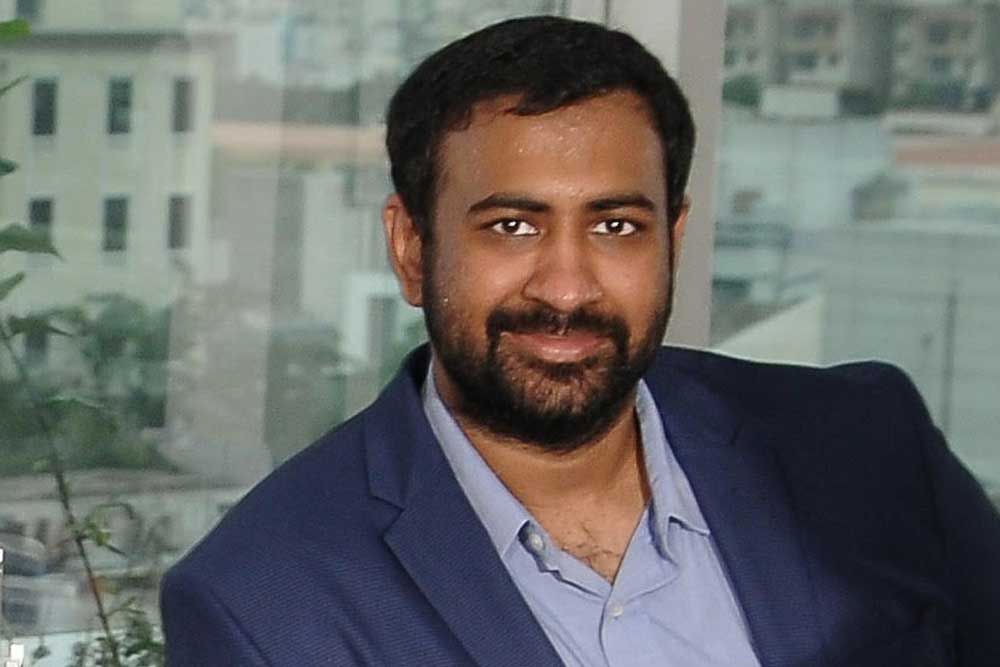 Hyperspectral imaging offers a wider slice of the electromagnetic spectrum, revealing details not captured by ordinary cameras. "We saw a clear gap in space imaging and wanted to offer the highest resolution," says Khandelwal. With some of its employees—their Slack is 99 people—as young as 19, India's youngest space startup is also arguably its most market-ready. "Once the constellation is up, the applications are global," Khandelwal says. "With falling development costs and better access to capital—FOMO has set in among venture capitalists eyeing space tech portfolios—Indian startups are only limited by the availability of talent and the quality of work MSMEs are doing for the space sector. As Indian universities have no space expertise to offer—even the scope of the student satellite programme has been truncated—we have to hire from the EV and embedded systems segments and train them in-house."
Even as three billionaires race one another to space for suborbital tourism, to beam internet from satellites, and to take humans to the moon and Mars—had they worked at ISRO, jokes a founder, it would have taken them 20-25 years to make the decisions they are making today—Indian startups are all fired up to be part of this new space age. "India has become a land of opportunity for space tech," says Yashas Karanam, co-founder of Bellatrix Aerospace, a seven-year-old deep-tech startup based in Bengaluru. "While we have something of a first-mover disadvantage, we have been ramping up since the government announced the opening up of the sector during the pandemic." Primarily a propulsion tech company, Bellatrix has shifted gears to work on several verticals at once. It has built one of the world's smallest propulsion engines, and a green monopropellant thruster to replace high-toxicity hydrazine thrusters. It is also working on an orbital transfer vehicle, which is like an Uber Pool for satellites capable of precise orbital insertion. "We can take several satellites to different orbits on a single rocket launch. Why pay for a chartered flight if you can hitch a ride for a fraction of the cost?" Bellatrix has signed an MoU with Skyroot for the use of its orbital transfer vehicle on Vikram launchers. It is also in talks with other Indian companies interested in deploying its highly efficient hall-effect thrusters.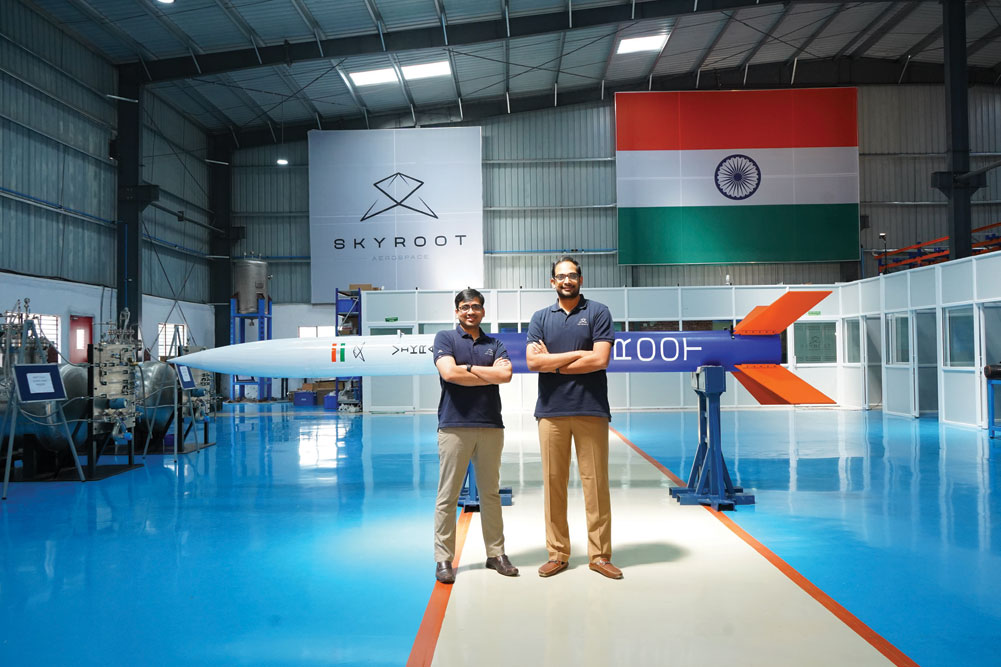 With startups finding their core competencies, there are beautiful synergies emerging within the nascent ecosystem. "Everyone is in partnership mode now," says Chaitanya Dora Surapureddy, co-founder and CFO of Dhruva Space, a full-stack space engineering company offering satellite platforms, launch solutions and ground stations. "We could use Skyroot to launch our satellites, for instance, and they can be a potential vendor for our deployers. Bellatrix is another startup whose propulsion systems could be useful to us," he says. After building India's first very high frequency ground station—for BV Raju Institute of Technology, Hyderabad—in 2019, Dhruva, started by longtime friends Sanjay Nekkanti, Surapureddy, Abhay Egoor and Krishna Teja Penamakuru, secured a $2.7 million contract the following year to supply space-grade solar arrays for satellites. In October 2021, the company raised `22 crore in funding led by the Indian Angel Network and Blue Ashva Capital. Last year, Dhruva launched two amateur radio communication nanosatellites, named Thybolt 1 and Thybolt 2, aboard ISRO's PSLV-C54. Both missions are based on Dhruva's PDOT platform.
"We had passed all the checks and got the launch licence in record time. But there was no precedent for insuring a private rocket launch in India. The government had to vouch for our rocket and agree to be liable beyond the extent of possible damage covered by the insurer," says Pawan Kumar Chandana, Co-founder, Skyroot Aerospace
FOR SPACE STARTUPs, there is a sense of racing towards a finish line and being part of something larger. "We largely work with Indian vendors. On occasion we have upgraded a part of their facilities—this, we find, is a good way for us to not invest too much in our infrastructure. We want to show that a space startup does not need to burn a lot of money and can be run frugally. We have been generating revenues from six months of operations," says Surapureddy.
"With the startup ecosystem rapidly taking shape, ISRO can finally turn its focus to research for major missions, including Gaganyaan and Chandrayaan, leaving the routine launches to private players. In any case, 80 per cent of the manufacturing process is already in the hands of private companies," says Chandana. Meanwhile, ISRO has set an example for the space industry by executing one of its largest ever commercial missions. In October 2022, ISRO's LMV3 (previously known as GSLV MKIII), the agency's heaviest rocket, was used to launch 36 commercial satellites for the Sunil Bharti Mittal-backed OneWeb constellation. A major milestone for the Indian space industry, it signalled India's readiness to launch global satellites aboard its most advanced rocket. "On the one hand, space can bring downstream opportunities like high-speed internet from space to link digital black spots across India using OneWeb, Starlink or other constellations. On the other, India can contribute to the space economy by manufacturing satellites for customers across the world, offering inspace propulsion solutions and developing better Earth observation technology. Clearing space debris could be another opportunity for India, with the US Federal Communications Commission voting to enforce post-mission disposal of low-Earth orbit satellites within five years," Chandana says.

With the low Earth orbit (LEO) becoming more congested than ever, Digantara, a space situational awareness startup that is building a map of objects in orbit 400 km to 2,000 km from Earth, has an interesting value proposition. It can not merely track objects and space debris and help avoid collisions but also predict space weather with its radiation sensor. Anirudh Sharma, CEO and founder of Digantara, claims the company can help predict and plan for events like the solar storm that sent at least 40 SpaceX satellites out of orbit last year. "We have been trying to understand the impact of peak solar activity this past year on satellites," he says. Digantara kicked off the new year with the launch of its second satellite, Pushan-Alpha, onboard a SpaceX mission to LEO. The satellite will serve as a space weather testbed and complement the company's ROBI (ROBust Integrating proton fluence meter) mission, the world's first commercial space-based space weather monitoring system that was launched by ISRO's PSLV-C53 on June 30 last year. One of the first Indian companies to get launch authorisation, Digantara has big plans. It has built a SaaS platform to help design a satellite, put it in orbit and model its behaviour. It wants to send up first eight, then 16, and eventually 24 satellites to congested orbits with the aim of adding a data layer to the maps that already exist. "As the industry grows, we want to be ready with a space traffic management system and collaborate with international agencies on framing regulations," Sharma says.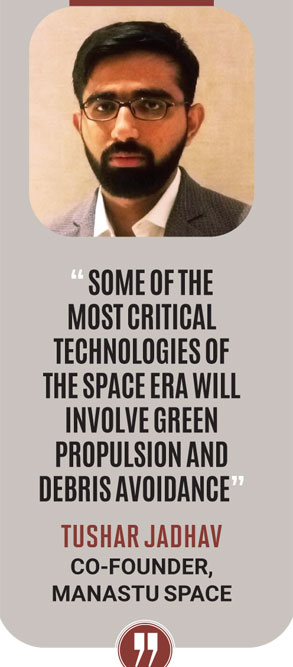 Among the Indian companies that have tied up with Digantara for its spatial awareness data is Manastu Space, a space safety and logistics startup that is working on an autonomous collision avoidance system based on green propulsion. The company hopes that its novel propellant, MS-289, will help ensure space-faring remains sustainable. "Space has a role to play in almost all critical problems that humanity is solving. It cannot be allowed to be polluted the way our air and oceans have. Some of the most critical technologies of the space era will therefore involve green propulsion and debris avoidance," says Tushar Jadhav, co-founder, Manastu Space.
Man has always looked to the heavens for answers. With India's space dreams being nurtured by startups, we can look up hoping to catch a glimpse of a homegrown constellation going round Earth solving problems.
Interview
'Space tech will be the backbone of digital 5G,' says Jitendra Singh
The Union Minister of State (Independent Charge) for Science and Technology tells V Shoba that new initiatives granting private players access to ISRO's expertise will transform them into rocket builders while a space FDI policy is in the works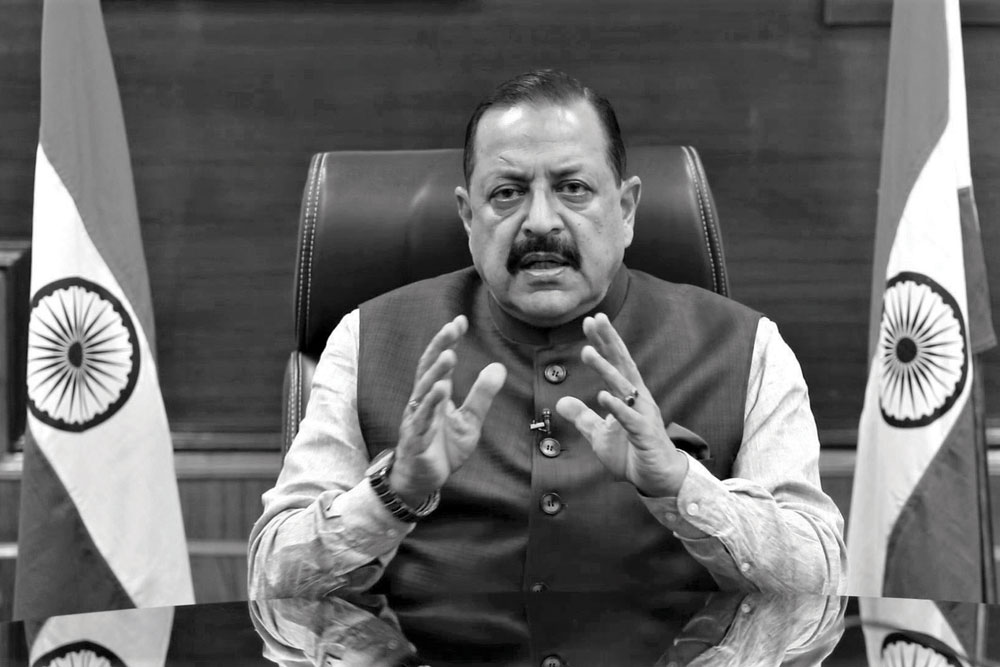 The year 2022 was a busy one for Indian space technology. What are your expectations in the light of new policies that will allow private participation? Have private companies contributed to the Gaganyaan mission?
The new space policy of 2022 envisages greater private par­ticipation in systems development and operation of space systems as compared to the private sector's earlier role as supplier of subsystems. This is enabled through IN-SPACe (the Indian National Space Promotion and Authorization Centre) and provisions in space reforms to utilise the Indian Space Research Organisation's (ISRO) expertise and facilities.
There is a role played by private companies in hardware manufacturing and supply in most systems, which include almost 80 per cent of the rocket, crew module and service module, almost all the subsystems. ISRO is doing the system engineering and final integration.
With the sector now opened up, what other reforms are in the works? When is the much-anticipated space policy likely to be announced?
IN-SPACe is starting promotional programmes to support startups for incubation and access to facilities. They are coming out with a differential pricing policy for access to facilities and data to support new entrants in the space sec­tor. The foreign direct investment (FDI) policy in the space sector and space policy are under consideration.
While startups have got a lot of attention, they are not the only private players in space. Could you elaborate on how the L&T-HAL contract for the next five PSLVs and the launch of OneWeb satellites from India are gamechangers?
This is the first time the entire PSLV is contracted to an industry consortium to manufacture and market. ISRO will handhold them for the first five rockets, and later they will do the job themselves. This is a gamechanger as the industry's role is enhanced. Through this we hope that the industry will learn the finer aspects of rocket-building and will one day become capable of doing it themselves.
The OneWeb launch opens up the new market of small low Earth orbit (LEO) constellation launches from India and for LVM3 in particular as a commercially attractive launch vehicle in the world market. This is significant as heavy mass launches are also coming to India as a preferred destination.
How can space tech help bridge the digital divide in India and improve access to downstream uses like healthcare and education? For too long we have been a nation that launches satellites but struggles to fix sewage problems.
Space technology and sanitation are two different ends of tech­nology. Accomplishing space tech feats demonstrates the tech­nological prowess of the nation. Space tech is an inspirational sector that demonstrates "We Can Do It". Now it is an emerging sector with business and economic benefits. Space capability has different dimensions in civilian and strategic sectors, and that is why it is a closely guarded national capability even if de­veloped in the private sector. The space segment is more into providing communications services and will be the backbone of the digital network of 5G and IoT networks, with seamless connection between terrestrial and space networks.
The application side in health and education was demon­strated by ISRO already through EDUSAT and telemedicine. Now it has to be taken forward by service providers for com­mercial exploitation. Many initiatives are being taken in this direction. The telemedicine programme is now hosted by operators using the ISRO satellite network.
To increase the space sector's growth, technological advancements like space grade solar cells, green propul­sion tech and reusable launches are imperative. With this in mind, do you have incentives for researchers to solve next-generation problems in space exploration?
ISRO is working in all these domains and also conducts funded research in other institutions. The Department of Space encour­ages development of technologies in the private sector and is coming up with plans to support them. The announcement of opportunities for focused R&D in the private sector will be made soon.
Are there any plans to strengthen synergies between academia and the space tech industry?
That is already happening. Academic institutions have incu­bated many space startups. Space startups have to seek knowl­edge from institutions of higher learning to bring innovations to products for a competitive edge over others.
Is India prepared for potential satellite hacks? With the creation of NewSpace India Limited (NSIL), what is the mandate of Antrix Corporation now?
The potential of space hacking is addressed through many mechanisms and all efforts are made to ensure safety. The se­curity issue is continuously monitored and systems upgraded to handle any future threats.
ANTRIX continues to carry out business activities related to Earth observation data marketing to potential users. It is mandated to do business based on ISRO's technology and ca­pabilities. NSIL is mandated to carry out business on its own by funding new systems and market launch vehicles as well as satellites through its own investments.
While ISRO has helped build a stable vendor ecosystem over the years, space startups exploring cutting-edge technologies like 3D-printed engines are struggling to train MSMEs. What can India do to quickly 'upskill' manufactur­ing to serve Indian as well as global space companies?
Much more technology growth is needed in sectors like 3D printing, currently based on acquired technologies devel­oped elsewhere. So ISRO is making efforts to develop core com­petence in this domain by active research in associated areas and later transferring knowledge to industries as was done in the past in other areas.
Upskilling can happen only with innovative technology development in the ISRO system. It is applicable in areas like reusability, high-temperature materials, advanced electronics, and propulsion technologies.