What Nishad suspected about Rubul before his wedding:
November 2016
My best friend Rubul—who is thirty-nine and still a virgin—married Anuradha on the fifth of November 2016. For a long time, I wondered whether he was gay. Then, after close assessment over the last eighteen years, I have concluded that he is not. That's why, when people gossip about his sexuality, I am the one who denies it most vehemently. However, since our friendship is legendary, and his first girlfriend even spread the rumour that we were lovers, few believe me.
'He is not, I know him very well, he has been my best friend since we were kids.'
'Oh really,' they say.
We were seventeen when he was with his first girlfriend. I don't know why, but he froze when she grabbed him the night she came to stay over at his place. He sent her to sleep in his sister's room, and two days later she broke up with him. He was so depressed.
Anyway.
Those things happened almost two decades ago. There is another problem to tackle now. It has been four days since Rubul married and they haven't had sex because of his lack of initiative. He hasn't even kissed her. He held her hands several times. Squeezed them twice. Once, she walked into him changing. He smiled awkwardly and turned his back to her.
Anuradha is very upset. On the first night—the wedding night on the flower-bedecked bed, like in the movies—at first, Anuradha pretended to be the coy bride. She had read in an Assamese women's magazine that men are aroused when women pretend to be shy and show mild resistance. But Rubul took her pretence seriously and froze. My guess is that he didn't want to be the guy who had only sex on his mind on the wedding night. So, when she gently removed his hand from her arm a little later, Rubul must have wondered if she was tired. Because he was exhausted. The wedding rituals were draining. And he had fasted all day. He was allowed to eat only fruits and palm sugar with water for dinner. He wasn't sure what the rituals for women were but he was sure that it was much more arduous for them. So he sat still on the bed. Then said, 'We should sleep.' He switched off the lights and went to sleep without changing. In the middle of the night, he went to the bathroom, stayed there for a very long time, and returned wearing his shorts and a half-sleeve thermal T-shirt. In the light blue hue of the night bulb, she observed his legs. When he was climbing on to the bed, she hoped he would make a move. She took a deep breath and prepared herself for the moment when he would climb on top of her after climbing up on to the bed. But he just turned to the side away from her and fell asleep immediately. Anuradha wanted to slide her hands around his waist and then slip her right hand down his pyjama strings. But she was worried that Rubul, who is such a good boy, wouldn't approve of her behaviour. She didn't get any sleep.
Since she didn't sleep well, Anuradha woke up with a headache that made her hate everyone in her new home, including the family dog Khekarkhaiti. The next day was horrible, and horribly long. She was dressed up by Rubul's mother and Subho, her sister-in-law, forced to wear makeup, lipstick and heavy jewellery, and had to sit in the living room, where people came to 'see the new daughter-in-law'. She didn't want to wear make-up. In her job as a small-time TV actor, she had to wear it for as long as fourteen hours a day, and she had developed a deep aversion to applying anything on her face. She also didn't want to wear any more silk. Or jewellery. She had played a dutiful daughter-in-law in the TV series, and had to wear gaudy outfits even while shooting kitchen scenes. She wanted to wear shorts and her black T-shirt that said 'I AM NOT PAID TO BE NICE TO YOU' and watch soap operas that didn't make any sense. The day was long because she had to touch the feet of at least fifty-two people and smile at 192 people as part of post-wedding rituals. She decided whose feet needed to be touched and who's not, on the basis of how grey their hair had gone. Apart from that, numerous people asked her if she would complete her master's degree, advised her to be patient, and ninety-nine people whispered in her ears to have a baby soon because 'post-twenty-five pregnancies were hard and wouldn't be good for the baby'. At a certain point, she felt that the silly role she played in the Assamese mega-serial wasn't actually fictional. It was based on her life.
At the end of the day, she decided Rubul was the root of all her misery. At least she ought to have had good sex before that ordeal. She had been waiting for the wedding night for so long. Why did she go through that painful bikini wax if her new husband had no interest in her? After the marriage was fixed in May 2016, they often met alone in her house or in parks, where the possibility of making out was high. But he didn't make a pass. Occasionally, he held her hand and that sent ripples through her body, because he was so handsome and smelled so good. Like, manly. Manly without cologne. Then, she thought, 'Oh, he respects me and doesn't want me to me feel like I am just a piece of ass, so he isn't staring at my boobs or placing his hand strategically on my thighs or letting his hand "accidentally" slip to my ass from the waist.' Those are the signs of a good boy—at least in Anuradha's referential universe. So she was convinced that, after they were married, he won't be sleeping around with his co-workers. She didn't even consider the possibility that he might be gay. In her universe, gay men are effeminate, and worked as choreographers, fashion designers and make-up artists. So, five months after their wedding was arranged, she married him without having sex even once. And in the lead up to it, she spent her days imagining how he would rearrange her bones in the first night and how that would leave the bedroom like the scene of a battlefield.
Rubul hasn't told me any of that. And honestly, I really don't want to know. I know this because Anuradha is friends with Rishav: THE BOY I MET AT A PARTY AND MADE OUT WITH, but later I started dating his sister Pooja and am in a relationship with her now. And Rishav is very upset about that. But since he is still not out, he can't tell his sister about our episode. He remains in touch with me through rude messages that sound like banter but is not banter. Rishav is just unhappy that I am dating his sister and not him. He dislikes me and he wants attention from me. But it is too late for that now. She has met my parents and we are kind of semi-serious and partly monogamous.
Rishav texts, 'You are such an asshole, just like your best friend Rubul, who has destroyed Anuradha's life.'
I write back, 'It is not conclusively proven that Rubul is queer.'
'He doesn't fuck a beautiful girl like Anuradha, and you are saying he isn't queer?'
'I need you to grow up. I can't be part of this conversation. We will talk again in ten years, when you are thirty-four. Bye.'
He will message me again after a few weeks and we will have a similarly rude conversation again. His sister, Pooja, is four years younger than me, but at least she's over thirty.
Rishav is damn pissed. Really pissed.
Anyway, I was talking about Rubul.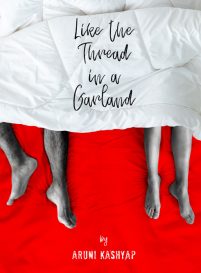 Anuradha is very annoyed right now. She would take a sledgehammer and break down a mountain if she could. She complains about her sexless marriage to Rishav all the time. Rishav, who is damn gossipy, tells Pooja everything. Poor Rubul's entire life is now stored in the form of encrypted messages on Whatsapp, and gleefully shared screenshots. Rubul has never spoken about his sex life with me. And he won't unless it becomes a serious problem. I knew that. But a week after the wedding, Rubul called me on FaceTime audio, 'I need to discuss something serious with you. When are you coming to Assam?'
'What? About your marriage?'
'Yes, how did you know?'
'Hahaha.' That's my way of ignoring the question.
'How did you know?'
'Hahaha.'
'Nishad, it is important.'
'Tell me what you want to discuss with me.'
'I have to meet you for that, but you are in Delhi and I am 2,000 miles away in Assam. You told me some things before the wedding. I should have listened to you.'
I sighed. 'You know, I was just cautioning you. And I never wished for those things to come true.'
Rubul said something like yes-I-know. My heart sank and I was already feeling helpless. Once, when we were nineteen, Rubul and I were lying on the edge of a pond after a long day of fishing, he had rolled over to me and pressed his lips against mine, sucking on them. I froze. I had not expected him to do that. We never talked about it because I did not kiss him back. When he was done, I said, 'We should get home.' The sky was bright blue. The crickets were singing relentlessly.
—————-
A week after that conversation with Rubul (two weeks since his wedding), I rang him. 'Guess what? I got promoted.' He was overjoyed, and made some muffled excited sounds since he was still at work.
'I want to throw a small party during the last week of December at my new apartment. It will be a sort of housewarming, too. This means we can talk. How are things in your marriage? Are they better?'
'When you visit, I will talk to you.' Rubul's tone changed.
'Rubul, you aren't stalling any problem, right?'
I think he sensed the urgency in my low voice. I don't lower my voice usually. Nor do I speak that slowly. It meant caution and worry, and if I ws worried enough, he knew I would have a chat with his mother. Though we are exactly the same age, I was always the big brother, approving things, sorting stuff out whenever required. He knew that. I would find out later that he didn't want it. That he was stalling a serious problem.
But that day, he just said, 'I won't do anything without telling you. See you soon.'
'That means you are planning to do something.'
'Yes.'
God, is he going to come out? I started to sweat at the thought of it.
What Nishad told Rubul Before Getting Married:
May 2016
First, you really know need to know more about this girl. That she lives in Azara, has a degree in history and respects elders is not enough information on which you can decide to get married to someone … Rubul, you don't get married because it will bring joy to the family. You get married because you want to get married. So what if she is chosen by your mother? Does your mother know you drink nowadays? That you have graduated from rum to whisky during social occasions, and that you have also eaten pork and betrayed your Brahmin caste? So what if she is chosen by your mother? With all due respect to Babita Aunty, but she doesn't know what you want. You want a partner, Rubul. You want someone with whom you can sit down and discuss your favourite movie, favourite novel. After you write a scene for one of those stupid television serials, you want someone who knows you well to comment on it and push you to work harder … Wait, you misunderstand me. I am not asking you not to marry Anuradha. I mean, she sounds lovely and, from that photograph you showed me, I see she is pretty. But that's not enough reason to marry a girl. You marry because you want to marry this person and no one else. I mean, just tell your mother and you don't want to commit to a marriage now, and at least hang out with her for the next six months before you decide to marry her.
Wait, what? What do you mean, she isn't that type of girl? Which world do you live in? I am not even asking you to have sex with her. Just go out. What? Is her family putting pressure? But she is just like, what, twenty-five. There is something fishy here. Can you find out why they are pressuring your family to decide within a week? Does she know that you come home very late at night? That you work for twelve hours, fourteen hours? Your mother, sister, father may stand for it. But why would she tolerate that? You will have to now return home early. You will have to now make sure her needs are met. You can't just return home at two in the morning, ask for dinner to be heated and then go sleep. You will have to chat with her, make love to her. Marriage is a responsibility. She will be waiting for you all day. Especially, because she doesn't have a job now.
What are you going to do? In your own words, this is something you can't change about yourself. Have you told her? Okay, you haven't. Why haven't you told her? When you are marrying her, you are taking responsibility for her. You can't expect her to tolerate everything that you do like your mother and sister. Can you?
OMG, she has a boyfriend who is threatening her and telling her not to marry you? Okay, this is serious! If you don't tell Aunty, I will call your mother and tell her. What if he harms you? What if he tries to attack you? I am terrified of these surrendered insurgents. If he is a former militant, he must be like fifty? Okay, fine, forty. So what? They still roam around the state with a gun and they don't think before using it. They have lots of money, ya. I am terrified. Of course, I am! Will you go argue with someone who is carrying a gun? You know how it is! You know that no one can actually control former militants. And seriously, and this is my final point, what if she votes for Modi?'
—————-
What Babita told Nishad after the wedding date was decided:
June 2016
Nishad, the first thing Anuradha did when she entered our house was to look at Rubul's grandfather's photo—my father-in-law, who was a freedom fighter and such a wonderful person. Then she joined her hands in salutation to him, and it was at that moment I knew that I had made the right choice. Also, you know, that morning, I went inside the prayer room, lit a ghee lamp, shut my eyes and prayed, 'God, the girl is stepping into this house for the first time today since the wedding date was fixed. I have sprinkled holy water everywhere and have also asked the maid to mop the entire house with salt-water to neutralise the power of evil spirits, but now it is in your hands. You have to show me a sign. You have to.' Then, you know what happened, Nishad? I felt a gust of wind. I felt as if someone entered the prayer room! One of the red hibiscus flowers tucked into the hands of the statue fell on my lap. I was worried that the wind had put out the lamp, but when I opened my eyes, the wick was burning bright, the flame was strong and the room felt warm. It was a very strong flame.
Tell me Nishad, do togor flowers bloom in June? We have that large togor flower at the courtyard, remember? When it blooms in April, the smell travels almost to the main road. Everyone talks about our togor flower. On very rare occasions, it blooms in May too. But that morning, I saw a lonely togor flower. It was surreal. But I knew it was a message. I knew I had chosen the right girl for my son, that it is the ideal match.
You are family, so there's nothing to hide from you. You know that Rubul's sister will now move to the top floor since he is getting married? I mean, we middle-class people plan everything, don't we? She wasn't in my plan. I didn't plan to build a top floor. The foundation of this house is for four floors, but I thought, later, when Rubul earns, he will build as per his requirements. But his sister's marriage didn't work. She had to return. Now, when Rubul's bride comes home, there will be space constraints. I mean, we will manage, but there will be some discomfort, right? So I have asked Subho to move upstairs. She will put a part of that floor on rent, and live alone with her two children. Cook on her own. Live independently. I don't want the two girls to have tussles. When Anuradha heard that, she became so sad. She asked, can't she stay downstairs, with us? Note that she said 'with us'. She held Subho's hand and said, 'Please don't go. People in the colony will think I am a horrible person who made sure her sister-in-law is driven out of the first floor even before she stepped into the house as a bride. What will they say about me?' You know, Nishad, this cemented my belief: this is the kind of girl I want for my son and she is just like the character she plays in the serial. This is why, though she is a supporting actress, people love her. In the serial, she is like the moral core of the story that is full of horrible, scheming mothers-in-law and sisters-in-law. But in reality, too, she is pure like water from the Ganga. And in our house, too, she will be the moral and ethical core. She will come and keep the house together like a thread in a garland. She won't let things fall apart. She will be the foundation of the house. She will be like a lamp and spread light in the house.
 What happened when Nishad invited Rubul and his family to lunch:
December 2016
I had thrown the lunch party to celebrate my promotion, but it was also a sort of housewarming since I bought this apartment six months ago and did nothing to mark its possession. All the guests were invited at 1 p.m. but the day before the lunch, I asked Rubul and his family to arrive by noon. I knew Rubul would delay by an hour—it was standard. So I lied to Rubul, 'I have asked all the guests to be here by noon, so you can come no later than 1.' I knew Rubul knew that I was lying. 'And listen, we will find a spot to talk about your problem.'
'Don't worry about it. I was getting fed up. So I took care of it and now things should be fine.' Rubul sighed. It wasn't really a sigh of relief, so I was surprised and still curious.
'Are you sure? What did you do?' I asked again.
'No one can be sure. I will tell you everything when we meet. Do you remember Vikas from our batch?'
'Vikas Surana? The doctor? Yes, I do. I didn't know you were friends with him. He used to bully everyone.'
'Yes, but now he doesn't bully anyone. He helped me.'
Vikas was an oncologist. He wasn't a psychiatrist. My mind raced. Was Rubul suffering from erectile dysfunction, did Vikas prescribe drugs? I couldn't wait to meet him the next day and take him to a quiet spot for a proper chat. He should see an expert. Not a friend who is a doctor.
Rubul and his family didn't turn up until three in the afternoon, as if they had lost their way somewhere. Bina-pehi, my aunt, who was supervising the caterers, asked me what to do. The caterers were anxious to leave; they had more or less packed up, and Rubul's family were the only guests still to arrive.
I looked outside; the weak winter sun would probably set in less than an hour. I suggested that we could store whatever was left in casseroles, including Rubul's favourite, the chicken liver.
At four, I called Rubul for the third time and it went unanswered. Finally, I called Babita Aunty.
She said, 'I guess you know it is not my fault.'
'Yes, I know. Rubul hasn't turned up to pick you guys, right?'
'Yes. I am still dressed. The new bride is watching TV. We are all waiting.'
'How surprising.'
'Subho is pissed and won't talk to him so I am calling him every half-an-hour like a maniac, and your best friend won't even receive my calls.' She was clearly very annoyed with him.
'Well, Subho's resolve won't last long, will it?' I heard her sigh at the other end. 'Did you tell your new daughter-in-law that this is Rubul's standard behaviour?'
'Don't ask. What can I say? We could have rented a cab, but he said he would come on time to pick us up.'
'Well, the poor girl must be dying of hunger.'
'I think I will just steam some rice and have it with leftover dal. We didn't cook lunch today because we were supposed to eat at your place. We will come, baba. We will come. Maybe we will turn up in an hour and have an early dinner.'
I rang again an hour later. My apartment was now empty. The guests and the caterers had left. My parents had also left for their own house on the outskirts of the city. Bina-pehi decided to stay back so she could help me just in case Rubul & Co. made a late-night appearance.
Rubul's mother said, 'He is still stuck somewhere. So early dinner plan cancelled. We will have dinner with you. Heat up the leftovers and we will have them at dinner time. Subho ate some fruits and cornflakes. Anuradha and I are so hungry. We just ate some rice with dal. The poor girl was all dressed up. She has changed into sweatpants now.'
We both laughed.
'If your son isn't changing, your new bride is running back to her mother's house, you know that right? And no God can stop her.'
'I know.' She sighed. 'I thought he would change after marriage.'
I hung up and looked at the orange sky, the homecoming birds. From the fourth floor, it wasn't possible to see the dirt, the manhole, the mud puddles on the road. From the fourth floor, you could see the round shape of the mosque clearly and the parking lot of this apartment complex. At night, halogen lights lit up the area. Rubul won't change, I knew. I also knew that this inability to change would cost him his marriage.
They turned up at 11 p.m. I was watching something on Netflix, trying hard to stay awake.
'We are heeeerrreee!' Rubul screamed from the parking lot. It was too cheerful, too annoying. I walked slowly to the balcony and saw him waving at me. Babita Aunty, Anuradha and Subho looked unhappy.
'We are in time for linner!!' he announced as he stepped out of the elevator.
That was hardly likely to bring anyone cheer. His mother must have screwed up her face in annoyance and Subho must have rolled her eyes. But Subho managed a smile at me as she handed me a box of cashew sweets. Anuradha looked exhausted when she greeted me.
'We are on time for linner!' Rubul repeated in the same cheerful tone, since no one had responded to his announcement.
'Rubul, don't try to be funny,' I said.
'Do you even know what linner means? I invented the word yesterday. It is short for Late Dinner.' He looked at everyone, as if for an applause.
'Rubul, don't try to be funny,' Subho said and walked into the apartment. She saw Bina-pehi and, even before hugging her, started to complain about her brother's lack of punctuality.
'My family loves bitching about me,' Rubul told me with a grin on his face.
'It is because you give them the chance to bitch about you,' I said.
'Exactly, Nishad-da,' Anuradha said.
Rubul just grinned.
I was sleepy, tired and angry, but I felt sorry for Anuradha—it had been a frustrating marriage for her. She had bought a new mekhela–sador for this occasion. She was looking forward to meeting my parents for the first time since the wedding and had also bought gifts for them.
She was mostly quiet during the dinner. Since the guests had left, the people in the apartment complex had gone to sleep and only the guards were on duty outside, it was unbearably silent. I put on some music by Zubeen Garg: 'Mayabini ratir bukut'.
'I will just have plain rice with dal,' Anuradha said when my aunt started to serve her.
On the table, there were brinjal fritters, chicken cooked with cashew paste, fish in a tomato curry soured with a lemon, goat rogan josh, sautéed cauliflower and potatoes, and palm jaggery kheer and shiny light-brown lalmohans for dessert. So, just-plain-rice was a horrifying thing to say. Bina-pehi's eyes popped in horror.
'Why? Why don't you want to eat? You think we don't cook well?'
'No-no, not at all.' Anuradha shook her head vigorously.
'Do you think our kitchen is dirty?'
'No, no, what are you saying?' She gasped.
'I have no doubt your mother cooks better than this, but does that mean you will go hungry in our house? I am sad.'
'No, no, please don't be sad.' Anuradha looked like she would burst into tears.
'We know the caterers for a very long time. They are clean and they make healthy food, Anuradha.' My aunt continued to hurl missiles.
Usually, this is the tactic the host uses to guilt-trip guests into overeating: nine pieces of chicken instead of three, an extra bowl of kheer, four slices of cake instead of one and, of course, a lot of rice—like, a lot. That the new bride who was visiting for the first time would eat only rice and dal was an alarming situation for my aunt. That's why she pulled out her most powerful weapons just to make her eat.
Anuradha, who was speaking softly so far, protested loudly, 'No, no, that's not the case.' She looked towards me for support, for reasons I will never know. 'I have heartburn,' she muttered.
'It is okay.' I came to her rescue. 'Let her eat what she wants. She ate a late lunch today, why won't she have indigestion and heartburn?'
Subho praised the chicken. 'The chicken is just amazing. Anuradha, you sure you don't want a little?'
'I am sure.'
My aunt continued to lament. 'You are the chief guest of today's lunch, Anuradha! You have to eat something. I will be so sad if you don't eat. Are you alright? Can I get you some Pudin Hara or Hajmola for your heartburn? I also have trifala—when we had heartburn, Ma used to feed us trifala. Now I am worried about you, my dear.' Bina-pehi's voice grew louder with every sentence.
I was sure Anuradha was fine. I was also sure that she didn't have heartburn and that even if she did, it wasn't serious. She was launching a passive resistance against her new husband's irresponsible behaviour in turning up eleven hours late.
'I am fine. I don't want anyone to worry about me,' she repeated, staring at her plate.
Rubul also knew what was going on. And perhaps his mother and Subho, too. He took the ladle, picked up a leg piece with a generous helping of cashew gravy. 'We will worry about you. And I will, of course, worry about you.' Then he poured it over her rice.
Anuradha was startled. She wasn't prepared for that. She paused. Then she slowly pushed her unfinished plate of food towards the centre of the table—just a few inches. I was surprised she didn't raise her voice or push her plate away with more force.
'I am done.'
'You won't eat the chicken I served you?' Rubul asked. As if rejecting the chicken piece he served meant that she was rejecting him.
She looked straight at his eyes and said coldly, 'No. I said I have heartburn.'
He looked at her for a few seconds. It was so awkward. Then he looked at his plate and took a spoonful of rice and meat to his mouth. I knew he would do something stupid but I didn't know he would do something so stupid. I saw his eyes turning red. Suddenly, he pushed his plate away to the centre of the table. It collided with a glass of water that fell on the table and the excess water spilt on Anuradha's clothes. Then he stormed out of the dining room. 'No need, no need to eat.' First, he said that in a muffled tone and when he had taken about four steps, he said it loudly. 'NO NEED, NO NEED TO EAT.'
Anuradha started to shed tears. 'What is my fault? I said I won't eat chicken and he is forcing me to eat.'
I looked at everyone and said, 'I am not going to talk to Rubul. He is misbehaving.'
'No, you should give him two tight slaps,' Babita Aunty said.
—————-
Five minutes later, I was thrusting a plate of fried chicken liver at him. We were standing on the balcony. It wasn't too cold. We both wore light sweaters, and we had shoes on with calf-length socks. I asked him what was wrong with him, and he said he had work to do. What did he want to talk to me about a month ago, I asked, and he said this wasn't the best time to talk about it. I told him he couldn't be eleven hours late, and he couldn't stall people who were waiting for him by assuring them that he would be there to pick them up in an hour, in two hours, in half an hour. They could have taken an Uber if he had let them leave the house, but he stalled them for eleven hours. That wasn't acceptable. He said, no one understood him, and I laughed. I ate the chicken liver fry, laughed, and said that there was nothing to understand, that he was being an ass.
He looked into my eyes and said, 'You have no idea what I am going through, Nishad.'
'What do you mean? You said you took care of the problem.'
'I thought I did, but I don't think I will be able to solve the problem. It is not under my control.'
'And Vikas? You said he helped you.'
'He did, but he can't make the problem go away.'
I could come up with a list of therapists I trusted, but it would take a lot of effort to persuade someone like Rubul to visit one. Still, I would have to do it. Rubul would start with 'I am not mad, I don't need a therapist', and I was ready to talk him out of those misconceptions.
So I said, 'Listen, what is it? Let me help you.'
'I don't want to trouble you or put you in any danger.'
'Danger? What kind of danger?' It seemed to me Rubul wanted to avoid the topic, and I wanted to say, there was no danger. If he wanted to get out of the marriage even now, I would help him, talk to everyone. One didn't have to remain trapped in a loveless, sexless marriage.
'You have to tell me now. What danger?'
Rubul covered his face with his hands. 'I should have listened to you, Nishad. You always had a sense. You always knew better. You know me better than me. And your gut feeling about people and situations is usually correct.'
'You are scaring me now.'
'I will come tomorrow morning. I need to discuss this problem with you. I can't start here. I don't want Ma and Anuradha to know.'
'Of course. Come for breakfast tomorrow,' I said.
Inside, the atmosphere had turned cheerful. Anuradha was not weeping anymore. She was talking about recipes with Bina-pehi, and Subho was switching channels and commenting on dresses and make-up. Babita Aunty gave him a look, but I gestured to suggest 'not now'.
A little later, Rubul cracked terrible jokes at which only Anuradha laughed, Subho pretended to laugh, his mother didn't laugh, and a totally unresponsive Bina-pehi looked confused and sleepy—as if she was jokes-proof. A couple of hours later, I watched them walk to the car from the fourth-floor balcony. I wanted to go downstairs to see them off, but they all suggested I stay home since it was cold and quite late. But it was cold on the balcony, too. I watched Anuradha holding Babita Aunty's hand, helping her get in the car though she didn't need any help; Subho still yawning, chattering; and Rubul walking towards the car to unlock the doors. Just then, a tall, bearded man in a black leather jacket came as if from nowhere and punched Rubul. He was holding a gun. Before Rubul could make sense of what was going on, the man pressed the pistol against his temple.
—————-
Was it a revolver? Was it a pistol? What was it? I had no idea! For a few seconds, I froze. I had grown up in Assam during the worst years of violence; I grew up reading all those reports about people getting killed, civilians being armed, the killings between rival groups, former insurgents killing underground ones, etc. But I had never actually seen any of it. Despite growing up in a state full of violent insurgent movements, I had never touched a gun. So I just froze; it was like I was watching a film.
The bearded man was drunk, perhaps. Still holding the gun to Rubul's head, he said something. Rubul appeared to reply, fear writ on his face. He looked different without the glasses on. The man looked angry and hollered. He was broad, had a large head, and his unzipped jacket revealed a blood-red T-shirt. He wore a gold chain that reflected the light of the halogen bulbs. And then it really became like a movie, like one of those Hindi movies. Anuradha pushed Rubul aside, pounced on the man, snatched his gun and held it to her own forehead, just between her thick bow-shaped eyebrows. In the quiet night, I heard her voice loud and clear, 'If you don't leave right away, I will shoot myself.' The man started to shake his head. Perhaps he was saying, no, no. Still shaking his head, he crumpled to the ground and started to cry, 'Don't do that.' His voice was loud and sonorous. It too pierced through the night.
It was then that I grabbed my phone and went downstairs. While I was going down, I guessed a few things that turned out to be correct later. Anuradha knew the man from before. They were close. Very close.
When I reached the parking lot, Babita Aunty was throwing up, and Rubul was trying to make her drink some water. I wanted to say something but couldn't think of what it should be.
The bearded man was gone.
Anuradha screamed, the gun still in her hands, 'We have to leave. He may come back with his friends. He is crazy.'
'What? Why didn't you say that earlier?' Babita Aunty sprung up, hollered at her and slid inside the car. 'Kill me-o! Just kill me here-o!,' she cried.
Rubul was too dazed and shocked, and in no position to drive. I pushed him inside the car and asked Anuradha to sit next to me. 'We can't go home. He knows Rubul's address,' she said, pointing the gun towards the road.
'I know where to go. Give me the keys,' I said.
'Kill me-o! 'What are you showing me, God? Anuradha, why are you still holding the gun? What if—'
'Don't worry, Ma, I know how to use a gun.'
Suddenly, there was an awkward silence. We stared at Anuradha for a few seconds, slightly scared.
Babita Aunty broke that silence, 'Oh god, my daughter-in-law knows how to use a gun, and I thought those hands will nurture everyone and everything in my house. My gun-wielding daughter-in-law! My son hasn't seen a gun in his life! Even I haven't touched a gun in my life, and I have a daughter-in-law who knows how to use a gun.'
'Ma, please shut up,' Rubul screamed.
'Kill me, kill me now,' Babita Aunty said, looking at Anuradha.
'Drive! Now!' Anuradha shouted at me, the gun still in her hand.
At that point, I wanted to talk to Babita Aunty about some flower that bloomed out of season and gave her a sign, about flowers that fell on her lap, about the perils of hurriedly arranging a wedding, about pushing her own son and family down the slippery slope of a forced marriage.
But I didn't say any of that because I was suddenly full of admiration for Anuradha's courage. How she had taken stock of the situation, like a lifeguard on a beach. How she was giving me directions in a calm, resolute voice. She knew the city well, as if it were her own house. When I told her that we would take refuge in my parents' house, she said she knew another way. I was surprised that she knew secret roads that I didn't know to my own parents' house, the house where I had grown up, the house where Rubul and I had spent a good part of our childhood. The road she took was dark, potholed and narrow, but safe. She said the bearded man's large Scorpio car would avoid such roads. She knew this man well. She knew the model of his car, could predict his behaviour, knew how to use his gun and the roads he would avoid because he loved his car. What else did she know about him? The length of his beard? His business enterprises? The length of his penis? The smell of his breath? Which molar caused him pain if he ate ice cream? She knew him too well and it didn't bode well for her.
But I didn't care because, in less than half an hour, the secret road she had taken would land us at my parents' place, and they would be shocked to see us. Babita Aunty and my mother would cry thinking about what could have happened. Rubul could have been shot. I could have been shot. Everyone could have been shot. That same night, at some point, Rubul's mother would go up to Anuradha, still holding the gun, and slap her hard. 'I thought you would lit up my house, but you are all set to burn it down!' She would tell Anuradha to pack up and leave the next day and, for the first time in his life, Rubul would disobey his mother. He would say that she saved his life and she wasn't going anywhere. Anuradha would weep silently, rubbing her face with her free hand, and Babita Aunty would hold my mother's hands and wail, 'The witch has already started to control my son.' I would give each of them a pack of tissues. Cry, cry your heart out, I would murmur. In a bit, everyone would stop crying. We would take action to ensure everyone's safety. At dawn, we would call Vikas Surana's father, a high-ranking police officer, because Vikas Surana, the school bully, the oncologist, had given Rubul his father's personal mobile number a few weeks ago. Mr Surana would assure Rubul that the person would be arrested. Anuradha would take the phone and provide every detail of the bearded man: his two residences, four phone numbers, names of his aides, his best friends and their numbers and addresses, possible hiding places, etc. 'Mr Surana, I have his gun as proof—yes, it is a .22 calibre revolver. Yes, he is a former militant,' she would add before placing the phone on the cradle. 'The witch knows everything, she might as well be married to him,' Babita Aunty would tell my mother, and my mother would look confused and ask her to hush.
But those things would happen later at night, between now and dawn. At this point, while driving the car, I am just full of admiration for Anuradha. She would be a good partner. Like the thread in a garland, she could stitch things together.
#
It is dawn.
I wake up Ramen-da, the help and ask him to make tea for everyone. When the tea is brought out with a tray of Britannia thin arrowroot biscuits, Rubul picks up a cup and asks me to follow him upstairs. I am still processing the incidents of the night before. I am wondering what will happen to Rubul's marriage now. I am still full of admiration for Anuradha—the deft handling of the situation, the ability to decide on the spot, wow! When I make no move to follow, Rubul takes two steps and asks again, 'Are you coming?'
He knows this house well. My room is upstairs. There are several photos of the two of us together framed and hung on the walls of that room. Photos from my birthday celebrations. Photos from the last day of high school with pineapple pastry smeared on our faces. We are in school uniforms. Grey pants. Red sweaters. Stork-white shirts.
'I think you should talk to Anuradha,' I tell him.
'I want to talk to you. NOW,' Rubul hollers. Anuradha looks up at him. She is drinking tea, sitting a little away from Babita Aunty.
I have rarely seen Rubul this assertive. I realise he is very serious. I follow quietly.
'Shut the door.'
I do as asked, and sit on the bed. 'Tell me. But I think you should be talking to Anuradha. She is in a very difficult situation.'
'Fuck you, Nishad.'
'Fuck you.'
There is an awkward pause.
'This was the fucking problem I wanted to discuss with you. I have been receiving threats from her ex ever since the wedding date was fixed. I haven't told Anuradha about it. I didn't want to scare her.' Rubul was staring at the floor. 'I am so stressed that nothing has happened between us till now—you know what I mean?'
'Yes, I got it,' I add with a smirk, 'You don't have to elaborate.'
'Fuck you.'
I sit down next to him on the bed. 'She is your life partner. This is a decision both of you have taken together—to be together. You need to discuss everything with her. And after today, I have to tell you that she seems like someone who can really take charge. She might be younger than us, but she is damn smart. If you want to be with her, stop treating her like a child. She is your equal.'
'Yeah—I figured. Our honeymoon is next month. Maybe it will be a fresh start.'
I look at Rubul for a few seconds and says, 'Yes, don't return a virgin from your honeymoon.'
Rubul covers his face and laughs. He asks if he could confess something. When I says yes, Rubul pauses, a smile on his lips. He shrugs, and then says that he doesn't like my new apartment, he likes this room, this house; it has character. I feel a strange sense of calm. I am not upset that Rubul doesn't like my new apartment. Perhaps, I knew it already. So I agree. I tell him that even I miss this house. Rubul asks if that mango tree is still there, the one he climbed once to pluck mangoes and fell from, fracturing his left hand. Yes, that mango tree is still around. It continues to produce lots of fruits every summer. I miss this house, Rubul murmurs, his eyes shut. In a few seconds, he is in deep sleep.
I throw a light blanket on him and step out of the room. As I go down the stairs, I can hear Rubul's mother yelling at Anuradha. He hurries down. Rubul's door is shut. He won't wake up for a while.

Aruni Kashyap's His Father's Disease and Other Stories will soon be published by Context/Westland