In the post-Covid world, tourism has a new face. It is responsible, sustainable, inclusive and immersive. Not only do tourists want to travel to less crowded places, they want more meaningful interactions with locals and appreciate their culture and lifestyle. Madhya Pradesh Tourism Board's Rural Tourism Programme could not have come at a better time. The target was to make tourism destinations friendly through a cultural experience-based tourism which involved local communities.
Courtesy its location in the centre of India, Madhya Pradesh is also known as the heart of India. Indeed, it is an amalgamation of all things Indian. Tourists in large numbers, both domestic as well as foreign, are drawn to MP's natural beauty and national parks, heritage and cultural offerings, famed temples and holy pilgrimage spots.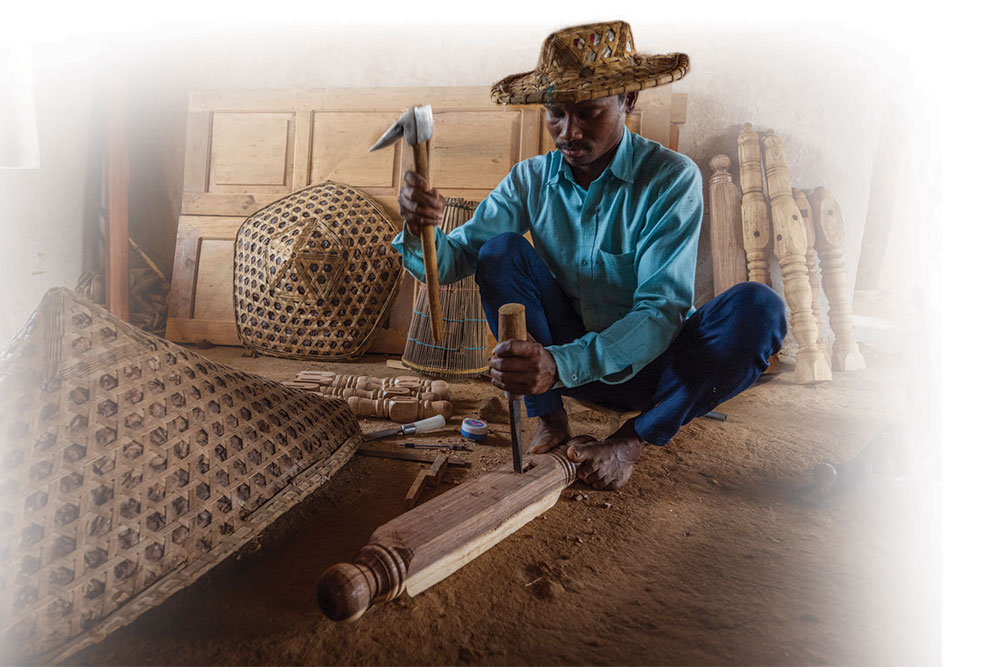 With the intention of offering new products and experiences to tourists visiting Madhya Pradesh, the Madhya Pradesh Tourism Board came up with the Rural Tourism Programme.
The intention behind the Rural Tourism Programme is to connect rural communities with tourism for their social and economic development besides preserving the local environment. Rural tourism not only provides tourists with a completely new experience, it creates engagement between city and village dwellers through meaningful interactions. It also strengthens the rural economy, generating employment at the village level, minimises migration towards urban areas, preserves local culture & heritage, and encourages art and craft as well as landscape conservation.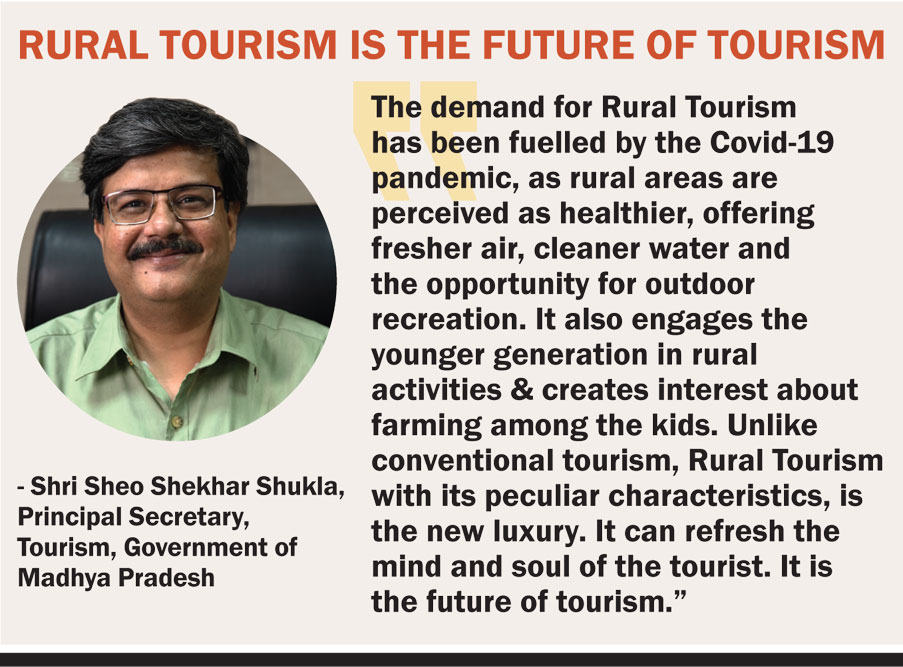 MP Tourism Board launched the Rural Tourism Programme in 2018. Covid slowed progress a bit but the work went on. The work first started in about 10 villages on a pilot basis. Villages close to prominent tourist sites, like Orchha, Khajuraho, Panna National Park and Sanjay-Dubri National Park, were initially selected. Seeing positive results, the scheme has been extended to many more villages.
MADHYA PRADESH'S PIONEERING RURAL TOURISM PROJECT
PROJECTThe MP Tourism Board has launched its Rural Tourism Project under the auspices of the Madhya Pradesh Responsible Tourism Mission. Under the Rural Tourism Project, 100 villages across MP have been identified with the goal of developing them as Tourism Villages.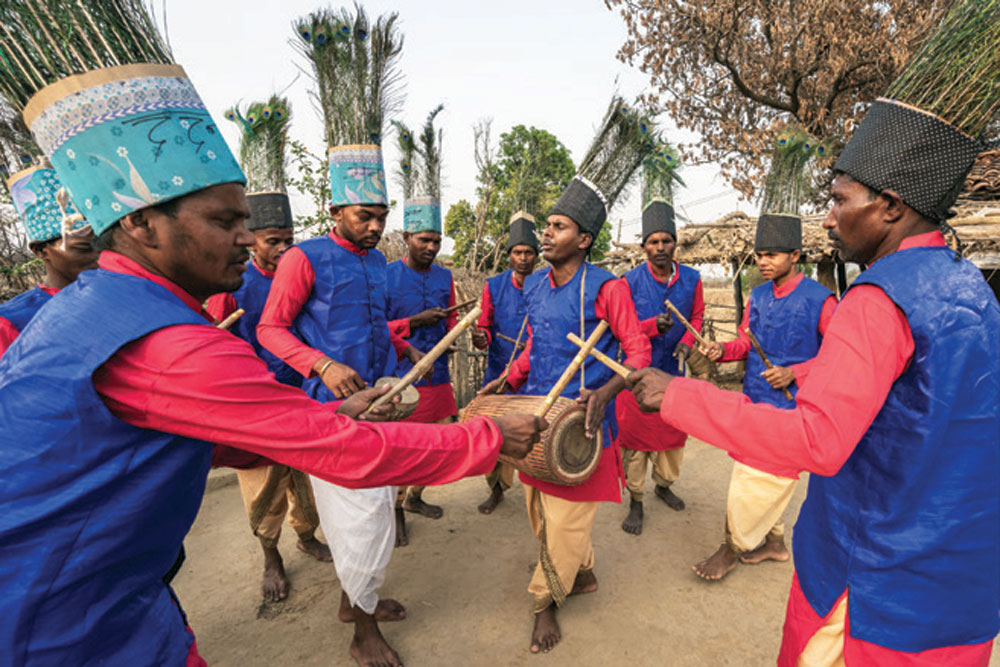 As per the scheme, the state has been divided into six key cultural experience regions. Baghelkhand, Bundelkhand and Chambal in the north and northeast apart from their cultural specialities, also showcase the essence of village life and culture. On the other hand, Malwa, Nimar and Mahakaushal in the west and south showcase the unique culture of their tribal and indigenous communities.
The village experience in Madhya Pradesh is like no other. Tourists get to stay in comfortable homestays created especially for them. They go on excursions in and around the village, rejuvenating themselves in a fresh, clean environment, besides experiencing the local culture in an immersive manner.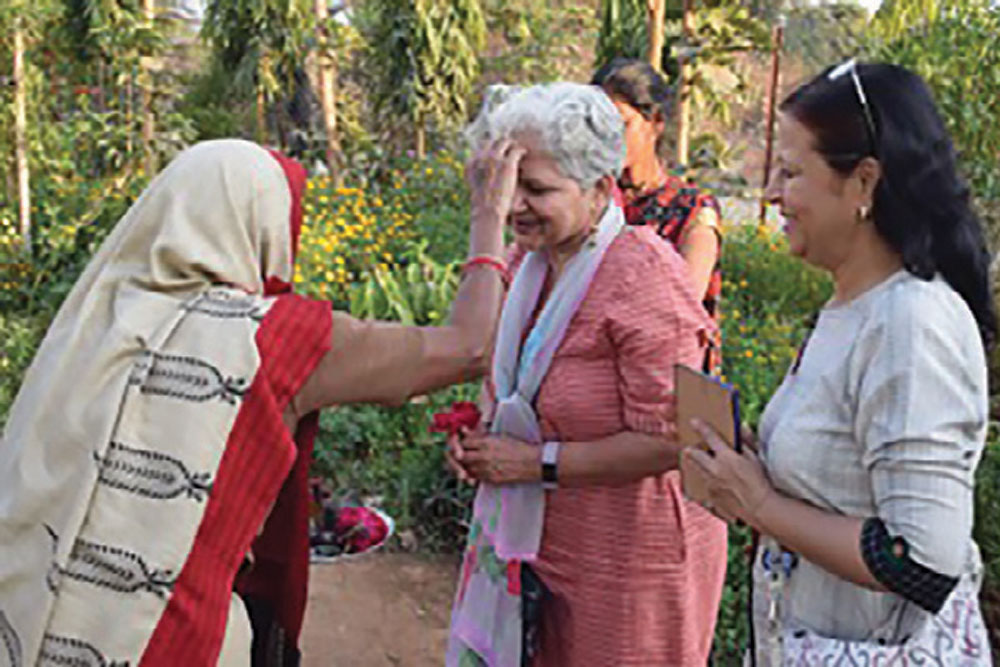 Further, the tourists also experience local cuisine and cooking techniques, attire, dialect, rituals and customs, traditions, traditional modes of transport, jewellery, makeup, musical instruments, traditional healing systems, art, methods of preserving food, customs and hospitality. Experiences also include spirituality, traditional religious rituals, marriage customs, fairs and festivals, rural games and seasonal songs. It is truly an enriching experience.
The Rural Tourism Programme is being implemented in 60 villages in the first phase and 40 in the second phase over three years, totalling 100 villages in all. This project gives the tourist the most authentic and ground-breaking rural experience through activities like bullock cart rides, farming and cultural experiences and the opportunity to stay in homestays in rural areas to generate employment and alternative business opportunities for rural communities.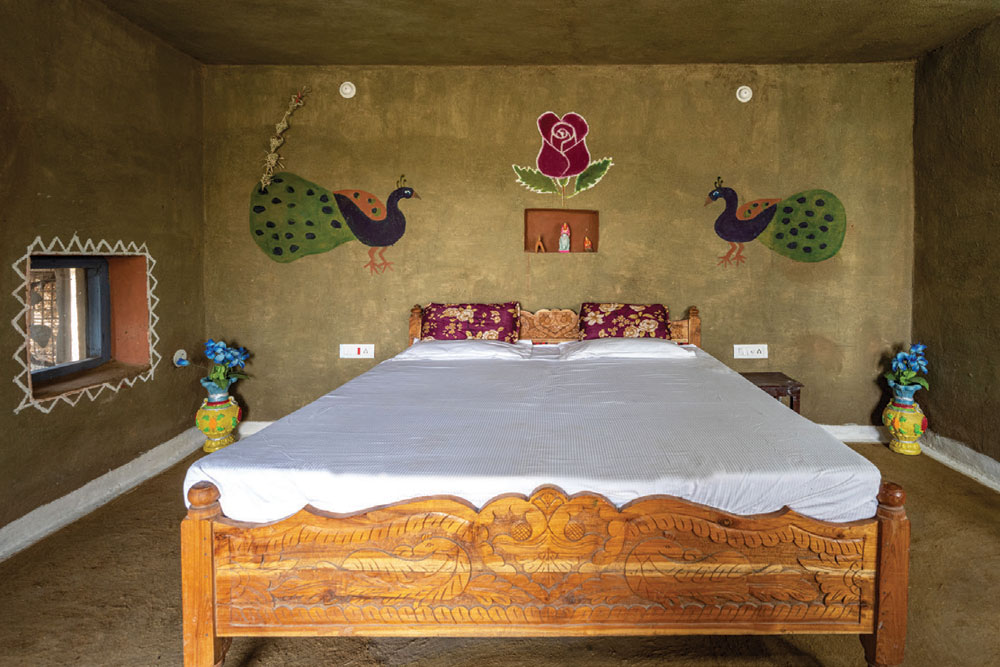 Exposure visits and need-based training on homestay operations, cooking, health and hygiene, book-keeping and accounting, housekeeping, guest house management, guiding, sensitivity towards travellers, photography and blogging is being provided.
The arrival of tourists has created employment for guides, drivers, artists, and other opportunities for selling goods and services to visitors. The artisans of the villages are also engaged in the diversification of the local economy through handicraft development and promotion under responsible souvenir development programmes. At the heart of the project is a commitment to inclusion, "One and all should get their fair share". The Tourism Board is working with panchayats to engage people irrespective of social and economic situation.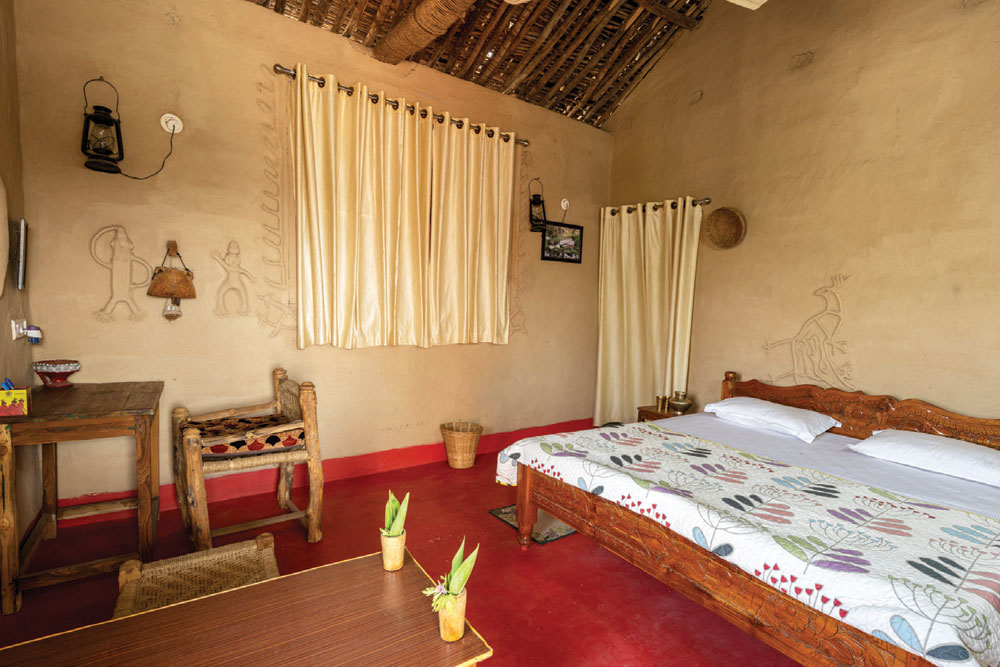 "Earlier, we used to skill the youth and then place them. Now with the Rural Tourism programme we plan to create industry in the village itself," says Dr. Manoj K Singh, Director Skill – Madhya Pradesh Tourism Board, "Villages near tourist places have been selected and integrated in building up homestays. Through local-level meetings, the process of construction or renovation is explained in detail. Then the training & capacity building based on local requirement starts. There are several components & Rural Tourism mobilisation includes construction of homestays, skilling, local food, craft, music and local experience, etc. This is a community friendly, cultural experience-based form of tourism. So we are creating something local and interesting to be a success."
MPTB has empanelled 34 Project Support Organisations, who are experts in Livelihood promotion and Community involvement. These partners are motivating the local community, helping MPTB to identify the beneficiaries, and developing the tourism product. For any project to be a success, the participation of the local community is crucial. These PSOs are sharing their knowledge and expertise to support MPTB's vision of Rural Tourism.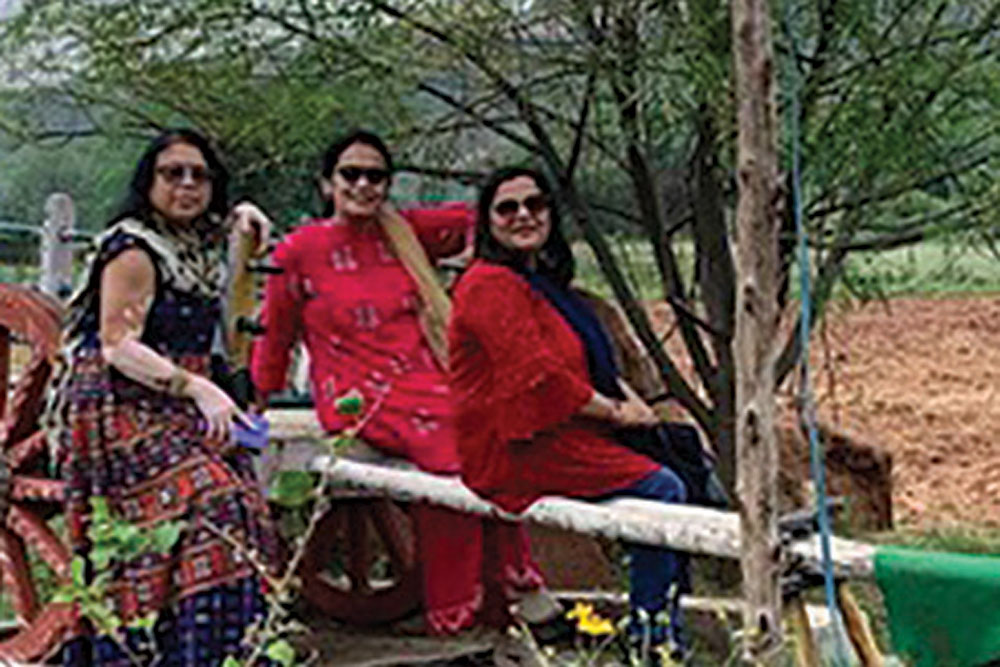 Convergence is another important aspect of this project, where different departments like Swachh Bharat Mission, Rural Development, Public Health Engineering, and Public Works Department are coordinating with each other for the development of the village.
The programme has already been launched in eight villages and the response from tourists is phenomenal. Both domestic and international tourists are being targeted. Even during Covid, international tourists have experienced rural tourism near Orchha. "The focus was on motivating the villagers, urging them to create quality homestays and build them in the vernacular style," explains Singh. After running the homestays for six months and seeing the positive response, the homestay owners have started constructing more rooms. While the first room had been built with a government subsidy, subsequent room construction is self-funded. Others are following suit. This shows that this model is profitable and sustainable.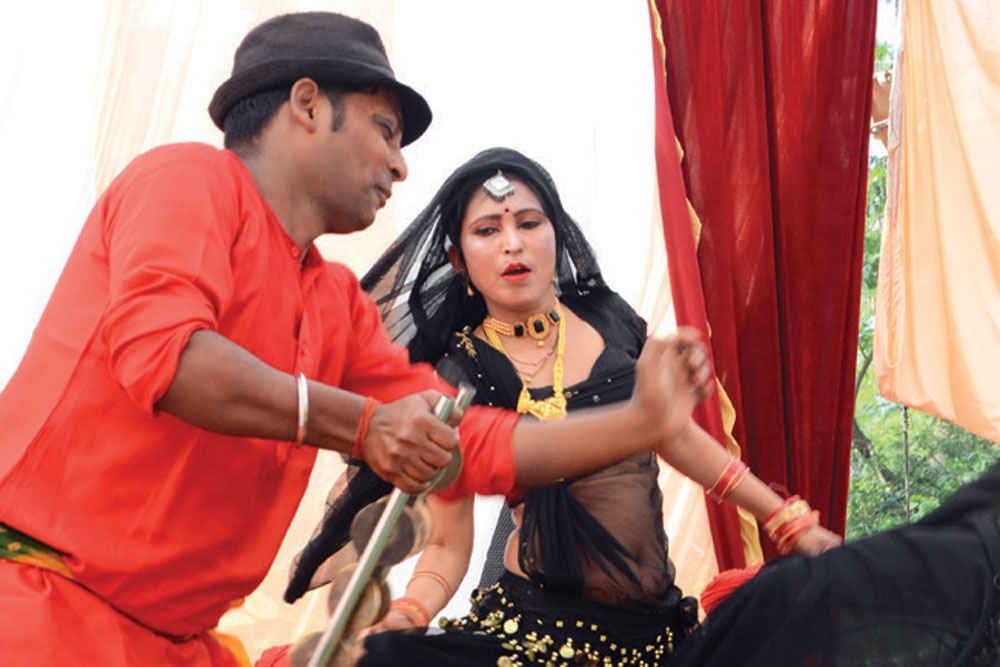 The first homestays were launched in Ladhpura Khas near Orchha in April 2021. Homestays near the Sanjay-Dubri National Park in the Sidhi district started three months ago while homestays near Khajuraho were launched about a month ago. The local administration has extended all possible assistance and the response has been good.
KEY FEATURES OF THE PROJECT
The main elements of MP's Rural Tourism Project are as follows:
1. CONVENIENT STAY FACILITIES FOR THE TOURISTS IN THE VILLAGES
For this, families which want to set up homestays in the village are identified. For the construction of homestays, some financial support is provided under the RGSA scheme of the Ministry of Panchayati Raj, GoI. In every village, approx. 10 families are being selected for the construction of the homestays with the assistance of the village panchayat and assembly. The intention is to provide a convenient stay for tourists, without which rural tourism cannot take off. There is attention to detail, in terms of linen quality, human touch, a clean bathroom and good quality amenities. To ensure quality control, the Tourism Board monitors everything closely at all stages. After construction is complete, test guests stay and give feedback.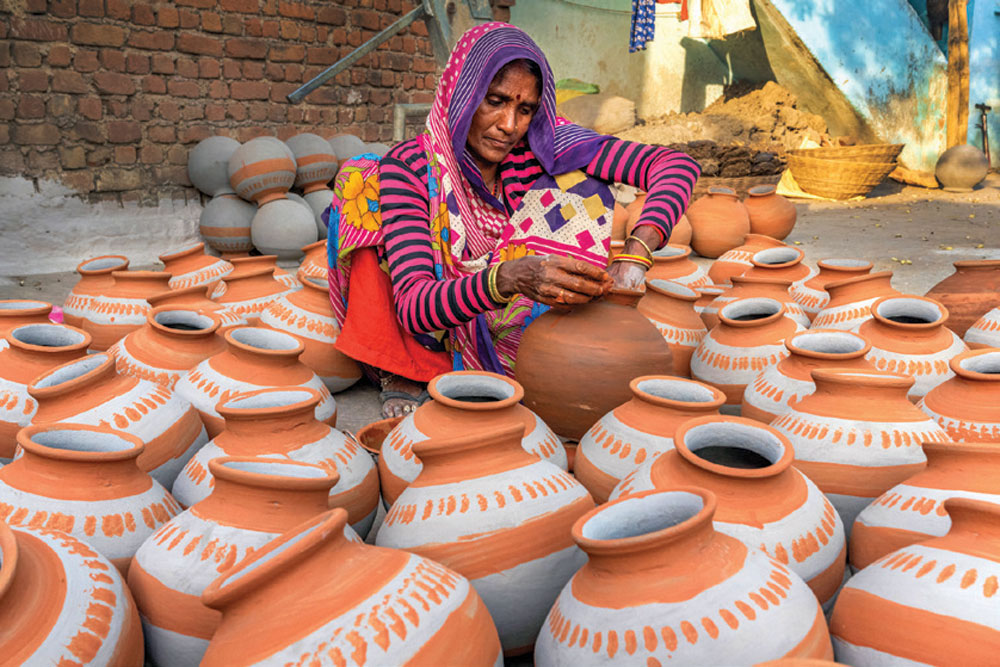 2. LOCAL EXCURSIONS
Under this, tourists visiting the village are given village tours, are familiarised with typical village activities and taken on nature walks by the local youth who have been selected and trained for this. This is generating employment at the local level. To ensure success, villages with tourism potential and exceptional natural beauty have been selected for the programme.
3. LOCAL ARTS AND CRAFTS
MP's villages have been repositories of art and craft since time immemorial. This unbroken tradition continues to this day. But it is often observed that craftspersons are not able to get the right price for their products. This has discouraged the younger generation from taking up the craft. Keeping this in mind, youth are being identified and trained to develop a variety of products which can be sold as souvenirs, so that age-old skills are not lost. The souvenirs will be created keeping popular demand and market viability in mind. To create these responsible souvenirs, training cum production centres are being set up in villages.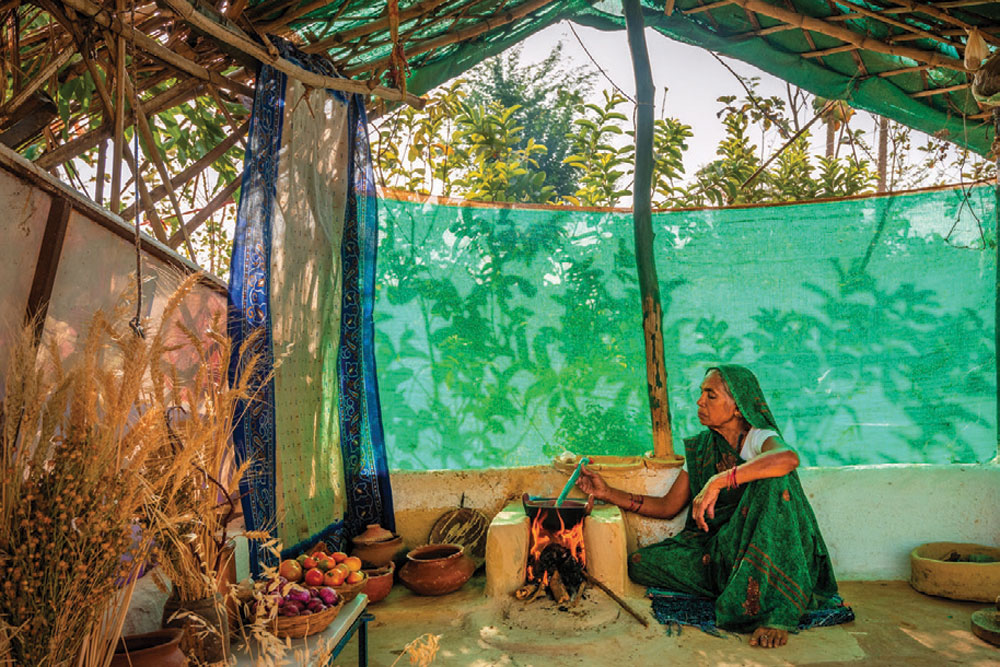 4. LOCAL CUISINE AND SPORTS
Visitors will be introduced to the local cuisine and indigenous sports of the different regions of the state.
5. SKILL DEVELOPMENT
Local youth are being trained in hospitality or tourism based on their interests and requirements. In this way a large number of youth can be integrated into tourism and open new employment opportunities for them. Apart from indulging in tourism-related services and operating homestays in the villages, they can also seek employment elsewhere with their new-found skills.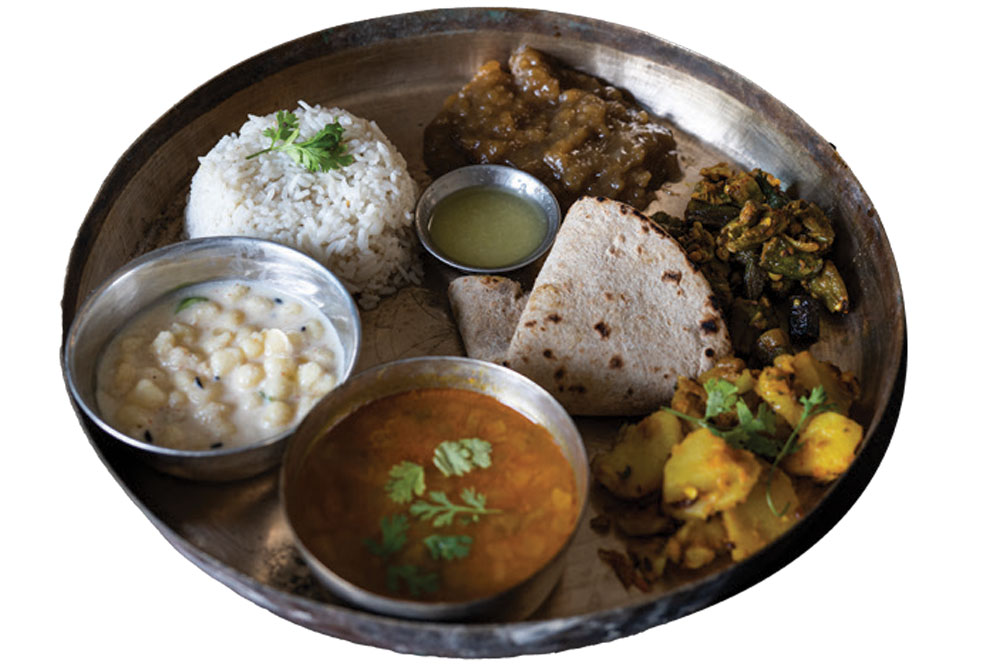 6. PRESERVING THE ENVIRONMENT
One of the most important goals of the Rural Tourism Project, apart from increasing the arrival of tourists, is to incentivise the protection of the local environment and habitat. Tourists often carry things with them that can be harmful to the fragile local ecosystem. To deal with this, the idea is to collaborate with the local populace for activities at the village level that help preserve the environment like planting trees, keeping the environs clean, proper processing of trash, etc.
INTERNATIONAL RECOGNITION
One of the first villages to be developed as part of the scheme was Ladhpura Khas in Niwari district, where homestays have been constructed by the community for the comfort of tourists. More than 200 tourists have already experienced the various tourist offerings in Ladhpura and their feedback has been positive. Ladhpura Khas was one of the select few villages to be nominated by the Government of India for UNWTO's 'Best Tourism Village' award category, a significant achievement in itself considering the nomination happened within a short period of operations.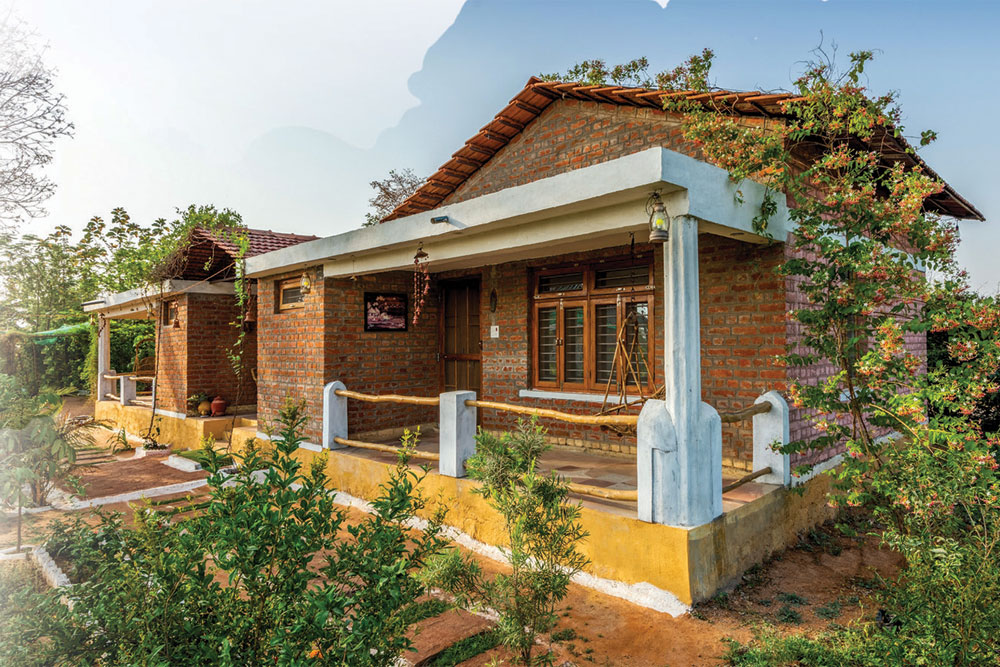 This has brought a lot of recognition to the village and the villagers who built homestays are reaping its benefits. A lot of tourists got to know the name of the village and started visiting it. Some visitors were entrepreneurs who wanted to invest in the village. This has led to economic prosperity and land prices going up.
Much bigger accolades have come from the WTM Responsible Tourism Awards 2021. One of them was the Gold Award for the Rural Tourism Programme in the 'Destinations Building Back Better Post-Covid' under the Indian region category. The Programme was also the overall global winner in the same category. Not only that, MP Tourism Board got a 'Ones to Watch: Safe Tourism Destinations for Women, Madhya Pradesh' Award in the 'Increasing Diversity in Tourism' category. The event was organised in London from November 1-3, 2021. The awards were received by S. Vishwanathan, Managing Director and Yuvraj Padole, Deputy Director, MP State Tourism Development Corporation.
TIE-UP WITH KERALA'S RESPONSIBLE TOURISM MISSION
MISSIONAn MoU was signed between Madhya Pradesh and Kerala on January 13, 2021 to help MP Tourism learn from Kerala's experience with responsible tourism. A delegation from Kerala also visited Madhya Pradesh to help implement the initiative. "It's gratifying to watch other states implementing the community-oriented and heritage-preserving responsible tourism mission activities of Kerala," Hon. Tourism Minister Kadakampally Surendran of Kerala said at the time.
MP Tourism also signed a MoU with the International Centre for Responsible Tourism (ICRT), UK.
RURAL TOURISM IS THE WAY FORWARD
MP's foray into rural tourism will bring it a unique identity on national and international forums, as already evidenced in the case of Ladpura Khas village near Orchha. It will stem migration from villages and help preserve the culture, environment and village customs. Skilling will ensure everyone in the village can be part of tourism, not just the homestay operators. For instance, based on demand, e-rickshaw operations have started in Orchha.
"We have been working on skilling but until we do it in a proper project manner there is no benefit," says Singh, "That's when we tried to create a rural industry. Under rural tourism, a cottage industry will be created in the village. We will keep addressing all the requirements. At the centre of it is rural homestays. When the guests come and stay, they also ask for local cuisine, transport options and excursions, and immersion in the local culture. This creates ancillary employment."
MP Tourism's Rural Tourism Programme is a living example of how the face of a village can be transformed with the help of tourism and the local community can be provided meaningful employment locally. Not only that, rural tourism is a great opportunity for city dwellers to get a first-hand experience of village life in the lap of nature.
With the improvement in the Covid situation, the tourists have already planned their holidays. However, the pandemic has brought about a change in the mindset of tourists, who now want to go to uncrowded destinations. This is a shot in the arm for rural tourism.
Rural Tourism has the potential to accelerate the country's development and attain the objective of an Aatmanirbhar Bharat. It is truly the future of tourism.
(For detail information on the MP Rural Tourism Project, contact: Dr. Manoj K Singh; Director, Skill; Madhya Pradesh Tourism Board,6th Floor, Lily Trade Wing, Jahangirabad; Bhopal 462008E-mail: dirskill.mptb@mp.gov.in; Phone: 0755-2780600)
(A marketing initiative by Open Avenues)