EARLIER THIS YEAR, something of a joke played out on Twitter and our television screens. The columnist Anand Ranganathan while putting out a picture of him sharing the popular South Indian sweet Mysore Pak with the Finance Minister Nirmala Sitharaman on Twitter, shared what was clearly a joke about how Tamil Nadu had been granted a Geographic Indication (GI) tag over the sweet.
Since the sweet is considered to have originated in Karnataka's Mysuru city, something of a storm soon broke out in the state's TV news stations. Sitharaman is a Rajya Sabha nominee from Karnataka. And at one point, according to news reports, one channel had even begun to call the Finance Minister 'two-faced Nirmala'.
The fictional story of the Mysore Pak being granted a GI however didn't just restrict itself to these two mediums. It also planted an idea in the head of a sweet maker.
Today, several months after that incident, Shivanand Madappa tells me he is preparing an application to file a GI tag for the sweet over the phone. Madappa is one of several brothers who runs Guru Sweets, an old establishment in Mysuru's Devaraja Mohalla area, which many believe is the spot where the sweet's origins lie.
'Why not?' he asks when asked what benefits could accrue from such a tag.
He recites an apocryphal story of how this sweet first emerged. How his great-grandfather Kakasura Madappa, believed to have cooked for the Mysore kings, about a century ago, having once forgotten to prepare a dessert for the king, rustled up a quickie by mixing whatever he could lay his hands on, from gram flour to ghee and sugar, to finally come up with a simple fudge-like mixture which we now know as Mysore Pak. When asked by the king what this dish was called, Shivanand says, his ancestor came up with the name 'Mysore Pak'. This story—passed down generations in the Madappa family, and so often recounted in the city's streets —has acquired such an air of truth to it, that people like Shivanand have no doubts about its veracity. What possible benefit could such a tag bring to the sweet or its makers? Why seek a geographic indication when the geography of its birth is already carried in its name? Shivanand considers these points quietly. If nothing else, he says, the tag will give the sweet a higher status.
It isn't just the descendants of the Mysore Pak's supposed inventor. Across the country, a vast number of individuals, organisations and even state governments are rushing to get all sorts of products and processes GI tags in the belief that this will bring benefits, and many times, just a higher status. It isn't just the expected agricultural, textile and craft products that are being tagged. Recipes, animals, sometimes even products that involve no trade such as a temple prasad, are being tagged. In some cases, since many of the products have contested histories and are found across vast areas, like the dispute over the rosogolla between Odisha and West Bengal, states and organisations are going just short of war with one another over them.
CG Naidu, the deputy registrar at the Geographic Indication Registration office in Chennai, claims 351 GI tags have so far been provided to Indian products. "There is an additional 201 applications currently pending (with the GI Registration office), out of which 120 are European products," he says. Although GI tags carry recognition across all World Trade Organisation member countries, every product, even if it has been tagged in its host country, needs to register itself for protection when it enters a new market within the WTO.
A GI tag is really a type of intellectual property right (IPR). It is meant to protect a good which derives its reputation, quality or characteristic from its place of origin—say the sparkling wine Champagne from the French region of Champagne, or in India, the Darjeeling tea from the tea gardens of Darjeeling—from copycats in the market. In an ideal scenario, a GI tag ensures not just protection, but also brings a rigour to the product's quality and authenticity, and fetches higher prices.
In India, however, many point out, this isn't how it has been working. GI tags are being acquired for vague products, some of them with negligible or no markets, and even in cases where they do have the potential for a market, very little is really done to market or protect them. They first began to be provided once the Geographical Indications of Goods (Identification & Protection) Act was introduced in 1999. Darjeeling tea was the first product that acquired such a tag in 2004, followed by a few other products. But it is only in recent years that this pursuit has come to resemble something of a mad rush.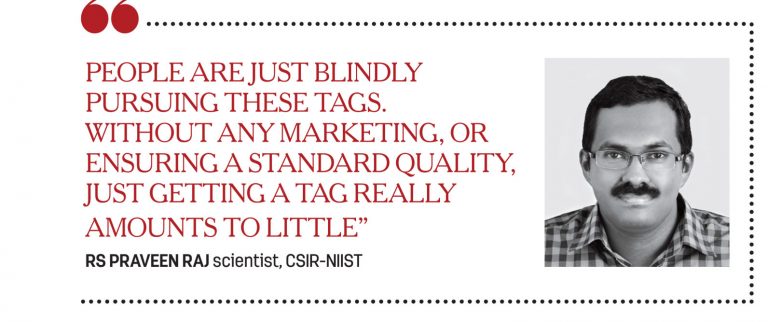 "Most of these [tags] are being pursued just for popularity," says RS Praveen Raj, a Thiruvananthapuram-based activist and scientist at CSIR–NIIST.
A few years ago, when the laddu distributed as a prasad by the famous Venkateswara temple in Tirupati was granted a GI status, Raj had filed a plea to get it revoked. His primary argument was one that most sensible would no doubt ask. GI tags are sought for products or processes that have some industrial purpose and need protection. How does a temple prasad have one? "Also, we have to remember the larger purpose of a GI tag is to protect producers of a product. But in this case, a temple trust (the Tirumala-Tirupati Devasthanams or TTD, which runs the temple) was awarded the tag," he says. "Many questions are raised by all this. The temple doesn't make the laddus, it contracts someone else to do it. Also, how does that laddu derive any special quality from that geographic area?"
Raj however lost that plea. The TTD successfully argued that Raj had no locus standi in the case and hadn't raised any objections when the registration was first sought. Since then, at least one more prasad (at the Murugan temple in Tamil Nadu's Palani area earlier this year) has got a GI status, and the petitions of three more (the Sabarimala Ayyappa, the Ambalapuzha Krishna, and the Kottarakara temples in Kerala) are pending.
According to Ganesh Hingmire, an IPR expert who specialises in filing GI registrations, India has a rich and vast reserve of products and processes that desperately needs protection. "Just look at agriculture," he says. "Every 4 kilometres or so, you will see a unique product (worthy of a GI tag). GI tags have a great potential to bring benefits to farmers and producers… We have only just scratched the surface," he says. "We need to bring in more people. Need to make them understand why they need to file GIs for their products," he says.
Hingmire runs Great Mission Group Consultancy, which he describes as a law firm-like start-up which helps individuals and organisations seek IPR registrations. Most of their work currently however concerns GI registrations. A former IPR professor, he actively seeks out communities whose products and processes he thinks can acquire GI status. He often travels to remote parts of the country convincing people to file such a tag. He mentions how once during his early years in this calling, he had one of his students pursue a popular sweetmaker in Mumbai's Mahim area, the owner of Joshi Budhakaka Mahim Halwai, to have one of his sweets, the Mahim Halwa (thin layers of halwa pressed into compact squares and separated by sheets of greaseproof paper) to register for a GI tag. The owner however refused.
Very few refuse him now, he says. He has so far got 28 GI tags registered, a vast majority of them agricultural, such as strawberries from Mahabaleshwar, jaggery from Kolhapur, grapes from Nashik, and rice from Ambemohar in Maharashtra, but also other products like the headdress known as Puneri Pagdi and the Paithani saree. He is working on several more. One of these is a pedha found in Maharashtra's Kunthalgiri area and another, goats from Osmanabad. A precedent for animals being given GI tags was established last year, he points out, when the distinctive looking, black-feathered Kadaknath breed of chickens were awarded a GI tag.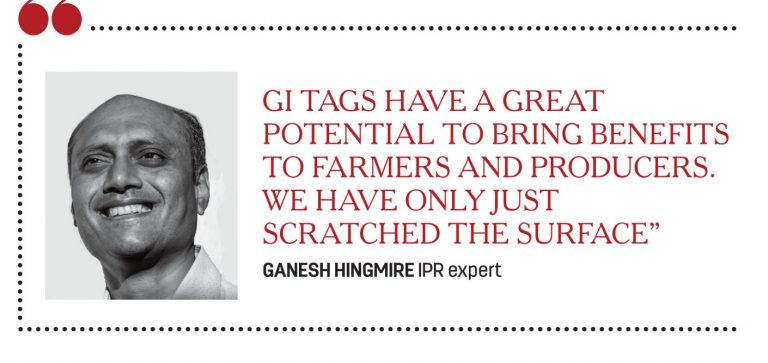 The most well-known case of a dispute between states is of course the row that broke out between Odisha and West Bengal over the rosogolla. Chief ministers got involved, historians were roped in, specialised committees formed, before West Bengal was eventually granted the tag over the 'Banglar rosogolla'. Odisha, however, smarting from its defeat two years ago, was able to convince the Registry that their rosogolla (Odisha rasagola) is distinct enough to be granted another GI earlier this year. A cloud of gloom approached West Bengal recently when some litigants from Odisha tried to have Bengal's GI tag over the rosogolla revoked. But that cloud passed last week, when the plea wasn't considered, and Bengal went on to celebrate its second Rosogolla Dibas (Rosogolla Day) on November 14th without incident.
How does one make the case that the rosogolla is unique to either Bengal or Odisha, even though it may have once originated in one of those places, when it is widely available across the country now? One of the issues with the way GI tags are being handed in India, Raj points out, is that far from bringing any real benefits, they are turning states and their people against one another. The row over the rosogolla is of course the most famous one. But there are several more tensions bubbling underneath the GI tags of various products.
Last year, five districts from Maharashtra acquired the GI tag for the Alphonso mango. It is another matter that many of these districts were seeking individual GI tags for their mangoes. Omkar Sapre, the adviser and chief marketing officer of a cooperative body of mango growers (the Devgad Taluka Amba Utpadak Sahakari Sanstha), points out how each Alphonso mango from one district significantly differs from another, both in taste, shape and size. He even points to research papers that have found significant difference in the compounds of various mangoes.
The Alphonso mango however isn't just found within these five districts. They are grown abundantly in many other neighbouring states, from Karnataka to Kerala. Some argue that these states also have a right to call their produce Alphonsos, because, the mango seeds are the same. It is claimed Alphonso seeds may have been taken from Maharashtra in the past and planted in those regions.
According to Sapre's contention, in the case of Alphonso mangoes, the seeds of the fruit do not matter as much as where it is grown. "It is all about the geography," Sapre says. "A single tree in Karnataka gives a lot more fruit than one here (in Maharashtra), but it has none of the taste that you will get from an Alphonso from here."
The fact that several mangoes from other states continue to call themselves Alphonsos in the market, even after the GI tags were granted, annoys the likes of Sapre. "Law enforcement (against competitors who use the name or symbol of a GI-tagged product) is something that should be done. And in the future, we probably will," he says. Co-operative bodies like the one Sapre belongs to (who were awarded the GI tag) are currently hard-pressed for finances, he says, because of all the money that is being spent in reaching out to mango growers in these five districts to have them register themselves as growers of the official GI-tagged Alphonso mango. But once their situation improves, they will approach the court.
THERE ARE SEVERAL other cases of disputes. The Navara rice grown by a particular farmer's body in Kerala was granted a GI tag when the rice is also grown in other parts of Kerala and Tamil Nadu. The GI-tagged Kadaknath breed of chicken from Madhya Pradesh's Jhabua area is also found in Chhattisgarh. The GI tag for Basmati rice was approved for several states, but Madhya Pradesh was left out, until they won an appeal at the Delhi High Court earlier this year.
There has so far been no known case of an Indian GI-tag holder approaching the courts so far for a breach of their title. Raj points out that there hasn't even been any study to find out if having a tag has even brought benefits in India, either more sales or higher rates. "I would doubt if there has been any benefit… People are just blindly pursuing these tags. Without any marketing, or ensuring a standard quality [of production], or any action against a breach [of copycats selling GI-tagged items], just getting a tag really amounts to little," he says.
Strangely, many of the GI tags being awarded are going to government bodies or educational institutes that have nothing to do with the items in question. Unlike patents and copyrights which belong to individuals, GI is a right given to a community of producers in a certain area, not individuals or specific organisations. The GI tag for the Bengali rosogolla was awarded to the West Bengal State Food Processing and Horticulture Development Corporation, which neither manufactures nor markets rosogollas, Nagpur oranges were awarded to an agricultural college Dr Panjabrao Deshmukh Krishi Vidyapeeth, and one of the four entities awarded the GI tag for Alphonso mango is again another agricultural institute, Dr Balasaheb Sawant Konkan Krishi Vidyapeeth (the other three are co-operative farmer bodies). Who is granted the tag is important, because it is their job to promote the product, ensure its quality, and approach the courts if there is an infringement of the GI.
"We were unhappy about that. And we wanted to contest it," says Sapre when he learnt that an agricultural institute was being awarded the GI tag for alphonso mangoes along with the three co-operative bodies. "An institute doesn't have any interest in protecting producers or the product," he says. Sapre points out that an agricultural institute's primary job is to teach cultivation techniques to others, including those from outside a GI-tagged area, and in this way, it can be argued, even imperils the interest of the farmer whose welfare, as a GI tag holder, it is supposed to protect.
Hingmire agrees this is a problem. GI tags, according to him, should only be granted to communities or co-operative bodies. When disputes break out between states over particular products, he says, the aims should be to reduce hostilities, and if possible, to grant GI tags to both states.
"Bengali rosogolla, Odisha rasagola. Both are Indian states. Why fight over it?" he says.
What about the Alphonso mangoes?
"Better not to fight. The same seed has after all gone from here (Maharashtra) to those parts (in Karnataka and Kerala)?"
That logic of the same seeds having travelled to a neighbouring state and hence its fruits being equally worthy of a name that is now protected by a GI tag, however, to Hingmire, doesn't extend to the fruits of similar seeds that might have been taken overseas. "We have to be very careful when that happens," he says. "We cannot allow such a breach to happen."
A few weeks ago, the scent of Mumbai's fruit markets began to dominate with a familiar but impossible aroma—alphonso mangoes in winter. These mangoes, it turns out, are the fruits of a tree which was grafted from Alphonso trees from Ratnagiri some 10 years ago, and grown in Malawi, a distant African nation that falls in the southern hemisphere. Here the impossible, it appears, was achieved and mangoes successfully grown during winter.
Sapre isn't particularly perturbed about these mangoes reaching India. He reasons the mangoes are being sold during the off-season of winters, so it shouldn't worry mango growers in Maharashtra. He admits with some relief, that those importing the mangoes are correctly calling it 'Malawi mangoes'. Although he isn't pleased that in the local markets, fruit sellers have begun to call them 'alphonsos'.
"For now," he says, "we are just keeping a close watch."