BY MAY 5th, Anand and over 300 other fishermen from Srikakulam district in northern Andhra Pradesh were getting restless. They had been stranded in Malpe, in Karnataka's Udupi district, since mid-March. While the district administration had ensured they did not go hungry, with the easing of the lockdown on May 3rd, they were now expected to find work and fend for themselves. All they could do, however, was worry about how to get home. With the Andhra Pradesh government not committing to bringing them back citing quarantine protocols, Anand was calling every journalist and activist he knew—anyone who spoke Telugu and would be able to help. Help did arrive a few days later, with the opposition liaising with Karnataka Chief Minister BS Yediyurappa to put them on buses with food and water onboard.
The Centre had anticipated such ordeals in varying degrees across the country. In the first Cabinet meeting after the first phase of the lockdown was announced on March 24th, Prime Minister Narendra Modi had asked his colleagues to ensure that foodgrains and money were immediately provided to the needy and those dying to get back home out of panic. Despite all the chaos and violence that threw lives out of gear worldwide, it was its preparedness and prompt responses that worked in India's favour in minimising social unrest. Protests and looting were rampant even in advanced countries with much smaller populations.
FROM GUNTAKAL in Andhra, Tirupur in Tamil Nadu, Ratnagiri in Maharashtra, Bellari in Karnataka and other remotest corners of India, migrants had begun making SOS calls to their respective home governments—especially Uttar Pradesh (UP) and Bihar, two states that account for the largest number of out-migrants within India—to help them return after the nationwide lockdown was announced. These low-income workers, mostly daily-wage earners, poured their hearts out in WhatsApp groups and on TV about being homeless and left high and dry in the scorching sun. Chinmay Tumbe, migration expert, IIM-A professor and author, estimated the reverse exodus to be close to 30 million, which is nearly 20 per cent of the urban workforce in the second most populous country.
During the lockdown, Modi wanted everybody to stay where they were, yet people close to the issue say steps were taken by the Centre to mitigate any crisis that stemmed from certain groups being anxious to return to their states. The Prime Minister acknowledged the social behaviour of migrants and also their plight in his radio address to the nation: "[Migrant workers'] sufferings can't be expressed in words." Columbia University professor Arvind Panagariya, who was the first Vice Chairman of NITI Aayog, said in an interview to PTI why such migrations cannot be totally contained. He reasoned: "The nature of migrant workers is to rush to home when their workplace is shut down and rush back to the workplace as soon as it opens up." He added: "Just as the host states found it impossible to hold migrant workers back once their states went into lockdown, home states will find it hard to hold them back once host states unlock and resume work." Panagariya was apparently refuting statements by the likes of S Irudaya Rajan and others who feel that at least 30 per cent of workers will stay back after the lockdown is lifted. According to the 2011 Census, more than one-third of Indians, close to 455 million, are categorised as 'migrants' because they reside in a place different from their place of residence when the previous survey was conducted. In 2001, the figure stood at 314 million.
People across the world have migrated since time immemorial and so have Indians. From the Caribbean to Africa to Europe and neighbouring countries, including Sri Lanka (then Ceylon) and Burma (Myanmar), to vast swathes of North America, the Middle East and the East, Indians have left a mark over centuries. Historian Nayanjot Lahiri says: "Migration as a consequence of pressures on lives and livelihoods is visible across antiquity. The hominins who were India's first immigrant settlers came all the way from Africa, nearly two million years ago. What is reasonably clear is that these migrants were escaping the aridity and changes in rainfall pattern which were rearing their ugly heads in eastern Africa. Many millennia later, with the collapse of the Harappan civilisation, there was a significant migration of people from the collapsing cities in the northwest to areas towards the east. In fact, in the area that lies between the Sutlej river and extends to the east of the Yamuna river, as a consequence of this migration, there were more settlements there following the Harappan decline than there were in all of Sindh and Cholistan during the height of the Harappan urban growth. So, this exponential expansion was a consequence of the movement of displaced citizens." She elaborates: "Finally, peasant migration in ancient India was a common form of protest, mainly when the state became oppressive. A Buddhist Jataka tale alludes to a tiller going to a foreign land out of the tension caused by a usurer and how the tiller then sang a song of relief that there he might live without anxiety."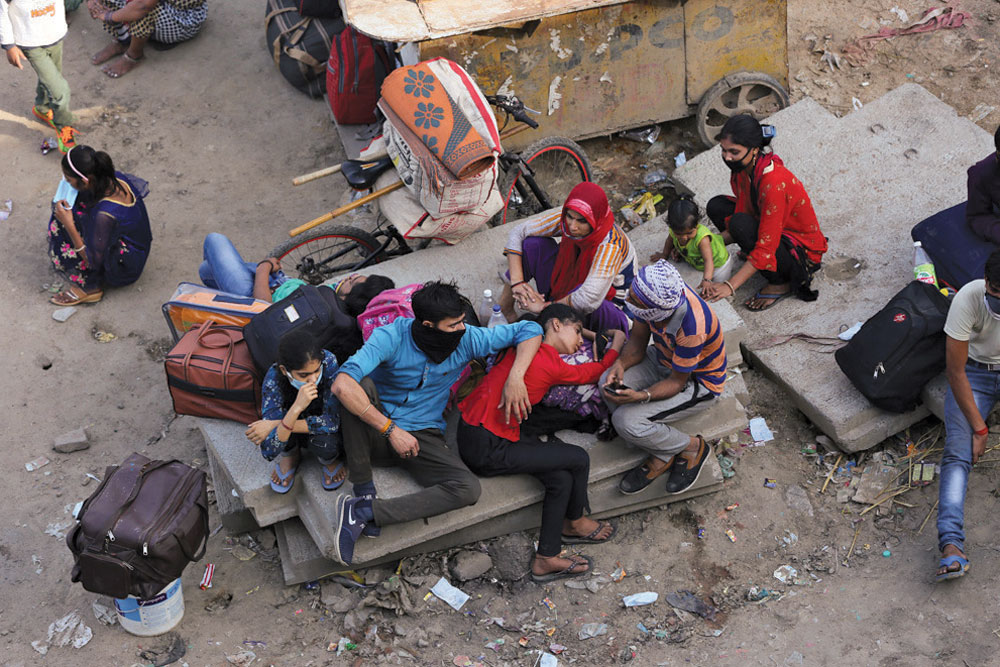 At times, centuries tend to coexist. Yet, amidst the resplendent stories of techies striking gold in Silicon Valley to remittances from the Gulf, stories of people who migrate within India in search of labour, notwithstanding their contribution to the rural economy, are undocumented. According to Tumbe, at least a sixth of India's households have a member who is a migrant and the largest pool of migrant workers come from western Bihar and UP.
These 'invisible' men and women, often treated as expendables in the larger official scheme of things for decades, got some attention for the first time when the Centre, in 2015, set up a working group to assess the impact on migration of housing, infrastructure and livelihoods. Until then, grassroots social justice movements, even the iconic ones in the 1960s and the 1970s, had focused on women's empowerment. Ruling parties fell back on attractive and catchy slogans pledging to eradicate poverty. Even those parties that came to power promising social engineering became elitist and catered only to the creamy layer among the backward castes and the new powerful classes among other disadvantaged groups.
The 2015 group to look into migrant workers was constituted by the Ministry of Housing and Urban Poverty Alleviation. It took that long for obvious reasons: it was not politically expedient to champion their cause because they were not a powerful bloc of voters, but cast their votes based on regional political pulls in their respective foster states. They were never a homogenous vote bank.
The Centre will make a law to offer migrant workers social security and health benefits under the Employees' State Insurance Corporation
The group submitted its report in January 2017. Its key recommendations included social protection for these workers, besides offering them food security, skilling, health benefits, education for their children and, in the process, financial inclusion. Partha Mukhopadhyay, Senior Fellow at the Centre for Policy Research and who headed the group, tells Open that it had specifically focused on five issues: equality in legal protections; enhanced awareness of social protection; extensive portability; effective housing; and efficient release of data. On legal protections, he says: "Here, progress seems to be halting—states are often reinforcing domicile requirements." Stressing on the need for outreach programmes to make migrants fully aware of their rights, he notes that "this is especially an issue when substantial [relatively speaking] benefits like building and construction workers registration are linked to state-specific funds." Mukhopadhyay avers that portability was envisaged to improve challenges of service provision to a mobile population, including access to food, health, education, skilling and financial inclusion. He adds: "In this, much of the discussion is around one nation, one card, but there are substantial remaining issues in education, where language is a major issue. Existing schemes like [Sarva Shiksha Abhiyan, a federal programme aimed at the universalisation of primary education] and [Integrated Child Development Services] do have provisions but these are rarely used—it is a demand-driven issue and states are not demanding resources under such heads."
The goal of effective housing, he says, was to be met through better rental housing and improvement of informal settlements where most migrants live. "Most rental housing schemes degenerate into build-and-forget in inaccessible and unconnected areas and, therefore, remain unused, since much of the political economy is in building construction contracts rather than providing services to migrants," he points out. Release of data would help better analyse the changes in the nature of migration in a far timelier manner, he argues. A NITI Aayog official Open spoke to contends that although "all this is work in progress", a new beginning was made finally in 2015. He expects the lessons learnt from the current exodus to inspire the governments, both at the Centre and in the states, to work with a greater level of dexterity towards the cause of migrant workers. "They are focusing on doing things to improve their lives and livelihoods at a fast clip," he states.
Seated in his Sunehri Bagh Road home in New Delhi, Santosh Kumar Gangwar, Minister of State with independent charge in the labour ministry, reels out plans being laid down by the Government to give migrant workers what they have long been denied: dignity and constitutional rights.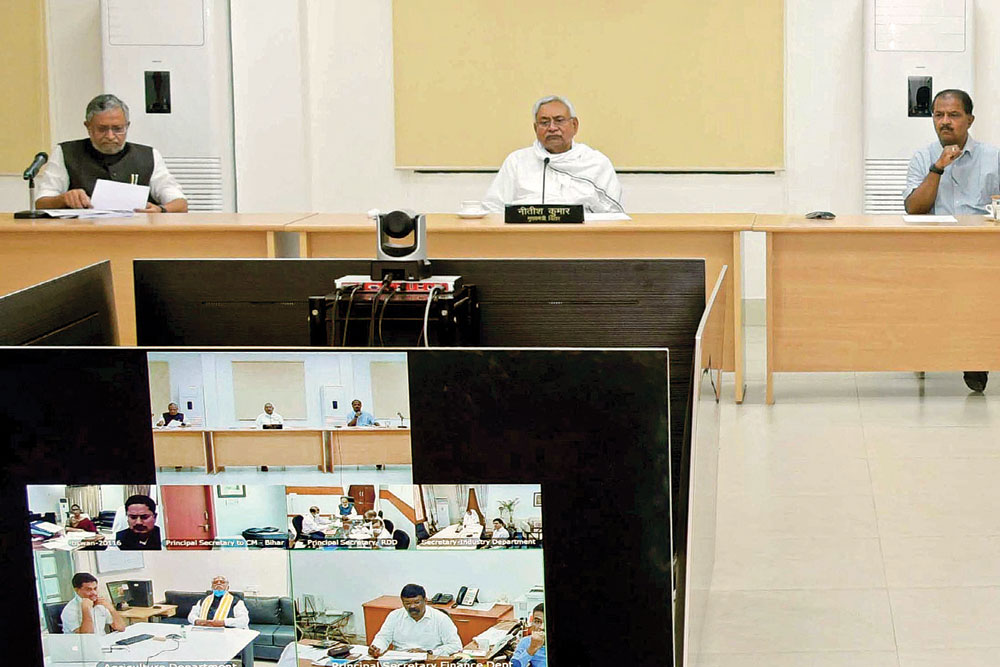 A raft of measures is being unveiled in the wake of the largescale migration of workers in the lockdown. These include an updated Code on Social Security, says the minister, asserting that his ministry will soon place it before the Union Cabinet. By all expectations, the Union Government will make a law this year that will offer migrant workers rights due to them. They will get social security and health benefits under the Employees' State Insurance Corporation (ESIC). All migrant workers in the informal sector—some of whom never come under the government's scanner because of their circular migration—above 16 years of age will be registered for benefits. The new code will help not to miss out on those who are part of this circular migration, which involves workers shifting from one location to another in short spells. Gangwar also talks of a unique social security number that will be linked to Aadhaar to make rolling out targeted welfare schemes for them less cumbersome.
Many schemes that cover employees in the organised sector are not available to those in the informal sector that continues to grow despite the earlier assumption that with rapid growth, the unorganised sector would shrink. A government official told Open that informal-sector workers would receive more benefits so that their lives would not be thrown out of gear in the face of unprecedented situations like a pandemic, or any event that triggers a massive disruption in employment.
Those who want workers from UP will go through official channels to hire them, a strategy that may work to the advantage of labourers
UP Chief Minister Yogi Adityanath says that he has welcomed back all UP-origin migrants with open arms. Many states were reluctant about letting people back for fear of a rise in infections. Adityanath says his action is proof of the commitment that his government has to the welfare of the poorest of the poor that leave the state in search of livelihoods. UP has the highest share of out-migrants while Maharashtra has the highest share of in-migrants. UP is also India's most populous state. The Chief Minister declares: "The objective of our government is to protect the interests of workers of Uttar Pradesh. In view of this, we are setting up the Migration Commission." He says that once the lockdown is lifted, workers from the state can depart for assignments only after they secure social protection. "With the formation of the Migration Commission, the industrial bodies will not only get workers [from the state] according to their demand, but the workers too will get employment along with a guarantee of social security." This means that those who want workers from UP will have to go through official channels to hire them, a strategy that may work to the advantage of labourers who will have to be assured of many benefits currently given only to those in the organised sector.
Although such measures are unknown in India, such restrictions are guided by stringent rules in countries like China. Adityanath says his government has data on the skillsets of a large number of workers and this knowledge will prove useful for both the company and the state that want to hire UP's skilled labourers. According to the 2011 Census, UP and Bihar together are home to 21 million migrant workers, a large chunk of the total migrant population.
Since the lockdown, over three million migrant workers have returned from other states to UP. Meanwhile, to make businesses more viable in the sluggish economic environment, the state government has relaxed norms in the Labour Act for three years. The Chief Minister has also signed a Memorandum of Understanding for employing workers who have returned from other states with the Indian Industries Association, the Federation of Indian Chambers of Commerce and Industry and such industry lobbies. Besides, the state has deposited Rs 611 crore in the accounts of about 27 million MGNREGA workers and distributed foodgrains to 180 million people in two phases. The government said it has also ensured that many factories remained operational during the lockdown so as to minimise the loss of jobs.
In Bihar, the Nitish Kumar government is also lately pursuing several initiatives to improve the conditions of migrant workers and to secure them better jobs. They include exercises similar to the ones in UP and what states such as Kerala and Tamil Nadu had done much earlier. The Bihar government's aim is to create a database of workers and their skills. As a beginning, more than 100,000 workers have been mapped so far by the state industries department, officials told Open.
The state government is also employing mobile apps to mitigate the hardship migrant workers. It has also set up migration helplines and facilities for on-the-spot facilitation of Aadhaar registration, opening of new bank accounts, registration of ration cards and so on. The Chief Minister has announced a scheme to create at least two clusters of small industries in every district in Bihar. The government has allotted 2,442 acres of land for setting up industrial projects. It has enlisted the support of migration experts to draft a comprehensive programme for rehabilitating and tapping new opportunities for these workers who have borne the brunt of the lockdown.
UP and Bihar, the states most affected by reverse migration, are also putting in place campaigns aimed at giving workers respectability. In some cities and states, migrant workers are despised as inferior social beings although they drive the economies of the rural belts where they come from and play a pivotal role in the running of the economies of their foster regions.
Over the last 70-odd years, politicians have often made only perfunctory noises about the welfare of these people. In states like Bihar, leaders like Lalu Prasad and others seemed more interested in their votes and not their uplift. "Politicians both at the Centre and in various states have only exploited these people for votes for very long, and their upward mobility was never their concern," says a Delhi-based government official hailing from Bihar. "That was the way politics was done in India: by allowing the poor to remain poor as the rich got richer," he adds, emphasising that it is estimated a total of Rs 32,400 crore worth of remittances are sent in India annually. According to reports, out of this, more than Rs 25,000 crore helps activate the rural economy.
The ongoing reverse migration is sure to set off a new wave of challenges, but it is heartening to see that these seemingly inconspicuous and hapless people are finally givewn more than mere lip service. Could it be redemption after their long wait?