It was only a few days ago that Rana Kapoor, the 62-year-old co-founder of Yes Bank, had returned from his refuge in London with the hope that the Government would restructure the bank that he had founded in 2003. Kapoor called it "my baby". He returned to India hoping he would get back his corner office which he had lost last year following the Reserve Bank of India's (RBI) intervention. Instead, he was in the Enforcement Directorate's (ED) and Central Bureau of Investigation's (CBI) custody as the humongous load of its non-performing assets (NPAs) had exploded, triggering tectonic ripples across the market and the economy that were only amplified by the coronavirus shocks. The RBI restricted monthly withdrawals from the bank to Rs 50,000 per customer. Sheila Bhatia, a depositor in Noida, said, "I ran from pillar to post to withdraw a lakh of rupees for a wedding in our extended family." Emergency patients requiring high-cost treatment needed special permission to withdraw more.
On March 9th, as markets opened following Kapoor's arrest, Nifty Bank Index traded 3.98 per cent below March 6th and the 30-share Sensex plummeted 1,448 points. The coronavirus scare could be the overall reason for the bloodbath, but the fear about a debacle in the banking sector over the fate of Rana Kapoor had certainly given the market tragedy a gory subtext.
Kapoor is anything but a staid banker. He is another flamboyant Delhiite clad in bespoke suits and speaking with more authority than credibility. At a panel discussion on financial innovation in banking at the World Economic Forum's India Summit 2014 in New Delhi, Kapoor, then CEO and MD of Yes Bank, sputtered clichés with supreme confidence. Such as innovation ought to be regulated, or it could result in a crisis situation, just like the economic meltdown of 2008. Ironically, Kapoor's own activities then had cried for regulation. A series of loans issued by Yes Bank under his watch turned to NPAs as borrowers claimed inability to repay the money and Kapoor allegedly resorted to money laundering. In the process, he belied public trust by flouting norms and stuffing cash into his family businesses through a clutch of companies where his wife Bindu Kapoor, or his three daughters, Radha Kapoor Khanna, Rakhee Kapoor Tandon and Roshini Kapoor, were directors.
An affidavit filed in Delhi High Court by the Citizens' Whistleblower Forum revealed that the fee income that Kapoor generated was actually targeted to his own group companies instead of the bank's coffers. A close look at the relationship with Yes Bank and Indiabulls will make this clear. Between 2009 and 2010, despite their weak balance sheet, Yes Bank lent Rs 100 crore to 14 Indiabulls companies. None of these companies had any business operations and over time had accumulated huge losses. Again, in 2018-19, Yes Bank extended a loan of Rs 750 crore to Indiabulls group companies. In return, as many as seven companies directly or indirectly owned by Kapoor's wife, Bindu Kapoor, received Rs 2,000 crore from Indiabulls. According to the affidavit, none of the seven companies reported to the Ministry of Corporate Affairs, as it is mandatory, about the loans taken; some of these companies did not even disclose these loans in their annual reports.
Now take the ongoing case concerning Dewan Housing Finance Corporation Limited (DHFL), under which the company is believed to have siphoned off Rs 13,000 crore through 79 shell companies. The DHFL promoters, Kapil Wadhavan and Dheeraj Wadhawan, allegedly bought properties from Iqbal Mirchi, henchman of fugitive underworld don Dawood Ibrahim, for which Yes Bank had extended huge loans to DHFL. It later turned bad. Though DHFL failed to pay back the loan to Yes Bank, it could still extend a corporate loan worth Rs 600 crore in 2018 to DoIt Urban Ventures, a company with 20 branches but hardly any employees. The company was controlled by Rana Kapoor's family. At this time, Yes Bank's debt exposure to DHFL stood at Rs 3,700 crore. Around the same time, Yes Bank had extended Rs 750 crore to RKW Developers, a DHFL group company directly connected to the underworld transactions.
Another case that underlines the recklessness inherent in Kapoor's operations is a corporate loan of Rs 600 crore extended to Avantha Group Chairman Gautam Thapar where Thapar pledged to Yes Bank his Lutyens' Delhi 1.2-acre bungalow on 40, Amrita Shergill Marg. When he defaulted, Bindu Kapoor launched a shell company, Bliss Abode Pvt Ltd in March 2017. The bank followed due process and invited bids on the bungalow. Among others, Interglobe Aviation's (Indigo) Rahul Bhatia got interested and bid for the bungalow. But Kapoor, as the auctioneer, scuttled the sale and grabbed it for his wife's company for Rs 380 crore. Today, the property houses the corporate office of Bliss Abode Pvt Ltd.
For most of the 16 years that Rana Kapoor was at the helm of Yes Bank (2003-2019), he reportedly ruled with an iron fist and used it as his fiefdom, lending recklessly and, in large part, succeeding in cooking the books. The son of an Indian Airlines pilot and a Sri Ram College of Commerce alumnus, Kapoor landed at Rutgers University in the US for his MBA where he interned in the IT department of Citibank in New York. In 1980, he joined Bank of America and later led its wholesale business in Asia. While at the bank, along with five colleagues, he presented to the American Insurance Group a business plan for a non-banking finance company (NBFC) but that did not stick. After a stint at ANZ Grindlays' investment bank, in 1998, Kapoor helped develop the India market for the Netherlands-based Rabobank India. That's when his entrepreneurial journey took off as, along with two former colleagues, Ashok Kapur, also his brother-in-law, and Harkirat Singh, Rabo India Finance, an NBFC, came into being with 25 per cent of their equity, the other 75 per cent being held by Rabobank. In 2003, all three sold their stake with the intention of setting up a bank for which they got a banking licence that very year. Eventually, Singh was sidelined as Kapoor and Kapur got Yes Bank off the ground the next year.
Kapoor and Kapur were a study in contrast; while the former was brazen, Kapur's moderate old-world charm helped even convince the RBI to grant them the licence. As Ashok Kapur donned the hat of chairman, Rana Kapoor became the face of the bank as its MD and CEO and remained so until irregularities surfaced and the RBI forced him out on January 31st, 2019. In 2005, the bank got listed and posted a profit of Rs 55.3 crore. This was also a phase of brand-building where Kapoor made it a point to be visible across the board. So he started winning a clutch of awards, like Ernst & Young's 'Start-up Entrepreneur of the Year ' in 2005 or the PHD Chamber's 'Distinguished Entrepreneur of the Year' in 2007, soaking in the limelight all the while. In 2008, Kapur died in the Mumbai terror attacks and in the subsequent year, the board of Yes Bank, led by Rana Kapoor, declined to appoint Kapur's daughter Shagun Kapur Gogia as director, citing inexperience. A court case dragged on until Gogia gained entry to the board as a representative director last year. Nandan Sen, a retired MNC banker familiar with Yes Bank's inside story, says that the death of Ashok Kapur "deprived the bank of its moral compass".
FROM KAPUR'S DEATH until last year, Rana Kapoor made a mark as an unconventional banker lending at breakneck speed and earning the epithet 'lender of the last resort' among rivals. When the owner of an infrastructure company wanted to raise money for a new project, he approached Kapoor, and was surprised with the offer of a Rs 400-crore loan. On the side, though, Kapoor made him pay a 6 per cent processing fee, which was never the norm, and this helped dress up the bank's books. It is the fee income that buoyed up the profit and loss account of Yes Bank. But it was Band-Aid that hid the persistent income haemorrhage.
Kapoor's obsession with fee income was such that, in 2011, Yes Bank was prominent among the banks penalised by the RBI for violating currency derivative norms. The ruling came as a blow to banks as small and medium enterprises claimed that banks were forcing on them meaningless contracts to earn fees that boosted earnings. Over-the-counter derivatives help companies hedge against fluctuations in interest and foreign exchange rates. Banks sold currency derivatives to enable companies to buy cover from currency fluctuations. The devil is in the fine print. In 2007, when the euro, Swiss franc and yen surged, the borrowers were told to pay up after the markets moved against them. The contracts were too confusing and left little headroom for delaying settlement, which is the normal practice in derivative markets. That's when the banks, including Yes Bank, got sued by the companies. Most cases, however, were settled out of court.
Kapoor's modus operandi was a far cry from the studied prudence of Mumbai's banking fraternity. In many ways, it offers a peep into the Delhi trader's get-rich-quick-at-any-cost mindset. Kapoor, scion of a family of Delhi jewellers, was an oddball in Mumbai's conservative and demure banking world of stone mansions in the Fort area. Micromanaging every aspect of the business, Kapoor delivered impressive numbers as the industry grappled with NPAs triggered by over-leveraging, downturn and doubtful promoter integrity. But Yes Bank continued to be on a roll and said it had less than 1 per cent of bad loans with a corporate exposure as high as 65 per cent. In an interview to CNBC-TV18 in 2016, Kapoor was asked how he managed to keep it that way when the competition was bleeding. He pointed at a three-way relationship between relationship managers, product managers and risk managers. "That makes sure that when you have a problem, the red flag surfaces early enough," he said. But the trouble was that at Yes Bank, Rana Kapoor was all three rolled into one.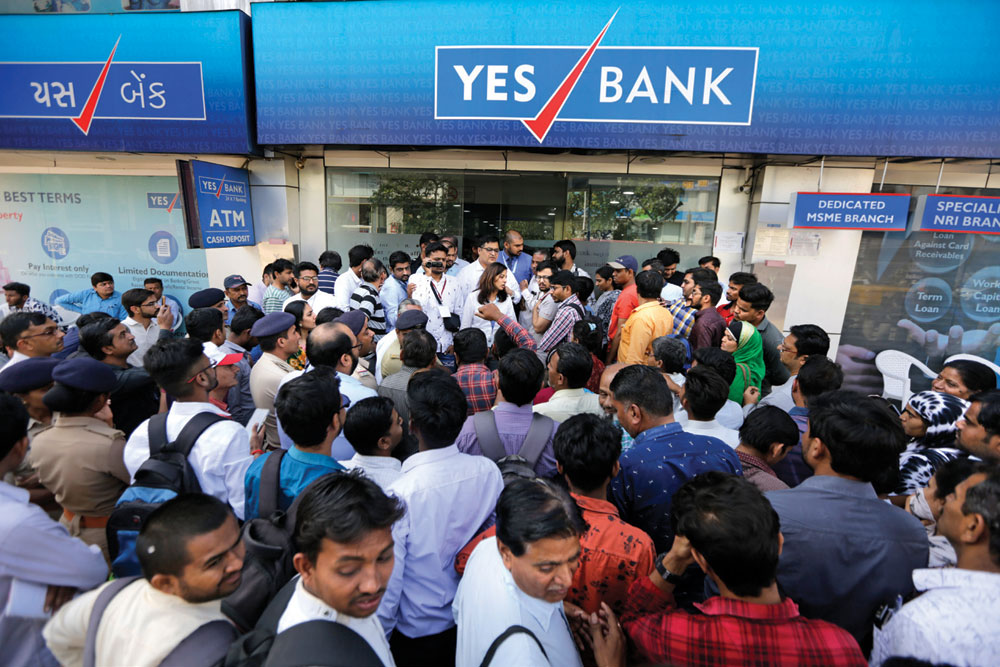 A hands-on banker, Kapoor spent time with the borrower, however small. It was also normal for Kapoor to fire his relationship managers over a text message. Thrashing out deals with promoters directly gave him a high. This attitude was at odds with the bank's scale which obliges that the lender should take a backseat while the managers take over. But Kapoor was apparently a control freak. To stay in the arc light, he sponsored a slew of corporate and media events, making it a point that he and his family members should be seated in the front row next to the invited VIP. "It's my show or no-show," was his favourite pronouncement on such occasions. At public dinners, he would always be at the head of the table. He hosted lavish parties at his Samudra Mahal sea-facing apartment in Worli, Mumbai, where he was a tenant of politician Jyotiraditya Scindia. While searching it, the ED found a Rs 2 crore portrait of Rajiv Gandhi sketched by MF Husain during a raid on March 6th. He is learnt to have bought it from Priyanka Gandhi.
His neighbours included fugitive diamantaire Nirav Modi as well as leaders of the IT industry like Nandan Nilekani and NR Narayana Murthy. His other properties include a plot in the vicinity of Mukesh Ambani's Antilia, around nine flats in an Indiabulls-promoted apartment complex in Mumbai and properties in the US, UK and France. Proximity to the rich and the powerful gave Kapoor an aura hard to disregard.
Sen maintains that he considered his bank next to none and was willing to do just about anything to make the numbers talk. But not everything was right with the bank. According to a report by Jefferies on stress exposure across major accounts, Yes Bank was second only to the State Bank of India with an exposure of over Rs 10,260 crore, of which Anil Ambani's finance businesses alone accounted for Rs 2,850 crore. And the total exposure of Yes Bank to Anil Dhirubhai Ambani Group (ADAG) alone stood at Rs 13,000 crore. Similarly, the lender had exposure to Cox & Kings, IL&FS, DHFL, CG Power and a clutch of companies that defaulted on payment. At the same time, in 2016, the RBI was tightening the leash on indiscriminate lending by storing details in its central database, the Central Repository of Information on Large Credits (CRILC). Lenders now had to submit quarterly reports on all borrowers with exposure above Rs 5 crore. Sen said Yes Bank's modus operandi could work in the past "but, as reporting norms became stricter over time, the management could not hide its books from scrutiny any more".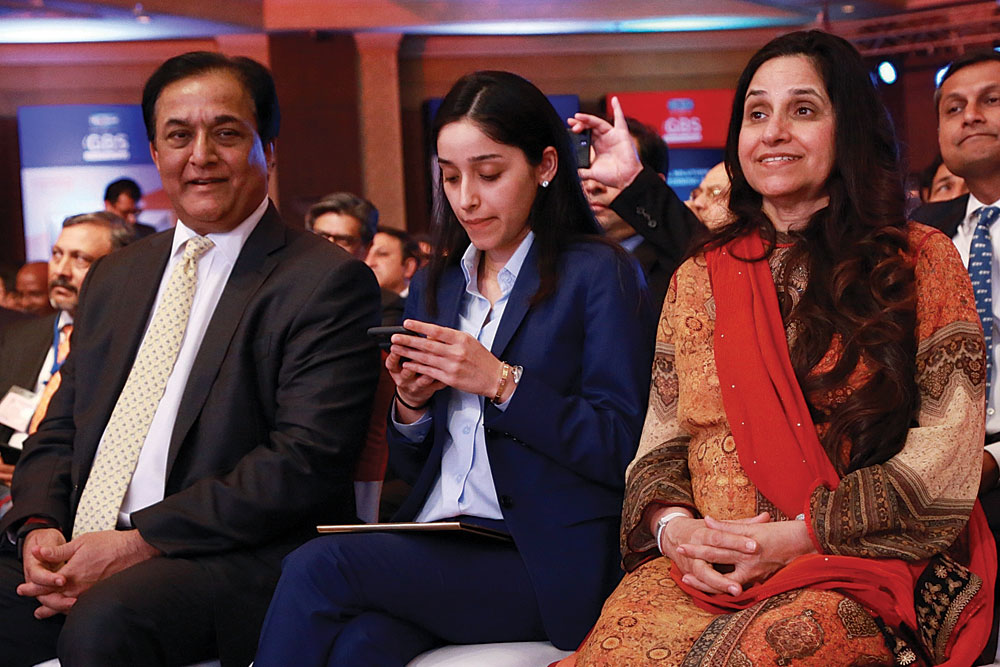 Stricter assessment norms by the central banker got Kapoor's goat and in fiscal 2016-17, Yes Bank reported a divergence in gross bad loans of Rs 6,355 crore. So while NPAs of Rs 2,018 crore was reported by the bank, the RBI pegged that to be much higher, at Rs 8,373 crore. In every fiscal thereafter, the bank's share of bad loans was higher than most of its peers. But the bank kept growing. Between March 2008 and August 2018, its share price skyrocketed from Rs 9 to Rs 404. However, the more circumspect of traders chose caution. Kuldip Singh, a mutual fund trader in Delhi, says "most banking funds started offloading Yes Bank from their portfolio in late-2018".
The bank's loan book also swelled to make it the country's fourth-largest private sector lender. Rana Kapoor would lend to practically anybody and everybody, and between financial years 2014 and 2019, the bank's loan book grew from Rs 55,000 crore to Rs 2.5 lakh crore. Of this, from financial years 2017 to 2019, the loan book doubled—at a CAGR of 38 per cent, unconventional for the industry wherein banks have not grown beyond 25 per cent.
Questions were being asked on how Yes Bank managed to keep a lid on mounting NPAs while others were in the red and Kapoor warded them off by claiming that it was the small size of the bank that made it manage the loans better. Kapoor is said to have even cited the example of the Vijay Mallya-run Kingfisher Airlines where Yes Bank had significant exposure but was among the few lenders to have recovered all loans before the airline went bust. This, Kapoor claimed, was due to the bank's watertight structures. For Kapoor, the Kingfisher Airlines experience long remained a bragging point.
But the central bank was simply not impressed. As it became clear the bank's doubtful assets were piling and that Kapoor would not budge from his position, the regulator was forced to step in and issue a letter in September 2018 that Kapoor had only three months at the helm. It is around then that he tweeted comparing his 10.66 per cent shares he held at that juncture to diamonds and said that he would never sell them but pass them on to his progeny. When Kapoor was making the statement, Yes Bank shares were trading at Rs 183, already a huge discount to the previous months. A year later, as the share price further tumbled, Kapoor had to eat his words and, finally, had sold all his shares by January this year. Meanwhile, Yes Bank under Kapoor's successor Ravneet Singh Gill failed to turn around. On March 5th, the RBI effectively took control of the bank and appointed an administrator from the SBI to overlook operations. It also placed the bank under a 30-day moratorium.
With Kapoor in custody for alleged offences on a number of charges, including under the Prevention of Money Laundering Act, his dream of riding to the peak of the banking industry remains buried under a gigantic avalanche. At the time of going to press, Kapoor is being grilled by the ED and the CBI. Will more skeletons tumble out of the closet?