When Jayandrath Tambe retired from the Mumbai Police service three years ago and took up a job at a non-governmental organisation (NGO), he had believed he would lead a relatively laid-back and meaningful life. The former police inspector had joined a newly-formed organisation, Mumbai Roti Bank, started by his former boss, ex-Mumbai Police Commissioner D Sivanandan, which would prepare and feed meals to destitute children in the city. Tambe was going to be the operation manager, someone who would oversee the day-to-day functioning. It went smoothly for the next three years. The NGO prepared and collected an average of about 3,500 meals daily for children across Mumbai. And then Covid-19 hit the city.
The NGO had suspended their operation around the middle of March. Several of the employees and helpers of this organisation had left for their native villages in interior Maharashtra. But then the calls started pouring in. "The city needed food desperately. We needed to expand operations," Tambe says.
And so roping in new hands—now a total of three helps and a solitary cook operating out of a kitchen in Mumbai's Mahul area, and four men to drive these food trucks—while also collecting meals from a few city restaurants, Mumbai Roti Bank resumed operations. Their brief had now been expanded. They were going to prepare meals for those whose lives had been overturned by the pandemic and the resulting lockdown across the city, especially in the slums. It now prepares and organises anywhere between 30,000 to 35,000 meals daily, both lunch and dinner. The meals have changed too, from the earlier large meals comprising rice, rotis, vegetables and lentils which would need to be distributed out of vessels and would hence require lengthy queues, to just pulaos or khichdis where all these items are mixed in and can be easily fitted into packets that are distributed at doorsteps.
Tambe has the brusque air of a no-nonsense policeman. Seated at the kitchen one late evening, while noting down the supplies and the day's deliveries before closing up, several calls for help keep coming in. Once a 'madam' rambles on for what turns out to be a request for meals for a group of migrant labourers in another part of the city. Tambe cuts her short. He notes down her name and the location of the labourers and tells her, "One new group took packets today but hasn't called. I will divert that to you. Anything else?"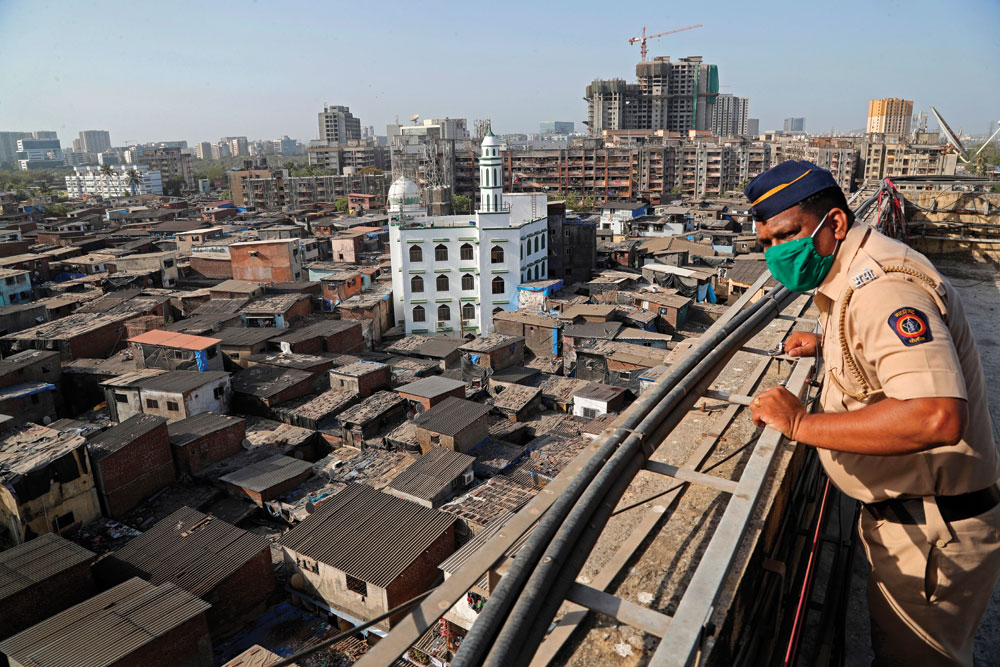 It's been a long tiring day of overseeing the kitchen and travelling to and fro to various volunteering restaurants for Tambe. In a few more hours, he will close up the kitchen and leave for his home in a far-flung area in the city, only to return very early the next morning. "You know," he says, "in all my years of service, I've never seen a situation as bad as this."
The situation is dire. Of all the cities in the country, Mumbai has been the one most badly hit by the pandemic. At the time of going to print, as of May 6th, the city alone breached the 10,000 figure mark (10,714 confirmed positive cases) with a death toll of 412. It is the biggest reason behind why Maharashtra with its 16,758 cases (as of May 6th) is overtaking the other states. On May 6th, when 1,233 new cases were reported in the state, 769 came from Mumbai alone. Nearby municipal corporations that form the larger Mumbai Metropolitan Region (Kalyan-Dombivli, Ulhasnagar, Mira-Bhayandar, Vasai-Virar, Thane, Navi Mumbai, Panvel), where many people who work in Mumbai reside, have threatened to bring out rules that block the entry of anyone coming in from Mumbai, even those in essential services, in order to protect their areas from infection. Unsurprisingly, the state announced it would carry on with the lockdown even before the Centre made its announcement. And while the Centre has eased some restrictions even within the red zones, allowing for instance a 33 per cent workforce in private offices and companies, the Maharashtra government has forbidden it.
"You have to understand why the numbers look so high," says Dr Daksha Shah, deputy health officer of the Brihanmumbai Municipal Corporation (BMC). "We are testing more than anyone else [between 4,000 to 4,500 tests daily]. We have a very aggressive contact tracing system. And we are quarantining all high-risk individuals. Plus more people with symptoms are coming forward now That's why you see these large numbers. Nobody can predict, but gradually, because of our aggressive steps, these numbers will subside." She points out how already the city is gradually bringing down the case doubling rate, from about every seven days in mid-April to about 10 days by the end of the month.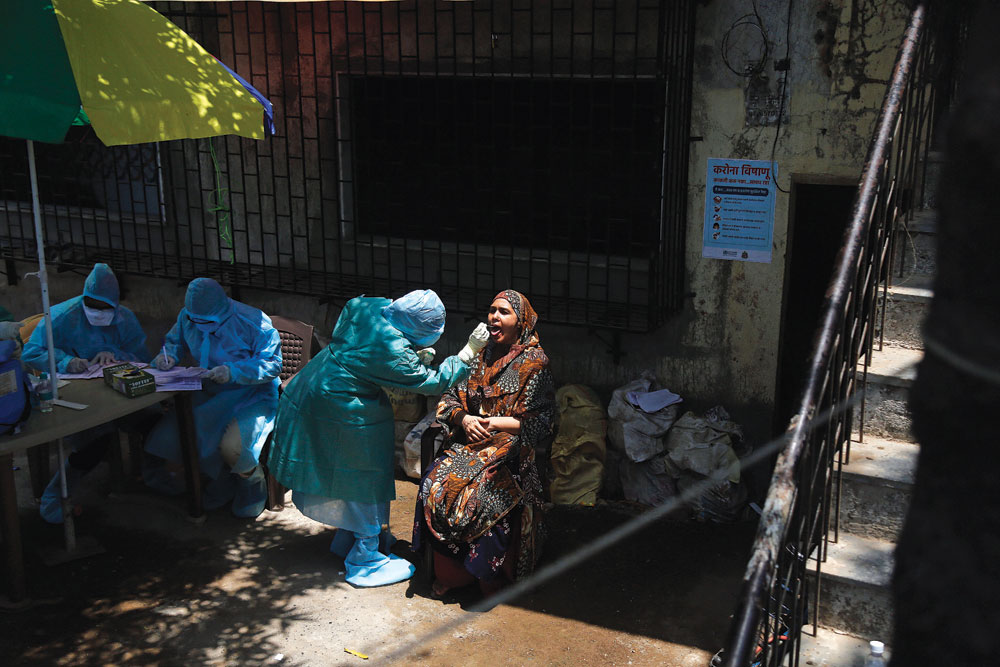 Not everyone is convinced. The BJP MLA from Colaba, Rahul Narwekar, says the city should be testing a lot more given its huge density. He claims to have pushed the BMC to conduct testing camps within the slums in his locality where several cases were discovered. Some days ago, he claims, one of his party workers was refused a test even though he appeared to have many of the symptoms. A few days later when the symptoms persisted, he created a ruckus and the authorities relented. "Guess what, he was positive," Narwekar says. "His wife also had symptoms but they didn't test her. They told her to wait five days. And when they finally checked, she too tested positive."
Mid-way last month, the BMC changed its testing parameters. Tests were now only going to be carried out on symptomatic patients. Even high-risk contacts of those who test positive can now only be tested five days later. The BMC claims they are simply following rules set by the Indian Council of Medical Research (ICMR) and that their lab capacities are too stressed to also allow the testing of asymptomatic cases. Narwekar claims it is a way of hiding the real figure. "The BMC itself says they have found 80 per cent cases to be asymptomatic. Now you won't even be checking this group of people."
Another nature of the outbreak is that while the virus might have earlier been seen as a rich man's disease, with the infected either being people who contracted the disease on foreign vacations or friends who had come in contact with such people, now two months later, the burden is being mostly felt by the poor. Cases in high-rises and upscale neighbourhoods are falling, but those in slums, chawls and fishermen's colonies are spreading rapidly. According to The Times of India, 80 per cent of the 1,927 containment zones in the city are now either inside slums or chawls. Sixty per cent of those who die are also from these areas. Of these, the city's largest and most famous slum Dharavi is particularly hit. On April 1st, the slum registered its first case. On May 6th, that number had swelled to 733 cases, with 21 deaths.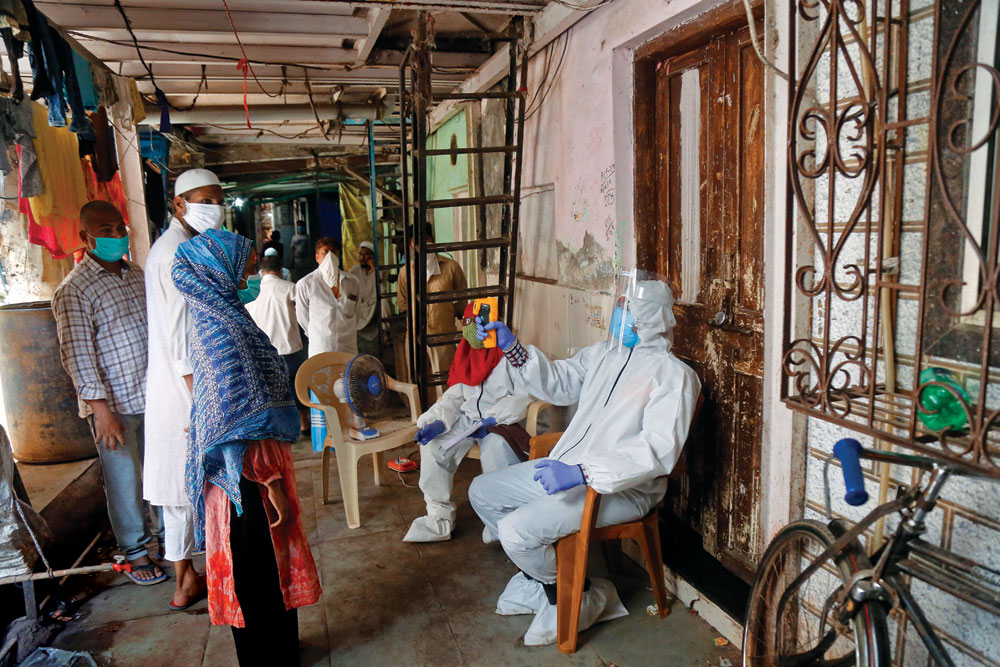 "Dharavi is a ticking time bomb," says Sayli Udas-Mankikar, a senior fellow at the Observer Research Foundation who has been tracking the Covid-19 outbreak in the city. "How do you ensure social distancing in a place with such a high population density. How do you make sure the virus doesn't jump through the population in such a place. It's a nightmare."
Shah agrees that they face a lot of challenges. "But we are really putting in a lot of effort here," she says. Health workers, she points out, now move door to door through the slum screening people for symptoms; common facilities, such as lavatories, are disinfected several times in a day; the many fever clinics in the area get all suspicious cases tested; those who are high-risk contacts are quarantined; and anytime an outbreak is noticed, the entire area is sealed. At the same time, those most vulnerable to an infection, such as senior citizens and people with co-morbidities, are constantly monitored and protected, she says.
According to Udas-Mankikar, the city has failed the people of this area. After decades of conversations of redeveloping the slum and putting its residents in high-rises, the project has barely moved from drawing-board discussions to actual reality. People have languished here. And now with the Covid-19 outbreak, the worst is perhaps unfolding. "Once the outbreak is behind us, we all need to rethink what we can do for Dharavi. Is putting all of them in high-rises the best idea? If not, what can we really do to help and give them a good standard of living?" she says.
Fakhrul Islam Shaikh, who runs a blood collection centre in Dharavi, says maintaining social distancing in Dharavi is near impossible. "It's not that we don't care about the virus—we are very scared actually, but how do you do it here?" he asks. "There are like 10 to 12 people in a single room. Nobody stayed in the house all day before—people went to work in the day time—so we didn't feel it. And now we are all in that small room. And now the summer has come, so it gets very hot inside. So whenever the police come patrolling, everyone rushes home. But once they leave, everyone comes out."
Shaikh is a colourful figure in Dharavi. Often referred to as a doctor in the locality because he runs a blood collection centre or by his nickname Guddu Bhai, some years ago, he also ran a small hyperlocal news agency that disseminated news stories on Dharavi through WhatsApp and Facebook. All sources of income have now dried up for him, he says. "I owe two months' rent for my collection centre and my house," he says. He owns four rooms nearby, from which he collected rent from workers who lived and operated small businesses, but with the lockdown, all business has dried up and the workers cannot afford to pay him. "I'm not asking for money, but everyone's situation has become very bad here," he says. "How long can we go on like this?" Since the outbreak in Dharavi, Shaikh along with a group of volunteers has begun to help in the distribution of food packets within his locality. "It's terrible to see what's going on. These were people who made money, not much, but enough to see through their daily expenses, and maybe, even send home some money," he says. "Now they have nothing."
There is yet no clear understanding of what this outbreak and this prolonged iron-fisted lockdown will mean to the economy of the city. What will happen to the status of the financial capital if it continues to remain in lockdown while the rest of the country gradually opens up?
Analysing the data of cases in Mumbai till the end of April, Udas-Mankikar points out that most of Mumbai's cases are located within six administrative zones (G South, E, K West, L, F North, G North), all of which, except for one, are located next to one other in Mumbai's central and south regions. The outlier is K West, which falls in the western suburbs of Andheri and Juhu. All these areas have large slum pockets and house a large number of informal migrants. "That's about 50 per cent of the cases coming from six wards that make up about 16 per cent of the city's area," she says. "One can look at them as a special high-density cluster which could be planned together. Going ahead, perhaps one can even look at keeping such a region in lockdown while opening the rest of the city."
As the virus silently moves through the city's population—according to some, the city is yet to even see its peak—it has put a severe strain on many parts of the city. One of the worst hit has been the healthcare sector. Over the last few months, several doctors, nurses and hospital staff have been routinely found positive, having probably picked up the infection from a patient. Several hospitals have been sealed. At one point last month, the city's healthcare setup almost came to a standstill when several of the city's largest and most reputed hospitals were sealed.
Even when they reopen, they find themselves severely short-staffed. Dr Rohinton Dastur, the medical director of Bhatia Hospital in south Mumbai, which reopened recently after having been shut for almost a month, says he is currently working on a staff strength of about 50 to 60 per cent. "They are scared to rejoin. And I can understand. Some of the nurses, for instance, are young girls with families back home, whom they earn for. But there are also people who won't join because the Government has told us we must pay them in full irrespective of if they come to work or not," he says. After several workshops counselling them and offering financial incentives, he has got just enough people to pull through, he says.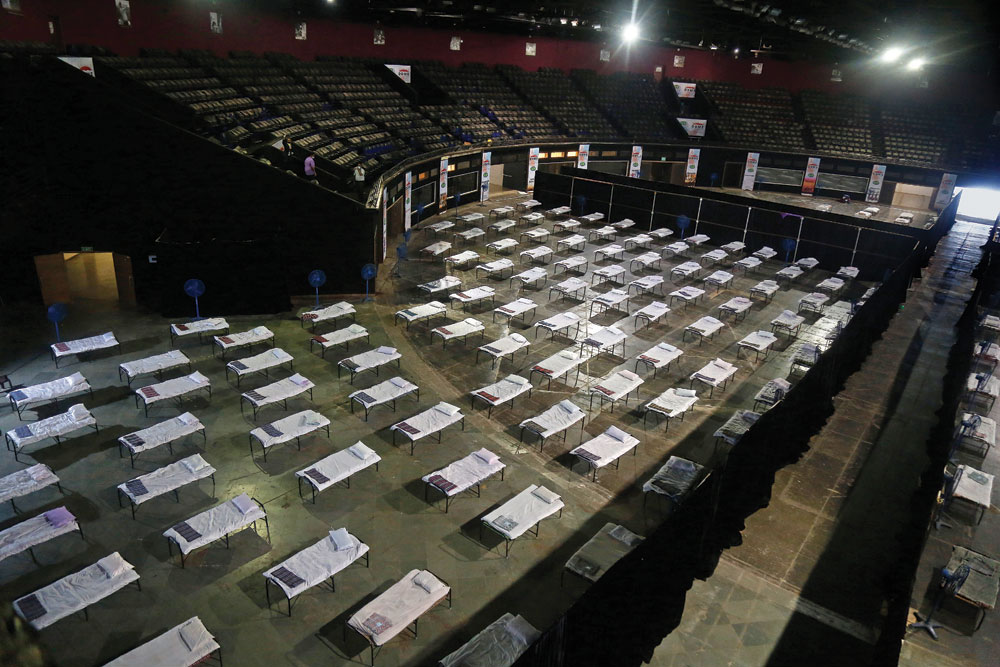 Bhatia Hospital was sealed on April 8th. The probable source of infection was a patient transferred from a nearby hospital that had been sealed after some of its staff tested positive (Wockhardt Hospital). The patients strangely came with a Covid-19 negative test report, Dastur says. But three days later when they retested him, he was found to be positive. In all, 51 staff members of Bhatia Hospital tested positive through last month.
The financial resources of most private hospitals are now depleted. Expenses with the purchase of personal protective equipment and frequent tests for the staff have increased, Dastur says, while the income, because of fewer procedures and patient visits, have decreased.
"What do you do? There are a lot of asymptomatic cases and anybody can walk in anywhere and cause an infection," Dastur says. "I know a lot of hospitals which won't be able to sustain this way beyond two months."
There is yet no clear understanding of what this outbreak and this prolonged iron-fisted lockdown will mean to the economy of the city. What will happen to the status of the financial capital if it continues to remain in lockdown while the rest of the country gradually opens up? Madan Sabnavis, the chief economist at CARE Ratings, suggests perhaps it is time to open the city. "The lockdown looked good when we did it. Every country was doing it, so we had to do it too. But maybe now it is time to open the city and live with this virus," he says. "Because, really, when can you open? The numbers [of infection] will always be there. Is there a certain number at which you decide to open?"
Another economist—Sujan Hajra, the chief economist and executive director at Anand Rathi Shares & Stock Brokers—doesn't think the economy has been as badly hit as many believe. "Mumbai is not really a manufacturing hub. It is a financial centre and most of that has operated even during the lockdown, and will continue to do so," he says.
But there are some certainties. Even when the lockdown eases, the demand for economic goods will be low, people will go out less, jobs will become scarce. Some worry about the consequences of migrant labourers' nightmarish experiences during this lockdown. Cities like Mumbai exist and operate through a vast underclass of informal migrant labourers. What will happen to them? Will they be too scared to even return?
Some economists say that the government should have focused on alleviating the pains of this group of people during this lockdown and addressing their fears. "Now instead of easing the lockdown and giving them their jobs back, we are sending them home," an economist says. "What sort of a message is this?"
"I won't worry so much about their not coming back right away," Hajra says. "When this is all behind us, it is going to be very slow. There won't be much jobs anyway."