A FEW YEARS AGO, DIVYA DUGAR and her husband stood on a plat­form at a railway station in Delhi, with increasing trepidation. The source of their anxiety was their companions that day—two pet dogs. Dugar had been away in France when another pet dog of hers, Pondi, passed away. And now, driven partly by the guilt of not having been able to spend time with Pondi during its final days, and the urge to show her two other dogs more of the world, she and her husband had arrived at the station with tickets to a Goa-bound Rajdhani Express. They had spent weeks learning the rules of travelling with pets on Indian Railways, and had been able to get to the platform without any hassle. Now they worried about how the actual journey would progress. Would their pets become anxious when the chaos of boarding commenced? And more crucially, how would the staff and co-passengers react?
Dugar had spent many pleasant holidays as a child taking the Rajdhani Express to and fro from her house in Delhi to her relatives in Kolkata. But over the years, like many other Indians, she had been lured away by the speed and convenience of air travel. Back in the once familiar environment of a station, she wondered if she had made the correct decision.
"You know, it was just amazing," Dugar says, recalling her jour­ney. "Everyone was just so welcoming to our pets, from the other passengers to the railway staff. They [the railway staff] would go be­yond what was necessary, from getting things for us from the station to informing us where to get off to take the dogs for a short walk."
The experience was so pleasant that Dugar, who works as a writer and journalist, and her husband, along with the dogs, began to take more train journeys. Over time, their family also expanded—Dugar became a mother, and another stray was also adopted—but their journeys only became more frequent. Travelling by first class, and preferably in a coupé, over the course of about three years, the couple, their child and three pets made their way through the length and breadth of the country on the railways, sometimes on journeys that would go on for over 34 hours, to holiday in destinations that were pet-friendly. In all, they travelled on 75 train journeys.
"We chose trains because one of my pets used to fall sick on car rides, and air travel would be too expensive and inconvenient," Dugar says. "But on the trains, contrary to our fears, everything went so smoothly. The staff in the trains and railway stations were so pleasant, and the whole experience so good, that we kept coming back to it again and again."
It is a sentiment that is becoming increasingly common.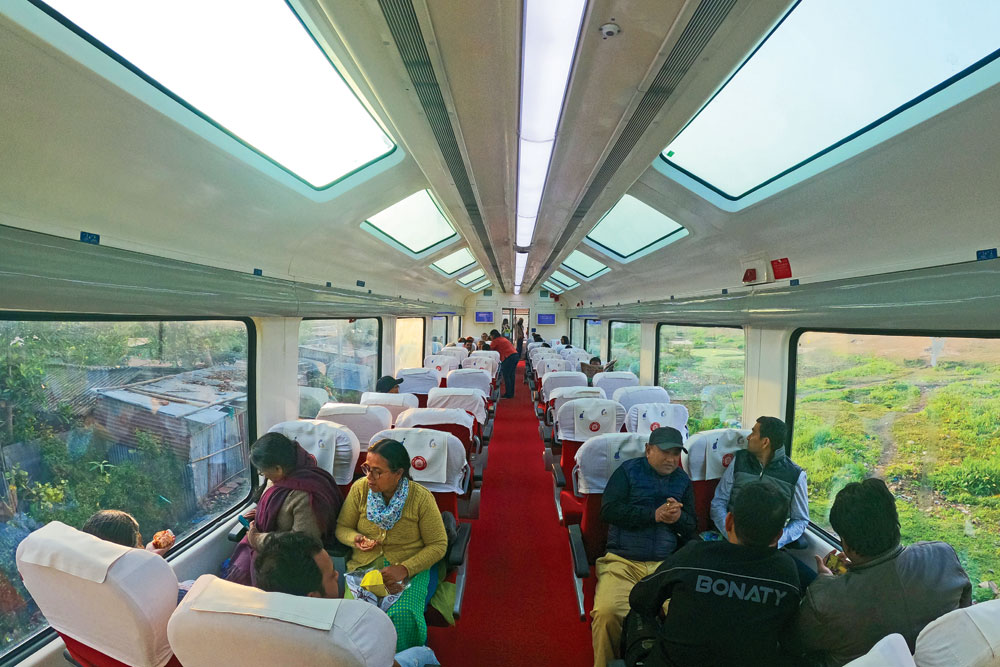 The Indian Railways, for long the only and most efficient way to travel long distances in India for the masses, had a unique charm and ritual of its own. Everything from arranging tickets to packing meals for the journey was a subject worth considerable attention. Once inside, after the passengers had elbowed their way through the commotion of a train that had just arrived and would soon de­part, you would settle into the slow life of a long journey. The quiet scenes outside the windows would lull you into calmness, even as new friendships were built over countless cups of milky tea. But the experience was also frustrating. Trains were perennially delayed, almost always dirty, and the stations a mess. The staff was often unfriendly and every aspect of the journey, from booking tickets to ordering a meal, was cumbersome and unpleasant. Even when the Indian Railways allowed tickets to be booked online, they carried a lot of the muddle to the web.
Although trains continued to remain the most popular mode of transport in India, after liberalisation, when a new middle class emerged, many took to air travel. If they went on a long-distance train again, it was only with great reluctance.
That is now changing. A new generation of fast and comfort­able passenger trains in the form of Vande Bharat Expresses, and the introduction of coaches like Vistadomes from which one can better enjoy the views outside, are reshaping the experience of rail travel. Work on the much-delayed bullet train between Mumbai and Ahmedabad is believed to have resumed. Stations are being modernised to resemble airports, carrying passengers to their coaches in buggies, and conducting experiments like silent sta­tions where the voice making announcements at stations, often unintelligible, is replaced, like airports, with display boards and enquiry booths. Various private players have also started collabo­rating with the railways to modernise different aspects of train travel, from the way we book tickets, and order our meals from restaurants close to the station, to how we make enquiries online.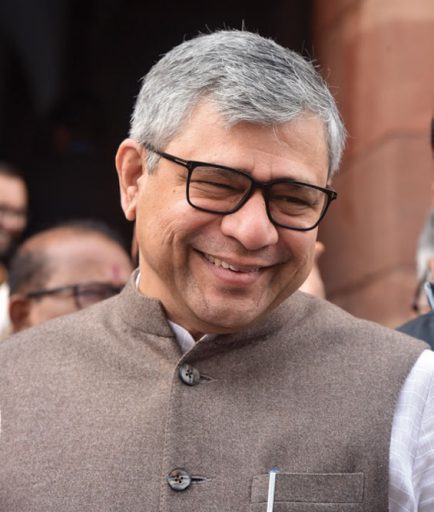 There is also a larger infrastructure push to improve and ex­pand the railway line. Work to fully electrify the existing network is believed to be moving rapidly. More lines are also being laid connecting some of India's most remote areas into the network. By the start of April, the world's highest railway bridge, rising 360 metres above the Chenab river, is expected to be thrown open, enabling rail transit into the Kashmir valley for the first time, and making it possible for someone to now take a train from Kanyakumari Station at India's southern tip, right into its ex­treme north. The projects to connect the Northeastern states of Sikkim, Manipur and Mizoram to the national rail network are expected to be concluded by the yearend. Only Shillong in Megha­laya will remain unconnected, but this has more to do with local political reluctance—the fears of an influx of migrants from the mainland—than a lack of will.
Unsurprisingly, individuals are returning to trains and finding something that hasn't been felt on the Indian Railways for a long time—pleasure.
"Active development of railway infrastructure, faster rollout of Vande Bharat train sets, better connectivity and new rail lines have fuelled train travel demand in India," says Dinesh Kumar Kotha, the CEO and cofounder of ConfirmTkt, a train ticket discovery and booking platform that is owned by the Ixigo group. According to him, the increase in airfares because of higher fuel prices, and in many cases, taking a semi-high speed train like the Vande Bharat Express at some routes might be as quick or quicker than taking a flight when one calculates the need to report early to the airport, is leading to many travellers opting for trains. "Redevelopment and makeovers of major railway stations across the country have also enhanced the overall train traveller experience," he says.
WHAT IS MY refund status? It isn't as straightforward as you might think," says Ankush Sabharwal, the founder and CEO of the startup CoRover that built the chatbot AskDISHA for the Indian Railway Catering and Tour­ism Corporation (IRCTC) website, as he describes the challenges of building a chatbot intelligent enough to come up with answers to the lakhs who turn up at the IRCTC website with queries such as this. "In India, there are a hundred different ways people can ask this same question [about refund status]. And many times people will ask this in a very convoluted manner. They will ask in English, or Hindi, and also Hinglish," he goes on. The task is made more complicated by the nature of the query. Some may want to know the refund status of a simple online cancellation, but others might be enquiring about the status of refunds where the book­ing has failed but the money was debited, or where a ticket might have been booked online but cancelled offline. A chatbot may appear par for the course for any business today. But as Sabharwal points out, building a bot that could deal with the vast numbers, many of them asking the same question in different confusing ways was far from easy.
In its first iteration, launched in 2018, AskDISHA was merely a set of frequently asked questions (FAQs). Today, you can ask the bot queries in Hindi and English, both by typing and through voice, you can book and cancel tickets, and you can also forego the cumbersome process of logging into the IRCTC website to book a ticket, for instance, by using the bot to generate a one-time password (OTP) to your phone. On a daily basis, Sabharwal says, the bot deals with over a lakh queries. Last year, in just the month of August, the bot resolved 95 lakh queries. A lot more is on the anvil, including allowing for multiple more languages besides Hindi and English on the platform.
A similar case of a private player improving an aspect of train travel is the startup ConfirmTkt. The two founders, Kotha and Sripad Vaidya, who hail from Hyderabad, would often find themselves with waitlisted tickets when they travelled home from Bengaluru, where they were previously working for differ­ent companies. "The tickets would get confirmed after a certain point. And we figured that there was a kind of pattern [that was predictable]," Kotha says.
A pattern of such nature theoretically would exist for all trains across India. The two built a bot that for about two years only gath­ered data on at what point waitlisted tickets on trains across the country got confirmed. The two then came out with ConfirmTkt, an online platform, that could predict the possibility of train tick­ets booked anywhere across the country getting confirmed or not. "That thing went viral. Because it was obviously something everyone needed," Kotha says.
Technology startups like ConfirmTkt believe that ticketing hurdles faced by Indian rail travellers can be solved using tools like big data and predictive analytics. ConfirmTkt itself has expanded today. It doesn't just tell you the chances of getting your tickets confirmed, it also suggests alternative trains and routes and allows you to book and cancel tickets.
According to Kotha, the way people are booking tickets on trains is going through a rapid change. Even as recently as 2009, he points out, 70 per cent of all tickets were booked offline. By 2013, online ticketing took over as the major mode of booking. As of the last financial year, Kotha says, 80 per cent of all train tickets were booked online. The likes of ConfirmTkt are now moving to capture the remaining numbers that have still not moved online. The firm is also considering, Kotha says, for the platform to get into the business of issuing tickets for unreserved compartments.
It isn't just processes like booking where the experience of travelling on trains is undergoing change. One of the most vis­ible aspects of this change is the station itself. Earlier this year, Anoop Shetty, a Mumbai-based PR professional, was travelling to Shegaon, a small town to the east of Maharashtra, with his wife, daughter and mother. As a child, Shetty dreaded travelling on long-distance trains. Unreserved passengers boarding and tak­ing others' seats was a big hazard then. And, on one occasion, an unreserved passenger, who had taken one of their seats on a train to Bengaluru, slapped his father when asked to vacate the seat. "I remember my father squaring up to him face-to-face, still mindful of the fact that he has his entire family with him and not wanting to escalate the situation further. So, as a child, I dreaded travelling by trains, especially long distance," says Shetty.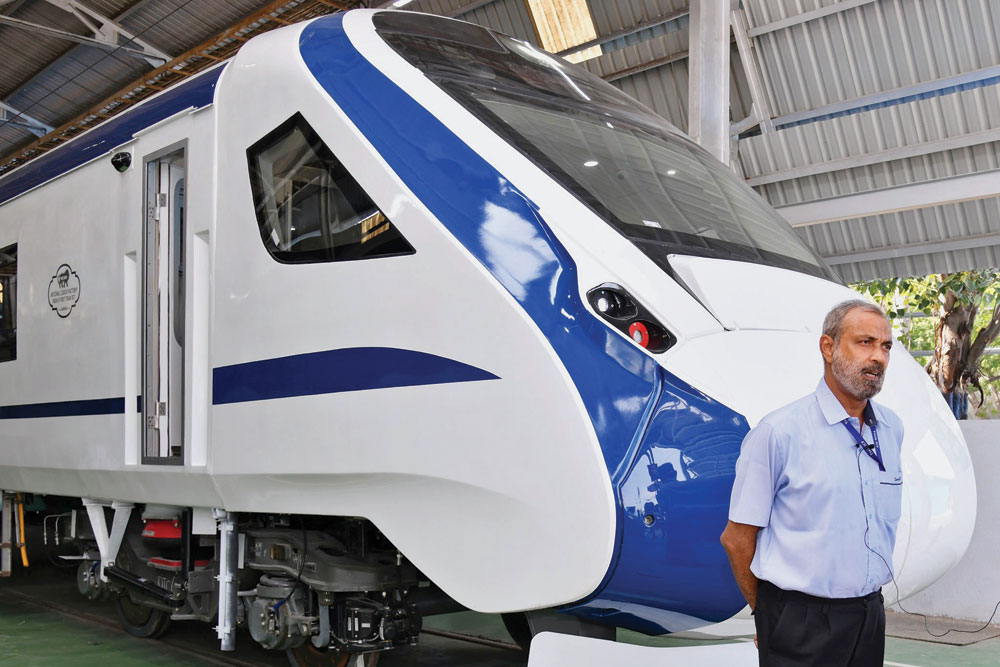 At Shegaon, Shetty worried if they would find a porter or how they would navigate the station's stairs. His mother, who is 70 years old, finds climbing stairs difficult, and the station at Shegaon had neither lifts nor escalators. But his worries proved premature. Because this station in a small distant town had a buggy service. "We loved the buggy service so much that we even used it to move from one end of the platform to the other where our coach was expected," he says.
Earlier this year, when booking another train ticket to his home­town Udupi, he was amused when he came across a checkbox ask­ing if he would want an automatic upgrade. "I just clicked it on a lark not knowing what to expect or if it really works like flight up­grades," Shetty recalls. On the day of the journey, Shetty's IIIrd AC ticket had been upgraded to IInd AC one. "It felt good to know that the Railways is using technology to offer seats to passengers which was earlier left to the discretion of TCs [ticket collectors]."
When Shetty was returning from Shegaon, only two of his four tickets got confirmed. But the TTE (Train Ticket Examiner) was very cordial, helping arrange a ticket for his mother, and of­fering to get another for his daughter. "I don't know if I am reading too much into it or there has genuinely been a change, but my interactions with the TTE inside the AC coaches were extremely pleasant," he says.
Of all these attempts underway to transform the Indian Rail­ways, the biggest arguably is the deployment of the Vande Bharat Expresses. Designed and built entirely in India, the trains have been cast as a symbol of the country's resurgence and aspiration. Capable of reaching up to 160 kilometres per hour (kmph) and touching 130kmph on tracks, these speeds are revolutionary by Indian locomotive standards. Currently, about 10 of these are in operation. The government plans to roll out 75 Vande Bharat train sets by August 15 this year, and, according to Finance Minister Nirmala Sitharaman's 2022 Union Budget speech, 400 Vande Bharat trains in the next three years.
According to Sudhanshu Mani, the former general manager of the Integral Coach Factory in Chennai who conceptualised, designed and delivered the first two Vande Bharat trains in record time, the government may not be able to meet those targets. He thinks it is more likely that there will be around 50 trains by early next year and about 500 trains in five years' time. "But that doesn't matter. A substantial number will already be on the line. It is the intention that is important and not exactly meeting the numbers that has been talked about," he says.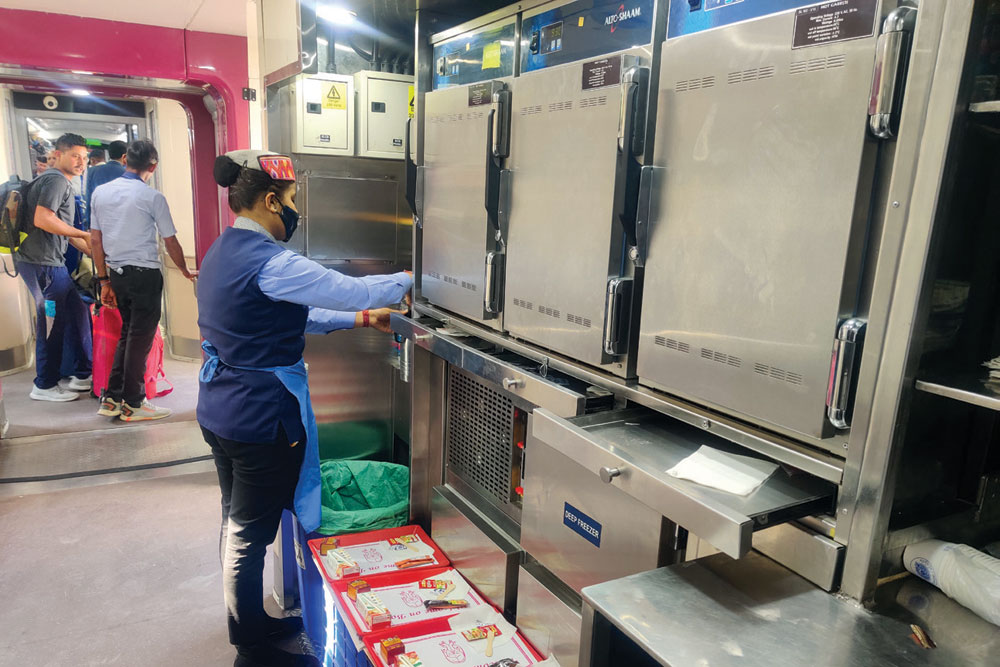 As these trains get pressed into service, he says, it is going to have a major impact on the way people travel on trains. "It will be a truly transformational moment in passen­ger travel, especially for passengers who will not mind paying about 15 to 20 per cent more fare for the travel comfort, and cut down travel time," says Mani, pointing that some of those who travel by air will also move to these trains.
There are a few hiccups, Mani admits. Sleeper versions of these trains should have been developed by now. The infrastructure to support the optimum speeds of these trains is still lagging as a result of which many of the trains for large stretches are only travelling at about 110kmph, and occasionally touching 130kmph. Better execution and allocation of funds are called for to upgrade the in­frastructure to allow better speeds, Mani says. "We need fencing or fenced track to increase line capacity and line safety. And it should also have Kavach, the indigenous signalling system. These two things are absolute musts. And then there are other minor improvements needed in tracks and overhead lines [OHEs]," he says. "When the Delhi-Varanasi [Vande Bharat] trains were launched and we did about 130kmph for major parts of the journey, it cut down travel time by two hours. This benefit unfortunately has not been forthcoming on the other [Vande Bharat] trains."
But he expects these issues will be resolved over time. He points out the role played by the government, and in particular, Prime Minister Narendra Modi, who has pushed for these trains. "When we were making these trains, we knew we were making something that was a big requirement for decades. We did not expect this kind of reception and support from the people and the government," he says.
Dugar, who recently became a mother to a second child, has now moved to Bangkok with her family. Her husband has got a job there, and she had no option but to fly her pets there along with the rest of her family. She plans to return to India soon, she says, and complete a landmark of 100 train journeys with her pets.
"I have come to realise," she says, "there is nothing like travel­ling on the Indian Railways."