AT THE SOUTHERN edge of the Shakargarh Bulge, an area of Pakistan that abuts Indian territory, lies a stretch of land across the river Ravi. Surrounded on three sides by Pakistan and with Ravi to its back, this is the ideal territory for a smuggler or, of late, for someone trying to send weapons across to India. With a meandering river, grasslands, open spaces and a geographically difficult area to access, this is a sensitive zone.
"We have devoted considerable manpower to keep an eye on this region and are effectively the second line of defence for the country. But once in a while someone does manage to sneak in weapons and drugs," says Gurpreet Singh Gill, the senior superintendent of police (headquarters) for the Batala police district in north Punjab. "The number of policemen in that area may number just 200 but that area occupies more than a third of our mind," he says, emphasising the problem for the local police.
Gill is not alone in worrying about the problem of drones being used to smuggle weapons into India via Punjab, a state that has seen its farmers camp on the outskirts of Delhi in a protest that has lasted more than four months. On different occasions, Amarinder Singh, the chief minister of Punjab, has said that a "lot of weapons" have been sent to Punjab. He said that the Union home ministry has been apprised of the situation. What many observers, in Punjab and elsewhere, fear is the abuse of the protest for separatist and political motives. The extensive foreign support—for example from Canada and Britain, where the 'issue' was debated in Parliament recently—has had an effect on the dynamics of the protest. There is now, clearly, a pro-Khalistani faction within the ranks of the protestors even if the ground in Punjab is not ready for another misadventure of the kind seen in the 1980s. It is a testing time for Punjab.
In a village not far from Phagwara town, a key activist of the Samyukt Kisan Morcha, the apex body of protesting farmer unions, gives Open a very different account of the proceedings in that body—different from headlines about an obdurate Government not listening to farmers. He also hinted at a disturbing change in farmers' politics in recent months.
"There have been feelers from the Government that they are willing to extend the period of suspension of the three laws further and, if we negotiate, this can even go up to three years. But this is very unlikely," he says while requesting anonymity. "Originally, it was difficult to get a coordinated response as there were 30-40 jathe bandis (different groups), each with its own followers. The noise and cacophony made agreement tough." The situation is now different. There are some groups which understand that this protest cannot go on for a long time but they are prisoners of their original stand: where they were unbending to begin with, now they find it hard to explain to their followers why a compromise is necessary.
If this is one dynamic within the Morcha, the other—more disturbing—aspect is the tussle between Khalistani-oriented and Left-backed unions. When questioned if the Khalistani influence was for real, the activist responded in the affirmative.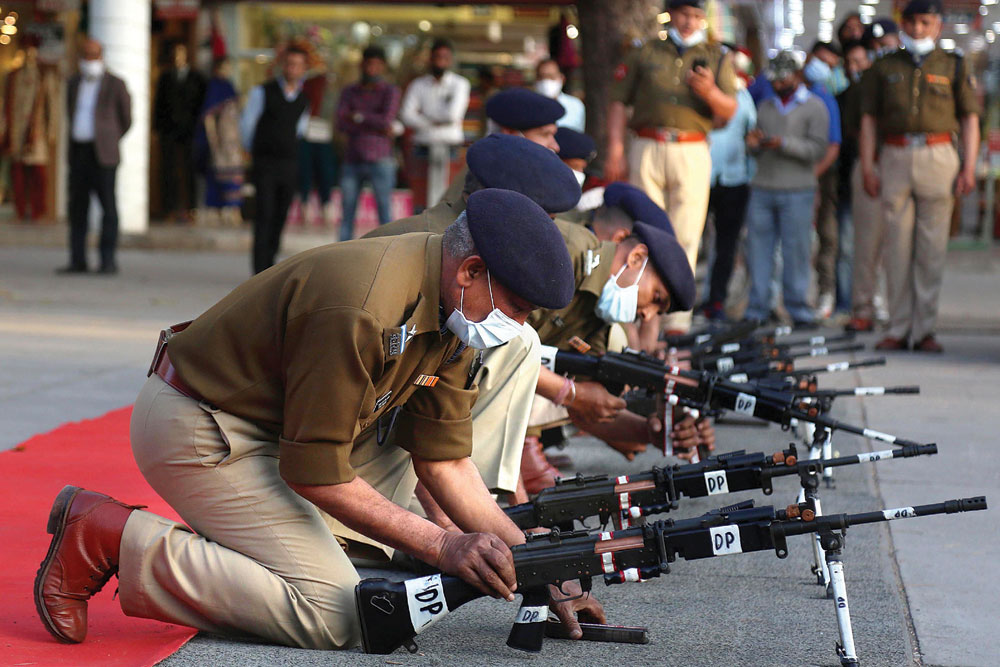 "The issue is not just one of money but of a vast number of social media supporters for that kind of politics. Do you see anyone talking just in terms of farmers' issues without divisive politics?" the activist—who comes from a well-known village of Ghadar Party pioneers—asked. The Jalandhar division of Punjab was home to the Ghadar activists who resisted the British Raj much before the freedom struggle was waged in a systematic manner.
"The best example of this situation is Balbir Singh Rajewal (leader of a Bharatiya Kisan Union). He knows that some flexibility is necessary but when he is confronted with these two very different pressures, he goes ahead with the Left unions," he says.
The activist is critical of the so-called leaders whom he describes as "failed politicians" who had tried their luck at electoral politics and had not succeeded. "A leader is able to take bold decisions and face his followers, however difficult that may be. These union leaders first gathered their followers and gave commands; now they are prisoners of their followers. If they agree with the Government, they fear accusations of selling-out."
An impasse stares at the protest that began in November 2020. At the apex of the protest organisation, some leaders are willing to come to terms with the Government even as Left and Khalistani unions jostle each other for influence. At the bottom, a large number of farmers are despondent and don't see a way out. They would like to leave. "They would have left were it not for the mattas (resolutions) passed by their village panchayats pledging support to the protest. The villages only have a sketchy idea of what is going on in Delhi."
I ask the activist why he is going back to the protest site if such is the situation. (He had briefly returned home for some work). "We are against the three laws; we are not against the country. If I leave and come back, that will mean one less person to confront the radicals."
BATALA, A TOWN IN Gurdaspur district that is half-way between Amritsar and the district headquarters, is in many ways a typical Punjab town. Local industry centred around agriculture and trading mixes with something more interesting, politically speaking. The town is also at the crossroads of a region of Punjab that has seen a mix of religious piety and political mobilisation, leading to an outcome from which the state suffered for nearly two decades. Damdami Taksal, a religious seminary with a troubled past, and Sri Hargobindpur, another town with a history of terrorist violence, are not far off. In all, Batala is an interesting place to observe.
Tucked in a corner of Zaffarwal village, just off the highway from Batala to Gurdaspur, is a cluster of nondescript houses. But the person who lives there—locally known as the "German returned"—is anything but ordinary. From the early 1980s and well into the 1990s, Wassan Singh Zaffarwal spelled terror not just in Punjab but in neighbouring states as well. Today, many years after his 'surrender', the former chief of the dreaded Khalistan Commando Force sports the honorific Bhai as a prefix, a title normally reserved for religious and community leaders. Age and his years on the run have not affected him adversely. When Open catches up with him at his 'dera' in Zaffarwal, he is equanimity itself.
"If at all there is turmoil in Punjab, it will not take the form it did before," he says while comparing the present with the earlier separatist insurgency. "We should support farmers and we should follow the programme set by farmers' unions. This is not a movement for Khalistan. We should not go on that path," he tells Open when questioned about the political moorings of the farmers' agitation.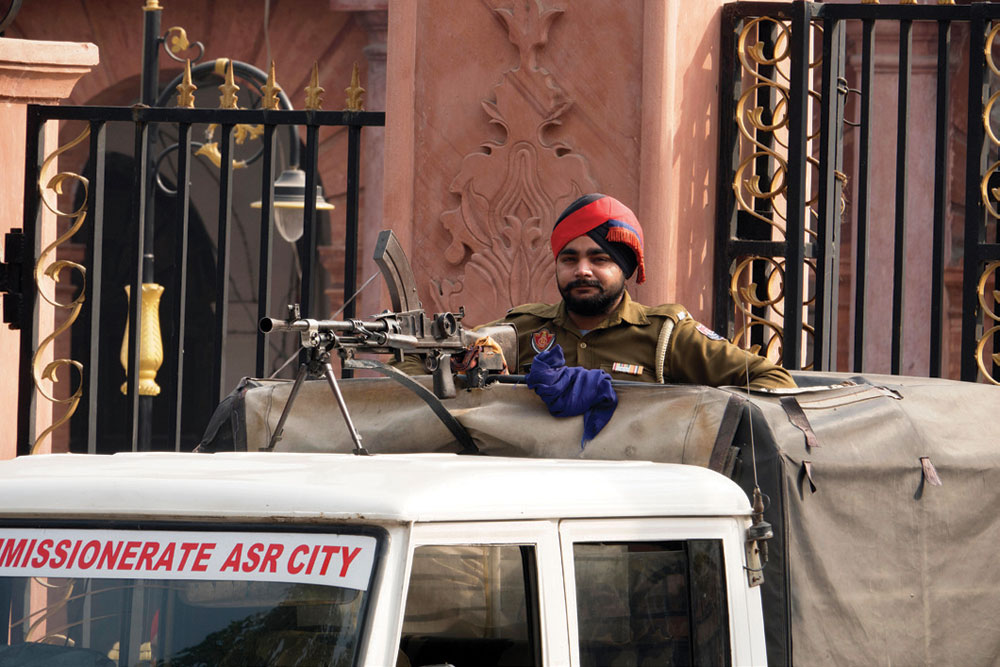 It is a crafty answer coming from a man who has not stopped dabbling in identity politics since his return to India. It makes sense for him to deny any scope for Sikh separatism, knowing well that such sentiment exists on the ground and is very much represented in the farmers' agitation. To another question on the reasons for the failure of separatists to gain Khalistan, Zaffarwal gives an interesting answer: "Worldwide, freedom struggles have only succeeded when armed action is backed by a political party that represents the voice of the people. In Punjab, all we had were corrupt and opportunistic politicians and not a party that gave voice to independence." In the worldview of people like Zaffarwal, the farmers' agitation is something that will lead to the same kind of politics that led to turmoil in Punjab, if it is steered deftly. The idea is simple: don't talk about Khalistan but let it brew quietly at the forum where it is strong.
If Zaffarwal's arguments have a chess-like quality, the family of a political activist who resisted terrorism and continues to pay a price for its ideals, has a totally different perspective. "How can anyone deny the presence of Khalistani terrorists in Punjab today?" asks Jagdish Kaur, wife of Balwinder Singh Sandhu, a Shaurya Chakra winner who was gunned down last October at the school run by his family.
Sandhu, a Left activist well-known for resisting terrorists in the Bhikhiwind area of Amritsar, the hotbed of insurgency in the 1990s, was killed by two motorcycle-borne men on October 16th last year just a week after his family had urged the state government to restore his security detail. The police protection given to Sandhu was withdrawn in March due to the Covid-19 pandemic. The case is controversial, with the local police also investigating an alleged angle of personal rivalry. The family, however, denies this.
More important is the political perspective that lies behind the family's fears. For example, what makes it think that Khalistani activists, if not terrorists, are back in Punjab? "If you care to look at the events of the last year, such as the planting of the Khalistani flag at the deputy commissioner's office in Moga, the pasting of Khalistani posters in Batala town and other such incidents, they clearly indicated to us that this (Khalistani agitation) was not over. We knew we could become targets and we did," Kaur tells Open at her home, located within the school compound in Bhikhiwind town of Tarn Taran district.
It is futile to look for a median perspective among the devious answers of a terrorist, a scared and inconsolable family, obdurate farmers and a harried district police force. A median is also useless analytically: any insurgency may have tell-tale signs before it bursts into the open, but one cannot simply make observations that say "X will lead to Y." The tell-tale signs are all there: the posters of Jarnail Singh Bhindranwale; the mix of farmers' protest with religious motifs on the roads of Batala; the songs praying for religious intercession against the Union Government at a chabeel—a wayside offering of cool water by the devout—on the way to Dera Baba Nanak. The trouble is that if you are from Punjab, you can dismiss these as 'normal' things. But if one is from Punjab and keeps its history of troubled times in mind, perhaps some extra attention is also normal.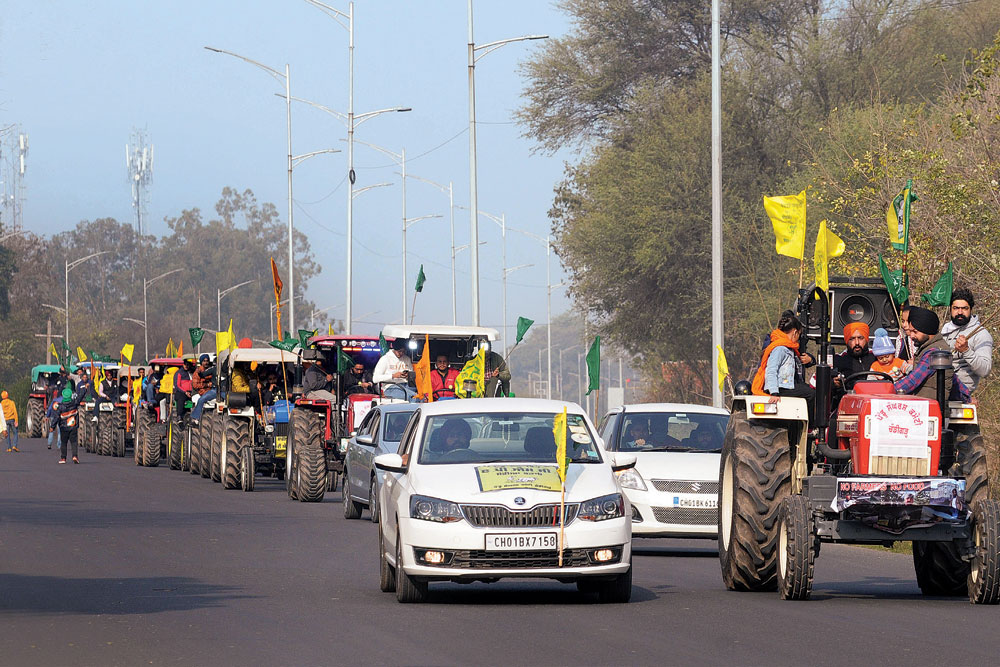 Yet, one can safely say that if there is an answer to what is going on and what could unfold, the closest one can get is what officers of Batala police say. But in one sense, what Zaffarwal says is true: this time, if there is trouble, the form taken will be very different from what was seen in the 1980s.
Back then, it was political competition between the two political parties of the state—Congress and the Akali Dal—that went on a ruinous path. Punjab was suffused with religiosity that provided the inflammable material necessary for an insurgency.
The better-off Jat Sikh farmers thought that a political adventure could yield benefits for them. But that was then. Today, the cannon fodder is different: a large and young population that has few economic prospects. In that context, the northern districts (the old Amritsar district along with Gurdaspur) are a cause for concern as they have a history of religion-based mobilisation.
Local police officers are wary of the events in Singhu and elsewhere. "There won't be terrorism of the kind that was seen last time but what will happen is that gangsters like Lakha Sidhana will be used to create trouble here (in Batala). Religion always comes in handy," says a superintendent of police. When asked about the possible problem of youth mobilisation—and why this is a problem now since the youth bulge was always an issue—the officer says, "Earlier, drug use was rampant and a way out of a dim existence with no prospects. Now things have changed. Today, if you want to mobilise a large number, all you have to do is give a charged speech."
"The josh in the agitation fell a bit after January 26th but is now rising once again. The next six months will be critical as elections are nearing and that is the time when the potential for some misadventure will be high," he adds.
Are there specific places where things can get out of hand? Here, police officers shy away from citing particular examples but say that those places where religious awareness is high and understanding of political processes is poor are likely spots for trouble. Giving names is invidious but anyone who has observed this part of Punjab knows that there are many such places. The Mehta-Sri Hargobindpur stretch, the area adjoining Dera Baba Nanak, comes to mind immediately. But it will be unfair to single out these places. There are others as well.
Nearly everyone Open talks to agrees that the farmers' agitation should not be allowed to carry on any further. In Delhi, Surinder Jodhka, a long-time observer of Punjab politics who has written about the politics of Khalistan, downplays immediate threats but says, "The longer the farmers' agitation goes on, the more chances it will give to elements who are fishing for trouble. Whatever be the mechanics of getting to a solution, efforts should be made to end it quickly." The danger is not from an organised Khalistani party backed with money from abroad but from an unpredictable chain of events that no one can anticipate.
This, however, is easier said than done. As the Samyukt Kisan Morcha activist says, the agitation is no longer about farmers' interests and has now acquired a different political dynamic. Publicly, in terms of what activists, intellectuals and others say, the debate remains centred on farmers' livelihoods. But in reality the inability to reach a solution with the Government—in fact, an unwillingness to do so—points to a disturbing direction of politics. Anyone who has observed Punjab's politics and those tasked with keeping the state in order know this is a disquieting moment. To view the agitation as a battle of attrition will be a mistake.