THE WHIRLWIND VISIT to Dhaka by Indian Foreign Secretary Harsh Vardhan Shringla recently has been the subject of much comment and ceaseless interpretations in both Bangladesh and India. Given that, of late, certain developments have been taking place in Bangladesh's diplomacy, with reference particularly to the country's links with China, there is understandable concern in New Delhi about the new strands that appear to be underlining Dhaka's approach to its neighbours.
It would be naïve to pretend that relations between Dhaka and Delhi have not suffered a jolt in the last few months. The overture by Pakistani Prime Minister Imran Khan, through his telephonic call to Bangladeshi Prime Minister Sheikh Hasina, has certainly raised eyebrows in Delhi. That said, there is as yet little reason to suppose that the telephonic conversation between the two leaders has signalled any change in Bangladesh's position vis-à-vis relations with Pakistan. And one can reasonably suppose that Islamabad's expectation that Dhaka will look favourably on its Kashmir policy will fall flat, especially in light of historical factors. Back in the pre-1971 days, when Bangladesh was Pakistan's eastern province, Kashmir played little or no part in the Bengali movement for regional autonomy under the leadership of Sheikh Mujibur Rahman (Bangabandhu), subsequently to be Bangladesh's founding father.
As far as China is concerned, Bangladesh's ties with it are a mixed bag. Bangladeshis recall the pro-Pakistan posture adopted by Beijing during their War of Liberation and with that the veto that it exercised at the UN to prevent Dhaka from taking its place in the world body. Not until September 1974 was Bangladesh able to become a member of the UN. Not forgotten either is the fact that the Chinese refrained from according diplomatic recognition to Bangladesh until after the assassination of Mujibur Rahman in August 1975. Beijing recognised Dhaka's sovereign status 16 days after the assassination.
The existing state of Dhaka-Beijing ties is essentially based on the dictum voiced by Bangabandhu—of Bangladesh's foreign policy being based on the principle of 'friendship for all and malice towards none'—being pursued by the government led by Sheikh Hasina. Defence deals have been reached between the two countries along with measures towards economic cooperation. Against such a backdrop, Delhi's concerns over Dhaka's approach to Beijing's Belt-and-Road (BRI) project are only natural. It will not be out of place to note here that the BRI has had Bangladeshi observers of regional diplomacy worried as well.
Which brings one back to Indian Foreign Secretary Shringla's visit to Dhaka. The perception in Delhi is that the trip was an outcome of Prime Minister Narendra Modi's endeavour to keep India-Bangladesh relations on track despite the hiccups of recent weeks and months. The Indian leader has apparently made it his preoccupation to set things right with Bangladesh. That of course begs the question: Where fundamentally have things been going wrong in diplomacy between the two nations? For an answer, one needs to trace one's steps back to the historical legacy which has served as a bond between Dhaka and Delhi.
Caught up in the frenzy of Partition in 1947, the eastern part of Bengal found itself reborn as Pakistan's eastern province. Despite the fraught ties between India and Pakistan—and we speak of the period between 1947 and 1971—Bengalis on both sides of the frontier maintained a level of cultural ties which could not be sundered despite the best efforts of successive Pakistani regimes to drive a wedge between the two Bengals. On a brief visit to Calcutta soon after leading the opposition United Front to a massive triumph at the East Bengal provincial elections in 1954, Chief Minister AK Fazlul Huq (once Prime Minister of United Bengal) waxed eloquent on the cultural indivisibility of Bengalis on both sides of the political divide. Derided by the entrenched political classes based in Karachi for his comments, Huq's ministry was soon dismissed by the central government. That did little to dampen East Bengali links with West Bengal in cultural terms. Besides, Rabindranath Tagore's birth centenary was observed with enthusiasm in East Pakistan in 1961.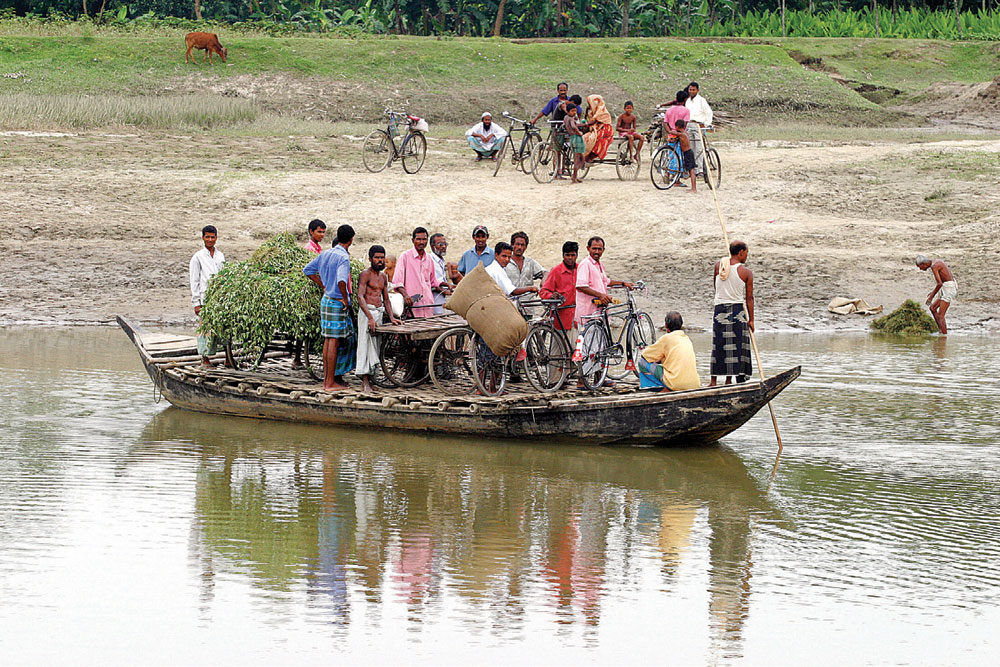 India's links with Bangladesh's people were solidified in 1971 through the moral and material support provided by the Government of Prime Minister Indira Gandhi in the struggle for Bengali freedom from Pakistan. With 10 million Bengali refugees streaming into India in the face of genocidal operations by the Pakistan army in East Pakistan, the Indian authorities went out on a limb to assist the Bengali political circles in setting up a government-in-exile, with its base in Calcutta, in April 1971. India's assistance in helping to set up freedom-fighter training camps within its territory and making provisions of arms and ammunition to the Mukti Bahini, the Bengali guerrilla army, are recalled with gratitude in Bangladesh. Not forgotten, too, is the global diplomacy undertaken by the Indian Government under Indira Gandhi's leadership in 1971 to draw international attention to the sufferings of Bengalis and the need for a political settlement to the crisis through the release from incarceration in West Pakistan of the elected Bengali leader Mujibur Rahman. Small wonder, then, that on his way back home from London following his release by the Pakistani authorities in January 1972, Mujib chose to stop over in Delhi to personally thank the Indian leadership for coming to the aid of his embattled Bengalis.
However, in the last nearly 50 years since the emergence of Bangladesh as a sovereign nation, certain stumbling blocks have often come in the way of the relationship between Delhi and Dhaka. The inability of the Indian authorities—add to that what is perceived as intransigence by the West Bengal government of Mamata Banerjee—to reach a deal with Bangladesh on an equitable sharing of the waters of the Teesta river has had Bangladeshis deeply disturbed. A deal had been expected to be signed in Dhaka in 2011 during the visit of then Prime Minister Manmohan Singh. Its last-minute scuttling, through the opposition of the West Bengal Chief Minister, was a clear damper for Bangladesh. It was in a mood of good cheer, therefore, that Bangladeshis welcomed new Indian leader Narendra Modi's pledge to resolve the Teesta issue with the Sheikh Hasina government. That promise too has come to naught.
HISTORICALLY, RELATIONS BETWEEN Delhi and Dhaka have been underscored by long-term policy perspectives in the two capitals. One could cite here the conclusion of a 25-year treaty of friendship and cooperation by Prime Ministers Indira Gandhi and Sheikh Mujibur Rahman in March 1972. Additionally, reference is to be made to the Land Boundary Agreement (LBA) on an exchange of enclaves reached by the two leaders in 1974. While Bangladesh swiftly ratified the deal in the same year, it was not until 2015, following the assumption of power by Modi, that India finally ratified the agreement. For Bangladeshis, this very long period between 1974 and 2015 before Delhi finally formalised the LBA has rather been a mystery. But with such realities have come certain positive new factors in relations between the two countries. Dhaka's agreeing to give Delhi transit access through its territory to India's north-eastern region is justifiably looked upon as a sign of the increasingly closer links between the two nations. Additionally, an agreement on curbing cross-border terrorism has thrown up encouraging results. Besides, the handover of Bangladeshi criminals to Dhaka by India has buttressed the links.
But none of this should obscure the downturn in India-Bangladesh ties in the period between the fall of Mujibur Rahman's government in 1975 and the return of his Awami League to power under his daughter Hasina in June 1996. The history of independent Bangladesh has been marred by a series of assassinations and military rule. The country's first military regime, headed by General Ziaur Rahman, presided over a nosedive in Delhi-Dhaka relations when it opted to take the Farakka Barrage issue, a holdover from the Pakistan period, to the UN in 1977. Given that post-1975 Bangladesh saw a clear turning away from its original secular ideals, the Zia regime's perception of Farakka placed a sudden strain on ties between the two neighbours. Matters were not helped either in the nine-year dictatorship of General Hussein Muhammad Ershad and in the subsequent government led by Zia's widow Khaleda Zia. Relations with Pakistan were particularly close under these three rulers and allegations of Inter-Services Intelligence (ISI) influence in Dhaka were rife.
In the larger political sense, the role of the octogenarian politician, Moulana Abdul Hamid Khan Bhashani, in a negative reshaping of perceptions in Dhaka on ties with Delhi must not be overlooked. Within months of Bangladesh's liberation, Bhashani raised the slogan of a 'Muslim Bengal', which was a clear threat to the secular republic established by Mujib and his party in 1971. Besides, sentiments in Bangladesh have persisted all these years regarding the protests made by Major MA Jalil, a leading freedom fighter, on weapons and other ammunition being transferred to India by troops of the Indian army soon after Bangladesh's liberation. Jalil was later dismissed from the army and would go on to found the Jatiya Samajtantrik Dal (JSD) as an opposition platform to the Awami League in October 1972. The JSD would earn particular notoriety when, in November 1975, its activists attempted to abduct Samar Sen, the Indian High Commissioner to Bangladesh. The incident led to largescale arrests of JSD politicians by the Zia regime.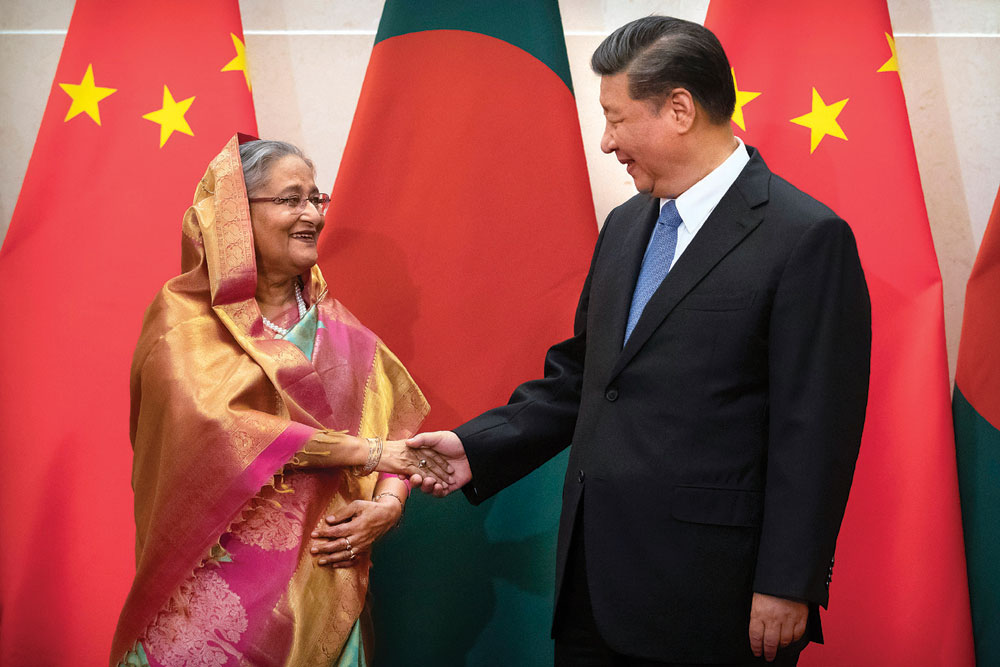 The advent of the Sheikh Hasina government in June 1996 marked a reversal of the trends set in place by the Zia and Ershad regimes. In December 1996, Sheikh Hasina and her Indian counterpart HD Deve Gowda concluded a 30-year deal on a sharing of the waters of the Ganges between the two countries. Additionally, the Hasina government's resolution of a long-running insurgency in the Chittagong Hill Tracts, pitting Bangladesh's security forces against armed Chakma tribals, was instrumental in bringing an armed conflict to an end. Dhaka's firm and determined handling of United Liberation Front of Assam (ULFA) activities in Bangladesh territory, through clamping a full ban on such activities aimed at destabilising India's Northeast, were a contributory factor to a remarkable improvement in bilateral relations.
Overall, diplomacy between Bangladesh and India rests on firm ground despite the worries that sometimes have come in the way in both capitals. Dhaka has consistently regarded Kashmir as an internal Indian issue, though it is to be acknowledged that its silence on the Galwan Valley clash has obviously left the Indian side perturbed. Beyond all that, India and Bangladesh have experienced regular exchanges of cultural ties, especially in terms of shared heritage between Dhaka and Kolkata. Besides, thousands of Bangladeshi students have been taking various academic courses at Indian educational institutions. In a similar fashion, Indian students are enrolled at Bangladeshi academic institutions. A good number of Indians serve in Bangladeshi organisations, among which are the country's service-oriented industries.
This spirit of cooperation does not, however, obscure an important reality. It relates to the frequent killings of Bangladeshis by India's Border Security Force (BSF) along the frontier between the two countries. For its part, though, the BSF has generally drawn attention to illegal border crossings by Bangladeshi nationals as also smuggling and even theft of cattle. But such explanations have not gone down well with Bangladeshis, who remain unable to come to terms with the propensity on the part of the BSF to shoot their fellow citizens dead rather than adopt other measures to deal with the problem.
At the end of the day, the truth cannot be obscured: the hiccups which sometimes disturb India-Bangladesh ties ought not to be mistaken for tremors. Delhi surely has its foreign policy perspectives in the region and Dhaka is a priority in such perceptions. The Shringla visit is testimony to this reality. For Dhaka, the preoccupation today is twofold: keep and strengthen its historical links with India even as it branches out in search of larger diplomatic dimensions for itself.
And let another fundamental truth not be ignored. It is that, in these times, Bangladesh and India happen to be two normal countries, assuming one can use the phrase in the context of the subcontinent. The normality defines various layers of their internal politics and external diplomacy. Delhi and Dhaka know only too well that they need each other, that on a stable relationship between them depends the process of ensuring a larger stability in the South Asian region.