IN THE early hours of November 19th, security forces in Jammu intercepted a truck at Nagrota on the city outskirts, carrying four terrorists of the Pakistan-based Jaish-e-Mohammed (JeM). The police were ready for them; they had prior intelligence about their infiltration through the International Border (IB) in Jammu and onward journey to the Kashmir Valley.
In the ensuing encounter, all four terrorists, hiding in a specially created cavity in the truck, were killed. A huge cache of arms, including 11 AK-series rifles, 29 hand grenades, 6 UBGL (Underbarrel Grenade Launcher) grenades, and RDX, was recovered from the truck.
From their mobile devices, the police found that the four terrorists were in touch with their handlers in Pakistan. Through the GPS found on them, the police could retrace their journey to Samba on the IB in Jammu, which led to the discovery of a tunnel that the terrorists had used to enter Indian territory. Once inside, the four had walked a few miles before getting picked up by a local handler on the Jammu-Pathankot National Highway.
The infiltration of such terrorists trained in the best facilities of Jaish camps in Pakistan has increased in the last few years. Since insurgency broke out in the Kashmir Valley in 1990, men trained in camps in Pakistan and Pakistan-occupied Kashmir (PoK) would be sent back through the 743-kilometre-long Line of Control (LoC) in Jammu and Kashmir, especially through sectors falling in North Kashmir. The LoC passes through mountainous areas, making boundaries vague and hence infiltration easy. But now, JeM has set up a successful infiltration route through the IB in Jammu. Here, the border is well defined and there is proper fencing. But so far, JeM has managed well to send terrorists who have wreaked havoc on Indian soil.
The police had information about the coming of terrorists on November 19th, as they had about several other attempts in the past. But more often, reveal police sources in the Valley, JeM has been able to send its men to Kashmir though this route, including top Jaish commander, Umar Farooq, the mastermind of the 2019 Pulwama suicide attack, which resulted in the killing of 40 members of the Central Reserve Police Force (CRPF).
All these operations of sending well-trained terrorists to India are the handiwork of one man, and his band of brothers, who has had India in his crosshairs since the 1990s—the man India was forced to release in exchange for the hostages of the hijacked Indian Airlines flight IC-814 in 1999, Masood Azhar. After his release in Kandahar, it is Azhar who formed JeM, sending its men to carry out some of the deadliest attacks in India, including the 2001 Parliament Attack. He is the man who got arrested in South Kashmir in 1994 by chance; but after his release five years later, continued to harbour ambitions of using Kashmir as a gateway to launch Ghazwa-e-Hind (interpreted as 'Holy raid on India'), although Islamic scholars in India have debunked JeM for what they call the erroneous use (and interpretation) of Prophet Muhammad's message.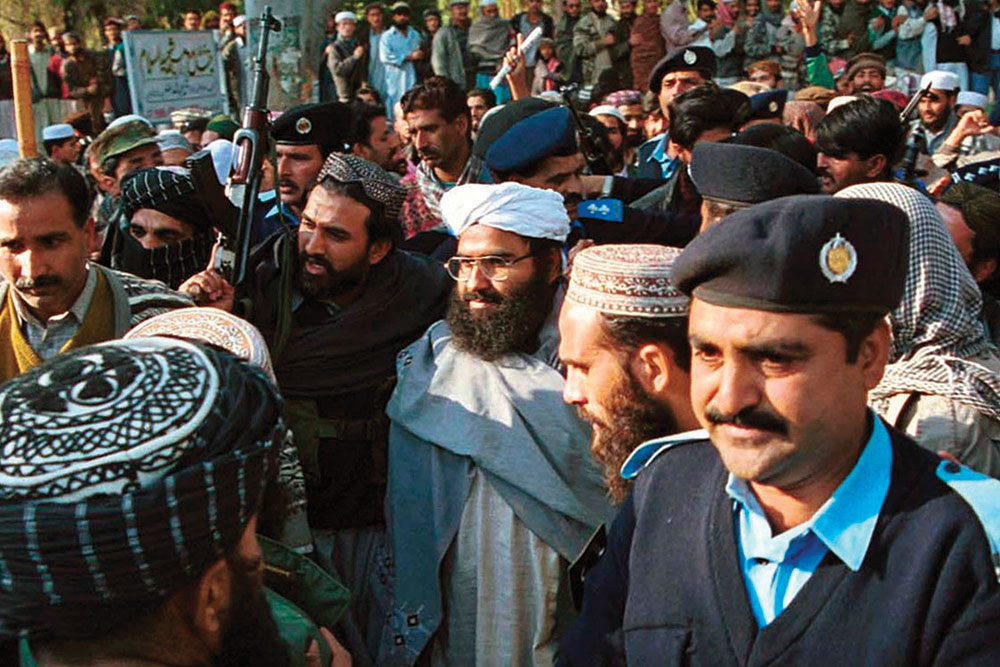 Be that as it may be, there is no doubt that Masood Azhar, more than 25 years after he first set foot in India, has not given up on his agenda.
IN JANUARY this year, at the same spot where the truck carrying Jaish men was intercepted on November 19th, another truck bearing the number JK03F 1478 was stopped by a police party during a routine check. As they asked for documents, one of the policemen used a stick to hit the walls of the cargo and realised that the space behind the driver's seat was making a hollow sound. He alerted his colleagues upon which the driver and two other men sitting with him in the front jumped off and ran away, taking advantage of the darkness. At that moment, three JeM terrorists hiding in the cavity opened fire on the police, causing serious injuries to a constable.
While one of the terrorists was killed on the spot in retaliatory fire, the two others who managed to escape were later engaged in a nearby forest area and killed. The three Kashmiri handlers, who had run away, were arrested as well. They were identified as the driver Sameer Ahmed Dar, Asif Ahmed Malik, and Sartaj Ahmed Mantoo.
As Dar was interrogated, he revealed that he had been recruited by JeM to ferry freshly infiltrated terrorists from the Jammu-Pathankot highway. Dar's elder brother, Manzoor Ahmed Dar, was also a terrorist with another Pakistan-based organisation, Lashkar-e-Toiba (LeT), and had been killed in an encounter with security forces in the Valley in 2016. The police realised that Dar also happened to be the cousin of Adil Ahmad Dar, the 20-year-old man who had rammed his explosive-laden Maruti Eeco car into the CRPF convoy in Pulwama on February 14th, 2019.
Dar told his interrogators that he had been introduced to two Pakistani handlers, Abu Hamza and Abu Bakar, by his namesake Sameer Ahmed Dar, a JeM terrorist who is still active.
The Jaish leadership, Dar confessed, had asked him to hire other trustworthy people who could help him in his mission. Accordingly, he chose Asif Ahmed Malik as his cleaner. The JeM handlers also put him in touch with Suheel Javaid Lone, a Kashmiri student pursuing a Bachelor of Science degree in Chandigarh who, due to the internet and telephone restrictions in Kashmir after the August 2019 abrogation of Article 370, used to act as a messenger between Dar and his Pakistani handlers (he was later arrested from his residence in Budgam in Central Kashmir).
On January 22nd, Dar and Malik began their journey to Jodhpur in Rajasthan, carrying a consignment of apples.
Sartaj Ahmed Mantoo was taken along as he was a driver too, and was familiar with the routes. Once in Punjab, Dar contacted Abu Bakar on WhatsApp; he was asked to turn back towards Jammu by end-January as a group would infiltrate then, and he would have to transport them back to the Valley.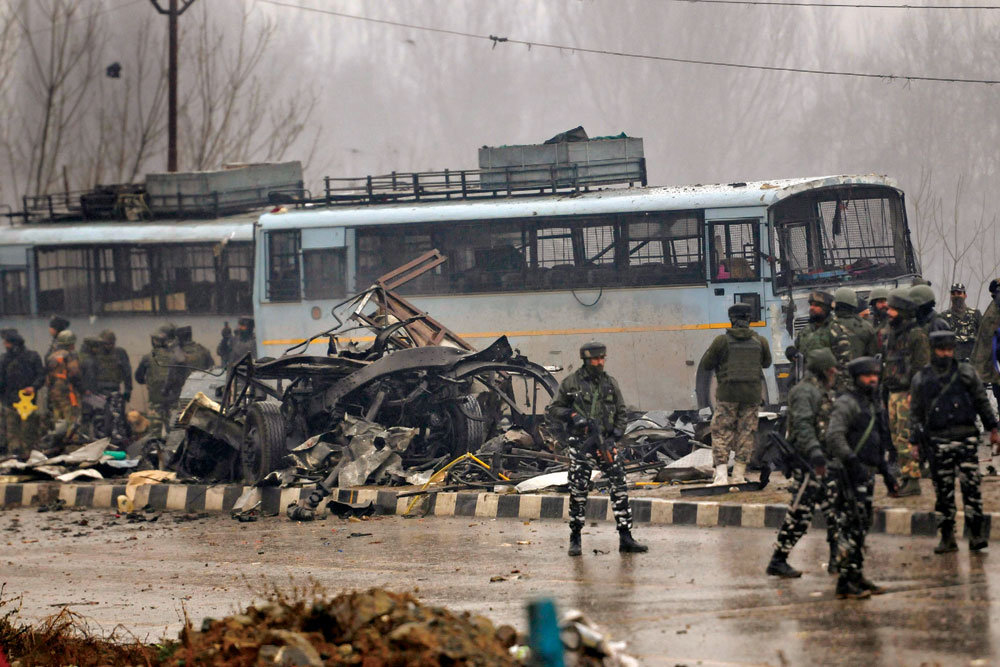 After unloading the apples in Jodhpur, the trio loaded pomegranates on the truck and took them to Amritsar. On January 29th, Bakar asked Dar to download a Virtual Private Network (VPN) app on his mobile so that he could use the internet anonymously. Mobile internet had been restored in Kashmir four days earlier, but the use of WhatsApp was still banned. It could, however, be used through the VPN.
The same night, they reached Jammu and stayed inside their truck in the Narwal transport yard, outside Jammu city. The next day, Dar loaded polyvinyl chloride bags from a Jammu locality and created a cavity in the truck behind his seat for the terrorists. Then they went to the market near Jammu's main bus stand in the heart of the city and bought three tracksuits for the terrorists.
On the night of January 30th-31st, Dar and his two accomplices reached the predetermined location, the overhead railway bridge in Samba. At 3AM, Dar began to walk towards a dirt track and called out the code given to him: "Iqbal". After a few minutes, his call was responded to by one of the terrorists hiding in a bush with his code word "Aijaz".
Then Mantoo took over the truck. One of the terrorists handed over Rs 50,000 to Dar. Now his task was to hand over the three terrorists to a Jaish commander in Kashmir, Saifullah. Before their journey towards Jodhpur, Saifullah had met Dar in December 2019 and had asked him to contact him as soon as he crossed the Jawahar Tunnel on the Jammu-Srinagar highway, after which the Valley begins.
From that point, their onward journey was supposed to happen in a Maruti car, belonging to another JeM operative, Zahoor Ahmed Khan. The house of another operative, Suhaib Manzoor, was to be their hiding place.
Before this, Dar had successfully managed to place three other terrorists in a safe house in South Kashmir, reveal police sources.
Only this time, their luck ran out.
TO ENTER through the Jammu sector, Jaish follows a pattern. The chosen men are made to practise with the weapons they are supposed to carry over with them. This, Indian intelligence agencies have learnt, happens in Narowal in Pakistan's Punjab province that houses JeM launchpads and safe houses. The Jammu sector, from where they finally infiltrate into India, falls to its north.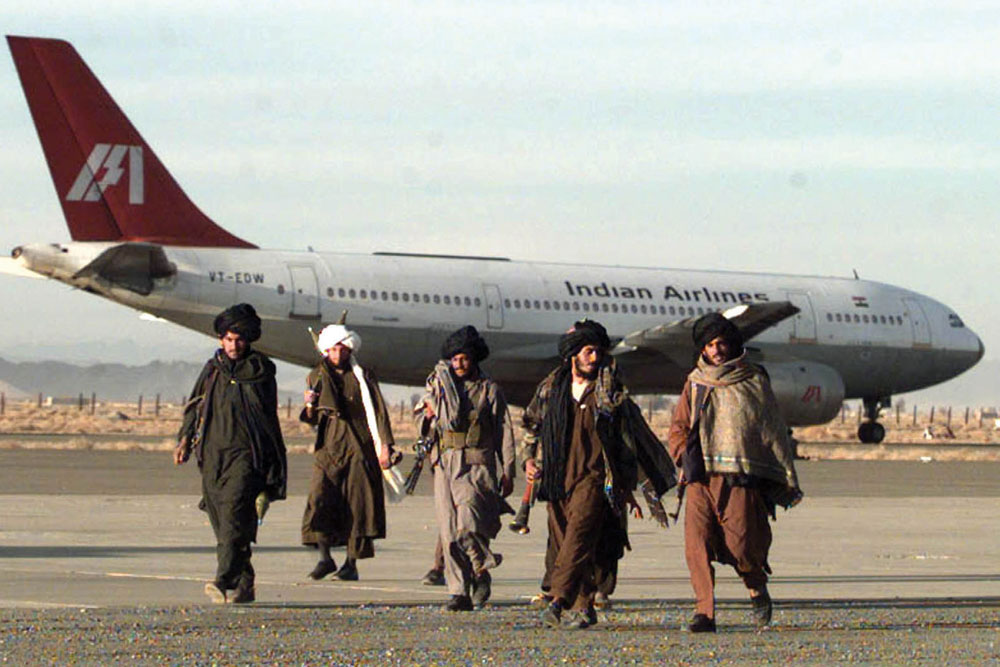 The infiltration happens on a new moon night. The night before, a party of sorts is thrown for the outgoing terrorists. If someone important is in the group that is leaving, then senior leaders also attend. When Umar Farooq, the Pulwama mastermind, crossed over in 2018, his party was attended by senior Jaish leaders, including his father and senior leader Ibrahim Athar Alvi, who also happens to be one of the IC-814 hijackers. Farooq had been trained in an Al-Qaeda camp and was an expert in improvised explosive devices and the use of drones.
A few months earlier, when Farooq's brother Usman Haider had come, the party was attended by Rauf Asghar Alvi, Masood's other brother, and operational head of JeM. They call such departures Hijrat (migration), alluding to the Prophet's journey from Mecca to Medina with his early followers in 622 CE. Both brothers were killed in separate encounters later. Masood's other nephew, Talha Rashid, who also infiltrated into Kashmir, was killed in 2017 in South Kashmir's Pulwama district.
All these JeM commanders were ferried to Kashmir by a JeM operative, Aashiq Ahmed Nengroo. The National Investigation Agency (NIA) believes Nengroo is the key person behind Jaish's revival in Kashmir in 2017-2018. Agency sources have revealed that between October 2017 and September 2018, Nengroo made seven trips to Punjab and Jammu in three trucks owned by him, transporting about three dozen JeM terrorists to the Kashmir Valley. They all used similar routes along the IB in Jammu and Punjab to enter India.
Nengroo's younger brother, Mohammed Abbas, was also a JeM terrorist and was killed in an encounter with security forces in 2013. His other brother, Riaz, is under arrest for helping in ferrying terrorists in September 2018. Riaz was arrested on the outskirts of Jammu. It is believed that Nengroo was following his brother's truck in a car and managed to escape as soon as the truck was caught.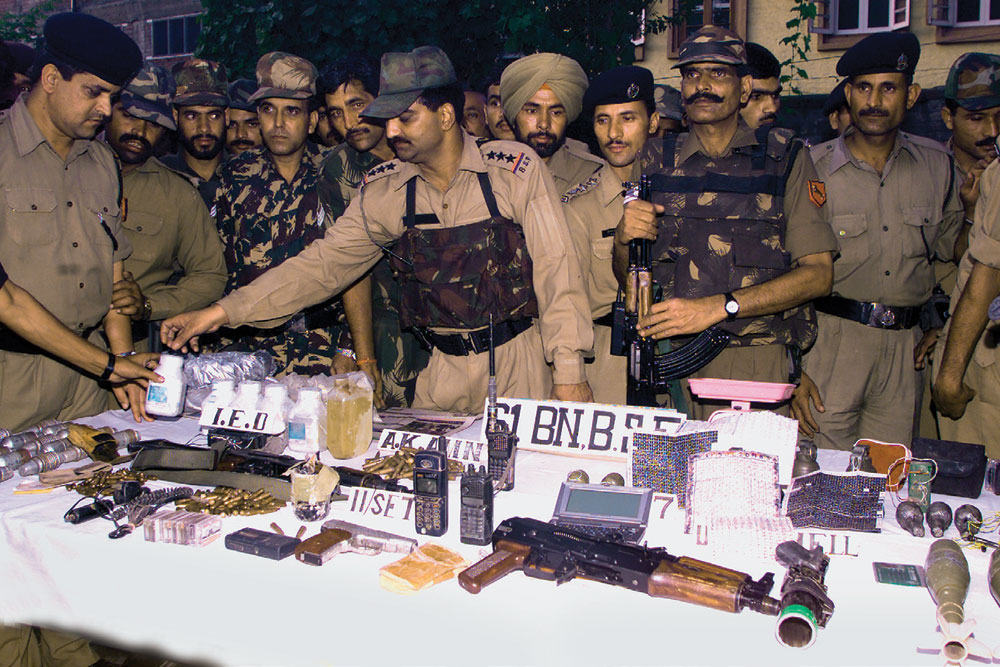 Nengroo, according to the NIA, is a close friend of Ranjit Singh Neeta, a Khalistani terrorist who figures on India's most wanted list. Originally from Jammu, Neeta is based in Pakistan and heads the Khalistan Zindabad Force.
According to NIA sources, Nengroo has earlier helped security agencies with a little information about terrorist activities in South Kashmir. "But we realised this was just a façade to carry on with his real work for Jaish," revealed a senior NIA officer. By the time security agencies could get hold of him, Nengroo had managed to flee to Pakistan along with his wife. He is believed to be in a JeM camp now.
AFTER HIS freedom from an Indian prison, Azhar first went to meet Osama bin Laden and then arrived in Pakistan to a rousing welcome. There, in a Karachi mosque with thousands of followers, Azhar announced the formation of Jaish-e-Mohammed. Its first training camp was set up at Balakot.
Jaish did not stop at Kashmir. In December 2001, its cadre, along with LeT, made an audacious attack on India's Parliament, bringing India and Pakistan to the brink of war.
The man who had planned that attack was from Bahawalpur like Azhar. In his thirties, Shahbaz Khan was very fond of tikkas and ate them for breakfast, lunch and dinner. Some reports suggested that he even wore stones as he believed in astrology. But like Azhar's clan, he was a follower of the Deobandi sect and was a believer in radical Islam. He had been sent to Kashmir as a commander of Harkat-ul-Ansar, which would kidnap foreign tourists to free Azhar.
In Kashmir, Khan went by the nom de guerre of Ghazi Baba. He did not trust Kashmiris much and relied only on his own men from Pakistan to guard him round the clock. Till 2000, Khan moved around in Bandipora in North Kashmir and then shifted base to Central Kashmir in Ganderbal. After Azhar was freed, he was made the commander of JeM, while one of his close associates, Shahid Guerrilla, also joined. In that way, they became the first recruits of JeM. He had married a Kashmiri woman from Bandipora and they had children.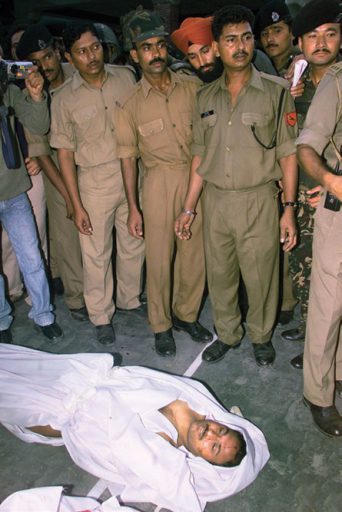 Investigators found that Khan had fought against the Russians along with the Mujahideen led by the warlord Gulbuddin Hekmatyar. After his return to Pakistan in the early 1990s, he met Masood Azhar and they quickly became friends.
After Ansar was banned, it was Khan who changed its name to Al-Faran.
It was a young medical student influenced by Azhar, the 17-year-old Afaq Ahmed Shah, who blew himself up outside the army headquarters in Srinagar, becoming the first Kashmiri suicide bomber. In 2001, JeM carried out an audacious suicide attack on the state Assembly in Srinagar, killing 38 people.
After his name came up in the Parliament Attack, Khan, aka Ghazi Baba, chose to stay in Kashmir, planning big attacks on vital targets and security forces. But he was killed in 2003 in downtown Srinagar in an intelligence-based operation carried out by the Border Security Force.
In 2006, a Kashmiri woman operative of JeM, Yasmeena Akhter died as the bomb she was carrying as a courier exploded, blowing her into pieces.
Since then, JeM has carried out several attacks in Kashmir and elsewhere. But with its renewed focus on Kashmir and the opening up, quite successfully, of the Jammu border as an infiltration route, security forces are worried. "Jaish is looking to carry out more 'spectacular' attacks on Indian soil and that is why they are pushing more highly trained men with ammunition and deadly explosives like RDX," says a senior police officer in Kashmir.
After his nephew was killed in Kashmir, Jaish released an audio clip of Masood Azhar, eulogising his death and claiming the usual imaginary 72 virgins as the 'martyr's gift in heaven'.
What is worrying is that not only Pakistanis but many Kashmiris, too, now seem ready to receive this 'gift'.