COMMEMORATIVE TEST MATCHES ARE EXTREMELY RARE. FEW HAVE BEEN CONVENED, and only to mark the weightiest of occasions. Thus, for example, the great Centenary Test played in Melbourne in 1977, which produced the same result, a 45-run win for Australia, as the first England-Australia encounter, a hundred years before. Test cricket, its organisers have generally held, is too serious an event to be used to celebrate anything but itself. The Test match that began at the Wankhede Stadium on November 14, 2013, was therefore a most unusual occasion.
It was not officially a commemorative game. It was the second in a two-Test series, pitting India against the West Indies. But unofficially it had been arranged to be Sachin Tendulkar's swansong—the last of his 200 Tests, of his 664 total appearances for India. India had been scheduled to play a tough away series in South Africa at the time. But after that fell through, over a squabble between the two countries' cricket boards, the Indian board had leant on the West Indies to fill the void at short notice. A weak team in terrible form, they would provide softer opposition for Tendulkar's scheduled farewell. At his request, the Indian cricket board ensured the last game of the series would be played in his hometown of Mumbai.
As a sporting contest, the series was a shower. Led by the journeyman all-rounder Daren Sammy, the Windies fielded one of the worst Test sides Tendulkar could have faced in nearly a quarter of a century of international cricket. India won the first game, in Kolkata, by a crushing innings and 51 runs. Tendulkar, aged 40, with failing eyes and without having scored a century for 13 games, contributed 10 runs in the single innings he was called on to play. The West Indians were even worse in Mumbai, handing the Indians victory by an innings and 126 runs, one of their biggest ever. But no one minded the cricket. The game, which I watched from the Wankhede press box, was entirely in service of India's favourite son, aka "Sachiin, Sachin!"
The Wankhede was a sellout for him, and almost every interlude dedicated to worshipping him. There were audible groans when India's captain, MS Dhoni won the toss and chose to field. No matter; the West Indians were dismissed cheaply, which brought Tendulkar to the crease by the last session of the day. After playing comfortably—in what already seemed sure to be his last innings for India—he ended the day 38 not out. And in the press box, among the crowd as it traipsed out of the stadium, and across Mumbai that night there was only one topic of conversation. Would Sachin get his hundred?
It seems gratuitous to note that no other Indian cricketer—revered as so many have been—could have been given such a send-off. No cricketer has ever had, or will ever have, the status Sachin enjoyed. Remember that cacophonous roar, that crackle of multitudinously shared emotion, which welcome him to the crease. "Sachiin, Sachin!" A sportsman of vast achievements, yet cherished by millions for much more than his runs and wickets, there have been few other sportsmen or women to compare to him. Even a decade after his retirement he occupies a peak of sport-celebrity that no other Indian sportsman is likely to scale. Sachin's impending half-century provides another opportunity to marvel at this, and perhaps try to explain it.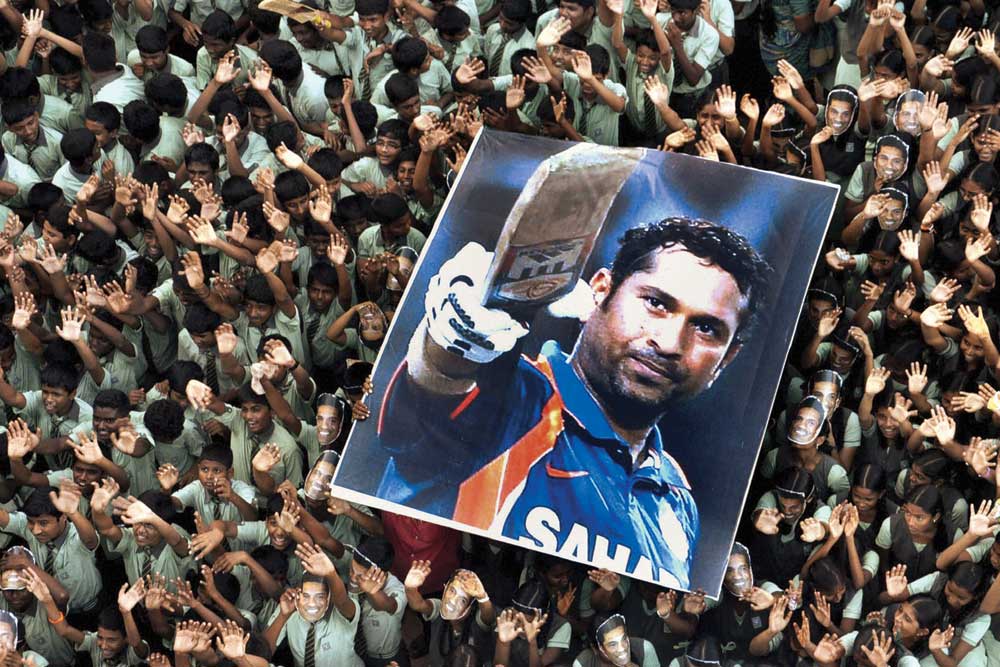 His runs and wickets are certainly part of the answer. His nearly 35,000 international runs and 51 Test centuries are both records that are very unlikely to be broken. But they alone do not explain the depth of adulation Tendulkar inspired, and inspires still. Other cricketers, including Indian ones, have performed at least comparable cricketing feats. Sunil Gavaskar—the pre-existing Little Master—scored his 10,000 Test runs at only a slightly more modest average than Sachin's 53.7, and in a way more heroically. Gavaskar was, for most of his career, the only truly world-class batsman in an average Indian team, especially when it played overseas—which is where Gavaskar performed his greatest wonders. Batting in his floppy sun-hat and floppy pads (about all the protection available back then) he scored 13 centuries against the West Indian quicks in their fiery pomp. Sachin never played in a team so dependent on him, or against such relentlessly terrifying bowling, or with such little physical protection.
He played for the most part as the top gun in a formidable Indian battery. Mohammad Azharuddin, Sourav Ganguly, VVS Laxman, Virender Sehwag and, above all, Rahul Dravid were world-class in their own rights. India's improving results over the course of Sachin's career are testament to that. In the 1990s, the first half of his career roughly speaking, India won 16 Tests, lost 20 and drew 31. In the 2010s, they won 48, lost 30, drew 31. After India won the 2011 ODI World Cup and Sachin was hoisted onto his teammates' shoulders, Virat Kohli famously said: "Tendulkar has carried the burden of the nation for 21 years. It's time we carried him on our shoulders." That was cute, but not quite true. Sachin was for most of his career the best Indian batsman (though not by much when Dravid was playing) in a very strong Indian line-up. His playing record, excellent as it was, simply does not explain his monumental tug on Indian emotions.
It owed much to the timing of his career, its longevity and, above all, to the great changes in Indian cricket and society it coincided with. When Tendulkar made his debut in Karachi in 1989 most Indians had not been born; the national population was over half-a-million smaller than it is today. It seems in retrospect, before the liberalising of the economy, the march of Hindutva and much else, a naïve time. And it was back then, right from his first series against India's greatest rival, that Tendulkar made his reputation.
The combination of the classical with raw aggression made Sachin the archetypal modern cricketer, equally brilliant at the five-day game, that the best cricketers judge themselves against, and at shorter-form boundary-fests that TV and the masses demand
Not five-and-a-half feet tall, with a mop of curly hair and a shy smile, he looked like a winsome child. For his first game in Karachi, he once ruefully recalled, he was greeted with a banner instructing him: "Bacche ghar jake dudh pi ke aa." But he played like a warrior, in flashes of stroke-play, and especially after he was felled by a Waqar Younis bouncer in the fourth Test in Sialkot. "Mein khelega," he told the anxious medicos who urged him to retire, as he dusted himself off from that blow. He went on to score 57, save the game for India and that was it, really: the boy wonder never looked back.
Naïve as that time might now seem, the forces of commerce were already descending on Indian cricket, a harbinger of wider economic change. And when those advertisers of fizzy drinks, soaps and watches, everyday luxuries of the emerging middle-class, looked to cricket for a star salesman, they naturally eyed Sachin, its new big thing. On my first visit to India, back in 1992, I recall sifting through a pile of posters of Sachin, in various modelly poses, sporting suits and watches. I was already a huge fan of his batting; I was amazed to see cricketers dolled up as celebrities in this way. I hadn't thought it possible. Three years later, in 1995, Sachin signed a deal with the sports-management company WorldTel guaranteeing him `30 crore ($4.5 million) over five years. Though rooted in that battling, more modest India of the 1980s, he was now the main cheerleader of the brash new India emerging from them.
It was this dual appeal, Tendulkar the survivor from a more innocent age, and Tendulkar the show-pony celebrity (endorsing everything, on TV and a billboard near you, seeming all the time), that was most remarkable in him. It was unique. Most of his first India teammates, including Kapil Dev and Ravi Shastri, retired within a few years, just as the new cricket economy was revving up. Their replacements, including Ganguly and Dravid, were parvenus compared to Sachin, unrooted in that tougher, simpler India he recalled. This duality made him uniquely appealing across India's generations. He was an elder statesman whom younger Indians considered cool, also a handsome celebrity that their parents and grandparents could trade nostalgic memories over. He was India's past and future.

His playing style reflected a similar fusion. Balanced and correct, he stood tall at the crease, forswearing unnecessary movement. He was a study in the classic Bombay batsmanship practised by Gavaskar, Vijay Manjrekar, Ajit Wadekar and the like. Only, Tendulkar, wielding his always surprisingly heavy bat, bludgeoned the ball more forcefully than any of his maidan-schooled predecessors. His signature shot, the back-foot drive—really a punch, so minimal was his follow-through—exemplified the contrast. It was technically impeccable, and yet brutal. "It is hard to imagine any player in the history of the game who combines classical with raw aggression like the little champion does," an admiring Gavaskar once wrote. The combination made Sachin the archetypal modern cricketer, equally brilliant at the five-day game, that the best cricketers judge themselves against, and at shorter-form boundary-fests that TV and the masses demand.
BUT WHAT OF The man himself? What was and is he like? Outwardly, Sachin has projected much the same fastidiously controlled persona throughout his decades under scrutiny. He is scrupulously polite, respectful of tradition, modestly pious, playful at times, eager to protest his patriotism. Legions of Indian and many foreign journalists have tried hard to dig deeper. Tendulkar has lived through some of the most controversial dramas in cricket history—match-fixing scandals, BCCI bloodlettings, the steady relegation of Test cricket, then ODIs, and now international cricket before the rich T20 franchises. What did he make of them? What stirred Sachin to private anger or dismay? No one has provided terribly interesting answers to those questions.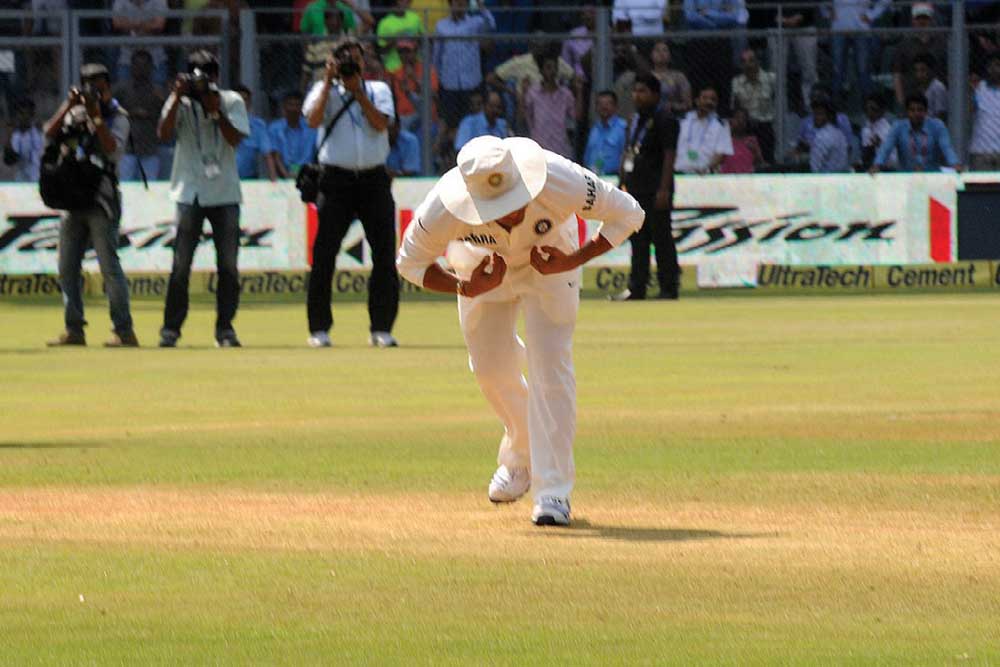 There have inevitably been a few whiffs of controversy around him. He was a fairly unsuccessful captain, as hyper-driven individuals often are. He at times used his enormous power within Indian cricket more selfishly (as at least one former India coach, Gregg Chappell, might attest) than was ideal. But these amounted to relatively petty dramas, especially by Indian cricket standards.
Those dedicated to uncovering Sachin's innermost thoughts have fared little better. A few choice Tendulkar anecdotes, generally rehearsed by poor old Vinod Kambli, his ill-starred schoolboy friend and batting partner, have been endlessly recycled. Stories of his arduous childhood practice are a particular staple—for example, the Rosebud-esque tale of the rupee coins he earned for good net sessions from his late coach, Ramakant Achrekar, and treasures to this day. Otherwise, Tendulkar and the management team dedicated to monetising him controlled the flow of Tendulkar trivia. He gave few interviews during his playing days, and rarely said anything of interest when he did.
After he had finished speaking and once again been lifted onto the shoulders of his teammates, he broke away and walked to the wicket alone. He bent and touched both hands to the turf, then his hands to his heart, and bowed his head in prayer
My own brief interview with him, I might add, while I was researching a book on Indian cricket in 2012, was especially unilluminating. Invited to his flat in St John's Wood, a stone's throw from Lord's, I could get nothing from Sachin but the briefest of pleasantries, before his manager intervened to end the conversation. I supposed he must have been saving his pearls for his ghosted autobiography, due out shortly. But it turned out to contain remarkably little that was new or revealing of him. Perhaps we had all known the important stuff—on what made Sachin tick—all along.
I think we did. Cricket, in India and elsewhere, has never been short of extraordinary characters. The game's great diversity of traditions and styles, as well as its gradual professionalising, created a lot of space for them to thrive. But many of cricket's most relentless overachievers have been rather bland, creatures of relentless practice and drive for self-improvement. Jacques Kallis and Joe Root are two such; Sachin was another. Off the field, he was a conventional, decent, reportedly light-hearted man. He was not prone, his collection of fast cars aside, to courting controversy, intellectual curiosity or other needless distractions. This allowed him to focus his remarkable energies on his cricket.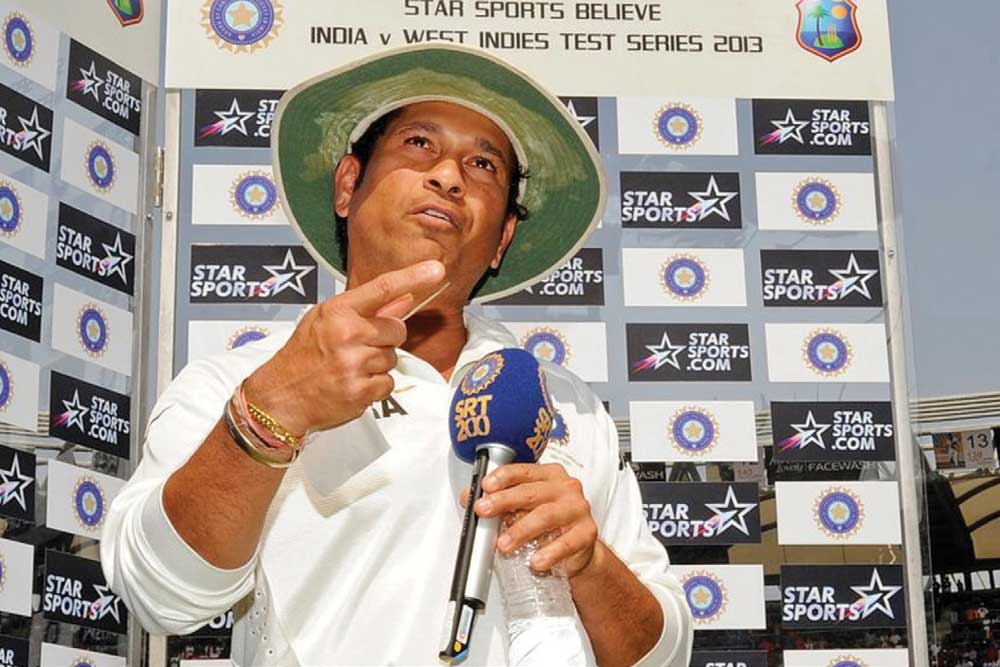 In that last appearance at the Wankhede a decade ago, he did come close to bowing out with the last hundred that Mumbaikers were desperate to see. He made 74, then nicked the West Indian off-spinner, Narsingh Deonarine, to Sammy at first slip. As Sachin turned from the crease, furious with himself, the Wankhede crowd was briefly silent, aghast. Yet, as I think back on that jerry-rigged game, Sachin's batting is, for once, not the thing I most remember about him.
That would be the farewell speech he delivered, speaking on the outfield from a crumpled sheet of paper, after the match had been brought to its inevitable, early conclusion. Strikingly relaxed and cheerful—especially for a man who generally avoided public speaking—Sachin used the occasion to thank a crowd of people, relatives, teammates, well-wishers and associates. He thanked "Achrekar sir," and ribbed him for having never once said "well played" in case it made him complacent. "Maybe he can push his luck and wish me now well done on my career, because there are no more matches, sir, in my life." He also thanked every Indian cricketer who had played before him and with him. And he urged the teammates he was leaving behind to give thanks for having been "chosen by the Almighty to serve this sport."
It was one of the most moving public displays I have seen in sport or anywhere. And carried out with rare poise and aplomb. After he had finished speaking, and once again been lifted onto the shoulders of his teammates, he broke away and walked to the wicket alone. He bent and touched both hands to the turf, then his hands to his heart, and bowed his head in prayer.
It was a gesture of real humility, increasingly rare in the look-at-me new India, performed by the country's biggest celebrity. Sportsmen often speak about having an ambition to "leave it all on the pitch". That day in Mumbai, Sachin really did. Cricket is lucky to have had him.
Also Read
A Portrait of Greatness ~ by Boria Majumdar
The Sachin Sutra ~ by Rajeev Deshpande
Once Upon a Time a Boy Wonder ~ by Lhendup G Bhutia

James Astill is the Asia Editor of The Economist. He has previously headed the magazine's bureaus in Washington and New Delhi