MY FIRST ENCOUNTER WITH Sachin Tendulkar was at the age of 11. The year: 1987.As a child growing up with cricket, it was inevitable that I'd be mourningSunil Gavaskar's leav­ing our cricketscape. Indian cricket, overnight, needed a saviour. Sure, Vengsarkar was in great form, Manjrekar had his sound tech­nique, and Azharuddin had magic wrists. But truth be told, none of them was in the league of the just retired Gavaskar. It was then in a Mumbai newspaper that I read about Tendulkar. A child prod­igy, he was being touted as the next big thing in Indian cricket.
Then came his debut series in Pakistan. It was terrifying to think how a boy of 16 would stand up to the likes of Imran Khan, Wasim Akram and the express debutant Waqar Younis. My worst fears came true when in the Sialkot Test, he was hit on the nose by a Waqar scorcher. Navjot Singh Sidhu, batting at the other end, recounted later: "My immediate reaction was he has to be rushed to hospital. I was about to run to the other end when I saw Sachin raise his hand. In his squeaky voice, he said, 'Mein khelega'. He had blood all over his face, but never once did he think of leaving the field." These two simple words, 'Mein khelega', best sum up Tendulkar, who has always worn his nationalism on his sleeve. Watching Sachin continue to bat and then cream a four off the second ball through cover, I realised we were finally seeing our saviour in action.
This realisation was firmed up when Tendulkar scored a match-saving hundred inEngland in 1990. In only his ninth Test match, he stood unbeaten on 119, an innings that successfully sent the cricket world a message—its next superstar was here.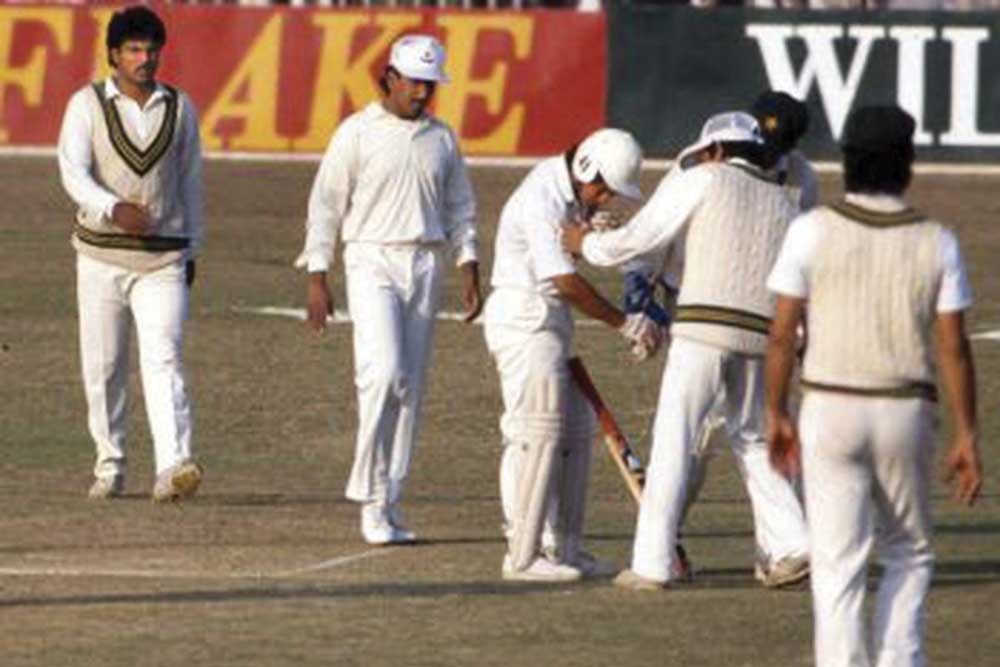 But all these were trailers to the real movie: Australia, 1992. In­dia reached Perth, down and out. The hallowed turf of the WACA, the Australian fortress, offered the bowlers pace and bounce and was where Australian gladiators tested the world's best. Only real men survived. Tendulkar, then 19, scripted a fantastic 114, a knock of incredible brilliance that made up for a tame Indian surrender. We finally had an answer to the Australian fast men: Tendulkar. His Perth hundred remains special to him.
The best, however, was yet to come. It came when a desert storm stalled India's run chase at Sharjah in a crunch game against Australia in the Coca-Cola Cup in April 1998, an innings Mahendra Singh Dhoni considers his favourite. I remember the players lying on the ground with the storm blowing across the stadium. India's chances of making the final were remote. But Tendulkar wasn't done. Soon, an even fiercer storm hit the Australians. Not only did he propel India to the final, but as an absolutely stunned Tony Greig said, he was also going for victory in a manner only he could. He did achieve the elusive triumph for India on his birthday a couple of days later, with a century that gave the legendary Shane Warne nightmares about Sachin. Then, again, during Australia's Test tour of India in 1998-99, he destroyed Shane Warne.
But the 1999 World Cup brought to light his unrivalled com­mitment to the nation.
Forced to return home after his father's demise, Tendulkar was back in action within days. His look up at the sky after completing that fantastic hundred against Kenya, a century he dedicated to his father, brought tears to the eyes of every Indian cricket fan. He had played out each word of what he used to say in an endorse­ment he did at the time, 'My name is Sachin Tendulkar, and I play for India.'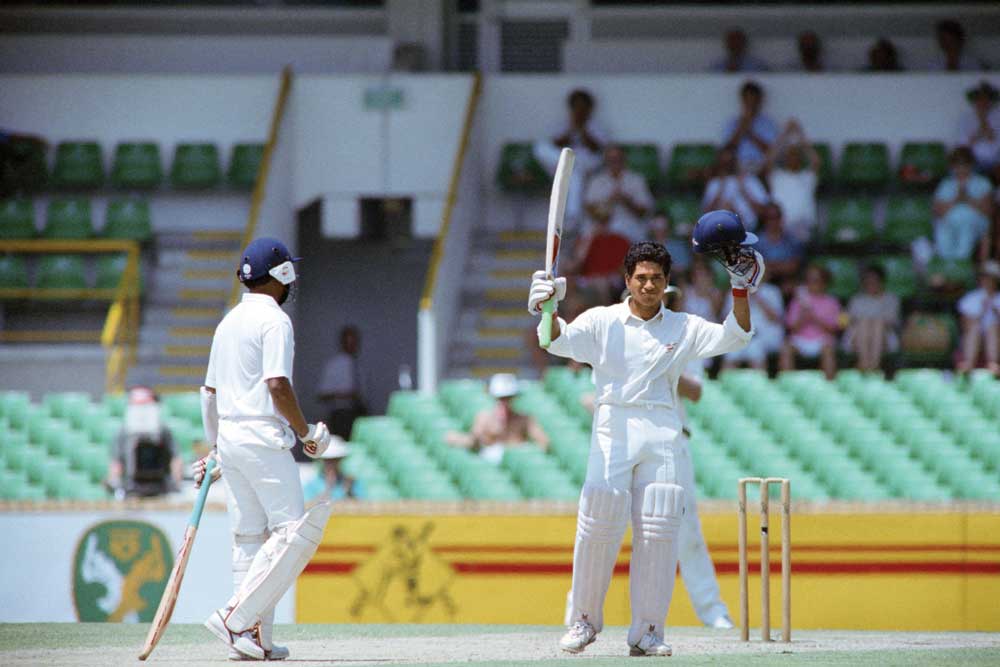 Cut to the miracle tour of 2001. While we love to talk of Laxman's 281 and Dravid's 180 at Kolkata, Tendulkar's five-over burst in the last session of play complemented the extraordinary Harbhajan Singh effort in bringing India victory. Of his three wickets, my favourite remains his dismissal of Warne with a googly Warne would have been proud of. Then, in the last Test of the series, Tendulkar hit a masterly 126, setting up one of India's best series victories of all time.
Some cynics continue to say Tendulkar was vulnerable in times of real pressure. Indian cricketers have hardly been under greater pressure than at Centurion in South Africa in the game against Pakistan in the 2003 World Cup. Kargil was still fresh in our memory, and the match epitomised what George Orwell called 'war minus the shooting'. Chasing Pakistan's respectable 273, Tendulkar was well and truly up against it. And in that one Shoaib Akhtar over, the second of India's innings, he stamped his mark on the game. That famous six off Akhtar over the thirdman has had entire TV programmes made on it. His 98 was an out­pouring of Indian emotion, an innings of incomparable passion and intensity. Winning player of the tournament, Tendulkar was instrumental in leading India to its second ever World Cup final, a match that remains a sore memory for the legend.
The pressure of a billion-plus fans every time he has walked in to bat, an ordinary team till the late 1990s forcing him to carry the batting burden, and surviving at the height of his powers for a staggering 24 years. We are talking about the Sachin Tendulkar phenomenon
How best to sum up what Tendulkar means to us all? For many like me growing up in an India that was falling prey to turmoil and seces­sionist movements, he was a ray of hope, helping craft a national imagi­nary that looked solid and resolute. He was a sign of India's resurgence, a quiet reassurance that things, if not alright yet, were certain to get better.
In the first Test played on Indian soil after the 26/11 attack, India needed to playwell to get the country back to a sense of normalcy. The Eng­lish set a mammoth 387 to chase. Fol­lowing up on a Sehwag blitzkrieg, Sachin was unbeaten on 103 when India chased down the highest ever fourth innings total on Indian soil. Facing the cameras on his way back to the dressing room, Sachin took only a second to dedicate the knock to the victims of 26/11.
It needs to be put on record that Sachin is the only cricketer who, when he stepped out to bat in Syd­ney, Barbados, Lahore, Cape Town or even Lord's, got the same stand­ing ovation. The pressure he has played under places his acts on the same pedestal as Jackie Robinson's breaking of the colour line in 1947 or Jesse Owens' defying Hitler in 1936. I have often been asked where I'd place Tendulkar in the world sport­ing pantheon. My answer is: at the very top. For a country with a sport­ing record such as ours, he has given us a dream and has helped us turn it into reality day in and day out, year after year.
It's time we go a step further and place Tendulkar on that unique pedestal that no Indian has ever aspired to, the one reserved for Owens, Robinson, Wilma Ru­dolph, Carl Lewis, Greg Louganis, Michael Phelps and Usain Bolt. He is India's contribution to the history of world sport, a man who gave us recognition on the pitch for 24 long years and continues to do so in anything he does.
How do we figure out the enormity of a batsman scoring 100 hundreds? If there aren't any cricketing comparisons, how does this accomplishment stand compared to greatness achieved in other sports? Such comparisons, which are a fancy of every sports fan's imagination, help understand the feat's symbolism. The nearest comparisons are all from the field of athletics. Bob Beamon's 1968 long jump world record that stood for nearly four decades or, more recently, Usain Bolt's multiple world record-breaking 100m runs serve a good in­dex. The first word to describe these is 'unbelievable'. Hundred hundreds is something similar. Babe Ruth's home runs, Mark Spitz's seven gold medal winning performance at Munich, subsequently bettered by Michael Phelps at Beijing, and Nadia Comăneci's perfect tens at Montreal are comparisons that help spice up the debate over the 100 hundreds. It is the pinnacle of achievement in sport, the very top which appears inconceivable to start with.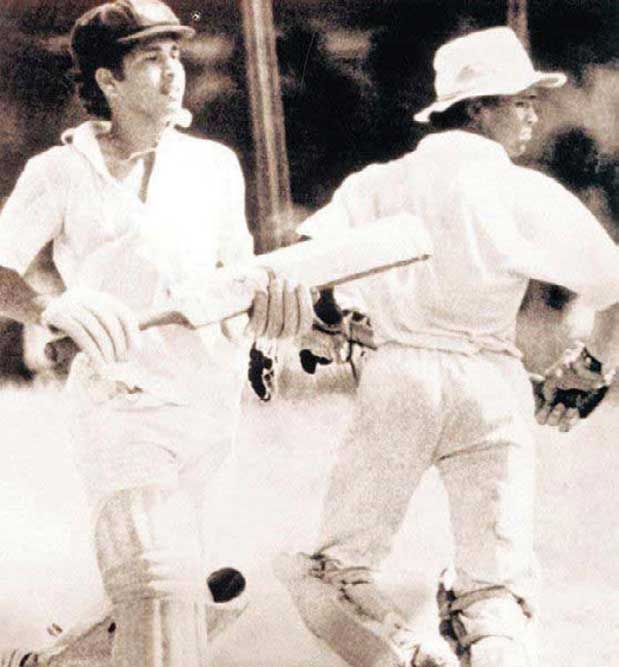 Now, to throw in a few more yard­sticks into the mix. The pressure of a billion-plus fans every time he has walked in to bat for over two decades, an ordinary team till the late 1990s forcing him to carry the batting bur­den almost alone and finally surviv­ing at the height of his powers for a staggering 24 years with operations in his feet, ankle, hip, elbow and fin­gers. We are now talking about the Sachin Tendulkar phenomenon. No sporting great has overcome so many challenges. Wilma Rudolph beating polio on her way to three Olympic golds fades in comparison. So does the legend from Bowral, con­sidered cricket's epitome of greatness. Bradman had never played with the pressure of a billion-plus, never played a game where a loss was similar to a criminal conviction with a billion sit­ting in judgment. Bradman played a sport. Tendulkar played a passion and one that drives the world's most popu­lous nation.
As we celebrate his 50th birthday, it is time to think beyond cricket. Sachin is bigger than five days of six hours on the field, lunch and tea, and 50 overs in a match indistinguishable from any other. He is a sportsman, an athlete, and he needs to be spo­ken of in terms of men and women who have performed feats in sports believed to be impossible. There is no need to compare him with other cricketers, even The Don. He has to be seen in the light of achievements thought to be impossible, which hardly has to do with cricket. Michael Schumacher, Diego Maradona, Dhyan Chand, Martina Navratilova, Michael Jordan, Sergey Bubka, Gary Kasparov? Cricket is just the game Sachin plays. But how can someone love it so much? Sachin Tendulkar won't know the answer to that. He still doesn't. And we will spend our lives baffled.
'At 14, Sachin was aware that his signature could be forged in future'
By Sunil Gavaskar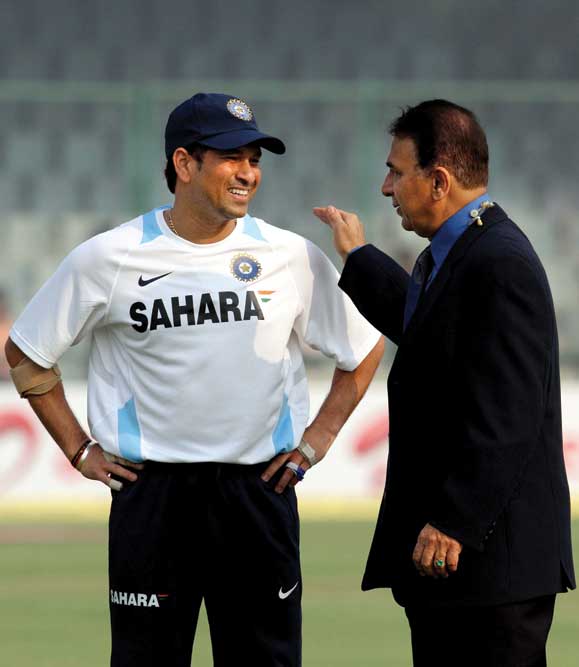 FIRST, THERE WAS SIR DON BRADMAN, AND then there was Sir Garfield Sobers. Then it was Sachin Ramesh Tendulkar. It's hard to believe that the then slightly chubby, baby-faced Sachin we saw in1987 is going to complete 50 years. He is, of course, no longer chubby but finely muscled, but his face is still like a baby and even more so when he breaks into a smile.
Mumbai Cricket's grapevine is a legendary one. News of emerging talent spreads around the maidans and the Gymkhanas very fast. Then the curiosity factor kicks in as cricket followers, whatever their day jobs, find time to watch the name that is be­ing whispered about almost reverentially. Once convinced, the whispers get louder, and soon the talk in all the street corners and kattas of the Gymkhanas is that a special one has arrived.
I had heard and read about Sachin's exploits at the school level but had not seen him play. Hemant Waingankar, who sadly is no more, was like my younger brother, and he used to tell me at every opportunity how good a batter young Sachin was. So no wonder when he drove me to the airport to catch a flight to London for the Bi-Centenary Test match in 1987, the topic came to Sachin. Anil Joshi was also in the car and mentioned that the young man was a bit upset that he had not received the prestigious Best Junior Cricketer award that the then Bombay Cricket Association used to give annually at their awards evening. So as we arrived at the airport, on impulse, I asked for a pen and then, on the bonnet of the car, wrote a letter to Sachin asking him not to get discouraged but to keep working hard. I also mentioned that one name was missing from the list of those who had won the awards previ­ously, and that person hadn't done too badly in Test cricket.
A couple of months later, the Reliance World Cup happened, and that's when I met the young man for the first time. He was a ball boy for the tournament for the matches at the Wankhede Stadium, and I invited him to the sanctum sanctorum, the Indian dressing room and introduced him to the rest of the team.
I stopped playing after the tournament, and since he was the only young man using the super lightweight leg guards I used to prefer, I sent him mine as I didn't intend to play any cricket there­after. A few days later, I went to the Wankhede Stadium to see him bat in the nets for the Mumbai Ranji Trophy probables. I watched from the dressing room since I didn't want him to feel conscious about being watched. I saw a batter with so much time to play the quicker bowlers that he could hit them on whichever side he wanted. I remember coming home and telling my wife I had seen a special talent that day. He, of course, was still a schoolboy cricketer and hadn't even played for Mumbai in the Ranji Trophy then. A couple of weeks later, when I came home from the office, my wife said, "A young man is waiting for you; it must be the same guy you were talking about. He hasn't looked up and has been staring at his toes all this while." It was indeed Sachin, and he had come to thank me for sending him the leg guards. He gave me a thank you card with his name written in block letters. I asked him to sign the card, and he scribbled a completely unreadable signature. I asked him if he had seen the signatures of Sir Don, Sir Garfield and even our own Vijay Merchant? I told him that even so many years after they retired, their signatures can be easily identified and that 50 years from now when fans look at autographs, they should be able to say, "Ah, that's Sachin Tendulkar's autograph."
He nodded, and his next question floored me. He said, "Yes, but isn't it easy to forge these signatures?" I couldn't help laughing, for a 14-year-old kid was conscious that his signature could be forged in future.
(Sunil Gavaskar, one of the greatest batsmen of all time, is a former cricketer and Indian captain)
 'He is the Best I Have Seen and Will Ever See'
By Sourav Ganguly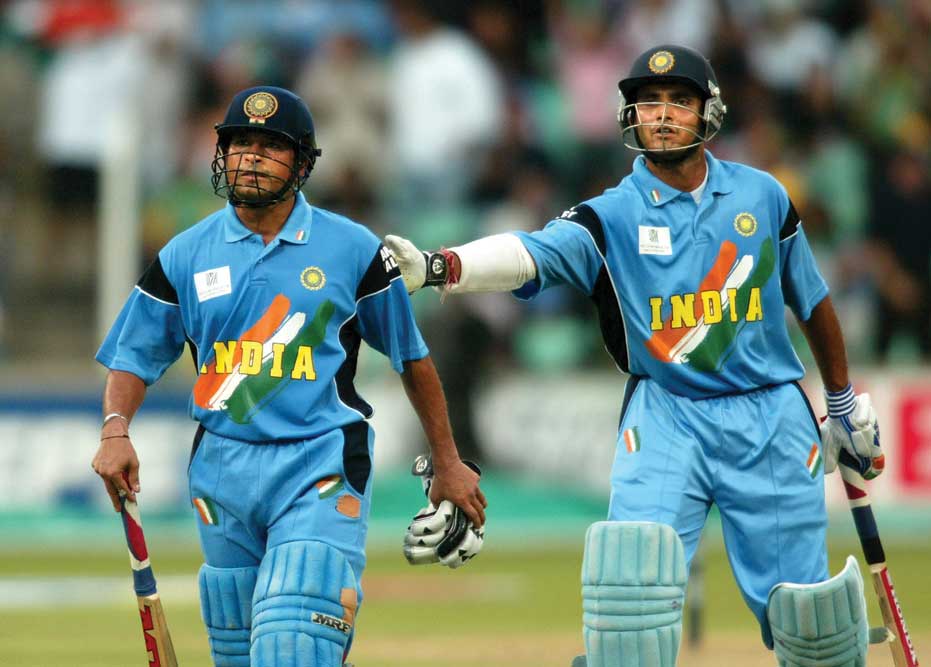 SACHIN AND I GO BACK A REALLY LONG WAY. THE first time I met Sachin was at an under-14 camp in Indore. We were 13, Sachin eight months younger, and we were there at the camp conducted by Vasu Paranjpe under the aegis of the Madhya Pradesh Cricket Association. Sanjay Jagdale was instrumental in putting the camp together. I first noticed that the curly haired boy from Bombay just loved to bat. He was the first at the nets and just kept batting. Such was his passion and intensity that Vasu had to eventually pull him out on occasions. Sachin would just bat, bat and bat. At the camp, everyone talked about him, and it was apparent that he was blessed with exceptional talent. He would hold the bat lower than the norm; this would mean he'd not feel the pressure of his heavy bat. He already had all the shots in the book and timed the ball beautifully.
After that first meeting, Sachin had catapulted himself into the national reckoning within a couple of years. He had already scored hundreds at the Ranji and Irani trophies before he was 17. So it wasn't a surprise that at 16, he was picked for the Indian tour of Pakistan in 1989. I did not watch many of his knocks in Pakistan as I was touring with the Bengal team. However, I watched the one match where he took apart Abdul Qadir. It was a rain-curtailed ODI reduced to a 20-over-a-side exhibition contest. However, when it is an India versus Pakistan match, it can never be not seriously competitive. When Sachin came out to bat, the asking rate had gone well over 10 an over, and India needed a miracle. That nearly happened, thanks to Sachin. He went ballistic and scored 53 of 18 balls, and in the process, hit four sixes off Qadir to all corners of the ground. It was incredible hitting. Once again, it was an announcement to the broader cricket world that he was special. Eventually, India lost by a meagre four runs.
We again met during India's tour of Australia in 1992. I was part of the team but wasn't expected to play the Tests, while Sachin gradually established himself as the team's premier bats­man. Importantly, we were roommates during this tour, and I remember him in Sydney the night before he went on to get his first century in Australia. India was down 0-2, and we needed to play well in Sydney to regain confidence. Sachin just refused to sleep that night. I remember telling him that if he was to play the next day, he desperately needed to sleep. He said he couldn't and started telling me where he would hit McDermott and the others! By midnight I was asleep, leaving him to his devices. The next day he said to me that he was starved of sleep and that he'd nap on the dining table in the team dressing room at the SCG. He asked me to wake him up at the fall of the next wicket. Sachin was to bat at number six, and I woke him up when Azhar got out. He said he was refreshed now that he'd had some sleep. It was odd how he could sleep on a dining table! He played a terrific innings of 148, not out, and I believe we should have won the Sydney Test.
However, his best of the series was yet to come. It came in Perth on what was the world's fastest wicket. The WACA pitch is now slower than in 1992, and it was undoubtedly one of the hardest wickets to bat on. Sachin's height made it more challenging to negotiate the excessive bounce, for it was impossible for a short man to play shots in front of the wicket. I can say it was the best innings of his career. To score a hundred on that wicket against the Australian bowling attack was simply sensational. Most of our other batsmen weren't even able to get bat on ball, and here was an 18-year-old putting together a batting master class.
After the Australia tour, I was dropped from the Indian team, and it was in 1996 that Sachin and I again shared the dressing room in England. I batted well in the tour games leading up to the tests, and he came up to me one day to say my opportunity would come soon. I hadn't played the first Test where he got a hundred. However, we lost the match at Edgbaston and conceded a 0-1 lead to England. I got my chance in the Second Test. I was to bat at three, while Sachin was to bat at four. We were not out overnight in our first partnership, and he kept telling me to play straight and get behind the line of the ball. The following day, he got out to a peach from Chris Lewis while I managed to get to a century. At tea, when I returned to the dressing room, my bat started to make a creaky sound due to the pounding it had taken. Sachin came up to me and said that I should just relax as I had to bat post tea, and he would tape my bat up. He did so, and I could keep playing with it through the innings. At the end of the day, he said it was just a start, and I should not give it away, and I had a long Test career ahead of me and should make the most of my talent.
While wishing him a very happy 50th birthday, it is time I say it for one final time. He is the best I have seen and will ever see. No batsman in the next decade and more can score 100 international hundreds. Well done, my friend. And a very happy birthday.
(Sourav Ganguly is a former Indian cricket captain and former BCCI president)
 'Despite All the Fame and Adulation, Sachin Still Treats Everyone Equally'
By Anjali Tendulkar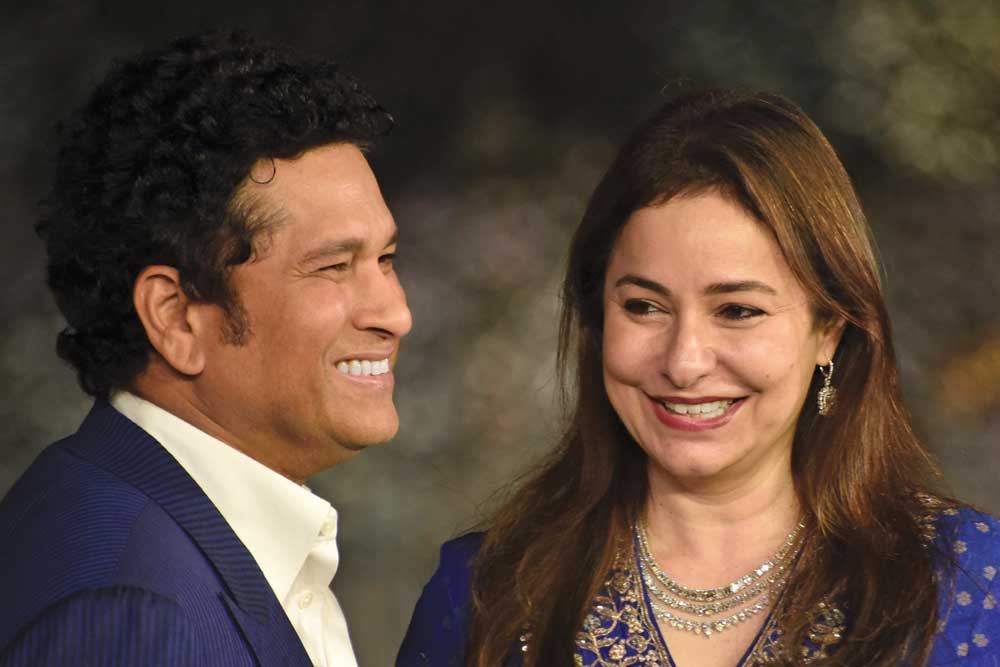 WHEN YOU LIVE WITH SOMEONE LONG enough, they become a part of you. To write about Sachin, therefore, isn't easy—because it is a reflection of myself as much as it is about him. We have known each other for 33 years now. Every day has been a celebration of our similari­ties and differences. We have gone through different stages of our partnership, like every couple—courtship, marriage, becoming parents, and to now seeing our children become adults and carve out their own lives.
We come from very different cultural backgrounds. Yet, we have been brought up with the same value systems. Both of us believe in according every person dignity and respect. What is praiseworthy about Sachin is that despite all the fame and adu­lation, he still treats everyone equally. Irrespective of someone's position in society, he treats everyone the same. Whoever comes to our home is our guest—and they will be treated with the same warmth. Money, power and success are immaterial; what comes foremost is that every person is a unique human being who de­serves respect. Sachin and I feel very strongly about this, which we have tried to pass on to our children as well. We have differ­ences as well. For example, both of us love gadgets. But I would go through the operations manual before I start operating one, whereas Sachin would be more hands-on, and he would work his way through the device and figure it out by using it.
We have both supported each other in our personal and professional lives. When Sachin played for India, there would be phases when I realised he needed to be given the space required. Likewise, he has been a very supportive partner. Many people have asked me what I have planned for Sachin's 50th birthday. We have been very private people—so this birthday will be no different. It'll be something with very close friends and family. n
(Anjali Tendulkar, a paediatrician, is the wife of Sachin Tendulkar)
 'Sachin Goes to Great Lengths to Make You Feel Part of the Group'
 By Aakash Chopra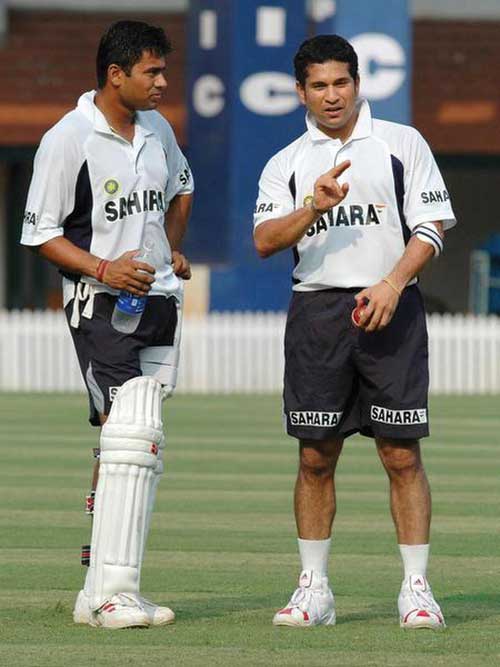 SACHIN, THE PERSON, IS THE TALLEST OF 'EM ALL. My first interaction with Sachin happened in Ahmed­abad when I was named in the Indian team for the first time for a series against New Zealand in October 2003. Like every­one else, I also looked up to him as that idol, a maestro that you always thought was the pinnacle and exactly where you aspired to be if you could go that far.
I realised early that Sachin goes to great lengths to make you feel comfortable and part of the group. Because he always knew that all these kids idolised him, and he was very humble about it. He quietly does his bit to welcome you with open arms.
There were separate bowlers and batters meetings before that Test match against New Zealand. He would ask me six or seven questions during the batters' meeting. For example, "Has Dan Vet­tori bowled an arm ball? Whether Daryl Tuffey is bowling the leg cutter?" The questions were about the warm-up games I played against New Zealand. I used to wonder, I might have played a few deliveries from these bowlers but Sachin has faced hundreds of those kinds of deliveries, and how can I be of any help? So it was his way of breaking the ice, and very sweet of him to do so with newcomers.
Anyone who walks into that dressing room, your eyes would be transfixed on the floor, and if Sachin Tendulkar is around, you won't even open your mouth. So he was always cognisant that kids walking in the dressing room would be in awe of Sachin Tendulkar, the player. So, Sachin Tendulkar, the man, always did his bit to make you feel part of the setup.
During my time in the national team, he would ask, "Aakash, would you mind standing behind the stumps?" Of course, I would have stood there anyway, as there is so much to learn. What better place to stand and learn batting? "Just peeche khade ho jaao aur unko (Tendulkar) khelte huye dekho."
The way he reacts to every ball is the coaching manual right in front of you. So I would stand there always. In fact, he would ask if his footwork was correct or if the shuffle he was trying was coming out well. Watching the ball close enough? I would be embarrassed: Why is Paaji ask­ing me? But he would continue to ask.
I remember I got a chance to interact with him in Ahmed­abad because I wasn't sure how many Test matches I would play. So, I sought his permission and went to his room. He gave me an hour, and I had plenty of questions. He, in fact, told me that he was not able to sleep properly for 15 days prior, and he was visualising every ball. How would he play Wasim, Waqar and Shoaib? That initial awkwardness that we newcomers had evapo­rated quickly.
We ended up chatting about cricket, and when he came for commentary in the 2019 World Cup, he once again asked me, "Kya soch raha, pitch kaisa hone wallah hai?" Just chatting along and talking cricket. Sachin has been that person who has inspired us all. Sachin Tendulkar, the player, stood out initially, but what stands out for me now is Sachin Tendulkar, the person. He is phe­nomenal. You reach out to him, and I know if you reach out to him, he will do everything he can to help you.
(Aakash Chopra is a cricket commentator and former cricketer)
 'He Retained the Boy Next Door Image Till the Very Last Day of His Career'
By Viswanathan Anand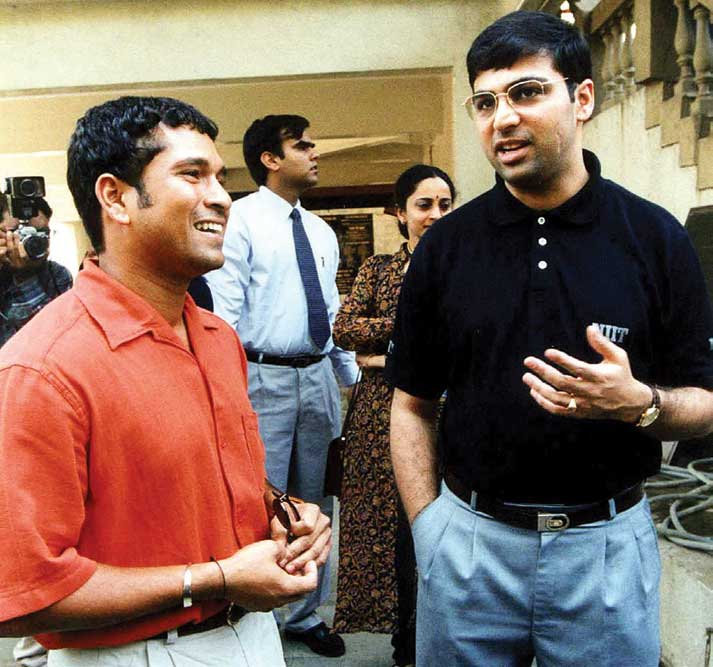 SACHIN AND I BURST INTO THE SPORTS SCENE almost simultaneously, and thereafter our careers have had very similar trajectories. Even today, there are sev­eral similarities.
While I continue to play the sport for enjoyment rather than for any career goal, Sachin, too, is doing the same and playing cer­tain tournaments. This is because of his love for the sport. Cricket is all he knows, and for someone as dedicated and passionate, it is near impossible to completely give it up.
With Sachin in the 1990s, there was something unique. Al­most everyone in India would call him by his first name, and a deep affection was attached to it. He was like the son in every Indian household we identify with. He was the answer to every Indian problem in cricket and was always the boy next door. He wasn't a superstar. He was one of our own. One we identified with. Cared for. Loved. And the best thing about him is he could retain this boy next door image till the very last day of his career.
What brought both our careers together in a way is the longev­ity. While I played for a good three decades, Sachin played for 24 years. If you play for so long, there is only one answer. You just want to play the sport more than anything else. The passion for it is un­diminished even after 20-plus years, and each time you play, there is a joy difficult to put down in words.
The other thing similar is the wait for the world title. Sachin waited for 22 years before he finally laid his hands on the World Cup. We in chess waited a long time before winning the Chess Olympiad. Winning in a team sport is very different compared to winning individually. And when you play as a team for India, there is a very different connotation attached. To be the best in your sport as a team is a dream, and Sachin pursued this dream with unwavering focus and passion. I watched every game of the 2011 World Cup and felt very happy for Sachin when India won the trophy. It was a dream fulfilled, and no one deserved it more.
While I am three years older, I am also a fan of his and his con­duct. With such adulation all around him, he has managed to stay grounded and has never lost his humility. And in both our cases, we are very Indian. We are deeply attached to our families and are invested in Indian traditions while taking great pride in doing what we do for our country. So on the occasion of his 50th birthday, I wish him and the family a lot of good health and happiness and hope that he continues to fulfil all his dreams in the years ahead. n
(Viswanathan Anand is a chess grandmaster and former five-time World Chess Champion)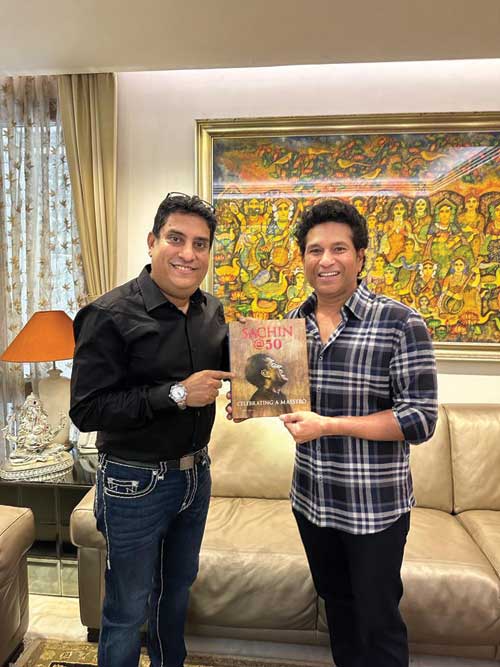 (The essay by Boria Majumdar and the tributes from Sunil Gavaskar, Sourav Ganguly, Anjali Tendulkar, Aakash Chopra and Viswanathan Anand are edited excerpts from SACHIN@50: Celebrating a Maestro (Simon & Schuster, 268 pages, ₹ 1,499), edited by Boria Majumdar.)
Also Read
The Sachin Sutra ~ by Rajeev Deshpande
Sachin Left it on the Pitch ~ by James Astill
Once Upon a Time a Boy Wonder ~ by Lhendup G Bhutia

Boria Majumdar is a sport journalist and the author of, among other titles, Eleven Gods and a Billion Indians. He is a contributor to Open