ON THE EVENING of June 11th, the police in North Kashmir's Handwara town stopped a car that bore no registration plate. They had been tipped off by a source; upon checking, they found a black-coloured bag concealed under the passenger seat next to the driver, who was identified as Abdul Momin Peer. In the bag they found over six kilograms of heroin and Rs 20 lakh in cash.
In subsequent raids, Peer's father-in-law, Iftikhar Andrabi, and Peer's brother, Islam-ul-Haq, were also arrested and 21 kg heroin and cash of over Rs 1 crore recovered from various properties owned by them. The total cost of the seized drugs is believed to be over Rs 100 crore.
As the case was transferred to the National Investigation Agency (NIA), its officers found that Andrabi had several relatives across the Line of Control (LoC) in Pakistan-occupied Kashmir (PoK, not very far from Handwara). One of them, it was revealed, worked with the Pakistan-based terrorist organisation, Lashkar-e-Toiba. It is through this contact that Andrabi received consignments of high-quality narcotics, sourced from Afghanistan. From Kashmir, it would then be sent to other parts of India, especially Rajasthan, Gujarat and Mumbai. These would be carried mostly in transport trucks, concealed among ordinary merchandise like apples, or in secret cavities in the trucks. This particular consignment is believed to be part of a larger consignment worth Rs 300 crore, meant to be delivered to Mumbai.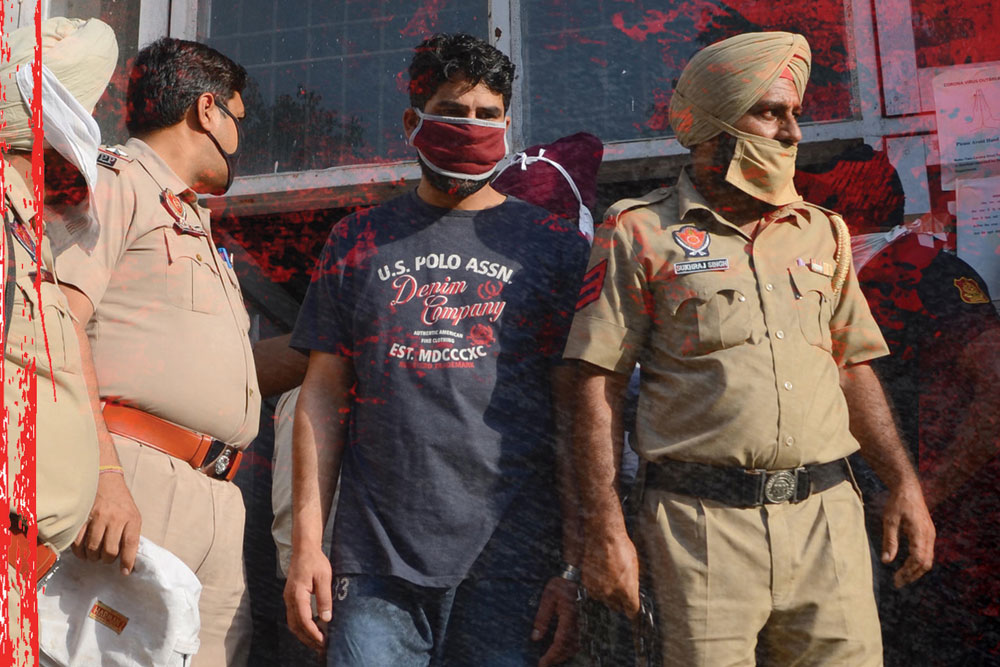 The massive profits from these drug sales, the NIA investigators say, are pumped back to boost terrorism in Kashmir.
Officials investigating the Handwara drug case found out that terrorists had recently been able to send narcotic consignments worth Rs 5 crore to Amritsar, Punjab, through this module. Out of this money, Rs 3.5 crore was distributed among Lashkar terrorists and over-ground workers in Kashmir.
As the intricacies of the module were being unearthed, the NIA arrested another accused, Afaq Ahmed Wani, a bank manager by profession, from a hideout in Srinagar city's Hyderpora area. Another three kilos of heroin and Rs 30 lakh in cash were recovered from him.
NIA sources say this haul is just the tip of the iceberg. According to a senior officer, drugs worth hundreds, if not thousands, of crores of rupees have already made their way from Pakistan into North Kashmir through the LoC route. The result of this financial boost is significantly visible in North Kashmir now, where, in the last few years, terrorism was relatively in control compared to South Kashmir. But, on September 5th, a senior army commander in North Kashmir said that the terrorist group Hizbul Mujahideen was trying to re-establish its base there. A day earlier, three Hizbul terrorists were killed in Baramulla town in an encounter with the security forces.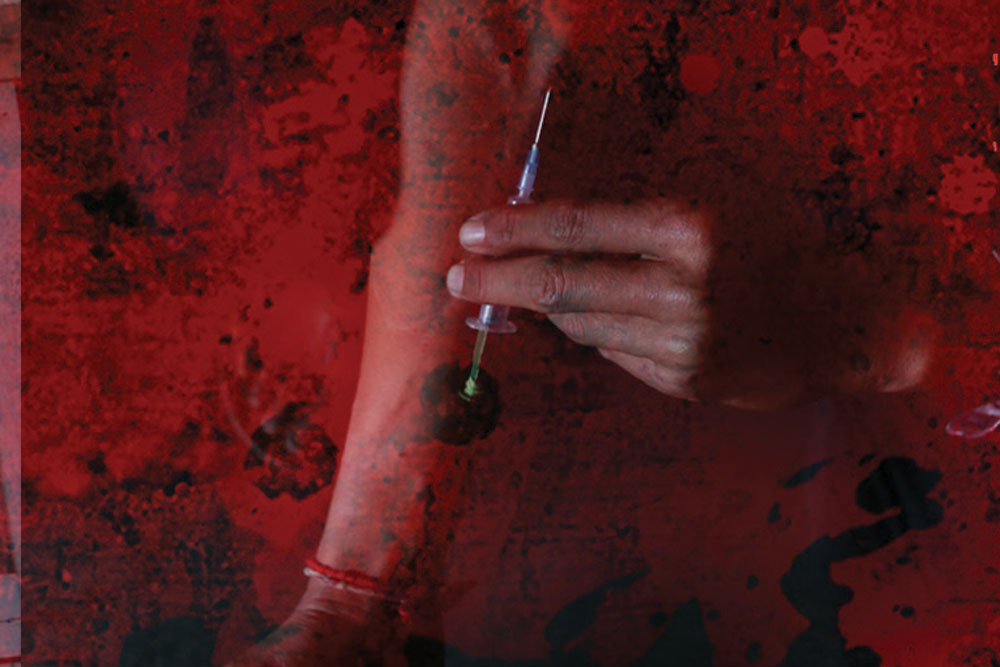 "I will say that North Kashmir has emerged as a big corridor for narcotic smuggling," said a senior NIA officer, a part of the team investigating narco-terrorism cases.
The use of drugs has been a persistent problem in Kashmir. It is locally well known that in certain parts of the Valley, especially in the South, opium poppy is grown quite freely, often with the connivance of local officials. Much of it is consumed locally, while some of it is also sold by Kashmiri drug dealers outside, in areas like Pushkar in Rajasthan, where foreign tourists come in large numbers. A portion of the profit, say police officials in Kashmir, goes to local terrorist commanders as well. Many such youths are arrested and end up spending years in jail in states like Rajasthan and Gujarat.
Earlier, terrorist organisations would seek money from apple growers during the harvesting season. In the apple market in South Kashmir's Shopian district alone, the apple business has an annual turnover of Rs 1,200-1,500 crore. "Out of this, it is not difficult for local terrorist commanders to take a cut which in aggregate makes for a significant amount," says a senior police officer. While that route is still taken, raising money through narcotics has taken precedent now.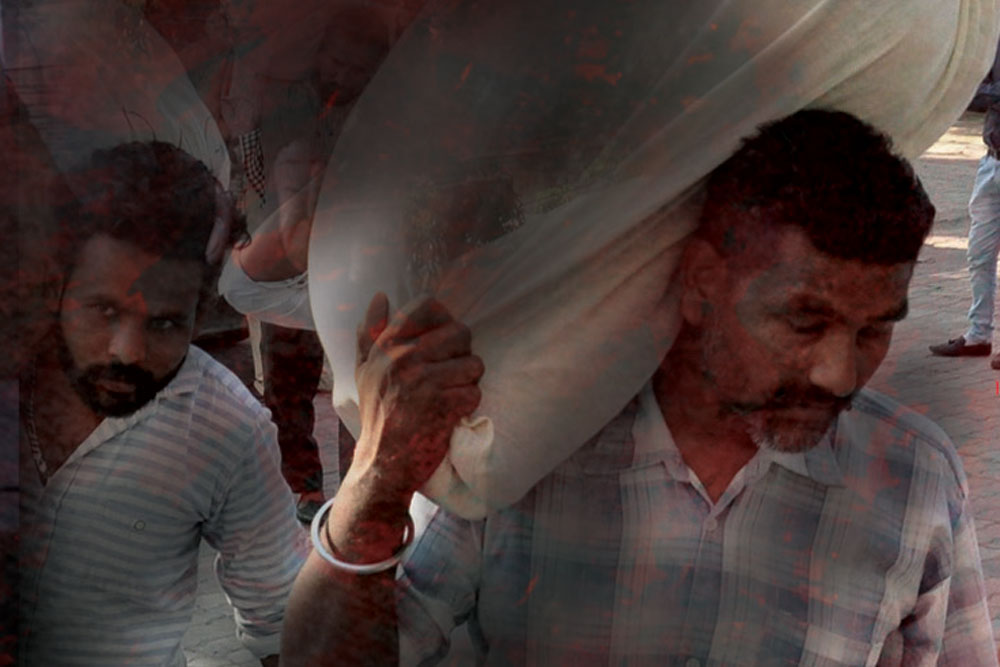 In the last few years, there have been sustained efforts from Pakistan-based terrorist networks to establish an ecosystem of narco-terrorism. In the past, large quantities of drugs have been sent through the International Border, particularly the one in Punjab. The Jammu and Kashmir Director General of Police, Dilbag Singh, said last year that drug smuggling had increased manifold compared to previous years.
In September last year, the police intercepted a truck on the Jammu-Punjab border and recovered several AK-47 rifles, sent for terrorists of Jaish-e-Mohammed operating in Kashmir. These were sent on the directions of Jaish terrorist Ashiq Ahmed Nengroo, a close friend of Ranjit Singh Neeta, who heads the Khalistan Zindabad Force in Pakistan and is one of India's most-wanted terrorists. Intelligence sources believe that after the abrogation of Article 370 in Jammu and Kashmir last year, Pakistan-based terrorist masters are now trying to push drugs on a much bigger scale to give a boost to terrorism in Kashmir Valley. Most of it is high-quality heroin. That is why, apart from the International Border, the LoC route along North Kashmir is also being used extensively.
In April, a former sarpanch, Tariq Ahmed Mir, 30, was arrested in South Kashmir's Shopian. According to the NIA, he had helped in the transportation of 20 kg of heroin to Punjab in return for which he received money to be offered to Hizbul terrorists in Kashmir. A few days earlier, the police in Amritsar arrested Hilal Ahmed Wagay, an associate of Kashmir's main Hizbul commander, Riyaz Naikoo. He had in his possession Rs 29 lakh meant for Naikoo.
A few days later, Naikoo was killed in an encounter with security forces in Kashmir. The same day, Punjab Police arrested two of Wagay's contacts in Amritsar, Bikram Singh and Maninder Singh. It was Bikram who had handed over the money to Wagay for Naikoo. "Out of the money he received from the sale of narcotics, Naikoo would give his local commanders Rs 2.5 lakh every month to run their expenses," says a senior NIA official.
In July, the police arrested three people in Kupwara and recovered 10 kg of brown sugar along with arms and ammunition. In June, the police had arrested a smuggler, Mohammed Altaf, near the LoC in Jammu's Poonch region with 12 kg heroin. He was arrested after his name came up during the interrogation of two youths from South Kashmir, caught a few days earlier with Rs 12 lakh in cash and a packet of heroin.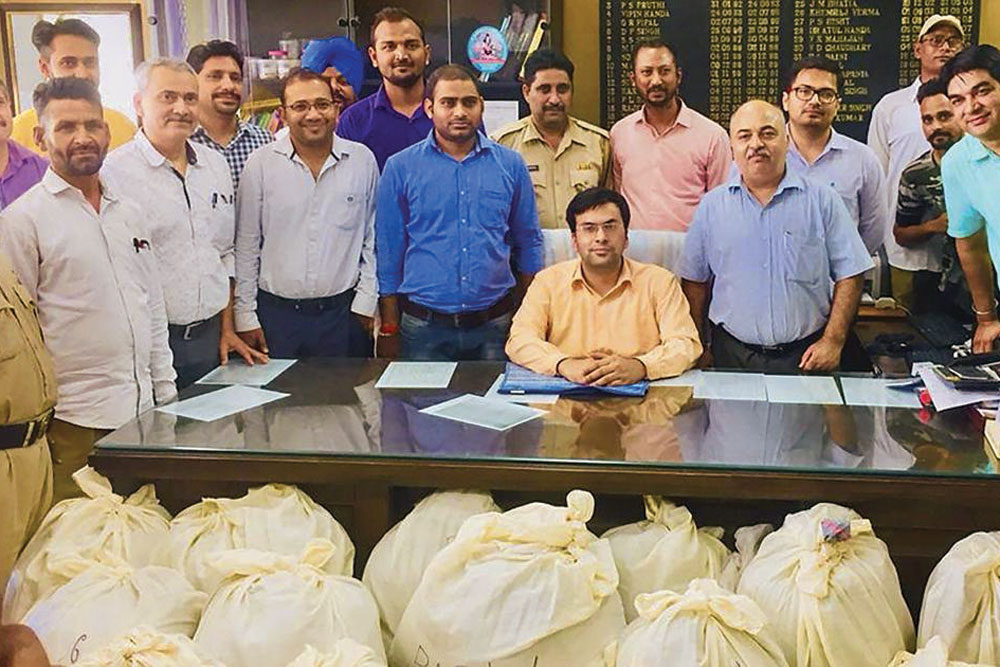 But just how much of these drugs were pushed into India became evident in June last year in perhaps the biggest haul ever by the Customs Department.
On June 26th, 2019, a Pakistani truck with registration number C-1704 drove to the Attari border in Amritsar. The driver unloaded 600 bags of pink salt, which he said was meant for an Amritsar-based businessman, Gurpinder Singh.
As officials opened one of the bags for inspection, they found some suspicious substance. It turned out to be heroin. In all, 15 such bags were found, containing 532 kg of heroin worth Rs 2,000 crore.
As the case was transferred to the NIA, its officials travelled to Amritsar, interrogating scores of people. As they put the evidence together, the NIA found the involvement of an international drug racket, based in Pakistan and Afghanistan. It revealed that many such consignments were smuggled from across the border, the money from which was channelled into funding terrorist activities in Kashmir.
As officials began interrogating Gurpinder and raiding several of his premises, his links with a Kashmiri man, Tariq Lone, came to the fore. Investigators analysing his mobile phone data found that he had contacted Tariq Lone on April 4th, asking him if he had received a call from one Shoaib Noor, the proprietor of Noor and Noor Company in Pakistan. On June 17th, 2019, a few days before the drug consignment was caught at the border, Lone sent him details of a bank account in North Kashmir's Kupwara district (of which Handwara is a part), registered in the name of Shayiq Departmental Stores.
After putting the whole story together, here is what the NIA investigators found: Lone would first receive a call from Afghanistan from a man called Sahil, who has been identified as one Sahil Khan. Sahil, according to sources, enjoys political patronage in Pakistan. The call would be made to tell Lone about the incoming consignment. Gurpinder Singh was found to be in touch with another Pakistani conduit, Amir Bhai, who would send him details of the consignment movement. Sahil then sent money to Lone through hawala channels. Once he received the money, Lone made payments to Gurpinder Singh who used it to make legal payments for customs duties, among other charges. Then he would also make payments into the account of Pakistani exporters from whom he claimed to be receiving items like pink salt. In this case, Singh made a payment through formal banking into the account of Msrs (sic) Global Vision Impex, the purported exporter of pink salt.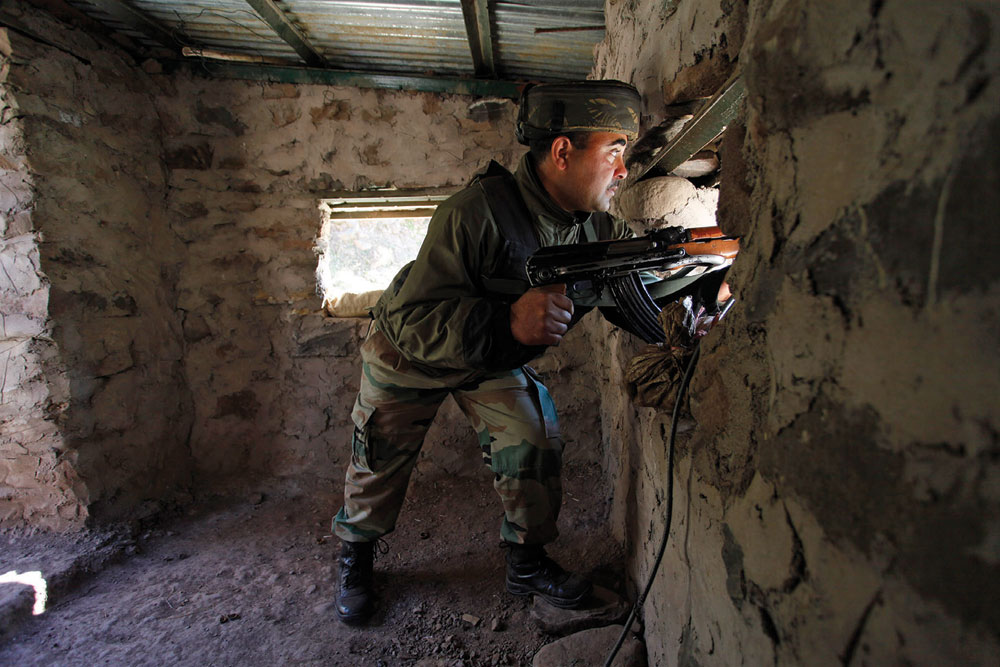 The consignment in question was part of a chain of six assignments, say NIA sources. Records showed that prior to this, Gurpinder Singh had got several consignments of pink salt cleared from the customs. Investigators now believe that these also carried consignments of heroin.
The NIA unearthed an elaborate network of hawala operators helping the drug cartel. One of them turned out to be another Amritsar-based businessman, Amit Gambhir. According to the NIA, it was Gambhir who arranged the transfer of money, which he did through a SIM card acquired under one of his employees' name.
Gambhir, alias Bobby, who ran a shoe store, was arrested in January this year. He was on a vacation in Thailand with his family when the police arrived at his door in Amritsar, after his name surfaced during interrogation. Fearing arrest, he sent his family back and remained in a hotel in Bangkok. After a week or so, he rented an apartment in Pattaya and stayed there from mid-July to mid-October last year.
As he needed a long-time visa, Gambhir spoke to a travel agent in Amritsar who told him that he could arrange a sticker visa through one of his contacts in Kolkata. From Pattaya, Thailand, Gambhir went to Nepal where he stayed in a hotel near Kathmandu's Pashupatinath temple. His father met him there, collected his passport, went to Kolkata to get the visa and then returned to Kathmandu to hand it over to his son.
As the police pressure back home was increasing, Gambhir became very restless. He made another trip to Nepal and then returned to Thailand. In September 2019, finally, he applied for anticipatory bail which was granted by a local court. Gambhir reached IGI airport in New Delhi on the night of October 12th last year and was detained by the authorities.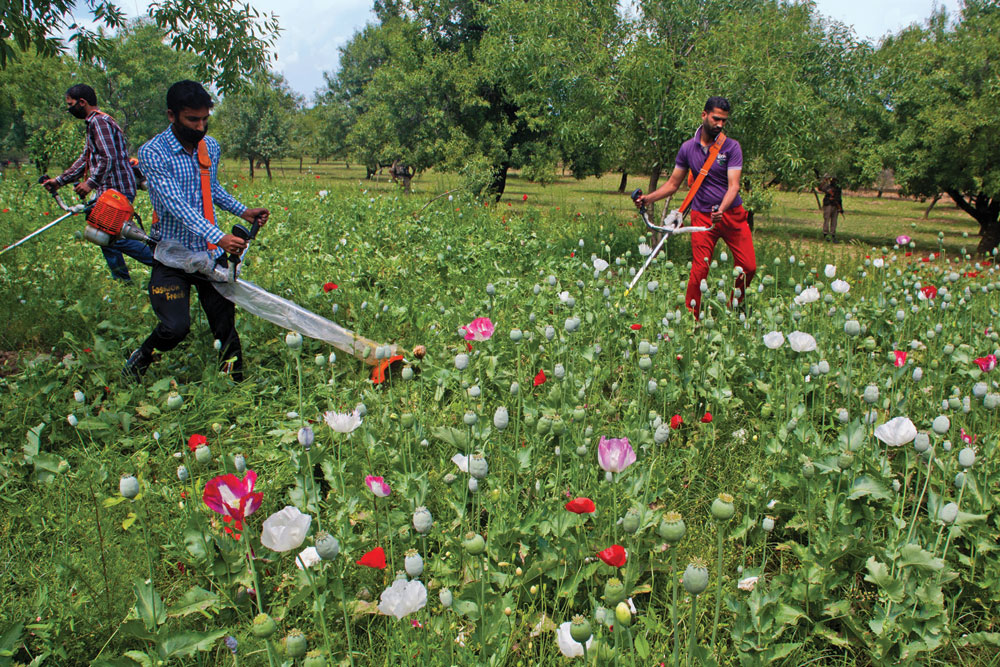 Gurpinder Singh died under mysterious circumstances in Amritsar jail in July last year. Tariq Lone was arrested from Kashmir in August last year.
It was revealed that the network was run at the behest of Ranjeet Singh, alias Cheeta, a resident of Taran Taran in Punjab, and his associate Iqbal Singh. Ranjeet was arrested along with his father Harbhajan Singh and brother Gagandeep from a hideout in Haryana's Sirsa in May this year. Ranjeet had been in touch with Tariq Lone's uncle, Farooq Lone, who had crossed over to Pakistan in the 1990s to become a militant and was now settled in Pakistan.
As Gambhir's questioning began, he admitted that on Iqbal's instructions he had sent money to Alfa Exchange in Dubai through various money changers; it was meant for his Pakistani masters, say NIA sources.
Gambhir was formally arrested on January 3rd. There is a huge trail of the hawala network, which is still being analysed. It has its tentacles spreading out from Punjab through Delhi and Gujarat to Mumbai, Kashmir and Dubai.
BEFORE cross-border trade across the LoC was suspended by the Union Government last year, a lot of drug trade also used to happen by means of this. In 2017, the police apprehended a truck in Uri in Kashmir along the LoC that was carrying Pakistani dress material. "We got suspicious upon inspection because the material was of poor quality whereas the material from Pakistan is usually of high quality," says a senior police officer in Kashmir. As they checked thoroughly, they found 25 kg of heroin concealed inside the boxes. The officials found that the drugs were carried like this several times. Once, says a senior Kashmir police officer, they learnt it was carried in a consignment of hawai chappals. After the drugs reached the handler, the entire consignment of chappals was dumped in Srinagar city's Lal Chowk area.
Apart from this, drugs are also known to be pushed into Kashmir through Gujarat. In September 2018, the Gujarat Anti-Terrorist Squad arrested a Kashmiri drug dealer, Abdul Nazar Thakar, from Srinagar city. It turned out that Thakar was funded by Jaish and was responsible for the transport of drugs from Pakistan to Gujarat through the sea route. These drugs were then sent for sale to drug dealers in Punjab. One of the kingpins of this module was a smuggler called Simranjeet Singh Sandhu, who was detailed in Italy in January this year after a lookout notice was issued for him by Interpol. Sandhu, according to sources, ran a drug syndicate with the help of drug peddlers from Punjab and Kashmir. Police sources say that he carried on this business under the garb of sending cumin seeds from Gujarat to Kashmir. He would also carry drugs from Kashmir to Gujarat, hidden in trucks carrying apples among other local produce.
This year, local terrorist recruitment in Kashmir has come down, except in two districts in the South. "But there is no let-up. Attempts are on by Pakistan to escalate it," says a senior police officer. The Hizbul is facing a shortage of weapons, while the Islamic State in Jammu and Kashmir (ISJK) outfit has been eliminated. "But we have other challenges in the form of the new group TRF, which is nothing but a shadow of Lashkar," he says.
As the focus of the drug trade shifts to North Kashmir, senior police officials say that the influx of money by means of these drugs needs to be curbed. "Since the narco network is spread across several states in India, it requires a sustained coordination among police across these target states," says an NIA official.