The New Delhi Pushback
India dismissed Canadian Prime Minister Justin Trudeau's allegations of an Indian hand in the killing of Khalistani leader Hardeep Nijjar and escalated the showdown with Ottawa to confront its support to terrorist-criminal gangs.

Rajeev Deshpande

Rajeev Deshpande

| 29 Sep, 2023
Ahead of the G20 summit held in Delhi on September 9-10, a small Canadian delegation arrived in India to explore the possibility of injecting some energy into India-Canada ties, particularly the sputtering discussions on a free trade deal. The mission had official blessings even though there was no formal scheduling of its itinerary in India by way of regular diplomatic announcements. The delegation's interactions failed to elicit a positive response and one of its members, a seasoned diplomat and former high commissioner to India Stewart Beck, expressed his disappointment to a senior Bharatiya Janata Party functionary he met at an engagement. Could something be done to change the stasis in India-Canada ties, he asked. But the informal exercise came to naught as the Modi government had made up its mind that Canada needs to demonstrate the will to act against Khalistani groups responsible for murder, extortion and terrorism in India. It was easy to see that India-Canada ties had hit the lowest point, the chill deeper than when Ottawa followed the US in imposing sanctions after the Pohkran II nuclear tests in 1998.
The brief "pull aside" meeting Prime Minister Narendra Modi had with Canadian premier Justin Trudeau during the G20 engagements was much less than a bilateral and rather short and to the point. The icy seven-sentence press release issued by the Indian government said Modi expressed "strong concerns" about continuing anti-India activities of extremist elements in Canada. "They are promoting secessionism and inciting violence against Indian diplomats, damaging diplomatic premises, and threatening the Indian community in Canada and their places of worship. The nexus of such forces with organized crime, drug syndicates and human trafficking should be a concern for Canada as well. It is essential for the two countries to cooperate in dealing with such threats," the release said. It was clear that India's patience had run out. Sources said the meeting itself was pretty much what the official account stated, conveying the message that any progress in bilateral ties hinged on credible action against criminal gangs targeting Indian interests. It was fairly apparent at the G20 summit that none of the other visiting leaders had a particular interest in their interactions with Trudeau. It was a far cry from the time when he was seen as a photogenic icon of liberal politics with an international fan following. Stung by the brusque treatment he received, Trudeau stuck to stating how Canada valued freedom of expression and peaceful protest in his media comments in India. A promise to prevent violence and push back against hatred seemed an afterthought. To Canadian leader's chagrin, his aircraft developed a snag forcing an extended layover. The Indian side offered him alternate aircraft which was declined after some consideration. Just how hollow the pledge to contain hatred and violence was became evident when a video surfaced within days of the Modi-Trudeau meeting of Sikhs for Justice (banned in India for espousing terrorism and its links with Pakistan's Inter-Services Agency) leader Gurpatwant Singh Pannun calling for the "political death" of Modi, home minister Amit Shah and foreign minister S Jaishankar. The so-called "referendum" on Khalistan was held at the Surrey gurudwara which had been the base of Khalistani leader Hardeep Singh Nijjar, shot by unidentified gunmen in June, and who is now at the centre of the spat between New Delhi and Ottawa. According to reports, the turnout at the referendum at Surrey was disappointing and its organisers announced another date to shore up numbers. It was quite plain that Trudeau had no intention of altering his deliberate policy of indulging Khalistani groups despite mounting evidence of their criminal activities including violation of Canadian laws. The free run of Khalistanis and criminal syndicates on Canadian soil was again on display when another on-the-run Punjab gangster Sukha Duneke was gunned down in Winnipeg with jailed criminal mastermind Lawrence Bishnoi's outfit claiming responsibility. In a chilling scene that could have been taken straight from a crime thriller, Duneke's assailants confronted him with his role in the death of a relative of a Goldy Brar, a key Bishnoi associate, also based in Canada, before shooting him.
With falling ratings, Trudeau perhaps hopes his showdown with India will prop up his image and also solidify support of the Sikh population, the largest religious denomination after Christianity
Not long after he finally left India, Trudeau told the Canadian parliament on September 18 that investigators were following what were "credible allegations" of a "potential link" between India and the killing of Nijjar. India dismissed the allegations as absurd and followed up by calling Canada a haven for terrorism and crime. India highlighted inaction against several individuals residing in Canada despite detailed evidence of their illegal activities and pending Red Corner Notices shared with Canadian authorities. Subsequent reports in the Canadian and US media said Canada based its allegations on human and technical surveillance and that US provided the "context" for Trudeau's extraordinary claims. It was further said the intel was shared among the "Five Eyes" grouping of US, Canada, UK, Australia and New Zealand. To date, the nature of the evidence has not been made public and Jaishankar, in comments made in New York where he was present for the annual meeting of the UN general assembly, said India is willing to consider relevant facts if they are made available. In his address to the UNGA he went several steps further, accusing older powers of doublespeak on terrorism. Though he did not name any nation, the current context was plain enough. The Biden administration's statement on the Nijjar case that "(The US) is deeply concerned by the allegations referenced by the Canadian prime minister…we believe it is critical that Canada's investigation proceed and the perpetrators be brought to justice. We have urged the Indian government publicly and privately to cooperate in the Canadian investigation" seems to tilt towards Canada. Jaishankar's rebuttal was direct and unambiguous. "We often advocate the promotion of a rules-based order from time to time…but for all the talk it is still a few nations that shape the agenda. This cannot go on indefinitely, nor will it go unchallenged…Rule makers should not subjugate rule takers…Nor must (it) be countenanced that political convenience determines responses to terrorism, extremism and violence," he said. Speaking at a Council for Foreign Affairs event, he said Canada has been "permissive" to organised crime and violent extremism. "We told the Canadians, look, if you have something specific, if you have something relevant, let us know. We are open to looking at," he said. The official view in New Delhi with regard to the US statements is more nuanced. "US is a treaty ally of Canada. The statements can be seen as the bare minimum that Washington will do in such a situation," said an official source. Other commentators feel US and Canada are deeply meshed with bilateral trade of US $ 3 billion a day. It can be argued that the US could have said a little less, but then like other major economies it does not want to rock the boat with India either.
Indian commentators while noting the downward spiral in India-Canada ties, expressed surprise at Trudeau's statement. "I am surprised that the Canadian Prime Minister could make a statement on what appears very speculative claims. No evidence has been presented that could warrant such an extraordinary allegation," Vishnu Prasad, former high commissioner to Canada told Open. It does appear, feel commentators familiar with Canada's politics, that Trudeau has placed personal political gain over all other considerations as such allegations are not levelled lightly against a friendly country. And India and Canada were not daggers drawn, at least till the recent developments.
While phrases like "credible allegation" and "potential links" test common comprehension India's response did not stop at a tit-for-tat expulsion of diplomats. Taking a page out of game theory, Modi escalated matters with a suspension of visa services in Canada. As has been the case with the Prime Minister's responses to much more difficult challenges, the risk was well-calculated. The decision was intended to convey India's preparedness to go beyond diplomatic hissing and spitting but was nonetheless a calibrated response. It is telling that the Indian decision to suspend visa services has not drawn a corresponding action. Not only do Indian students provide significant revenues to Canadian universities, restricting visas will directly affect many aspiring travellers from Punjab who relate to the very constituencies Trudeau is catering to. It is revealing that at a time when the diplomatic row made headlines, long-serving JP Morgan Chase CEO Jamie Dimon was in India and told the media that the firm's profile has risen from 6,000 hires in 2005 to 50,000 and its global capacity centres in India do everything that the company does elsewhere including data science, cyber and research. The Canada Pension Plan Investment Board has steadily scaled up its investments in Indian listed and private companies. In September last year, the Ontario Teachers Pension Plan opened an office in Mumbai amid plans to expand its portfolio of Canadian dollars 3 billion in India. The interest of pension funds is seen as a good sign for an economy as it indicates a long-term commitment that such investors seek. One of the world's largest pension funds, the OTPP sees India as part of a key strategy to reach a target of Canadian dollars 300 billion in net assets by 2030. India's growing economy and its welcoming stance towards foreign investment offers significant benefits to Canadian investors even if Trudeau's politics caters to virulently anti-India groups who have not been so emboldened since the assassination of Indira Gandhi. A suspension of Visa services hurts Canadian business travellers who are coming to India in increasing numbers.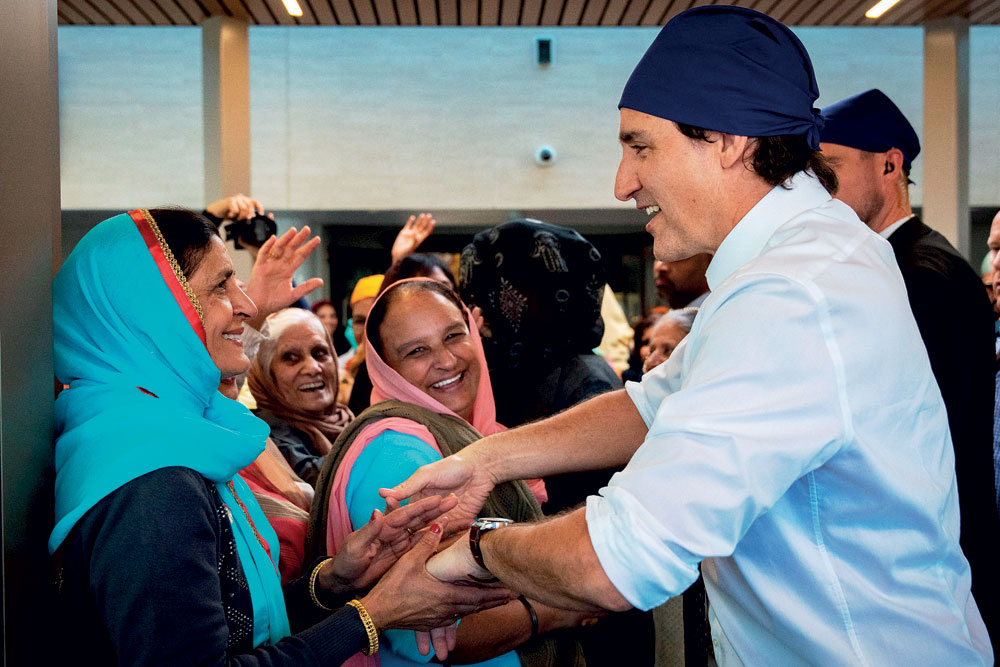 The story of how India-Canada relations fell off the precipice when they looked to prosper not too long back lies in a previous election and one that might be soon at hand. Trudeau won his third term in 2021 after calling an early election which many commentators labelled as an "election one that no one wants". The intention was to beat rising heat over a corruption scandal involving construction company SNC-Lavalin and sharp discontent over Covid restrictions but Trudeau's Liberals could manage only a minority government that came to depend on New Democrats led by the pro-Khalistan Jagmeet Singh. Interestingly, Singh has now begun to lash out at Trudeau, saying that the Prime Minister is not interested in change needed to tackle looming problems like a housing crisis and stagnant wages. "Justin Trudeau's housing crisis has left students struggling to find a home. Instead of blaming students, we must implement immediate solutions," Singh said in a video posted on X on September 26. Though the federal elections are due only in October, 2025, there is speculation they might be held as early as the coming fall. But some analysts doubt Trudeau will call for polls when the Conservatives are leading in ratings. Also, while Singh has no compunctions in criticising Trudeau, he knows the Prime Minister cannot break the alliance very easily. Trudeau has benefitted from Sikh votes and clearly sees them as a vote bank he cannot forgo. The dalliance with Khalistanis is not new. In 2015 when Modi met Trudeau, who was then leader of Opposition, he found the Canadian leader evasive on the issue of Khalistani activities. There is a near consensus among commentators that the current dynamics of the Canadian parliament may see the Trudeau government last much longer. As Singh's comments suggest, the New Democrats are looking to contest on an independent agenda and are seeking to distance themselves from the perceived downsides of the Liberal Party government. With falling ratings, Trudeau perhaps hopes his showdown with India will prop his image and solidify support of the Sikh population, the largest religious denomination after Christianity.
There is no clarity whether Trudeau's overtures to Khalistanis will gain him the broader support of the Sikh community as reports indicate, and as evidenced by the lukewarm response to the referendum, there is no outpouring in favour of Pannun and Co. While many Canada-based Sikhs distance themselves from the provocative actions of the SFJ, they choose not to confront the trouble-makers as Khalistanis control several gurudwaras where posters eulogising terrorists "martyred" in Punjab are a common sight. Since Khalistanis tend to be assertive, the moderates keep a low profile. Apart from Sikh groups, other Indian communities are not as well organised and largely stay away from activism and carry on with the job of earning their livelihoods. On the other hand, Khalistan advocates collect funds which they use to support low-skilled migrants from India and use them in protests against Indian diplomatic establishments. On the flip side, Indian communities in Canada were at the forefront of welcoming Modi when he visited the country in 2015. The public reception at Toronto was a big success with then prime minister Stephen Harper accompanying Modi to the large venue called the Ricoh Coliseum. Among the hosts who acted as a moderator was Beck who was high commissioner to India when Modi won the 2014 Lok Sabha election. Approached by the Bharatiya Janata Party foreign affairs department, he readily agreed to be part of the reception. It was a time of hope for India-Canada relations with Ottawa agreeing to supply Uranium for Indian reactors. A free trade pact, already in the works for five years, seemed more likely given Modi's reformist agenda. Harper's Conservatives lost in the election held later that year paving the way for Trudeau who won a majority. But by 2019, the mood had changed and though the Conservatives could not unseat Trudeau, the leader ended up weakened, leading a minority government with falling domestic and global ratings and more dependent on the extremists.
Trudeau is now facing intense questioning in the Canadian media and in the parliament as well. Opposition leaders are asking him to make good claims that there is evidence of an Indian hand in the death of Nijjar. Though he has said more evidence is forthcoming, this is yet to materialise
Trudeau is now facing intense questioning in the Canadian media and in the parliament as well. Opposition leaders are asking him to make good claims that there is evidence of an Indian hand in the death of Nijjar. Though he has said more evidence is forthcoming, this is yet to materialise. The claim that Indian diplomats were "tapped" and their conversations suggested links to Nijjar's death lack credibility and seem more like casual chatter rather than any concrete planning even the use of "off air" interceptions against a country that is not an hostile power raises a different set of questions. Though concern has been expressed various quarters, there is no condemnation from any G20 or Quad nation. At a time when the Ukraine war and the threat of the Russia-China axis occupies the mind space of western leaders, there is no interest in opening an unnecessary front in the absence of a smoking gun. Almost all nations have bigger fish to fry even if it suits a section of the commentariat to try and paint Indian as a nation that sanctions extra-territorial assassinations. But these are the same commentators who have constantly harped on alleged "democratic backsliding" in India ignoring the robust competitiveness of Indian politics, the oversight of the judiciary and a vibrant and active media. Nijjar's involvement in separatism and illicit activities exposed him to deadly rivalries and interests. He was seen to have a hand in the death of a former Khalistani Ripudaman Malik and gurudwara politics is seen as a cash rich arena. In the murky world of Khalistani groups and their nexus with arms and terrorism, just who pulled the trigger on Nijjar is likely to remain in the realm of speculation and possibilities.