It is close to 11 at night when Shunty stretches out in the backseat of his car, his home for the last 17 days. Outside, the night is complete. Darkness has filled the parking lot; even the overworked Seemapuri crematorium nearby is silent. It stays quiet like this except when it is ruptured occasionally by the terrifying wail of the passing ambulance.
Suddenly, with a loud ring, the blue light of Shunty's mobile fills his car. There is a dead body in a hospital, the person on the other side of the line says, and it needs cremation. It is probably a relative of the deceased person. The voice has a strained quality to it. Shunty goes through his routine—noting down the names of the hospital and of the deceased.
He does not offer comfort. He is too tired and numb for that. He does, however, provide an assurance. "At 7AM, my men will be there with the ambulance." And then, hanging up the phone, he tries to catch what little sleep he can.
Jitender Singh, or Shunty, as he is popularly known, helps burn bodies. He is a distinct presence in the Seemapuri cremation ground. He can be seen often in his makeshift office—just a table and a chair—at the cremation ground, dressed in a colourful turban, a blue personal protective equipment (PPE) suit wrapped around him and a pair of industrial goggles over his eyes, noting with diligence the details of the deceased in a huge ledger. At other times, he is beside one of his 18 ambulances refashioned into hearses, spraying sanitiser over a body just brought in. But most often, he stands by the pyres, watching the bodies burn. Many times, when people nearby break down, Shunty remains unmoved. But sometimes he wraps his arms around them.
Shunty is a remarkable man. A former member of the legislative Assembly in Delhi, he has been cremating unclaimed bodies, as part of the NGO (Shaheed Bhagat Singh Sewa Dal) he formed, for over 25 years. He has at his disposal 18 ambulances-cum-hearses and a staff of over 22 men. Before Covid struck, he would help cremate about four to five bodies a day. Since last month, he has been cremating almost 100 bodies daily, once even going up to 118 in a single day. A few weeks ago, he, along with a few others, broke down a small wall that separated the cremation ground from the parking area, so that more space could be made.
"Even last year during the first wave (in Delhi), I burnt 967 bodies. But since April 12th, I have already cremated 1,963 bodies," he says.
His staffers crisscross the city in their hearses all day, collecting bodies from homes and hospitals. Wrapped in shrouds and disinfected, they are then burnt in small pyres. "People are unwilling to touch bodies now. Even relatives and neighbours don't want to help," Shunty says. "In some cases, I will get calls from abroad, because their parents have died alone in the house and nobody is there to burn them," he says.
The job is not without its perils. Shunty got infected with Covid-19 last year, and spent several days in hospital. The rest of his family—his two sons and wife—also tested positive at various points in time. Many of his employees have fallen sick. And about a week ago, one of his ambulance drivers died of Covid.
Most of his employees have made arrangements to sleep elsewhere, not returning home for fear of spreading the infection. Even Shunty sleeps in his car. He washes himself in the parking area before turning to his vehicle. He will send his hearses only at 7AM, but his phone will ring from 5AM through the day and late into the night. The calls would often be from anguished relatives.
It is hard work, both physically and emotionally. "Someone has to do it. Otherwise what will happen to all these bodies?" he asks.
People like Shunty, as remarkable as they are, are not alone. In this terrifying surge of Covid cases, when it has often seemed it's every man for himself—whether securing a hospital bed or getting a medicine or an oxygen cylinder—it is individuals like Shunty, complete strangers, who have come forward. They are filling the gaps in the system. They are helping cremate the dead; find drugs, hospital beds and oxygen cylinders; cooking for the sick; checking up on them and, when nothing helps, offering just some solace.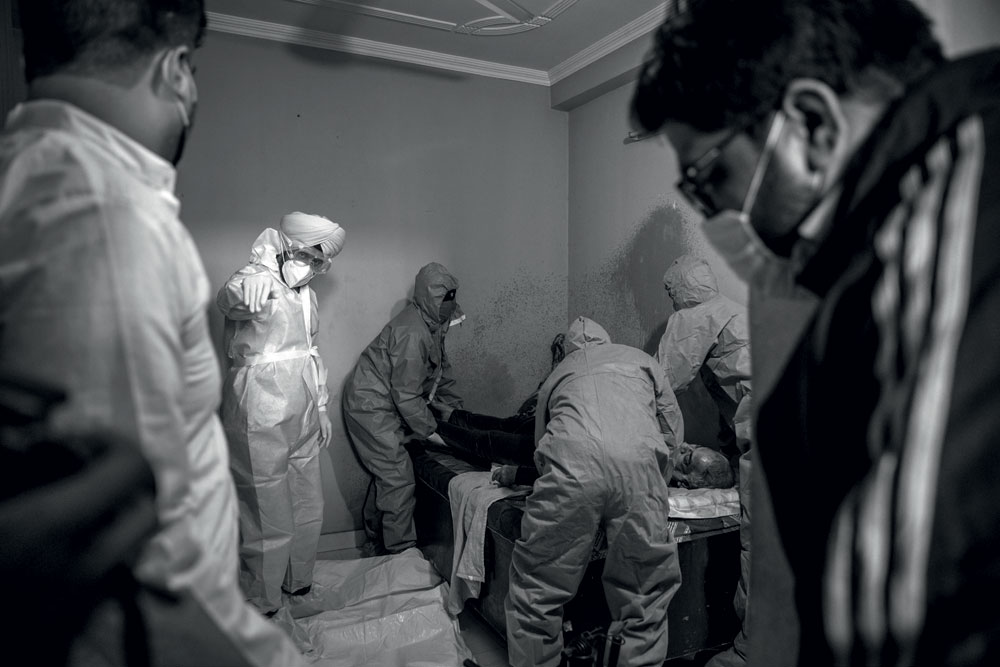 Devendra Sharma, a 38-year-old teacher in Jharkhand drove over 1,300 kilometres from Ranchi to Ghaziabad for about 24 hours to deliver an oxygen cylinder for his friend in distress. A doctor couple in Mumbai, Marcus and Raina Ranney, have so far collected 20 kilograms of unused Covid-19 medicines from recovered patients that, once sorted, is donated to rural areas. Elsewhere in Mumbai, a mother-son duo, Heena and Harsh Mandavia, along with a few volunteers, have cooked over 22,000 meals for the needy. Gurudwaras in different cities are organising oxygen langars.
These rescue networks, whether online or on the ground, came up within just days of the second wave beginning. Many of these are individuals working through their own grief. It may not be enough, but it is something.
Arnab Biswas used to share pleas for help and messages of individuals and organisations providing relief online like many others when it occurred to him that the information was becoming unwieldy and difficult to track. He set up a Discord group, where requests and relief efforts could be grouped according to their locations.
This group, called Covid Fighters (India), has now grown to become one of the largest Covid-19 volunteer relief groups in India. There are over 12,000 people in the group and the page itself has expanded into an organised and resourceful medium. There are multiple channels, from location-specific requests and relief efforts to channels where people can consult doctors who are members of the group, or even channels where those suffering from stress can seek the help of others as well as channels where drug black-marketers can be blacklisted.
His employees have made arrangements to sleep elsewhere, not returning home. Shunty sleeps in his car. He sends his hearses only at 7 am, but his phone rings from 5 am
There is also a volunteer group of about 200 who are part of this larger group, comprising mostly college students, further divided into teams that search for medicines, hospital beds and oxygen cylinders. They take requests for help and also update a Google spreadsheet for Covid-related resources. This spreadsheet, which lists the availability of necessities like hospital beds, drugs and oxygen cylinders in various cities, is available to all online but can only be edited by the volunteer group. Every three hours or so, the spreadsheet gets edited so that the information is always up to date.
The group has also created a Twitter and an Instagram account run by bots that share the information being put up on the Discord page and which, every time someone fills a form seeking plasma for a patient, automatically notifies various plasma banks and collection centres.
"We needed to do this to make everything as streamlined and organised as possible," says Biswas, a 25-year-old who works at a consultancy in Delhi. "Otherwise even if you have the best intentions, it becomes very difficult to help."
Until recently, most requests were driven by the surge in Delhi and Maharashtra. But now, he says, they are gradually being replaced by requests from cities like Bengaluru and Chennai.
Their efforts had become especially taxing about a week ago when they were besieged by phone calls and messages through the day and night. "Many of these volunteers are kids. They don't understand they are going through a burnout. You become emotionally invested in helping someone out," he says. "At the end of the day, we are not doctors. We are just volunteers. And sometimes you have to realise, whatever you do, you won't be able to help. But it becomes difficult to understand this during such a time," he says.
Apart from expanding the Discord group's focus to more remote areas such as the Northeast and other rural areas in India, Biswas is now also working towards expanding vaccination efforts among the poor and less technologically adept. Since every phone number can be used to register up to four individuals for vaccination, and typically most middle and higher income families utilise several phone numbers, he is trying to get them to utilise unused phone numbers to register others. "There are so many people who are our drivers, maids or watchmen, or others outside, many of whom are not getting vaccinated. We hope we can change some of that," he says.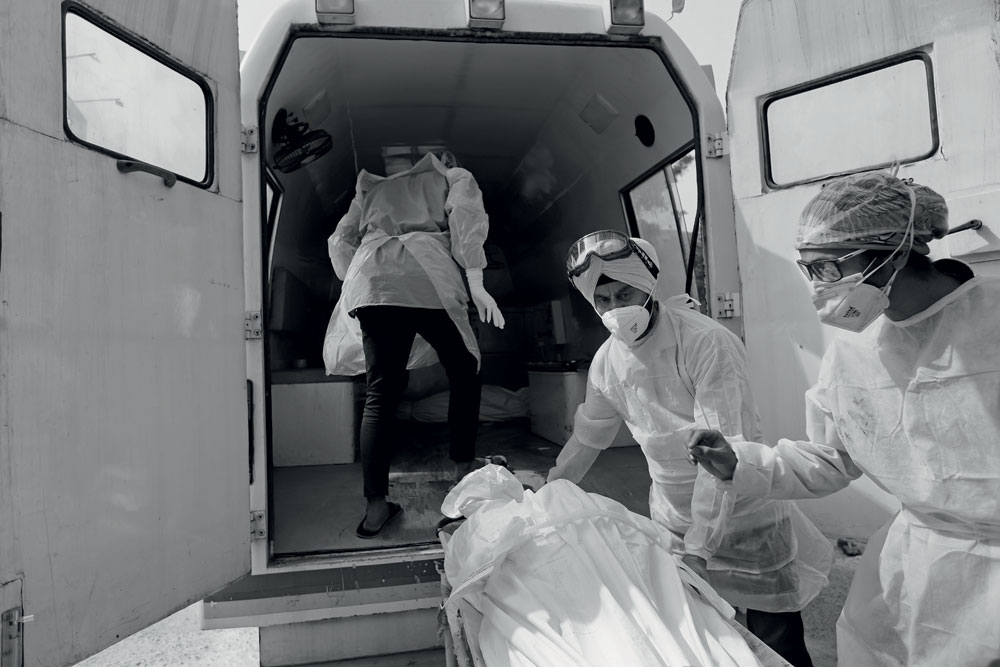 Currently, a form is being filled by those interested in registering others. And Biswas will soon form a volunteer group to ring each such individual to see if they have registered others, or if they need some help in doing so.
Another group, who call themselves Help Riders and who operate in Pune, Aurangabad and Pimpri Chinchwad in Maharashtra, conduct most of their relief work through WhatsApp. There are about 2,500 individuals across 10 Help Riders' WhatsApp groups who raise requests within these groups and mobilise their individual networks to fulfil them.
Begun three years ago with two ambulances to help accident victims reach hospitals quickly, the founder of the Help Riders group, Prashant Kanojia, says the group has morphed into its present iteration to help in the current crisis. Several parts of Maharashtra were reeling under the second wave before other parts of the country and in those initial weeks, before some measure of control was restored, the Help Riders group assisted people from these areas. "It was very difficult because things like ambulances, hospital beds and drugs were not available. If you called up the municipal helpline, or hospitals, you could never get connected, or they wouldn't be able to help," Kanojia says.
Volunteers are filling the gaps in the system. They cremate the dead; find drugs, hospital beds and oxygen; cook for the sick. When nothing helps, they offer solace
For now, the group is focusing on plasma collection. His group, Kanojia says, has sourced a list of patients who have recovered in the Pune area from municipal authorities, and are now beginning to call and request them to donate their blood for plasma collection.
While requests for help have relatively fallen in number in these areas, there are still some issues, Kanojia says, such as the shortage of ventilators. A few weeks ago, a 44-year-old member of the group succumbed to the virus. He needed a ventilator, Kanojia says, but couldn't get access to one.
"When you are unable to help one of your own, it feels especially difficult, like you have failed in some way," he says.
This feeling of guilt is a common refrain among many volunteers. Kanojia talks about it. And so does Biswas when talking about the burnout his young volunteers experience. Shunty was heartbroken, he says, when, despite having managed to get his staffer admitted to hospital, he died.
Rashmi Bakshi knows grief only too well. But every time she sank into depression, her one true passion—cooking—came to her aid. It was the case when, back in 2013, having undergone a surgery for breast cancer and chemotherapy, she emerged from depression by cooking her way out. She started a catering business, at one point even entered Masterchef India as a participant. She laughs as she describes these memories. How, after moving to Mumbai as a young bride, she was rejected by a catering college because its authorities thought she would become pregnant and discontinue her course. "I decided then and there," she says. "I would have a career in cooking and I would do it without a degree."
Then last year, her parents, who lived in Jaipur, contracted Covid. When her father died after several days of hospitalisation, without Bakshi being able to meet him, cooking began to seem a futile exercise. Her mother, now in her 80s, who had also gone through a difficult period of hospitalisation because of Covid, recovered and moved in with her, but it didn't help Bakshi. She discontinued her catering business.
"I was going through a depression," she says.
Last month, her daughter, the actress Amrita Prakash, who has been working with several NGOs in Covid-related relief work, came to her with a proposal. The second wave had brought with it a desperate need for essentials like drugs and hospital beds. But there was also a need for good home-cooked meals.
"My daughter was asking me if I could cook and help out some people," Bakshi says. She agreed.
"The difference in this wave has been that in many cases, an entire family has been infected. Last year, neighbours might have helped with meals, but even they are struggling with cases," Bakshi says.
So, every evening for over a month now, her daughter gives Bakshi a list of the meals to be cooked for the next day. The family's driver is sent out with a list of vegetables to be purchased. Bakshi and her mother whip up the meals. Usually, meal preferences are provided, but when they aren't, Bakshi avoids repetition. "If I gave rotis for lunch, and I find out it is the same person, then maybe I will change it to parathas instead for dinner," she says.
There are many others like Bakshi preparing meals in different cities for complete strangers, sometimes for free or for a nominal fee. A Mumbai-based chef, Saransh Goila, has created a website—Covid Meals For India—born of a Google document, where people affected by Covid can look up and contact cooks like Bakshi.
Although the people Bakshi cooks for change every day, and she never gets to know them, occasionally her daughter will show her a message of thanks from one of them.
"It feels so nice," she says. "You get to feel that, for a short time, you have given someone in pain some comfort."