ABBAS SIDDIQUI HAS changed.
Abbas Siddiqui is changing. Abbas Siddiqui will change.
These are the unlikely but general statements churned out by Left leaders in West Bengal, mostly privately, justifying their collaboration with a new and untested party floated on January 21st by this 34-year-old pirzada, a cleric, of the shrine of Furfura Sharif in West Bengal's Hooghly district. Siddiqui was known in the past for his aggressive speeches, pugnacious political posturing and toxic masculinity. And therefore, to suggest that he has changed his ways becomes a burden on anyone who aligns with him.
Communist Party of India-Marxist (CPM) politburo member Mohammed Salim—once a firebrand who in 2019 contested from the Raiganj Lok Sabha seat and lost his security deposit—goes a step further. "Till now they have been calling me an anti-national and asking me to go to Pakistan. The corporate media is now after Siddiqui, calling him a fanatic. His new party is not created to fight for Muslim rights alone, but also for Tribals and lower castes in the state," the former lawmaker argues. That is an uncharacteristic statement from a leader of CPM, which has vowed not only to keep equidistance from so-called communal parties of all hues, but also has in the past decades taken decisions in various pockets of its influence to stick to its ideological position even at the cost of risking splits within the Marxist fold. Such a tactic was considered inviolable and any capitulation of values on that front was considered unpardonable and attracted punishment, with extreme bias.
But times are changing.
Siddiqui's Indian Secular Front (ISF) made its entry into what was otherwise an opportunistic alliance, a distant third front of sorts, between the CPM-led Left Front and Congress in the most dramatic of ways. It almost suggests that CPM was ready to accommodate this new political outfit as if there was no alternative in this election, considered a battle for supremacy between the Bharatiya Janata Party (BJP) and the incumbent Mamata Banerjee-led Trinamool Congress (TMC) government.
The February 28th Brigade Parade Ground rally in Kolkata was unique on many counts: it was the first joint rally by Congress and CPM although they had joined hands to contest polls before to take on the might of the ruling TMC. According to those who were at the rally, it was Siddiqui who was the biggest mobiliser of people there, and not CPM, which had, during its uninterrupted reign of 34 years in the state, organised many bigger events. Resting on past laurels doesn't click in politics, yet the fact that CPM had to lean on Siddiqui, an ambitious young man with no experience in politics and who mouths expletives and misogynistic remarks with no sense of foreboding, is a telling statement on the predicament of a party that had presided over the destiny of the millions of people of this fourth most-populous state in the country till just a decade ago.
More importantly, as professor Sumantra Bose of the London School of Economics says of the Congress-Left alliance, "Drowning men may clutch at each other for dear life as they go down, but that makes no difference to their fate." So, is the Left alliance looking at Siddiqui as a rainmaker out of sheer desperation? Let's not forget that alliance-building in West Bengal has not been to CPM's advantage: it was Congress that gained relatively from the alliance arithmetic while the biggest loser in the 2016 Assembly election was CPM. Congress got CPM votes, but the reverse transfer of votes did not happen.
Amid strong rumours of CPM's excessive dependence on Siddiqui, some Marxist leaders, including Salim, have denied anything more than an equal alliance. But he added that with Siddiqui on their side, the alliance will do well in south Bengal and make an impact. Certainly, his focus is on pulling in Muslim votes that he expects the seemingly popular Siddiqui can manage, but experts are divided on whether popular appeal can actually translate into votes.
Indications of the Left's reliance on Siddiqui were perhaps obvious from the latter's demeanour at the Brigade rally where the ISF leader arrived late to a hero's welcome, and Congress leader Adhir Ranjan Chowdhury had to halt his speech as the crowds erupted in shouts and craned their necks to get a view of the young leader. It is said that Chowdhury had to be persuaded by Left leaders to continue his speech because he was visibly upset with the loud cheering that disrupted him midway. Siddiqui, who spoke soon afterwards, launched into an attack on Chief Minister Mamata Banerjee while appealing to the people to vote for Left candidates. He also indirectly attacked Congress, saying he wasn't there as a beggar or to massage anyone's ego, but as an equal partner. According to reports, many ISF youth dispersed after Siddiqui's speech. The other two constituents had to stomach all this with a grin, apparently anticipating that they will gain Muslim votes.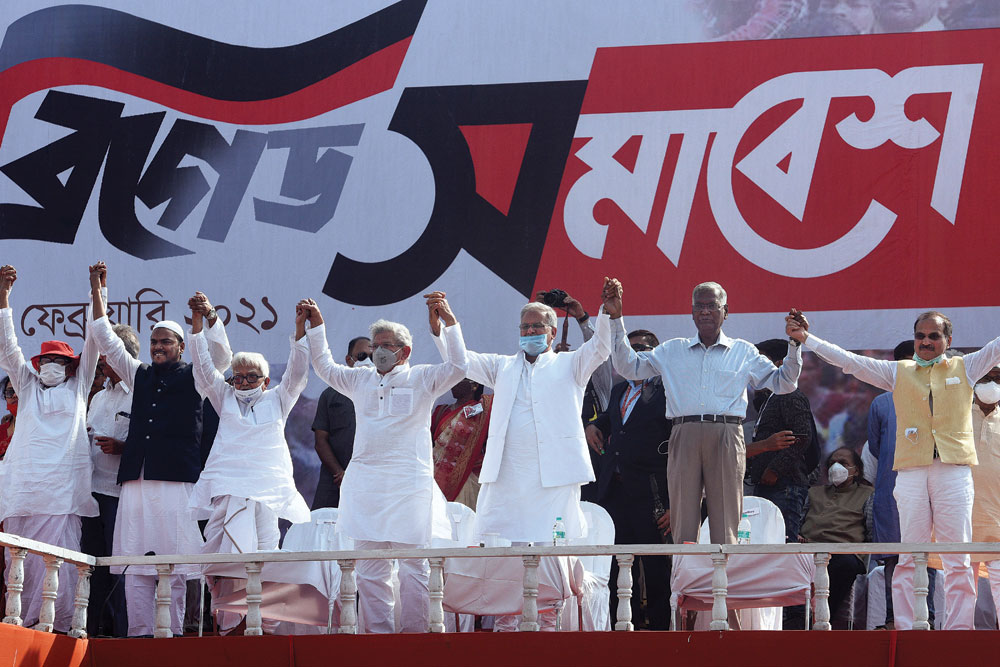 Notably, Siddiqui targeted the incumbent state government at the rally for not doing enough to secure the safety of women. "His ideas were very regressive to start with. His comments appeal only to a certain section of people because they are not politically correct," notes Maidul Islam, political science professor at the Centre for Studies in Social Sciences, Kolkata. Abrasive political statements are par for the course in Indian politics, and yet some of Siddiqui's outbursts stand out. According to Islam, it could be that the Left is aware of its shrinking base among young voters who appear keen to vote for either TMC or BJP. "Siddiqui is attracting a lot of crowds, especially among the most disadvantaged and partially literate and illiterate groups. 'Let's take a chance. We will experiment considering the dwindling support'—that may be the thinking on the part of the Left," he suggests.
Siddiqui, Islam informs, is the descendant of a much-respected mystique, Hazrat Abu Baqar Siddique, who is believed to be the 31st descendant of Khalifa Aboobacker, first Caliph of the Rashidun Caliphate and the leader of the Muslim community after the death of Prophet Muhammad. Furfura Sharif is a Sufi pilgrimage site and, therefore, Siddiqui is facing opposition from within his family for joining active politics. His uncle Toha Siddiqui, pirzada of Furfura Sharif, has called Abbas a "kid". In an interview to a TV channel, Toha Siddiqui said that his nephew has associated himself with a front that said madrassas were a haven of terrorist activity. He poked fun at him, calling him a "comrade". For his part, Abbas Siddiqui has said that such statements don't deserve any response, adding that he was working for the good of the state and to fight BJP, which, according to him, is not good for West Bengal.
FOR ALL HIS lineage, the ISF leader displays what Islam scholar Zeenat Shaukat Ali calls "madrassa culture", which she says is rampant among a large section of believers. She had said earlier in an interview to Open that Islam is living in the world of medievalism. The madrassa-culture statement comes in response to Siddiqui's intemperate and abusive language on women.
Siddiqui had earned notoriety for abusing Member of Parliament and actor Nusrat Jahan, who is a TMC member and represents the Basirhat constituency in Lok Sabha. A video of him hollering says: "Today, the Basirhat MP has to answer us. If she enters this neighbourhood, you have the duty to ask that we voted for you and made you win with the aim that if there are any troubles, you will tackle them on our behalf. You will go to Lok Sabha and shout about it. But what were you doing? What were you doing? Shameless!"
His tirade didn't end with asking Jahan to raise her voice for Muslims in Parliament. He went on, "Those who sell their body to make money…But what were you doing? What were you doing? Were you making films? Those who earn money by selling their body…you have made them MPs? Those who sell their body…it means they can also sell the country." Neither Siddiqui nor Jahan responded to queries from Open about this remark. For her part, Zeenat Shaukat Ali, who has taught Islamic history at St Xavier's College, says, "In Islam there is no role for clerics. Such positions are un-Islamic and worse is the use of such positions for political control."
Golam Rabbani, a doctoral student at Sikkim University, who is originally a resident of South Dinajpur and belongs to a political family, agrees with Maidul Islam's suggestion that maybe Siddiqui belongs to a new crop of leaders using their religious influence to do well in politics. An example both cite is that of TMC leader Siddiqullah Chowdhury who is associated with the Jamiat Ulema-e-Hind and was at the forefront of the Nandigram agitation. They say there are similar figures now from other religions as well who could have influenced people like Siddiqui.
The fact that CPM has to lean on Siddiqui, an ambitious young man with no experience in politics and who often makes misogynistic remarks, is a telling statement on the predicament of a party that once believed it was meant to rule West Bengal forever
Finally, it all boils down to the Muslim vote in a state which, according to numbers from the 2011 Census, is home to close to 25 million Muslims who account for 28 per cent of the state's population. Close to 70 per cent are Hindus and the rest, 'Others'. Over the one decade before the Census was carried out, there was a 14 per cent growth in the state's population compared with 18 per cent a decade earlier. Some politicians have selectively used these numbers to argue that migration from Bangladesh, through porous borders, and a rapid rise in the Muslim population had contributed to this growth. Others argue that the Muslim population in the state is much more than the official figure. In West Bengal, which has the second highest Muslim population in India, TMC won 70 per cent of the votes in the 2019 Lok Sabha election, according to the Centre for the Study of Developing Societies (CSDS). With BJP expected to attract Hindu votes in large numbers, including those of the lower castes, such as Namasudras, TMC hopes to attract more Muslim votes to be able to stop the BJP juggernaut which is expected to cash in on what some pundits call a Hindu resurgence and anti-incumbency against the TMC government in power since 2011.
TMC has had a good run so far: in 2016, it had a great sway over minority-dominated Assembly segments. According to various reports, in Assembly seats where Muslims accounted for over 40 per cent of the electorate, TMC secured 60 out of 65 seats.
Perceptions and forecasts about the impact of Siddiqui cut both ways.
Rabbani surmises that Siddiqui, who is "intellectually backed" by some university professors in south Bengal, is a performer and a young leader who attracts people of the age group of 18-27 in some pockets such as Hooghly and South 24 Parganas and so on. "But it is not easy to say that he may have a sway in Murshidabad or Malda. His position as a cleric may not be enough to attract votes in those areas, although this is a premature observation. Wonders can happen in elections," he says with a caveat. Rabbani notes that Siddiqui is new to politics and his public quarrels with Hanafis and others are well-known.
Javed Iqbal Wani, Assistant Professor, School of Law, Governance and Citizenship at Dr BR Ambedkar University, Delhi, tries to put the idea of secularism in focus. He notes that as someone who has often made dogmatic statements despite being attached to a Sufi shrine and using religion in politics, Siddiqui is not secular by normal standards. His credentials, therefore, are "questionable", says the academic. Wani argues Siddiqui is a political performer and a crowd-puller who may not be proportionately successful in attracting votes. He points out that Siddiqui faces opposition from within his shrine and that the electorate is getting increasingly alienated from the Left-Congress alliance. He, like Islam, avers that there is a huge misconception among a lot of people about how Muslims vote. In an election where TMC and BJP are the main contenders, the influence of a certain sect may be marginal. Islam emphasises: "In India, Muslims are the most strategic voters and therefore to think that Siddiqui may split the Muslim vote to the disadvantage of TMC and in BJP's favour is not very sensible." Both, however, regret that there is a minority tag hung on Muslim clerics entering politics while those from other religions do not get classified similarly.
The entry of ISF has emboldened the Left that has been looking for an opportunity to cling to life in the rough and tumble of West Bengal politics which has seen a massive churning since 2016. Following the violence during local polls in 2018 in the state, the rules of engagement have changed enormously. A study by political analyst Sajjan Kumar, who visited all 294 seats in the state, offers remarkable conclusions about the latest coordinates and trends ahead of one of India's most crucial elections. Titled 'Mood for Poriborton: West Bengal 2021', it makes meaningful observations about various contenders across regions. It could be summed up thus: 'BJP: Lack of an impressive profile of the local leadership. Yet, huge traction on account of the anti-TMC sentiment; TMC: Most unpopular party on account of corruption, unemployment…and political violence against the party's rivals; CPM: The contradiction that their image has improved, but…aren't considered electorally relevant; Congress: electorally insignificant.'
In this do-or-die battle to boost its sagging fortunes, the Left roping in Siddiqui to its fold is reflective of a typical last-ditch fight for survival. Dipankar Bhattacharya, general secretary of the Communist Party of India (Marxist-Leninist) Liberation, or CPI(ML) Liberation, also called the Liberation group, tells Open that he is surprised at the scale and size of the alliance in which ISF has been given a large share of seats (more than 30): "I see this ISF as a party that celebrates identity politics. I won't run into a conclusion that they are communal. This party is a product of this juncture in the state and in India where there is a lot of polarisation along religious lines. I hope its entry doesn't help BJP eventually."
Bhattacharya insists that he is shocked by the number of seats given to ISF. "I am a bit intrigued," he avers.
Yet, the leaders of the resource-starved CPM Open spoke to find nothing wrong with the arrangement. We have to wake up to new realities, one of them says softly. That's indeed an echoing statement from a leader of a party that once believed it was meant to rule the state forever.