Cover Story
| Freedom Issue 2022: Legacy
Syama Prasad Mookerjee: The One Who Saw the Future
More than sixty years after his death, Syama Prasad Mookerjee's position on Kashmir has been vindicated and his critique of the Nehruvian order is redefining the idea of Indian nationhood

Rajeev Deshpande

Rajeev Deshpande

| 11 Aug, 2022
IN APRIL 2005, AHEAD OF THEN Pakistan President Pervez Musharraf's visit to India during which he saw an India-Pakistan cricket match at the Ferozeshah Kotla grounds apart from holding talks with Indian Prime Minister Manmohan Singh, the United Progressive Al­liance (UPA) government set out very upbeat expecta­tions, noting a strong convergence on the need for "softer" borders and freer trade. "We are very happy that he [Musharraf] accepts that the way forward is having softer borders. What does softer borders mean? It is precisely what I mentioned at the outset that it means that there should be much freer traffic across the borders; that people should find it very easy to come and go, meet their relatives; there should be very easy trade relations between the two sides…There are cul­tural affinities between the peoples of the two sides. Is there some way that we can bring the peoples together through that cultural affinity, celebrate that cultural affinity between them? These are the things that constitute soft borders," the foreign secretary had told the media. Four years later, a WikiLeaks cable revealed that Singh had told a visiting US del­egation that a deal had almost been arrived at and it included free trade and movement across the Line of Control (LoC) in Jammu and Kashmir. The "solution" did not fructify as Musharraf ran into trouble back home around 2007 and had to finally cede of­fice. A Pakistan People's Party (PPP) government assumed office not long after and a year later, the Lashkar-e-Taiba (LeT), with the backing of the Pakistan army and the Inter-Services Intelligence (ISI) carried out the deadly 26/11 attacks on Mumbai that lasted four days and killed 166 people.
The idea of cricket as a setting for political discussions con­tinued to enamour UPA. In 2011, Singh and then Pakistan Prime Minister Yousaf Raza Gillani watched the India-Pakistan World Cup encounter at Mohali and, according to reports, "slipped away" for a while to discuss more political matters. It was reported that Singh impressed on his guest, as he had done on other occasions since he became prime minister in 2004, that shared economic interests could move the needle in overcoming a bitter history. Though not "Nehruvian" in his advocacy of economic reforms, Singh's views were nonetheless a progression of an ideological stream that went back to before Independence and after. Prior to Independence and for some time thereafter, Congress represented a cauldron of competing ideas. There were strong advocates of cultural nationalism, such as Bal Gangadhar Tilak, who revived Ganesh puja and made it a vehicle for national awakening. Re­minding people of their roots was a way of instilling pride in their history, religion and traditions. Similarly, he played a lead­ing role in organising Shivaji Jayanti celebrations in honour of the Maratha king who successfully challenged the hegemony of the Mughals and the Deccan sultanates. Shivaji's promotion of "Hindavi swaraj" stood for a governance model with revival and protection of Hindu faith at its centre. The hardy warrior was a folk hero in most Maharashtrian households although his role in challenging the advance of Islam and as an upholder of Hindu faith was yet to be appreciated in political terms.
The Nehruvian view, with its socialist overtones, which was to hold sway in later decades, was antagonistic to any assertion of Hindu identity in the debate on nationalism. It proposed a 'secu­lar' outlook that kept religion out of the public discourse. For one, this was often practised in a most imperfect manner as Indian so­ciety is infused with the manifestation of faith in the form festivals and observances. It was also a selective instrument as it sanctioned political and social silos in the name of protecting minority inter­ests. It is possible that the success of the Muslim League and Mu­hammad Ali Jinnah in fomenting strife by invoking a religious basis for the creation of Pakistan weighed heavy on Congress. This led to provisions that were seen to reflect 'guarantees' that assured Muslims who stayed back in India that their identity and interests would not be harmed by the majority. The supposedly 'inevitable' Hindu domination was an important part of Jinnah's pitch as was the "Islam is a nation" formulation in the two-nation theory. To this day, writers in Pakistan often choose to concentrate on Congress' alleged 'Hindu bias' to justify the demand for Paki­stan rather than more clearly acknowledging the religious roots of the Muslim League's appeal. In the post-Nehru era, a compact between Indira Gandhi and the communists in the 1970s saw a massive exercise to install socialist-secular dogma as the official intellectual template. A meticulous excision of anything at odds with the worldview scripted by the Left under Congress patron­age saw a reverse-engineering of history whereby the brutal and culturally calamitous impact of Muslim invasions was carefully sanitised. Any suggestion that historical forces that shaped India's nationalism might have a Hindu imprint was rigorously cen­sored. Congress did not hesitate to play up nationalism—Indira Gandhi's decisive leadership in the 1971 war with Pakistan saw due credit being sought—but it remained a controlled exercise.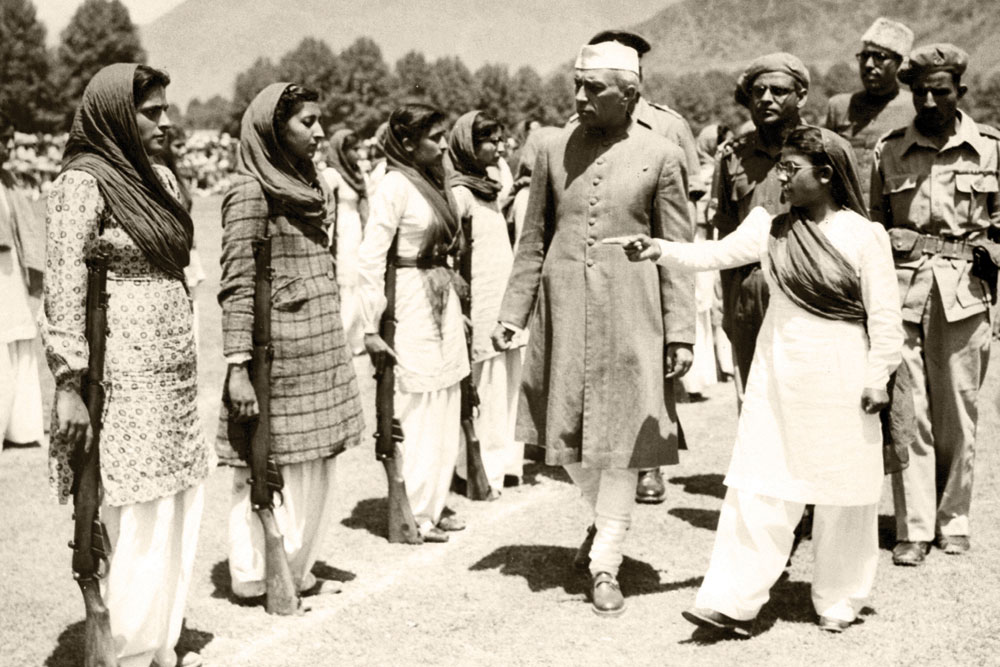 The competing views on nationalism came to the fore almost immediately after Independence when Pakistan launched a full-scale invasion of J&K in October 1947 by first pushing in tribal irregulars and then deploying regular troops. The Indian response came after the dithering Maharaja Hari Singh finally singed the Instrument of Accession. The course of the war has been much discussed and offers no further revelations. But what has often not been sufficiently debated are the lasting effects of decisions taken during the conflict—the halting of military operations at a time when Indian forces gained the upper hand and Nehru's referral of the Kashmir issue to the United Nations (UN), formalising it as a dispute. In his remarkable account of India's humiliating loss to China in the 1962 war, The Himalayan Blunder, Brigadier John Dalvi provides a detailed review of the 1947 war as well and presciently notes: "When the tide turned in India's favour and the military situation could have enabled us to achieve a battle field decision, Mr Nehru decided to refer the issue to the UN…The so-called dead­lock remains unresolved despite interminable talks. History will demand an answer to questions as to why a ceasefire was sought by us…we have saddled ourselves with a problem that has bedevilled relations between India and Pakistan for two decades. Manning the ceasefire line costs money and ties down troops. Recurring bor­der incidents vitiate the atmosphere between the two countries." What Dalvi wrote in 1969 remained unchanged for decades. Dur­ing this time, an honest introspection of events and, more impor­tantly, the correctives needed were taboo. Many Indians growing up in the 1970s and 1980s had a certain moral smugness about the righteousness of India's cause. But they hardly came across any evidence that could turn their attention to considering why the crisis of wars and separatism arose in the first place.
THE 1947 WAR, HOWEVER, DID BRING FORTH two streams of thought in sharp contrast to one another. Syama Prasad Mookerjee, who left Nehru's Cabinet over disagreements on a pact between India and Pakistan on the treat­ment of minorities which he felt did not do justice to Hindus re­siding across the border, was a man with an uncluttered political vision. He quickly understood that application of Article 370 to Jammu and Kashmir and Nehru's acquiescence to Sheikh Abdul­lah in granting a separate flag and a state constitution were poorly considered. Mookerjee did not accept Nehru's averments that the flag would not rival the national Tricolour. He argued Article 370 would Balkanise India and lead to divisiveness and result in the opposite of the stated objective of achieving integration by such an accommodation of minority sentiments. Abrogation of Article 370 along with a call for a uniform civil code (UCC) became foun­dational principles of the Bharatiya Jana Sangh (BJS) Mookerjee set up. BJS posed a real challenge to Congress, not the least because it espoused a robust ideological view of the Indian nation. Nehru patted himself on the back for the deal with the Sheikh, noting that the situation in J&K would have taken a turn for the worse had BJS been in office. In his book The Untold Story, Lt General BM Kaul, a Nehru confidant who took much flack for his role in the 1962 war, avers that Nehru was overly mindful of the Sheikh. Kaul says the Sheikh would often blame the Rashtriya Swayamsevak Sangh (RSS) for the troubles in the state, ignoring his own inflam­matory politics. Even when the Sheikh's mutinous actions and disgruntlement became plain, Nehru demurred in acting against him, worried about how this would play out internationally, Kaul wrote. Mookerjee went to J&K to protest against the Centre's poli­cies in 1953. His detention and death while in custody has never been satisfactorily explained. Given the hostility of the Nehru gov­ernment towards him, it was unlikely that any serious effort was made to find out what happened.
Syama Prasad Mookerjee was a man with an uncluttered political vision. He quickly understood that application of Article 370 to Jammu and Kashmir and Jawaharlal Nehru's acquiescence to Sheikh Abdullah in granting a separate flag and a state constitution were poorly considered
The pernicious effects of applying Article 370 to J&K—which sanctioned not only the state flag and constitution but also ensured that several Central laws did not apply to the region—cannot be understated. That single decision that was not reviewed till August 5, 2019 instilled in the Valley a sense that it was different. It deepened the division between Jammu and Kashmir. It introduced a tentative­ness and put a question mark against Jammu and Kashmir being an integral part of India. And it gave Pakistan a reason to keep raising the issue as a dispute at international forums. Though Pakistan, as revealed by several accounts, planned to settle matters by the force of arms right from the start, the ambiguity created by Article 370 led to fanciful (for their sheer unworkability) concepts like "joint sov­ereignty" and so-called soft borders. The allegedly "non-territorial" agreement that Singh and Musharraf discussed falls in the same category. Any solution not based on the understanding that the in­tegrity of Jammu and Kashmir as a part of the Indian Union should be secured beyond doubt was unlikely to work. What needed fixing was the defect of Article 370, not a pursuit of peace with Pakistan based on an ill-considered hope that economic interests and cul­tural affinities (an overstated factor) would somehow trump all other hurdles. Musharraf tended to overplay his hand, a brashness that his army colleagues had noticed early in his career. That is why he miscalculated the resoluteness of the Indian response when he authored the Kargil operation which ended with then Pakistan Prime Minister Nawaz Sharif being issued a "step back" firman by Bill Clinton. It is unclear how committed Musharraf was to the "soft borders" plan. But he was a shrewd man and any pact that suggested a lack of clarity on the status of Jammu and Kashmir or acknowl­edged Pakistan's claims would have served him very well. The other result of Article 370 was to encourage separatism in the Valley. First, the National Conference (NC) played the Kashmir card and then the People's Democratic Party (PDP) came up with "soft separat­ism". During its tenure in office, PDP facilitated the recruitment of persons with separatist sympathies in state government jobs. Some, like teachers in schools, sought to brainwash students, encouraging them to throw stones at security personnel. Till not long ago, it was commonplace to hear the separatist Hurriyat Conference speak of appealing to the UN on any sundry matter. A UN military observer group in India and Pakistan came into being after the 1947 ceasefire with an office in Delhi, and although it lacked any purpose, served to act as a busybody. The separatism in the Valley was often linked to calls for an independent Kashmir, but it was not bereft of a religious aspect. The Jamaat-e-Islami adherents in the Valley have advocated merger with Pakistan as the unfinished business of Partition. In any case, it took on an overtly religious hue in the 1990s.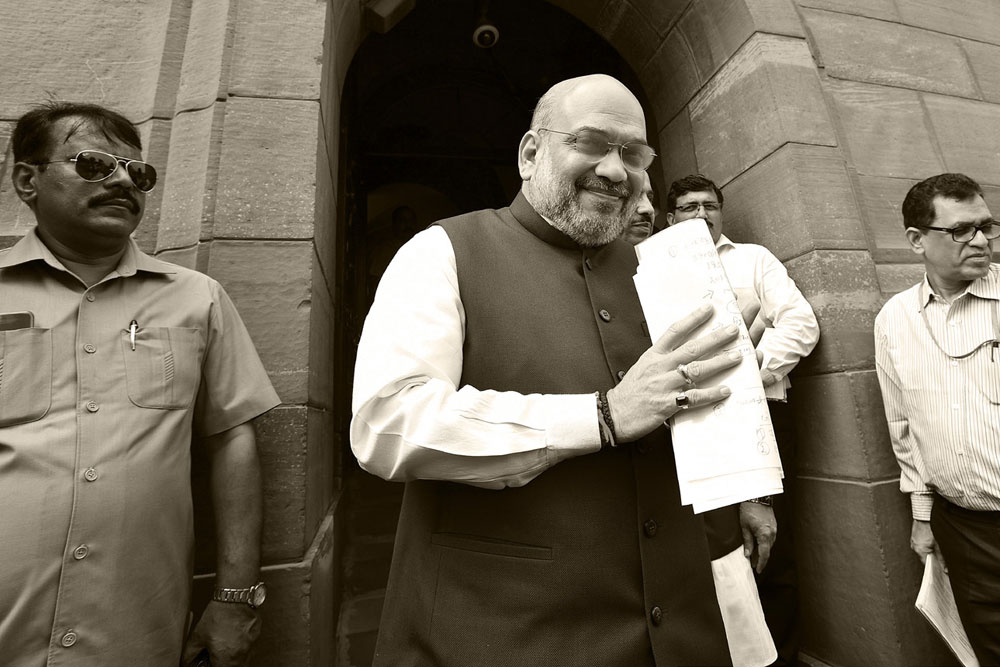 Due to coalition politics, the Bharatiya Janata Party (BJP) had kept issues like Article 370, UCC and the Ram temple on the back­burner when the National Democratic Alliance (NDA) govern­ment was formed with Atal Bihari Vajpayee as prime minister in 1998. When Prime Minister Narendra Modi won a second suc­cessive majority in Lok Sabha in 2019, BJP decided that the time was ripe to act. Shepherded by Union Home Minister Amit Shah, the government legislated the nullification of Article 370 with respect to Jammu and Kashmir. With it went the discriminatory Article 35A that allowed the state Assembly to define permanent residents and deprived women who married outside the state of residency and inheritance rights. The passage of the Bill in Rajya Sabha, where the Modi government lacked majority, was surprisingly smooth despite the noise and heckling. The consent of the state Assembly was obtained from the governor as Jammu and Kashmir was under Central rule. This was a constitutional stratagem as it was unlikely that a House with PDP and NC mem­bers would ever pass such a resolution. The deed was done and Jammu and Kahsmir and Ladakh became separate Union terri­tories. Jammu and Kashmir's statehood is to be restored after the conduct of elections that could be scheduled later this year. But all that is a matter of detail. It took more than six decades before the legatees of Syama Prasad Mookerjee emphatically fulfilled his demand to scrap the application of Article 370. The battle over the ideas and definition of nationhood has seen BJP's positions move from being regarded as fringe to the centrestage. Its politi­cal and ideological opponents have far from given up, but have lost the perch they once took for granted. The ecosystem Modi frequently refers to while alluding to Lutyens' Delhi's intellectual commissars has taken several body blows that have eroded its cultural and ideological hegemony. From the physical rise of a new official architecture at the Central Vista to the scrapping of the erstwhile Planning Commission to the success of films like The Kashmir Files, the public discourse has been rewritten. Modi's cultural idiom with its earthy appeal is in sync with the popular imagination and this is an integral part of his political communication. The abil­ity to balance a certain grassroots nativ­ism with modern aspiration marks him out and in this he is far ahead of his rivals.
In Pakistan's Drift into Extremism, Paki­stani scholar Hassan Abbas, who served in the administrations of Benazir Bhutto and Musharraf, notes that there was not much that could bind different parts of the country to a shared nationhood given the separate development of dis­similar regions. "In these circumstances the only commonly shared notion of na­tionhood was Islam. The political lead­ership of the day was forced to fall back on the slogan of Islam to bring order out of chaos," he notes, and adds that this trend ended up giving religious parties the leverage to influence the provisions of the new constitution and over time led to the Islamisation of the state. India moved in a different direction but Nehru's repugnance at religi­osity resulted in a failure to read an essential element of India's psyche. The official despatches Louis Mountbatten shared with Larry Collins and Dominique Lapierre offer revealing observa­tions. A record of Mountbatten's meeting with Sardar Patel on February 4, 1948, states: "He said the position in the country was now very serious. Pandit Nehru, much as he admired and respect­ed him, as well as loved him, had never understood the Hindu mind. It is of interest that Mrs [Sarojini] Naidu, governor of United Provinces, told me the same thing earlier in the day and said he had a completely English education, outlook and mind…" The schism between the Nehru and Syama Prasad Mookerjee schools of thought was destined to grow. Control over public discourse, often amounting to censorship, disadvantaged one side for long. Since 2014, the scales have evened.