There is a moment in the ₹ 550-crore epic, RRR, when Komaram Bheem promises Seetha that he will bring Ram to her. Only someone as steeped in the Indian storytelling tradition as Koduri Srisaila Sri (SS) Rajamouli can dare to make the Ramayana meet the Mahabharata because in Bheem's character they do. Born of Vayu, both Bheem and Hanuman are spiritual brothers, both with gargantuan appetites for feasting and fealty.
The Hyderabad-based Rajamouli, 49, has many such moments plucked from history, mythology and fiction for his latest heart-pounding blockbuster, his 12th movie, RRR. Set in the 1920s, it is based on two subaltern superheroes, Komaram Bheem, a Gond tribal who fought the Nizam, and Alluri Sitarama Raju who battled the British. Adding some fantasy to the real story, he has conjured up a magical spectacle, studded with flying, flaming motorcycles that can reduce a palace to ashes; with burning arrows that pierce thick forests to find their targets; guns that fire with unerring precision; and raging tigers that are mauled by men. Resting elegantly
on the mighty shoulders of two men with gigantic film legacies, with cameos from the best in Bollywood, the film is expectedly making money at the global box office, with ₹ 600 crore and count­ing in the first week of its release. Film scholar Anu Thapa, who has described Rajamouli's oeuvre as serving "the tech­nophilic avatar of Hindutva 2.0", says the film seems to be unapologetically atem­poral and ahistoric (on multiple levels) for the sake of spectacle.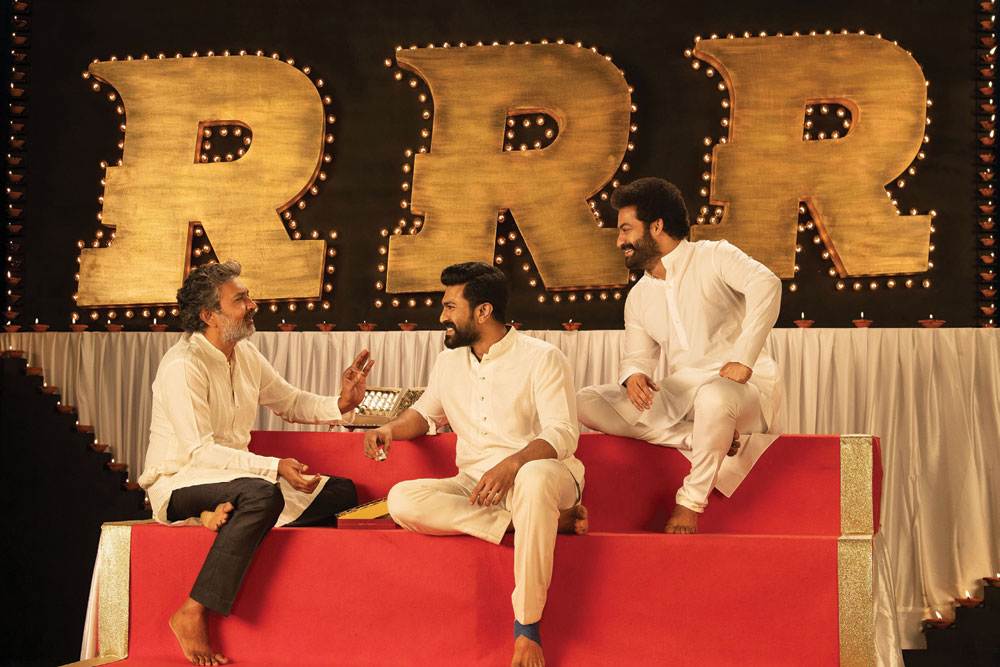 But there is no doubt it will be a mon­ey-spinner. The only question is whether it will do better than Rajamouli's own Baa­hubali: The Beginning (2015) and Baahubali: The Conclusion (2017) whose combined worldwide gross is ₹ 2,460 crore, higher than the country's highest individual grosser, Dangal (2016) which made ₹ 2,024 crore.
The theatres are packed, the songs are going viral, and the dances, well everyone is trying to tap dance to 'Naatu Naatu' like its stars, Junior NTR, grandson of the leg­endary actor and former Andhra Pradesh Chief Minister NT Rama Rao, and Ram Charan, son of superstar Chiranjeevi. Six years after answering the question on everyone's lips—Why did Katappa kill Baahubali?—Rajamouli is back to in­spire shock and awe with RRR (Rise, Roar, Revolt, or the initials of the two stars and the director). "'RRR' was a working title," says Rajamouli, "but it ended up sounding so good that we kept it."
Beginning with the family drama Shaanthi Nivasam on ETV, with Telugu director K Raghavendra Rao as mentor, Rajamouli has built a formidable reputa­tion for visual imagination and profound­ly Indian storytelling. And the ability to have scenes in his movies that can only be described as wild. Without giving away too much, let's take just one such, where Bheem disrupts a ball at the palace of the cruel English governor (played with mon­strous glee by Irish actor Ray Stevenson) by unleashing animals from the forests he knows so well. The animals, ranging from tigers to stags, run riot, tearing the enemy to bits. It is both a metaphor and a state­ment. A metaphor for the weaponisation of the Earth, a foreshadowing of climate change, and a statement on the tribal way of life in which the human apologises to the beast for taking advantage of it.
In the many layers of storytelling, there is much to discover. There is the obvious conflict between the two ways of fighting for India's freedom, an appro­priate time to revisit it in the nation's 75th year. Does one, like Ram's father believes, put a weapon in each Indian's hand? Load, aim and shoot? Or does one weaponise millions by the power of one's words, as Bheem does when he is being publicly flogged? Rajamouli emphasises this yet again in the 'Sholay' song, giving us a pot­ted tour of India's many revolutionaries, from Shivaji to Bhagat Singh, from Sub­has Chandra Bose to Sardar Vallabhbhai Patel, from Rani Chenamma of Kittur to poet VO Chidamabram Pillai. There is no party affiliation here, just an ode to 'Vande Mataram', an invocation of Bharat Mata, and a tribute to the power of words and the strength of weapons.
There is the other conflict between both Bheem and Ram aka Alluri on one side and the brutal British on the other. Bheem and Ram may have different phi­losophies of battling the colonial power, but their enemy is the same. The British have never been shown as villainous as they are here, with the governor's wife (Alison Doody, who played a Nazi wench in Indiana Jones and the Last Crusade) being shown as particularly bloodthirsty, not only abducting a little girl from Bheem's tribe but also enjoying his torture at the hands of her officers. But the film's invec­tive is directed at the British. The fight against them is shown to be as plural as the actual freedom struggle was. Bheem, in fact, spends much of the movie disguised as a Muslim mechanic, Akhtar, and is given shelter by a family in Delhi. There is no pandering to the establishment in the movie, a hallmark of most movies emerg­ing out of Bollywood currently.
Coming on the heels of The Kashmir Files, which was made on a ₹ 5-crore bud­get and has made ₹ 200 crore and counting at the box office, RRR has again shown the Mumbai film industry the possibili­ties of fearless filmmaking and a leap of faith. As producer-director Karan Johar (who was the presenter for Baahubali 1 and 2) said recently: "We in Hindi cinema became wildly eclectic in our storytelling choices. We didn't hold on to the heroism that Telugu cinema believes in. Amitabh Bachchan began this convention in the '70s but we started altering it in the '90s when romance took over and Shah Rukh Khan became the face of love in cinema. He was the first leading man who was crying in the climax of most movies, not fighting. He became vulnerable, he be­came accessible. He became everyone's favourite husband, brother, father, son. We changed our syntax in 2001 with Lagaan and Dil Chahta Hai where we en­tered a totally different zone of storytell­ing. Telugu cinema held on to their hero."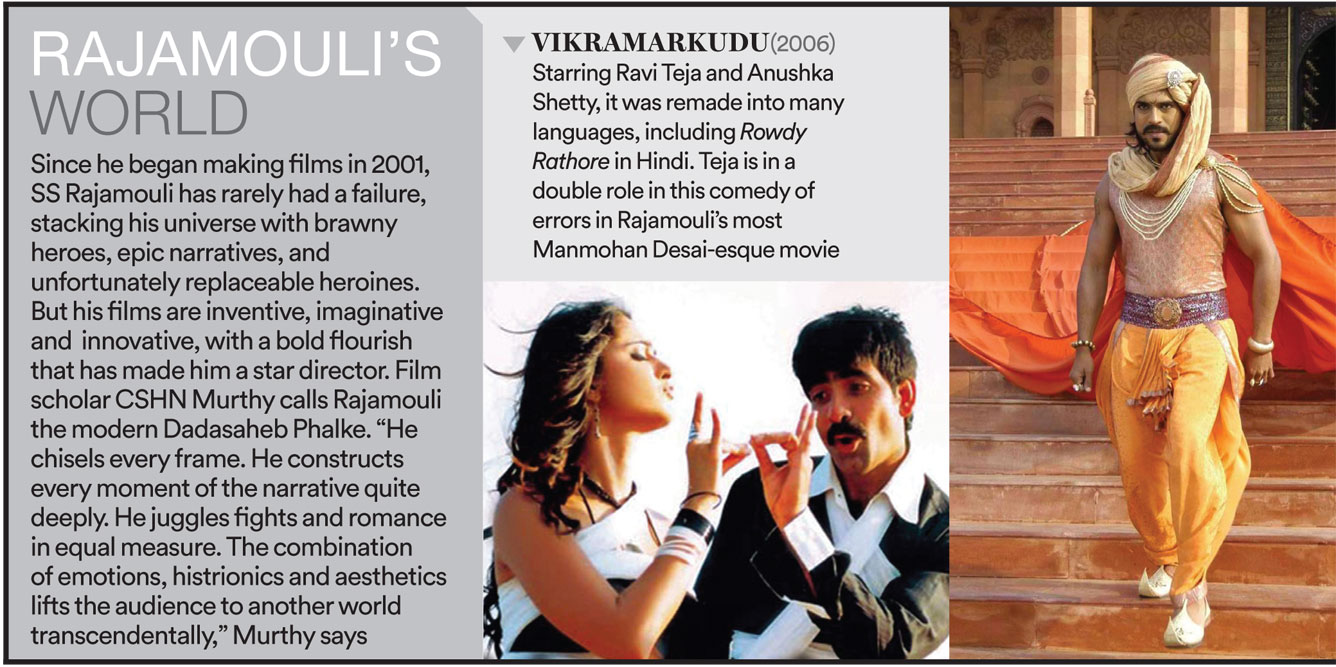 And what a hero. Whether it was Prabhas in Baahubali or Junior NTR and Ram Charan in RRR, there is a muscular masculinity in them. Whether it is Bheem racing through the forests in his langot, be­ing chased by a tiger, or whether it is Ram exercising in his solitary cell, they own their bodies, hairy, heavily muscled, and capable of whirling around a motorcycle as easily as they can swing through the air like trapeze artists. They create an event, a moment in entertainment, what Ram Gopal Varma, fellow Telugu movie direc­tor, describes as a treat.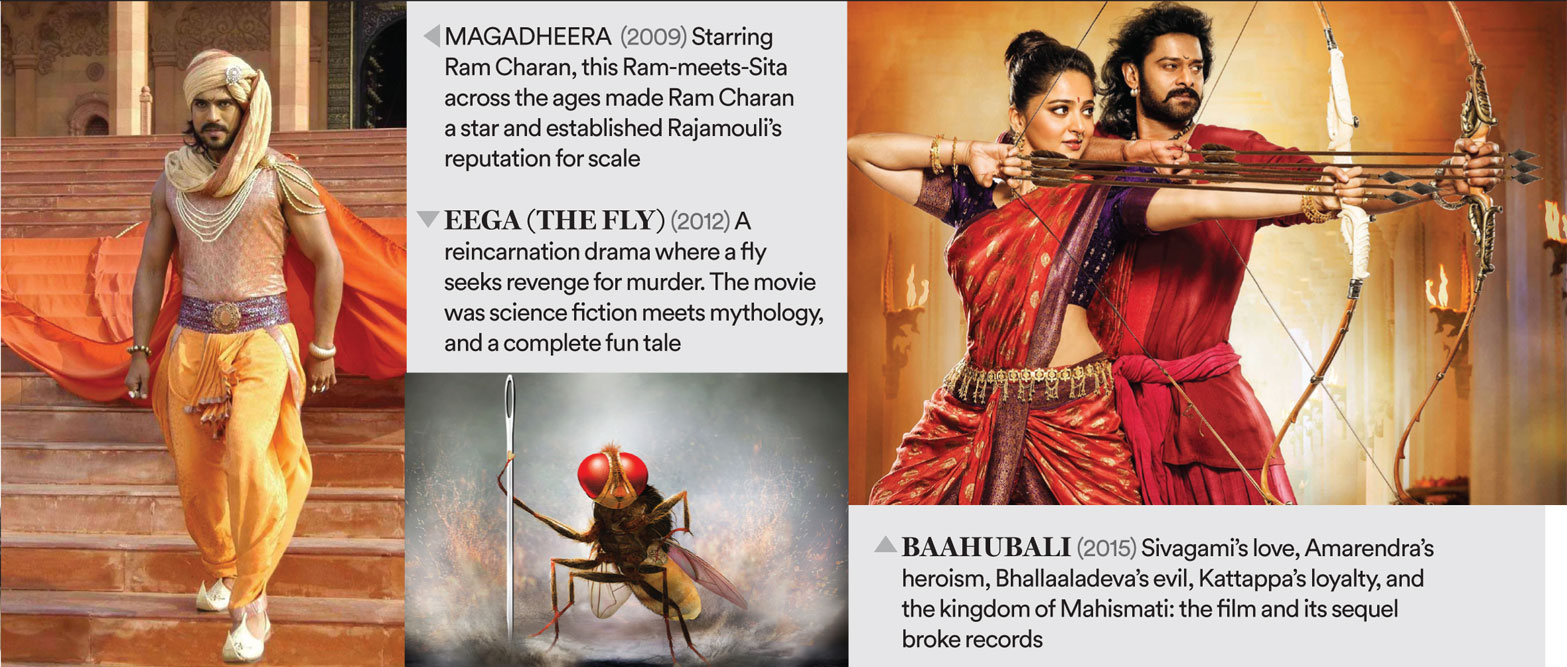 For Rajamouli, movie-making is a passion. "I love surprising people with my stories, or making them emotional. If I see someone sitting alone, looking at their phone, I will go and tell them a story," he says. They are mostly about history, or the Puranas, or itihasa, or short stories he has heard somewhere. He has had this gift since childhood. "Even in Class 2, we had an extracurricular period when we had to do different kinds of activities. Our only activity was storytelling and I used to tell stories to everyone," he says.
Knowingly or unknowingly, he says, we are always making films for children, or the child within us. "Every person is a child at heart," he says. "Age doesn't matter. All of us get attracted to the spectacular." It is the child within us, reared on Amar Chitra Katha, as well as on Star Wars, on folk songs as well as on the many versions of the Ramayana and the Mahabharata, on old Hollywood epics like Ben-Hur and modern epics like Sholay, who can appreci­ate the set pieces of Rajamouli's universe. Two men on a motorcycle, one riding the bike and the other shooting with both hands; the giant mounted, painted por­traits of freedom fighters; the Christ-like nailing of Bheema to the cross; the Lagaan-like love affair between the gori English­woman and the earthy son of the soil, these are familiar tropes.
His style of working is still family oriented, like many in the largely feudal Telugu film industry. His co-writer is KV Vijayendra Prasad, his father; son Karthikeya is the film's line producer; wife Rama has designed the costumes; MM Kreem, the music director, is his cousin; SS Kanchi, the script doctor, is also a cousin; and sister-in-law, MM Srivalli, is the post-production line producer. Tech­nology is his best friend. He shot for over 300 days and did extensive pre-visualisa­tion through storyboards, stunt visualisa­tion and animation which ensured that everyone was telling the same story. There is very little scope for improvisation on his massive sets. He is very clear on how it is to be captured. "I might have some doubts about the details of the particular shot but I am quite clear on the amount of action to be captured. I give actors very specific instructions on how to move, to talk and to take pauses. Within that, they can have a little room for improvisation," he says.
But he is deeply invested in the heroes—for RRR, he had a 150-200-odd character development questionnaire for his principal characters, Junior NTR and Ram Charan, administered on them over three days to clarify all doubts. "Eighty per cent of the work is done before shooting. Physically they had to do what they had to do, but mentally I prepared them with the detailed questionnaire. The writer, the actor and I sit with a person who records all the answers. A lot of doubts get cleared, and we come to an understanding. We started this system with Baahubali. It's quite a tedious and an exhausting process. But at the end of the three days, we know how this person will act and react in dif­ferent situations. So when they come to the set they just need to learn the lines or the action. Their body language and belief system are already in place," he says.
He has been friends with Tarak (Junior NTR) for 20 years (he plays Bheem) and Ram Charan (Alluri) for 12 years. He has given them big hits—Stu­dent No. 1 (2001), Simhadri (2003) and Yamadonga (2007) for Junior NTR and Magadheera (2009) for Ram Charan. He has seen them grow and evolve, up close, having worked with them before. They meet quite often, exchange ideas. Both are superstars, Junior NTR at 38 is a trained Kuchipudi dancer among other things while Ram Charan at 37 is an accom­plished equestrian.
And yet, how did he choose each of them for the part? Rajamouli says: "When we were writing these characters, I felt Alluri had a lot of issues to deal with. But because he is a scholar he is a calm, poised person, despite battling a lot of demons. I felt Charan was more like that. The mo­ment you look into Charan's eyes, you feel the intensity, and he can hold a lot of emo­tions. Bheem is more innocent. He can't hide his emotions. He just erupts, whether it is sadness or anger or happiness. Junior NTR is exactly like that."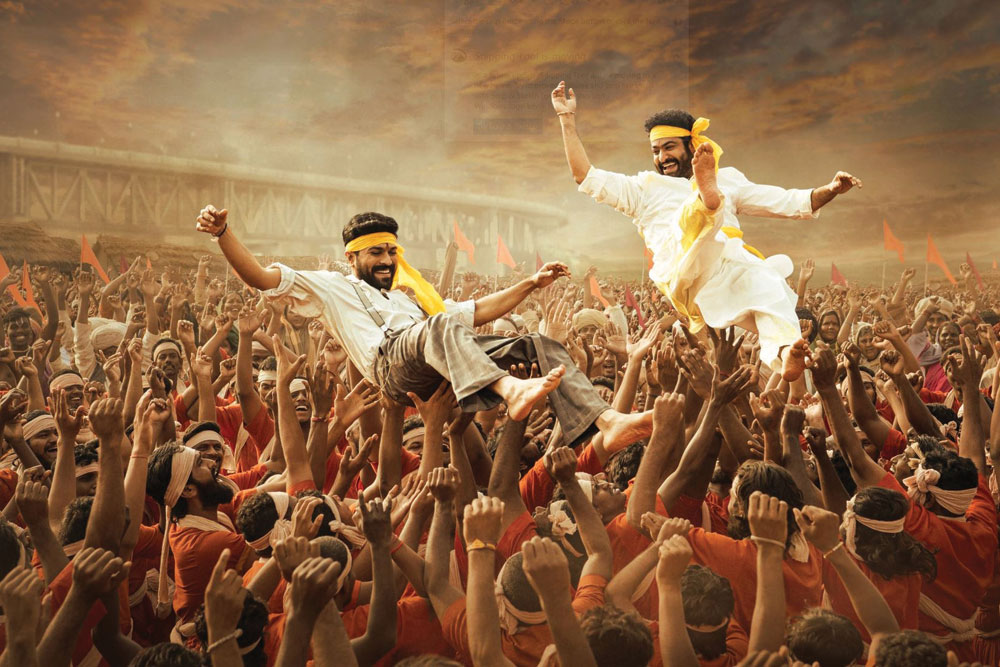 Every actor wants to work with him. But he decides whom he wants. He want­ed someone who exuded honesty for the role of Ram Charan's father. "That is the seed of the story. I wanted the audience to feel whatever he is saying is the truth. I could only think of Ajay Devgn. We nar­rated the story to him. He asked, 'When do you want my dates?'" says Rajamouli. Alia Bhatt says she met him at an airport and immediately went up to him to say she would like to work with him. Sure enough, when it came to casting Seetha, the calming influence that mediates be­tween fire and water, he thought of Alia Bhatt. As for Alia, he says, "She has to unite Alluri and Bheem, hold these forces in bal­ance, she herself cannot be forceful," he says. He had seen her in Raazi (2018) and thought she would be ideal.
"I was more interested in the coinci­dence of these two freedom fighters, both born in Andhra Pradesh and present-day Telangana, at the turn of the 20th century. They left their respective homes, disap­peared for three-four years, and then came back to fight against the oppressors. But their modus operandi was the same. They were striking police stations, taking away the guns, arming the people, inspiring the people. Unfortunately, they both died at the hands of the British in the same way. But they never met," he says. There isn't a lot of written material on them but the lo­cal folklore has vivid descriptions of their characterisation and their spirit. So that is where his vivid imagination, bolstered by his father's words, came in. "I thought: What if we make them meet, create a rift between them, and then make each one inspire the other?" So was born RRR.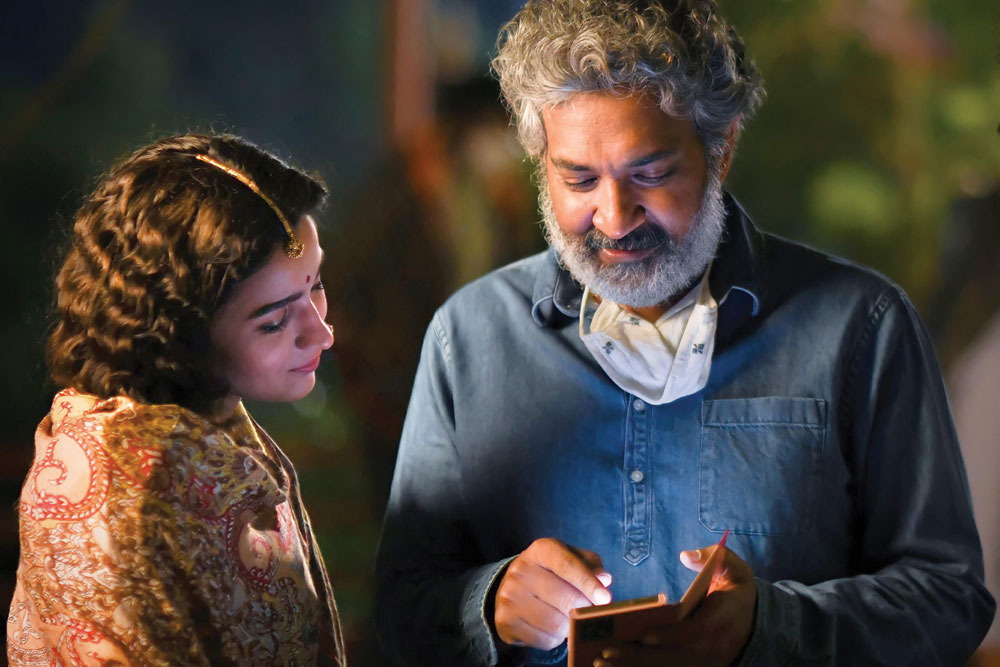 The world is fictional yet the characters are real, so there are a lot of references for dress, atmosphere and props. But Rajamouli did not want to stick to any authentic detail. He wanted audiences to feel absorbed in his world; they should feel what was happening onscreen was real. He says, "The idea was there for quite a long time, but it took us around four-five months to de­velop the script. My research was more about what their mindset would have been. They were quite young when they left their homes, in their early twenties. How did they travel across the country and become what they became? Alluri was a learned man. He had read the iti­hasa, Puranas, he was a yogi. How would a scholar take up the bow and arrow and become a warrior saint? Likewise, Ko­maram was very young when he left his home. He was illiterate. But in two-three years he could speak Hindi and in fact he gave a slogan for freedom: jal, zameen, jan­gal (water, land, forest). How could these young boys be transformed into these men who could inspire millions with their words and actions to fight against a mighty enemy?"
He is perhaps singlehandedly respon­sible for the rise of the pan-Indian film. Language is just a medium of communi­cation, he says. "In films, we have to com­municate with the audience. I always believed if the story has the right emo­tion it will get across whether it is in Ut­tar Pradesh, Japan or Spain, like a mother meeting a long-lost son—just human re­lations. It happened with Baahubali and with RRR. After completing 50-60 per cent of a movie, we will know whether it is universal or regional in nature. You can't introduce it, it has to be intrinsic. In the trailer itself I tell the whole story."
Certain elements have been constant in Rajamouli's career. The mixing of his­tory and myth, seen in Baahubali, the story of which is related to Rishabhanatha and his son Jadabharata and Baahubali from Jain mythology which appears in mul­tiple sources like the Bhagavata Purana, the Rig Veda and the Jain text Adi Purana which was written in the 10th century by Adikavi Pampa. It even has the fusion of the Mahabharata and the Ramayana with Amarendra playing the Ram-like figure and his antagonist Bhallaaladeva be­ing Duryodhana. There is a borrowing from the epics, as in Magadheera (2009) which celebrates the love of Ram and Sita through the ages. And there is the audacity of imagination which sees a young Prabhas riding a shark in Chath­rapati (2005) despite being left in the sea with his hands tied to be devoured by it. "His budgets have gone up," laughs Ram Gopal Varma, "But the breadth of his vision remains the same."
Rajamouli is a great believer in bhak­ti and it imbues every bit of the song 'Janani' (Mother) from RRR with lyrics by the inestimable Varun Grover. "Ma tere pair ki dhool mathe ka tilak bani/ Ma tuhi mera suraj mera yeh falak bani (The dust of your feet is the mark on my fore­head/ You are my sun, and my heaven)". Such a soothing anthem is like a balm on the nation's soul, and RRR is the spectacle we all needed where our very own lohe-ke-bande (iron men) show us how to endure adversity for a higher purpose.