I FIRST MET SRIPATI TUDU IN 2017 AT AN EVENT in Bandwan in Purulia district of West Bengal. Before that, we had only been friends on Facebook, occasionally liking or commenting on each other's posts. We were, like it is said, a benign presence on each other's timelines.
That event, organised by Tetre, a Santhali literary magazine published out of Purulia, was an eye-opener for me. Before meet­ing Tudu in person, I had done a few translations from Santhali to English. However, I was not that adequately acquainted with the world of literature and publishing in the Santhali language. That event in Bandwan gave me a glimpse of the developments that were being made in these fields.
At that time, Tudu was an assistant professor in Santhali at Sidho-Kanho-Birsha University in Purulia. He could've been a serious, even strict teach­er in the university; but the guest I met at the event in Bandwan was an ever-smiling, jovial person. We recognised each other instantly, having gotten used to each other's images on Facebook.
During our interactions, I learned that the government of West Bengal had introduced curricula in Santhali language in its government-run schools. There are Santhali-medium schools and col­leges, starting from Class I till graduation level. Also, Santhali is taught as a separate language—like an optional subject—in regular schools and universi­ties, starting from Class X till post-graduation.
However, despite there being Santhali-medium schools, there was still a want of textbooks in required subjects written originally in Santhali. Hence, the government had, in the interim, decided to translate textbooks from Bengali to Santhali, and had commis­sioned academics in Santhali to do the necessary trans­lations. Tudu was one of the academics who had been commissioned to translate textbooks from Bengali to Santhali. This was a rewarding, albeit difficult, task. It was a wel­come step and showed the seriousness of the government of West Bengal in promulgating education in the Santhali medium.
Apart from translating textbooks, there was another transla­tion project Tudu was engaged in at that time. And that too was quite a remarkable task. It was a volume of 65 poems and songs by Rabindranath Tagore, translated from Bengali to Santhali, put together in a book. Tudu was one of the two editors of that volume; the other being Sonali Mukherjee, a professor of Bengali at Sidho- Kanho-Birsha University, Purulia. Mukherjee selected the works by Tagore, while Tudu brought in the translators.
After five years, I travelled to Purulia to meet Tudu again, as he was now involved in another translation project. This was his most ambitious project yet, and Tudu had undertaken the task alone: translating the Constitution of India into Santhali.
Tudu lives on the outskirts of Purulia town, not very far from the river Kangshabati on the banks of which Purulia town is based. Kanghshabati is called Kasai in Santhali. In his acclaimed Bengali novel, Subarnarenu Subarnarekha, which won the 2019 Ananda Puraskar, Nalini Bera has written: "…maajh­borabor keu ekta sonar thala ki kaansaar thala nodijole bhasiye dilo ar nodir daak naam hoye gelo 'Subornorekha' ki 'Kongsaboti' 'Kasai'—tao ki hote pare? Aabaar hoteo paare." "…someone threw a golden plate or a bell-metal plate in the middle of a river and that river was given the name Subarnarekha or Kanshabati. Is that possible? It could be possible." Hence, implying that the name Kangshabati—for the river—might have been derived from the word kaansaa meaning bell metal, just the way the name Subarnarekha—for the river—might have been derived from the word swarna meaning gold.
Sripati Tudu was born in November 1988 in a village named Muragram in Bankura district of West Bengal. He studied till Class V in Muragram, after which he contin­ued his education in Jhilimili High School, about 41 km from Muragram. He completed his masters in 2012 and started his career in 2013 as a graduate teacher in Santhali at a Bengali-medi­um school in Dhaska, at the feet of the Ajodiya Hills—which are considered sacred by the Santhals—about 48 km from Purulia town. In 2016, he joined Sidho-Kanhu-Birsha University, Purulia district, as an assistant professor in Santhali.
He started work on the translation of the Constitution of India in 2019, but the seed for this endeavour had been planted when he started working as a teacher. However, this is not the first time that the Constitution of India has been translated into Santhali. Eminent academic and activist, Digamber Hansda, who was conferred the Padma Shri in 2018 and died in 2020, too had translated the Constitution of India into Santhali. That transla­tion, however, Tudu informed me, "had been left incomplete and its manuscript couldn't be found." Others I spoke to also corrobo­rated that that translation is untraceable.
Tudu went to a Bengali-medium school, but had Santhali as a subject and that is why he is well-versed in the Ol Chiki script. "That made me aware of Santhali language and literature from quite an early age," Tudu said. "At school, I got to know that I was an ST and that there were several opportunities I was entitled to being an ST. I got to read the Constitution of India only much later, after I entered the service, and then I wondered how difficult it must be for others in my community who haven't had the privilege to go to school to read and understand the Constitution of India. Also, students from our community who are studying in the Santhali medium too need to consult the Constitution on certain occasions.
How nice would it be if the Constitution were available in our lan­guage itself! That was when I felt that the Constitution of India should be translated into our language for our people."
The lockdown imposed during the pandemic in 2020 came with the gift of time for the task of translation.
"We were not certain how long the lockdown would last," Tudu said. "So I was determined that I had to complete this translation as soon as possible."
The translation was completed in December 2020 and, in January 2021, the volume was published and released. Tudu's trans­lation, however, isn't the translation of the entire Constitution but an abridged representation of the same in Santhali to enable read­ers in Santhali to grasp the gist and the purpose of the Constitution and especially guide the readers on the parts in it that would be most beneficial to the members of the Scheduled Tribes.
"Aadi jatil kami,"—"very complicated work"—Tudu recalled when I asked him if it was easy or difficult to translate the Constitu­tion of India into Santhali. "I referred to both the English and the Bengali editions of the Constitution of India. However, I saw that the Bengali edition was more jatil than the English one. The words which have been used to deal with the matters related to the hoq and aidar—rights and entitlements—of the Adivasis are not easy to understand in the Bengali edition. Hence, I had to turn again to the English edition for my translation."
Tudu has brought some relevant innovations into his Santhali version of the Constitution to make it easier. He starts with an in­troduction to the Constitution, who wrote it and why it was cre­ated in the first place. He said, "I have highlighted the sections and articles that concern the Scheduled Tribes. I have used tables in my translation (the tables are not there in the original Constitution and Tudu got the idea from a Hindi translation of the Constitution) comprising important points so that the relevant contents in the Constitution become easy to understand."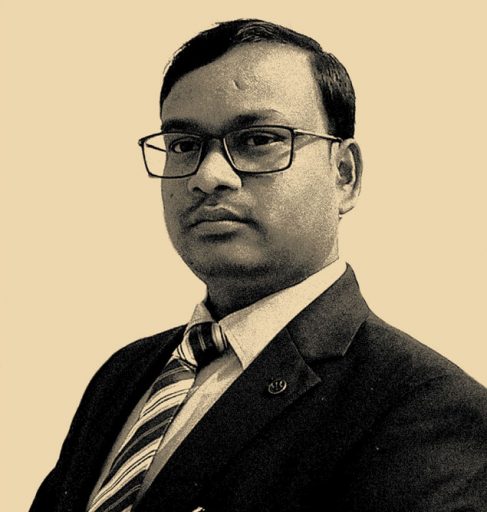 Altogether, Tudu used three editions of the Constitution to come to his translation: English, Hindi, and Bengali. Originally written in English, the Constitution is primarily a book of laws, and legal terms, can often obfuscate and, quite obviously, is hard to translate in its entirety. He struggled with particular words. "The words used in the Constitution have gaahir—deep—and inner meanings," Tudu said. "There are often no such words in Santhali. I stumbled upon a roadblock while translating the word Preamble itself into Santhali. The word I have used is Botolo, which means something that is spoken at the beginning. The root of this word is bolo which means 'to enter'. So the word Botolo is somewhat an approximation of the word Preamble in Santhali. I further faced issues while translating the entire Preamble. 'We, the People of India, having solemnly resolved to constitute…' seems quite lucid in English, but I had to refer to several dictionaries while translating this part alone. I finished reading two-three dictionaries and came up with 'Abo Bharot ren Disua, Bharot mitan Aanhut."
In Tudu's version, already familiar terms like Right to Equality and Right to Freedom—respectively, in Santhali, Sawnha reyag Aidar and Furgal reyag Aidar—seemed even closer, more approachable than they were before. When Tudu squealed in delight, "This translation is meant to be easy to understand," I couldn't help but marvel at the feat he had accomplished.
Tudu then did a breath-taking recitation of the Preamble to the Constitution of India in Santhali. The recitation spanned just a minute, but it took Tudu two-three months to translate and write!
Writing is often a solitary and frustrating activity. Often, writ­ers may not share their works in progress. Tudu also kept this project a secret while it was being done. He discussed this trans­lation only with those people who might help with certain words or passages. He did not reveal this project even to his colleagues at the university. "But yes," he adds, "I was helped in this task by sev­eral people in several ways, even though I would prefer to not name them."
ISBN AND BARCODES ARE NOT common in Santhali books, per­haps, because the publishing scene in Santhali language and its market is relatively small. Authors in Santhali usually have to invest in the publication of their books as well as actively publicise and market their books themselves. The publishing scene in Santhali is almost as good as self-publishing. All three of Tudu's books—his Santhali version of the Constitution; Jug Jiyar Onorhiya Kabi Sarada Prasad Kisku (The Immortal Poet Sarada Prasad Kisku), a volume edited by Tudu and comprising 25 pieces by contemporary Santhali authors commemorating the poet and so­cial reformer Sarada Prasad Kisku; and Isi Jor Ruti Kahni (Twenty Pairs of Short Stories), a collection of 40 very short stories, which Tudu calls "postcard fiction"—bear not only bar codes but also ISBN. These inclusions show ambition, and prove Tudu's savvy as a writer. Also, these three books have been published by a relatively bigger publishing house, Taurean Publications, based in Delhi.

Tudu deliberately chose a larger publishing house and not a local Santhali publisher because he was looking "for a publisher who would themselves invest in the publication and marketing of my books." Taurean Publications' nationwide reach will help ensure that the translation of the Constitution is available to the greatest number of readers. He added, "I do not have to worry about the business aspect of my books. All I had to do was type the text in the Ol Chiki—since the publisher does not know that script—and set the pages using PageMaker."
"Initially, there weren't many sales of the book," said Chandan Roy, director of Taurean Publications, during a phone conversa­tion. "But Tudu babu's appearance on the Mann Ki Baat show has generated interest in the book." The book is now available in select bookshops in Kolkata, Purulia, Bankura and Jhargram. He added, "We are also selling it on our website. So far, the book was being produced on the print-on-demand model; but because of the inter­est in the book, we have received suggestions that we should print several copies and send those to book shops."
Even though the Ol Chiki, invented by Pandit Raghunath Murmu in 1925, is the widely accepted script in which Santhali is written; historically, Santhali has been written in other scripts too. This translation has been done in the Ol Chiki script, which is not accepted by all Santals. Tudu is aware of these controversies, and says philosophically, "But how would our language prosper if all of us, living in different states and regions, continue to write our language in different scripts like Devanagari, Roman, Bengali or Odia? So, we have to agree to settle upon a single, common script for our language. Ol Chiki has been accepted everywhere now. The government of West Bengal recognised the Ol Chiki in 2002. And this translation has been received well even by those who hadn't been using the Ol Chiki to write Santhali. They are, actually, mak­ing an effort to learn the Ol Chiki to read this translation."
Tudu's translation of the Constitution—which is currently available in hardcover and has had a second reprint—is being received warmly.
"If we go into the villages and ask our people what the Consti­tution is, chances are that many of them won't be able to tell," said Ananta Kumar Besra, Assistant Professor in Political Science at Kazi Nazrul University, Asansol, over a telephone conversation. "Hence, Sripati Tudu's translation of the Constitution of India into Santhali is a welcome contribution. As members of a Scheduled Tribe, we know we have certain rights, but do we know how we came to be categorised among the Scheduled Tribes? The Constitution in our own language will help us in spreading this awareness."
Sasikanta Murmu, Assistant Professor in Political Science at Mahatma Gandhi College, Purulia, was at a workshop in Jhargram when I called him. At that workshop, academics who know San­thali were assigned Political Science textbooks in Bengali to trans­late into Santhali. "Sripati Tudu's work is an achievement," Murmu said, "and it would certainly benefit our community. However, what we need in our language is a book that could teach our people in detail about the Schedules 5 and 6 of the Constitution of India."
Sudhir Tudu, proprietor of Sutu Book Stall in Purulia, with whom I had a telephone conversation, said the book is being bought by people who are expressly aware of it. He said, "There is interest in the book and I have sold it to buyers from faraway places like Pakur (about 230 km from Purulia). They placed the order on WhatsApp and I sent them the book by post. However, there are not many people walking into the shop to purchase a copy. The last copy I sold at the shop was a couple of days ago. The book has to be procured from the publisher's agent and the minimum order has to be 20 copies. As such, given the small market for Santhali books, giving discounts at the shop is difficult and the book has to be sold at its marked price."
"Had this book been published by a local, Santhali publisher and not by a diku (non-Santal or non-Adivasi) publisher, procuring the book would have not incurred much expense and we could have ordered directly from the publisher as many copies as we would have been able to sell," Kalipada Hembram, proprietor of Marshal Bamber, a Santhali publishing house and book shop based in Jhargram, expressed his scepticism, during a phone conversation. "Santhali books are purchased usually by those who both know the Ol Chiki as well as are in a position to buy books. So if we are talking about creating awareness among our people in the villages through this translation then we should remember that those people know neither the Constitution nor how to read, so how would the transla­tion help them? With roadblocks existing between the book and those who need the book, this translation will remain just a vanity."
Roadblocks are aplenty, yet this is an achievement to cherish. I remember Tudu stating with an upbeat certainty, "There is a lot of work yet to be done in the field of Santhali language and literature. All of us in academia need to come forward. It cannot be done by a handful of people alone," and marvelled at his determination.
There is hope, and Tudu has shone a beacon. Recently, he has been deputed as an assistant professor at the Institute of Language Studies and Research, Kolkata. According to the institute's website he will, "look after courses on Santhali language and literature and he will also be involved in the translation of Santhali texts."
Tudu will live up to the expectations, for just beneath this description, there is an image of an unmatched achievement: the cover of Bharot Reyag Songbidhan, Tudu's translated version in Santhali of the Constitution of India.

Hansda Sowvendra Shekhar lives between Chandil and Ghatsila, Jharkhand; has written prose in English; and translated poetry and prose from Santhali, Hindi, and Bengali to English. He is also the author of The Adivasi Will Not Dance: Stories