PRATAP BHANU MEHTA, Political scientist and columnist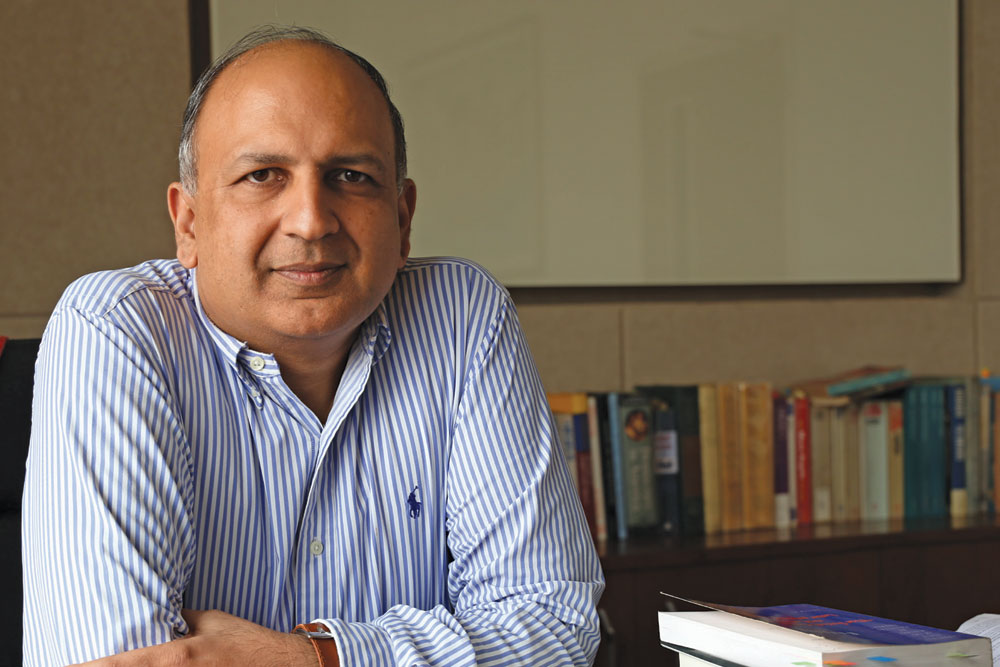 There was no dearth of stunning books published in 2022. But here are a few personal standouts. Swami Med­hananda's Vivekananda's Vedantic Cosmopolitanism (Oxford University Press) is an extraordinary achievement. A brilliant, deep and searching ex­ploration of Swami Vivekananda, this may also be the best book in English on philosophical debates in modern Hinduism, and philos­ophy of religion more generally. BN Goswamy's Conversations (Allen Lane) is a wonderful, accessible introduction to Indian art, and also the craft of one of India's most impressive living scholars of art.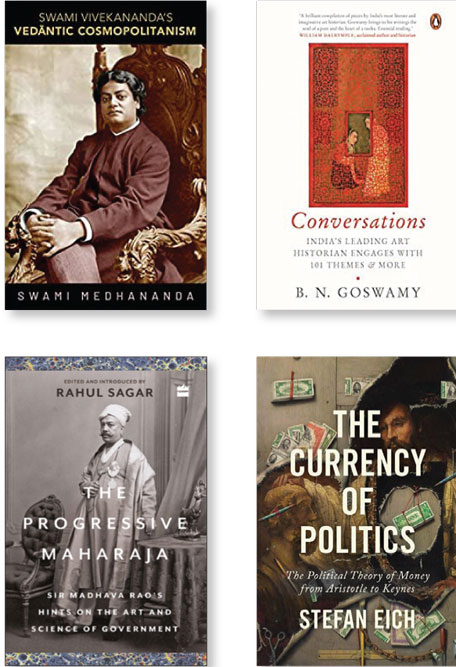 Rahul Sagar's The Progressive Maharaja (HarperCollins) is also a brilliant piece of scholarship and textual detective work. It is a wonderful introduction to the life and times of Sir Madhava Rao, one of the great statesmen of Modern India, and this authori­tative edition also hints at his government. Stefan Eich's The Currency of Politics (Princeton University Press) is a deep ex­amination of the theoretical and political foundations of money that rescues the money discus­sion from economists.
WILLIAM DALRYMPLE, Author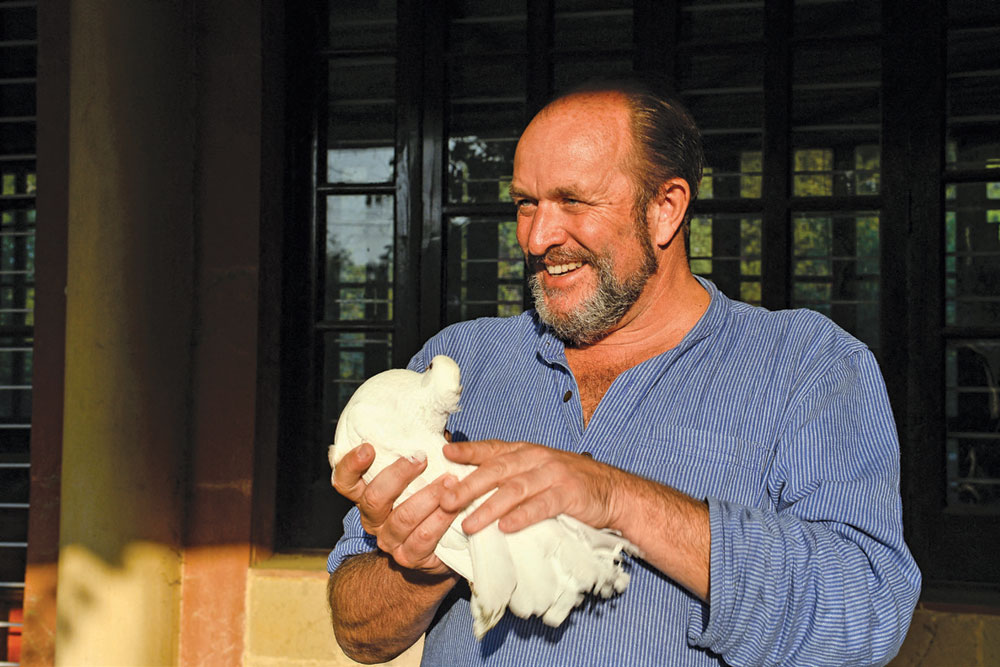 Conversations (Allen Lane) is a brilliant compilation of pieces by India's most literate and imaginative art historian. BN Goswamy brings to his writings the soul of a poet and the heart of a rasika, which he somehow combines with the sharp eye and forensic skills of an art historical detective. Conversations is a wonderful addition to his oeuvre, written with familiar style but unfa­miliar range, bringing his learning to bear on a splendid spectrum of new subjects. Particularly precious are his tributes to gurus and rivals, Ananda Coomaraswamy, Karl Khandalavala and WG Archer. Essential reading for anyone interested in the study and appreciation of India art.
Anirudh Kanisetti's Lords of the Deccan (Juggernaut) breathes life into the rajas, scholars and soldiers of two nearly forgotten medieval dynasties, and resurrects the extraor­dinary world of early medieval south India with flare, nuance, clarity and sophistication. Kanisetti is a superb writer and a talented storyteller as well as an impressively judicious and subtle historian.

Everything the Light Touches by Janice Pariat (HarperVia) is a gor­geous novel about four characters on four different journeys, each in a different time, but linked by their passion for botany and the diverse ways they try to understand the natural world. It is warm, tender, precise, full of charm and humour, but also hugely ambitious and lit by wonderful flashes of gorgeous prose. It announces the arrival of a major new talent in Indian fiction.
The Story of Russia by Orlando Figes (Bloomsbury) is a brilliantly concentrated meditation on the power of myth and history, and the ability of both to form and deform and guide and misguide the present. Thoughtful, nuanced and above all persuasive, it shows how we are all trapped in the loops and coils of myth, memory and forgetting, and demonstrates the urgent need for historians to remember, and insist on the truth.
I also hugely enjoyed Anthony Sattin's Nomads (John Murray) a thoughtful, lyrical yet ambitiously panoramic study of what the author calls "our wandering other half". As fleet and light-footed as its subject, it takes us along a dizzy­ing path over many of the highest ridges of human history, looking down from the time when we were all nomads, and the world was without walls or borders, to our divided, fractured and hobbled pres­ent. It is an important, generous and beautifully written book, perhaps Sattin's best.
DAVID DAVIDAR, Author and publisher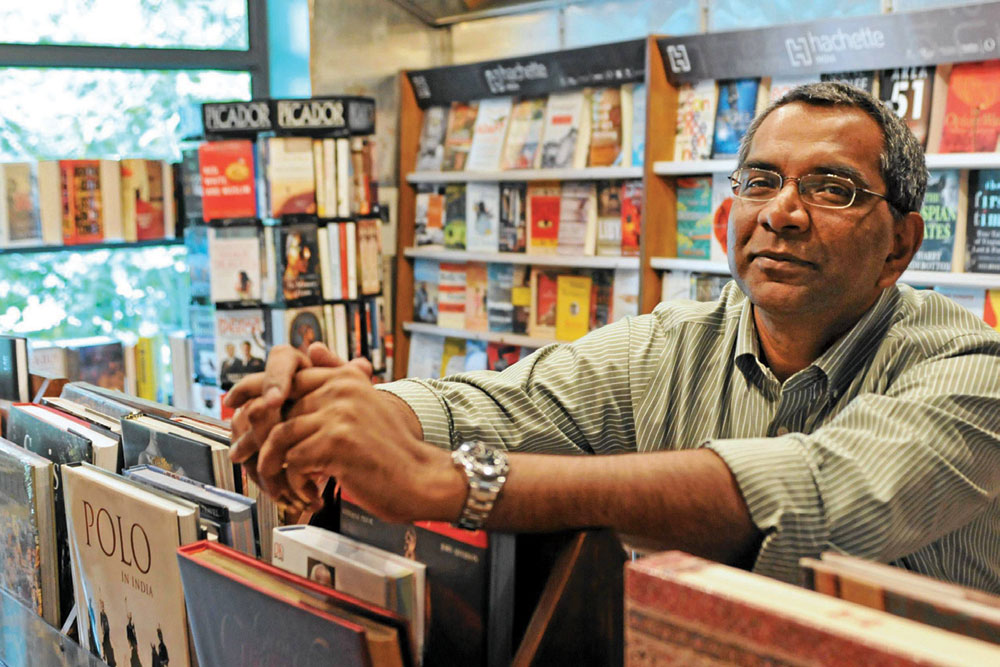 I spent much of this year rewriting books, not reading new works, but in the free time I had at my dis­posal I was fortunate enough to read three stunning works. The first is soon to be out, the latest book from Pico Iyer, The Half Known Life: In Search of Paradise (Hamish Hamilton Books). I have known Iyer for decades now, and have greatly admired his writing since his first astonishing work, Video Night in Kathmandu. Over the years, Iyer has branched out from being a superb travel writer into a seeker after the deeper truths of life—by immersing himself in the work of great religious thinkers and philosophers and travelling to places of great antiquity or where life is lived in the raw. His latest book combines all the lines of enquiry that most interest him and it is a book of tremendous power and grav­ity—even though the writing is so weightless and spare that it seems to float in the air.
The basic premise of the book is humanity's (and Iyer's) journey in search of paradise. The enquirer's search begins in Iran, a country and culture that gave us both the word and the most striking images of paradise. From there the book takes in its sweep an astonishing number of places—North Korea, Belfast, Broome (one of the most remote towns in the Australian outback), Ladakh, Kash­mir, Jerusalem, Sri Lanka, and so on. In each of these places, Iyer's probing eye further illumines what is meant by paradise and how our search for it will end. Among the other great insights this book provides the reader is why some of the world's most beautiful paradises—Kashmir, Bali, Sri Lanka— are also places of such intense sorrow.
In the final analysis, Iyer writes that the truest way to find heaven is to look within and that paradise might only be sought within the mind.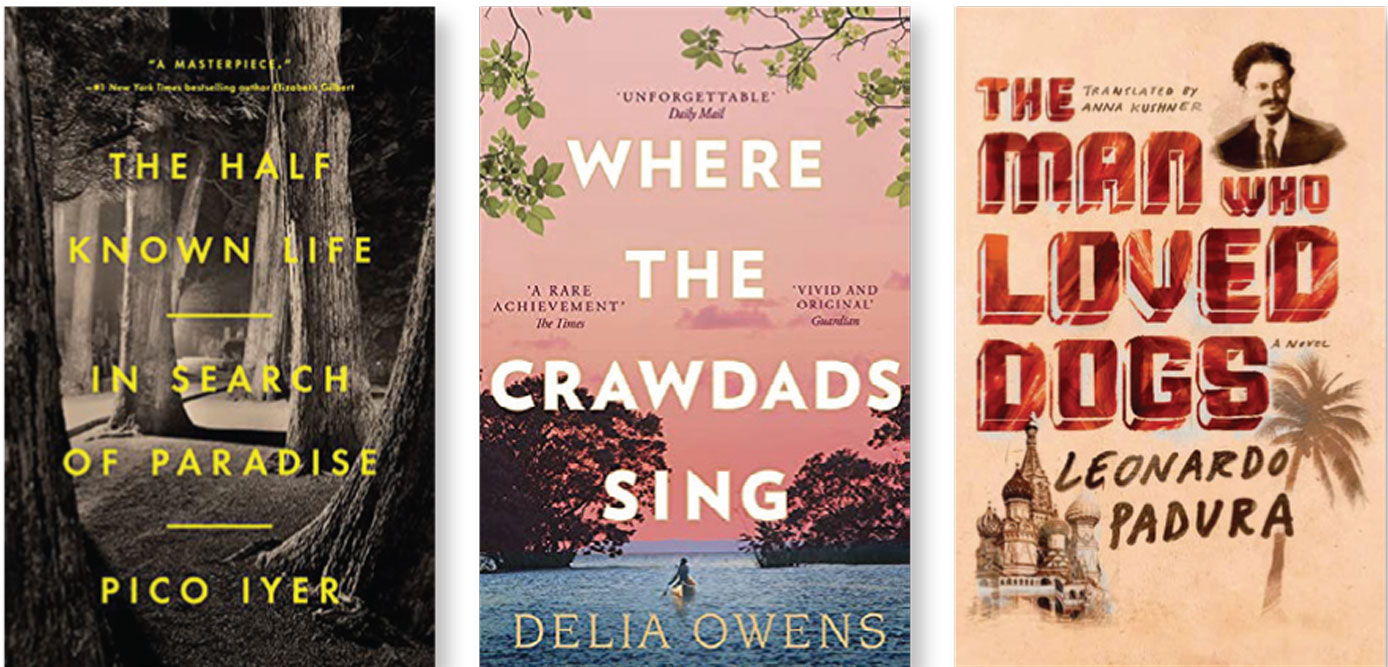 The second book that gripped me this year is nowhere as new as The Half Known Life but it continues to rule bestseller charts around the world, especially in the US, and has just been made into a movie. Where the Crawdads Sing by Delia Owens (Corsair) is the perfect example of a novel that is both literary and commercial, a book that is rare to find. It tells the story of Kya Clark, an orphan who lives in the marshes on the outskirts of Barkley Cove, a small town on the coast of North Carolina. Living alone as she does in a battered old house, surrounded only by the wild creatures of the marshes, Kya becomes the subject of rumour, small-town gossip, and more dangerously the predatory attentions of a thug­gish small-town Romeo. When her unwelcome suitor dies in an accident in the marshes, there is talk that Kya was responsible for it. Although the investigation into the death of the young man and Kya's role in it is the narrative engine that propels the book along, we are given unforget­table descriptions of the wild marshes of North Carolina and vivid insights into the way people in small towns think and behave. It helps that the film that was made of the book is very good. As a bonus the song by Taylor Swift with which the movie ends will haunt you.
Every year I make it a point to re-read some great novel I've read a few years ago, or try to read a book that I have always been meaning to read. This year that book was The Man Who Loved Dogs by Leonardo Padura (Bitter Lemon Press), who is often de­scribed as Cuba's greatest liv­ing writer. Critics have com­pared Padura to both Tolstoy and Gabriel García Márquez— this is not as improbable as it may sound, because both these literary giants chose to paint on enormous canvases, although their techniques and pigments differed. In The Man Who Loved Dogs, his most ambitious work, Paduratells a tale that has at its heart the assassination of Leon Trotsky by Ramon Mercader. The tempests of history, revolution, ideology, and war of several tumultu­ous decades, swirl and collide around the dark eye of the novel. Brilliantly translated from the Spanish by Anna Kushner, this is a book that will satisfy numerous readers—with its glori­ous literary style, blistering narrative pace (unsurprising this as the author is a renowned writer of literary crime fiction), and pitch perfect recreation of one of the signal events of history of the modern era.
AATISH TASEER, Author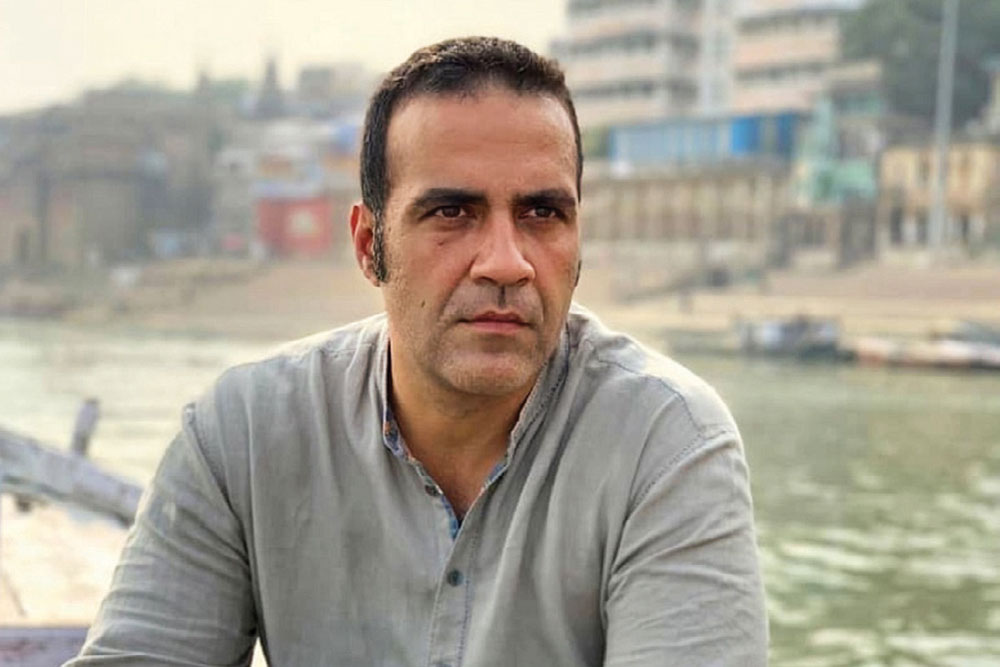 Teen Couple Have Fun Outdoors by Aravind Jayan (Serpent's Tail)
I loved this sly hilarious debut. It's set in Blue Hills colony. The parents of a middle-class Indian family have brought home a brand-new Honda Civ­ic. It's meant to be a day of celebration, but it soon becomes apparent that some­thing is terribly wrong. Sreenath—the older brother of our narrator—has been filmed having sex with his girlfriend, and the video is viral. Immediately this outwardly content family is drawn into that economy of guilt and shame, which underlies so many of our familial relationships in India. Jayan is a wonder­ful writer. It takes a lot of effort to make prose feel as effortless as he does. When I read his novel last summer, my first thought was: "It's as if Narayan and Roth had a baby:" by which I meant it had RK Narayan's natural lightness of touch, but was not quite as coy. There was a healthy dose of steaminess and raunch—a sex, lies and videotape vibe. Jayan looks at his material squarely, yet retains a certain fleet-footedness—a poise.
Kingdoms of Faith by Brian A Catlos (Hurst & Co)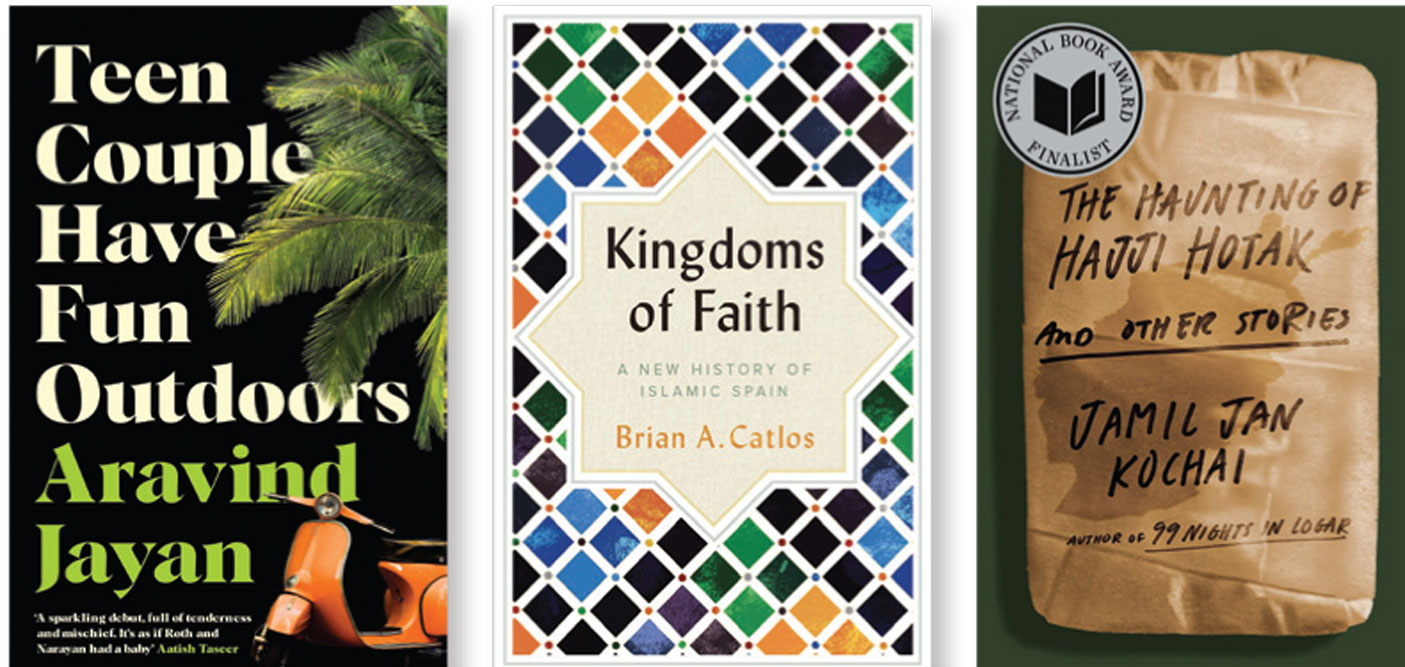 We need to talk about Spain. I've known this country practically half my life, and spent months at a time in An­dalusia, but it was not until this year— when my editor at T, Hanya Yanagihara, suggested I write about Al-Andalus— that the parallels between Spain and India became apparent to me. Both were part of that original Arab expansion: Spain fell in 712, Sindh in 711. Both had centuries of Muslim rule among large swathes of unconverted population. Both produced a rich syncretic culture. But Spain today is scoured clean of its native Muslim and Jewish population, even though so much of that history is in the bone marrow. I found it chilling to read Catlos's excellent account of the rise and fall of Al-Andalus. Little things like Aljamiado, the secret language of the Moriscos—a Romance language written in the Arab script—reminded me so much of Urdu. We don't say it enough—we love our Indian excep­tionalism—but Spain is a distorted funhouse mirror of our own past, and whatever equilibrium we finally ar­rive at on the subcontinent should be imbued with its lesson. Kingdoms of Faith is an excellent place to begin.
The Haunting of Hajji Hotak and Other Stories by Jamil Jan Kochai (Viking)
The other day, as the National Book Awards, were being given out, I glimpsed the author of this lacerating collection of stories. He was nominated in the fiction category. The room filled with applause when his nomination was announced. Rightly so. The Ameri­can withdrawal from Afghanistan was one of the most shameful debacles of recent times. These stories chronicle the Afghan diaspora in the US, as well as the American presence in Afghanistan. Sometimes the line between the two seems to break down and grow porous. Memories, dreams, video games invade the consciousness of those who seem to have got away. The violence we have grown desensitised to is dramatised and made real: "Across the street, in the centre of the second road, lay circular markings of black ash. Remnants, Yusuf, thought, from the suicide bombing that had occurred in this area just a few weeks ago." Since the withdrawal, the US has been engaged in what it does best when things have gone badly for it in foreign parts: strenuous forgetting. These stories will make it harder to do that. What does Brodsky say? "If there is any substitute for love, it is memory."
KR MEERA, Author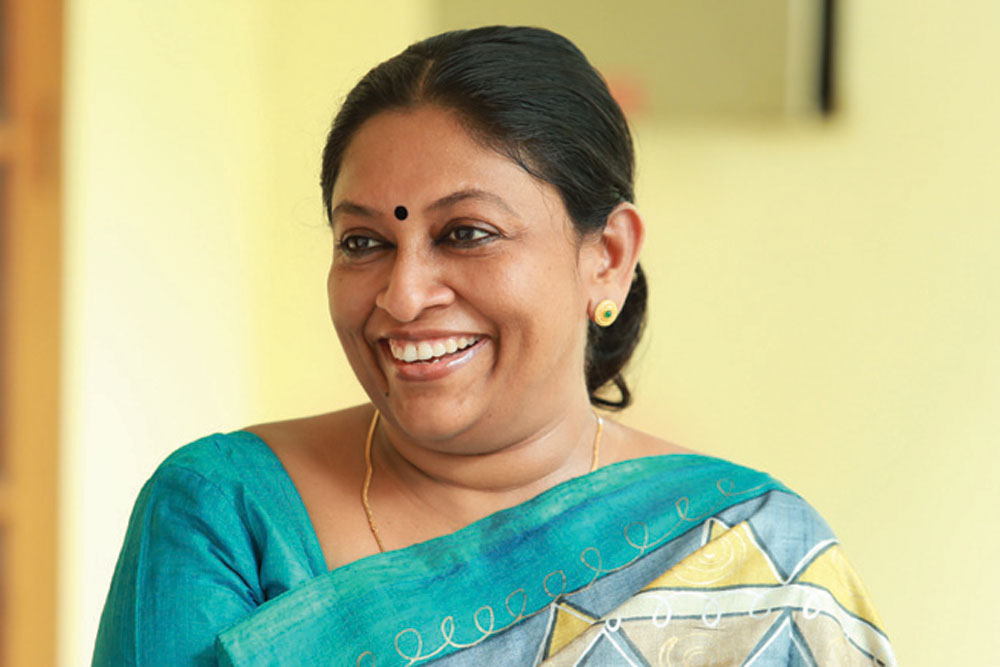 Tomb of Sand by Geetanjali Shree, translated by Daisy Rock­well from Hindi (Penguin).
My favourite sentence from the book—"What is a border? It's some­thing that surrounds an existence, it is a person's perimeter,"—enshrines the book's essence. The prose is seductive and mischievous, the story is deep and multi-layered, the craft is fascinating. Geetanjali Shree's masterful prose and storytelling make it a book to cherish.
Babasaheb: My Life with Dr Ambedkar by Savita Ambedkar, translated by Nadeem Khan from Marathi (Penguin). This is one book I was in search of and it has been exciting to read it finally. It has always been a mystery that the woman who had been the wife of a great legend was missing from the limelight for decades. This book has brought out a romantic BR Ambedkar, who enjoyed playing the violin and sculpting. A movingautobi­ography and a wonderful translation.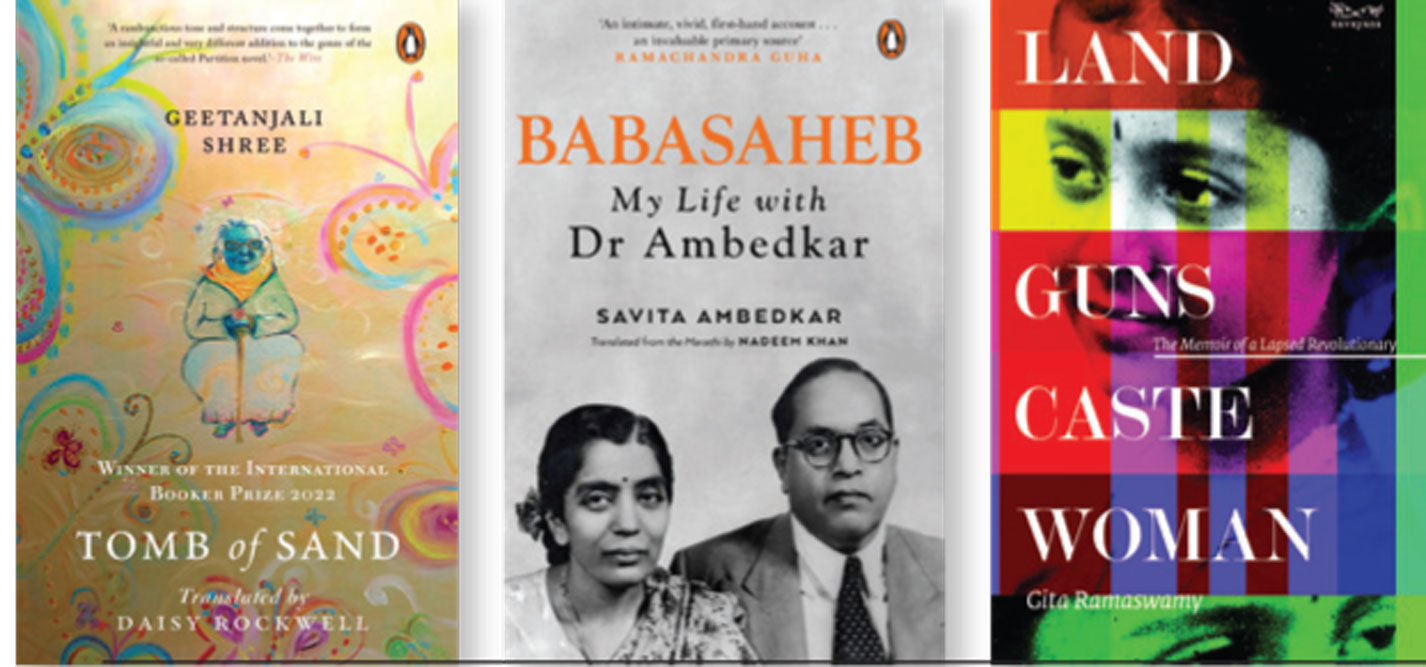 Land, Guns, Caste, Woman: The Memoir of a Lapsed Revolutionary by Gita Ramaswamy (Navayana). This book is thrilling and shattering at the same time. The autobiography of a woman who joined the Naxalite movement during Emergency, it is an eye-opener in many ways. I have never come across such a candid history so loaded with emotions.
MANU S PILLAI, Author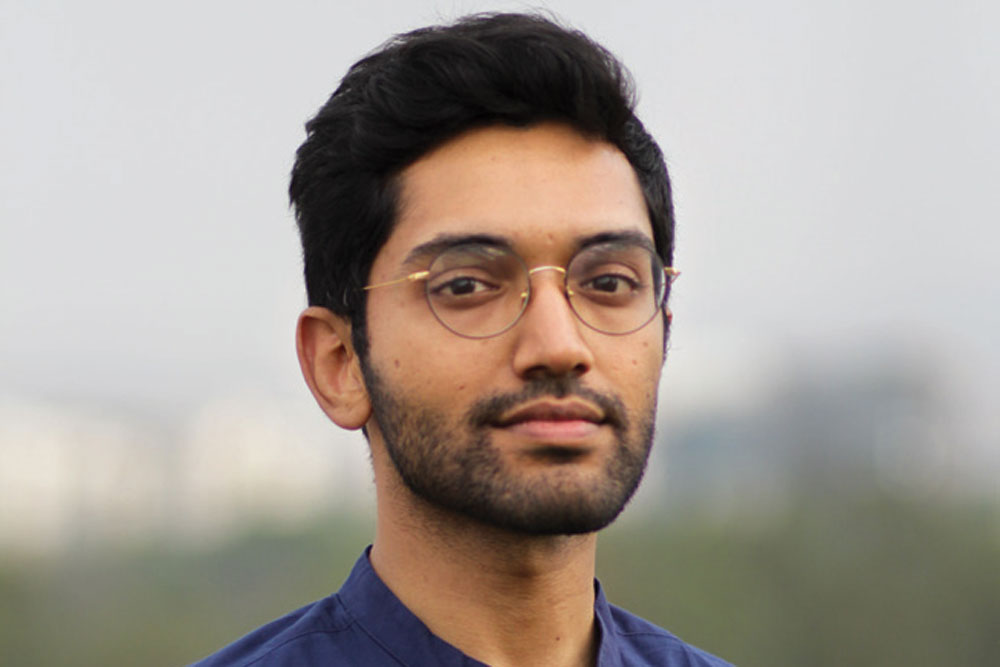 Among the highlights in nar­rative history this year for me was Anirudh Kanisetti's Lords of the Deccan: Southern India from Chalukyas to Cholas (Jugger­naut), which deserves all the praise it has won. For much of the medieval period, some of the most important events in India's political history unfolded in the Deccan. And yet the region barely registers in popular consciousness—something Kanisetti has corrected. A second delightful book was Parvati Sharma's Akbar of Hindustan (Juggernaut), a beautifully written, well-constructed biography of the Mughal emperor. I began read­ing it, wondering how much more could be said on such a well-explored figure; I was surprised by how much I enjoyed Sharma's account of Akbar's life and context. Joseph Sassoon's The Global Merchants: The Enterprise and Extravagance of the Sassoon Dynasty (Allen Lane)—about the rise and decline of the 'Rothschilds of the East'—is a remarkable read. I grew up in Pune, where the name 'Sassoon' still appears on old build­ings, and yet I had very little knowl­edge of the history of this Jewish family, originally immigrants from Baghdad, and whose business empire spread around the world. Nilakantan RS' South Versus North: India's Great Divide (Juggernaut) is a very impor­tant book and poses grave questions about the future of the Indian Union. It is packed with data and tables, which can seem intimidating, but it is a short, sharp affair, and very instructive. Next, James McHugh's An Unholy Brew (Oxford University Press) is a fascinating study of alcohol in Indian history, culture, and in our religious traditions. It was published abroad in late 2021 but I was able to get a copy in India only this year.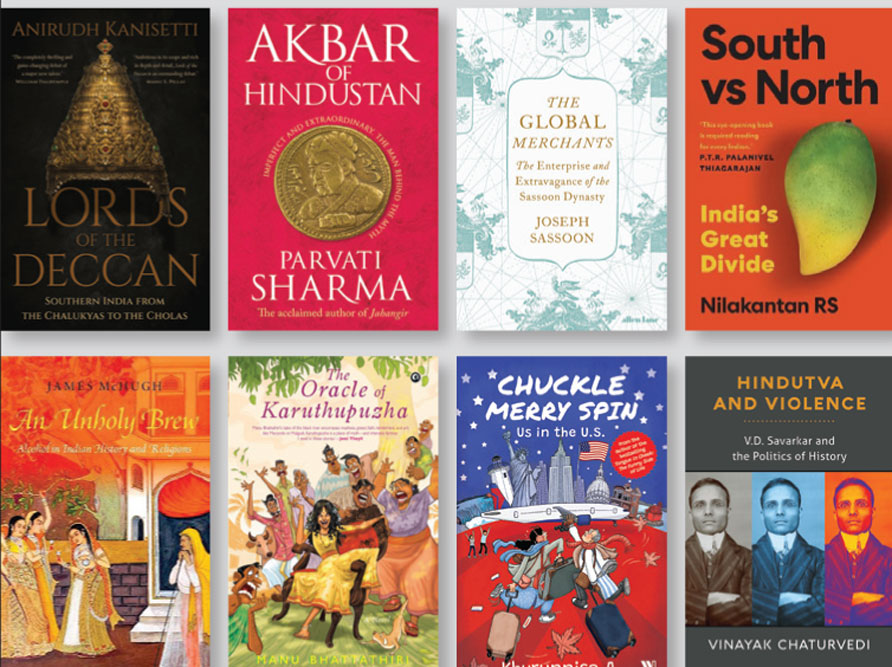 Meanwhile, among the two books that generated laughs in 2022, the first was Manu Bhattathiri's The Oracle of Karuthupuzha (Aleph), based in Kerala. The story is built around an otherwise non-descript girl who gets 'possessed' by a demon-god. Her father builds a lucrative trade around the hooh-haah this causes, and the whole cast of characters in the book is entertaining. Khyrunnisa A's Chuckle Merry Spin: Us in the US (Westland) was another amusing read—it is a travel diary based on the author and her husband's first visit to the US, relatively late in life, with the attendant surprises, toilet crises, and other experiences.
Finally, on my list to finish this year is Vinayak Chaturvedi's Hindutva and Violence (Permanent Black), a scholarly examination of VD Savarkar's thought, which, whether we like it or not, is ascen­dant in India, and must be studied and interrogated closely.
SRINATH RAGHAVAN, Author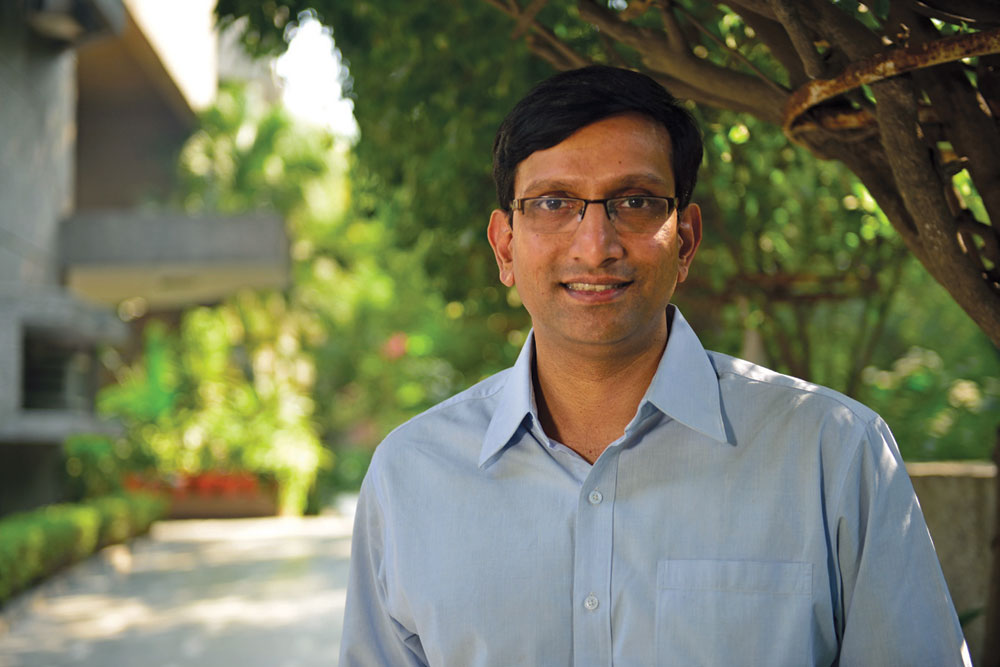 In a year roiled by geopolitical conflict and global economic turbulence, we were fortunate to have a clutch of historical works that cast an interesting light on the current moment. Nicholas Mulder's The Economic Weapon (Yale Univer­sity Press) is a widely researched and closely argued history of the rise of economic sanctions as a tool of modern statecraft. Starting with the economic blockade during World War I, Mulder expertly delineates the development of ideas, practices and institutional structures for employing economic sanctions—not so much as an alterna­tive to war, but as the preferred form of warfare for liberal great powers in interwar years and beyond.
Fritz Bartel's The Triumph of Broken Promises (Harvard University Press) is a compelling book that braids the histories of the end of the Cold War and the rise of neoliberalism. Bartel underscores the importance of the oil shocks and energy crises of the 1970s in forcing both the liberal capi­talist world and the socialist bloc to abandon their models of post-war development and impose economic discipline on their populations. Drawing on an impressive array of new archival materials, the book shows that democracies proved rather more resilient in managing this turn towards fiscal austerity and han­dling the consequences of 'breaking promises' to their people. This, rather than their higher levels of prosperity or consumption, proved to be the ace that won them the Cold War.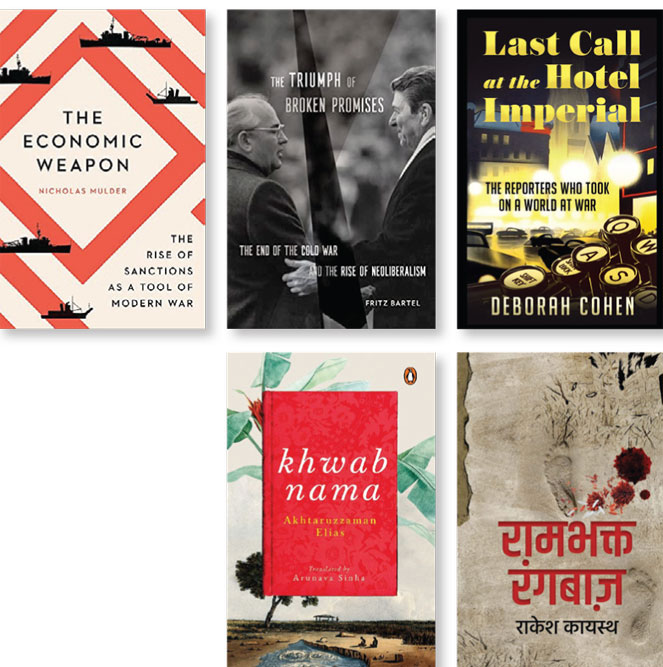 Deborah Cohen's Last Call at the Hotel Imperial (William Collins) traces the intertwined lives of five American foreign correspondents: John Gunther, Frances Fineman Gunther, HR Knickerbocker, Vincent Sheean and Dorothy Thompson. Set in the tumultuous years between the world wars, spanning Europe and Asia (including India), the book draws on writings and private papers of its protagonists to present a remarkable and highly readable account of what it meant to report on and make sense of history as it accelerated towards catastrophe and liberation.
Two books of fiction stood out. Akhtaruzzaman Elias' Khwabnama (Hamish Hamilton), deftly translated by Arunava Sinha, ranks among the greatest works of modern South Asian literature. Elias was a Bangladeshi novelist who died in 1997. Set in Eastern Bengal against the backdrop of the 'Tebhaga' peasant movement as well as impending freedom and partition, his masterpiece offers an extraordinary and memorable portrait of subaltern life and culture. Rakesh Kayasth's Rambhakt Rangbaaz (Hind Yugm) is formally at the opposite end of the literary spectrum—written consciously as popular fiction. Yet its depiction of the transformation of the north Indian society against the back­drop of LK Advani's fateful rath yatra is wonderfully perceptive, layered, and nuanced. I gather an English translation should be out soon.
JERRY PINTO, Author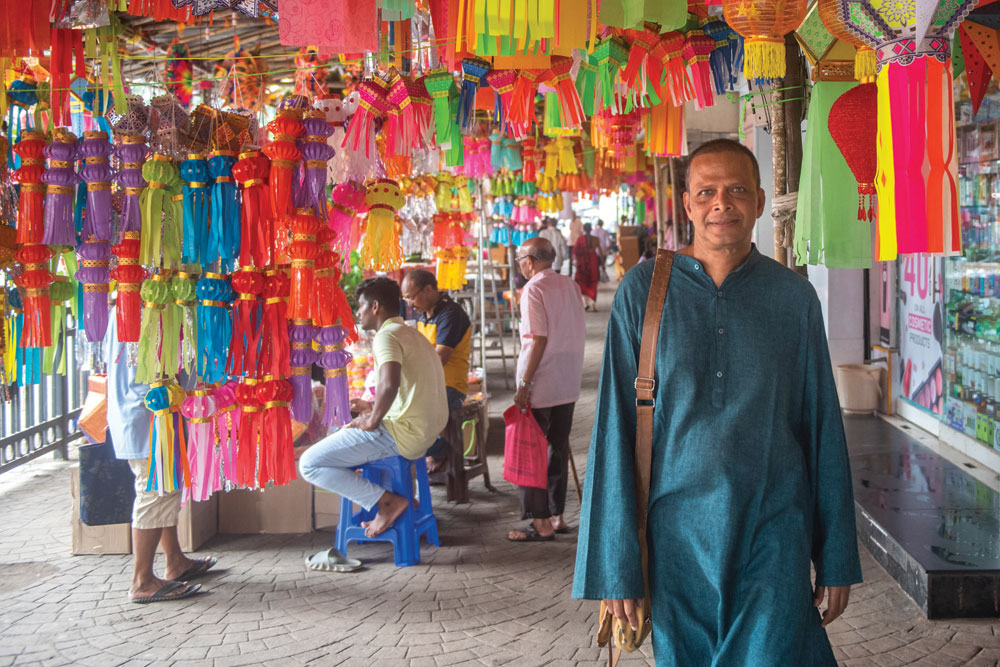 It feels like a bad reading year after those lush years of the pandemic when time stood still and I could read a couple of books a day sometimes. But despite that, there were some magi­cal books this year, some absolute gems.
Land, Guns, Caste, Woman: The Memoir of a Lapsed Revolutionary by Gita Ramaswamy (Navayana Press).

This is a memoir that completely blew me away. It takes in a world that lives next door to us but of which we are, for the most part, oblivious. Gita Ramas­wamy was a bright student at Hyderabad and began to be drawn into the Naxal movement. Jungle drums announced this in Chennai and she was tricked into returning home. When she proved intransigent, the patriarchy brought out its big guns and horrific attempts were made to save the bright young Brahmin woman from turning red. In this, we are nonpareil: our love of family is so great, we turn to stratagems that seem to be fuelled by hate. But Gita was not to be de­nied; she went back, went underground and surfaced when the Movement could not stand up to her critical gaze. She worked with the poor and the landless, she got them their land and when she saw that this was turning her into a figure of power, she walked away again and turned to publishing with the Hyderabad Book Trust which has done sterling work and is now looking to expand into an English-language operation.
It has always been my contention that every life is unique and every life is a powerful story that we all need to hear. But what sets this apart is the simplicity of its narrative style. This is a hard-won line, simplified, straightened, honest, un­flinching. The context is established, the background is worked out but the narra­tive line is so strong, that you find yourself immersed in another life. This is the best autobiography I have read this year.
The Second Wave: Reflections on the Pandemic through Photography, Performance and Public Culture by Rustom Bharucha (Seagull Books).
One of the benefits of a life lived among books is the arrival of a manu­script from a writer friend who is now ready to show this to the world. Rustom Bharucha has long been one of our most rigorous and scrupulous social scientists who has turned his gaze upon the worlds of theatre, art and performance. This is a thoughtful and meditative essay on how many of us were fortunate to view the pandemic, at one remove, through a glass darkly. This is a catalytic book, one that helped me resee what I had seen.
Kalindi (Brahmankanya) by Shridhar Venkatesh Ketkar; translated by Shanta Gokhale (Speaking Tiger)
For years, I had heard of Shanta Gokhale's bucket list as a translator, and Brahmankanya by Ketkar was always on it. This has finally been ticked off and here it is, another milestone in Marathi literature brought to us by the finest translator we have. It is a big story and often an amazing one. Kalindi Dagge is a character who is going to walk straight into your consciousness. You are unlikely to forget the daughter of a Brahmin and a casteless woman who struggles to find an equitable and caste-free society where she can stand shoulder to shoulder with a man she loves. And when was she trying to do this? In the early 1900s.
An American Girl in India: Letters and Recollections, 1963-1964 by Wendy Doniger (Speaking Tiger)
I have always been a fan of letters and one of the big projects I set myself through the pandemic was the reading of the letters of Vincent van Gogh, spread across three volumes and garnished with drawings. Doniger's young self comes through so clearly in these letters, a perky, charming, observant and open-minded woman experiencing the vivid­ness and variety of another civilisation for the first time. I remember picking it up one evening to pick through it, and picking up the interrupted course of my life several hours later when with a sigh I set it down again and wished she had written some more letters. Or that she might start writing some now.
TISHANI DOSHI, Author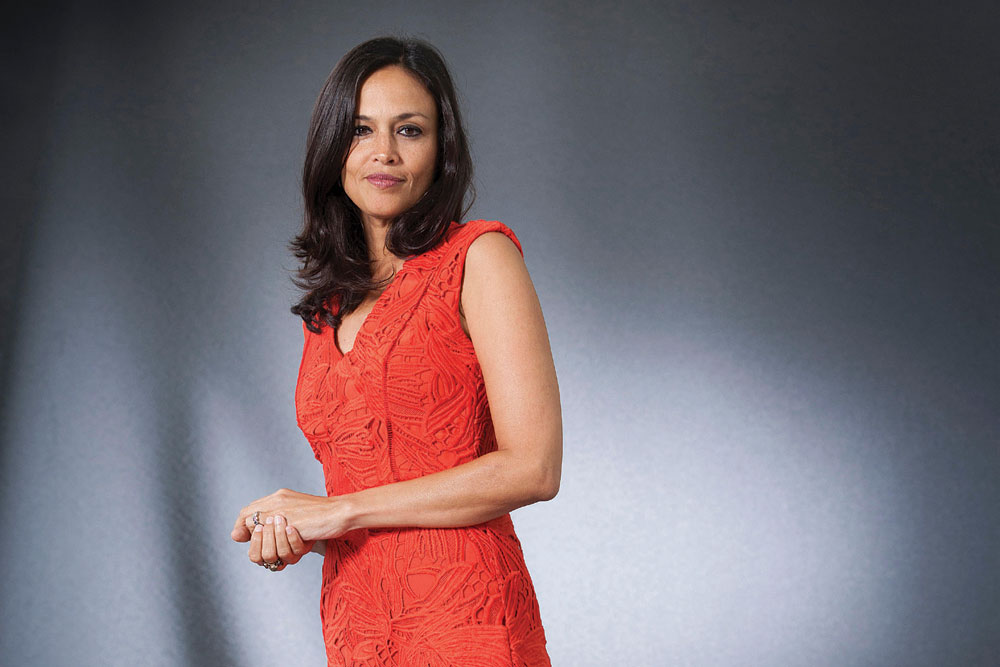 I read Sara Suleri's Meatless Days (University of Chicago Press) in April, a month after she died. There were several tributes circulating about her, including one by Kamila Shamsie, who described the book to me as "its own island of genius." I felt an immedi­ate resonance, partly because Suleri's mother was Welsh (like mine), and this mixed-ness forms a great part of the work, but it was the way she was using language that upended me—some of her sentences seem to float above the prose as separate entities; her perspec­tive is ambitious and intimate. It's not just nation that is historical, but family and grief and love are historical, the body is historical, a dead sister's wrist is historical. There were many wondrous collections of poetry this year, but there are two I'd like to highlight. The Penguin Book of Indian Poets, edited by Jeet Thay­il, which of course has omissions despite its largesse (is there ever an anthology without omissions?), but it seems to me that this book builds a house of Indian poetry in English that is capacious and tender and lasting.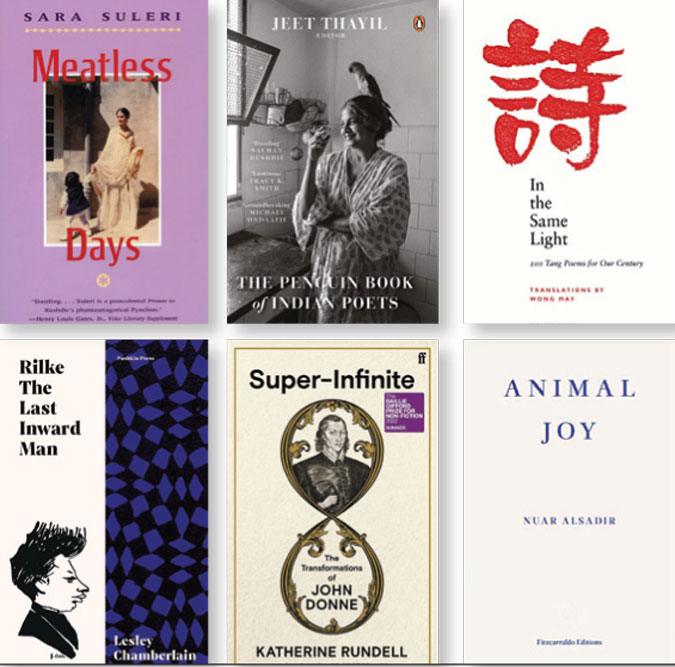 In the Same Light: 200 Tang Poems for Our Century (Carcanet Classics), translated by Wong May, reaffirmed many things for me—that over a thousand years ago, during a time of war, drought, famine, plague, natural disasters and oppres­sive regimes (sound familiar?), Tang poets were writing about the moon and foxes wandering in and out of temples, about the bodies of the dead outside the city gates. The poets themselves were drunkards, exiled, imprisoned, heroic, failures, but they left behind words that sing out to us still. In her scintillating afterword May writes that in Tang poems "the cicada of one poem calls out to the cicada of another," which left me breathless: Isn't this how poetic lineages are formed? Staying on theme, I read two brilliant biographies of dead white male poets (beloved ones, though)—Lesley Chamberlain's Rilke: The Last Inward Man (Pushkin Press), and Katherine Rundell's Super-Infinite: The Transformations of John Donne (Faber). Both Rilke and Donne could dwell in misery, felt thwarted, weren't the nicest husbands etc. but they were both interested in transformations and the transformable. Donne's insistence on astonishment reverberates alongside Rilke's explorations of the weltraum— the space our world occupies, and his famous charge: "You must change your life." And taken together they bring me to poet and psychoanalyst Nuar Alsadir's Animal Joy: A Book of Laughter and Resuscitation (Fitzcarraldo Editions)—a beautiful meditation that directs us inward, however terrifying a place that may be, and in this self-gathering, urges us to recover a sense of aliveness and play and laughter as a kind of revolution. It also happens to contain one of the best answers to the question "What is the purpose of poetry?" courtesy the poet Zbigniew Herbert: "To wake up!"

NAMITA GOKHALE, Author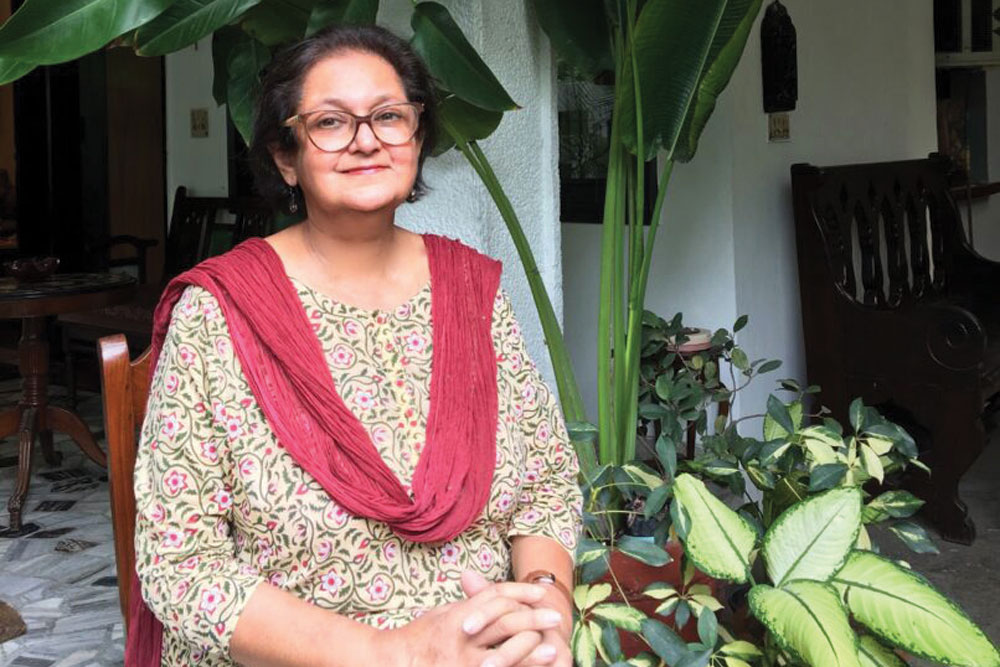 My reading tends to be diverse and erratic. Here are some books that I encountered in 2022 that have remained with me long after I read them.
The Song of the Cell by Siddhartha Mukherjee (Allen Lane)
This exploration of the human life form as a cellular ecosystem is pierc­ing, prescient and philosophical. The pandemic years have made the study and understanding of our bodies all the more urgent. Siddhartha Mukherjee's compassionate, tender and intellectual­ly rigorous prose has made the mystery of these elementary particles accessible to readers. The Song of the Cell is an unfor­gettable book.
Independence by Chitra Banerjee Divakaruni (HarperCollins)
Chitra Banerjee Divakaruni is an accomplished writer whose previous novels have each made a distinctive mark. Her latest novel, Independence, takes us to Bengal during the time of Par­tition and a newly gained freedom. It is moving, authentic, and told with depth and feeling. The book reached out to me at different levels—for its accomplished style, for the substance of the storytell­ing, for the way in which it stayed with me after long I had put it down.

Dhanak and Daaera by Javed Akhtar and Shabana Azmi (Eka)
These two trilingual editions of significant solo anthologies are a tribute to a literary and cultural legacy and to the continuum of that legacy. Dhanak (mean­ing rainbow) is a collection of verses by Jan Nisar Akhtar, (Javed Akhtar's father) selected by Shabana Azmi and trans­lated from Urdu by Kaifi Azmi. Daaera (meaning circle) is a collection of poems by Kaifi Azmi (Shabana Azmi's father) selected by Javed Akhtar and translated from Urdu by Mir Ali Hussain. The seamless transitions between scripts and texts and the emotive landscapes they evoke moved me deeply.
Writer, Rebel, Soldier, Lover: The Many Lives of Agyeya by Akshaya Mukul (Penguin)
Akshaya Mukul's magisterial biog­raphy of the writer Agyeya helps span some of the disturbing divides that exist between Hindi and English-Indian writ­ing. The enigmatic figure of Sachchi­dananda Hirananda Vatsyayan, Agyeya, comes to life through a multi-layered and deeply researched text, which is as much an account of the intellectual and cultural context of his times as a personal and literary narrative. A book to be read, reread, and savoured.
Ret Samadhi (Tomb of Sand) by Geetanjali Shree (translated by Daisy Rockwell) (Rajkamal Prakashan) Geetanjali Shree's highly original, infi­nitely creative Hindi novel Ret Samadhi is a complex and challenging book , and it is a sheer delight to see it come to life in Daisy Rockwell's joyous English transla­tion. The linguistic play and deep liter­ary allusions, the human stories and the metaphorical and allegorical flights of imagination, all triumphantly survive the transition to English. It was deserv­edly awarded the Booker International Prize for 2022, fore fronting one of the most spoken languages in the world. A book with physical and intellectual heft, it was one of the great bookish treats of 2022.
You Made a Fool of Death with your Beauty by Akwaeke Emezi (Faber)
This bewilderingly prolific and sometimes controversial Nigerian writer stayed in my heart since I read Akwaeke Emezi's previous novel The Death of Vivek Oji. Here is their seventh book in their fifth genre, and their first foray into romance. Romantic fiction is all too often constrained by the conventions of the genre, but not with Emezi's surefooted narrative. This is an emotive story of loss and lust and the unexpectedness of love. Emezi is an instinctive storyteller and I am awaiting the film, where Emezi is slated as executive producer.