On a muggy September morning in the early 1980s, my mother dressed my nine-year-old brother as a Malabar Muslim woman, draping him in a white saree, tucking his hair under a head cover, putting on several golden ear clips and lightly applying kajal (kohl) with the tip of her ring finger in his eyes, for a school fancy dress parade. She then gave him a betel leaf, saying women often chewed it to stain their lips red. That was the final touch.
It was around the same time that a friend gifted me Robert Edwin Herzstein's The Nazis, which gave a glimpse into Hitler's private life with his companion Eva Braun, at the Berghof, his Alpine retreat near the Austrian border. 'To ensure the Führer's privacy, the entire complex was fenced and patrolled day and night by the SS. Hitler himself added to the regimentation, establishing stringent house rules for Eva, their guests and the permanent staff: no smoking, no whistling, no dancing, no heavy makeup or nail polish, no letter writing or diary keeping—and absolutely no political discussion.' The chapter had an image of Eva powdering her face 'defying Hitler's orders'.
The dictator was known to have detested red lipstick, in particular. Braun's devotion to Hitler, reflected in a letter to him, in which she says, 'you know my whole life is loving you,' did not keep her from treasuring a red lipstick. In 2016, her silver lipstick case engraved with 'EB', with a tiny mirror inside, sold for £360 at the Philip Serrell auction house in Malvern, UK.
What was it about a three-inch tube filled with creamy colour that had the entire universe dancing around it, from ancient times till the world came to a standstill, paused by a virus which masked the lips? The lipstick, the last stroke of makeup on the face, at times the masterstroke, for the first time, slipped into oblivion, hidden or omitted. Sitting before the mirror, even the diehard lipstick wearer would think twice before colouring the lips. The lipstick will be invisible, it may smudge, it could leave an ugly stain on the mask. The lips, her most sensuous feature, the one giving expression to her intimacy, sexuality and love, remain hidden. She may as well focus on adorning the eyes, the only other feature, arguably as expressive, visible over the mask, or just altogether ignore her appearance.
Beauty experts say it is not as simple. After an initial compliance with the unprecedented changes that the life-threatening pandemic brought into the world, the forfeiting of lipstick being counted among the least of the cardinal ones, there has been an innate longing to return to 'normalcy'. The lipstick is no exception. For a while, the focus turned to dramatic eye makeup—-kohl, mascara, liner, eye shadow. Women are again exploring options to stain their lips, a formula that could survive the mask. They are not giving up. They are trying to defy the mask. After all, the lipstick has been about rebellion through its history across the world.
In the 1930s, just as World War II began, the lipstick was getting more popular in the US and Europe. The Nazis' disdain for it only made women in the Allied forces flaunt it. Though ingredients used in it, like petroleum and castor oil, were diverted for the war making them scarce, in the UK, Prime Minister Winston Churchill ensured there was no rationing of lipstick, to keep the morale high. By the early 1940s, as more American women stepped out to work and even joined the service, Elizabeth Arden created the 'Montezuma Red' lipstick, named after a line in the Marines' Hymn. An advertisement for Montezuma Red showing a black-and-white image of a woman in uniform with only the lips, scarf and hat chord in deep red, read: 'Inspired by the brave, true red of the hat chord, scarf and chevrons of the Women in the Marines. A vivid red to wear with white, grey, beige, navy and tweeds. A tribute to some of the bravest men and women in the world.' It symbolised hope, confidence and patriotism. Along with it was also Montezuma rouge and red nail polish. Arden then came out with 'Victory Red' lipstick for the general public. Nearly three decades before that, in New York outside her Red Door parlour, she gave out classic red-coloured lipsticks to women as 15,000 suffragettes marched demanding the right to vote. The red lipstick stood for liberation.
In another part of the world, it was still outside the realm of ceremoniousness. But, when it comes to lipstick, women have always found a way to defy the patriarchal frown, which deepens if the colour is red. If it was Marilyn Monroe, who had said 'put on some red lipstick and live a little' in Hollywood, in India, it was Madhubala who dared to wear the bold red lipstick. Their smiling images, almost devoid of makeup, barring the cupid-shaped red swipe on their parted lips, inspired women who were torn between emulating the look and giving in to the conservative scorn for it. It left the men squirming in their hypocritical gaze, which desired and detested it, finding it seductive and repulsive.
The more it was forbidden, the more lipstick became a symbol of defiance. The more women were morose, the more they soaked their lips in colour to lift their spirits. The pandemic brought in a foreboding of uncertainty; a fear of the unknown and ambiguity about the future. It was about living each day as it came, cherishing the moment. The mask was non-negotiable. Gradually, the dreary blue surgical masks got replaced with the colourful ones. The lips, sealed with a mask, at least till the vaccine frees them from it, gasped for a non-transferable formula. For a woman who has revelled in the effulgence of the lipstick, leaving it bare psychologically accentuates the blues. Embellishing the lips is a way of feeling optimistic in the darkness, empowering her to face the new way of life. The mask prescribed a new benchmark—to look beautiful in a woman's own eyes.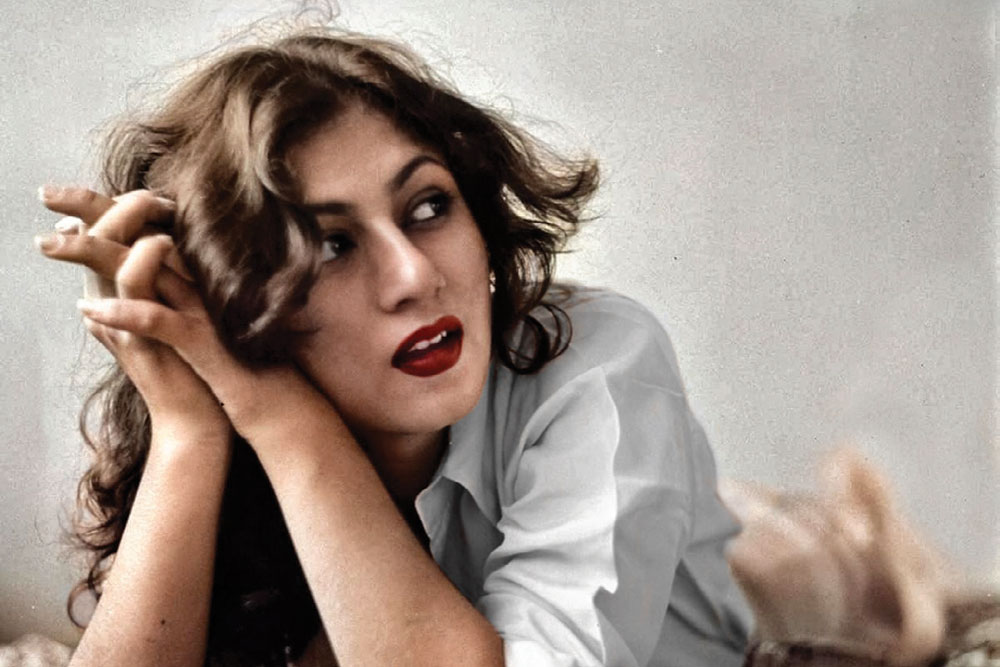 Celebrity makeup artist Arti Nayar says the mask does not deter women from wearing lipstick. "One would think that with the mask, women don't wear lipstick. The only difference is they may prefer a matte one. If you are working from home, you feel 'let me get ready', like on any normal day. It's about a semblance of normalcy to keep your sanity intact."
One of the online searches on lipstick in India filled up the screen with a series of Indian pornographic sites revolving around 'red lipstick'. Yet, there was the other side. In images of Hindu goddesses, the lips appeared redder than their natural colour. The lipstick survived its dichotomy, but remained ensnared in it. India needed an Arden. An activist herself, she had said: "I don't sell cosmetics, I sell hope." Years later, another American businessman, Peter Nivio Zarlenga, the author of The Orator, said, "In our factory, we make lipstick. In our advertising, we sell hope." A Max Factor advertisement for three shades of 'Clear Red', an 'alluring lipstick strategy', in the 1950s, featuring actress Elizabeth Taylor, captures its symbolism—'bold, singing, daring, dramatic.' A Vogue cover saying 'International Good Looks' in 1958, had a sketch of a chiselled visage of a woman with bright red lipstick. Makeup moguls in the West eulogised the lipstick, taking it beyond its association with prostitutes and witchcraft or being restricted to actors and the nobility.
If it was Marilyn Monroe, who had said 'put on some red lipstick and live a little' in Hollywood, in India, it was Madhubala who dared to wear the bold red lipstick. Their smiling images inspired women who were torn between emulating the look and giving in to the conservative scorn for it
"The pandemic seems to have changed some habits for a few of us, as most of us are either working from home or wearing masks the moment we step out. I do believe women working from home are, particularly now, turning back towards their favourite lipsticks, especially for their Zoom meetings. And, if stepping out, women will, by and large, continue to carry a lip colour, just in case they are caught off guard. So if you are a lipstick woman you are always going to find a way to get some colour back into your life, mask or no mask," says celebrity makeup artist Puneet B Saini. Known for her work in Bollywood films like Bombay Velvet, Jab Tak Hai Jaan and PK, she rarely uses a single product and mixes colours and textures to create one in the moment. According to her, the act of wearing lipstick will always be an alluring one. "It is to either reflect or change our moods or to share a part of our personality with the rest of the world. I have known quite a few women don a bright coral or red just to make the day seem better and some to never steer away from their one personal favourite, no matter what the occasion."
In India, staining the lips red goes back to mythology and ancient history, figuring in texts like Vatsyayana's Kama Sutra and Kalidas' Kumarasambhavam, which mention 'Alaktaka', a red resin of a plant used to colour lips. Kunda B Patkar writes in Herbal Cosmetics in Ancient India that the ancient science of cosmetology is believed to have originated in Egypt and India, with evidence of use of cosmetics by men and women, and oral hygiene in the form of care of teeth, mouth deodorants and colouring of lips being daily chores to be religiously pursued. "Significantly, the use of cosmetics was directed not only towards developing an outwardly pleasant and attractive personality, but towards achieving merit, longevity and happiness." Patkar, tracing the first existence of cosmetic substances to the Indus Valley Civilisation between 2500 and 1550 BCE, said the earliest reference to a beautician was from the Mahabharata, when Draupadi worked for the queen of Virata as a sairandhri, an attendant in the women's section of the palace, carrying a prasadhana petika, a vanity case.
"Women everywhere love lipstick. It makes a woman a head-turner. She does not fade into the background. It makes her feel bold and confident, the same reasons why men hate it. In India, men have always had a problem with fire engine red lipstick," says makeup artist and hair stylist Ambika Pillai. In her career of 34 years, she says, it took three decades to see women in India wearing bright lipsticks.
A part of everyday life for many women, who never imagined life without it, the pandemic was the first time that they were at odds with themselves when it came to lipstick. Pillai says lips were always behind the mask in yesteryears. "It took years to change. The images of goddesses may have red lips and voluptuous figures. But, that's the ideal, not the everyday woman." According to her, Indian women stuck to the "staid and boring" browns because it was more muted on their skin tones and men did not have a problem with that. More than a decade ago, Pillai had come out with her own range of lipsticks, of which 'Red Hot', a fresh bright red, she says, is actor Sushmita Sen's all-time favourite.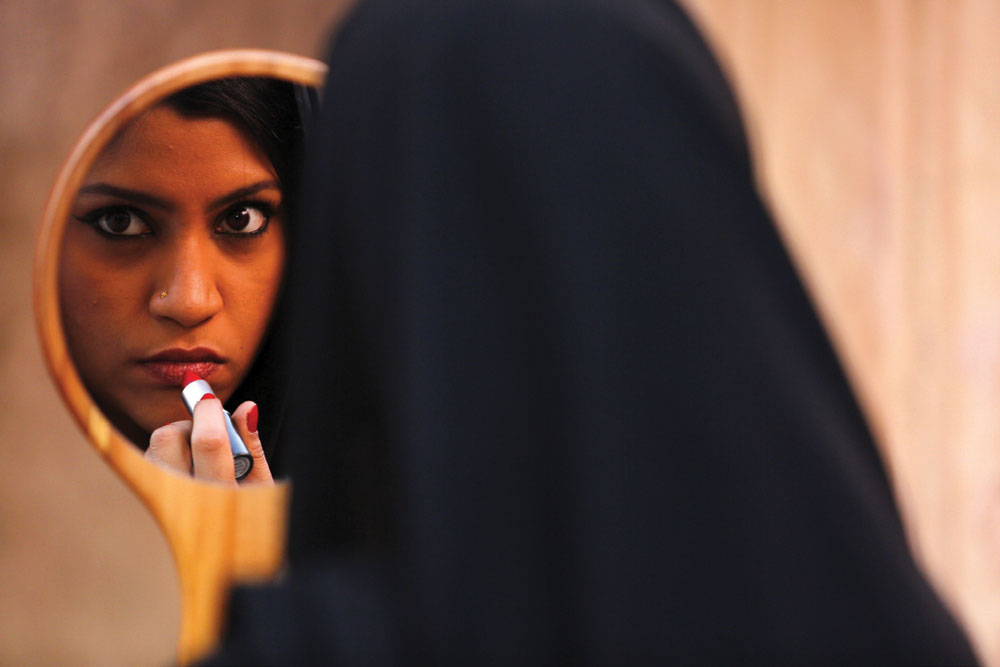 Over its 5,000-year history, the world over, the story of makeup for a woman's most erotic feature has taken several twists and turns—adorning lips of queens, facing religious denunciation in the Middle Ages, suffering blame for sorcery, standing for sheer grit, emerging as a status symbol, getting smeared for evoking carnal desire and drawing admiration for its erotic appeal. It was sacrilege and sublime.
"Desire, like lipstick, is supposed to be secretive. It was never associated with the Sati-Savitri image of an Indian woman. Yet, I have seen all my aunts wear lipstick. It has undergone a transformation. It's a form of rebellion," says Ratna Pathak Shah, who was lauded for her role as a woman in her fifties wanting to learn to swim and give expression to her secret desires, in the Hindi film Lipstick Under My Burkha. Alankrita Shrivastava, the writer and director of the film, which tells the story of four women of different age groups trying to break free, says she never thought about the film without its title. "For me, lipstick symbolises the idea of women owning their bodies and desires because that is something prohibitive in a patriarchal milieu. The scene where all four women are getting ready to go for a mela denotes hope. It's like they are putting on warrior paint," she says.
The paint, hidden under the mask, slipped from the list of makeup favourites, and eye makeup sales went up. According to the spokesperson for Nykaa, an Indian retail seller of beauty and wellness products, initial phases of the lockdown did see a shift in certain preferences with an increased focus on skincare or personal care. It also showed a rise in demand in makeup for the eye. Nykaa claims it continued to see a steady demand in lipsticks, the difference being that consumers asked for more long-lasting and comfortable formulations. Since the onset of the festive season, makeup sales grew exceeding pre-Covid levels consistently since September, and have shown a growth within all sub-categories—lips, eyes as well as face.
What was it about a three-inch tube filled with creamy colour that had the entire universe dancing around it, from ancient times till the world came to a standstill, paused by a virus which masked the lips?
One could argue whether poets have romanticised the lips more, or the eyes. 'Mir un nim-baz ankhon mein, saari masti sharab ki si hai (Mir in those half-closed eyes, there was intoxication just like wine),' wrote Meer Taqi Meer, the famous 18th century poet called the Khudala-e-Sukhan, the God of Writing. When it came to lips, he has compared their sensuousness with things red in colour. 'Nazuki us ke lab ki kya Kahiye, pankhudi ik gulab ki si hai (What can one say about the tenderness of her lips. It's like a petal of rose),' or 'lab tire laal-e-naam hain donon, par tamami itaab hain donon (your two lips are clear rubies, but they completely reflect your anger),' he wrote.
If the kohl-lined, half-closed eyes could make an admirer feel heady, quivering or half-parted reddish lips signalled sexuality. The lipstick was stamped on love letters. The ancient limestone bust of Nefertiti, seen as an epitome of female beauty with her long neck and chiselled face, has deep red lips. The 14th century BCE wife of the Egyptian pharaoh Akhenaten, Nefertiti belonged to a civilisation where cosmetics were an elaborate ritual, deepening the mysterious and seductive charm of its women.
Dark (even black) to nude, fiery red to the natural MLBB (my lips but better), the lipstick has waded through an amaranthine palette. Dazzling, bold lipstick—orange, red, pink, purple, green, blue—is making a statement, regardless of judgement on its aesthetics or rectitude. It is a matter of choice. It may be about feeling empowered, or just looking good, or both. As Shrivastava, who herself does not wear lipstick, puts it, "we look at beauty as men see it. But if a woman wants to wear a lipstick, whatever shade it might be, she should be able to."
Nayar, the makeup artist for stars like Katrina Kaif, Sara Ali Khan and Sonam Kapoor Ahuja, started liking lipstick more as she started growing up. It gives confidence. It completes a look. She says women didn't experiment with colours as much earlier. Access to social media has opened up the acceptance for bright colours. It has changed the game. It's not just the lipstick which has undergone a change. The idea of beautiful lips itself has altered from thin lips and a small, delicate mouth to full, luscious and even bee-stung lips. Women are increasingly going in for lip-enhancing procedures, amplifying its erotic appeal. The desire for a sexy pout flooded the market with lipsticks claiming to plump up lips. The lipstick was no longer just about colour.
According to Saini, now one is either a lipstick person or not. There are numerous women who would rather balm or gloss their lips instead of using a solid colour on them. "However, for those who always turn to their lipstick to add a bit of glam or drama, I would think that lipstick has and always, like perfume, been a very personal choice, though like all beauty and fashion, it continues to go through trends like the weather."
After the 9/11 terrorist attacks in the US, chairman of Estée Lauder, Leonard Lauder, came out with the term 'Lipstick Index', claiming that lipstick sales had improved during the early 2000s recession, but this indicator was contested as sales of lipstick went up during an economic upturn. For New York-based television journalist-turned director Geralyn Lucas, whose memoirs Why I Wore Lipstick to My Mastectomy , on her struggle with breast cancer at 27, a bright red lipstick stood for strength. Recalling the first time she wore red lipstick, which she got as a free gift while she was in college, she wrote, 'When I looked in the mirror I was confused. I definitely did not look like Marilyn Monroe, but there was something about myself I didn't recognise. Some sort of confidence was on my lips staring back at me, daring me to live up to this fierce red lipstick I had just applied.'
Vani Tripathi Tikoo, member of the Central Board of Film Certification (CBFC), actor and former BJP national secretary, says in cinema something as beautiful as the lipstick can stand for the ugliness and the disturbing image of violence against women if it is smudged across the mouth, but it is the context and intention of the filmmaker that matters. A regular lipstick wearer, she says, "When I picked up a lipstick to get ready for my virtual calls during the pandemic, it felt a bit unreal. But it did feel good. I also bought a lipstick online. I think post-pandemic there's going to be another change and women are going to make up for what may have become redundant for a while."
Incidentally, it was Elizabeth Taylor, whose fondness for lipstick is lucid in her famous quote, "Pour yourself a drink, put on some lipstick, and pull yourself together." Taylor played the role of Cleopatra, the Hollywood film named after the Egyptian queen known to have made lip colour using carmine beetles, flowers, red ochre, crushed ants and fish scales. In Europe, the Middle Ages cast their shadow on colouring the lips, adding it to the list of sins. Even that did not stop women from wearing lip salve, made at home with alkanet root and essential oils. But, in 16th-century England, Queen Elizabeth loved red lips against a white face. It was only in 1884 that the first commercial lipstick was made from castor oil, deer tallow and beeswax. Guerlain, a French perfume company, began manufacturing lipsticks towards the end of the 19th century. By the 20th century, that lipstick started gaining acceptance in England. Queen Elizabeth II, who generally wears pink-toned lipsticks, has also worn a deep red matching her rubies. She had commissioned her own red-blue shade to match her coronation robes in 1952. It was named 'The Balmoral Lipstick'.
The lipstick stands liberated. From the 1959 hit 'Lipstick on Your Collar' sung by Connie Francis to the lipstick under the mask, it has earned its place. The beauty of it lies no longer in the eyes of the beholder. The mask only adds to the mystery—hidden, yet powerful. It does not matter if it evokes carnal desires, scorn or admiration. Because only she knows what shade she is wearing, unless she decides to reveal it.